Early this month, Huawei announced the HUAWEI nova Y61 in the Philippines. This device has a 6.52-inch screen, a 50MP AI Triple Camera, a 22.5W HUAWEI SuperCharge, and a big 5000mAh battery.
Google's 5G hardware and services are no longer available to Huawei's phone division. Huawei, however, continued to reinvent itself despite this, and its Android-powered AppGallery was a big help.
As a result, the HUAWEI nova Y6, which I had the opportunity to test drive for more than two weeks, was surprising and refreshing. The device is still running EMUI 12.0.1 and hasn't received the much-heralded HarmonyOS from its Chinese maker.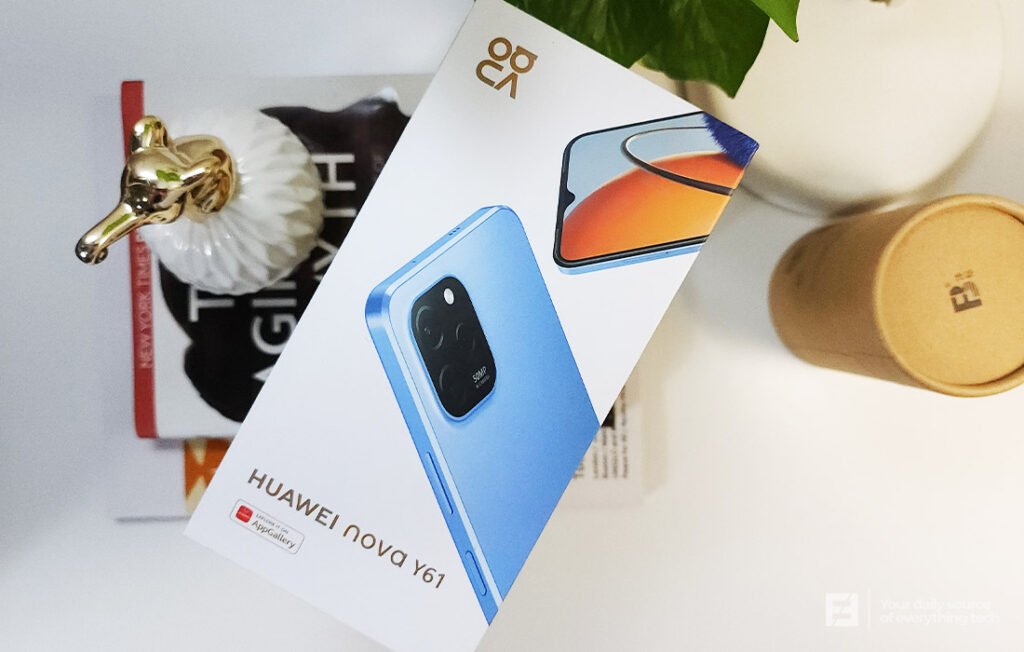 For less than PHP 10,000, this appears to be a reliable daily driver for casual users who want a device with a big screen and a long battery life. Does the price still make sense given the absence of the Google ecosystem? Check out our full review to find out.
HUAWEI nova Y61 Unboxing
The nova Y61 comes in a usual white box with a clean design. It includes all the essentials you need to get started.
HUAWEI nova Y61
Transparent case
USB-C cable
22.5W charging adapter
SIM ejector
Watch the unboxing video here:
Build and Design
The HUAWEI nova Y61 is a compact smartphone that is the ideal size for daily usage, measuring 164.28mm in length, 75.8mm in width, and 8.94mm in thickness. Its 188g weight is also light enough to comfortably fit in your pocket without adding any unnecessary thickness to your attire.

The dewdrop notch on its narrow bezels is where the 8MP selfie camera is located. A card tray on the left of the device can accommodate two nano-sized SIM cards and a microSD card.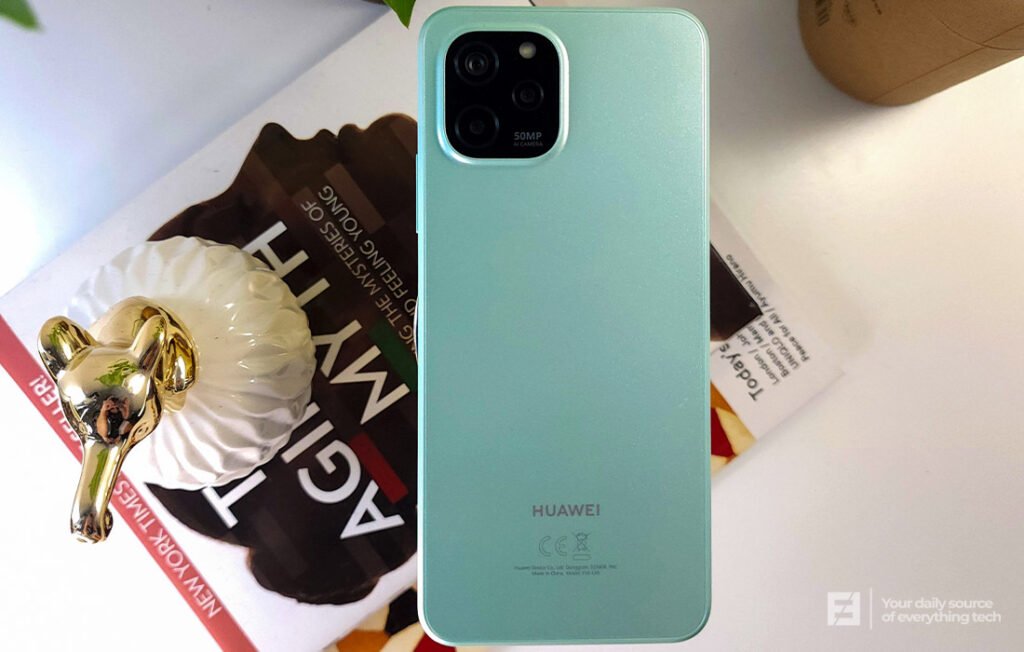 The volume controls and the power/lock key, which also functions as a fingerprint scanner, are located on the right.
On the bottom of the device are the 3.5mm audio jack, the main microphone, the USB-C connector, and the loudspeaker.
The big protruding camera module with the 48 MP main sensor, 5 MP ultra-wide sensor, and 2 MP depth sensor is located at the back.
Fresh Colourway
The HUAWEI nova Y61 has a typical smartphone design, but that doesn't mean it looks uninteresting. The color we received is the mint green variant, which is both refreshing and aesthetically pleasing. For us, the color mint green brings back memories of riding a bicycle through a forest in the height of summer, when the leaves are at their most vivid green and shimmer in the sunlight.
The back panel is glossy, while the frame is painted metallic. It has a high-end appearance and is stain- and fingerprint-free.
When illuminated, the rear panels of what Huawei calls a "Star Effect Design" sparkle wonderfully and resemble a bright galaxy, transporting us back to the early universe when stars and universes first formed.
The phone also comes in the color Midnight Black and Sapphire Blue.
Display
The HUAWEI nova Y61's enormous 6.75-inch screen is one of the first things you'll notice about it, as is its size. Even though the resolution is just HD+ (1600 x 720), or 269 PPI, it still appears vibrant because the screen is crisp, has decent viewing angles, and has realistic colors.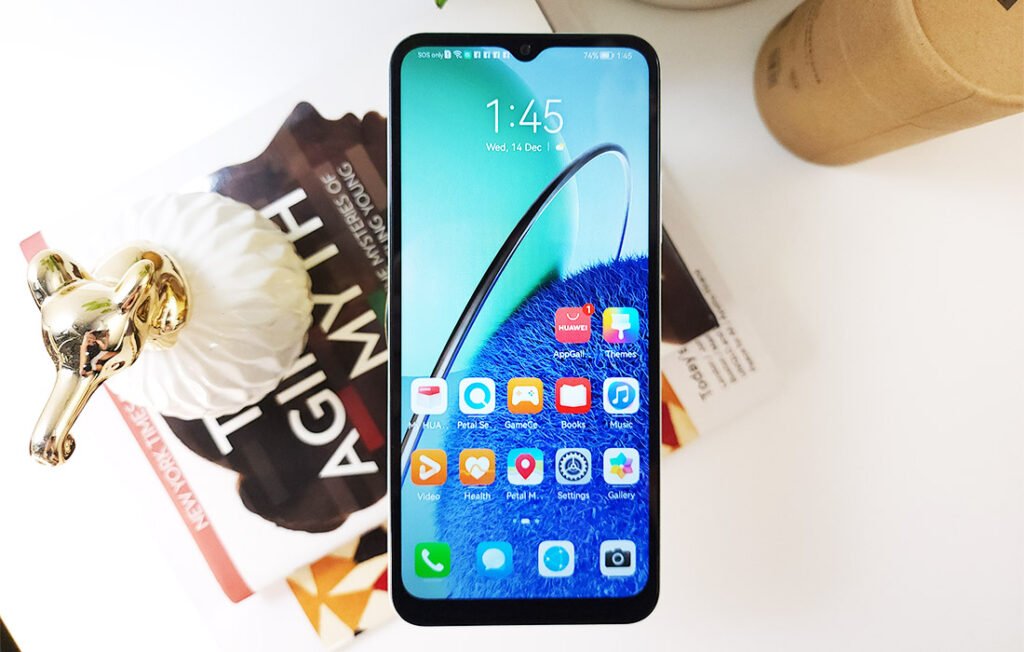 The vibrant colors are a plus; they virtually mimic an OLED panel. Despite having an HD+ screen, you can stream YouTube videos at a maximum resolution of 1080p at 60 frames per second.
Additionally, it enables you to run apps in full-screen mode to make the most of the 6.75-inch display.
Performance
The Kirin 710 chipset, along with 6GB of RAM and 64GB of storage, powers the Huawei Nova Y61. Don't worry if you quickly run out of space because you can add more with a microSD card.
We spent some time playing Mobile Legends and Call of Duty: Mobile, and we were quite impressed by how effectively the Nova Y61 handled both games despite having an older processor. There was hardly any lag, and other than the 60Hz refresh rate, it didn't feel inferior to gaming on more costly phones.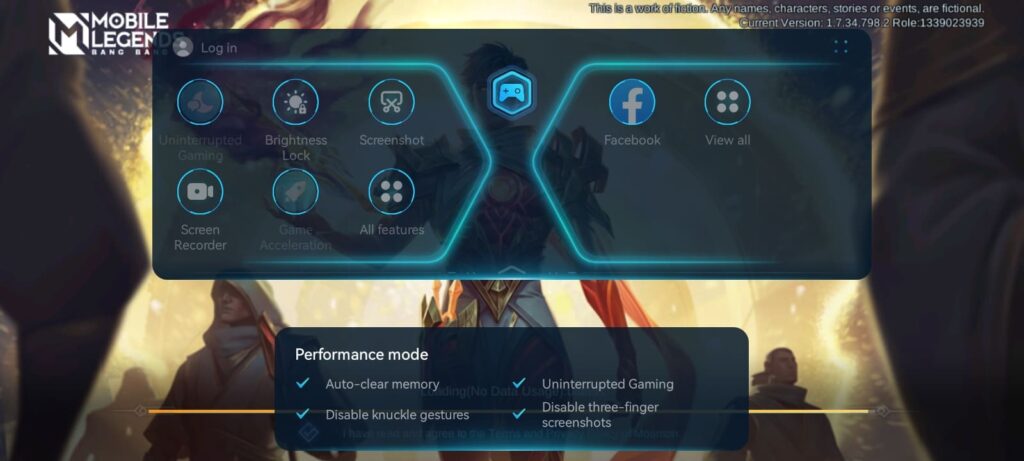 As one might anticipate, daily performance is equally strong. The EMUI 12 was easy to navigate and enjoyable, and it handled many tabs and open apps reasonably well. I don't think that will be a deal-breaker for many people, but there were a few minor hesitations while switching between them, especially when compared to other midrange phones.
Here are the results of the AnTuTu and PCMark performance tests:
Battery
The battery, though, is arguably the best feature of the phone. Due to its large 5,000 mAh capacity, there is still 60% of the battery left after 12 hours of use, even after a full day of work and several sessions of Mobile Legends or Call of Duty Mobile. Even with a few cameras snaps tossed in, days with less activity only used up around a quarter of the battery.
Furthermore, the HUAWEI Nova Y61 offers intelligent battery capacity assistance. It can automatically detect the battery capacity, determine the battery status, and inform users of the remaining battery capacity thanks to the built-in detection algorithm.
There are a total of 20 layers of charging protection, rapid charging protection, and USB port overheating protection for the safety of the battery and charging. These will give people peace of mind and keep them safe when they use electricity.
Even so, the Nova Y61 Pro can be recharged in less than 30 minutes from 0% to 47% by simply plugging it into the 22.5W HUAWEI SuperCharge adaptor. and certainly fast enough for the price. 
Huawei AppGallery
Since its global launch in April 2018, AppGallery has expanded to more than 170 countries and regions. As of March 31, 2021, there were more than 540 million monthly active users worldwide, and its applications were downloaded 384.4 billion times. More than ten times as many apps were released on AppGallery outside of China in 2020 compared to 2019. 
Clearly, Huawei is also making a lot of effort to accommodate users of Google apps. A search in the App Gallery will bring up web pages for Google Maps, Translate, and Drive. In place of an installed app, these can be put on the home screen for quick access. Even though it will seem strange to casual Android users, this is a practical fix for the time being.

I should mention that the Phone Clone app from Huawei can transfer a lot of the apps from your old phone. Some Android apps don't need GMS to run properly, and these, in my experience, function just fine. Even Google Maps works properly after being copied over. But soon, these apps will stop receiving updates, which may mean they stop working altogether.
Aside from that, Huawei AppGallery is built in such a way that it can give users a safe and secure experience. It uses a four-layer security architecture to stop bad things from happening, make it easier to check privacy and make sure that the app's security is top-notch.
The app gallery on Huawei has unquestionably improved recently. Personally, I have no objections to using it and, in some ways, prefer the design to Google's increasingly bloated Play Store. However, it's the applications that matter, and Huawei still has a long way to go in this area but they are moving in the right direction.
No Google apps. No Problem – Meet Gbox!
There is no need to do any further steps; simply download and install GBox, and you may use Google apps as normal. GBox is created with Google Store, Google Services, and Google Framework already integrated.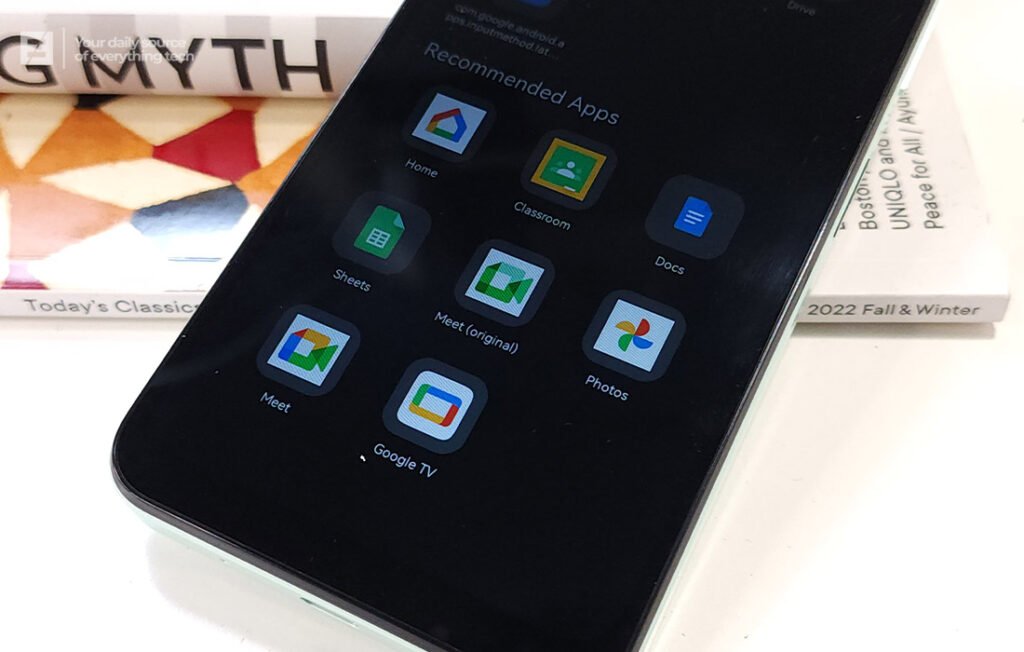 It is so easy to use, and we were able to log in using our Google accounts across all Google apps we downloaded from GBox. It feels like you are using Google services natively. You can download it from here.
Camera
The nova Y61 strives to be different from cheaper phones, which frequently skimp on their cameras. Although you're really missing out on having an ultrawide lens, and I really regret having the freedom to fit more in a shot.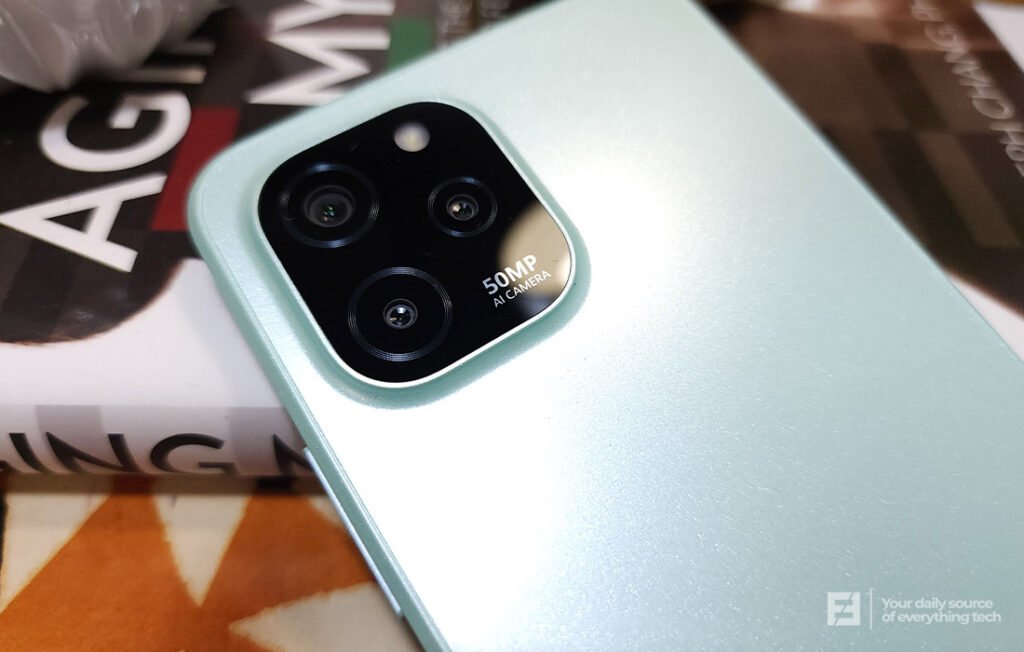 In this case, three lenses make up the triple rear system: a 50 MP primary lens, a 2 MP depth lens, and a 2 MP macro lens. On low-cost phones, the latter two are frequently of no use, but not in this instance. Even though the depth sensor occasionally had trouble with edge detection, the images were nonetheless impressive. The depth sensor allows for portrait-style photographs using the "bokeh" mode. As long as you are the required 4 cm away from your subject, the macro sensor also works nicely.
The primary lens will be used to capture the majority of your still images. Although it often struggles with exposure, photos taken with the 50MP sensor offer a remarkable degree of detail and good dynamic range. Furthermore, they frequently oversaturate photographs, but they are visually appealing and ready for social media.
AI scene detection is a benefit for all rear lenses, enabling the phone to make intelligent settings adjustments based on what's in the frame.
We were able to test the Super Night Shot mode in these dim lighting settings, which does a nice job of brightening the image without compromising too much dynamic range. It enables you to take beautiful nighttime photos without a tripod. It works by using a multi-frame noise reduction method, which can more effectively suppress highlights. Additionally, Super Night Shot may record for up to 6 seconds, allowing for a longer exposure.
Here are some shots taken by HUAWEI nova Y61:
A 5MP camera with automated high dynamic range (HDR) functionality is built into the front camera. Users can now take better selfies and improve their looks thanks to the AI-powered 5MP front camera.
Furthermore, the nova Y61's ability to capture vivid nighttime selfies is also amazing. 
It has a gorgeous design, can multitask quickly, plays AAA games, captures good photos even at night, and has a battery life that will make you fall in love. There's really no reason not to get the Huawei Nova Y61 at this price. 

Editor's View
Should you buy the HUAWEI nova Y61?
You may find the HUAWEI nova Y61 to be an intriguing smartphone. The combination of a 50MP AI Triple Camera, a 22.5W HUAWEI SuperCharge, a 5000mAh large battery, and EMUI 12 at a low price piqued our interest, if not fascination.
We've always liked EMUI, and Huawei has always made good phones with good camera quality and a premium design.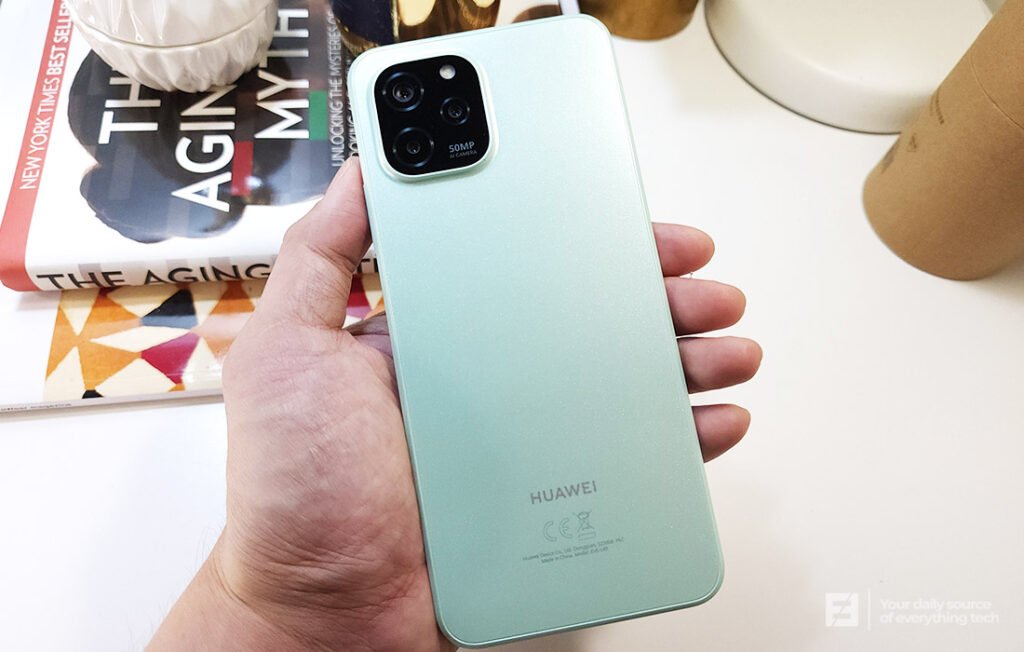 We don't think this situation will change any time soon for Huawei phones, which currently cannot access Google services. But now that GBox is available, it bridges some of the gaps, at least for Google's essential apps. The good thing is, you can simultaneously explore Google apps and the wide range of apps in the HUAWEI AppGallery.
The Nova Y61 has a lot to offer, even though we believe that it would be a tough sell to customers who rely on the Google ecosystem.
Is this a phone that we recommend you buy? Absolutely. It has a gorgeous design, can multitask quickly, plays AAA games, captures good photos even at night, and has a battery life that will make you fall in love. There's really no reason not to get the Huawei Nova Y61 at this price.
HUAWEI nova Y61 Specifications
Display
6.52-inch 2.5D curved LCD (IPS) screen w/ HD+ 1600 x 720 resolution at 269 PPI
Chipset
Kirin 710 2.2 GHz octa-core (12nm)
Screen
6.52-inch IPS, 1600 x 720
Memory
6GB + 64GB
OS
EMUI 12,
Rear Camera
50MP f/1.8 main
2MP f/2.4 macro
2MP f/2.4 depth
LED flash
Front Camera
5MP f/2.2 (wide)
Network
Dual-SIM, 4G LTE
Connectivity
WiFi 802.11a/b/g/n, 4G LTE, Bluetooth 5.1, GPS, A-GPS, GLONASS, BeiDou, Galileo, QZSS, dual SIM, USB-C, 3.5mm Audio Jack
Battery
5,000mAh, 22.5W Huawei SuperCharge
Others
Side-Mounted Fingerprint Sensor
Dimensions
164.28 x 75.8 x 8.94
Weight
188g
Colors
Blue, Green, and Black
Price
PHP 7,999
Pricing and Availability
You can purchase the new HUAWEI nova Y61 for only PHP 7,999 — and get a free mug worth PHP 999. Available now through offline and online HUAWEI Stores, authorized retail outlets, and leading e-commerce sites Shopee and Lazada.