Anker has a wide range of charging products to meet almost any charging demand. The Anker Nano PIQ 3.0 was created with space efficiency in mind. It has to be one of the smallest USB-C charging devices ever released.
Of course, size isn't the only consideration when selecting a charger for your devices. The ideal adapter is determined by the amount of power required as well as the inbuilt fast charging standards. In this review, we'll go over the benefits and drawbacks.
The third generation of the PowerPort line offers users a speedier alternative to the charger that comes with their new gadgets. Anker's new PowerPort III 65W and Nano carry on the legacy.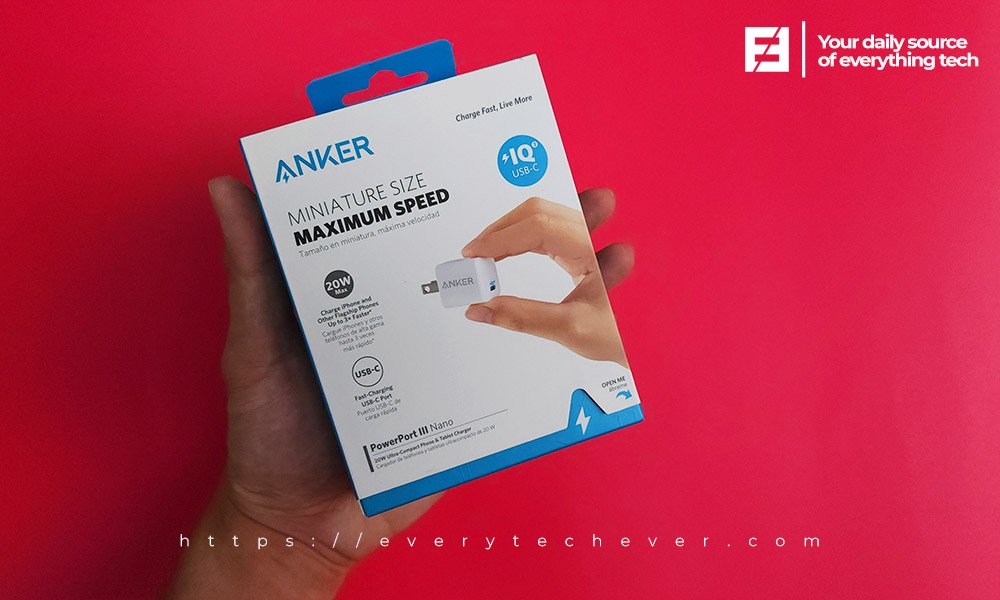 Anker's Nano PIQ 3.0 is a 20W small fast charger without a charging cable. It's made exclusively, but not limited to, for iPhones and provides a maximum charge for iPhone 12 and higher models. The charger charges three times faster than a standard 5W charger. The Anker Nano is not only a fast charger, but it is also 50% smaller than other 20W iPhone chargers.
What's in the box?
A charging adapter, welcome instructions, and an 18-month guarantee are included with the Anker Nano PIQ 3.0. Unfortunately, there's no charging cable inside the packaging.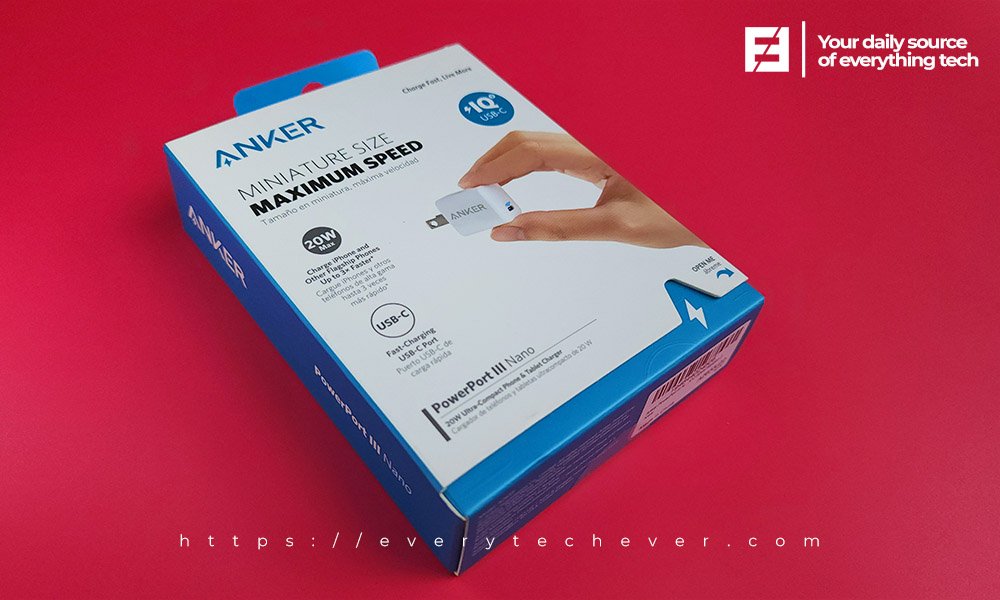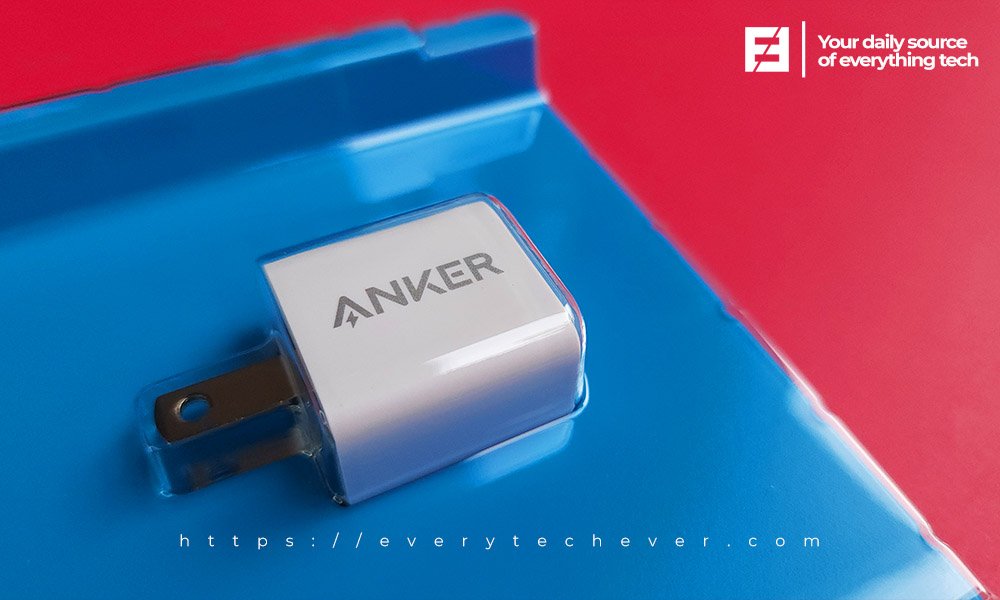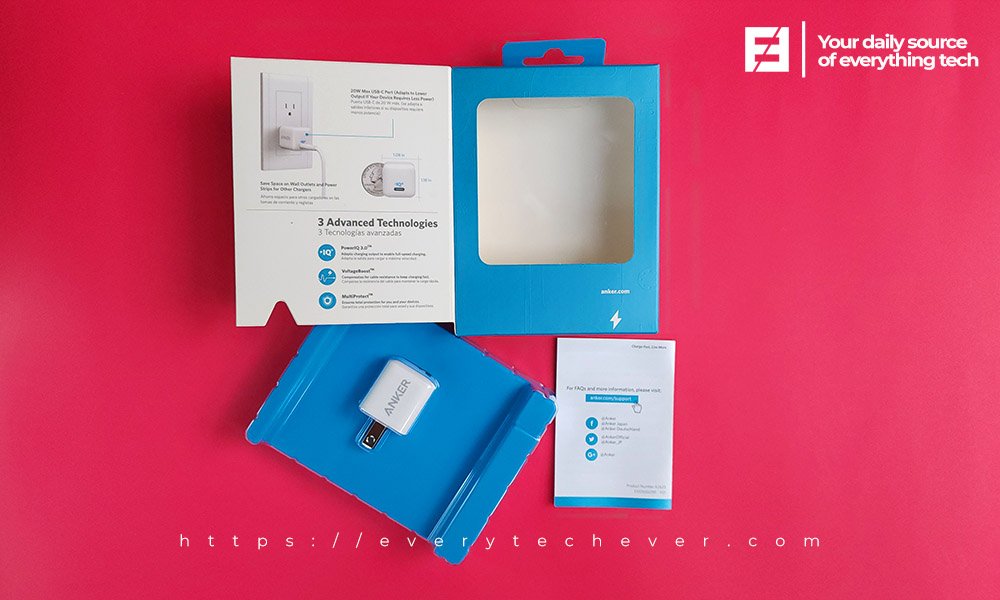 Design and Features
The Anker Nano PIQ 3.0's primary selling point is its compact size. It's small enough to carry in your pocket, making it an ideal travel buddy that you can carry anywhere you go. It has a space-saving design that is half the size of a typical iPhone 12 USB-C charger, giving plenty of power while taking up less room in the user's bag or when plugged into a wall outlet. Isn't it incredible that the same 20W output power adapter can fit into such a little space?
Anker Nano PIQ 3.0 Features:
Model Number: A2633
Compatibility: iPhone 12 / 12 mini / 12 Pro / 12 Pro Max / iPhone SE (2nd generation) /11 / 11 Pro / 11 Pro Max / XS / XS Max / XR / X / 8 Plus / 8; AirPods, Apple Watch, Galaxy S10 / S10+ / S10e / S9 / S9+ / S8 / S8+; Note 9 / 8; Pixel 3a / 3XL / 3 / 2 XL / 2, and more.
Input: 100-240V 0.6A 50-60Hz
Output: 5V=3A / 9V=2.22A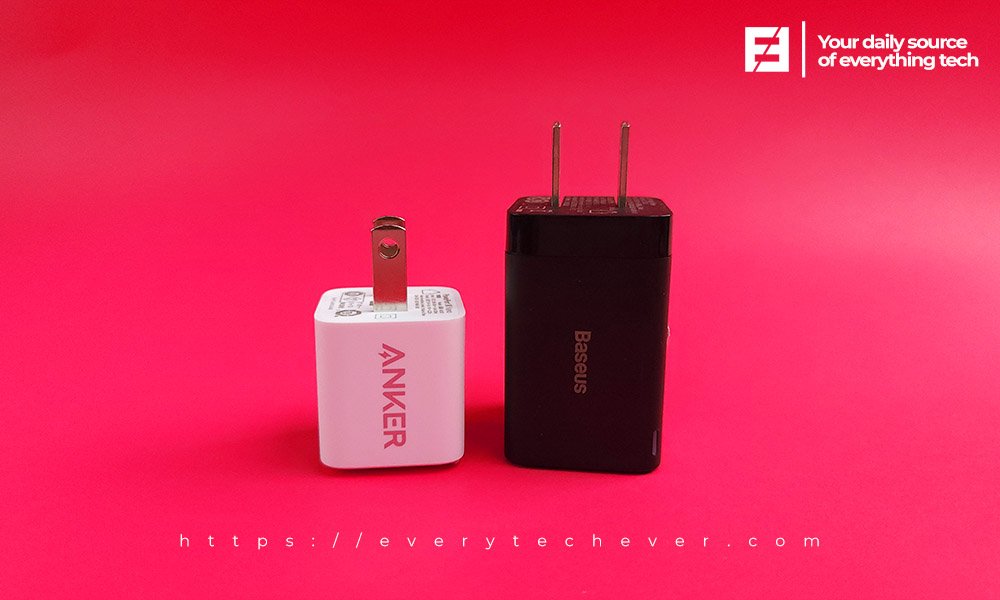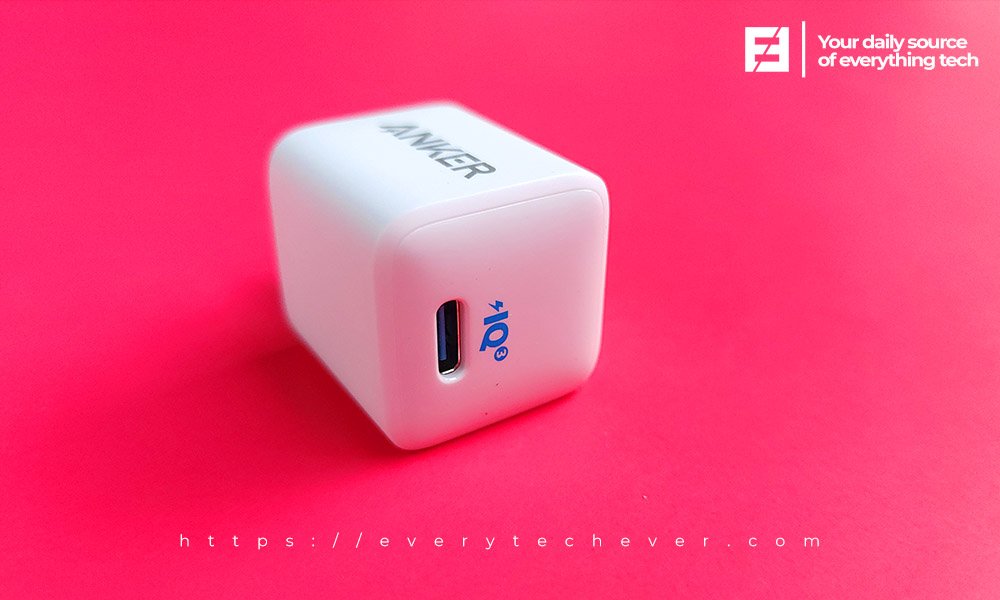 We absolutely enjoy the idea of using fixed prongs rather than folding ones. Folding prongs, in my opinion, clearly highlight the space savings. It also folds up more compactly. However, a hinge must be located inside the charger to do this. In addition, the housing must be wide and tall enough to accommodate the prongs. This increases the charger's weight and size. It also includes moving parts that could malfunction as a result of wear and tear.
Performance
Anker is the most popular mobile charging brand today, and for good reason: its products are high-quality and compatible with a wide range of devices. Anker has created a unique charging technique called PowerIQ 3.0 technology, which is used in a variety of its devices, including power banks, wall chargers, and auto chargers.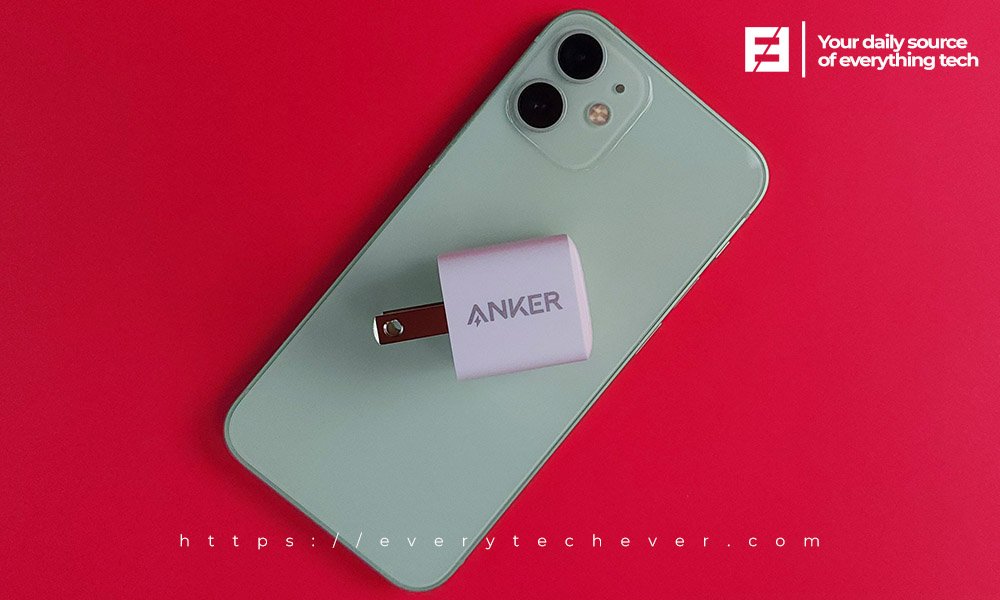 The plug has a single USB-C port that supports the USB Power Delivery 3.0 protocol. This is referred to as PIQ 3.0 by Anker, however, it complies with the same standard and also supports Quick Charge, Apple Fast Charging, and other earlier standards. In either 5V 3A or 9V 2.22A mode, the port can deliver up to 20W of power.
The charger has enough energy on board to support a variety of compact USB-C and USB Power Delivery devices with up to 20W of power. With this plug, a number of smartphones, including the iPhone 12, will shift to their full 20W charging capabilities.
It also works with Anker's PowerIQ 3 technology. According to Anker, the PowerIQ 3 is so well matched to each device that it can charge an iPhone faster than a normal USB-C PD charger. It's not considerably faster, but faster is always better.
During our review, we tested the iPhone 12 with the Anker Nano PIQ 3.0 charger. The battery went up around 50% in the first 30 minutes and went fully charged after an hour.
It's worth noting that this charger does not support Samsung Super Fast Charging for the Galaxy S20, S21, and Note 10/10+/20/20 Ultra.
Should you buy Anker Nano PIQ 3.0?
The Anker Nano PIQ 3.0 is one of the most versatile fast chargers available. Their PIQ 3.0 technology supports both USB Power Delivery and Quick Charge. It charges most iPhone and Android models from recent years quickly, as well as most Huawei and Nokia devices. However, any of them will be charged at the typical rate. It will also charge as you play in handheld mode on the Nintendo Switch, which shows its flexibility. It may be slower than the 30W charger that came with it, but you won't be able to tell the difference.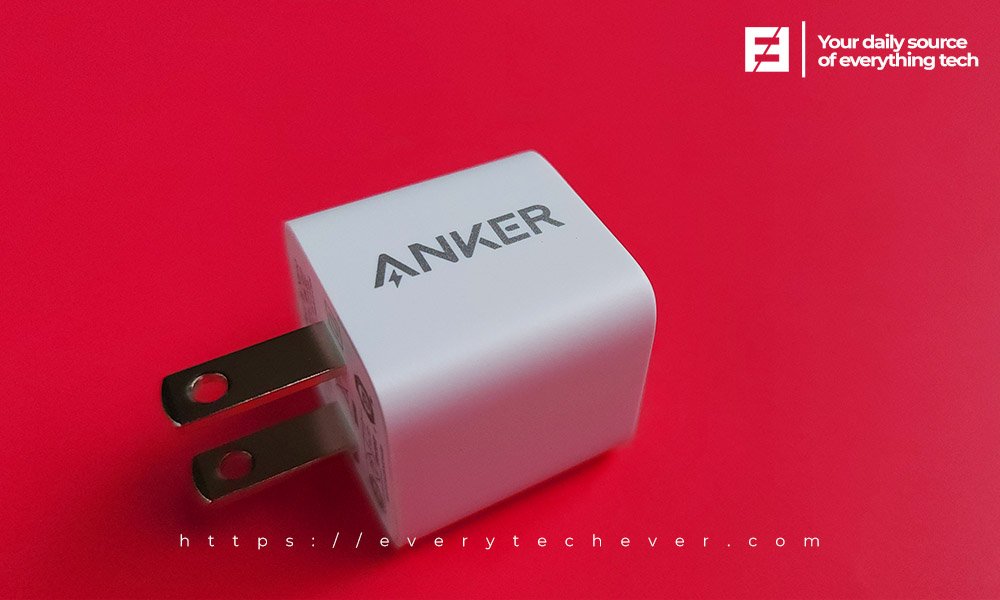 When compared to the charger that came with your phone, it's easy to see why Anker's is a better option. It's practically smaller than any of the quick chargers on the market. And it's about the same size as the much slower 5W charger that most iPhones come with.
For some, the non-folding prongs are a deal-breaker. However, you'll end up with bulkier chargers if you want those folding prongs. If this is not an issue, go with the best value for your money. The Anker Nano PIQ3.0 is obviously a better choice.
Anker Nano PIQ3.0 Full Specifications:
Ports: USB-C
USB-C Output:

18W USB-C Power Delivery 3.0 (5V/2.4A, 9V/2A)
PowerIQ 3.0 (Quick Charge compatible)
Apple 2.4A

Input: 100V–240V, 0.6A, 50/60Hz
Size: 1.8 x 1.1 x 1.1 inches | 45 x 28 x 28 mm (including prongs)
Weight: 1.1 oz | 30 grams
What you will get with every purchase of the Anker PowerPort III Nano (PIQ3) is a welcome guide, worry-free 18-month warranty, and friendly customer service. You can purchase this charger for only Php 1,244 and available at Soundcore Global's official Lazada Store
Anker Nano PIQ 3.0 Review: Most compact universal charger
Summary
Anker Nano PIQ3.0 is a wonderful fast charging alternative for Apple, Samsung, Google, and other phones. Additionally, different tablets including the Nintendo Switch are also compatible. It is equipped with Anker's exclusive PowerIQ 3.0 technology that makes the charger universally compatible with a huge range of devices. While the fixed prongs may not be your favorite, they do help to keep the size and weight down.