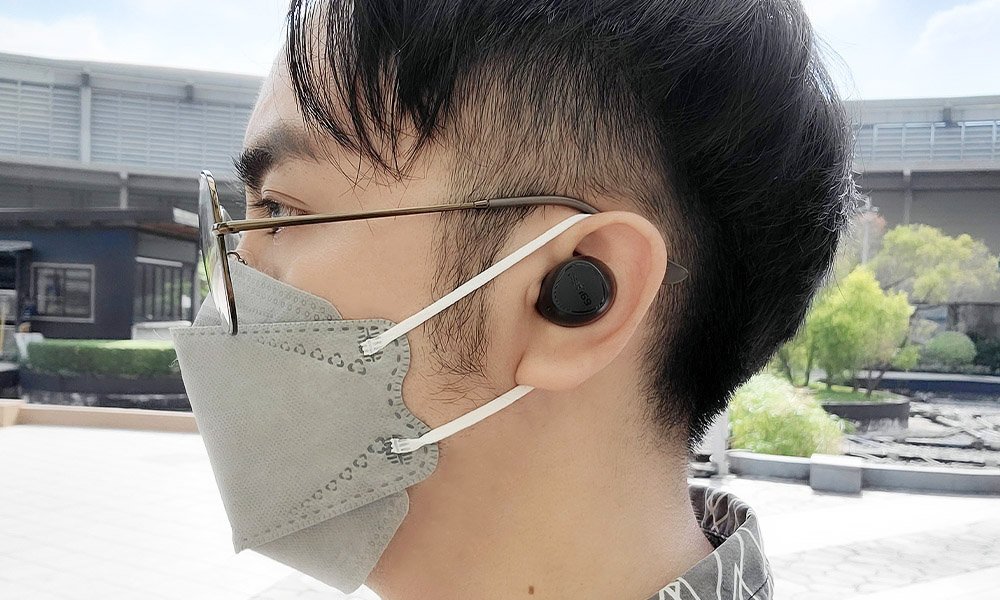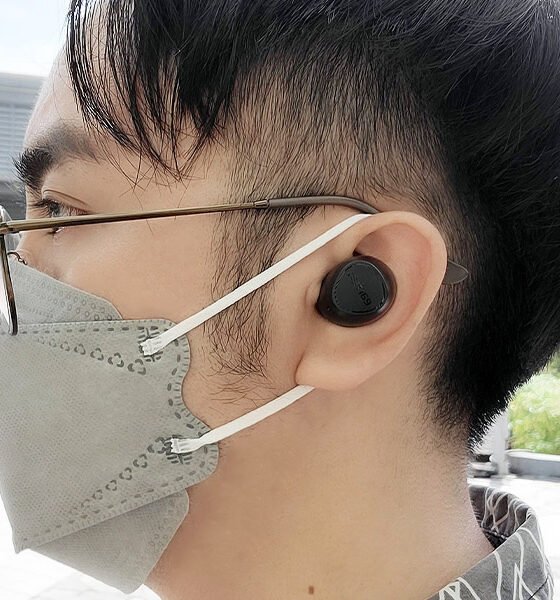 EarFun Free 2 Review: The Fun Never Ends
A budget True Wireless Earbuds that are surprisingly good!
The EarFun Free 2 is EarFun's most affordable true wireless earbuds, sitting beside the original Free buds, which are still available. These are the types of earbuds that frequently appear – and, based on their performance, do a solid enough job – with a feature package that tries to attract mobile gamers and fitness aficionados.
We just reviewed the EarFun Free Pro, which was fantastic, and we were impressed by EarFun's offerings. For only PHP1,998, will the EarFun Free 2 be able to meet our expectations? We'll find out in this review!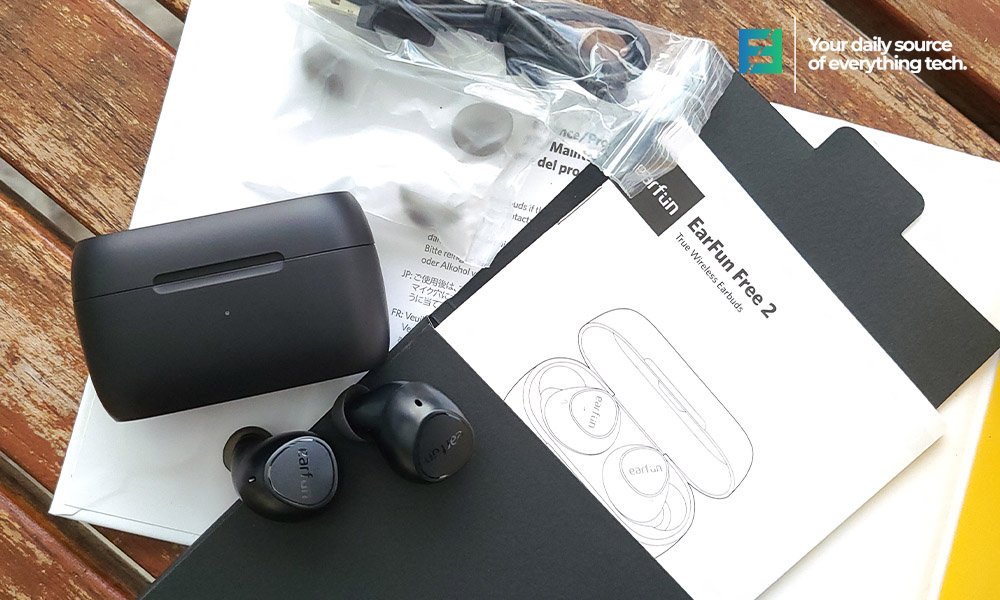 What's in the box?
EarFun Free 2 true wireless earbuds
Charging case
USB-C cable for charging
3 pairs of silicone ear tips (s, m, l)
User manual
Despite its low price, the EarFun Free 2's packaging isn't shabby. It's decent, and you won't notice a difference between it and its more expensive sibling, the EarFun Free Pro 2. It comes in a booklet-style box with a magnetic lock on the right side, making it easier to open.
There are three sets of silicone ear tips to pick from, as well as a USB-C cable for charging and a user manual.
Nothing Fancy
The design of the EarFun Free 2 isn't going to blow anyone away. This is just an updated version of the conventional wireless earbud design.
To help attach and seal the headphones into the ear, you get a firm, teardrop-shaped pod with a silicon tip.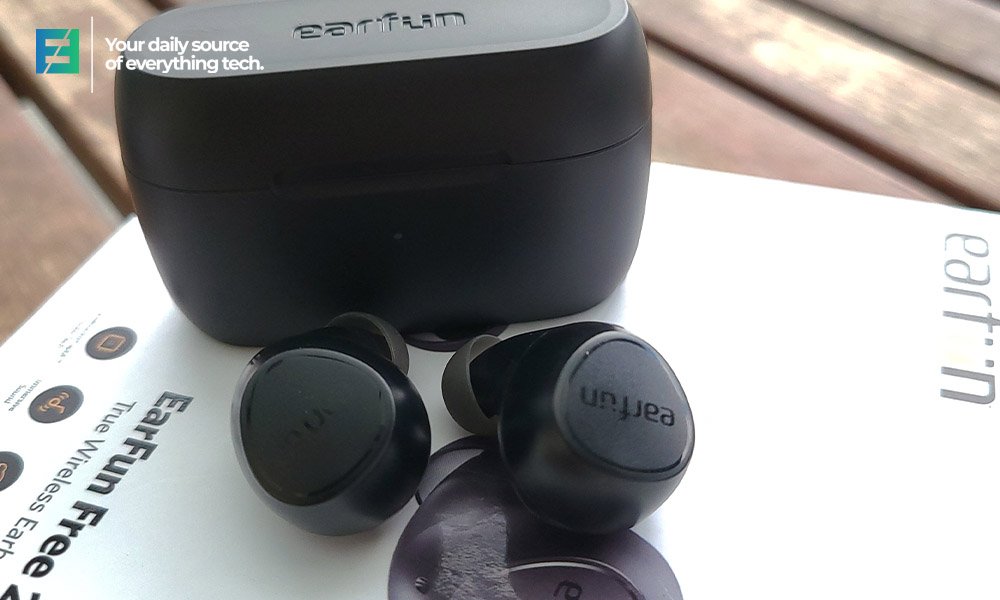 Each earpiece has a capacitive surface on the outside that can be utilized for simple multitouch controls. On both, you'll notice the EarFun logo in the shadows. Aside from that, these earphones are rather understated, having a black finish.
Conventional but doesn't look cheap
The EarFun's design delivers robust noise-isolating features and good levels of comfort once in the ear. They're large and puffy, which is intended to block the ear and lessen the impact of outside noise.
Volume, playback, voice assistant (on the right), and low-latency mode are all controlled by touch controls (on the left). The taps are sensitive, and it doesn't require a lot of pressure to get a response, so you won't feel like you're shoving the earbud into your ear.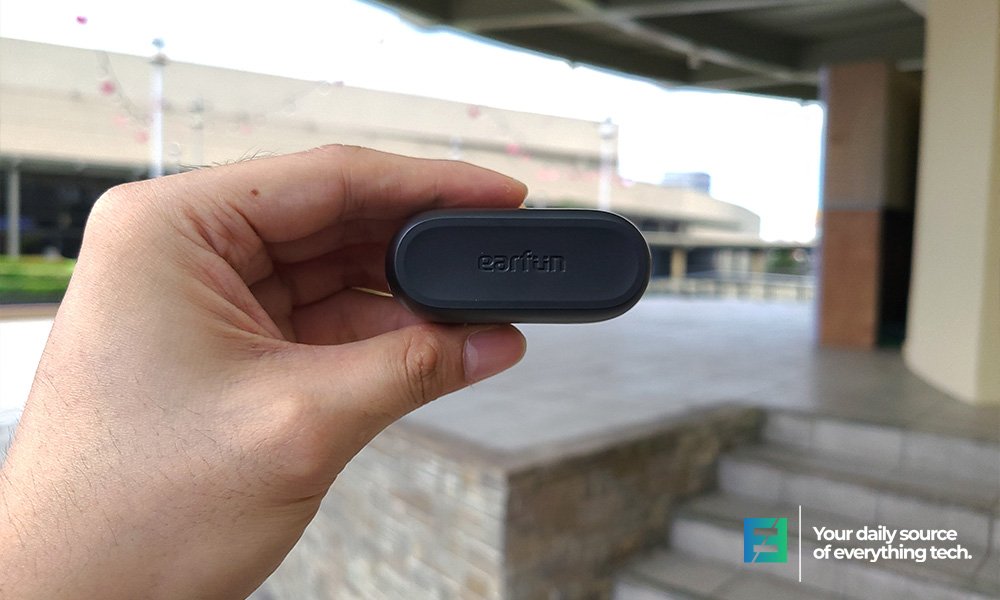 The EarFun Free 2 includes all of the newest wireless technology you'd expect on the inside. Qualcomm's aptX processor, as well as Bluetooth 5.2 and Qualcomm cVc noise reduction for calls, are included. IPX7 water and dust protection complete the feature list, making these earphones suitable for use in a variety of settings.
It's fun and entertaining!
The EarFun Free 2 has a wide range of features that allow it to be used for different types of users. Are you a gym and fitness aficionado? Along with its secure fit, the Free 2 are IPX7-rated, which means they're completely waterproof and should be able to withstand rain and sweat.
Super Low Latency Mode
It's great news for gamers! There's a super low-latency mode that cuts the latency to 60ms, which is surprising given the price. We put it to the test on Mobile Legends, Call of Duty Mobile, and Genshin Impact, to name a few.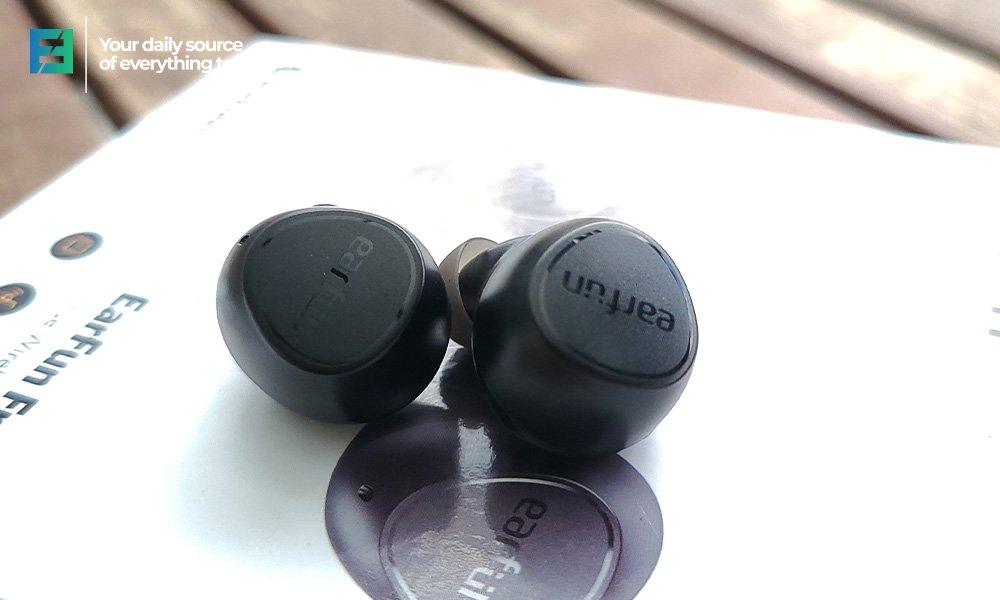 For the price, it is decent and impressive. Although there is still some latency between firing a shot in COD and hearing it, this mode significantly reduces the delay in sound effects when playing games. This feature is often found on gaming headphones like the Razer Hammerhead TWS, so it's a great inclusion.
Balanced and Immersive Sound
The EarFun Free 2's impressive huge sound is produced by a combination of strong bass and a wide soundstage. Female and higher-pitched male vocals sound clear inside, with a good blend of crispness and smoothness, and higher vocals don't go too loud. Upper-mid tones, such as percussion and trumpets, are similarly crisp and controlled.
We put it to the test by performing ACRAZE's "Do It To It" ft. Cherish, is a 2022 dance/ electronic song that has gone viral on TikTok. Also, Sam Concepcion's pop song, "Diwata".
They deliver a bright, lively, and upbeat performance over a wide range of musical genres. These earbuds have a nice beat to them that isn't always accurate but is very entertaining.
Longer battery life, means more fun!
The battery life of the Free 2 is roughly 7 hours and 51 minutes per charge, with the remaining 23 hours in the charging case.
With frequent use, that may last a week. If ever the battery gets low, a short 10-minute charge via the USB-C port will give you another two hours of entertainment. That's awesome!
Charge it wirelessly!
Another great feature of these earbuds is that they can be charged wirelessly. Because the charging case has a coil built-in, you may use any Qi-compatible wireless charging pad to charge them. It's a much slower method, but it can be very useful. It's rare to have this feature on a budget segment.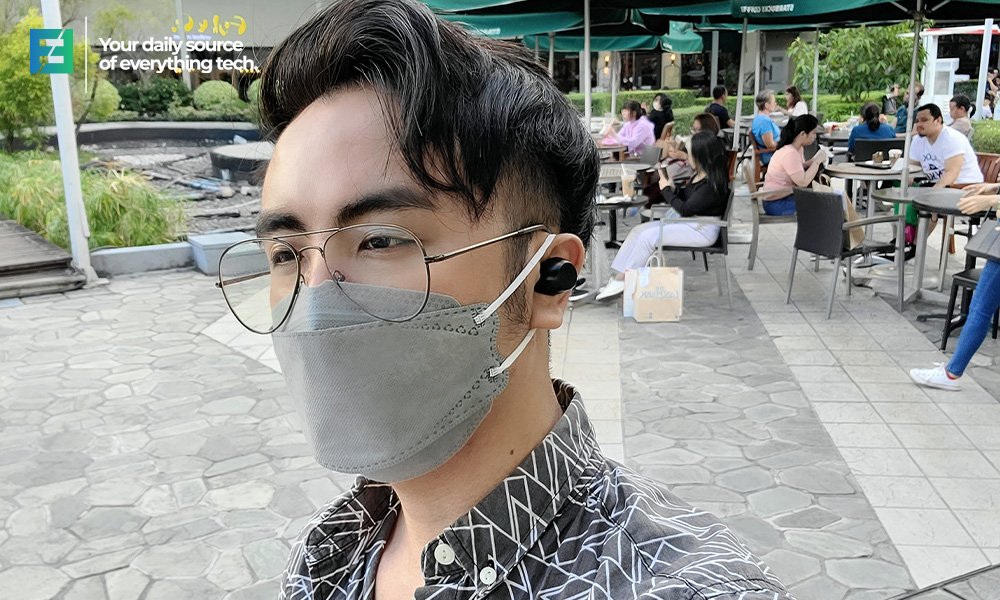 Should You Buy EarFun Free 2?
These high-quality earbuds will meet your needs if you're looking for great functionality and ease of usage. EarFun earbuds are also tough, comfortable to hold, and have long battery life.
The EarFun Free 2 is excellent value for money. Although the appearance is nothing to brag about, it's not a deal-breaker.
The features are impressive for the price, and the audio quality is adequate when played at the right volume. The EarFun Free 2 are yet another pair of earbuds that hit the sweet spot in terms of price.
The EarFun Free 2 is available for only PHP1,998 at Digital Walker nationwide and at their Flagship stores via Shopee and Lazada.
Credits to our friends at ICONICMNL for sharing this awesome device! For lifestyle, reviews, and other news, please follow them on their official Facebook page, Twitter and Instagram.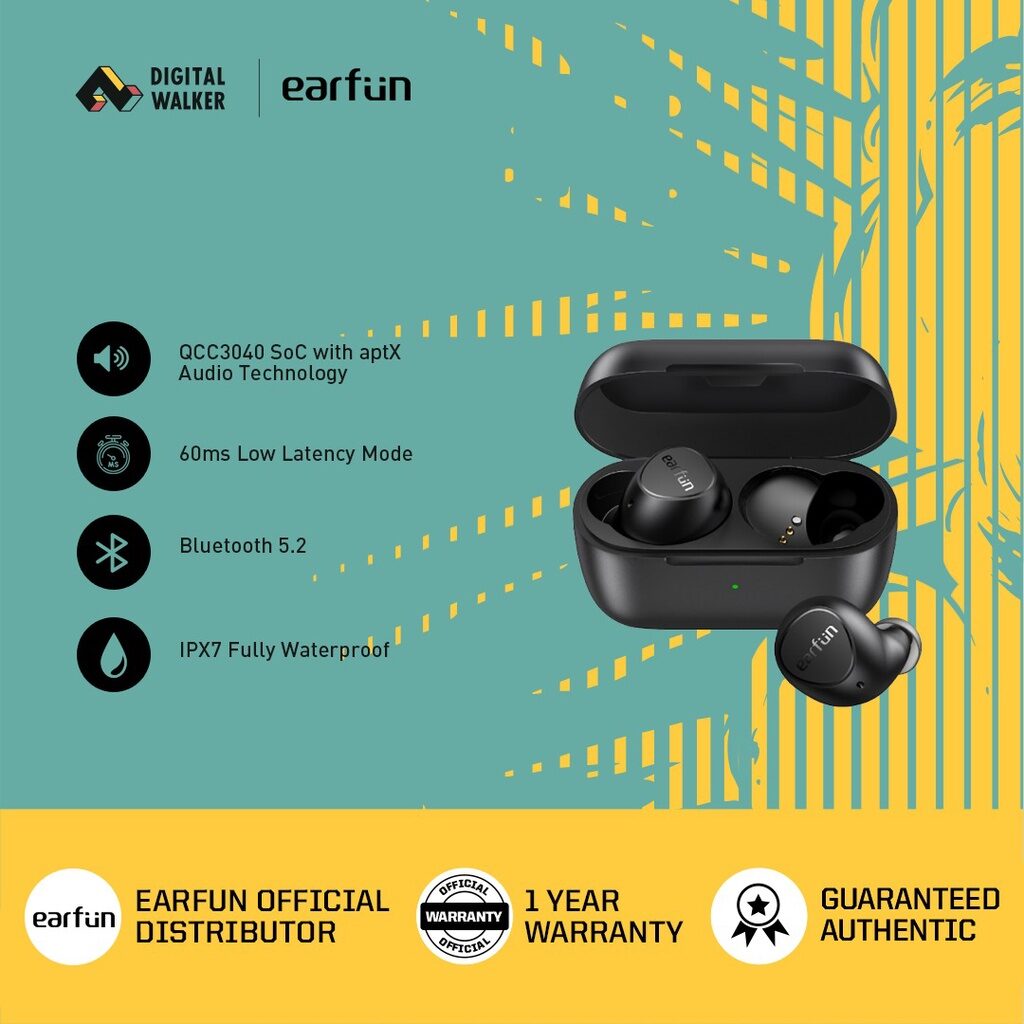 Key Specifications
Build-in Qualcomm® QCC3040 SoC with aptX™ Audio Tech
Latest cVc™ 8.0 tech for Superior Clarity Call Quality
Bluetooth 5.2 + TrueWireless™ tech offers stable transmission and Smooth Single Earbud Use
Balanced Immersive Sound with Dynamic Composite Drivers
60ms Super Low Latency Mode for Better Video & Gaming Experience
IPX7 Fully Waterproof with EarFun Unique SweatShield™ Technology
30-hour Playtime: 7 Hours + 23 Hours with Charging Case
Fast Charging, 10 Min Charging = 2 Hours Playtime
Wireless Charging Compatible
Intuitive Touch Control + Volume Control
Activate Voice Assistant
Editor's Verdict
Summary
The EarFun Free 2 proves that superb wireless headphones can be had for less than PHP2,000. This TWS offers a lot of competitors a run for their money, with immersive, broad sound and quality features including IPX7 waterproof rating, 7 hours battery life, great call clarity, super-low latency mode, and wireless charging functionality.


Axgon AXGH1V1 Review: Powerful yet affordable gaming headset
An affordable gaming headset packed with premium features.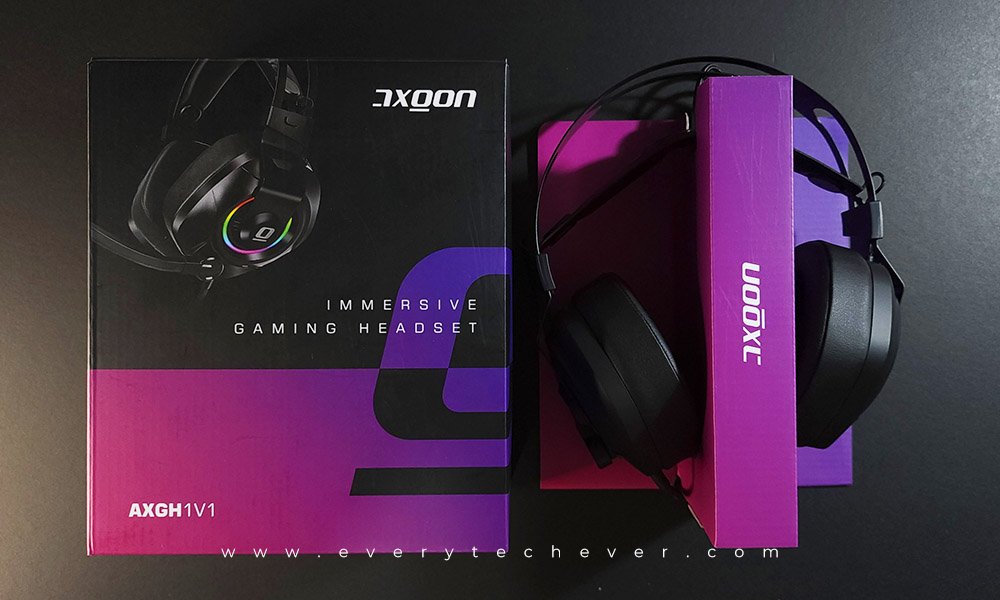 You don't need to buy the most expensive option to enjoy immersive audio while gaming. The most affordable gaming headsets can match more expensive accessories' exhilarating audio and crystal-clear microphone functionality. Contrary to the majority of the top gaming headsets overall, these models could provide you more money to expand your game library or make new PC improvements.
When shopping on a tight budget, it's possible to worry that you'll purchase a cheaply produced piece of junk from the clearance section. But don't worry, the Axgon AXGH1V1 gaming headset, which costs only 1,690 PHP, has some pretty impressive specs, like specially tuned 50mm drivers, 7.1 virtual surround sound, and RGB running lights. Let's see whether this is the best option for you.
Unboxing time!
The Axgon AXGH1V1 has decent packaging and exudes a gaming aura the moment your eyes touch it. Only the headset and an integrated controller for simple control are included inside.
For your pleasure, here is our unboxing video:
Design and Build
The Axgon AXGH1V1 chose a traditional style with a hint of uniqueness to give it a relatively upscale appearance. Like with the Monster Airmars N1, I was surprised to find the RGB running lighting included here as opposed to just an LED light on the microphone.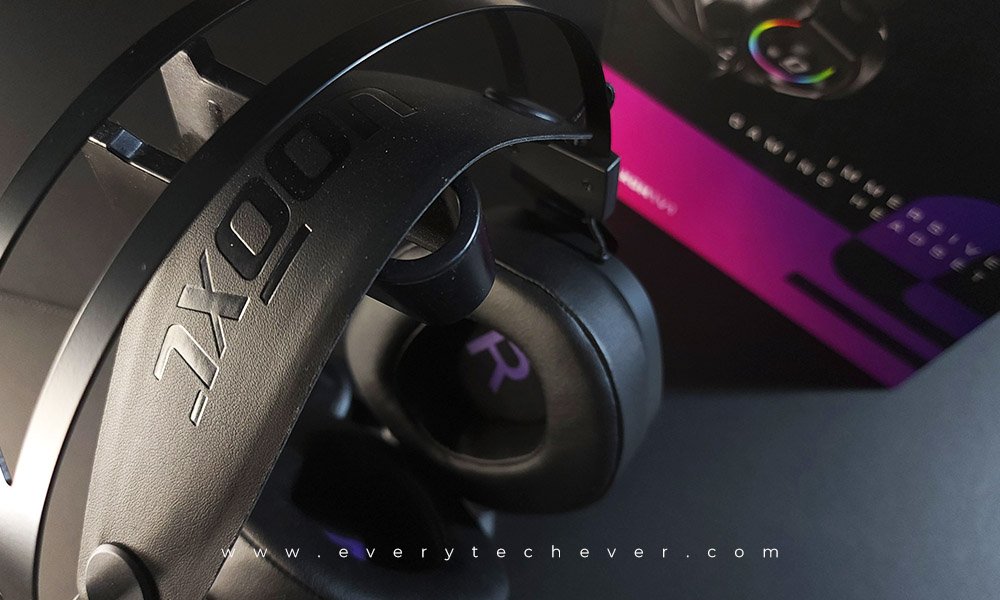 To seal the ear canals and provide passive noise isolation, the Axgon AXGH1V1 incorporates superior PU (polyurethane) leather earpads. This headset has great comfort because of the soft memory foam padding, which is something I like. There was something in a low-cost gaming headset that I wasn't expecting.
A metal suspended headband and other ultra-light materials were employed by Axgon to create a comfortable gaming experience over an extended period of time.
Performance and Audio
The world of gaming peripherals may not be familiar with Axgon. However, it is marketed under the AOC name, a reputable veteran in the monitor industry. AOC has a 50-year history and is recognized as one of the most reliable monitor brands on the market in Europe and Asia. Therefore, you can be sure that the company's gaming headset will provide a top-notch audio experience when it is released.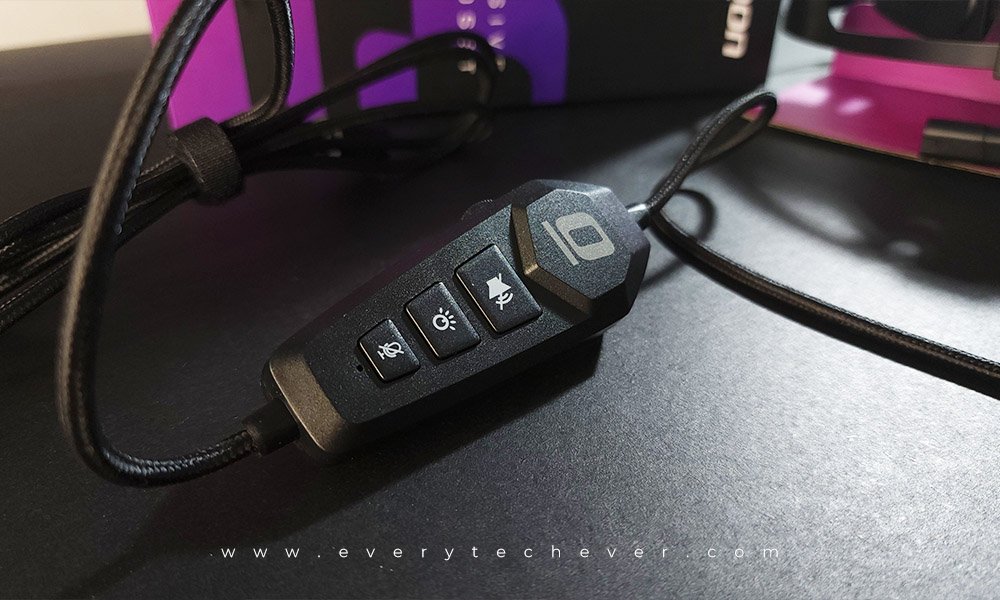 The Axgon AXGH1V1 has a frequency range that is perfect for your ears, ranging from 20Hz to 20kHz.
It obviously lacks many of the appealing features that the majority of gaming headsets provide. This headset is wired and only supports analog signals, which means there is no wifi connectivity or even an app to adjust settings. However, none of that matters to the type of gamer who prefers the custom-tuned 50mm magnetic neodymium driver and 7.1 virtual surround sound, which creates more powerful sound waves and an immersive audio experience. It is amazing that Axgon was able to put more of an emphasis on audio quality than those extra functions.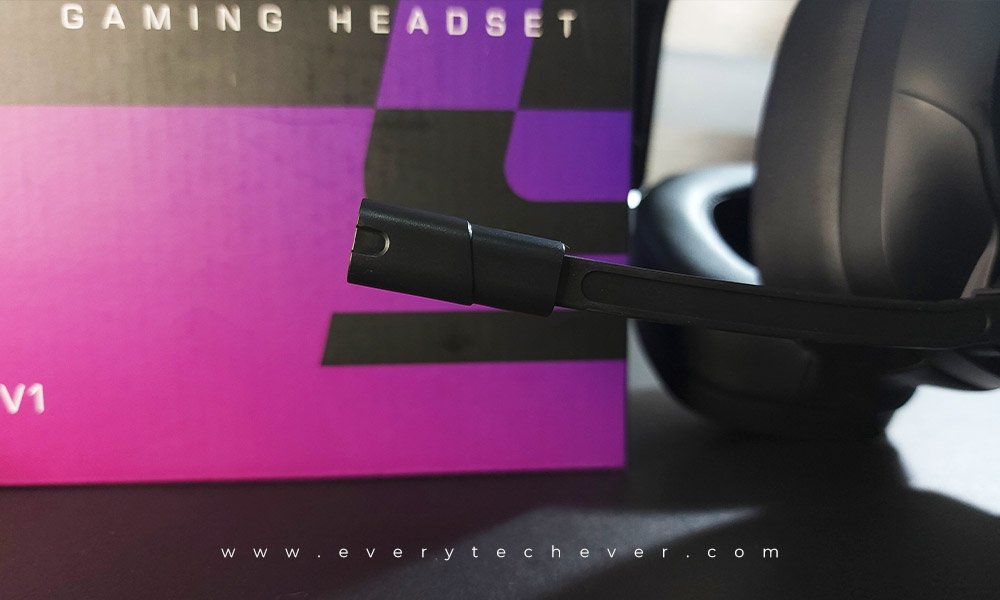 The microphone has active noise cancellation, which can be silenced using a physical slider on the side for convenience, although it cannot be disconnected. In our tests, the noise reduction was effective and could even muffle keyboard activity.
Should you buy the Axgon AXGH1V1?
The Axgon AXGH1V1 is a solid gaming headset that provides good performance at a reasonable cost. It's a snug and comfortable outfit for long-time gaming sessions, thanks to the memory foam cushioning and flexible headband.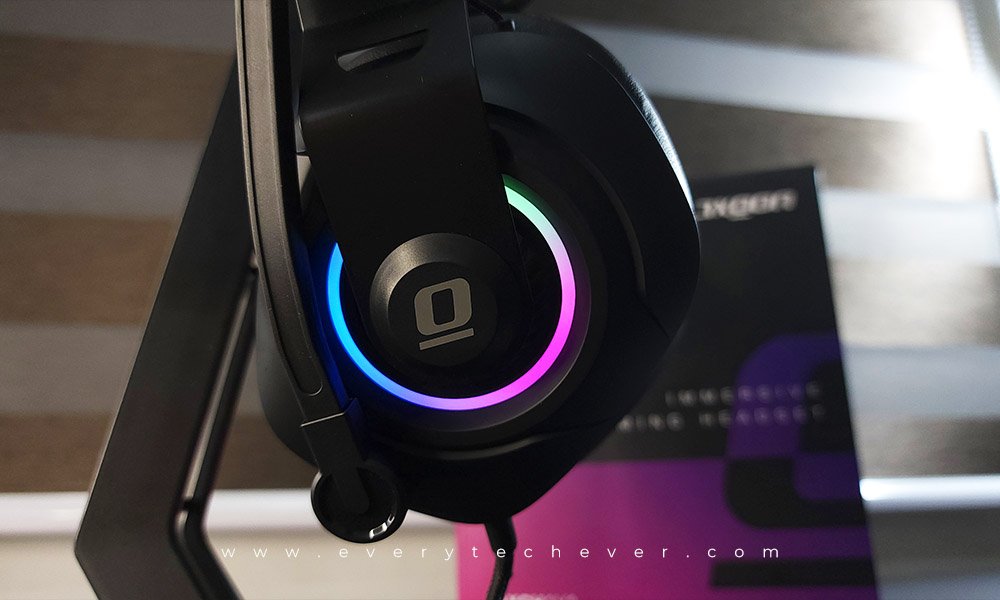 The mix between the music, sound effects, and dialogue in video games is generally good. The mic also produces a full, crisp sound. Each ear cup offers ample space and breathability for ears to rest comfortably, as well as a good fit to minimize slips, which is a major selling point. Although we thought the detailing on rifle rounds and footsteps was superb, not all the sound effects were crisp. The best part is that it just costs PHP 1,690.
Pricing and Availability
The AXGON AX1CVA Gaming Chair is available at the AOC Flagship Store in Lazada and Shopee for only PHP 1,690 and partner retail stores nationwide.
Axgon AXGH1V1 Specs:
Gaming Headset with custom-tuned 50mmDriver
USB connection only for convenience
Custom-tuned 50mm drivers
7.1 Virtual surround sound
PU leather, Memory foam Earpads
Metal suspended headband
Voice clarity, Noise-cancelling microphone
RGB running lighting
In-line controller for easy control
Speaker type: Neodymium Magnet
Speaker: o50mm
Monomer impedance: 20+-15%
Sensitivity: 103±3dB
Frequency response: 20hz to 20khz
Microphone sensitivity: -38+-3dB
Directivity: Single direction
1- year warranty
Follow EveryTechEver for the latest tech news and reviews, also keep up with us on Twitter, Facebook, and Instagram.
Axgon AX1CVA Review: A stylish gaming chair for less
With a full steel frame, a chic color scheme, and affordable price, will it appeal to gamers?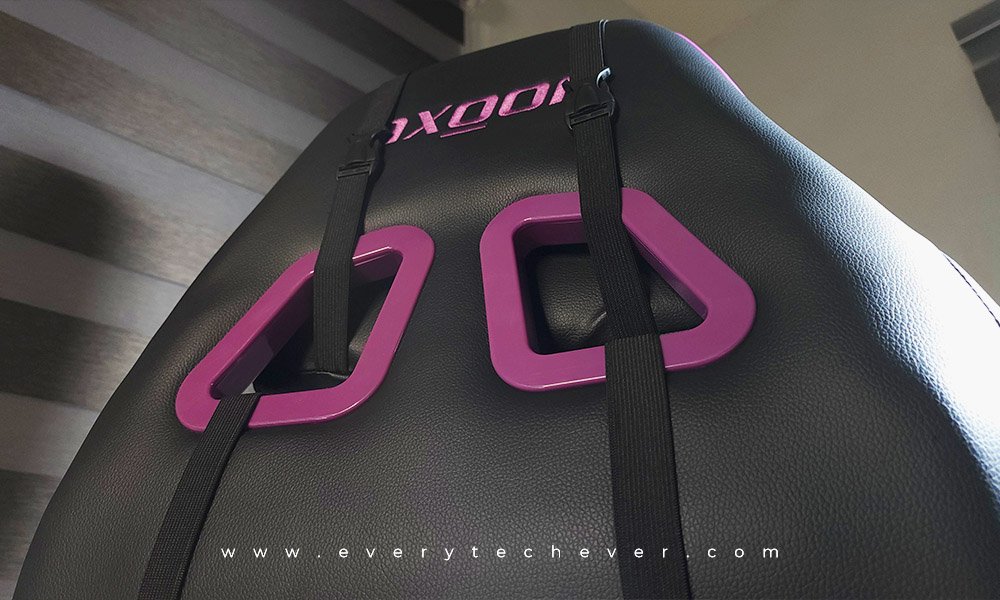 The best affordable gaming chairs don't skimp on stability and comfort in order to keep costs low. There are a ton of options available, and it may be quite difficult to determine which ones are reliable and which ones will fail after a few years. Low-cost gaming chairs do not have to be on par with the finest of the best, but they must be worth the money.
There are perhaps more alternatives available now than ever if you're looking for a decent gaming chair. When determining which seat could be best for you, there are various factors to take into account, such as comfort, design, material, and budget.
One of the items that caught our eye was the Axgon AX1CVA Gaming Chair. You may have a full steel frame, a leather body, and a fashionable color scheme for just 11,200 PHP. Let's see if this Axgon chair will meet your demands.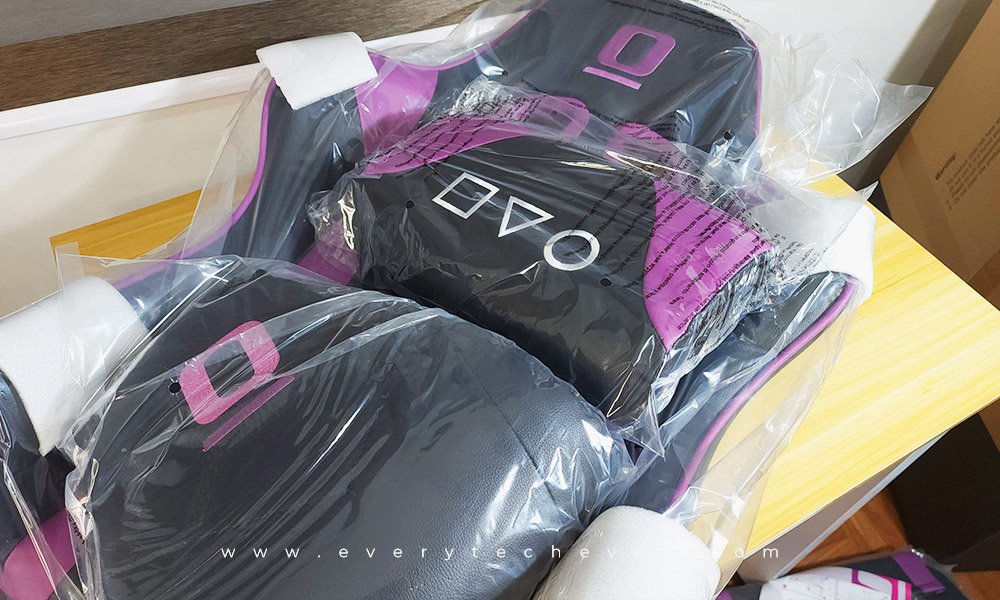 Unboxing time!
The Axgon AX1CVA Gaming Chair came in a standard box with all the parts and tools you need to put it together yourself. It's not particularly fancy, but it just took a few minutes to put together.
Here's our full unboxing video:
Design and Build
If you're searching for one of the most comfortable gaming chairs available, the Axgon AX1CVA is far from inexpensive, but it's worth every penny. In addition to the ergonomic design that already supports you where you need it most, the dynamic lumbar support adds additional support where you need it most.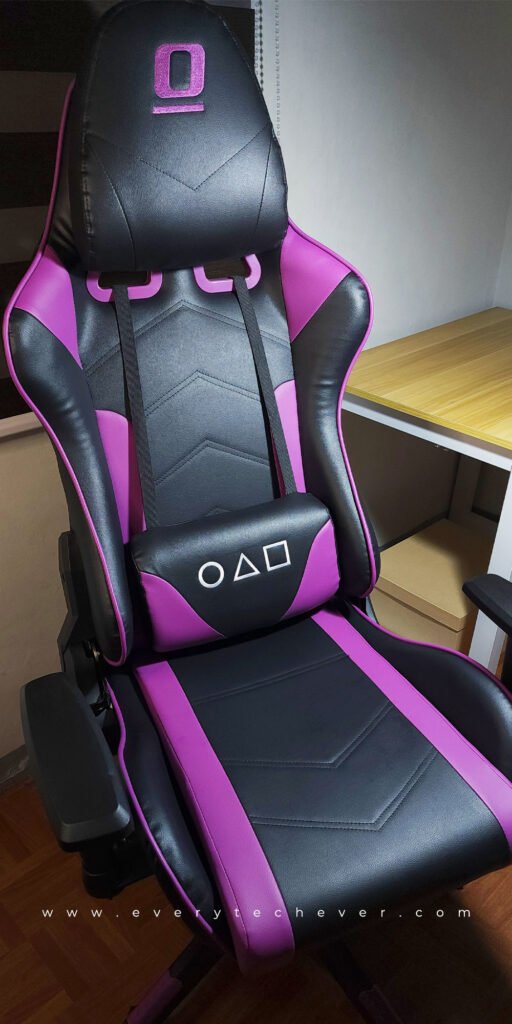 The Axgon Gaming Chair completely matches the style of our setup and sets the mood right for a long day of gaming. We also appreciate that this sub-12,000 PHP gaming chair is already crafted with the leather preferred by racing seats.
In terms of comfort, you can also choose the ideal posture for gaming or relaxing because the backrest can be adjusted to any angle between 90 and 160 degrees.
The Axgon AX1CVA is, for the most part, a standard gaming chair with a bucket seat, caster wheels, and neck and lumbar pillows. This seat stands out thanks to its vibrant color palette, which constantly makes me think of the BTS boy band. The 2D armrests that come with the chair will also make it simple to choose a comfortable seating posture.
Should you buy the Axgon AX1CVA?
A low-cost gaming chair will provide the racing aesthetic if that's what you're after, but what's within that faux leather shell is what really matters. Going too cheap will result in a seat with cushioning that either provides no support or melts away within months, or a structure that cannot withstand the strenuous exertions of a heated gaming session.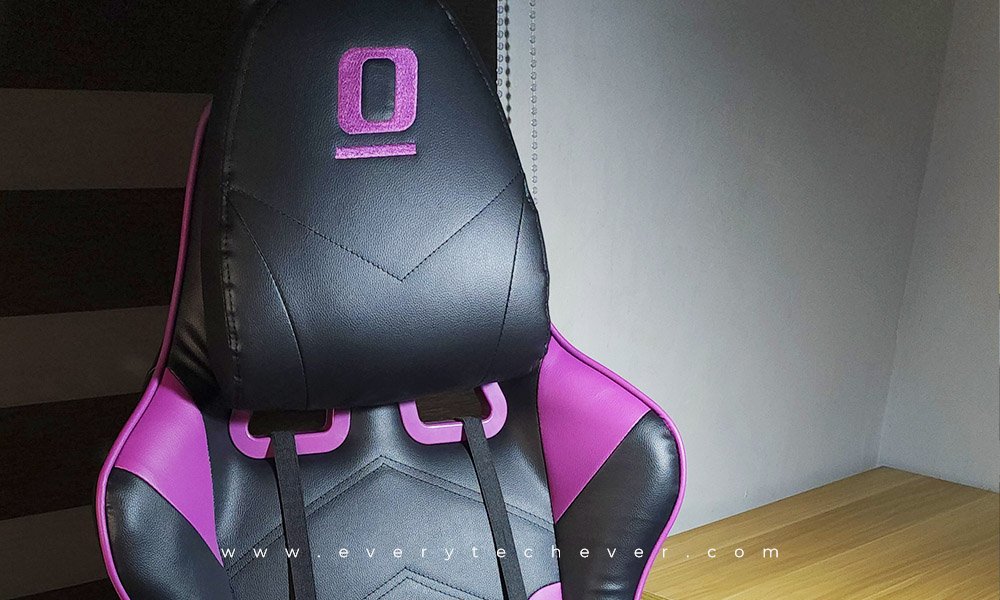 But Axgon offers a far more decent advantage in the affordable price segment. With built-in lumbar support, a high-density mold shaping form, and a full steel frame, Axgon AX1CVA has turned the racing-seat design into one of the ideal ergonomic solutions for prolonged gaming sessions. Not to mention that the color combination should excite K-pop fans.
The Axgon AX1CVA gaming chair is really affordable and has a lot of good functions. It has a neck pillow, height adjustment, and lumbar support. This is one of the best quality products designed with the gamer aesthetic in mind on the market, and without a doubt, the most comfortable racing bucket-style seats across any budget.
Pricing and Availability
The AXGON AX1CVA Gaming Chair is available at the AOC Flagship Store in Lazada for only 11,200.00, also in Shopee and partner retail stores nationwide.
Axgon AX1CVA Specs
Body-Embracing High Back Design
Full Steel Frame
High-Density Mold Shaping Form
Class-4 Hydraulic Spring Gas-Lift
High-Quality Nylon Castors
2D Arm Rest
Follow EveryTechEver for the latest tech news and reviews, also keep up with us on Twitter, Facebook, and Instagram.
Samsung Galaxy A13 Review: A smack in the middle
An affordable Android phone that has decent performance, more than a day of battery life, and class-leading software support.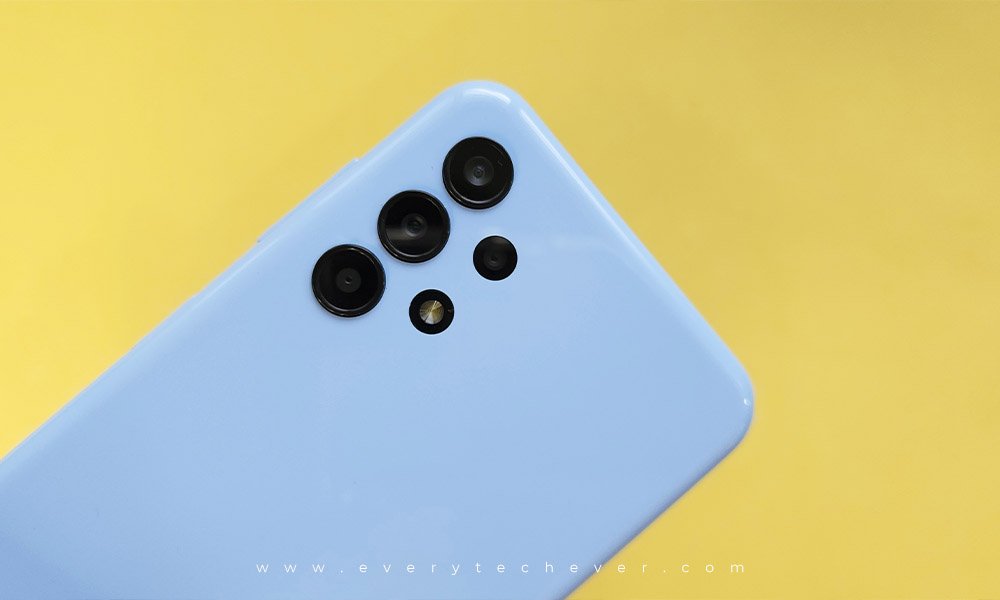 For the first time, a smartphone can be purchased for under PHP 11,000 and comes with a four-year warranty on security updates. You'll experience fluid performance that can easily handle the majority of smartphone tasks, including gaming, and take decent photos that won't make you want to stab your eyes out. That is how I have found the Samsung Galaxy A13 to perform for me.
This Android phone might not look all that great—its good value and chic body collect so many fingerprints—but I've used it without a problem for almost a month. The Galaxy A13 has the essentials down for a very low price if you hate spending money on a phone and don't care about having the greatest cameras.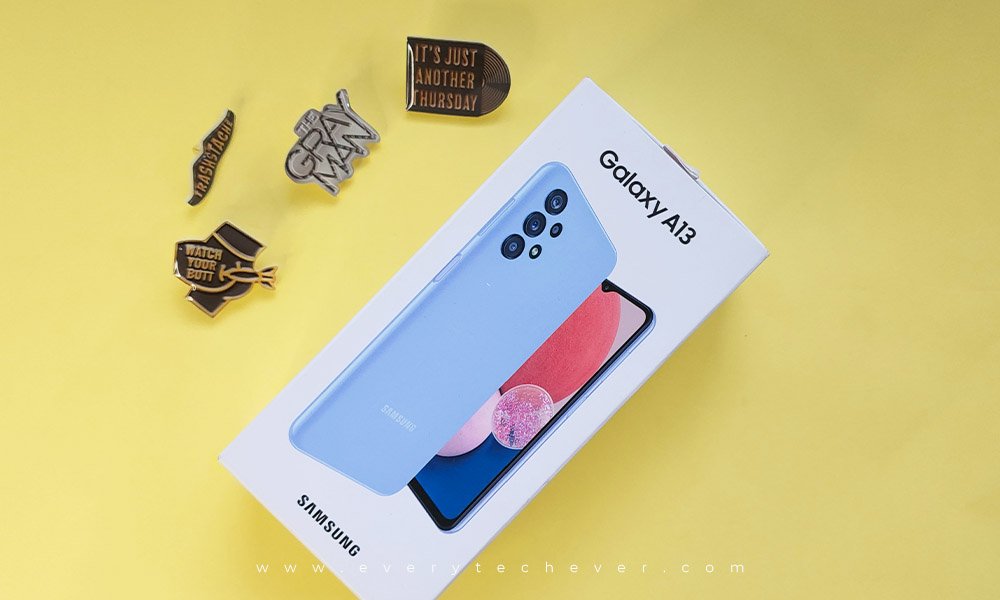 For an enticing value, it offers a large, high-quality screen, a solid battery, and expandable storage. But is it worth buying? Let's examine it to find out.
Unboxing time!
Let's inspect the retail package before moving on to the review. Samsung has included the basic stuff inside the box, except for the protective cover.
Check out our full unboxing video here:
Additionally, the Galaxy A13's whole packaging is constructed of non-corrugated fiberboard (paperboard), also known by the designation 21 PAP. It is environmentally friendly because it is constructed of cellulose fibers, which are reusable and biodegradable.
Build and Design
When you first look at a phone, you could assume it's more expensive than it actually is, and when that happens, you can tell that the design and engineering teams did a good job.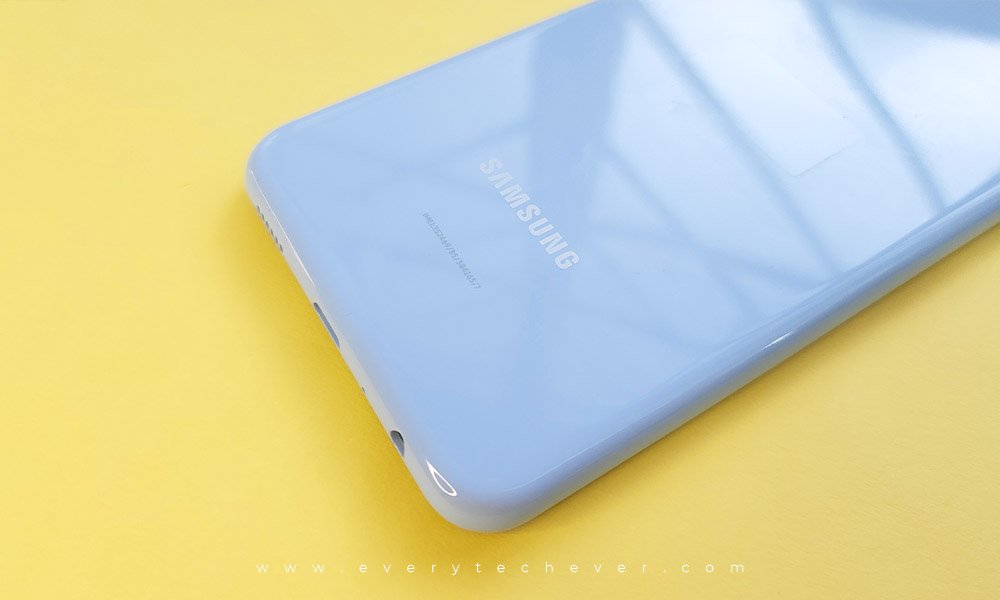 The phone's 6.6-inch screen, which measures 165.1 x 76.4 x 8.8mm, or 6.5 inches by 3 inches by 0.35 inches, determines the size of the device. By modern standards, the phone weighs 195 grams, or 0.43 pounds, and is a comparatively small device that is comfortable to handle and simple to grip.
As you look at the phone, the volume controls are on the right, and the power button has an integrated fingerprint sensor. While we prefer these sensors to be embedded into the screen, it's not a deal-breaker. Samsung managed to fit a 3.5mm headphone jack right next to the USB-C port that is located at the bottom of the device.
Budget phones have not yet benefited from the miracles of waterproofing and dustproofing, and the A13 is no exception. You won't want to drop it in the sink or even let the rain catch it.
Display
The Galaxy A13's screen is rather impressive for the price, thanks to Gorilla Glass 5. Sadly, it isn't an AMOLED display like you'll find on most Samsung phones, nor is it as good as the few low-cost phones that are lucky enough to have OLED panels, but such models typically make compromises somewhere else.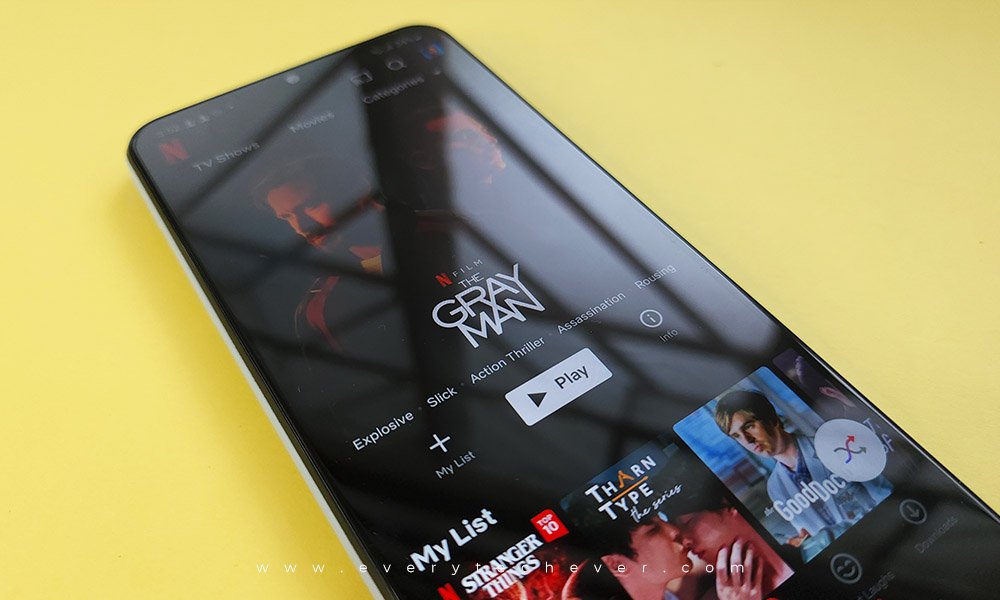 The Galaxy A13's screen is absolutely adequate when viewed straight on, despite having average viewing angles that cause brightness to decrease and colors to fade the more you tilt it away from you. It has excellent, vibrant colors that are reasonably true to life and can display a wide variety of them. The default wallpaper effectively highlights these features, and the resolution is on par with some phones that cost four times as much.
Although greater refresh rates are becoming more popular at this price, it's not surprising that it has a bog-standard 60Hz refresh rate. As a result, you could find that some other competing budget phones are a little smoother to use.
The middle of the display has a teardrop notch, and while the bezels aren't the narrowest you're likely to see, they aren't ugly either. The screen's rounded corners do seem a little bit excessive, but again, this is not a serious issue that would prevent you from getting the Galaxy A13.
The Galaxy A13 camera is great for social media
A 50MP wide, a 5MP ultrawide, a 2MP macro, and a 2MP depth camera are the four that are available.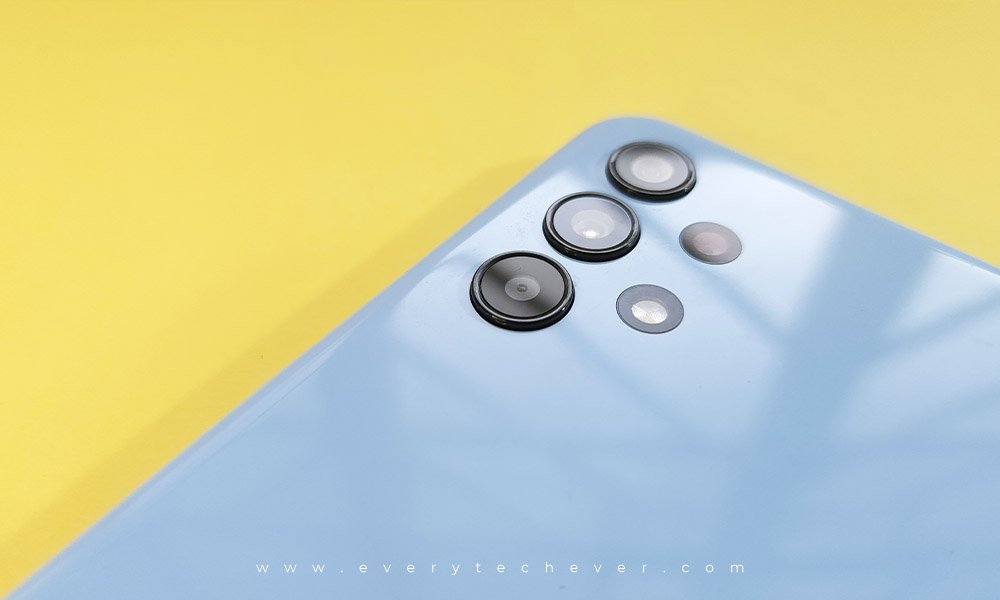 The device can capture video at 30 frames per second in up to 1080p resolution. Unfortunately, there is no stabilization, so if you don't keep the phone very still, it can be pretty shaky and unwatchable. Utilizing a third-party tool like CapCut may be necessary to stabilize video footage.
The 50MP main camera is the center of attention, and with excellent lighting and enough time to keep the phone steady, you can take some seriously gorgeous pictures with it. Even though it doesn't have an optical zoom, the digital zoom does a good job of picking out details, and the HDR processing does a good job of keeping details in both dark and light areas clear.
Here are some daylight shots taken in Puerto Princesa, Palawan: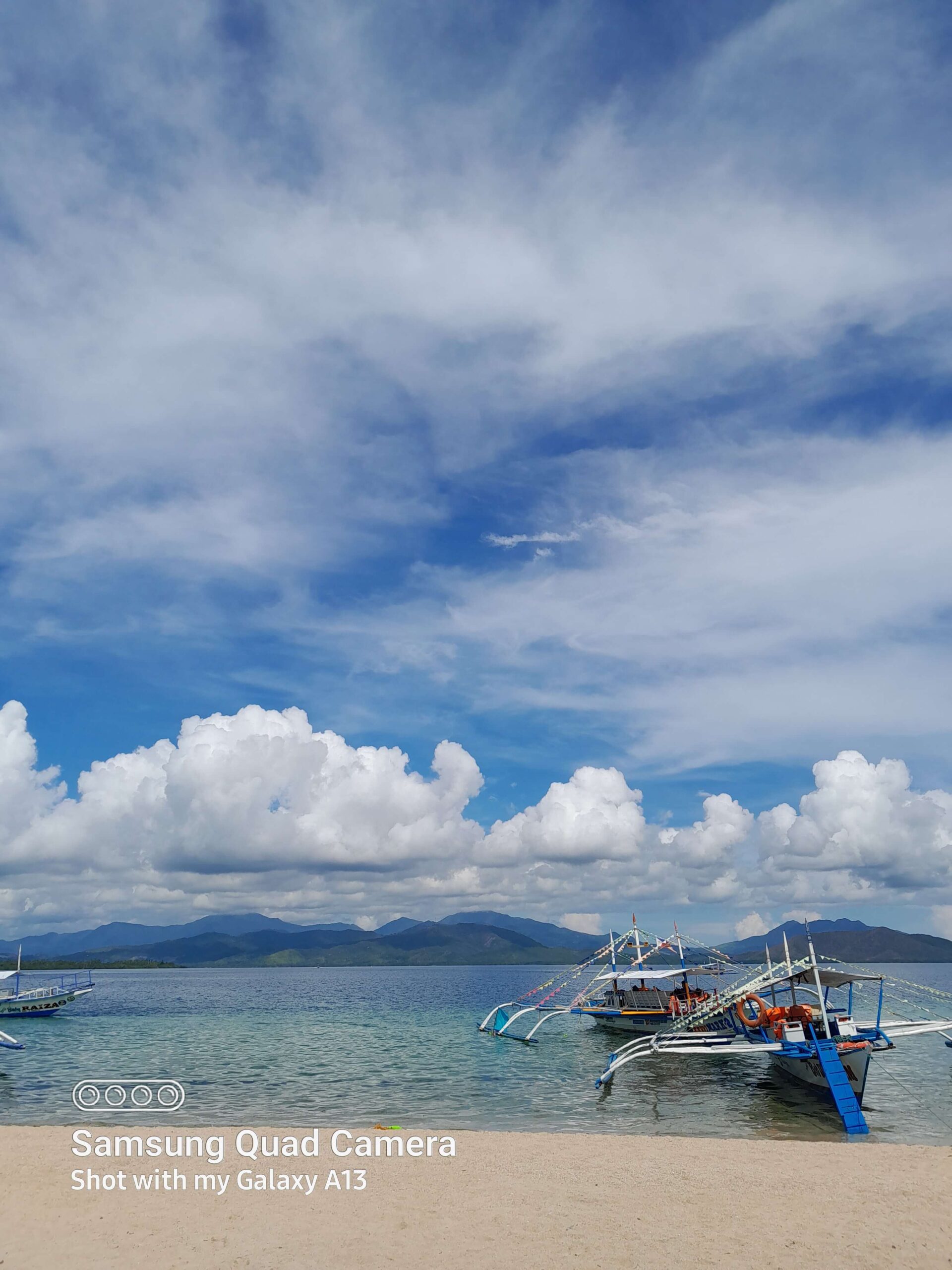 The main camera's low-light images are quite good, especially for a low-cost device. Without using an excessive level of sharpening, there is a nice amount of detail. There is hardly any noise.
Unfortunately, the Galaxy A13 doesn't have a night mode, but it can still take good pictures in low light.
Here are some lowlight shots for your consumption: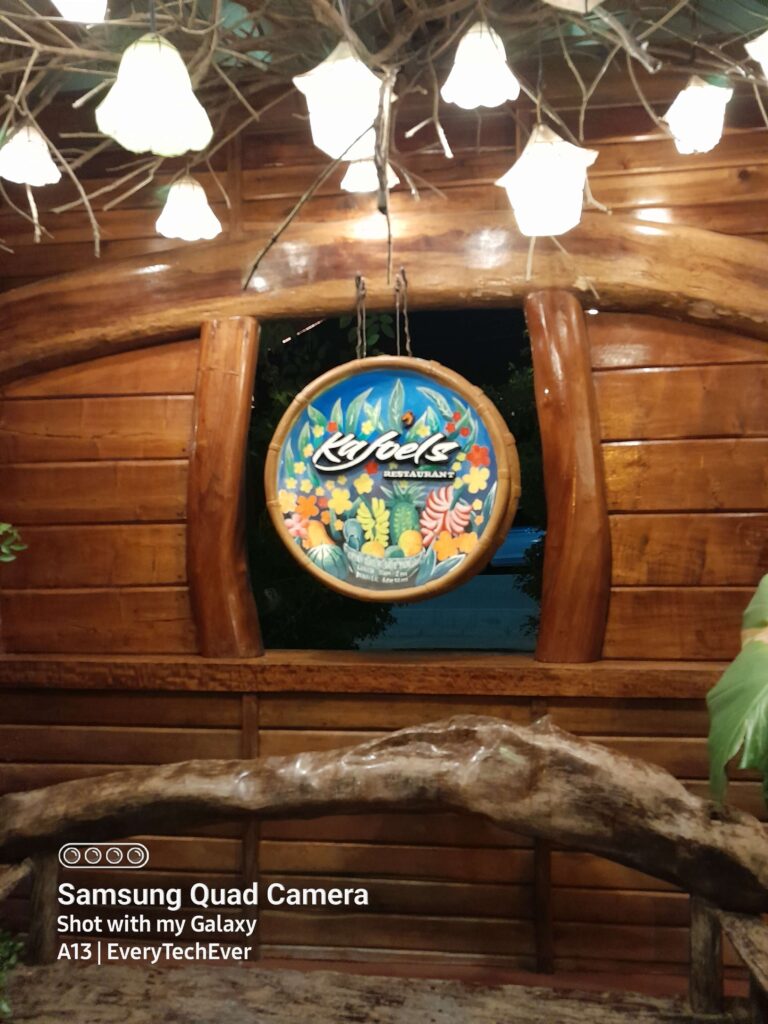 It's an awesome daily driver
Samsung's Exynos 850 chipset, 4GB of RAM, and 64GB of storage are all included in the Galaxy A13. If needed, additional storage may be added using a microSD card.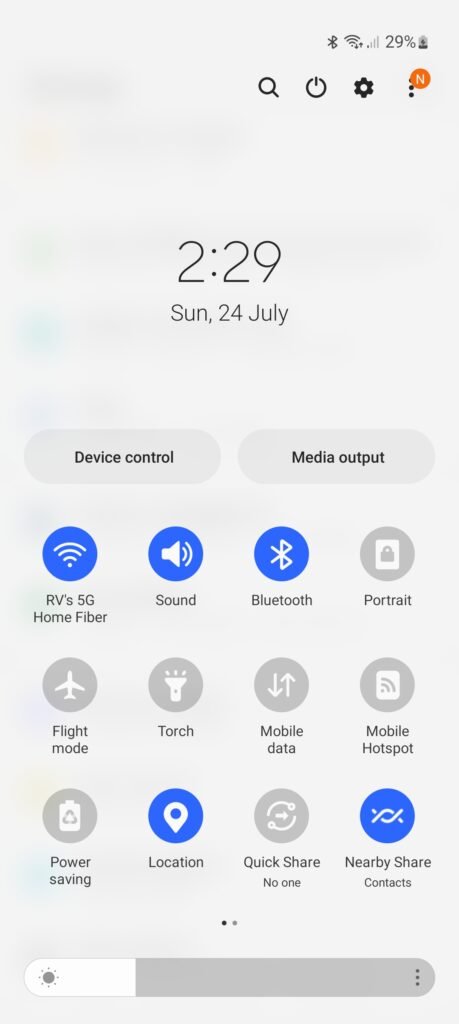 A new software framework, including Android 12 and Samsung's exclusive One UI 4.1, is included with the Galaxy A13 out of the box. Even though the popular custom software layer is now at version 4.1, the Galaxy A13 only gets a shortened version called "One UI 4.1 Core."
Check out these benchmark tests we've conducted:

Benchmarks are one thing, but in practice, its performance is rather respectable given its price.
All-day battery life!
You'll also like Galaxy A13's large battery capacity as one of its advantages. The A13's 5000mAh battery performed admirably for 14 hours and 23 minutes in PCMark's battery test.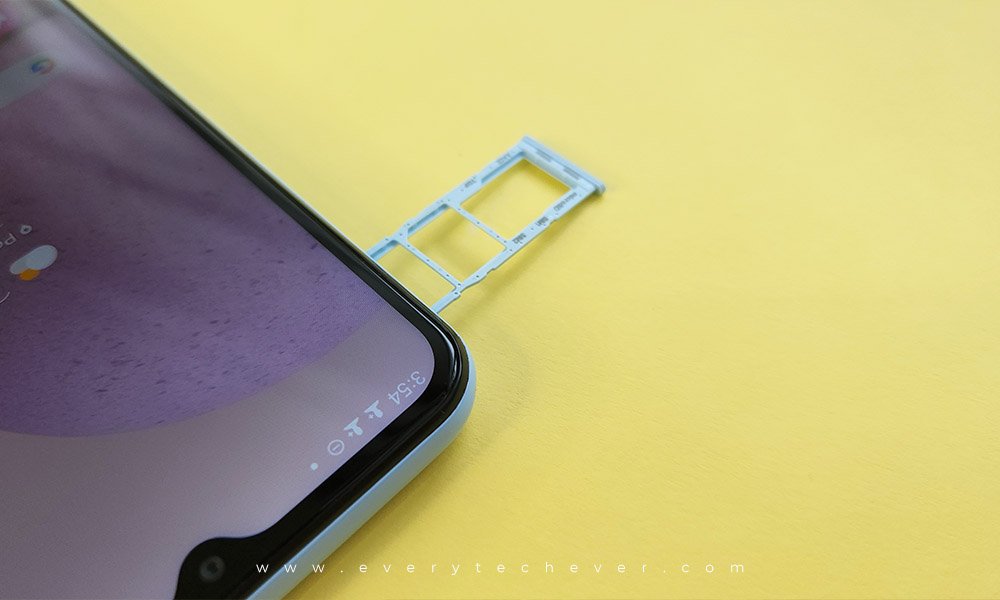 With a normal level of use, the Galaxy A13's 5,000 mAh battery should last you more than a day. If you're very careful, you might even get two days out of it. This is because of the huge battery and the less powerful internal components.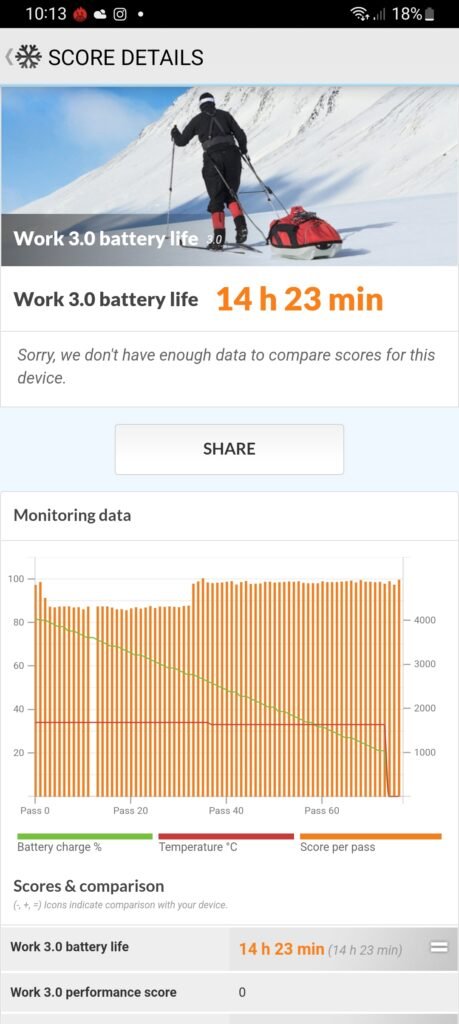 The battery level dropped by 10% after an hour of low-volume video playback on the phone with the screen at maximum brightness, indicating a total playback time of about 10 hours. You could stretch it even farther if you dimmed the screen, making long-distance movie viewing possible.
This phone only supports wired charging; wireless charging is not an option. This is to be expected for a smartphone in this price bracket. The wired charging rate is also quite decent at 25W.
Samsung Galaxy A13 Specs
Processor: Octa-core Samsung Exynos 850
Memory: 4GB
Storage: 128GB + microSD up to 1TB
Display: 6.6in 20:9 1080×2400 IPS LCD
Cameras: 50MP (main), 5MP (ultra-wide), 2MP macro, 2MP depth, 8MP front
Headphone Jack: Yes
Battery: 5,000mAh
OS: Android 12 with OneUI 4.1
FM Radio: No
Dimensions: 165 x 76.5 x 9mm (6.5 x 3.0 x 0.4″)
Weight: 195g
NFC
Wi-Fi 5
Bluetooth 5
USB 2.0 (USB-C)
Colors: Blue, black, white
Should you buy the Samsung Galaxy A13?
This is for those who desire a premium-brand phone at a reasonable price. The Samsung Galaxy A13 is the ideal choice for those of you who want to spend as little money as possible because there aren't many brand-new smartphones available for less than its asking price.
If you're trying to find a good camera, the Samsung Galaxy A13's quad-lens camera is one of the best at this price point and can produce excellent images.
Additionally, the Galaxy A13's 5,000 mAh battery and software optimization give it a battery life that is above average for people who are constantly on the go.
The Samsung Galaxy A13 is currently available in all retail stores and partner online shops across the country, for only PHP 10,490.
Follow EveryTechEver for the latest tech news and reviews, also keep up with us on Twitter, Facebook, and Instagram.