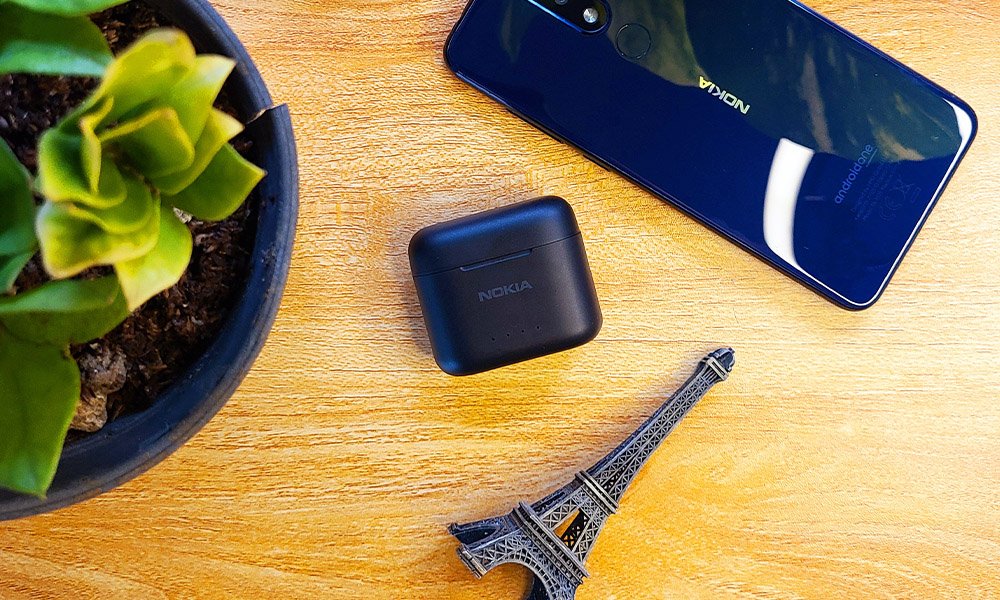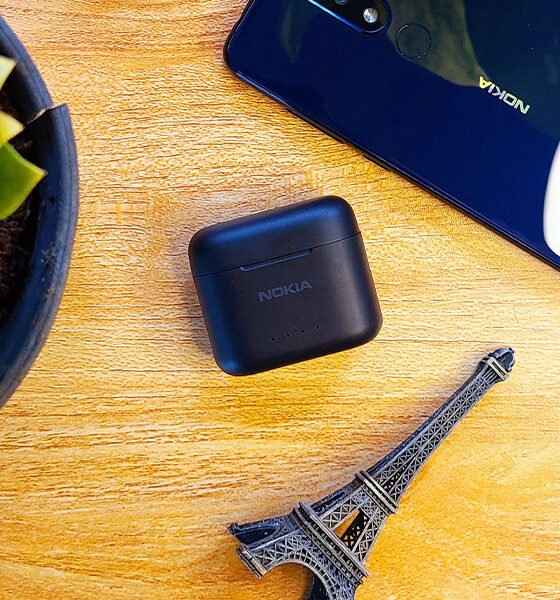 Nokia E3101 TWS Review: Essentially impressive for the price
Is the Nokia E3101 a good pair of TWS earbuds for you?
In the past, Nokia was a smartphone market leader. Not only that, but they've also helped launch a number of audio accessories and teamed with companies like JBL and Coloud. And they aren't newcomers when it comes to wireless headsets and earphones. Do you recall the Nokia Luna Headset or the Nokia Purity Headphones? Those were just amazing back then.
Since leaving the initial camp of smartphones, Nokia has begun to make efforts in the audio industry, specifically wireless earphones.
Wireless earbuds are a popular choice among individuals who want to take their music with them wherever they go, whether it's a quick stroll to the coffee shop or a daily jog around the block. There are plenty to choose from these days, and you may easily choose a pair that matches your personality.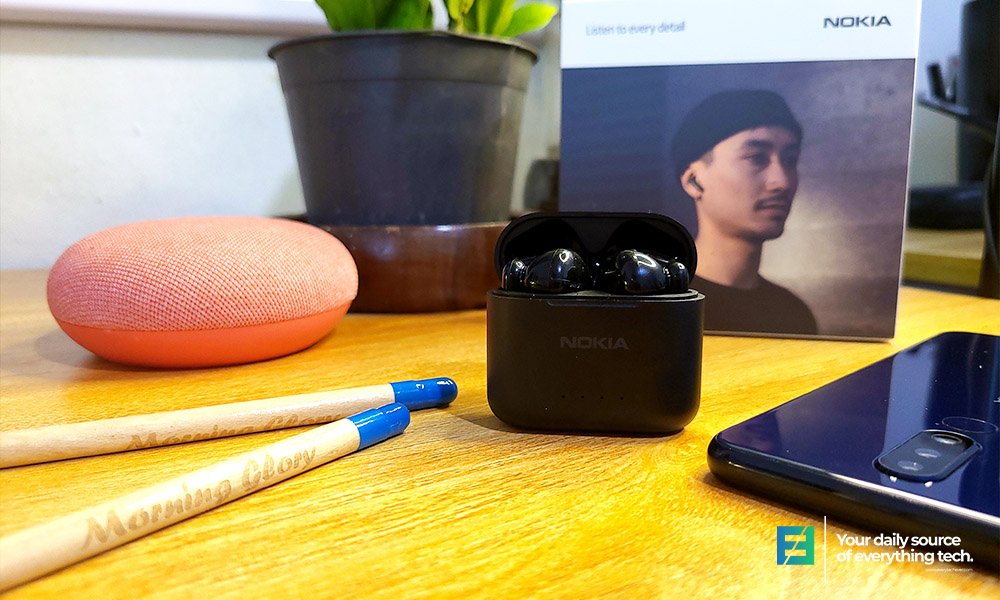 With so many headphones to pick from, it's difficult to know which are the best true wireless earbuds for you. It's even more difficult if you're on a budget because even the best inexpensive headphones won't have AirPods-quality audio or top-tier smart capabilities if their price is too low – yet you still want to know you're getting the most bang for your buck.
The Nokia E3101 TWS is the successor to the E3100, which was released in February. It is designed to be tiny and portable without sacrificing sound quality. Nokia RichGo stated that it was designed with signature acoustics to let customers hear the music "just" as musicians and artists intended. It is currently selling online via Shopee, Lazada, and RichGo Facebook shop for only 1,990 PHP.
Let's see if the Nokia E3101 lives up to our expectations.
What are true wireless (TWS) earbuds?
True wireless earbuds, for those unfamiliar with the term, are earphones that have no cables between them – neither to connect them to your music streaming device nor to connect them to each other. Each bud is a self-contained unit that communicates with its counterpart without the use of wires.
Nokia E3101 TWS Earbuds Specifications (click here)
Frequency Response
20 Hz to 20kHz
Transducer Principle
Dynamic
Transducer Size
13mm
Impedance
16?±15%
Microphone Principle
MEMS x 2
Power Supply
Built-in Lithium rechargeable batteries, 3.7V.
Left earbud: 40mAh
Right earbud: 40mAh
Charging case: 350mAh
Type-C charging via type-C socket of the charging case: 5V, 300mA.
Operating Time
5hrs (music playback via A2DP) with rechargeable batteries of the earphones* 20hrs with a rechargeable battery of the charging case*
Charging Time
Earphones: approx. 2 hours
Charging case: approx. 2 hours
Charging Case Input
USB-C
Ingress Protection (Earbuds)
IP44
Profiles
HSP,HFP,AVRCP,A2DP
Effective Range
Line of sight approx. 30ft (10m)
Transmission Frequency
2.402 MHz to 2.480 MHz
Output Power
5mW
Weight
Left earbud: approx. 3.4g | Right earbud: approx. 3.4
Nokia E3101 Unboxing experience
The Nokia E3101 is packaged in a straightforward manner. The earphones, charging case, and USB-C charger are all included in the E3101 box, however, no power adapter is included. We tested the device in black, which has a matte case and glossy earbuds that seem akin to other brands on the market.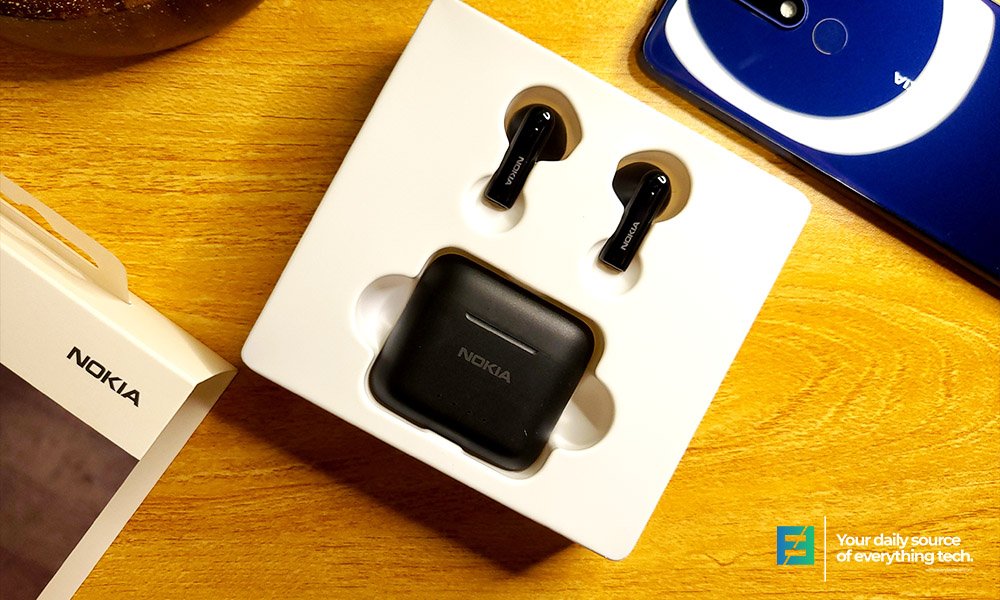 Underneath the plastic packaging is the product instructions and charging wire. The USB to Type-C data cable is around 30cm long and contains a USB connector. It may be charged by plugging it into laptops, desktop computers, charging ports, power banks, and other devices.
Familiar design, listen comfortably
The Nokia E3101 has a similar form to the Apple AirPods, except the headphone handle is shorter. It's easier to slip the flat charging case into your handbag or pocket.
The Nokia E3101 has an IP44 splash-proof construction, so rain or sweat won't stop you from listening to music, making calls, or working out. One of the earphones is accidentally dropped in flowing water, but it still works. Don't forget to wipe it down afterward.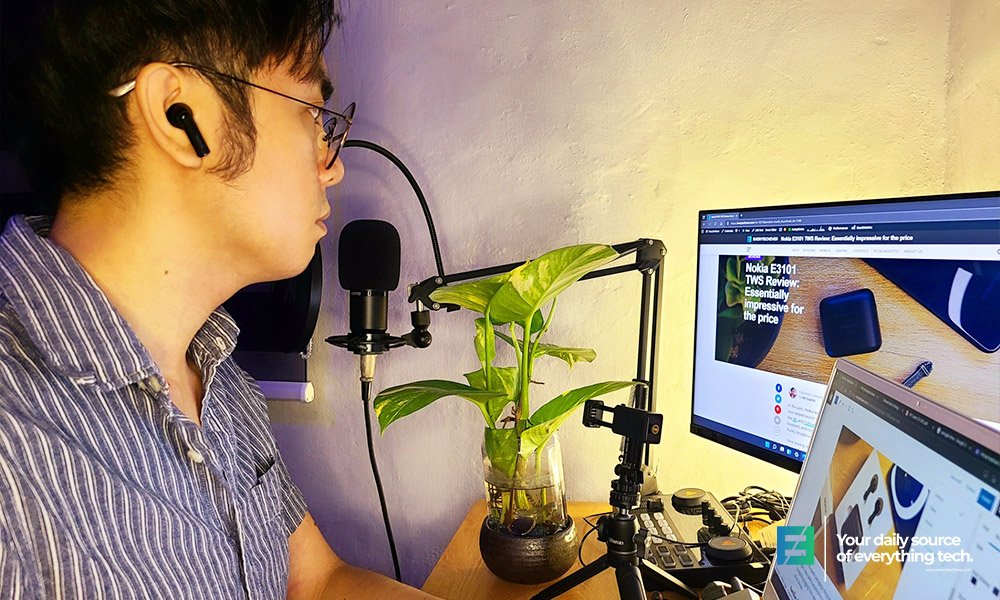 Music control with just a tap
Pausing, playing, and switching tracks were all quite smooth and easy to do with light taps. With the touch controls on the Nokia E3101 earphones, you may go forward or backward in your playlist while listening to music. To pause, tap once on either earpiece, twice on the right earbud to go to the next song, and once on the left earbud to play the previous song.
Additionally, if you press three times, Google Assistant and Siri will activate, allowing you to obtain directions, check your calendar, or make a call without having to pull your device out of your pocket.
Share it!
Dual hosts are supported by the Nokia E3101 handset. Regardless of the primary and secondary headphones, the left and right earphones can be used. You can share your music with a friend while walking apart or just wear one earbud at a time.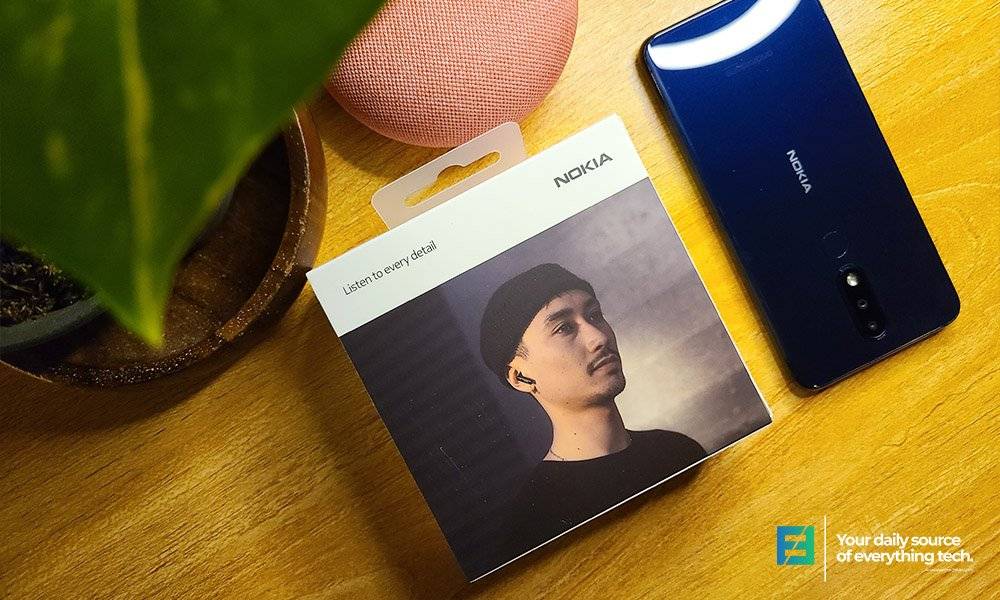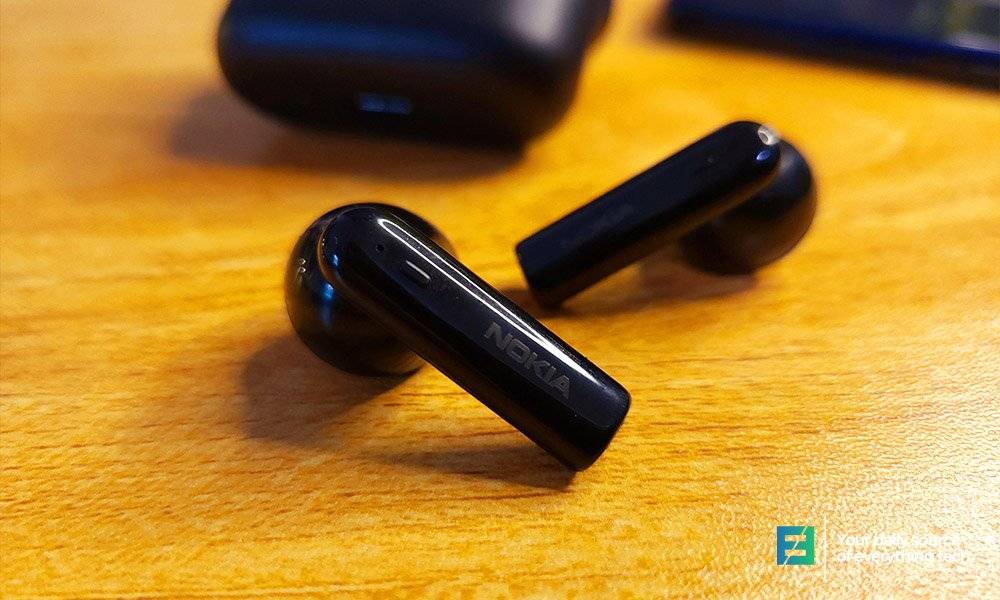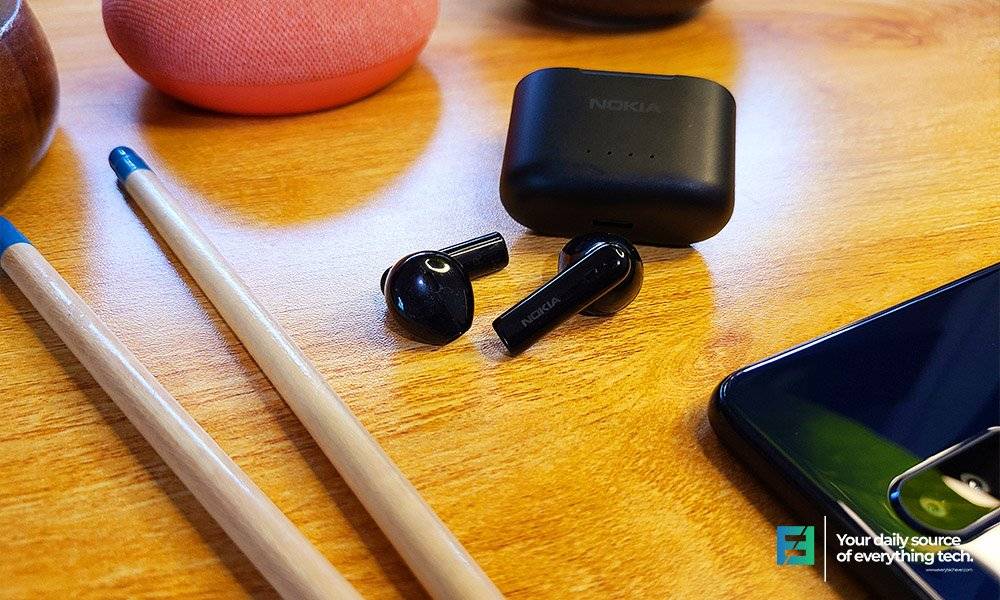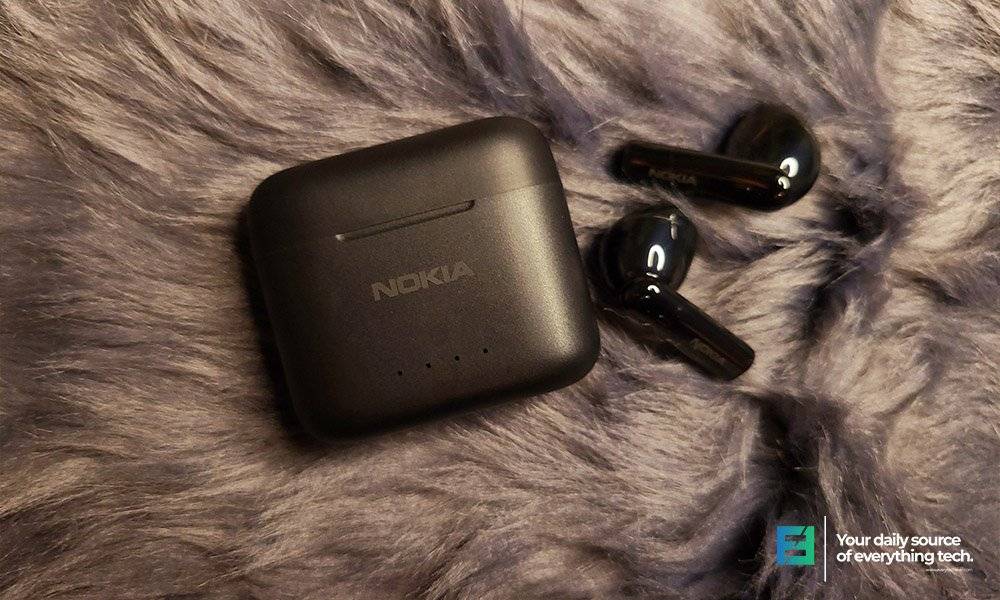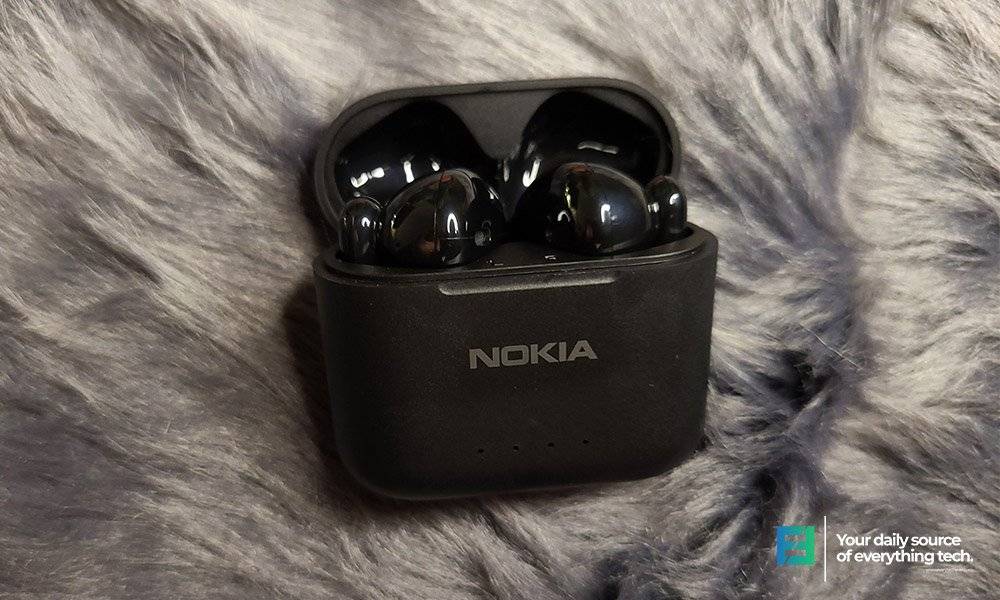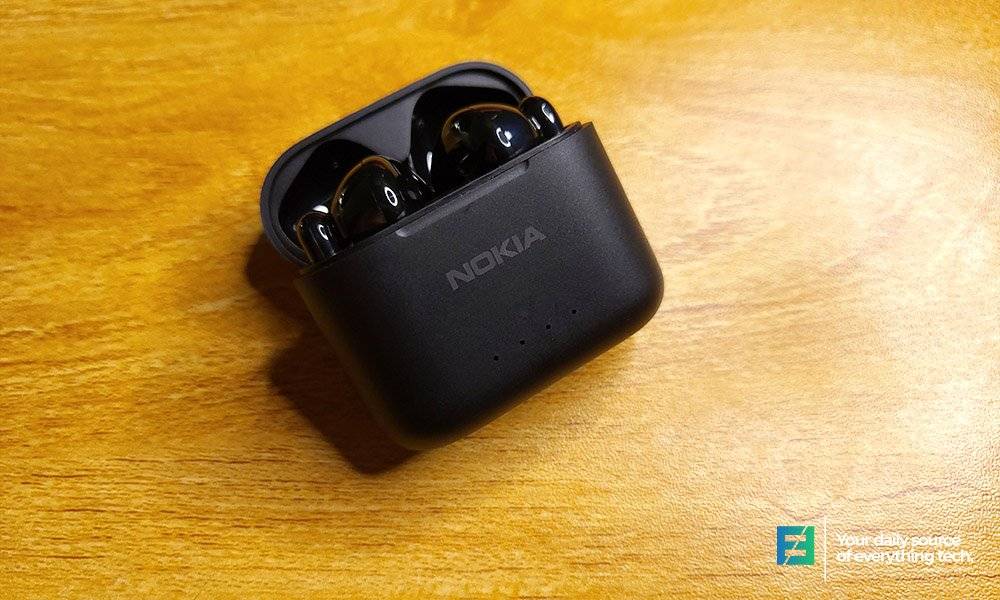 nokia E3101 design-11
nokia E3101 design-22
nokia E3101 design-33
nokia-E3101-fur
nokia-E3101-case-1
nokia-E3101-case
(swipe for more images)

Well balanced sound
Engineered with signature acoustics
The Nokia E3101 features signature acoustics to ensure that music is delivered precisely as expected. The size of the driver does affect audio quality; the larger the driver, the greater the bass. However, this isn't always the case. The ideal size for an earphone driver is between 8mm and 15mm in diameter, and the E3101 falls just in the middle at 13mm.
We were thrilled to see that the E3101 remained as sharp and balanced at the highest volume setting as it did at lesser settings. Most modern pop songs and acoustic recordings, as well as genres with more intense or instrument-laden sounds like pop, trance, country, or whatever musical genre fits your boat, will be no problem.
Fortunately, even at the highest level, we never experienced any cracking or artifacts. In terms of stereo sound quality, we put it to the test by playing LMFAO's "Party Rock Anthem" a 2011 Electronic Pop track famed for its mix Bb Instruments. We noticed that, given the price range, the separation and balance between left and right earphones worked quite well. Even in slow and strong ballads like Adele's "Easy on Me" or Taylor Swift's "Cardigan", the Nokia E3101 does not disappoint, with every word coming through crystal clear.
Even if it isn't perfect, the Nokia E3101 TWS produces a clear, balanced sound. Though the audio is clear, it lacks the depth and dynamic range that a more expensive model would provide. There's no denying that spending a little more on Samsung Galaxy Buds2 will bring you better sound, but when you consider that they're also more expensive than the Nokia E3101, the Nokia E3101 becomes an attractive option.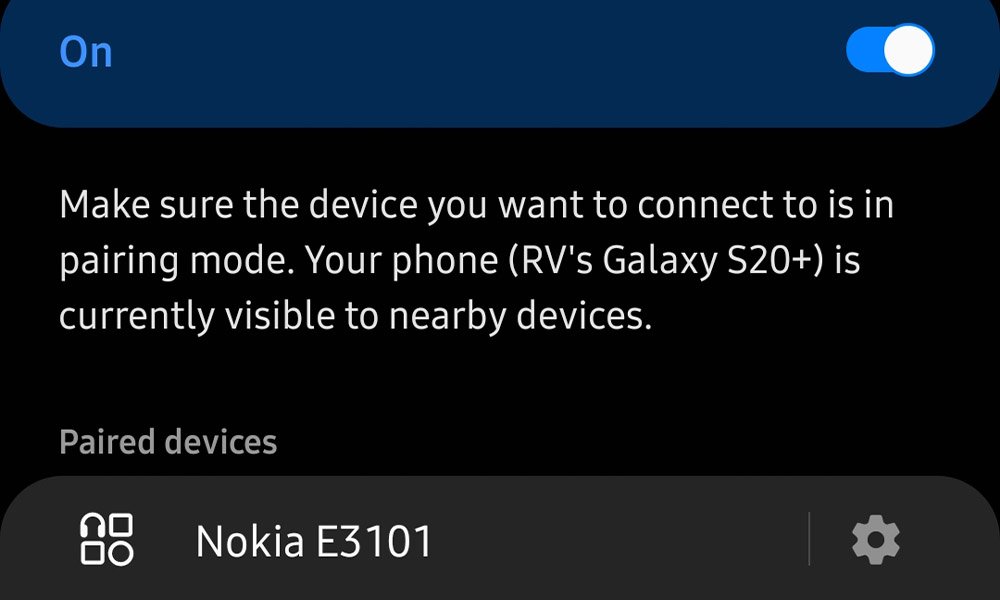 Microphone works great for normal calls and audio recordings
On both phone calls and video calls, the Nokia E3101 provides fairly clean audio input and output. Each of the buds has a single mic that does not enable ambient mode or active noise cancellation. This may be a difficulty for individuals making calls in noisy environments, but you can be assured that your speech will not have any grainy sound.
We were pleasantly impressed by the quality of the earphones for audio recordings: they were better than we expected, especially for this price range.
Earbuds on the go
The earbuds are rated to last 5 hours of continuous use, with the charging case allowing for an additional 3 charges, for a total of 20 hours of listening time in theory. Based on our tests, the Nokia E3101 delivered on its battery life guarantee.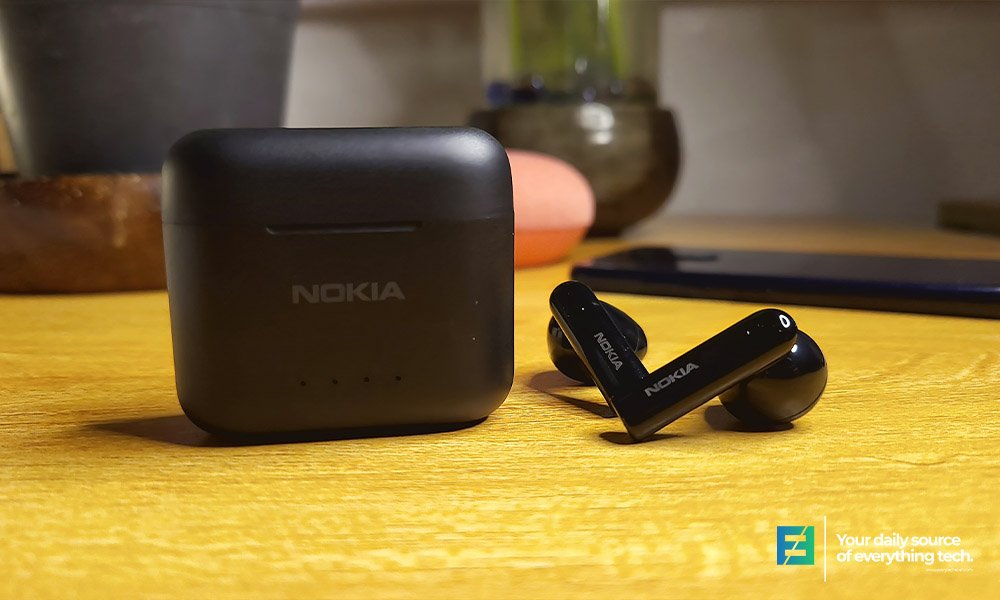 Verdict
The Nokia E3101 Wireless Earbuds are not the best choice for audiophiles who pay close attention to every nuance of sound. They're also not the best tools for musicians who need to be able to hear every vocal and instrumental nuance in a song.
The Nokia E3101 is primarily designed for users on a budget who want more. Despite the low price, it delivers more than it's worth. The device is great for people who don't want to spend a lot of money on headphones but still want a decent audio experience. They're a good choice for casual listeners looking for a balanced, consistent sound on their favorite music.
Other TWS earbuds, such as those from Xiaomi, Realme, or Huawei, are available, but you can trust Nokia's quality and reputation. Given its price range and all of the essentials, the Nokia E3101 is easy to recommend.
Nokia E3101 TWS Earbuds Review
Design & Comfort
Performance
Audio Quality
Battery Life

Anker PowerPort III Review: The Only Charger You Need
Truly live more when you charge fast!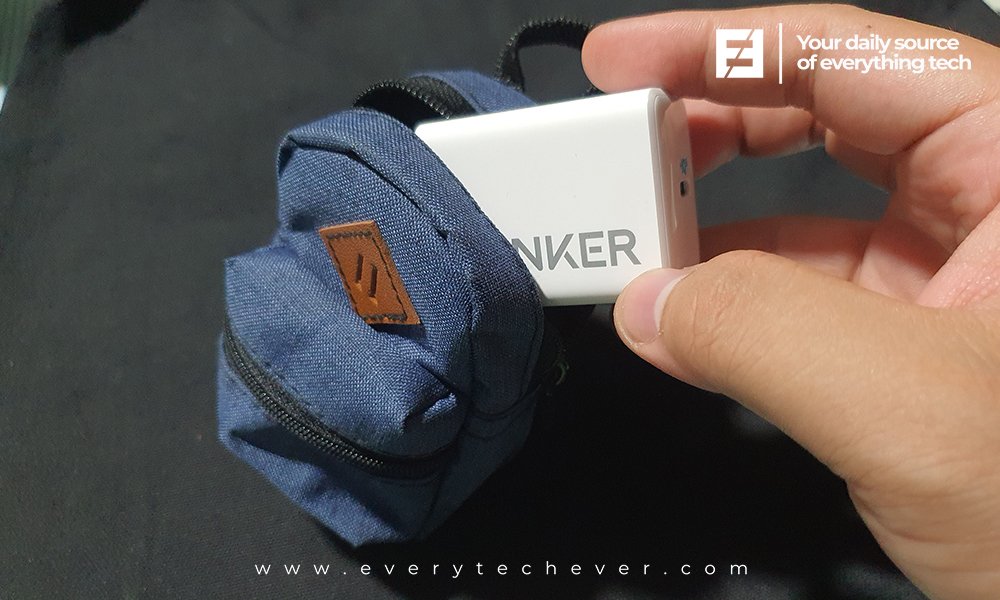 In our current generation where charging bricks are starting to get out from mobile device boxes, it has become more relevant to look up the best chargers on the market.
Anker, among others, is one of the leading global brands in charging technology. Their products include wireless charging, car charging, power banks, and wall chargers.
Portable and wall chargers are the best-selling products of Anker. They term their Charging adaptor product line as PowerPort, with their most recent release, the PowerPort III. This 3rd iteration of the said product line by Anker is its latest fast charger offering with a whooping 65W Power output.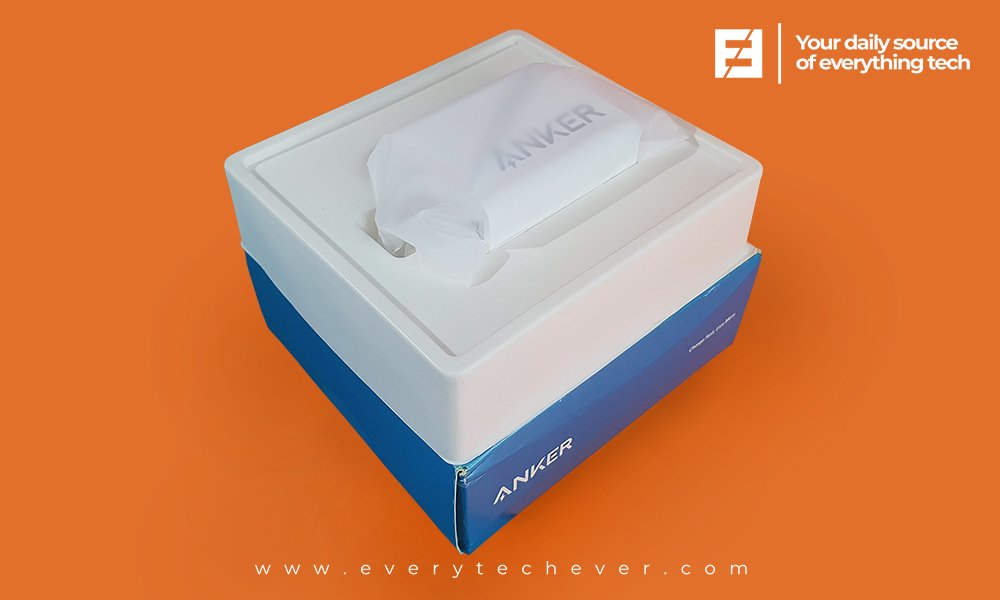 What's in the box?
Unboxing the Anker PowerPort III, you'll find the charging brick immediately. No other accessory is included. The charger is quite heavy at 132 grams. The exterior is made out of plastic with a matte finish on the side and a glossy finish on the back where you will find its single USB-C slot.
Design and Features
Great Power that fits in your pocket
The Anker PowerPort III is a powerful wall charger, that boasts a massive 65W output, that can charge smartphones as well as laptops. Slightly bigger than those usually included in out-of-the-box phone chargers, the PowerPort III is still compact at 6.8 x 3.0 x 4.5cm. I personally find it very useful that I could leave my bulky laptop charger at home and treat my laptop like a smartphone when charging using this PowerPort.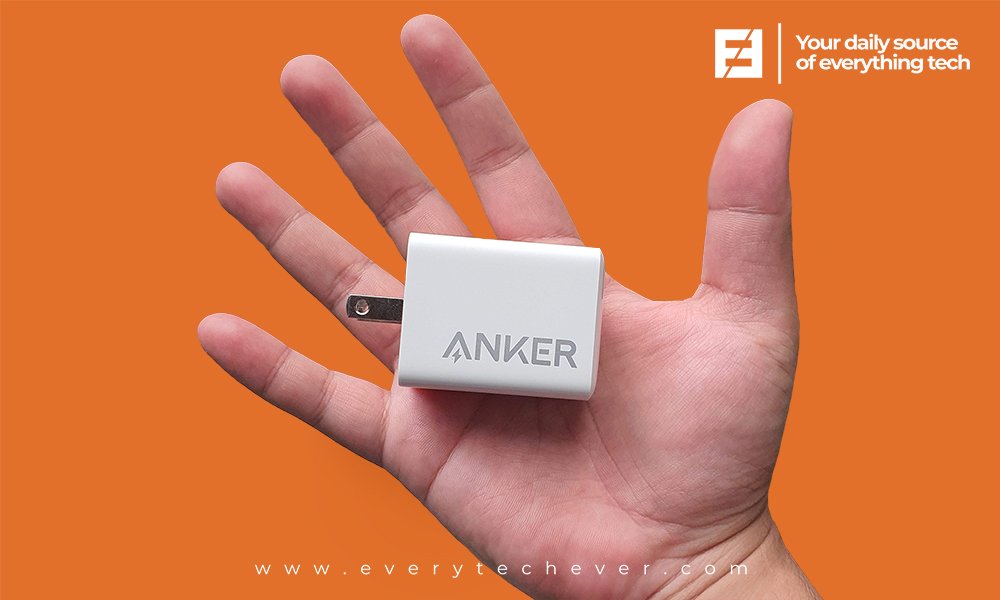 Anker is also revolutionizing the way its charging technology is constructed. They call this the MiniFuel, in which by incorporating a unique stacked design, they have been able to reduce the overall size or footprint of the charger while boosting both efficiency and heat dissipation.
The best charger for a traveler
The PowerPort III has become an easy favorite accessory for me, especially since I bring different gadgets when I go out. It serves as my universal charger. It is good for charging laptops, smartphones, power banks, and wearables. It eliminates the need of bringing multiple chargers for every device.
Performance
The PowerPort III is equipped with Anker's exclusive PowerIQ 3.0, making optimized charging virtually to any device.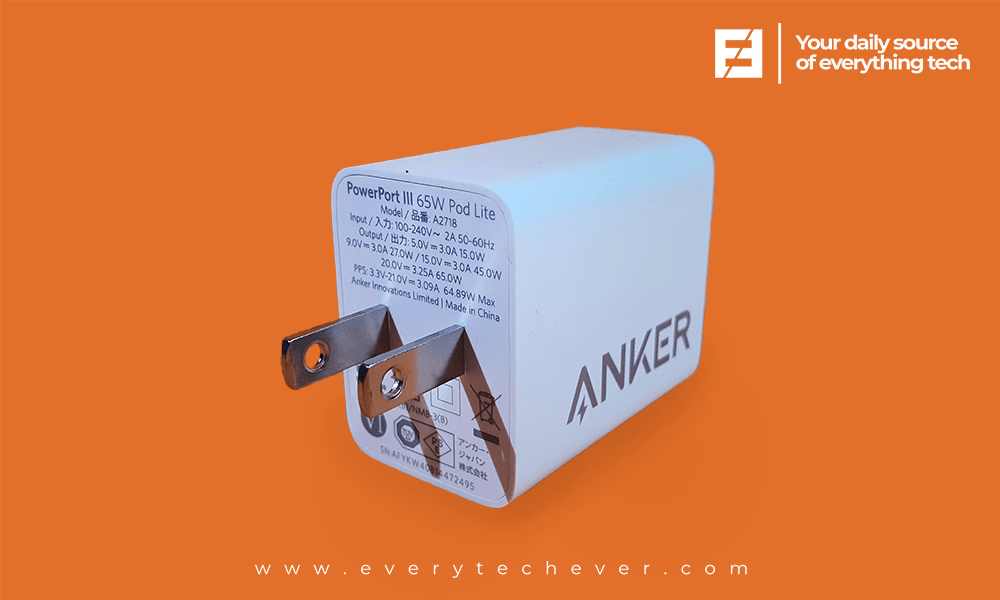 The phone I am using is a Samsung Galaxy Note 10+, which has up to 45W fast charging capability. It is a delight for me to use the PowerPort III as it activates Super Fast Charging 2.0, which can fully charge my device from empty for only 1.5hrs. It is around an hr faster than the regular 25W charger provided in the box.
Aside from my smartphone, I've also started using the PowerPort III for my Dell E5320 laptop. Having to leave my default and bulky laptop charger at home is the best thing the Anker PowerPort III has done — while charging it similarly to the bundled 65W power adaptor.
Should you buy the Anker PowerPort III
The course of phone makers to remove chargers as default accessories is really a big frustration. It is not really okay to spend more to get what you can get free before. But since this has become the new reality, adapting is the only key.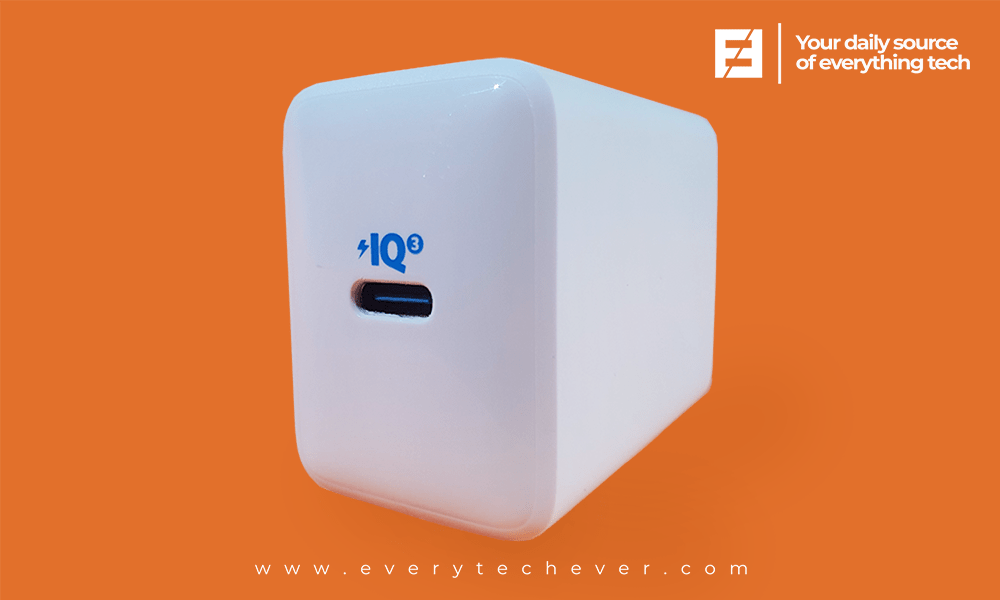 Looking for the best option out there can be the only way to get rid of the frustration — and getting the Anker PowerPort III does the job. It is an easy decision to choose as it is one of the best charger adapters on the market. Paying for the extra thousand Pesos does not only give you a reliable fast charger for your smartphone but also for laptops and tablets. It is a reliable charger for all, making a step forward for a simpler life with electronics.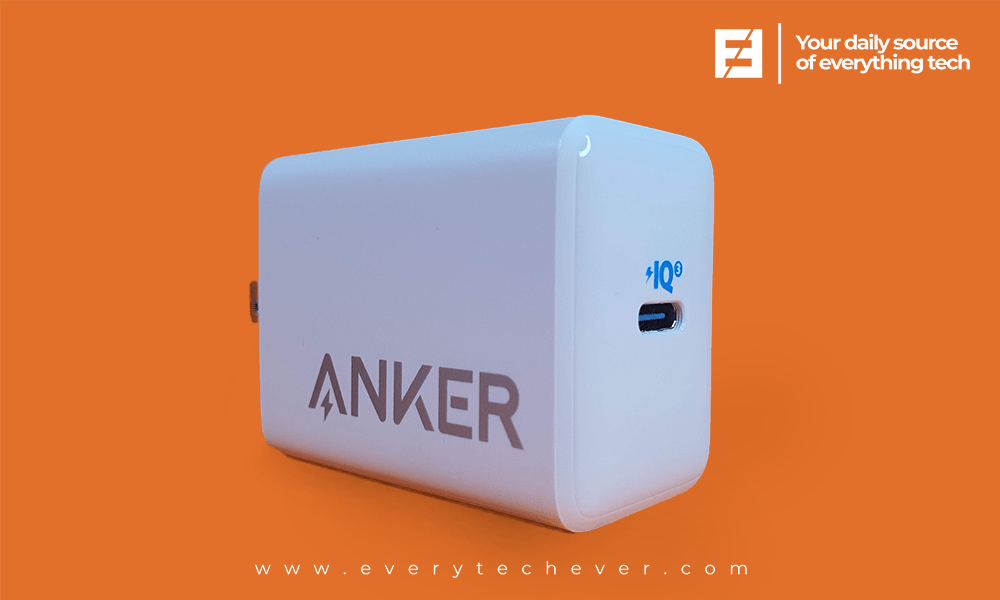 What I did not like about the Anker PowerPort III is that it only has a single USB-C port, which means you cannot use the adaptor for multiple and simultaneous charging. Also, in the box, you would only find the charger itself, no other accessories whatsoever. It would be a very nice addition to have a bundled cord that is also compatible with fast charging. In my case, I'm using the fast charging cable bundled from my Galaxy Phone. If these are not major letdowns for you, the PowerPort III is an excellent buy.
Pricing and Availability
The Anker Powerport III is available online on Soundcore Official Store on Lazada for only 2,551.00Php. At this time, you can grab it at a discounted price, 1,499.00.Php, for a limited time. Every purchase of the PowerPort thru Lazada comes with a welcome guide, worry-free 18-month warranty, and friendly customer service.
Anker PowerPort III Review
Summary
Looking for the best option out there can be the only way to get rid of the frustration — and getting the Anker PowerPort III does the job. It is an easy decision to choose as it is one of the best charger adapters on the market. Paying for the extra thousand Pesos does not only give you a reliable fast charger for your smartphone but also for laptops and tablets. It is a reliable charger for all, making a step forward for a simpler life with electronics. 

Anker Nano PIQ 3.0 Review: A compact universal charger
It's one of the smallest yet most powerful fast chargers we've tested.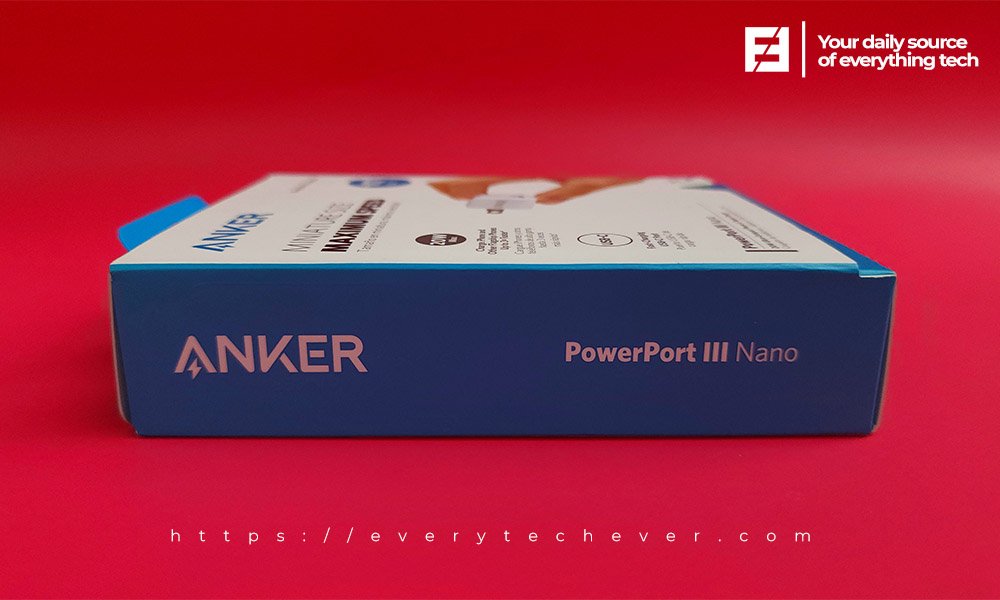 Anker has a wide range of charging products to meet almost any charging demand. The Anker Nano PIQ 3.0 was created with space efficiency in mind. It has to be one of the smallest USB-C charging devices ever released.
Of course, size isn't the only consideration when selecting a charger for your devices. The ideal adapter is determined by the amount of power required as well as the inbuilt fast charging standards. In this review, we'll go over the benefits and drawbacks.
The third generation of the PowerPort line offers users a speedier alternative to the charger that comes with their new gadgets. Anker's new PowerPort III 65W and Nano carry on the legacy.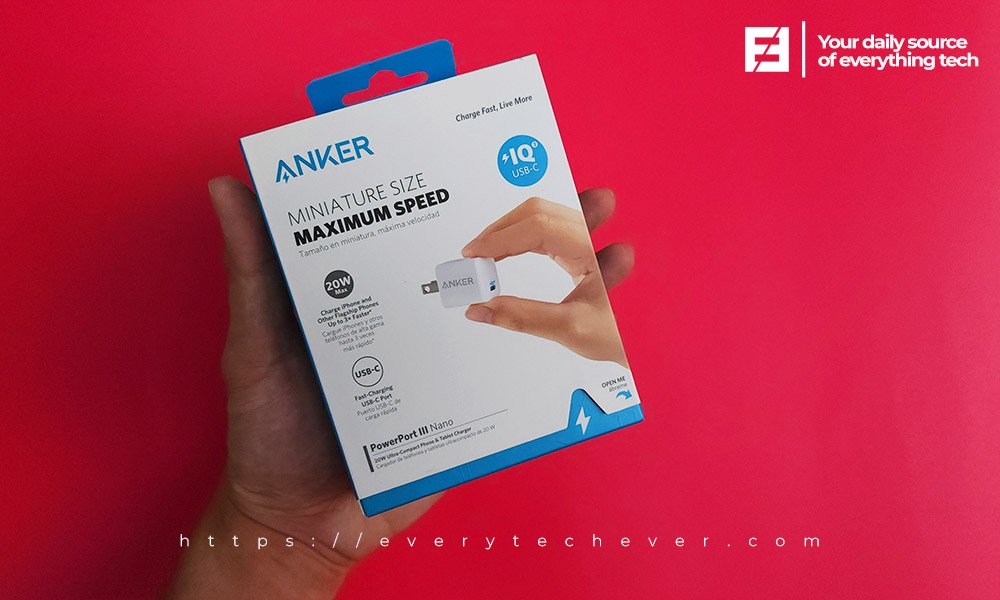 Anker's Nano PIQ 3.0 is a 20W small fast charger without a charging cable. It's made exclusively, but not limited to, for iPhones and provides a maximum charge for iPhone 12 and higher models. The charger charges three times faster than a standard 5W charger. The Anker Nano is not only a fast charger, but it is also 50% smaller than other 20W iPhone chargers.
What's in the box?
A charging adapter, welcome instructions, and an 18-month guarantee are included with the Anker Nano PIQ 3.0. Unfortunately, there's no charging cable inside the packaging.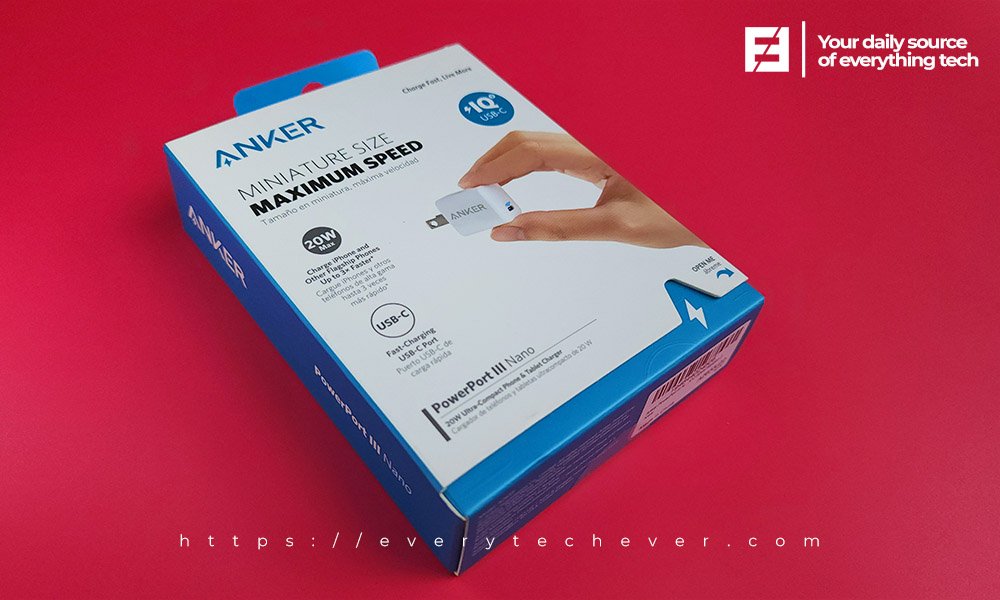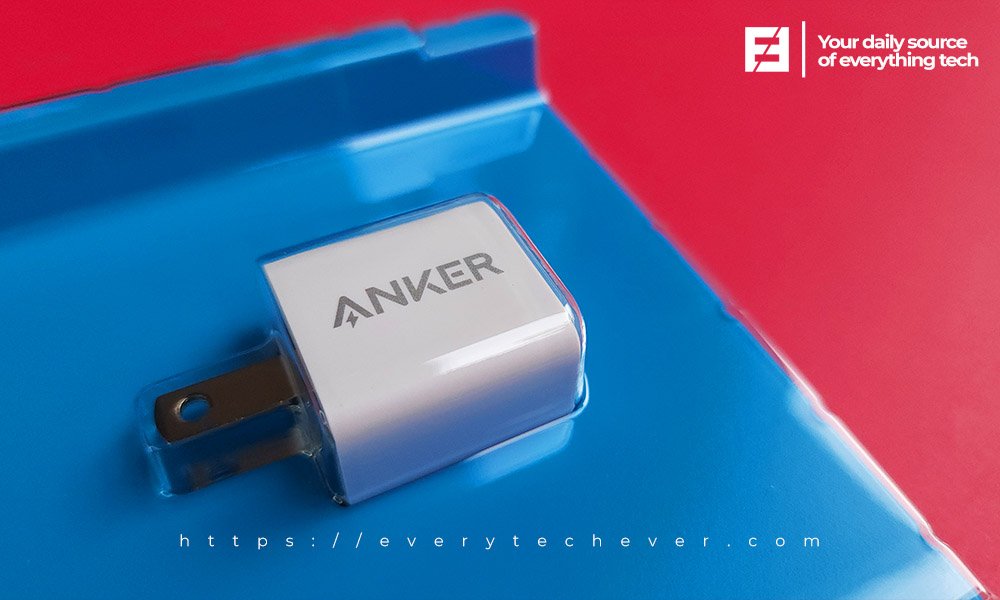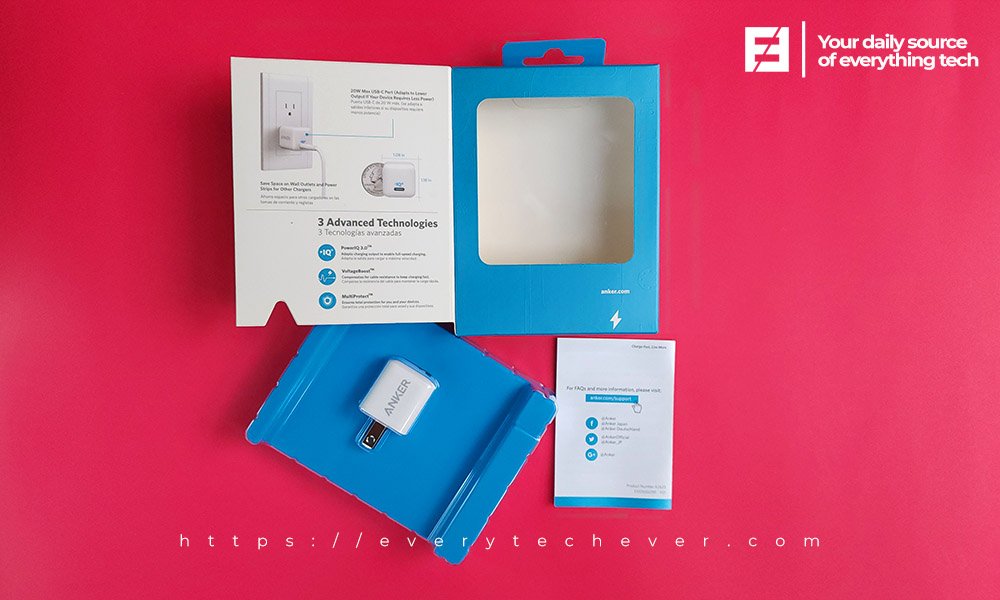 Design and Features
The Anker Nano PIQ 3.0's primary selling point is its compact size. It's small enough to carry in your pocket, making it an ideal travel buddy that you can carry anywhere you go. It has a space-saving design that is half the size of a typical iPhone 12 USB-C charger, giving plenty of power while taking up less room in the user's bag or when plugged into a wall outlet. Isn't it incredible that the same 20W output power adapter can fit into such a little space?
Anker Nano PIQ 3.0 Features:
Model Number: A2633
Compatibility: iPhone 12 / 12 mini / 12 Pro / 12 Pro Max / iPhone SE (2nd generation) /11 / 11 Pro / 11 Pro Max / XS / XS Max / XR / X / 8 Plus / 8; AirPods, Apple Watch, Galaxy S10 / S10+ / S10e / S9 / S9+ / S8 / S8+; Note 9 / 8; Pixel 3a / 3XL / 3 / 2 XL / 2, and more.
Input: 100-240V 0.6A 50-60Hz
Output: 5V=3A / 9V=2.22A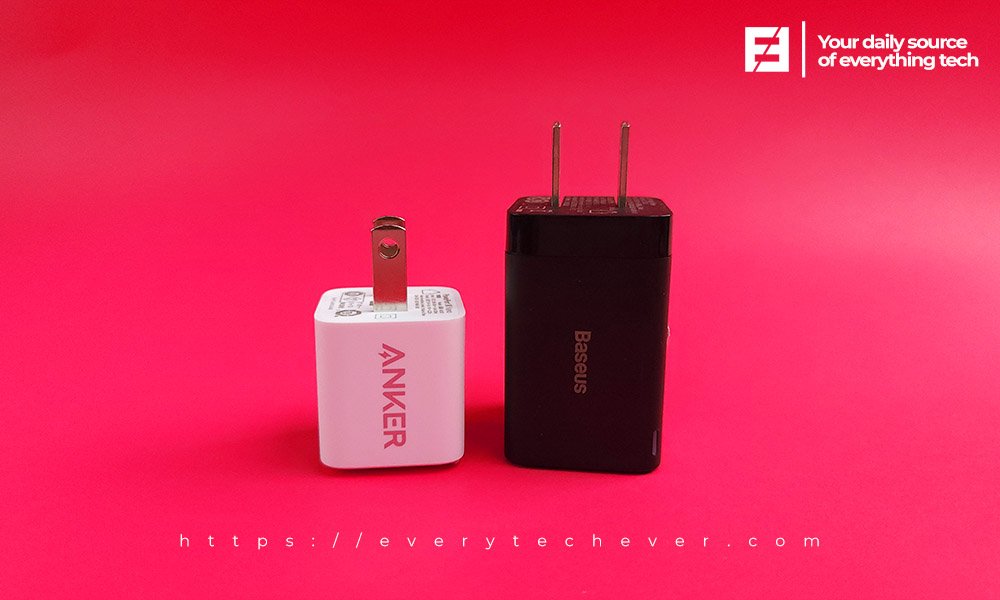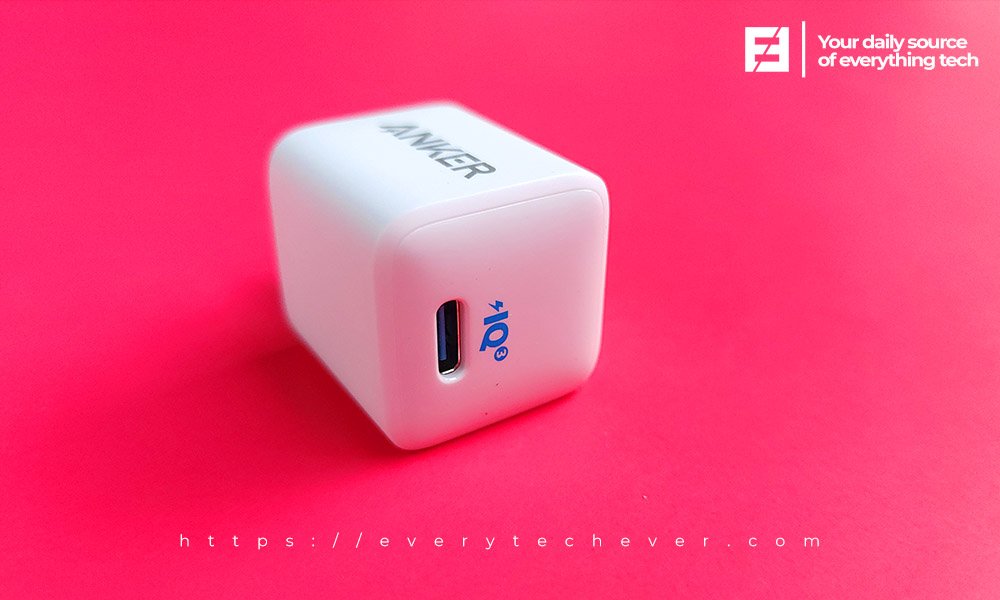 We absolutely enjoy the idea of using fixed prongs rather than folding ones. Folding prongs, in my opinion, clearly highlight the space savings. It also folds up more compactly. However, a hinge must be located inside the charger to do this. In addition, the housing must be wide and tall enough to accommodate the prongs. This increases the charger's weight and size. It also includes moving parts that could malfunction as a result of wear and tear.
Performance
Anker is the most popular mobile charging brand today, and for good reason: its products are high-quality and compatible with a wide range of devices. Anker has created a unique charging technique called PowerIQ 3.0 technology, which is used in a variety of its devices, including power banks, wall chargers, and auto chargers.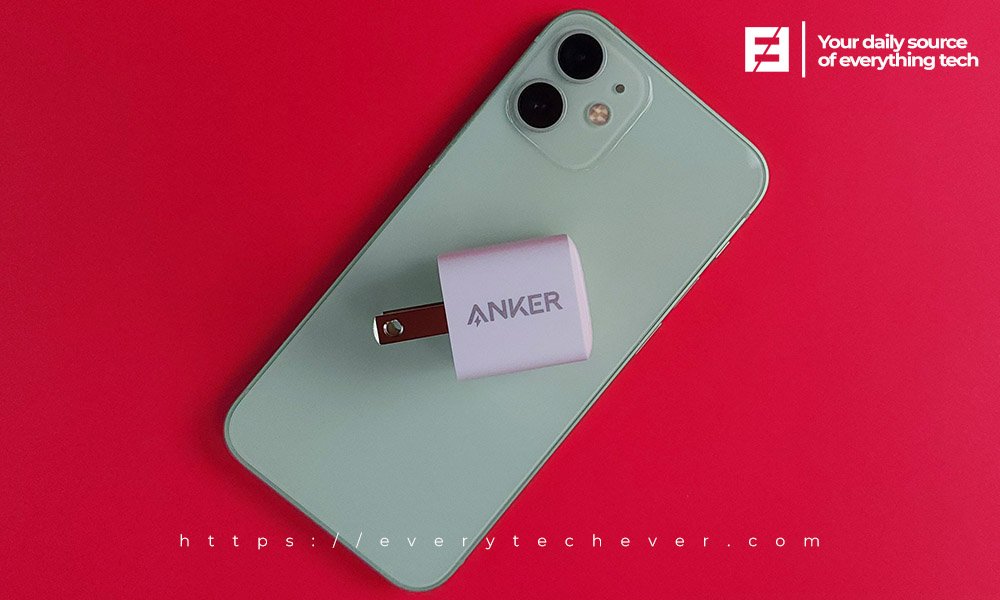 The plug has a single USB-C port that supports the USB Power Delivery 3.0 protocol. This is referred to as PIQ 3.0 by Anker, however, it complies with the same standard and also supports Quick Charge, Apple Fast Charging, and other earlier standards. In either 5V 3A or 9V 2.22A mode, the port can deliver up to 20W of power.
The charger has enough energy on board to support a variety of compact USB-C and USB Power Delivery devices with up to 20W of power. With this plug, a number of smartphones, including the iPhone 12, will shift to their full 20W charging capabilities.
It also works with Anker's PowerIQ 3 technology. According to Anker, the PowerIQ 3 is so well matched to each device that it can charge an iPhone faster than a normal USB-C PD charger. It's not considerably faster, but faster is always better.
During our review, we tested the iPhone 12 with the Anker Nano PIQ 3.0 charger. The battery went up around 50% in the first 30 minutes and went fully charged after an hour.
It's worth noting that this charger does not support Samsung Super Fast Charging for the Galaxy S20, S21, and Note 10/10+/20/20 Ultra.
Should you buy Anker Nano PIQ 3.0?
The Anker Nano PIQ 3.0 is one of the most versatile fast chargers available. Their PIQ 3.0 technology supports both USB Power Delivery and Quick Charge. It charges most iPhone and Android models from recent years quickly, as well as most Huawei and Nokia devices. However, any of them will be charged at the typical rate. It will also charge as you play in handheld mode on the Nintendo Switch, which shows its flexibility. It may be slower than the 30W charger that came with it, but you won't be able to tell the difference.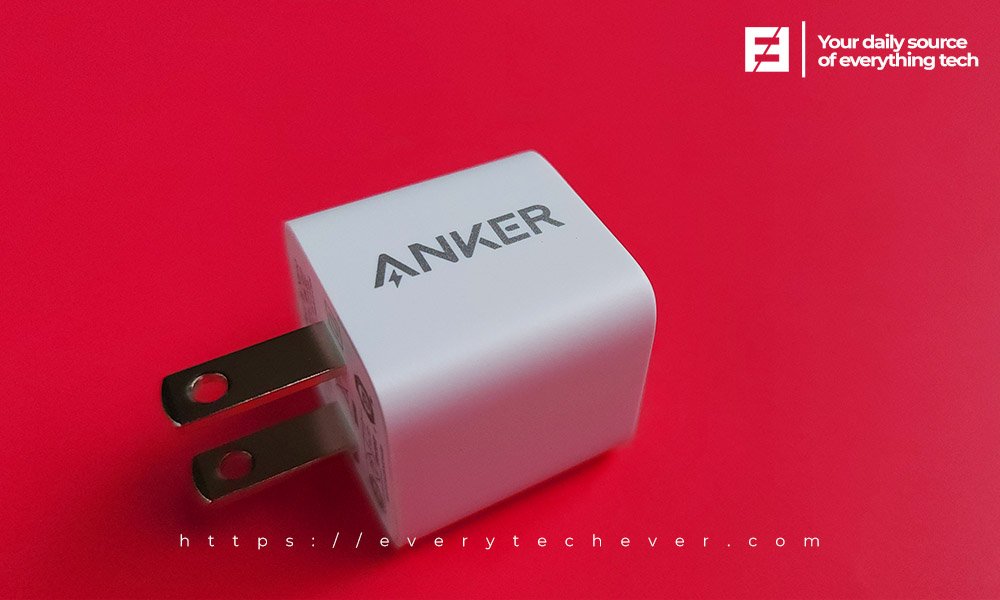 When compared to the charger that came with your phone, it's easy to see why Anker's is a better option. It's practically smaller than any of the quick chargers on the market. And it's about the same size as the much slower 5W charger that most iPhones come with.
For some, the non-folding prongs are a deal-breaker. However, you'll end up with bulkier chargers if you want those folding prongs. If this is not an issue, go with the best value for your money. The Anker Nano PIQ3.0 is obviously a better choice.
Anker Nano PIQ3.0 Full Specifications:
Ports: USB-C
USB-C Output:

18W USB-C Power Delivery 3.0 (5V/2.4A, 9V/2A)
PowerIQ 3.0 (Quick Charge compatible)
Apple 2.4A

Input: 100V–240V, 0.6A, 50/60Hz
Size: 1.8 x 1.1 x 1.1 inches | 45 x 28 x 28 mm (including prongs)
Weight: 1.1 oz | 30 grams
What you will get with every purchase of the Anker PowerPort III Nano (PIQ3) is a welcome guide, worry-free 18-month warranty, and friendly customer service. You can purchase this charger for only Php 1,244 and available at Soundcore Global's official Lazada Store
Anker Nano PIQ 3.0 Review: Most compact universal charger
Summary
Anker Nano PIQ3.0 is a wonderful fast charging alternative for Apple, Samsung, Google, and other phones. Additionally, different tablets including the Nintendo Switch are also compatible. It is equipped with Anker's exclusive PowerIQ 3.0 technology that makes the charger universally compatible with a huge range of devices. While the fixed prongs may not be your favorite, they do help to keep the size and weight down.

Monster Gaming Airmars N1 Headset Review
A budget gaming headset done right.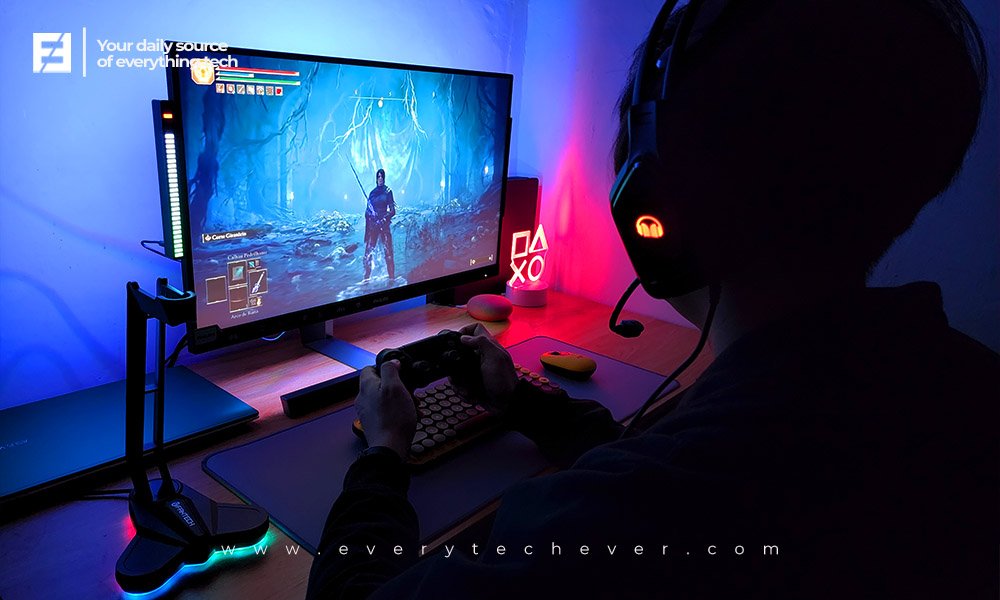 For nearly four decades, Monster has been setting the standard for innovation in headphones, speakers, HDMI cables, and power solutions. In fact, the defunct Nokia Purity audio series has had a number of collaborations with the brand over the last decade. With hits like Beats by Dr. Dre, they set new standards in design, comfort, and performance.
We'd seen Monster Gaming around for a while but had never tested any of their products ourselves. Holo Space (previously RichGo) was kind enough to send us the Monster Gaming Airmars N1 Headset to try out and review. We are ecstatic about their return to the Philippine market, which also sells Nokia-branded audio accessories.
The best low-cost gaming headphones can give all of the thrilling sound and crystal-clear microphone performance of the more expensive ones. Unlike the majority of the best gaming headsets, these models will leave you with more money to expand your game collection or invest in new PC upgrades.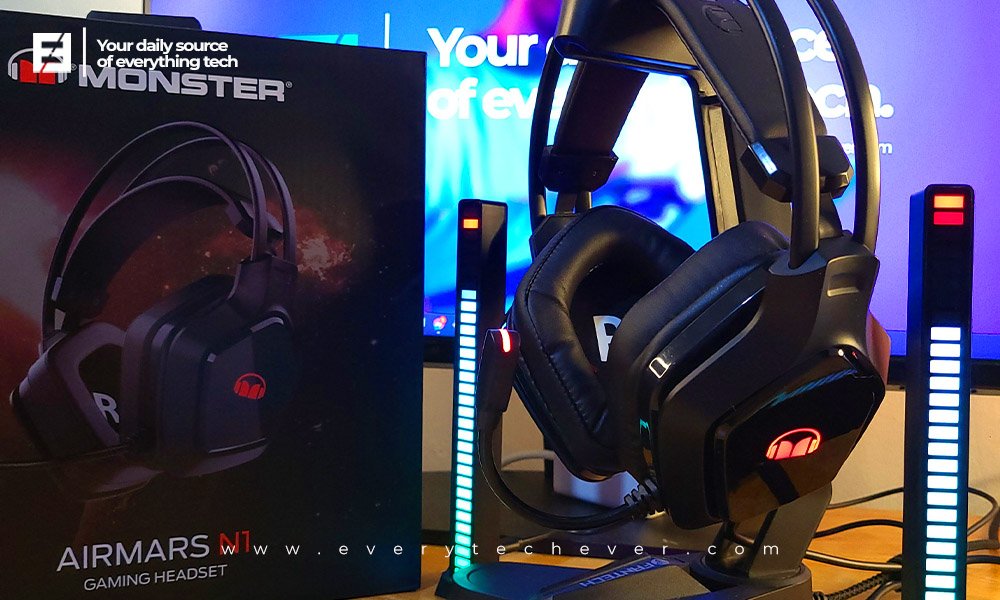 When shopping on a budget, it's normal to be concerned that you'll simply end up with a cheaply produced piece of rubbish. Monster, on the other hand, claims that they are superior in terms of sound quality and comfort. Let's find out in this review.
What's in the box
In terms of packing, we weren't expecting much from the Monster Gaming Airmars N1. From the exterior, it doesn't appear to be anything special, but we were pleased with how nicely it was packed and how premium it felt on the inside.
There are no extras inside. You'll get the Airmars N1 headset, manuals, and a free sticker.
Design and Comfort
This headset packs a simplified version of Monster's signature sleek headset design, with soft leatherette earcups and the rich drivers you'll find in higher-end models. We tried on the black pair and found them to be very stylish.
I have to say, Monster did a fantastic job with the headset's aesthetic choices. Despite the fact that the Airmars N1 is a gaming headset that costs just around PHP 2,000, its look does not appear to be cheap. The RGB has been replaced with a bright red LED Monster logo on both earcups and a second red LED on the microphone.
The Monster Gaming Headset is designed for gamers who require a headset that is both noise-canceling and comfortable to use. The memory foam ear cushions are soft and breathable, ensuring that your ears stay cool even throughout long gaming sessions.
The volume control is located on the left side of the earcup. The integrated microphone can be adjusted in a 360-degree rotation.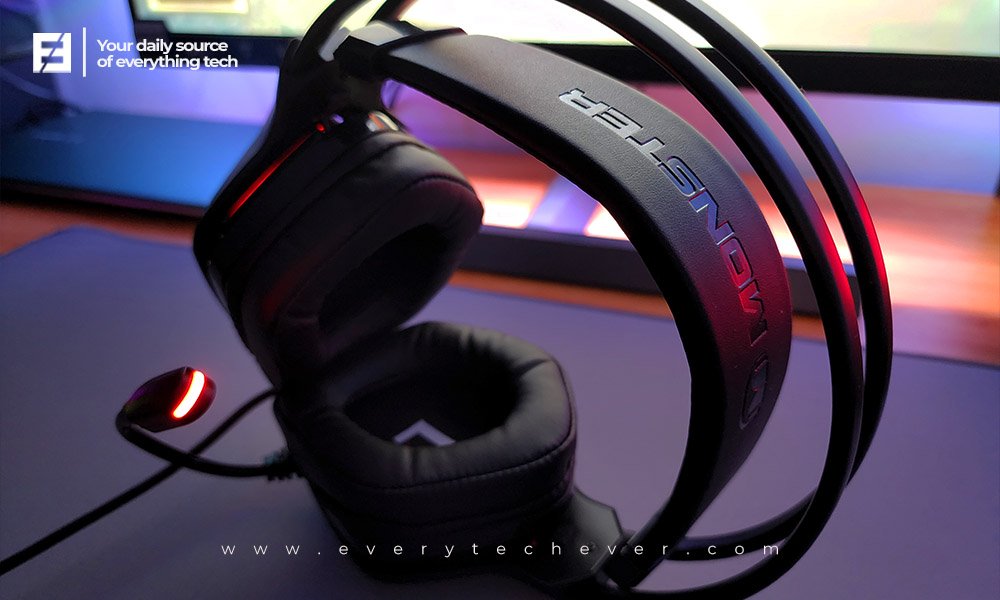 Because the entire headset is composed of plastic, it is lightweight and comfortable to wear. A USB and a 3.5mm headphone jack are integrated into the headset. Simply plug the USB and headphone jack into the computer's or laptop's ports to connect and power the headset. And voila, the LED lights will turn on.
The Airmars N1 has a nice overall look and feel to it. The Monster design has always been known for its exceptional build quality, substantial padding, and great levels of comfort during lengthy play sessions.
For your peace of mind, Monster offers a 12-month local supplier warranty.
Performance and Features
The audio features of the Monster Gaming Airmars N1 are rather impressive. Despite the fact that it is a budget headset, we were pleased with the clear and loud sound, as well as the good bass quality. The voices are clear and the high tones are on point. Its 50mm drivers are to thank for this.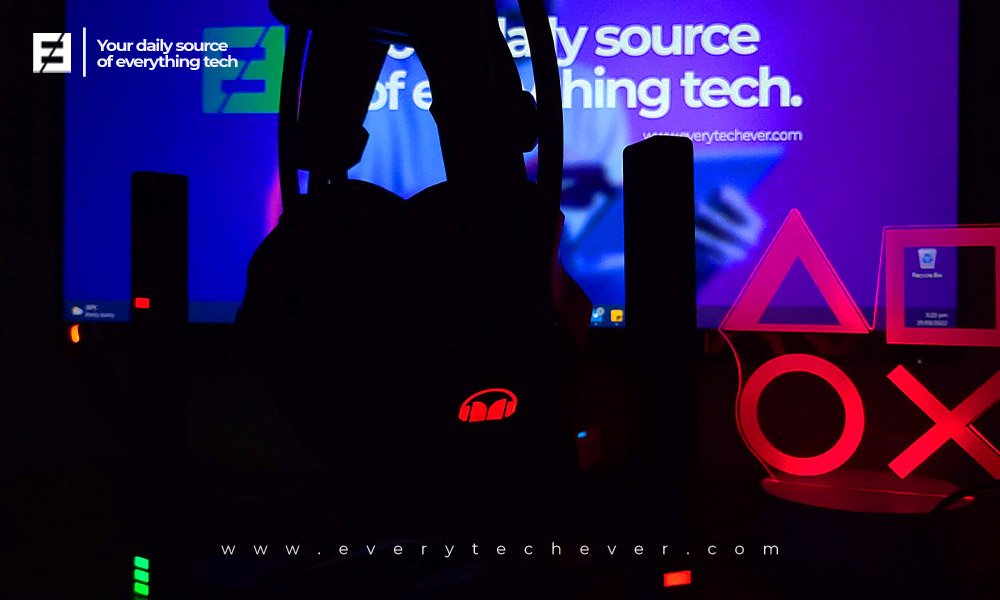 Audio Features
Driver Diameter: 50mm
Sensitivity: 112 ± 3dB
Directivity: Omnidirectional
Impedance: 32 ± 5Ω
Frequency response: 20Hz-20kHz
Sensitivity: 105dB
We played a couple of PS5 games, and Elden Ring performed admirably with the Airmars N1. The game's rumbles, sound effects, and even the tiniest artifacts may all be heard. We also liked how the surround sound made the game feel more immersive than usual.
The only drawback is the voice quality of the microphone. When the microphone is close to your mouth, there is a slight hiss, and the voice can be garbled sometimes. So don't put it too close to your mouth and you'll be fine.
We need clear bass in any music, and this device provides that. The music is sharp, mid-range, and booming as if it were coming from a party. It can be used for any form of music creation, DJ mix, or any media activity. This also means that the headphone provides excellent audio clarity in any situation.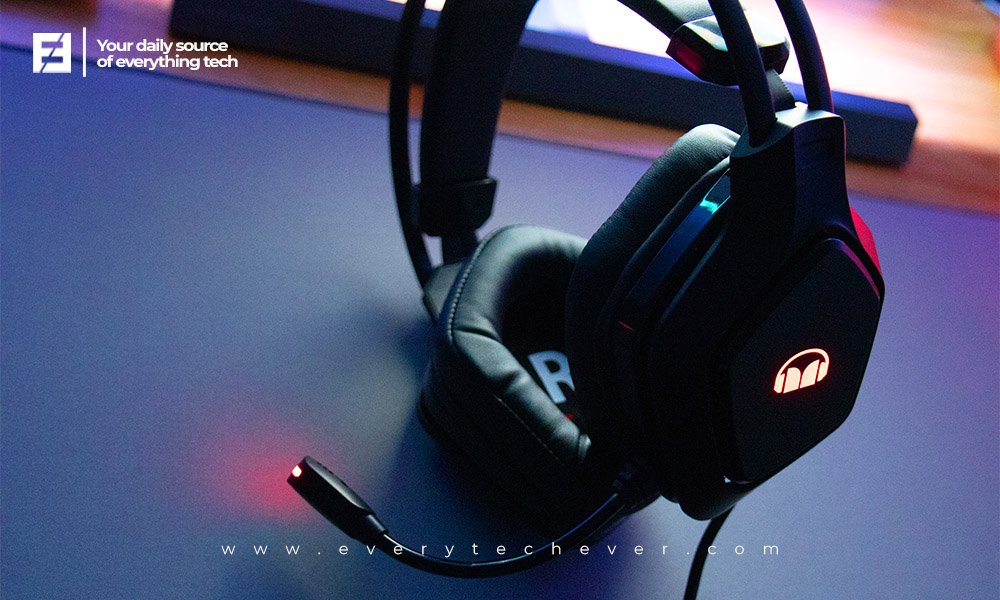 Should you buy the Monster Gaming Airmars N1 Headsets?
For those searching for a good gaming headset at a reasonable price, the Monster Gaming Airmars N1 Headset is a good choice. The lightweight chassis of the headset, as well as the soft memory foam ear cushions, make it suitable for long sessions. Its earcups are also suitable for people with large ears. Most importantly, the Airmars N1 produces excellent sound for the price, with clear highs and beefy lows that are ideal for gaming.
The headset's 3.5mm connection is compatible with both consoles and PCs, and it provides well-balanced sound for both competitive and intense games. We wish the headset had a better soundstage and a detachable microphone, but hey, it's just only PHP2,090. For the money, this is an amazing gaming headset.
Airmars N1 Headset Specifications
Brand: Monster Gaming
Series: Airmars Series
Model: Airmars N1
Wireless: No
Drivers: 50mm
Connectivity: Wired 3.5mm & USB
Microphone: Fixed Omni-Directional Mic
Weight: 340g
Stereo Sound
Adaptive Headband
2.1m cable length
Memory Foam Leatherette + Synthetic Protein Leather
You can purchase the Monster Gaming Airmars Headset N1 via its flagship store at Lazada for only PHP 2,099.
Connect with us and join our growing community. Please follow us on Facebook, Community Page, Twitter, Youtube, TikTok, and Instagram to get the latest trends.
Monster Gaming Airmars N1 Headset Review
Summary
For those searching for a good gaming headset at a reasonable price, the Monster Gaming Airmars N1 Headset is a good choice. The lightweight chassis of the headset, as well as the soft memory foam ear cushions, make it suitable for long sessions. Its earcups are also suitable for people with large ears. Most importantly, the Airmars N1 produces excellent sound for the price, with clear highs and beefy lows that are ideal for gaming.