In the past, Nokia was a smartphone market leader. Not only that, but they've also helped launch a number of audio accessories and teamed with companies like JBL and Coloud. And they aren't newcomers when it comes to wireless headsets and earphones. Do you recall the Nokia Luna Headset or the Nokia Purity Headphones? Those were just amazing back then.
Since leaving the initial camp of smartphones, Nokia has begun to make efforts in the audio industry, specifically wireless earphones.
Wireless earbuds are a popular choice among individuals who want to take their music with them wherever they go, whether it's a quick stroll to the coffee shop or a daily jog around the block. There are plenty to choose from these days, and you may easily choose a pair that matches your personality.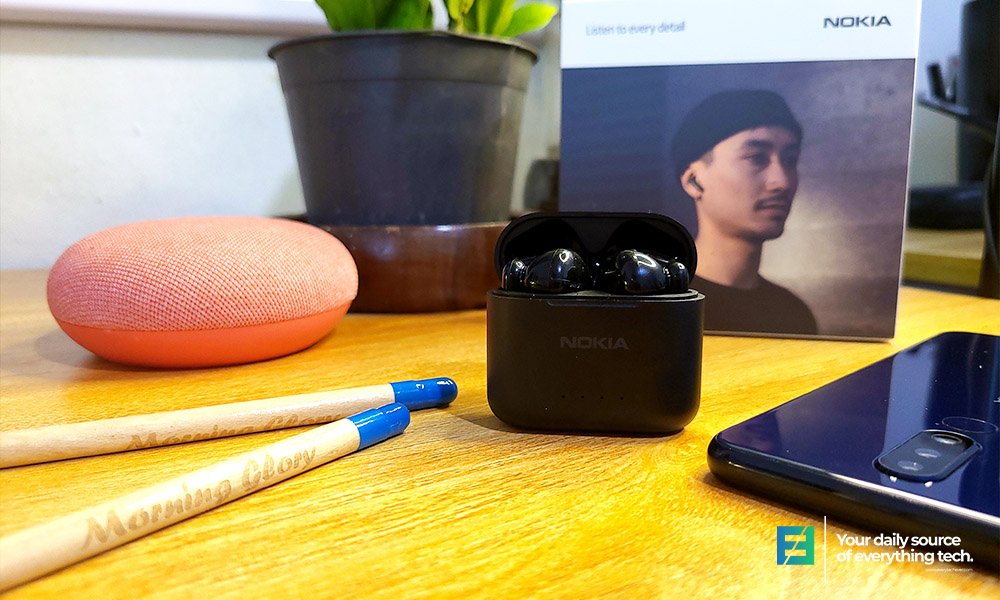 With so many headphones to pick from, it's difficult to know which are the best true wireless earbuds for you. It's even more difficult if you're on a budget because even the best inexpensive headphones won't have AirPods-quality audio or top-tier smart capabilities if their price is too low – yet you still want to know you're getting the most bang for your buck.
The Nokia E3101 TWS is the successor to the E3100, which was released in February. It is designed to be tiny and portable without sacrificing sound quality. Nokia RichGo stated that it was designed with signature acoustics to let customers hear the music "just" as musicians and artists intended. It is currently selling online via Shopee, Lazada, and RichGo Facebook shop for only 1,990 PHP.
Let's see if the Nokia E3101 lives up to our expectations.
What are true wireless (TWS) earbuds?
True wireless earbuds, for those unfamiliar with the term, are earphones that have no cables between them – neither to connect them to your music streaming device nor to connect them to each other. Each bud is a self-contained unit that communicates with its counterpart without the use of wires.
Nokia E3101 TWS Earbuds Specifications
Frequency Response
20 Hz to 20kHz
Transducer Principle
Dynamic
Transducer Size
13mm
Impedance
16?±15%
Microphone Principle
MEMS x 2
Power Supply
Built-in Lithium rechargeable batteries, 3.7V.
Left earbud: 40mAh
Right earbud: 40mAh
Charging case: 350mAh
Type-C charging via type-C socket of the charging case: 5V, 300mA.
Operating Time
5hrs (music playback via A2DP) with rechargeable batteries of the earphones* 20hrs with a rechargeable battery of the charging case*
Charging Time
Earphones: approx. 2 hours
Charging case: approx. 2 hours
Charging Case Input
USB-C
Ingress Protection (Earbuds)
IP44
Profiles
HSP, HFP,AVRCP, A2DP
Effective Range
Line of sight approx. 30ft (10m)
Transmission Frequency
2.402 MHz to 2.480 MHz
Output Power
5mW
Weight
Left earbud: approx. 3.4g | Right earbud: approx. 3.4
Nokia E3101 Unboxing experience
The Nokia E3101 is packaged in a straightforward manner. The earphones, charging case, and USB-C charger are all included in the E3101 box, however, no power adapter is included. We tested the device in black, which has a matte case and glossy earbuds that seem akin to other brands on the market.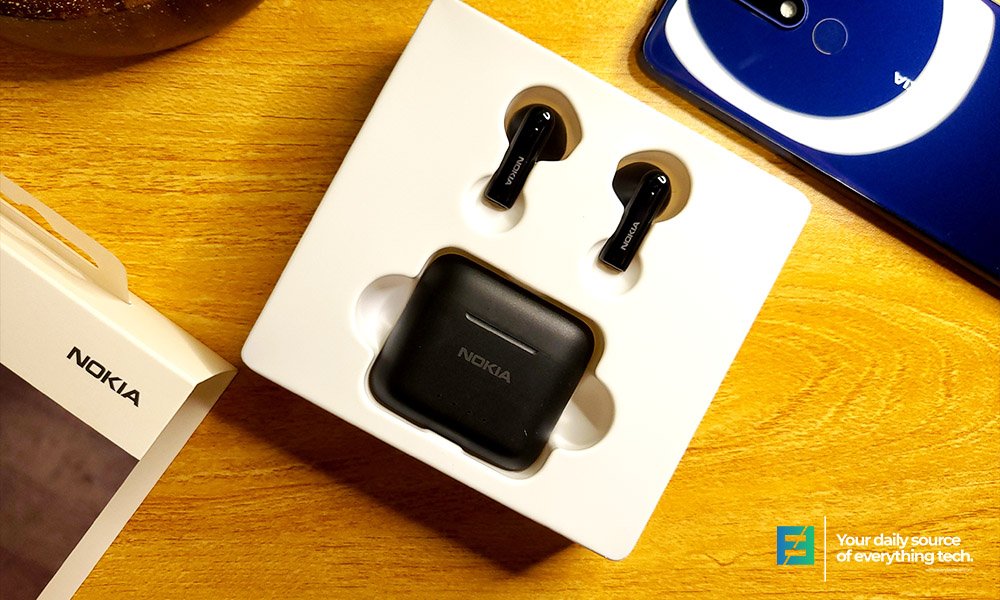 Underneath the plastic packaging is the product instructions and charging wire. The USB to Type-C data cable is around 30cm long and contains a USB connector. It may be charged by plugging it into laptops, desktop computers, charging ports, power banks, and other devices.
Familiar design, listen comfortably
The Nokia E3101 has a similar form to the Apple AirPods, except the headphone handle is shorter. It's easier to slip the flat charging case into your handbag or pocket.
The Nokia E3101 has an IP44 splash-proof construction, so rain or sweat won't stop you from listening to music, making calls, or working out. One of the earphones is accidentally dropped in flowing water, but it still works. Don't forget to wipe it down afterward.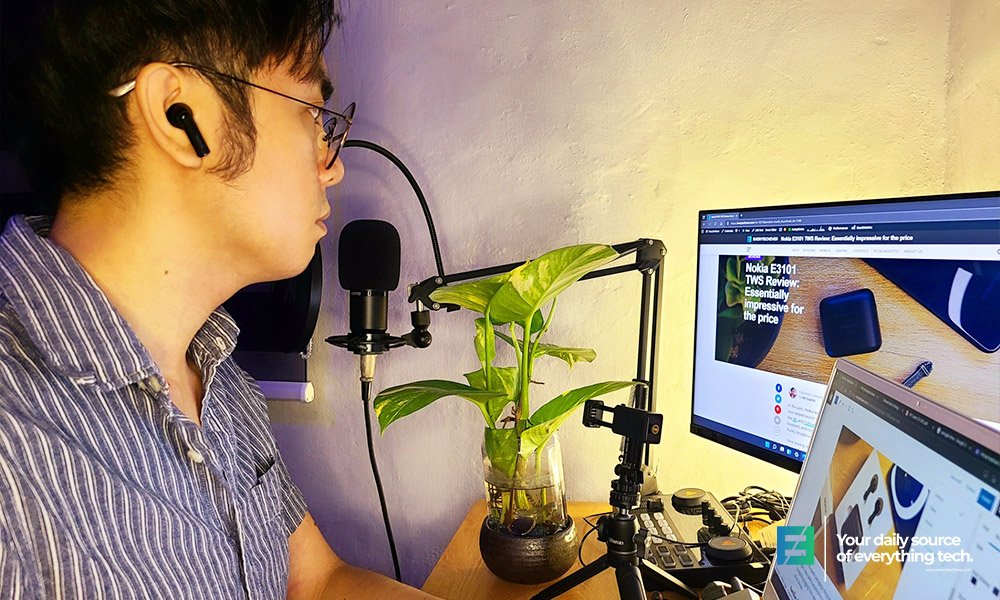 Music control with just a tap
Pausing, playing, and switching tracks were all quite smooth and easy to do with light taps. With the touch controls on the Nokia E3101 earphones, you may go forward or backward in your playlist while listening to music. To pause, tap once on either earpiece, twice on the right earbud to go to the next song, and once on the left earbud to play the previous song.
Additionally, if you press three times, Google Assistant and Siri will activate, allowing you to obtain directions, check your calendar, or make a call without having to pull your device out of your pocket.
Share it!
Dual hosts are supported by the Nokia E3101 handset. The left and right earphones can be used regardless of the primary and secondary headphones. You can share your music with a friend while walking apart or wear one earbud at a time.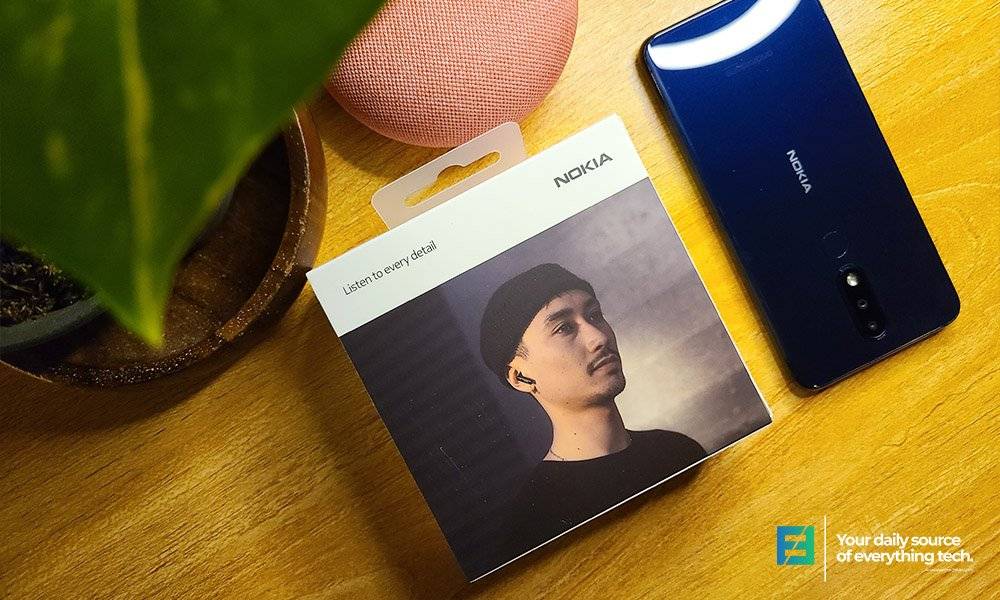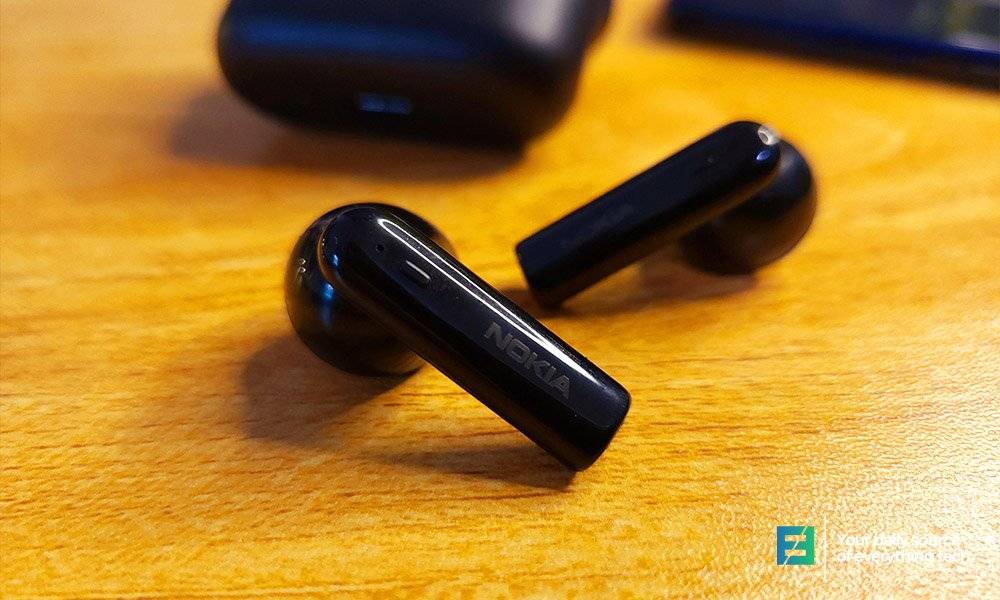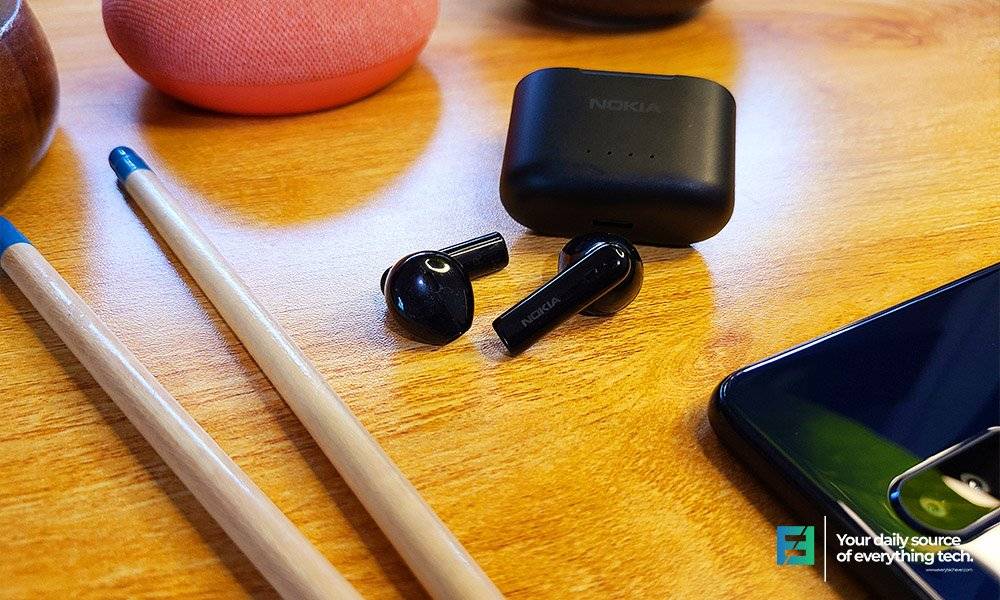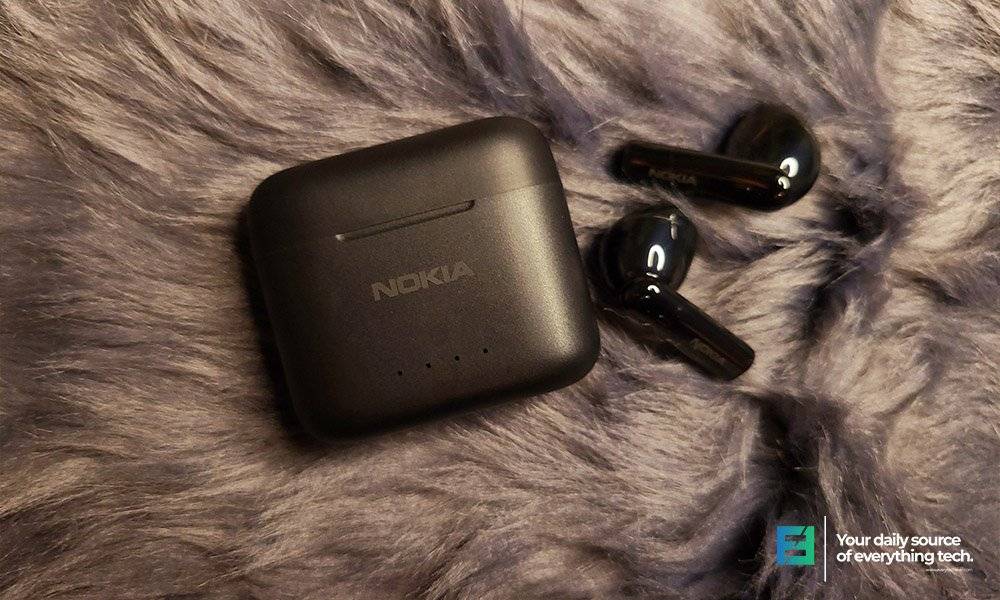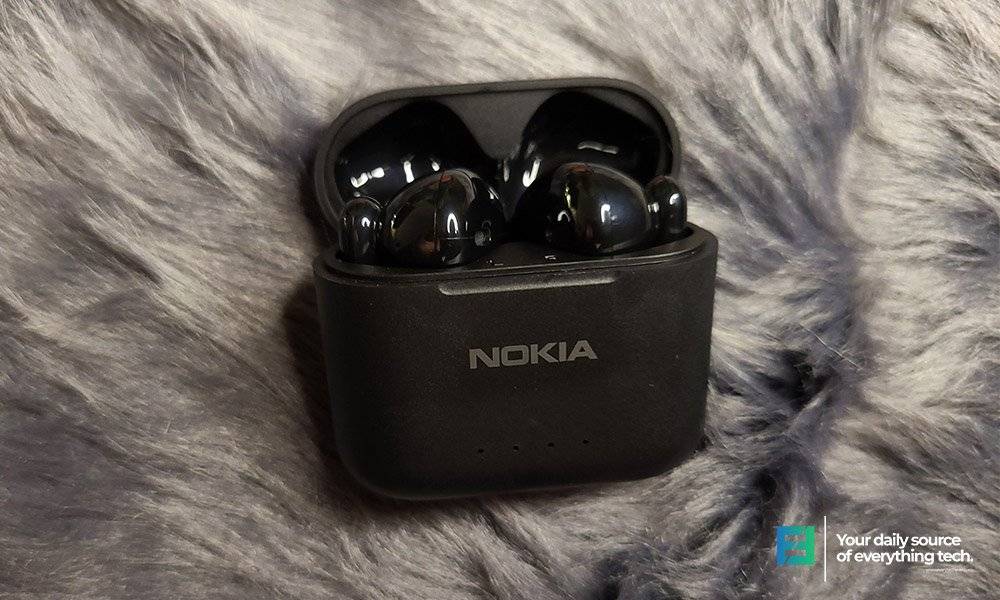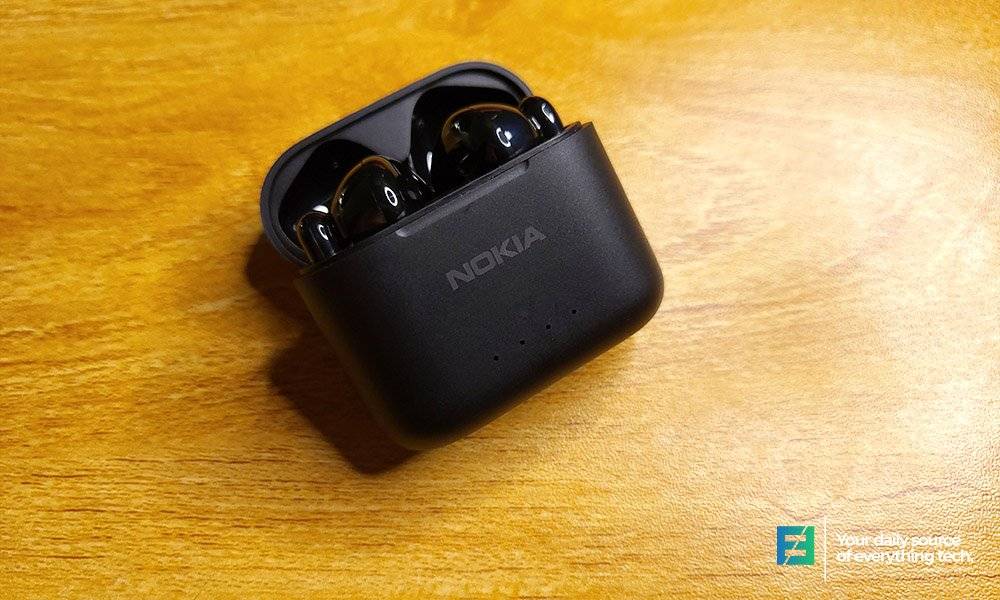 nokia E3101 design-11

nokia E3101 design-22

nokia E3101 design-33

nokia-E3101-fur

nokia-E3101-case-1

nokia-E3101-case

(swipe for more images)

Well balanced sound
Engineered with signature acoustics
The Nokia E3101 features signature acoustics to ensure that music is delivered precisely as expected. The size of the driver does affect audio quality; the larger the driver, the greater the bass. However, this isn't always the case. The ideal size for an earphone driver is between 8mm and 15mm in diameter, and the E3101 falls just in the middle at 13mm.
We were thrilled that the E3101 remained as sharp and balanced at the highest volume setting as it did at lesser settings. Most modern pop songs and acoustic recordings, as well as genres with more intense or instrument-laden sounds like pop, trance, country, or whatever musical genre fits your boat, will be no problem.
Fortunately, even at the highest level, we never experienced any cracking or artifacts. In terms of stereo sound quality, we put it to the test by playing LMFAO's "Party Rock Anthem" a 2011 Electronic Pop track famed for its mix Bb Instruments. We noticed that, given the price range, the separation and balance between left and right earphones worked quite well. Even in slow and strong ballads like Adele's "Easy on Me" or Taylor Swift's "Cardigan", the Nokia E3101 does not disappoint, with every word coming through crystal clear.
Even if it isn't perfect, the Nokia E3101 TWS produces a clear, balanced sound. Though the audio is clear, it lacks the depth and dynamic range that a more expensive model would provide. There's no denying that spending a little more on Samsung Galaxy Buds2 will bring you better sound, but when you consider that they're also more expensive than the Nokia E3101, the Nokia E3101 becomes an attractive option.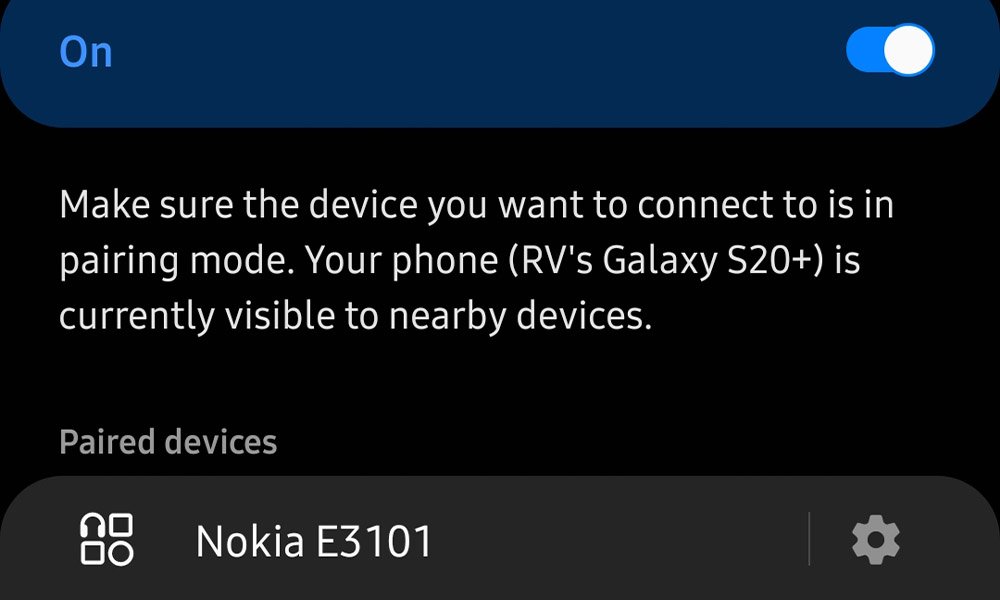 The microphone works great for normal calls and audio recordings
On both phone calls and video calls, the Nokia E3101 provides fairly clean audio input and output. Each of the buds has a single mic that does not enable ambient mode or active noise cancellation. This may be a difficulty for individuals making calls in noisy environments, but you can be assured that your speech will not have any grainy sound.
We were pleasantly impressed by the quality of the earphones for audio recordings: they were better than we expected, especially for this price range.
Earbuds on the go
The earbuds are rated to last 5 hours of continuous use, with the charging case allowing for an additional 3 charges, for a total of 20 hours of listening time in theory. Based on our tests, the Nokia E3101 was delivered on its battery life guarantee.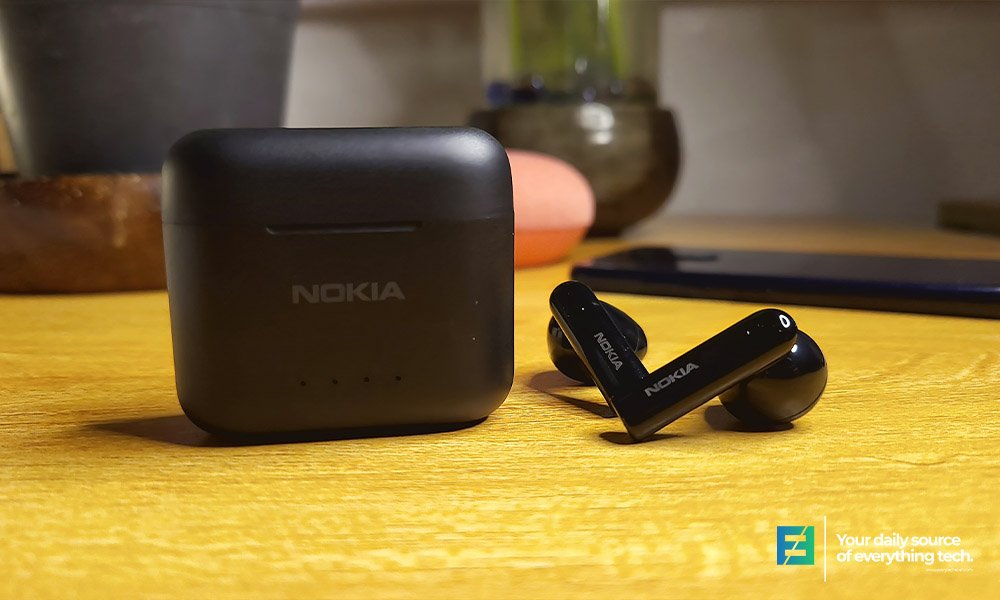 Verdict
The Nokia E3101 Wireless Earbuds are not the best choice for audiophiles who pay close attention to every nuance of sound. They're also not the best tools for musicians who need to be able to hear every vocal and instrumental nuance in a song.
The Nokia E3101 is primarily designed for users on a budget who want more. Despite the low price, it delivers more than it's worth. The device is great for people who don't want to spend a lot of money on headphones but still want a decent audio experience. They're a good choice for casual listeners looking for a balanced, consistent sound on their favorite music.
Other TWS earbuds, such as those from Xiaomi, Realme, or Huawei, are available, but you can trust Nokia's quality and reputation. Given its price range and all of the essentials, the Nokia E3101 is easy to recommend.