Samsung set a high bar in the mid-range market a couple of years back with the Galaxy A52, and it's been improving each year to stay ahead of the competition.
This is Samsung's latest mid-range smartphone, the Galaxy A54 5G. It's been quite a while since I've been very excited to review a midrange smartphone from Samsung. With the Galaxy A54 5G, you get a similar design and feel to what you get with the more expensive Galaxy S23. Not only that, it has a 50-megapixel triple camera setup, a 6.4-inch Full HD AMOLED display, and a massive battery that Samsung claims can last up to 2 days.
I've had the Galaxy A54 5G for more than a week, and I'm finding it to be far better than I anticipated. The Galaxy A54 still offers a well-rounded experience without breaking the bank, but there are a few things I wish Samsung had done differently. The Galaxy A54 has undergone a number of improvements that are all generally beneficial, making it a simple choice if you are overly confused about which smartphone to choose under PHP 25k.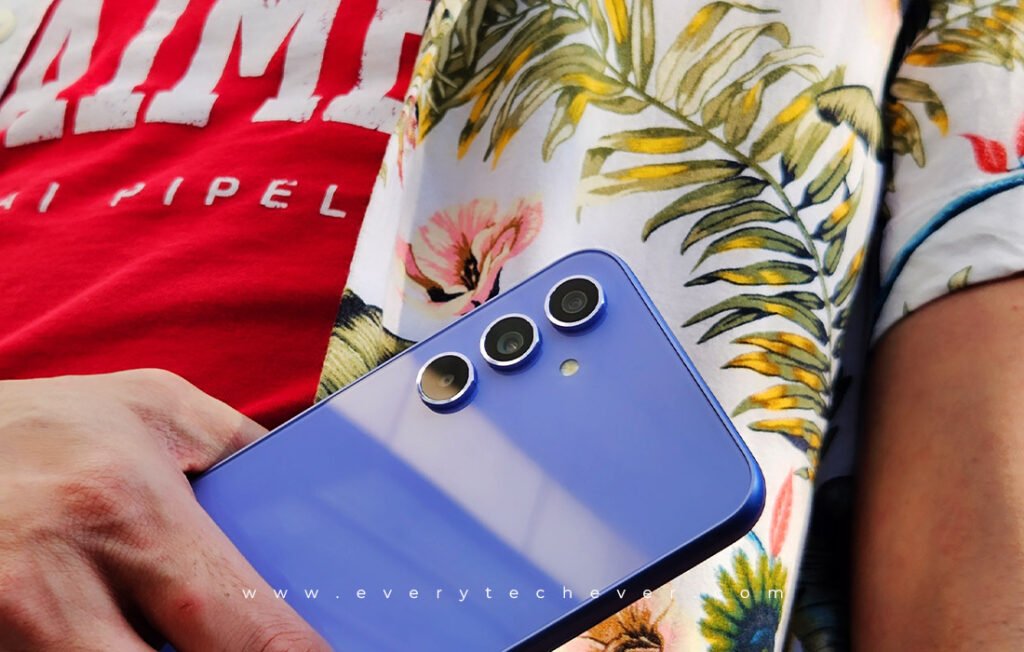 Samsung Galaxy A54 5G Specs
Samsung Galaxy A54 5G specs:
6.4″ FHD+ @ 1080×2340 pixels, Super AMOLED, 120Hz
Corning Gorilla Glass 5
Samsung Exynos 1380 octa-core chip
4x Cortex-A78 2.4GHz + 4x Cortex-A55 2.0GHz
Mali-G68 MP5
8GB RAM
128GB, 256GB internal storage
Up to 1TB via microSD
50MP f/1.8 OIS main camera
12MP f/2.2 ultra-wide
5MP f/2.4 macro
4K @ 30fps, 1080p @ 60fps
32MP f/2.2 front camera
4K @ 30fps, 1080p @ 60fps
Dual SIM 5G, 4G/LTE
WiFi-6
Bluetooth 5.3
GPS with A-GPS support
IP67 dust and water resistance
Dolby Atmos
5000mAh Li-Po battery, 25W Fast Charging
OneUI 5.1 (Android 13)
Dimensions: 76.7 x 158.2 x 8.2 mm
Weight: 202 grams
Design and Build
A flagship-level design
The design is the first place where the Samsung Galaxy A54 5G differs significantly from its predecessor. From the back, the new phone now resembles Samsung's newest Galaxy S23 range. Additionally, the company did away with the camera island from the Galaxy A53 in favor of a simpler design with three distinct lenses sticking out from the back. Samsung seems to be aiming for a more unified design, and with its new back, the Galaxy A54 unmistakably looks like it belongs to the Galaxy S23 lineup.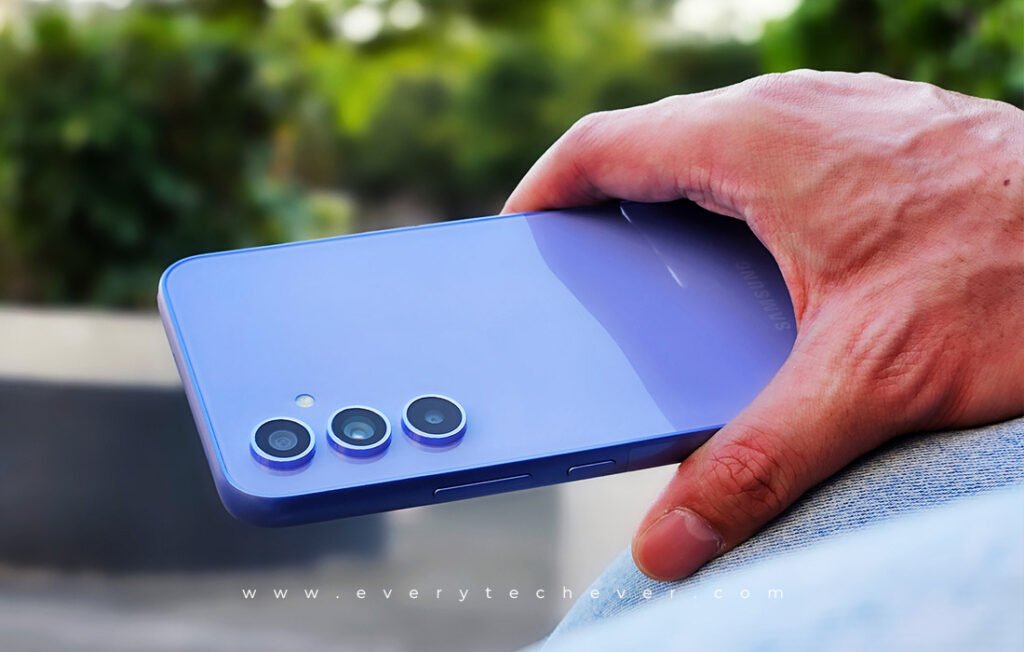 Additionally, the front and rear of the Galaxy A54 now have Gorilla Glass 5. It becomes more durable as a result, and it also feels more premium in the hand. The Galaxy A54 has a nice fit and finish overall, and the glossy back and matte frame give it an iPhone-like luxury feel. Additionally, the Galaxy A54 has an IP67 certification, which means it can withstand brief water splashes. You may even submerge it for around 30 minutes in shallow water, but it is certainly not something we recommend.
Display
It's colorful and vivid
The 6.4-inch AMOLED display of the Galaxy A54 has a refresh rate of 120 Hz. It has the same 1080p resolution as its predecessor, but the new screen is much brighter. One of the most common complaints about the Galaxy A53 was that it was hard to see outside. It's good to see that Samsung is addressing this by increasing the maximum brightness from 800 nits to 1,000 nits. For comparison, the Galaxy A54's 6.4-inch panel sits between the 6.1-inch and 6.6-inch displays of the Galaxy S23 and the Galaxy S23+.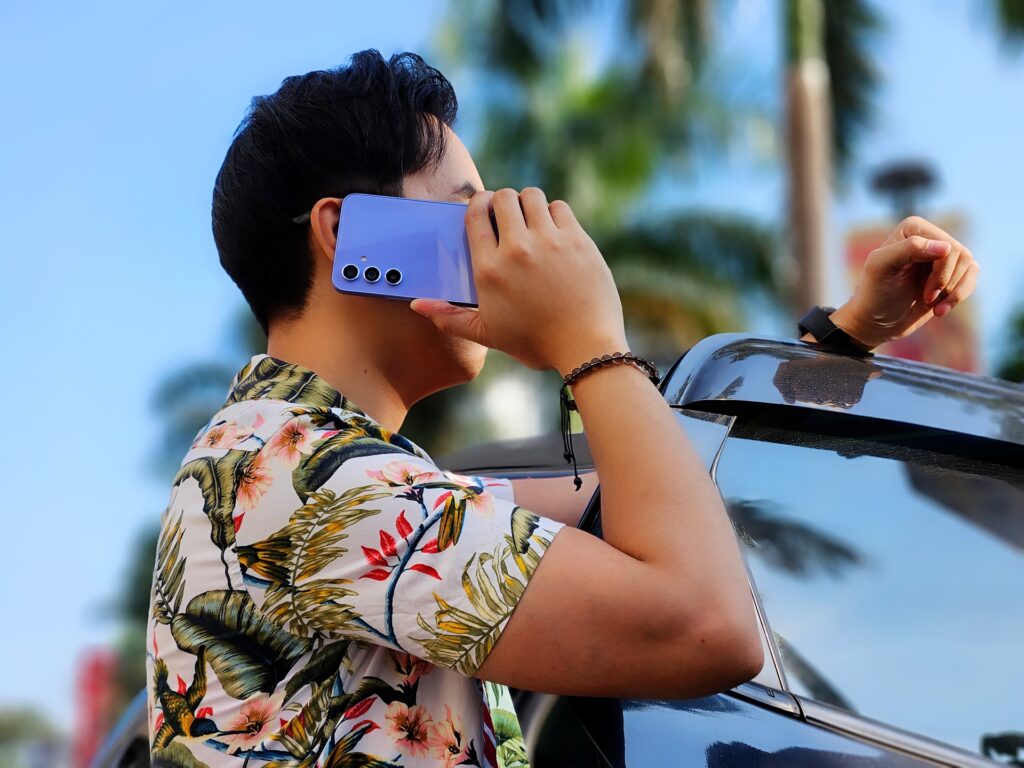 Overall, the panel has a rich and colorful appearance, and the quick refresh rate of 120 Hz keeps everything looking fluid at all times.
Additionally, you receive an in-display fingerprint scanner that authenticates your fingerprints quickly. Although it is a little slower than the ultrasonic fingerprint sensor on the Galaxy S23, it is still quick enough for me to keep using it.
There is a small punch-hole cutout for the selfie camera, as you might anticipate, and the bezels around the display are slightly bigger than what you get on flagship models, but none of these things are deal-breakers.
Performance
Smooth like Butter!
Samsung is once again adopting an Exynos processor, specifically an Exynos 1380 processor as opposed to the Exynos 1280 processor we saw inside the Galaxy A53. A 5nm octa-core chipset with four Cortex-A78 cores and four Cortex-A55 cores makes up this specific processor. This phone variant has 128GB of internal storage and 6GB of RAM.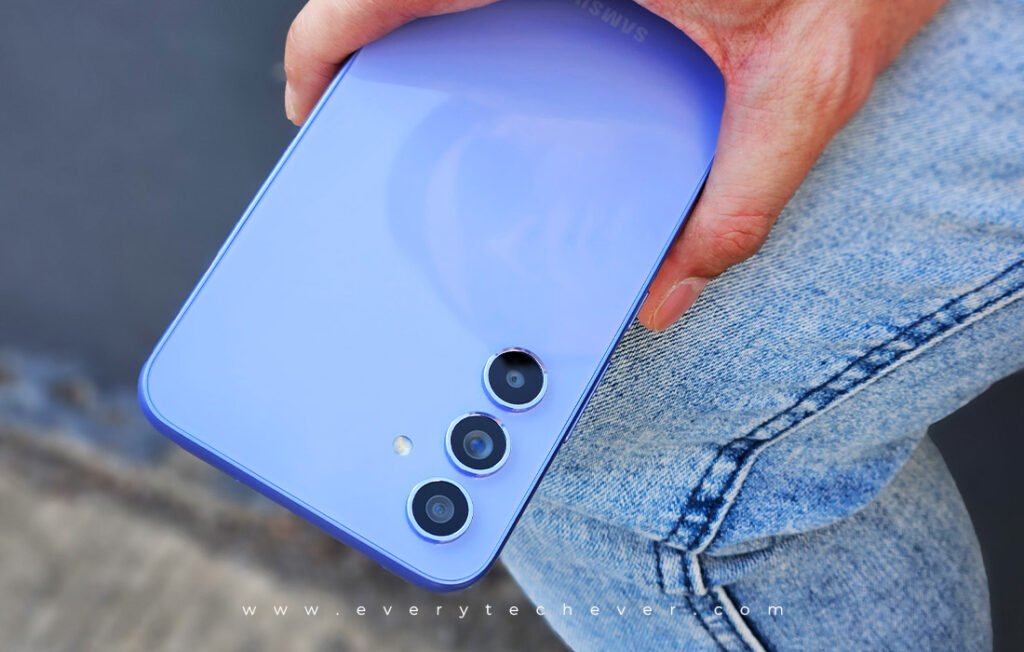 I mostly didn't notice any performance differences coming from the Galaxy S23 because Samsung has optimized the One UI software quite well. We also tested high-intensity games, and they performed admirably. The snappy 120Hz display made browsing around websites, UI navigation, and social media easy.
There are occasional lags if you multi-task a lot with the Exynos 1380. We suggest that you utilize the RAM Plus feature to add a virtual RAM function for up to 6GB more. This will be used against your storage space and is beneficial when multiple apps are open in the background.

So far, the Galaxy A54 5G has generally performed well overall. Compared to the Exynos 1280 chip in the Galaxy A53, it is a huge improvement. Below are synthetic benchmark tests we performed using AnTuTu and PCMark.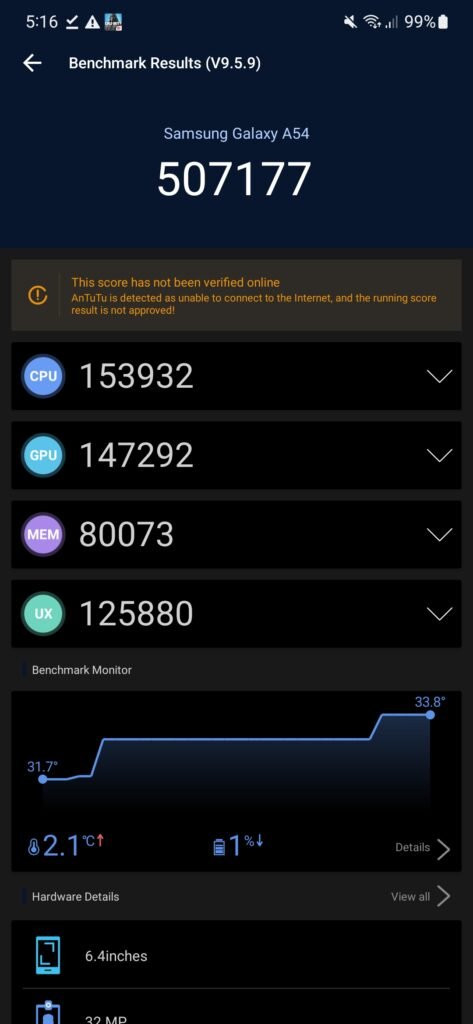 One of my favorite features is that the Galaxy A54 comes pre-installed with the same software as the Galaxy S23 series of phones. Yes, the Galaxy A54 comes pre-installed with OneUI 5.1, an Android 13-based user interface. The overall software experience is comparable to that of high-end Samsung flagship phones.
I especially like that the Galaxy A54 will receive four years of software updates for the Android operating system and five years of security updates, just like the high-end Samsung flagships. When you consider that people who often invest in mid-range phones typically keep their phones for many years before upgrading, that is a significant advantage.
Battery
It gets the job done!
The Galaxy A54 still boasts the same reliable 5,000 mAh battery from Samsung, which, depending on how you use it, can last up to two days. It's a relief that the Galaxy A54 5G has a strong battery life, as the last thing you want to do is plug in this phone to a charger and wait for it to fully charge.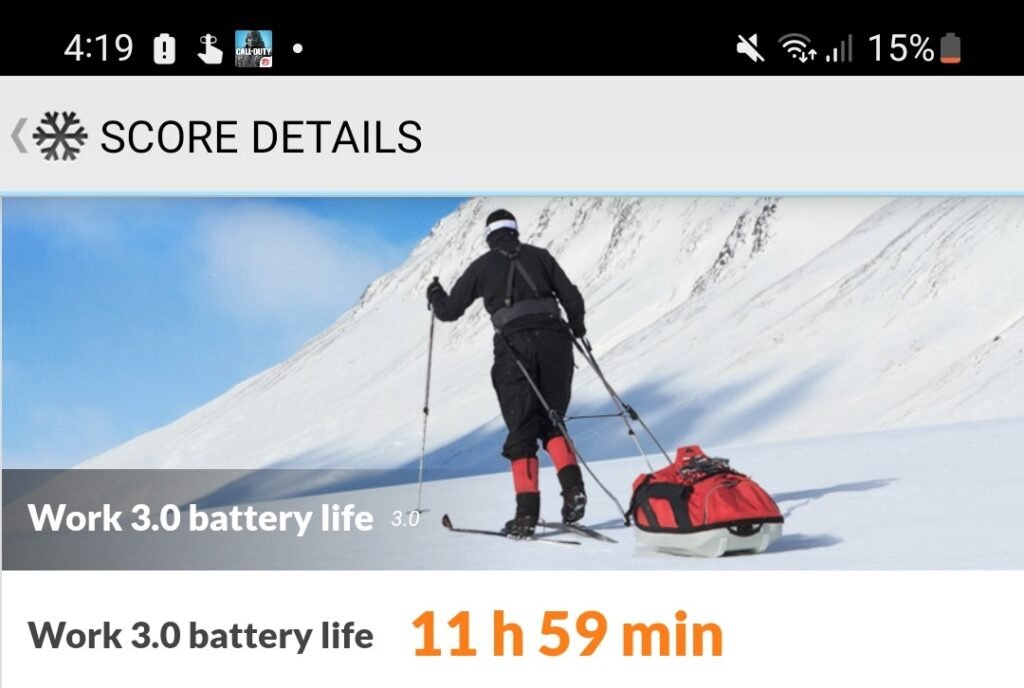 The maximum wired charging power for the Galaxy A54 is 25 W because Samsung hasn't changed the charging speed. The Galaxy A54 took me around two hours to fully charge, which is hardly a deal-breaker.
The Samsung Galaxy A54 5G features excellent battery life, a vivid and colorful AMOLED screen, and an impressive camera that performs well even in low light. Right now, it's the top smartphone under PHP 25,000.


Editor's View
Even with the refresh rate set at 120 Hz, I was still able to use this phone for well more than a day in practical use. When I'm not playing games, I consider myself a moderate user, and I was finishing each day with about 50% of the battery left over for the next.
Obviously, depending on how you use it, your mileage may vary, but generally speaking, you can anticipate a good battery life.
Camera
Impressive imaging for a mid-range price
Optics are different on the Galaxy A54 than they were on the Galaxy A53. You now have three cameras set up. It has a 50MP primary camera, a 12MP ultrawide sensor, and a 5MP macro sensor. The larger sensor on the 50MP standard wide camera increases the pixel size from 0.8 to 1.0 microns. Better low-light photos should result from this, which is always a good thing. A noteworthy change made by Samsung is the removal of the 5MP depth sensor, which I didn't miss at all.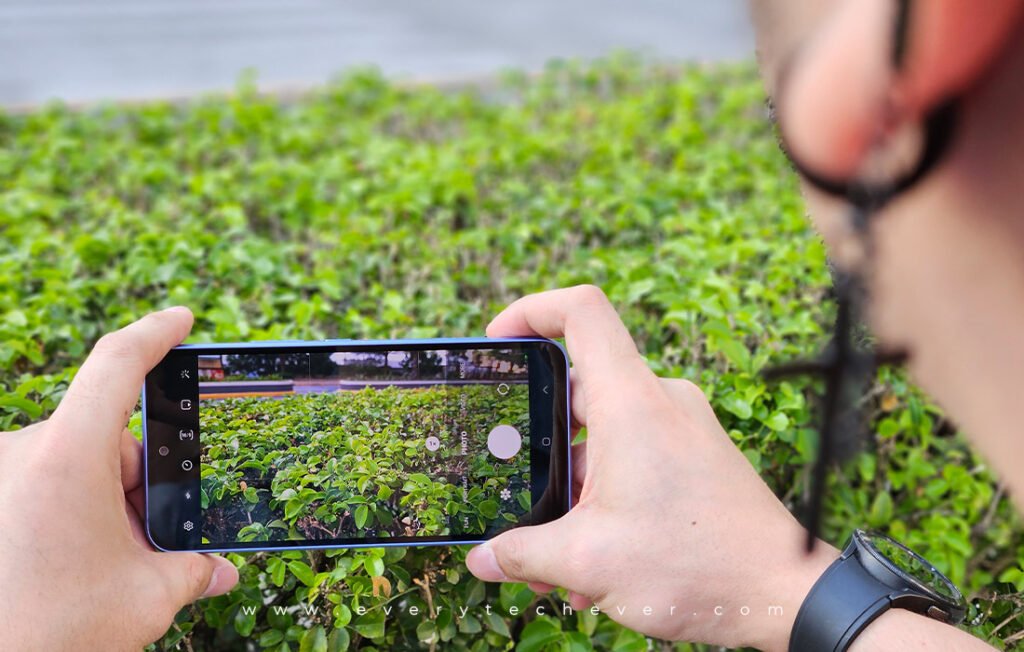 As long as there is enough light, you should be able to get some beautiful pictures with bright colors. In bright light, the ultrawide and macro sensors both manage to take some decent pictures.
Low light significantly degrades the quality, especially for ultrawide photos. The good news is that you can shoot photos suitable for Nightography using the dedicated night mode.
These are a few of our pictures.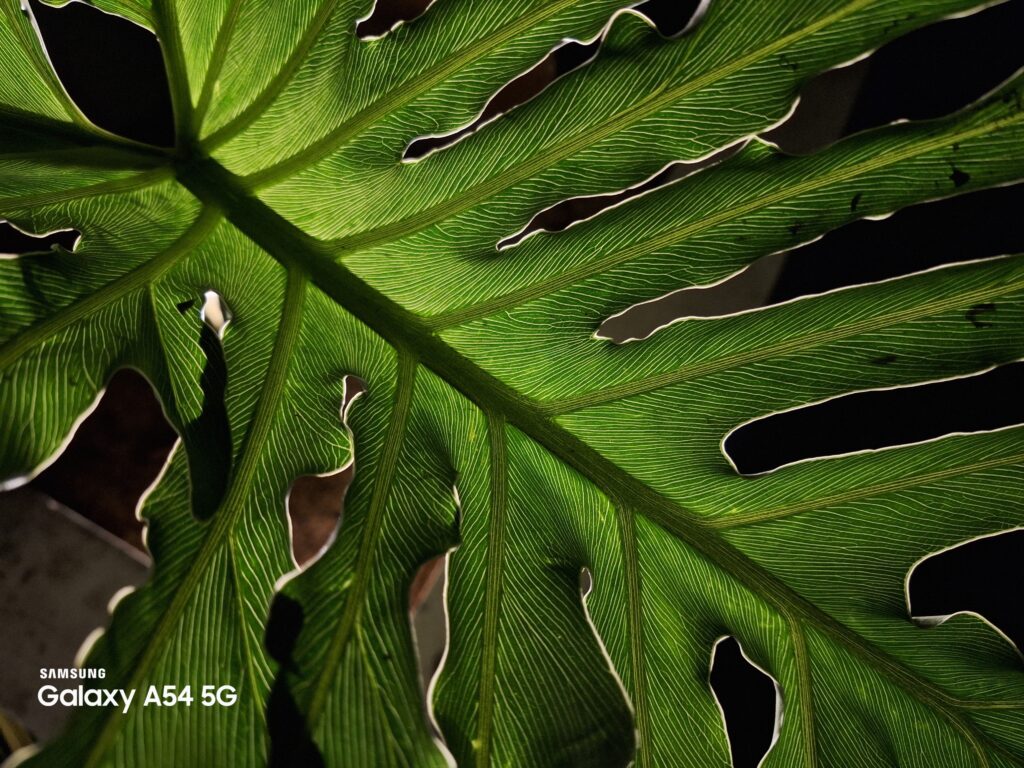 A large 32 MP sensor handles selfies, and as long as there is adequate light in the environment, they turn out pretty well.
Here are some samples: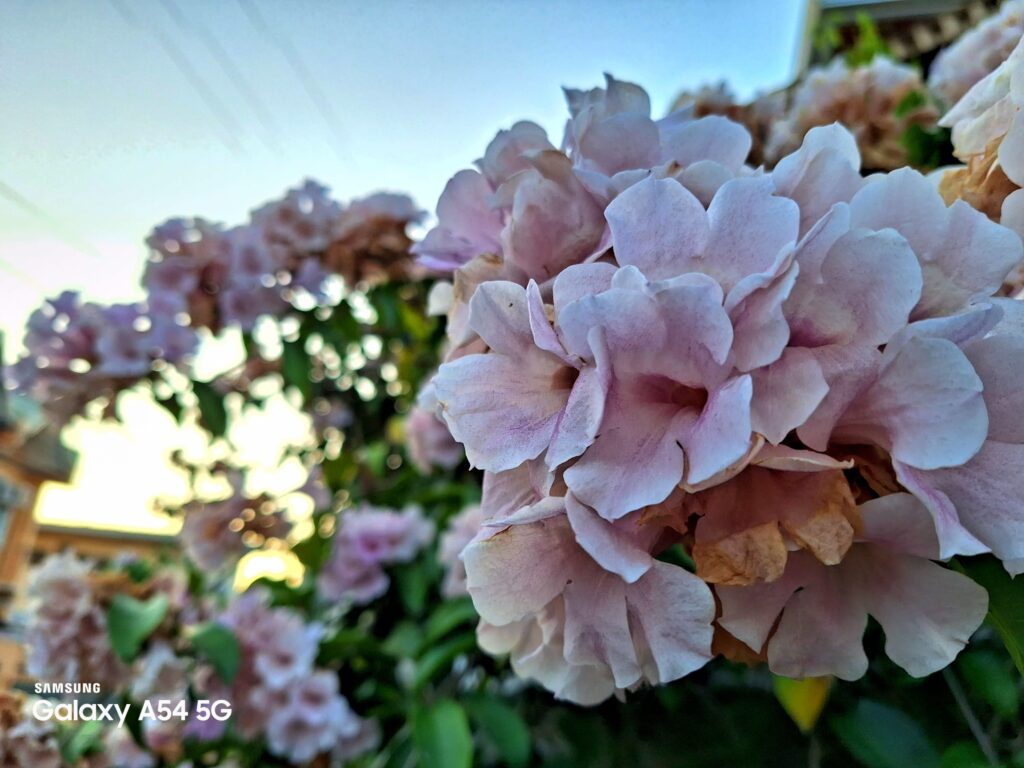 A decent vlogging phone too!
This phone's video recording capabilities are limited to 4K at 30 frames per second, and you can only choose between 30 and 60 frames per second in 1080p resolution. The selfie camera's maximum resolution is also 4K at 30 frames per second.
Should you buy the Samsung Galaxy A54 5G?
Samsung has done a good job with the Galaxy A54 5G. It stands out from the competition in the mid-range market and, dare I say it, is edging toward flagship status. As I previously noted, the design is beginning to grow on me, and I appreciate how Samsung is attempting to set its phone apart from rivals with a unified aesthetic.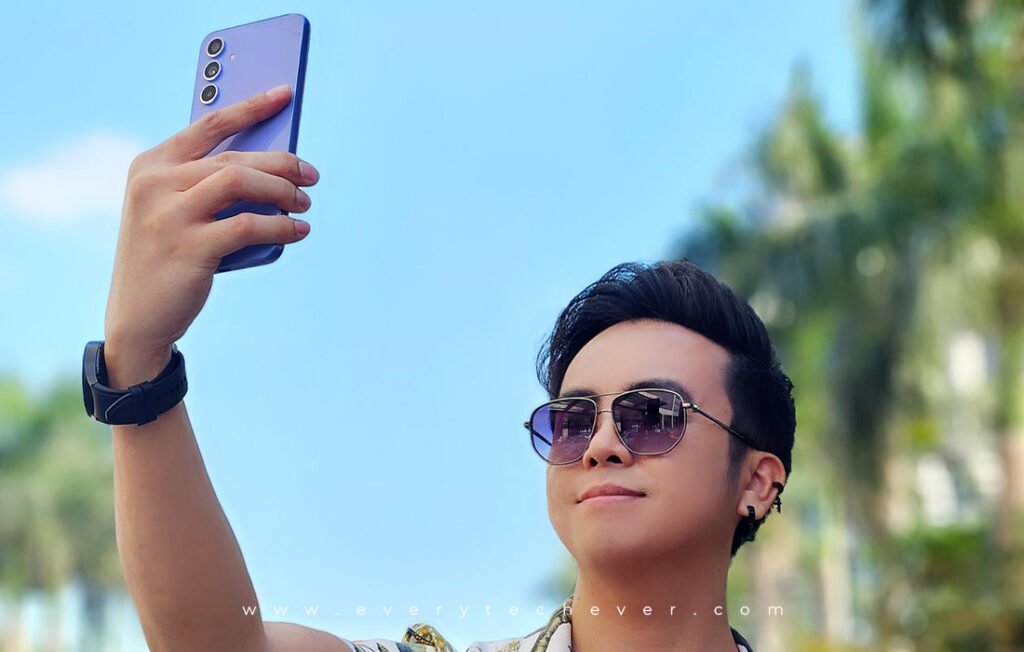 The Samsung Galaxy A54 5G has an excellent display, a respectable selection of cameras, and reliable performance for everyday use for a starting price of PHP 24,990. I wish Samsung had included a telephoto lens in place of the macro lens or at the very least made the cameras even better. I also wish it supported faster charging, but given that even the Galaxy S23 has a maximum charging power of 25W, this seems like wishful thinking.
All things considered, we like the Galaxy A54 quite a bit. It's an improvement, a step in the right direction, and a reliable midrange phone.
Pricing and Availability
The Samsung Galaxy A54 5G is available for a starting price of PHP 24,990 for the 8GB+128GB model and PHP 26,990 for the 8GB+256GB model. Lime, Violet, and Graphite are the three colors that are offered for this device.
So what do you think of the Samsung Galaxy A54 5G? Share your thoughts in the comment section below.
Don't forget to follow us on our social media accounts to get up to date with the latest trends in technology, reviews, and news. Follow us on Facebook, Instagram, YouTube, TikTok and Twitter.