Maya was recognized as a country winner at the IDC Future Enterprise Awards 2022 for leveraging its deep customer data and artificial intelligence to bring banking, payments, and more in just one money platform – the first-of-its-kind innovation in the Philippines.   
Maya was chosen as the Best in Future of Intelligence for its Data-Driven Everything (D2E) Program, a key driver in transforming PayMaya into Maya, powered by seamless digital payments and digital banking. The IDC Future Enterprise Awards is presented by the global market intelligence provider International Data Corporation (IDC).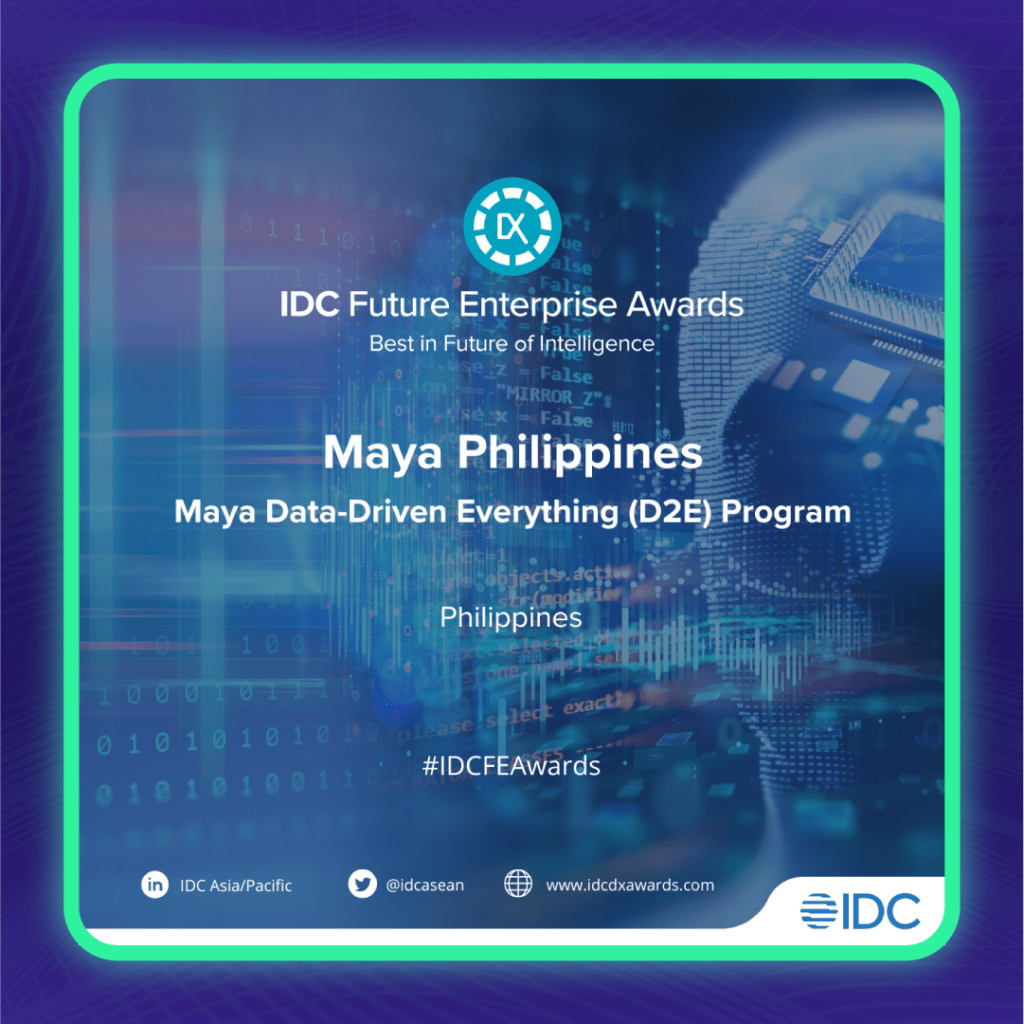 We thank IDC for recognizing our game-changing innovations powered by data and AI. This is a testament to how data – when used wisely and fairly – could unlock the power of all-in-one digital banking in accelerating digital adoption and widening financial inclusion.

Shailesh Baidwan, Maya Group President and Maya Bank Co-Founder
As a result, Maya recorded over one million new bank customers and more than PHP10 billion in deposit balance just five months after its launch in April 2022, making it the fastest-growing digital bank in the Philippines. It also continues to grow its overall base, serving 52 million customers across its consumer platforms and enabling over 810,000 registered merchants touchpoints as of end-September 2022.
By building robust data infrastructure and AI-powered services, Maya has been able to execute instant account upgrades, launch personalized products faster than its peers, roll out bullseye marketing, and implement high standards of security and privacy.  
With Maya's robust data security practices, bank customers can keep their money in the high-yield Maya Savings and seamlessly transfer it to the Maya Wallet for everyday payments.
Maya is the only digital bank to offer new credit products in the first quarter after launch because it has leveraged its existing customer's payment and e-wallet data to build a robust credit scoring model. This achievement is significant as Maya did not migrate its loan book and existing credit customers from other providers.
Last year, PayMaya, Maya's predecessor, was also adjudged as the Best in Future of Intelligence for its enhanced, AI-powered electronic Know Your Customer (e-KYC) process. Its AI-powered ID Validation Service has automated face matching, ID classification, and ID Optical Character Recognition (ID OCR), enabling customers to upgrade their financial accounts in just a few minutes.   Maya is powered by the country's only end-to-end digital payments company, PayMaya Philippines, and Maya Bank for digital banking services.