Meet Maya: It's everything and a bank
Co-create this revolutionary all-in-one money app and get a chance to win P1M worth Bitcoin!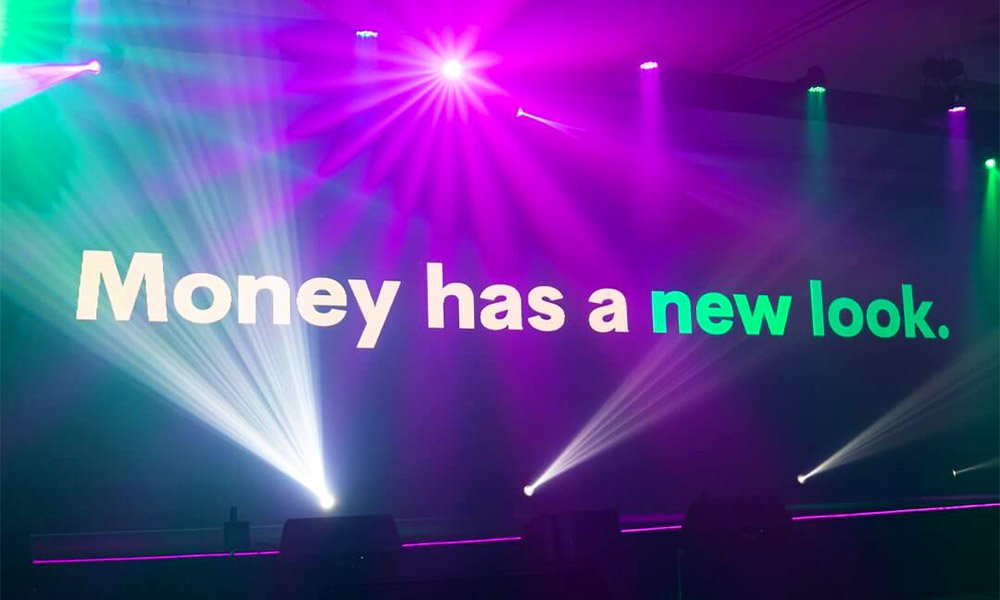 Top-rated finance app PayMaya has evolved from an e-wallet to a powerhouse all-in-
one money app called Maya. It's everything and a bank – and it's available for early
access to users starting today.
Maya combines the popular PayMaya e-wallet with new features like crypto and an
innovative digital banking experience powered by Maya Bank, to allow you to spend,
save, grow, invest, and master your money using your smartphone.
Maya will make your money work harder for you than any other e-wallet or bank in the
market. It is completely free to download and register from Google Play or App Store.
The new Maya comes with an array of features that make money handling easier and
more seamless.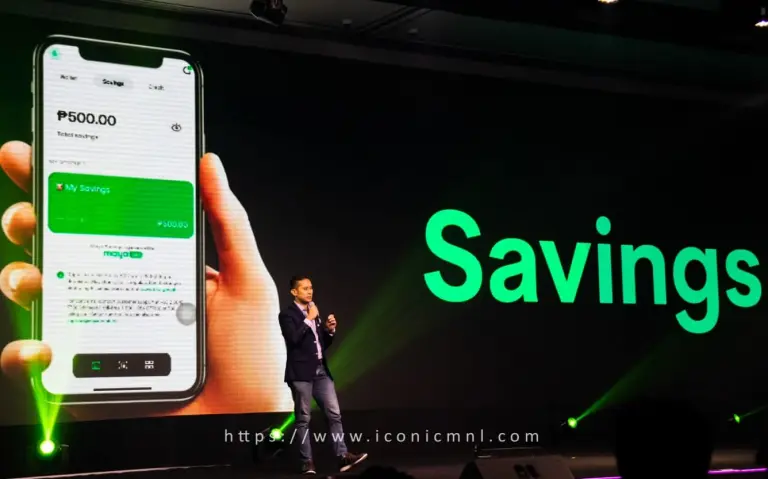 Maya Savings is high-yield savings account with a 6% introductory interest rate, the highest offered by a local bank today. This initial offer is available until August 31, 2022. It is powered by the BSP-licensed digital bank Maya Bank, allowing you a seamless experience in-app when saving your money. Eligible PayMaya customers will be able to move money from their e-wallet to Maya Savings with just a couple of clicks in the app and earn interest on their balance! All you need is an upgraded Maya account to access this feature – and it requires no maintaining balance.
Maya Credit is a virtual credit line that lets you borrow up to P15,000 within the
app. You can use this to pay your bills, buy groceries, purchase load, or upgrade
your smartphone! This credit line can be accessed in as fast as 60 seconds for
eligible users – giving you cash in a flash whenever you need it.
Maya Crypto is the easiest way to start your crypto journey. You can buy, hold,
and sell popular coins, including Bitcoin, Ethereum, Solana, Tether, and more, for
as low as P1 all within the Maya app!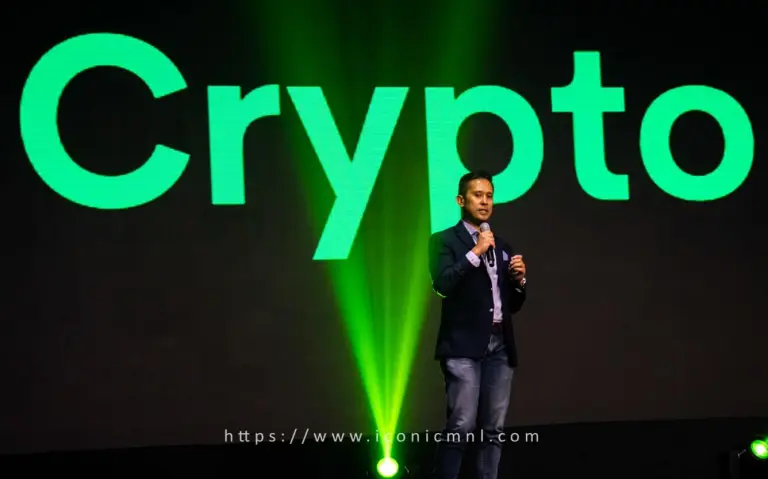 Maya Wallet continues to have all the e-wallet features that made PayMaya the
top-rated local finance app in the country – only now, it comes with a revamped
customer experience. You can still enjoy free cash-in through over 90,000
touchpoints nationwide so that you spend your money on the things that matter.
And that is not all. Soon, you will be able to go from light mode to dark mode on the
app.
To make your experience even more personalized, you can even own a username
that will serve as your new Maya identity for a quicker and more convenient way to send
and receive money. Also coming soon is Maya's goal-based savings that will allow you to set aside money to buy your first vehicle or take that well-earned break.
Maya integrates all these features into one seamless in-app experience. This money
app is easy to navigate – with Wallet, Savings, Credit, and Crypto, just a simple swipe or
tap in one app.
"Maya is all about challenging conventions – and this translates into the experience
we're giving our users this new all-in-one money app. With this transformation, we
want to enable Filipinos to make bolder choices with their money and seize
opportunities – big and small," said Shailesh Baidwan, President of PayMaya, and
Co-Founder and Board Member of Maya Bank.
"We are combining the power of an innovative wallet and a secure, progressive digital
banking experience powered by BSP-licensed Maya Bank to transform how Filipinos
experience money. This unparalleled digital app experience is supported by Maya
Business, the country's leading payment processor for enterprises, and the widest on-
ground network of Maya Center agents," he added.
Co-create a revolutionary all-in-one money app
Maya invites you to co-create the best all-in-one money app by joining the Maya Early
Access Challenge.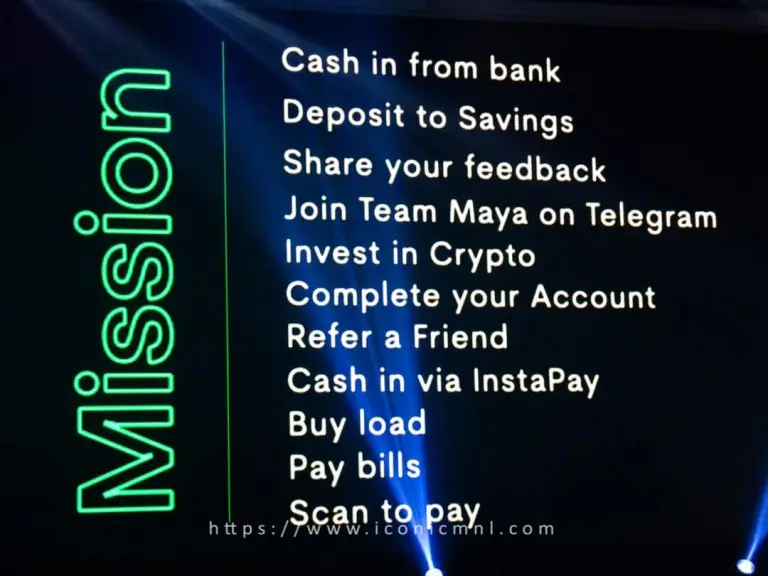 Apart from being the first to experience Savings, Crypto, Credit, and more you can
also have the chance to become the first-ever Maya bitcoin millionaire! All you have to
do is take the challenge!
Interested in joining? Here's a quick guide:
Just download Maya, and register.
On the app's home page, tap the 'More' button and choose Missions. You'll be able to
join the Maya Early Access Challenge from there.
Cash in at least P100 and upgrade your account to unlock Maya Savings with its 6%
interest rate.
Opening your Savings account via Maya will earn you points for the challenge. You earn
more points whenever you complete more Maya Early Access Challenge missions, including
sharing your feedback on the Maya app, referring your friends to Maya using your code,
and using more Maya features, including Pay Bills, Buy Load, and more.
You will be assigned a Maya level, depending on your score:
Maya Master for the top 5% of users with the highest score
Maya Enthusiast for the next 10% of users with the highest score
Maya Explorer for the next 15% of users with the highest score
The higher your score is, the more chances you have of winning this and other exciting
prizes!
Maya Explorer-level customers will get a chance to win P300,000 worth of Bitcoin. Maya
Enthusiasts can take home P600,000 worth of Bitcoin. And Maya Masters have the
chance to take home another P1,000,000 worth of Bitcoin!
On top of this, all participants with a Maya Savings account will get a chance to win
P1,000,000 worth of Bitcoin.
To know your point score, you will receive an SMS with a tally of your score, and you
can also check the leaderboard on the Maya homepage.
Maya will make your money work harder for you than any other e-wallet or bank.
Download the app now and register to experience this new all-in-one money app and
get a chance to become a bitcoin millionaire!

Home Credit launches "Para sa Life" campaign
With new song performed by Moira dela Torre.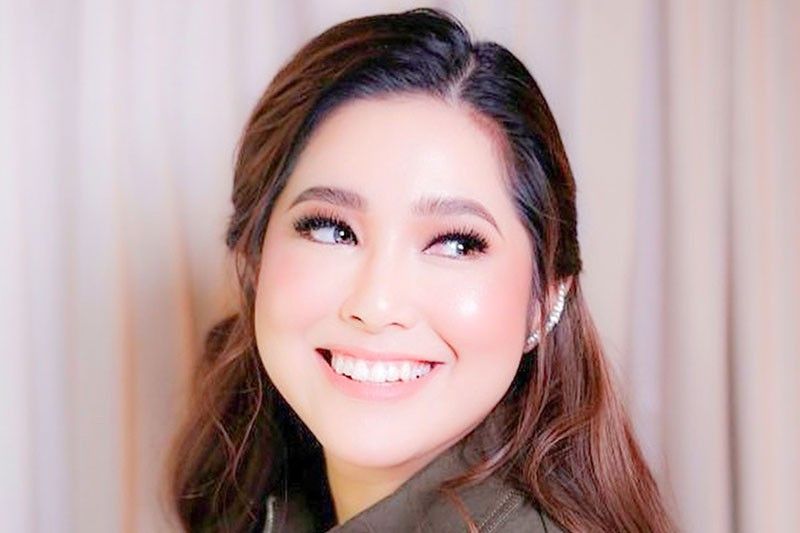 Home Credit Philippines (HCPH), the country's leading consumer finance company, launches the "Para sa Life" campaign that shares a message of hope for a better life for Filipinos. This new initiative of Home Credit is launched through a campaign video with a song performed by Filipino singer-songwriter Moira Dela Torre.
With the hope to inspire new beginnings, Home Credit positions itself as a reliable financial partner that assists Filipinos as they begin a new chapter in life. Apart from providing financial assistance and literacy, Home Credit aims to empower Filipinos to claim what they deserve and to jump-start a new life through various opportunities they offer.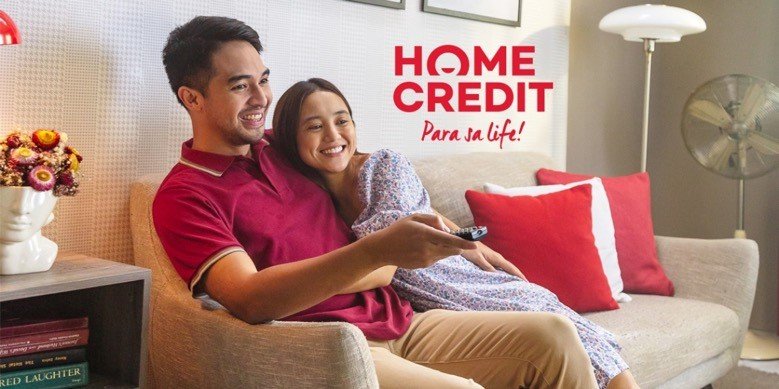 "This new song of Home Credit encapsulates the brand's promise of companionship through the use of their easily accessible and affordable financial products, especially for the underbanked and underserved customers. Furthermore, the song relays that Home Credit is ideal for young families and starting individuals who aspire to establish their lifelong plans and help them turn small dreams into reality," shares Sheila Paul, HCPH's Chief Marketing Officer.
The campaign video is posted on Home Credit's Facebook and YouTube pages.
A guide "Para sa Life"
More than a financial service provider, Home Credit also promotes inclusivity and gives opportunities to all Filipinos through various platforms.
Aside from the new song and to continue its campaign for financial literacy Home Credit will be launching "Payo Para sa Life", a two-minute daily radio show. The show is produced in partnership with Manila Broadcasting Company (MBC), and local independent media agency PraXis.
The show aims to reach different communities and individuals across the country to discuss fundamental financial literacy issues and to educate them about the intricacies of finance, from primary budgeting to helping them make the most practical personal purchases. The radio show airs on DZRH primetime between 4:00 to 5:00 a.m. daily.
Home Credit continues to serve its consumers with safe and world-class financial services and champions financial inclusion and literacy even in these uncertain times while exercising its core principles, promoting sustainability and social responsibility. It remains steadfast in guiding Filipinos in every step of their journey towards securing a better and brighter life ahead.
ING Philippines launches security education campaign – #SimplySecuredWithING
Security and frictionless banking experience go hand-in-hand at ING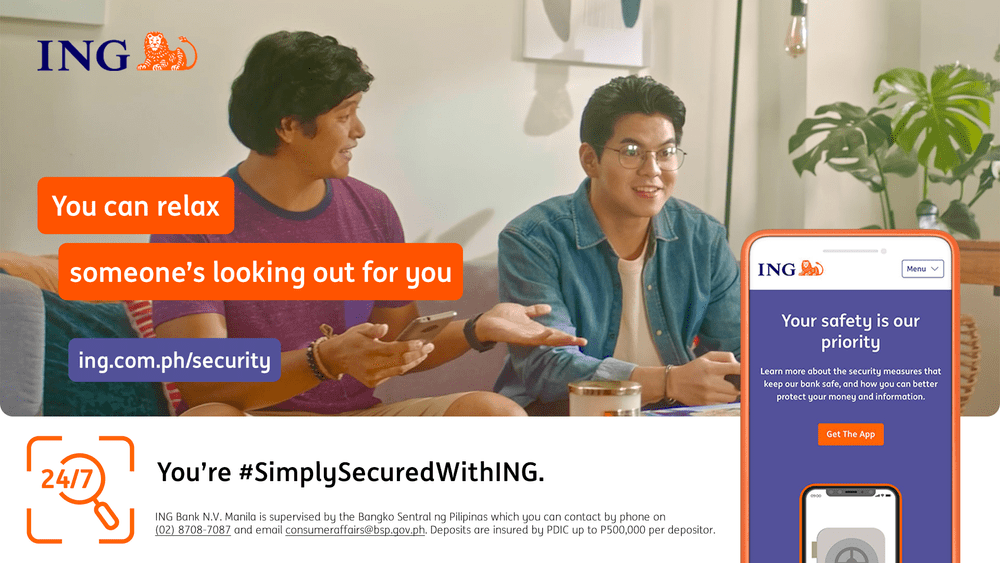 Digital banking, especially via mobile devices, is quickly becoming the top-of-mind mode of transactions for many Filipinos. While it is highly associated with 'speed', 'convenience', and 'ease of use' among its users, digital banking is often seen as 'less safe' and could be more prone to hacking and fraud.
Conventional ways of ensuring account security, such as complex password, is no longer a guarantee from hacking, nor does ownership of a smartphone immediately imply that the user is familiar with technology or any of the jargon it comes with.
With these various factors of uncertainty, the fight for better security seems to result in a more intimidating experience for some people. However, for ING Philippines, the principle of continuously offering frictionless and easy banking goes hand-in-hand with donning a strong security approach.
"Adoption of digital banking is here to stay and all players in this ecosystem, such as banks to e-wallets and payment services providers, have to make 'security' the top priority while providing a smooth and frictionless banking experience in today's digital age.
At ING, instead of creating a series of hoops and hurdles for the user, we do the heavy lifting," said Hans B. Sicat, country head and managing director of ING Philippines. "The underlying goal is to create a simpler, more straightforward experience while keeping our customers and their accounts secure," added Hans.
Differentiating campaigns to inform and collaborate with customers on security
Anchored on the belief that a secure and frictionless banking experience need not be complicated or only accessible to the 'tech-savvy' ones, ING wants to reassure its customers that it is #SimplySecuredWithING so they are free to 'do their thing' – as aligned with ING's global tagline.
The campaign hero material features ways in which ING is protecting its customers in common day-to-day scenarios:
As the first mobile-only banking player in the Philippines, ING uses 'device binding' where a customer's ING account can only be accessed on mobile devices that are authorized by the customer through face recognition and personal information authentication. This reduces the chances of account hacking and unauthorized access.
Round-the-clock monitoring of the accounts and confirmation messages are sent with every transaction, so the customer is informed of any activity on/her account.
In the event of suspicious activity, ING verifies the transaction directly with the customer and gives the option to either confirm the transaction or limit the account and card usage while an investigation takes place. Customers can also choose to freeze or unfreeze their debit cards in one tap via the ING mobile app when they need to secure them. 
"Beyond the regular security reminders, the #SimplySecuredWithING campaign aims to inform ING customers by using day-to-day scenarios and simplifying terms to understand ING's existing security features. More importantly, our customers can be equipped to respond to these common scenarios related to their accounts as depicted in the video. Through this, ING hopes to collaborate with our customers on building safe digital banking practices while assuring them of the high level of security measures taken to protect their accounts," Hans added.
Watch the #SimplySecuredWithING video on: https://fb.watch/dmEhdMfT0D/
Maya sets the bar higher with fresh features and creative collabs
Exciting drop for June includes Personal Goals, new crypto coins, and more!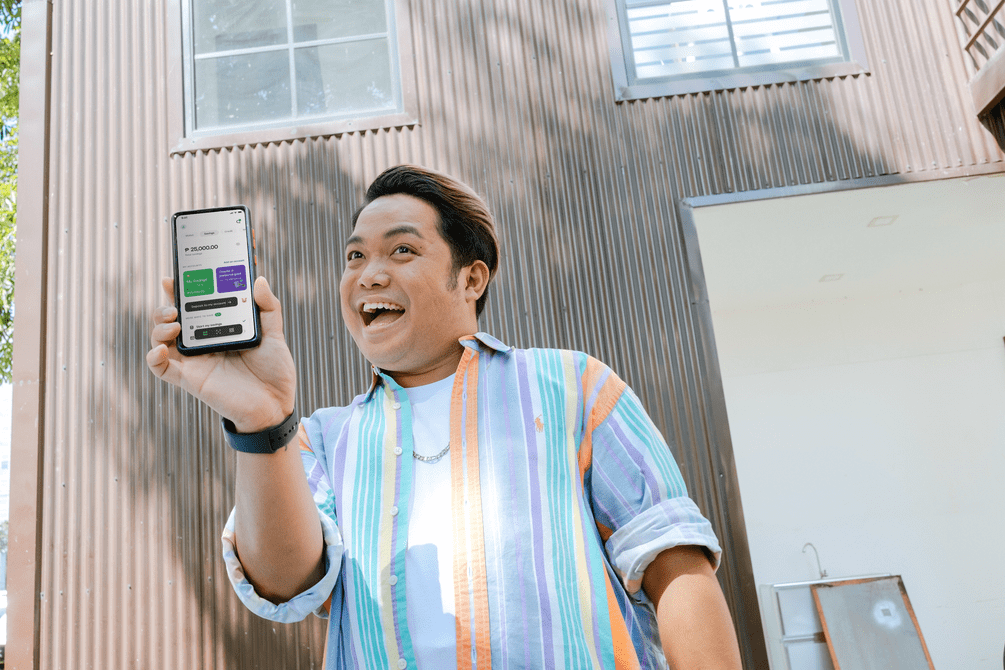 A few weeks after its new brand launch, Maya makes waves anew as it introduces new features to make it even easier for Filipinos to master their money.  The fresh updates from the country's all-in-one money app for June include a new savings feature called Personal Goals, new crypto coins, higher transaction limits, and exciting promos. 
With the new features, Maya also stepped up its close collaboration with young Filipino artists and creators – starting with Shanti Dope, through a trailblazing music video that creatively incorporates an "easter egg hunt" for a chance to win a portion of P1-million in prizes. 
"The customer response to our relaunch has been overwhelmingly positive, and our Early Access program was a smashing success. Maya's unique all-in-one money app, which seamlessly brings together digital banking services, crypto, and an e-wallet for the customer, clearly addresses the pent-up demand for world-class financial services" said Pepe Torres, Chief Marketing Officer of Maya. 
Saving for specific goals? Maya's got you.
To further make it easier to save, Maya is launching Personal Goals, a Savings feature with a 6% interest rate* that enables customers to set aside money for specific purposes – whether it's for a new laptop for school, airfare for a long-awaited vacation, tickets for a music fest, down payment for a condo unit, an emergency fund, or starter fund for a small business. Personal Goals will be available within the month of June, so watch out for this!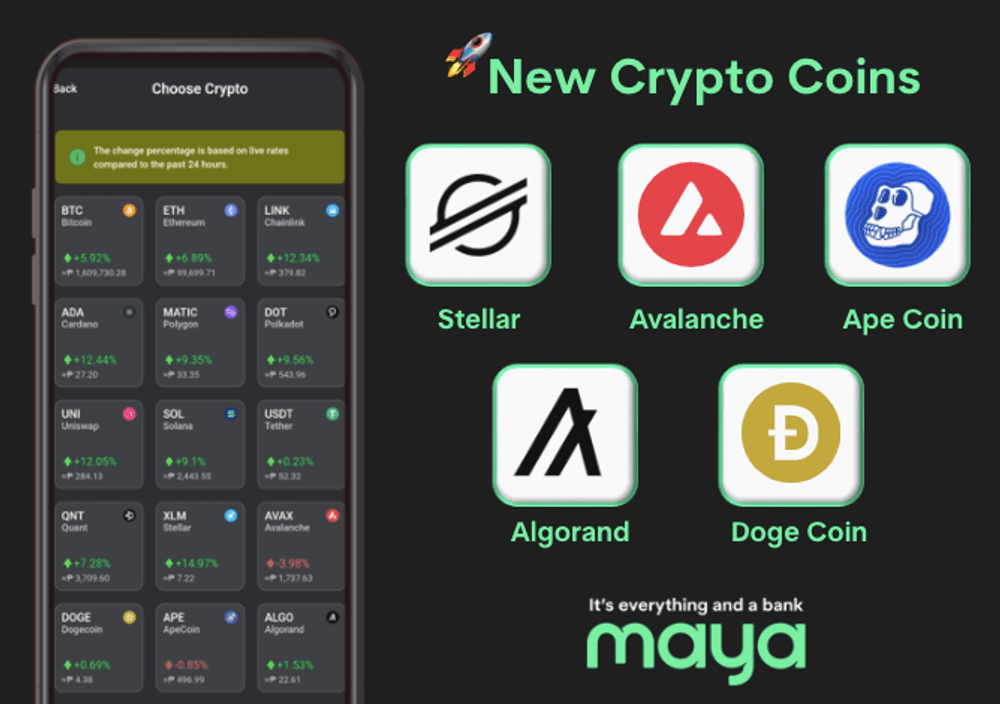 With Personal Goals, you can create savings goals and personalize their names and target amounts. You can set up a Personal Goal for up to six months, and you can keep up to five at a time, allowing you to see how everything is progressing at a glance.
The Personal Goals complements Maya Savings, now available for all upgraded Maya customers. Maya Savings is digital savings account with a 6% interest rate* that's as easy to use as an e-wallet, initially offered on early access mode during the Maya launch. 
On top of offering Personal Goals, customers with Maya Savings will automatically be upgraded as Maya Power Users, allowing them to cash in up to P500,000 to their Wallet and quickly transfer it to their Maya Savings account. Best of all, Maya customers can enjoy 99.9% app uptime reliability, enabling access to their savings anytime.
New crypto-coins are here, plus new features ahead!
If you're planning to grow your money via crypto, here's some good news: Maya has added five new currencies to the app: Algorand, Ape Coin, Avalanche, Doge, and Stellar. Maya now offers 15 coins to help you diversify your portfolio. What makes Maya Crypto better is the seamless, integrated experience – no need to cash in/out or buy crypto using another app – it's an all-in-one experience with Maya.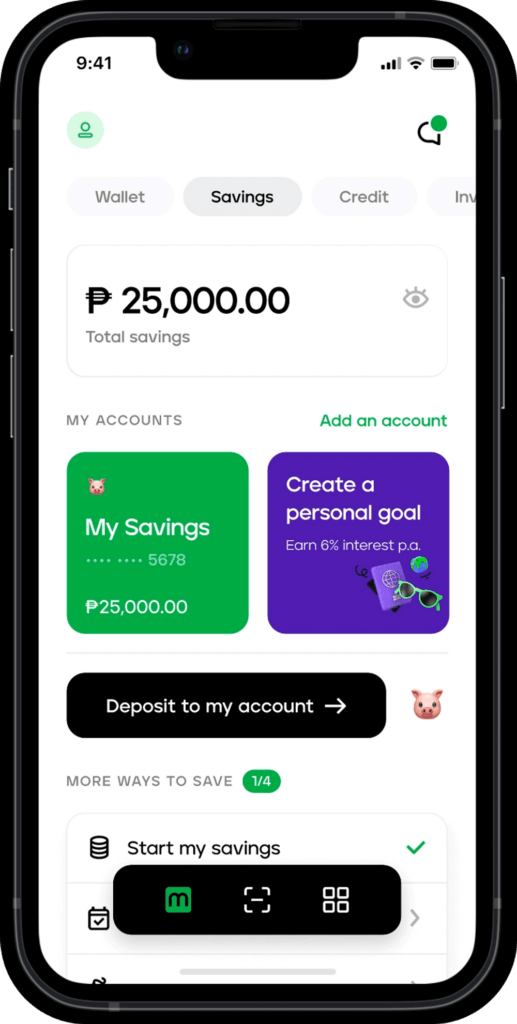 Expect a more personalized experience with Maya, in the near future. Soon, you can set up your own @username that will serve as your Maya identity and let your friends easily send you money without using your mobile number or QR code. You will also enjoy all these awesome Maya features in dark mode!
1M hidden in a music video?
Taking control of your money is seamless with Maya – but who knew it could be exciting too? The all-in-one money app has blazed the trail through a creative collab with rap phenom Shanti Dope for the music anthem of this generation, entitled Maya.
The creative collab for the trending single was revealed last weekend through an easter egg hunt for P1,000,000 worth of cash prizes hidden in plain sight throughout the music video. All you need to do is watch the music video and look for the ten unique cash codes until June 9 for a chance to win prizes. Check out the Shanti X Maya Cash Code Hunt promo at www.maya.ph/shanti.
"Customers are connecting to our new brand's bold look, feel, and sound. This transformation would not have been possible without a world-class team of Filipino creatives who have brought our brand to life. The process reflects our culture and how we built Maya to be the first-of-its-kind money app for Filipinos," said Torres.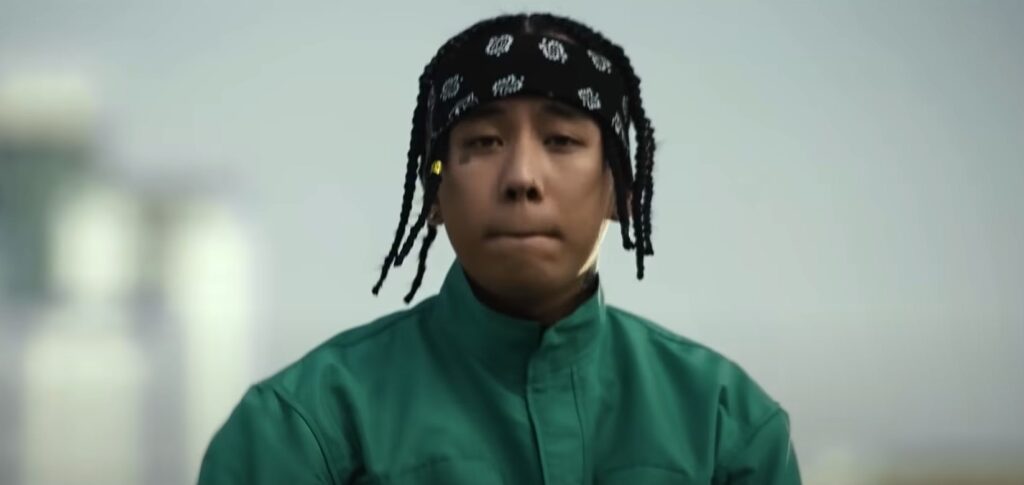 More creative collab with the new generation of Filipino creatives
According to Torres, Maya aims to build a brand that's as trailblazing as the app experience. The collab with Shanti Dope has paved the way for more co-creation with this generation's game-changers.
For example, Maya works hand-in-hand with sought-after photographer Shaira Luna to co-create Maya's photo library with a diverse range of talent that truly reflects the next generation of Filipinos. This creative approach will allow Maya to stand out in a saturated marketing landscape where it's not uncommon to see competing brands use the same stock photo models in their promotional materials.
Maya combines the power of an e-wallet with new features like crypto, credit, and an innovative digital banking experience powered by Maya Bank, to allow you to spend, save, grow, invest, and master your money — all in just one app. To know more about Maya, visit maya.ph or follow @mayaiseverything on Facebook, IG, Tiktok, and YouTube and @mayaofficialph on Twitter. Join our Telegram community at https://t.me/TeamMayaPH for Maya exclusives.