Epson expanded its home projector lineup with the introduction of the EH-TW6250 Smart Gaming Projector, the cheapest in the 4K PRO-UHD entry range. Epson's latest solution, designed to provide immersive big screen entertainment for movie nights and casual gaming with a screen size of up to 500 inches, offers a broader spectrum of consumers to upgrade their home entertainment experience. The EH-TW6250 Smart Gaming Projector allows more home users to enjoy a genuinely easy and immersive gaming experience by combining smart features such as Android TV and Chromecast built-in support with top-notch visual presentation at a competitive price.
Users will be able to enjoy a smooth and fluid gaming experience thanks to the high brightness of up to 2,800 lumens and reduced input lag of under 20ms. The high projected screen size will also help to improve users' gaming experiences by giving them the sense that they are right in the middle of the action.
Features of the Epson EH-TW6250 Projector
The EH-TW6250 Smart Gaming Projector is an all-in-one home entertainment projection solution with a full array of advanced features. It has scene adaptive gamma correction, frame interpolation, HDR10/HLG support, and 3LCD technology that outputs equal white and color light, letting viewers to enjoy smooth, color-correct, and high-resolution images.
Furthermore, the projector's new Vivid color mode allows users to focus on color and contrast settings, allowing them to fully enjoy a wide range of content.
Its eco mode in the light output option also helps the user to save energy by lowering the projector's lumens, effectively lowering power consumption and maintaining the light source's longevity.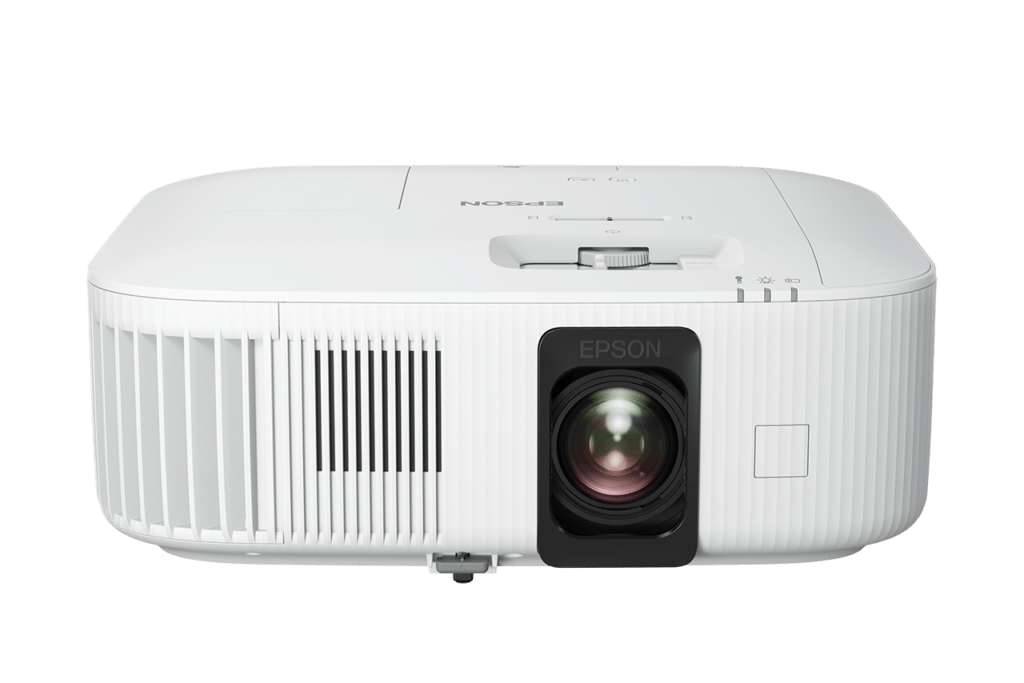 All-in-One Solution
Leveraging on the widespread popularity of video streaming services today, Epson's new EH-TW6250 Smart Gaming Projector comes integrated with Android TVTM function as well as a built-in 10W speaker, providing users the ability to meet their home entertainment needs through the projector, without adding any external audio device. To further improve the user experience, the projector also features video casting support, allowing users the option to cast their entertainment apps or project content directly from their device of choice with Chromecast built-inTM.
The built-in front-facing 10-watt speaker also features a bottom-facing sound chamber, designed to improve audio spread, and is fully enveloped in a specially designed enclosure for exceptional audio clarity. Combined with its other smart features as well as bright and vivid image quality, the EH-TW6250 truly offers an all-in-one solution.
Everything made Simple
The EH-TW6250 Smart Gaming Projector was designed to be simple and straightforward to setup. It can be mounted even in small places thanks to its proprietary sliding keystone technology, which allows users to modify the size of its screen using a built-in sliding keystone bar. In addition to its ease of installation and operation, the projector has a wide +/- 60% vertical lens shift, allowing customers to mount the projectors on shelves or in any corner of the room.
Epson's new EH-TW6250 Smart Gaming Projector allows more users to experience the bright and vivid images made possible with our 4K PRO-UHD technology at a more accessible price point, We believe that users will truly be able to elevate their home entertainment experience with this flexible and easy-to-install all-in-one offering.

Ed Bonoan, head of Marketing Division at Epson Philippines.
Users can further enhance their entertainment experience with the use of external speakers. Epson's latest projector offering features HDMI ARC ports, as well as Bluetooth connectivity with the use of the Epson ELPAP12 Android TVTM Dongle, offering users a variety of options to elevate their home entertainment systems by providing an immersive visual and audio experience.
The EH-TW6250 Smart Gaming Projector boasts a simple and clean design inspired by designs and themes in pottery, with neutral color tones and smooth lines for a pleasing appearance. This allows customers to seamlessly integrate the projector into any area, eliminating the need to redesign or color-match the product and room.