Traditional investing, with all its barriers and limitations, takes a backseat as ATRAM, the leading independent asset manager in the Philippines, ushers in the future of investing. As opportunities for better investments in local and global markets arise, Filipino investors deserve a chance to choose from these premium options and explore new possibilities. ATRAM offers more Filipinos this chance by greatly reducing barriers to entry through a new, all-digital offering.
ATRAM introduces a premium investing experience accessible through an investor-focused app designed for maximum convenience: ATRAM Prime. The company officially launched ATRAM Prime as a new, next-level, and fully digital investment platform, making investing smarter and easier for Filipino investors seeking new ways to secure their future. Here, investors are empowered with growing knowledge and a wider range of investment opportunities to make their money work harder and smarter for them.
Atram Prime Pillars
The ATRAM Prime App provides investors with expertly managed products, client-centric service, and the right tools with cutting-edge technology to take their investments to the next level—all available through one mobile app optimized for convenience and focused on delivering best-in-class financial service.
Prime Experience
Investors are at the core of ATRAM Prime's platform and they deserve an experience that is vastly different from the lengthy, more traditional style of investing. Modern investors deserve an option that has more convenient processes and requires fewer intermediaries to go through in order to achieve a certain goal. The app has an intuitive interface that allows easy navigation and affords app features that elevate a seamless service experience:
Purely electronic onboarding via the app's eKYC process that takes as fast as 8 minutes to complete
On-the-go portfolio management with a few taps (browsing, buying, and selling)
Smart recommendations for investment products
Up-to-date fund performance tracking
Account funding via online transfer from other banks (PesoNet, InstaPay, and BillsPay via BDO, BPI, and Metrobank,)
Readily available educational investment guides
Easily navigable app modules
Prime Products
Investors may access a suite of over 20 expertly managed funds covering global and local markets, providing more than enough diversity to suit different risk appetites and financial goals. The wide array of products includes some of the country's top-performing funds like the ATRAM Global Infra Equity Feeder Fund, ATRAM Asia Equity Opportunity Fund, and more. The funds are monitored and managed by the country's leading fund managers, backed by comprehensive research, in order to offer superior risk-adjusted returns.
Prime Advice
With the many possibilities and uncertainties in the markets, ATRAM Prime empowers every investor to navigate the markets and make informed decisions best suited for their goals. ATRAM Prime provides investors with timely updates on the latest market developments and insights on how these can affect their portfolios. The app also features a Knowledge Hub, which is a library of curated content on relevant market trends, fund information, investing tips, and more. This allows investors to easily find the right information in order to make better decisions when managing their portfolios.
In addition, clients will also enjoy the benefit of having a dedicated Client Advisor prepared to support them throughout their investment journey. Through this proposition, clients will experience premium support that covers everything from getting more information on product offerings to transactional concerns.
Onboarding Investors
Any interested investor, whether beginner or seasoned, can sign up for an account on the app. Onboarding can be fully accomplished digitally through the app's eKYC process. Users can provide information, upload documents and identification, complete the liveness check, and sign contracts in as fast as 8 minutes—no need to wait days and go through the hassle of live appearances or multiple calls.
With the goal of breaking down barriers to investing, ATRAM Prime invites aspiring investors to sign up for the app and learn more about the industry. Once users are ready, they can upgrade their membership and begin investing. There are two types of memberships on the platform: Basic and Prime.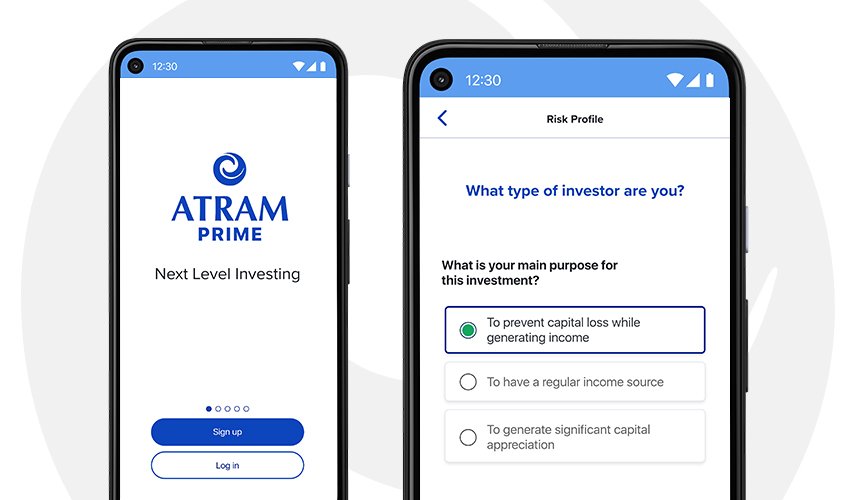 Basic Membership
Everyone starts as a Basic Member by downloading the app and signing up. For this type of membership, investors register simply by using their email and mobile number. Once registered, they can access some of the app's features including the Knowledge Hub and they may browse through investment products.
Prime Membership
For Basic Members interested in opening an investment management account (IMA), they may apply for a Prime Membership. They will be required to submit digital copies of necessary documents, provide information to complete their profile, and make an initial deposit to begin transacting.
With this type of membership, investors will have access to the full range of services available through the app including, but not limited to, the buying and selling of investment products. In addition, platform fees will be waived until July 2023 for clients who sign up as Prime members by September 30, 2022. The minimum investment for ATRAM Prime starts at PHP 150,000.00. Prime Members will be able to keep cash in their investment management accounts, ready for investing when the right opportunity arrives.
Keeping Investors and their Future Secure
An end-to-end digital investment platform has its own security challenges, especially in this day and age. ATRAM Prime improves the overall user experience by bolstering cybersecurity through protocols such as two-factor authentication, OTPs for every log-in and transaction, strict adherence to data privacy rules, and more.
As the investment management industry grows and new opportunities arise, ATRAM Prime makes investing more accessible for Filipinos by providing a comprehensive experience built on secure automated processes, strengthened by expert analyses, and elevated by an intuitive design. The financial landscape is shifting and ATRAM Prime will equip Filipinos with the right tools to forge ahead and shape their own future.
The ATRAM Prime App is now available for download on App Store and Google Play.