Noise-canceling technology has been the foundation of Bose's whole brand and reputation. We certainly shouldn't have been shocked by how far the new Bose QuietComfort Earbuds II exceeded their rivals in the ANC category considering the company has been in this industry for many years.
Bose's QuietComfort Earbuds II are no exception, with a steep price of PHP 19,500 ($299), which is PHP 1,000 more expensive than the original QuietComfort Earbuds. Bose headphones and earbuds have traditionally tended to be on the more expensive end of the price spectrum.
Bose QuietComfort Earbuds II Specifications
Water resistance: sweat resistant (IPX4)
Connectivity: Bluetooth 5.3, SBC, AAC
Battery life: 6 hours (up to 24 hours with case)
Earbud dimensions: 17.2 x 30.5 x 22.4mm
Earbud weight: 6.24g each
Charging case dimensions: 59.4 x 66.3 x 26.7mm
Charging case weight: 59.8g
Case charging: USB-C
Unboxing
When you first open the box, you'll note how much smaller these earphones are than those from the previous iteration. Bose asserts that it is 30% less in volume and that you may wear it more closely to your head and ears than ever before. Additionally, the charging case has been reduced by 40%. Although it's more portable, I don't know why Bose didn't incorporate wireless charging given its size.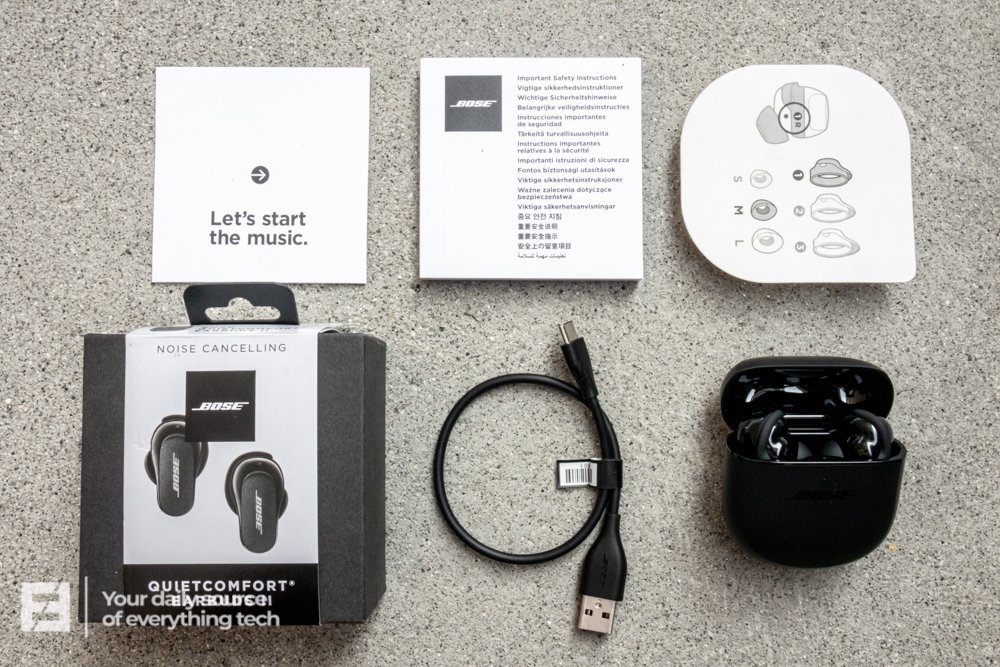 Here's what you get in the box:
2 Bose QuietComfort® Earbuds II
Bose Fit Kit:
3 pairs of eartips (small, medium, large)
3 pairs of stability bands (1, 2, 3)
Charging case
USB-C® (A to C) cable (12″)
Quick start guide
Safety sheet
Build and Design
In comparison to their predecessors, the new earbuds are 30% smaller, much lighter, and more covert. They have short, flat stalks that point down toward your mouth, giving them a retro Bluetooth headset appearance.
They come with three sizes of silicone ear tips and three sizes of stabilizing wings, which may be combined to achieve the ideal fit. They are very pleasant and stable in the ear. To check for a healthy seal in your ears, you can use the Bose Music app's fit test.
These earbuds are well-built, but they don't have the same high-end feel as the Bose QuietComfort Earbuds Truly Wireless. Except for the touch-sensitive surface on the stems, they're mostly made of shiny plastic that appears to be fragile. The case is somewhat flimsy and made of plastic as well. The tiny area where they latch into your ears makes the fins and tips seem more prone to tearing. However, they have IPX4 certification for resistance to water splashes.
The earphones are larger than rivals' models and heavier than earbuds from companies like Apple, Nothing, or Huawei. On the other hand, the case is relatively big, measuring 2.61″ x 2.34″ x 1.05″. The QC Earbuds 2 are already 30% larger than the original QC Earbuds, which is incredible to think about.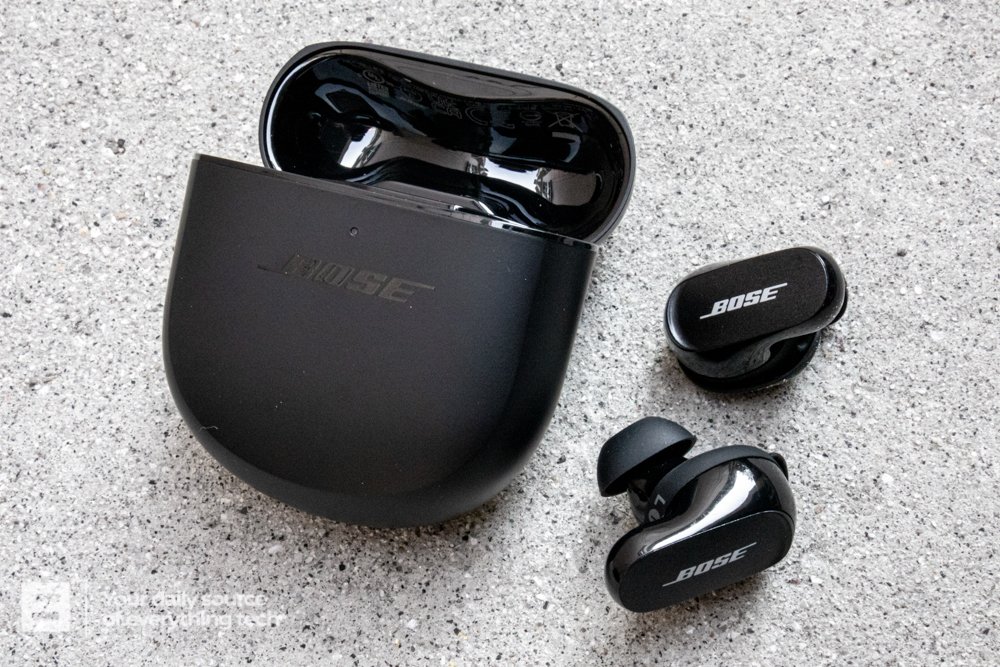 Each bud has a 9.3mm driver, two outside microphones, two inside microphones, a touch-sensitive screen on each stalk, and four microphones total. The plastic construction has a glossy covering that is either black or white.
Comfort and Ergonomics
Comparing the QuietComfort Earbuds II to other earbuds on the market is a very different experience. The company now uses a two-piece system instead of its trademark StayHear winged ear tips.
You receive three sets of stability bands and three sizes of ear tips (S, M, and L), which use your ear concha to keep the earbuds firmly in place. With tips and stability bands combined, there are a total of nine possible configurations. Like other earbud manufacturers, Bose points out that your left and right ears may differ sufficiently to call for different setups in each. I ultimately used large ear tips with medium stability bands in one ear and large stability bands in the other.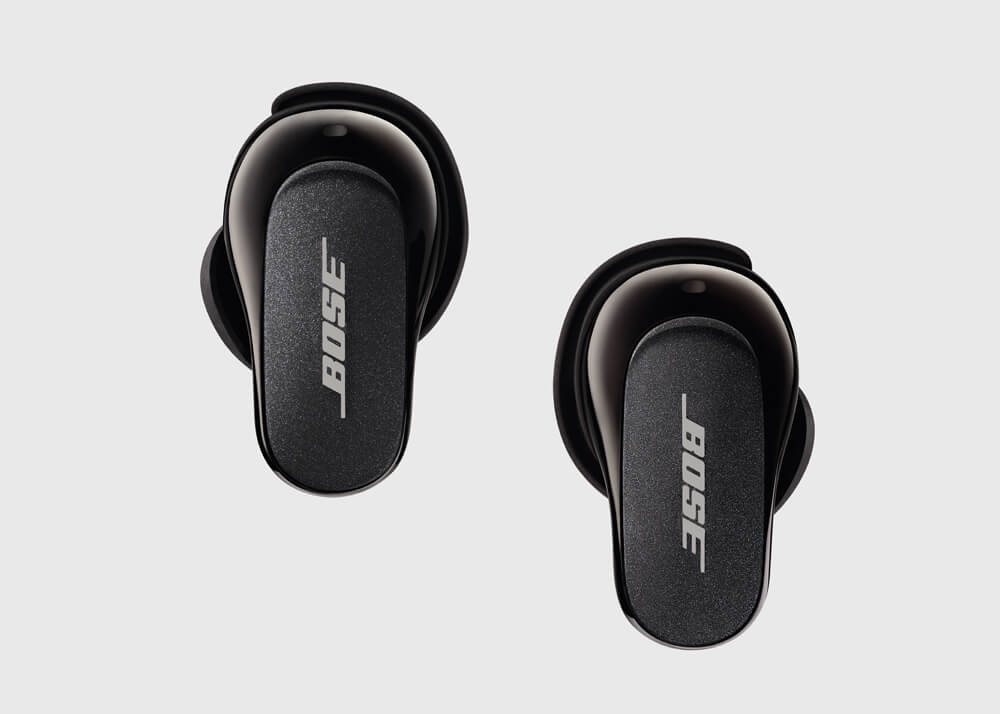 Bose wanted to make the new earbuds fit a wider range of ear shapes and sizes while also eliminating any strain or discomfort.
The QC Earbuds 2 are comfy when I switch the standard medium-size tips to tiny since I don't like the way in-ear earbuds feel when the silicon tip enters my ear canal. If at all possible, I would prefer an outer-ear design, like the non-Pro AirPods or the Nothing Ear Stick. As previously stated, the stability ring tucks into my concha to provide more "grip," which keeps the buds more securely in place. These earphones provide me with more peace of mind because I frequently commute throughout the city and worry about my earbuds coming out in the middle of the ride.
Software: Pairing, App, Controls
The QC Earbuds 2 can make a connection to any device, but to get the most out of the product, you should download the Bose companion app. The app lets you adjust the EQ, which I found useful because I thought the out-of-the-box tuning sounded flat. It also lets you customize touch controls and ANC strength.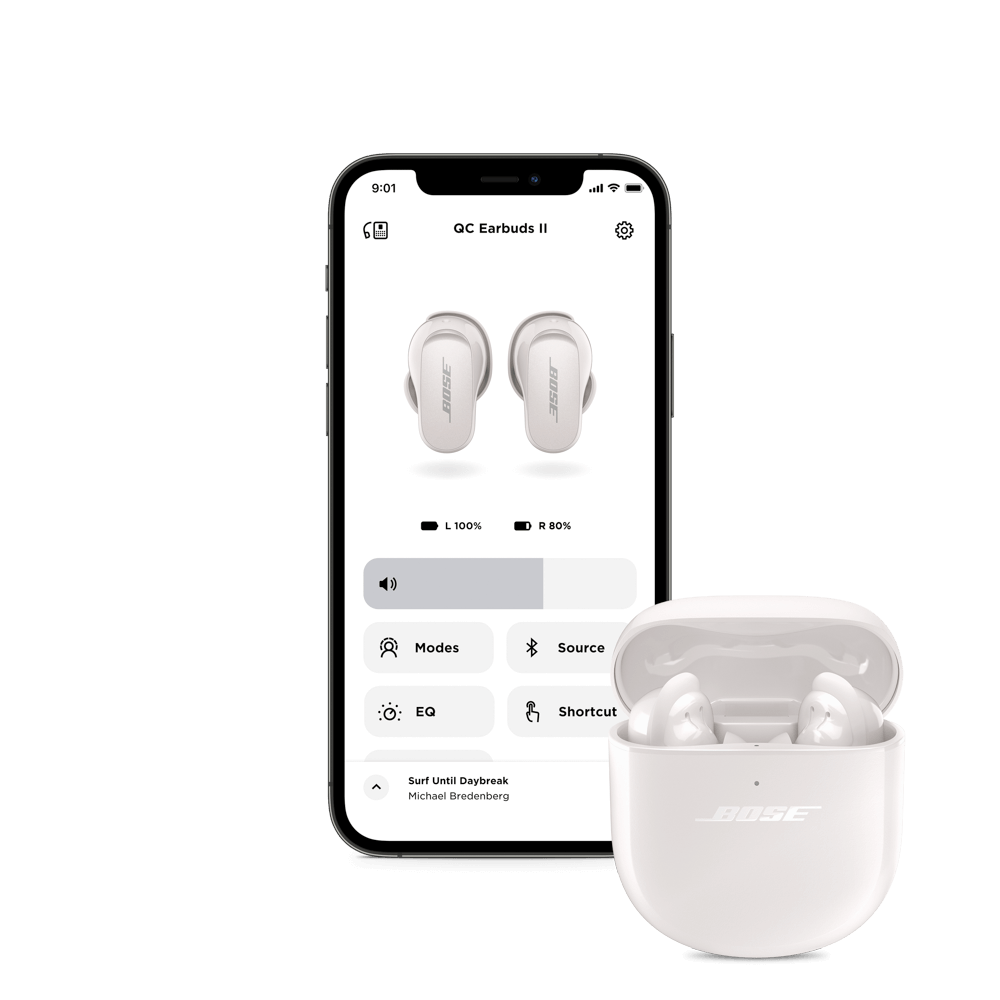 The touch panel operates as you might anticipate: a single tap starts or pauses the audio, a second tap skips tracks, and a long press switches between ANC and transparency mode (which Bose dubs "Aware" mode). You can substitute Siri or Google Assistant for the long-press action to activate them instead. In order to check whether the earbud tips are correctly inserted, the earbuds will broadcast a very loud chime as part of the app's "eartip seal test."
Here are the tap gestures to control your music and calls:
Single tap: Plays and pauses audio. Also accepts calls.
Double tap: Skips to the next track. Also ends calls.
Triple tap: Skips to the previous track.
Touch and hold: Cycles between ANC modes: 'Quiet', which is ANC on, and 'Aware', which is a talk-through mode, so that you can hear your environment without taking your earbuds out. You can also remap these controls to add voice assistant control.
Swipe up: Raises the volume.
Swipe down: Lowers the volume.
Audio Quality
Bose is unapologetic about the QuietComfort Earbuds II's ANC abilities, calling them "the world's greatest noise cancellation from any headset, whether headband or in-ear." You'll likely agree that it's a bold claim.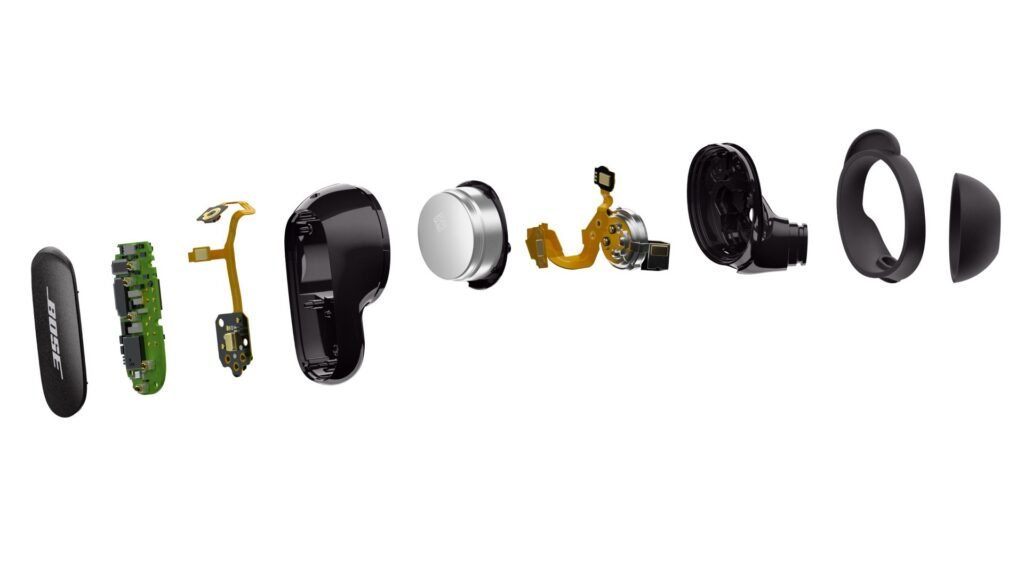 Each earphone has four microphones: one on the inside and three outside. They "detect, measure, and send undesirable noise to a specialized electrical chip programmed with a unique algorithm." Less than a fraction of a millisecond later, the microprocessor generates a signal to cancel out the noise.
What is the result? It's great. extremely good and unquestionably among the best we've ever heard from a pair of high-end wireless headphones.
We test them out in a busy bar, and no matter how loud the discussion at the table next to us or the background music coming from the ceiling speakers, the Bose completely blocks out the noise. The QC Earbuds II might be worth a spot in your carry-on luggage if you're a frequent traveler who doesn't want to bring big, unwieldy over-ears with her but wants superb noise-cancellation.
If you want to talk, you can use Auto Transparency to take out an earphone and talk. In order to prevent things from seeming out of balance when you're trying to speak, the other bud's ANC level drops to its lowest setting. It's hardly a deal-breaker, but it's still a nice touch.
The best noise-cancelling true wireless earbuds yet, second to none.

Editor's View
The Bose's call quality is adequate for everyday use, but we wouldn't describe it as the best in class. During testing, our voice was fairly audible under typical circumstances, but we had trouble being heard over strong wind gusts.
If Bose had increased the cost of the noise-canceling but not the music quality, we would be frustrated. Fortunately, the earphones give you everything you'd expect from a pair of pricey wireless earbuds and exude luxury and beauty.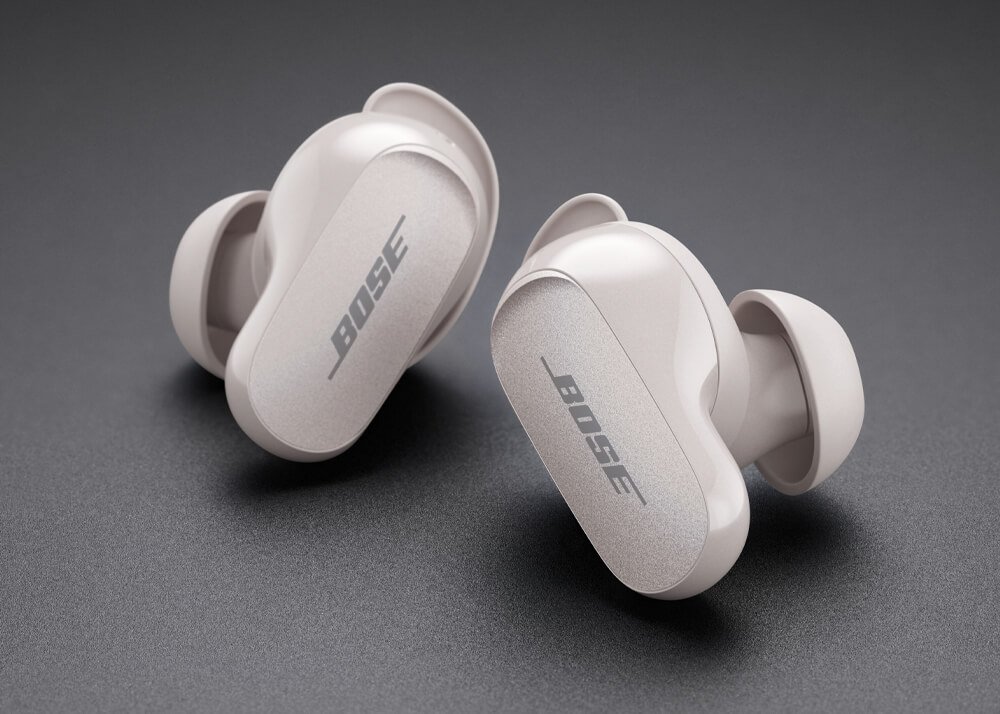 They are perfectly balanced and don't overpower the music with their flair. You can simply put them in, hit play on your preferred songs, and let them take care of playing the music.
Miley Cyrus' Flowers serves as the foundation of our testing. Even the first few seconds of the soft guitar strumming serve as a perfect example of how well the Bose handles minor nuance and tone. The bassline's deep, dynamic quality blends seamlessly with the strings and drums' immaculate clarity and the track's dramatic ending.
Should you buy the Bose QuietComfort Earbuds II?
The concern was whether Bose's top-of-the-line wireless earbuds would be competitive in a market segment where competitors have never been more proficient. It is very impressive that the company has been able to push the boundaries of noise-canceling and sound quality while also successfully implementing a redesign. The Bose QuietComfort Earbuds II should be heard if money is available.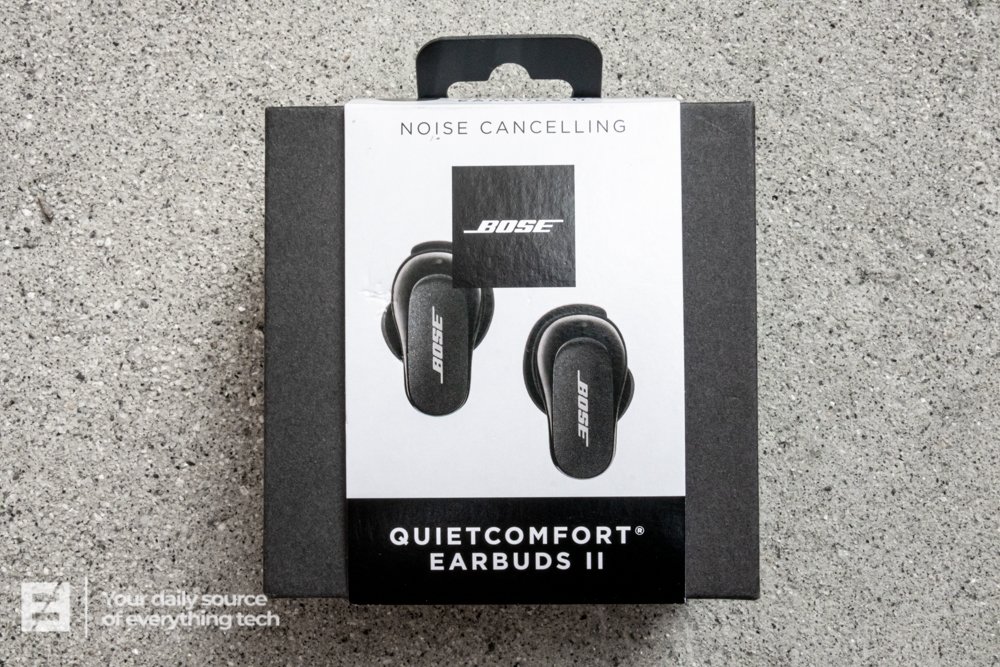 The best noise-canceling earphones available are without a doubt the QuietComfort Earbuds II. Bose has beaten back competition from Sony, Apple, Google, and Samsung while making significant strides with ANC in this design factor.
They are obviously expensive, and I have no idea how long the QC Earbuds II will hold the top spot given that Apple is soon to introduce its second-generation AirPods Pro and promises its own breakthroughs in noise cancellation. Yet, these have unparalleled noise-canceling abilities, are comfortable to wear, and sound great, especially when voices are involved. Bose has cemented their solid status in this competition once again.
Price and availability
The Bose QuietComfort Earbuds II is now available in the Philippines for only PHP 19,500 in all Bose stores and eleksis website with free nationwide shipping.