Although the majority of laptops sold have the same basic structure, some brands are working to change that. A wave of Windows tablets with detachable keyboards appeared with the introduction of Microsoft's original Surface ten years ago, and it appears that the next revolution is now upon us.
It is obvious that 2023 is the era of foldable, flexible displays. Samsung started this trend on smartphones, and now PC manufacturers are following suit. The new ASUS Zenbook 17 Fold OLED is the world's first and is a brave move in an attempt to revolutionize the laptop market.
I am aware that this gadget is more expensive than a typical laptop or PC, but it has many unique features. It has a stunning OLED display with vibrant colors. It is ultra-portable and can transform into a large 17.3-inch screen to level up your productivity. The keyboard is full-sized and can be used wirelessly. Moreover, this foldable laptop is king of versatility, as it can be used in six different modes.
ASUS' first foldable has surely been worth the wait, but. Here is my full review.
ASUS ZenBooK 17 Fold OLED Specs
| | |
| --- | --- |
| Laptop Class | Detachable 2-in-1 |
| Processor | Intel Core i7-1250U |
| RAM | 16 GB |
| Boot Drive Type | SSD |
| Boot Drive Capacity | 1 TB |
| Screen Size | 17.3 inches |
| Native Display Resolution | 2560 by 1920 |
| Touch Screen | |
| Panel Technology | OLED |
| Variable Refresh Support | None |
| Screen Refresh Rate | 60 Hz |
| Graphics Processor | Intel Iris Xe Graphics |
| Wireless Networking | Wi-Fi 6E, Bluetooth 5.2 |
| Dimensions (HWD) | 0.46 by 11.32 by 14.9 inches |
| Weight | 3.31 lbs |
| Operating System | Windows 11 |
| Tested Battery Life (Hours: Minutes) | 11:15 |
Design & Build
The Zenbook 17's design may seem overpowering when you first open the box. It is made of a jumble of materials designed to shield the form factor's different quirks. Together, ASUS has managed to make it function. The Zenbook 17 is a stylish device that, in some ways, nearly has a futuristic feel because of its covert "Tech Black" color.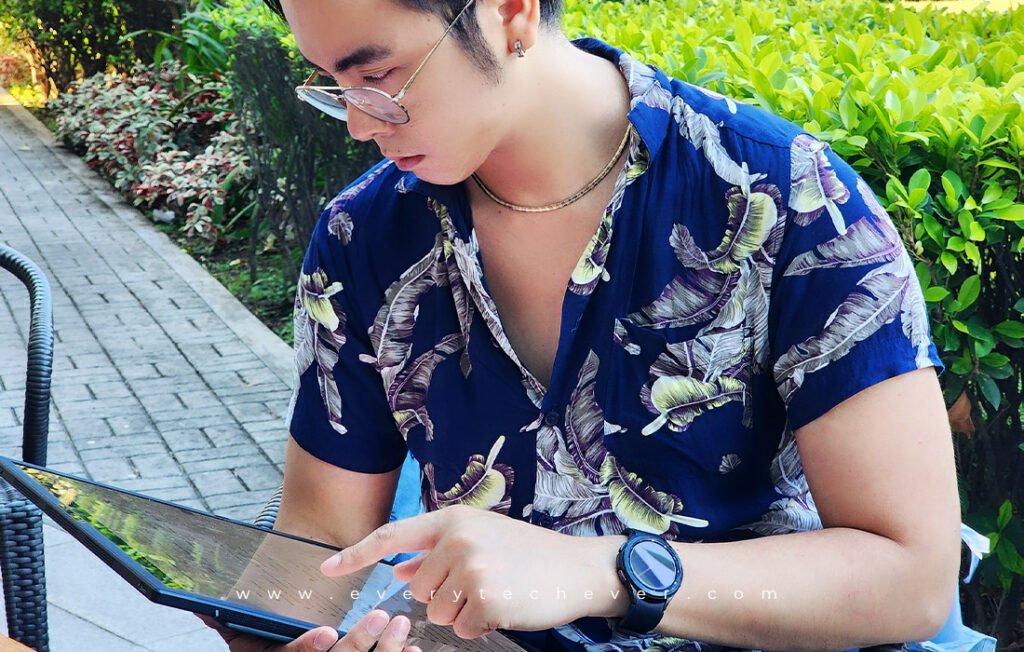 The laptop's chassis is sturdy. It's made of a strong material called magnesium alloy. The back of the laptop has a cool design with a frosted glass layer. It reflects light and flaunts the company's new logo. There's also a faux leather panel that wraps around the middle and acts as a kickstand and extra cover to protect the folding mechanism.
Even though it weighs just over four pounds and measures 1.25 inches thick in clamshell form, the Zenbook 17 Fold is still lighter than many other comparably sized conventional laptops on the market.
The Zenbook 17 Fold may practically be used in up to six distinct modes thanks to its adaptable design.

Editor's View
The simplest and most obvious option is to use it like a standard tablet. It's one of the biggest slates you can buy at 17.3 inches. Only a small number of scenarios fully benefit from such a widescreen, but it does make the Zenbook 17 Fold an excellent multitasking tablet.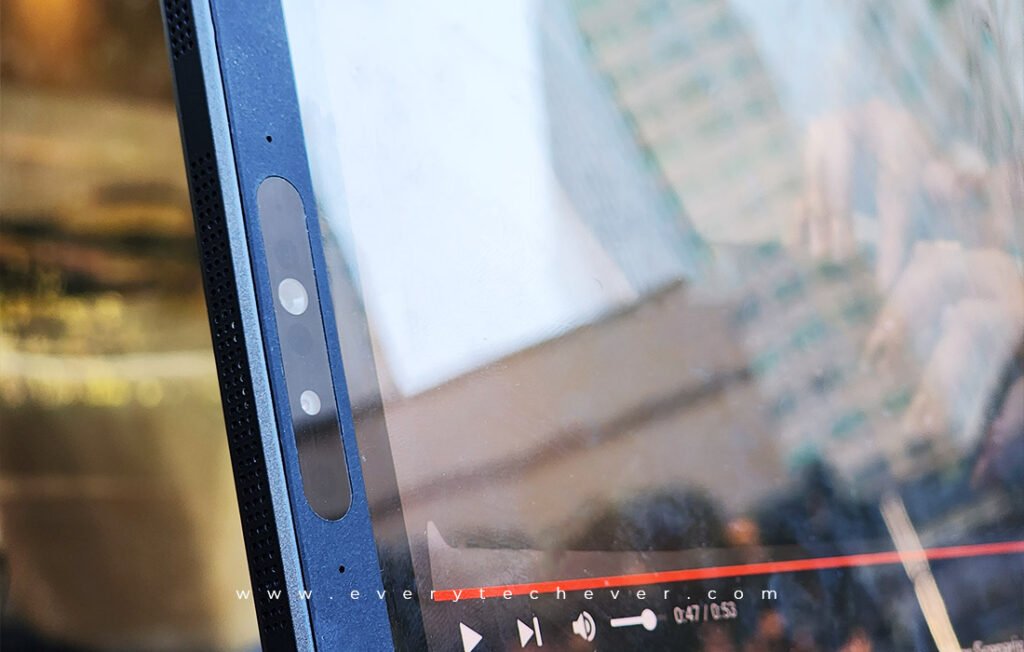 To make the hinge as strong as possible, there are thick plastic bezels around the edges of the screen. With its crisp 1080p footage and two mics, it provides plenty of room for a 5-megapixel webcam, making for an excellent video calling experience.
The kickstand can only be in one set position, though.
Fold and go!
However, what elevates the Zenbook 17 Fold to the next level is the ability to fold the display in half. In addition to making the device much more portable and compact, this opens up three other possible modes.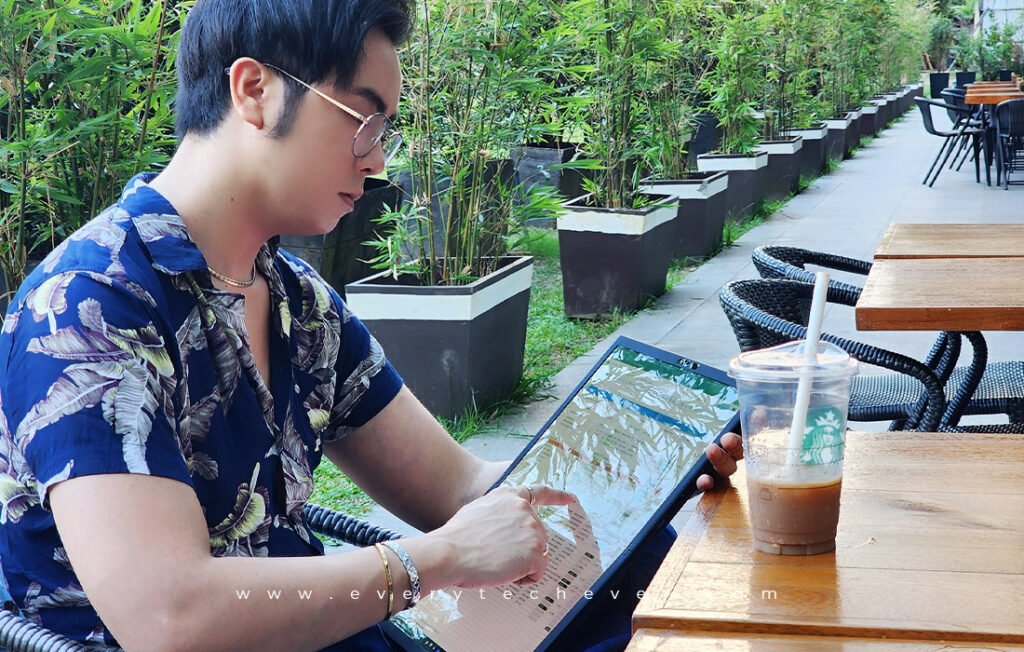 Landscape orientation allows the Fold to take on a book-like appearance. If the crease doesn't conceal any crucial information, this is a fantastic option for eBooks and other long-form written content. Although it was enjoyable to try, I discovered that I used some of the other modes far more frequently.
This includes using the Zenbook 17 Fold as a laptop substitute, which is one of its main selling points. A portable 12.5-inch PC is made possible in portrait mode by mounting the keyboard to the lower portion of the display.
It seems a little crowded, and the huge bezels are even more evident, but it performs noticeably better than the majority of tablets with detachable keyboards. It performed admirably in circumstances when I didn't require multitasking capabilities.
I was pleased with how well the device worked even without the keyboard. Content transitioned across the crease with ease as you browsed the web and scrolled through social media. It still feels quite solid, even without the keyboard's additional 300g weight.
US Military Grade Durability
It makes sense to be cautious about a huge folding display's long-term longevity, especially on a pricey device. However, according to ASUS, the hinge on the Zenbook 17 Fold can withstand at least 30,000 opening and closing cycles, or 10-15 times every day for five years.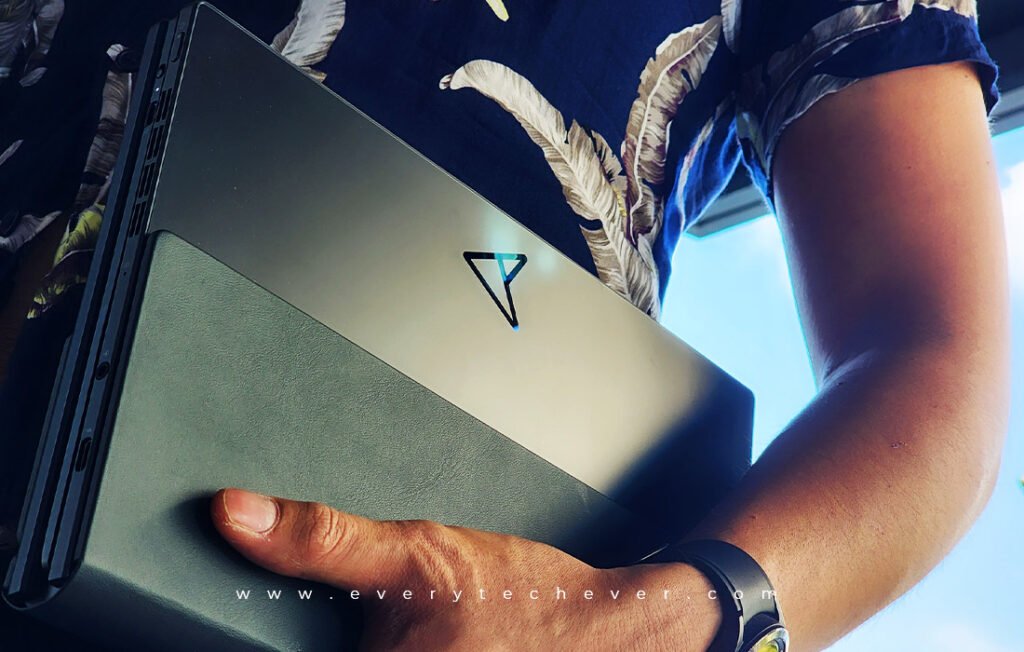 The device is mostly covered in plastic, but the hinge and kickstand are leather. There is no need for a case because this gives the device's back a critical grip.
One item to note is that the display's plastic coating collects dirt and fingerprint smudges. The bezels are constructed of a velvety-feeling material that readily attracts dust and hair. This means that in order to keep your ZenBook Fold looking stunningly clean, you must always carry a microfiber cloth.
Ports and Connectivity
The Zenbook 17 Fold is slim by laptop standards, measuring 8.7mm when unfurled, but I'm still not happy with the connectivity choices. Only two of the USB-C ports support Thunderbolt 4, and there is only a 3.5mm headphone socket. However, ASUS does supply a USB-C to USB-A adaptor in the box.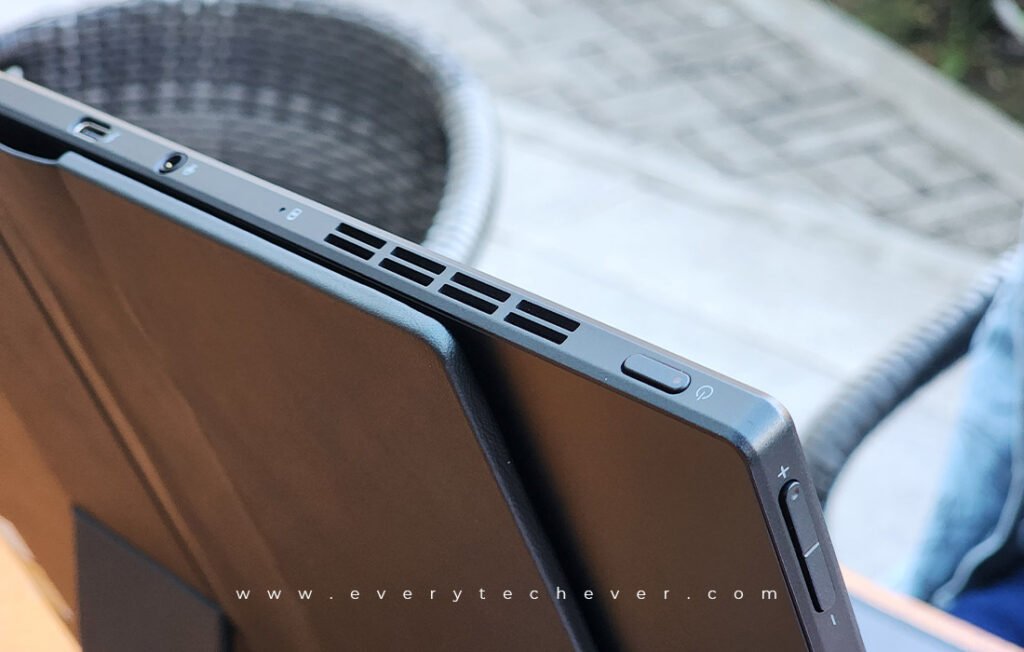 Type wirelessly and effortlessly
The Zenbook 17 Fold works best with ASUS' keyboard cover, which is included in the package. It's important to have the cover to get the most out of the device, and ASUS thoughtfully includes it.
ASUS ErgoSense Bluetooth keyboard and touchpad
Because it uses Bluetooth for its connection, the Zenbook 17 Fold can use virtually any wireless keyboard. It has the advantage of being able to attach to the bottom half of the foldable display without any noticeable gaps.
Strong magnets hold it in place, transforming the device into a portable laptop. The quality of Asus's keyboard surprised me, especially given its compact size.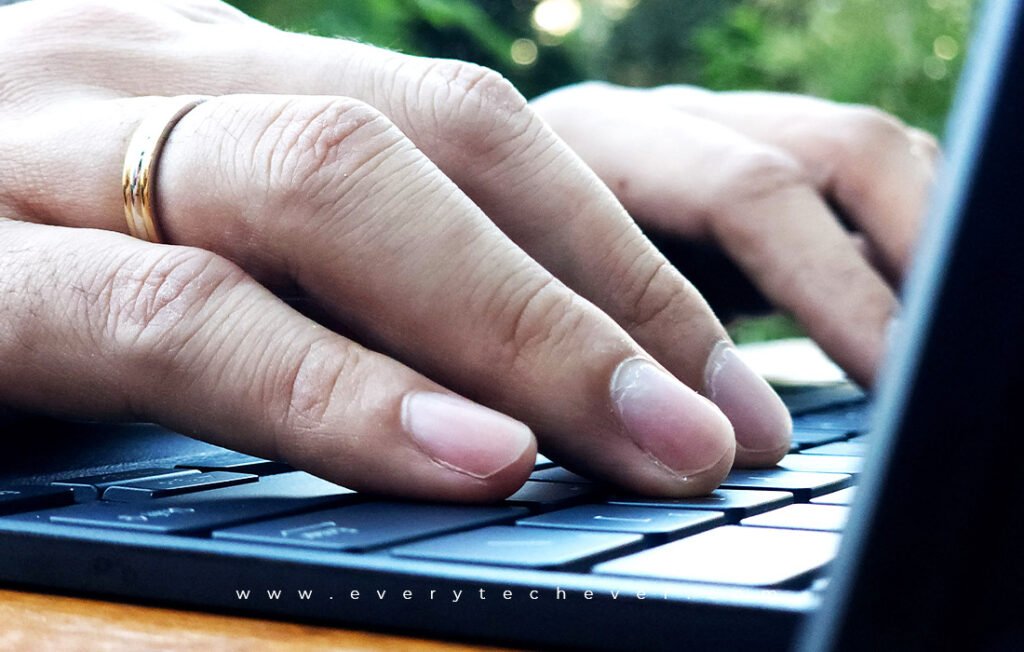 Each key has a satisfying clack and a reasonably deep travel of 1.4 millimeters. It's still full-size, and the somewhat closer spacing between the keys didn't take long to get used to. The function row lets you adjust the volume and brightness, as well as toggle Bluetooth and open the MyASUS app.
But the keyboard's keys aren't illuminated. This is a common issue with portable keyboards and requires using the device in well-lit areas. It would have been fantastic to have a fingerprint sensor in addition to the excellent face unlock.
The little touchpad that sits below the keyboard is incredibly sensitive and compatible with all of Windows 11's motions.
The keyboard will survive considerably longer than the laptop itself, but ASUS doesn't specify how much longer. However, there is a USB-C charging port on the side if you need to charge it independently.
Display
The display on the ASUS Zenbook 17 Fold OLED is the laptop's focal point because it takes up one entire side. The Zenbook 17 Fold unfolds to a large 17.3-inch 4:3 display with a resolution of 2560 x 1920.
PANTONE® Validated
It's larger than any laptop screen and has the same high resolution, vivid colors, and deep blacks that you'd expect from a premium OLED display. It is not only accurate but also fully compatible with the DCI-P3 color space and has received Pantone validation.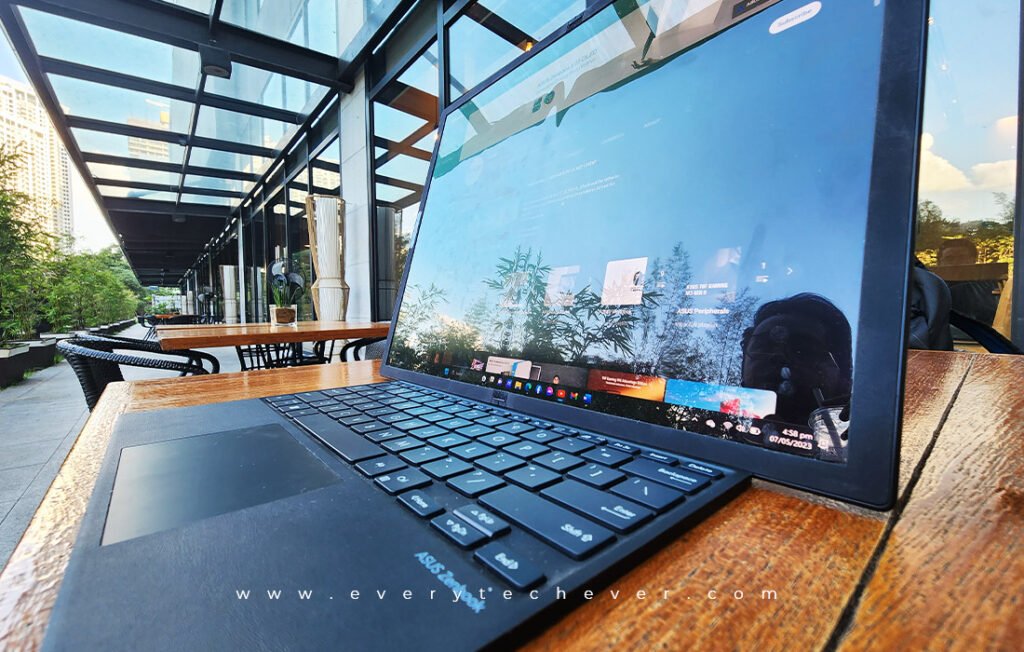 The fact that it can also function as a large, responsive touchscreen is a nice bonus.
Meanwhile, the speakers are crystal clear and full of details, thanks to their collaboration with Harman Kardon. The volume is more than enough for you to binge-watch your favorite series without the need for external speakers or headphones.
Quad Speaker, Quad Microphone
We were really delighted by the webcam's quality, which held up even when we viewed it in its entirety on the enormous unfurled screen. The quality is better than what we've seen on most computers and more than adequate for Zoom calls. We also appreciate that Windows Hello works with it so that we can use facial recognition to log in, which is amazingly fast and responsive.
Performance
The Core i7-1250U from Intel's most recent generation powers the Zenbook 17 Fold. The U-Series moniker denotes that ultraportable computers were the main focus when designing this processor. For the vast majority of users, it still offers more than enough computing power.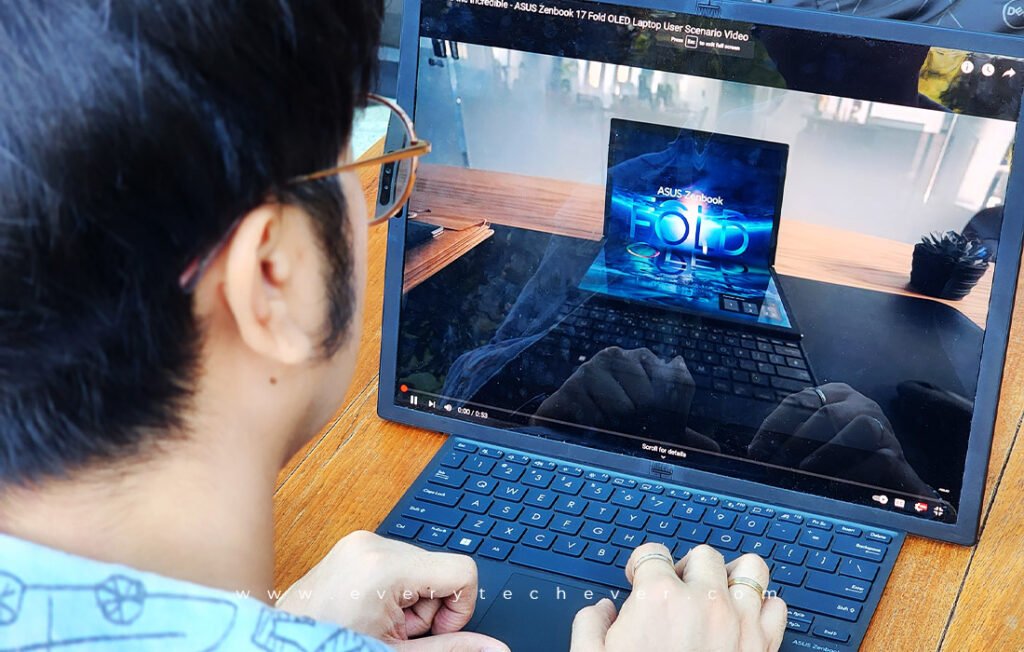 Your on-the-go work-and-play space
Thanks to the 16GB of DDR5 RAM and Iris Xe includes, everyday performance is excellent. I multitask for most of my workday, switching between word processing, email, and web browsing. Even when I unexpectedly needed to watch a video or listen to some music, there was no lag.
Multiple tasks may be completed simultaneously on the Zenbook 17 Fold, and it can even handle light gaming or photo editing.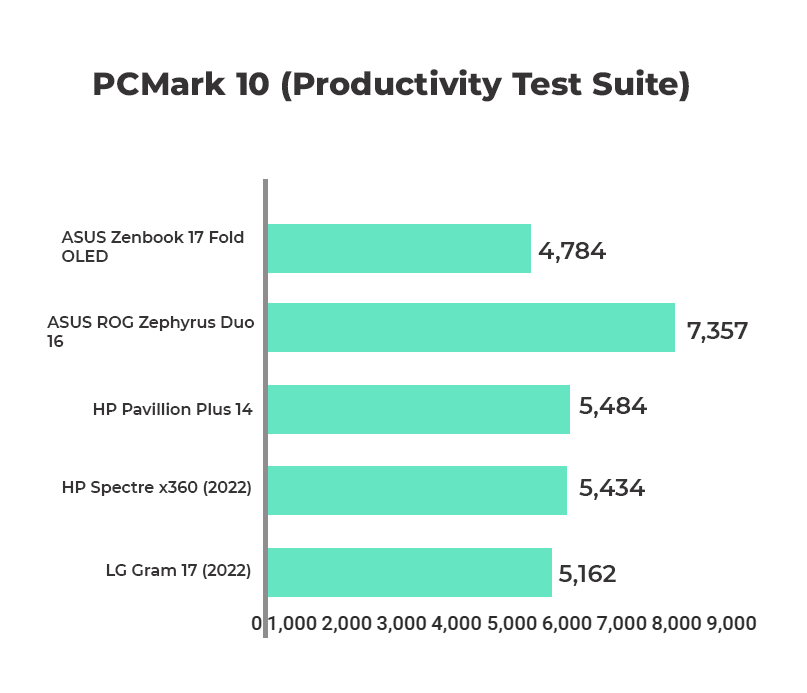 Thanks to ASUS, you'll discover a massive 1 terabyte (TB) SSD inside. The extra keyboard cover works well with the Zenbook 17 Fold. This is something that the brand wisely includes in the package, which is not only commendable but also necessary to make the most of the device's capabilities.
Software
Windows 11 Pro is installed on the Zenbook 17 Fold OLED, and Asus mostly leaves the software alone; the only piece of bloatware to note is the company's Display Xpert. This app is useful though to prevent screen burn-in. McAfee LiveSafe antivirus software is also included in the package.
Battery Life & Charging
It was crucial for the Zenbook 17 Fold to have a sizable battery given the size of the display. ASUS has complied by integrating a respectable 75 Wh battery, which the company claims may last 10 to 11 hours under normal usage.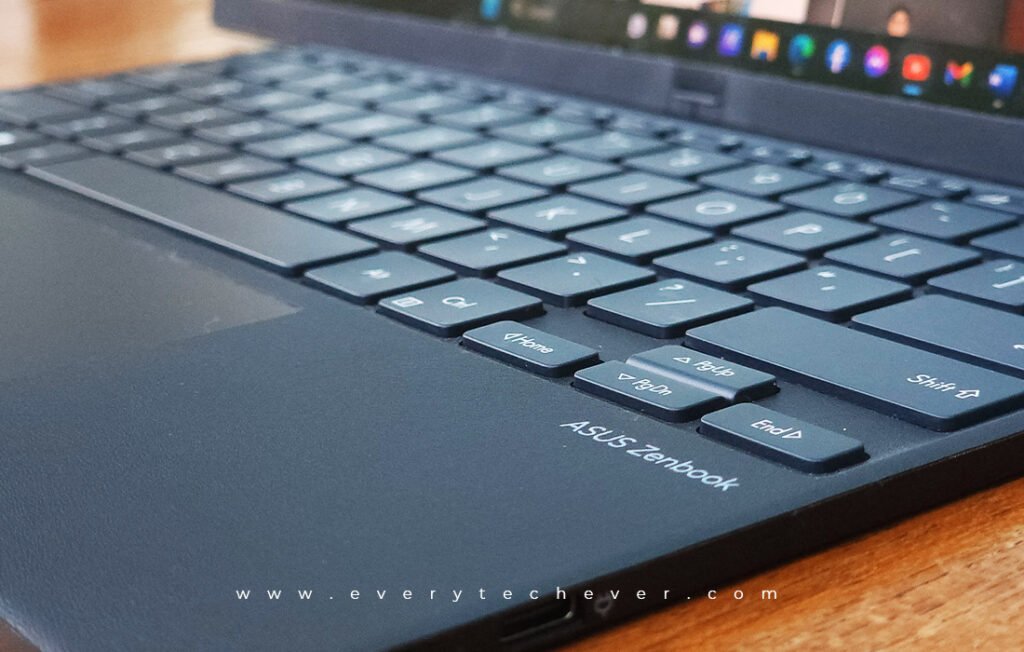 Although OLED ultrabooks often consume more milliamps than their IPS rivals, ASUS has found a way to make the Zenbook 17 Fold, with its enormous display, incredibly usable. With mild workloads, you can anticipate up to seven hours, and the 12.5-inch laptop mode will extend that time even further.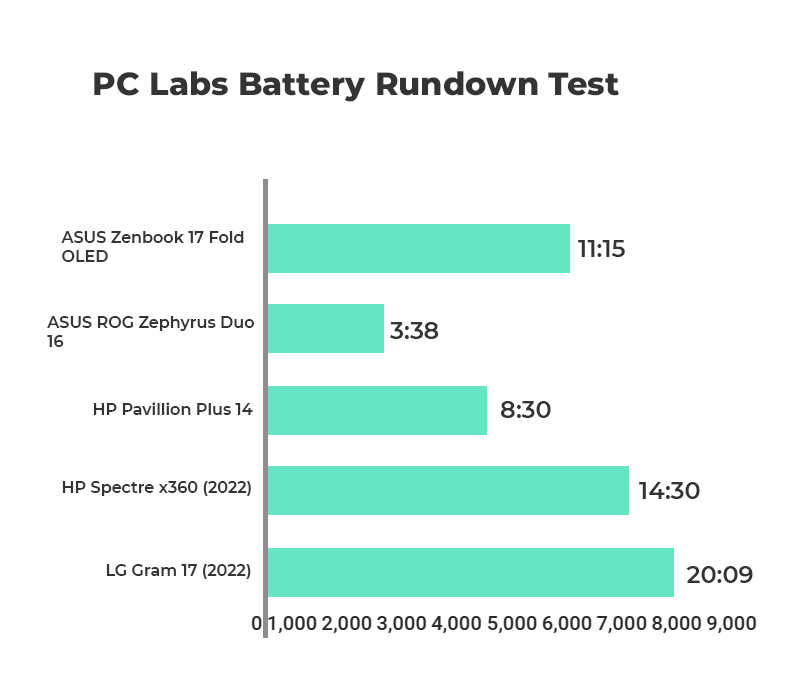 Using power-hungry apps or playing games drains the battery quickly. However, the Zenbook 17 Fold isn't designed for such activities.
A 65-watt USB-C adapter that is included in the box is used for charging. Additionally, it benefits from a feature dubbed Easy Charge, which enables it to accept charging from a range of sources over USB-C at 5V to 20V, including power banks. In case you forget your charger, this is incredibly helpful.
Should you buy the ZenBook 17 Fold OLED?
One of the most innovative laptop designs I've seen in recent memory is the ASUS Zenbook 17 Fold OLED. I can say with conviction that it's a decent laptop now that I've used it at home and on the move, one on which you can expect to work or play without worrying that it would suddenly flop closed or split in half if you type too quickly.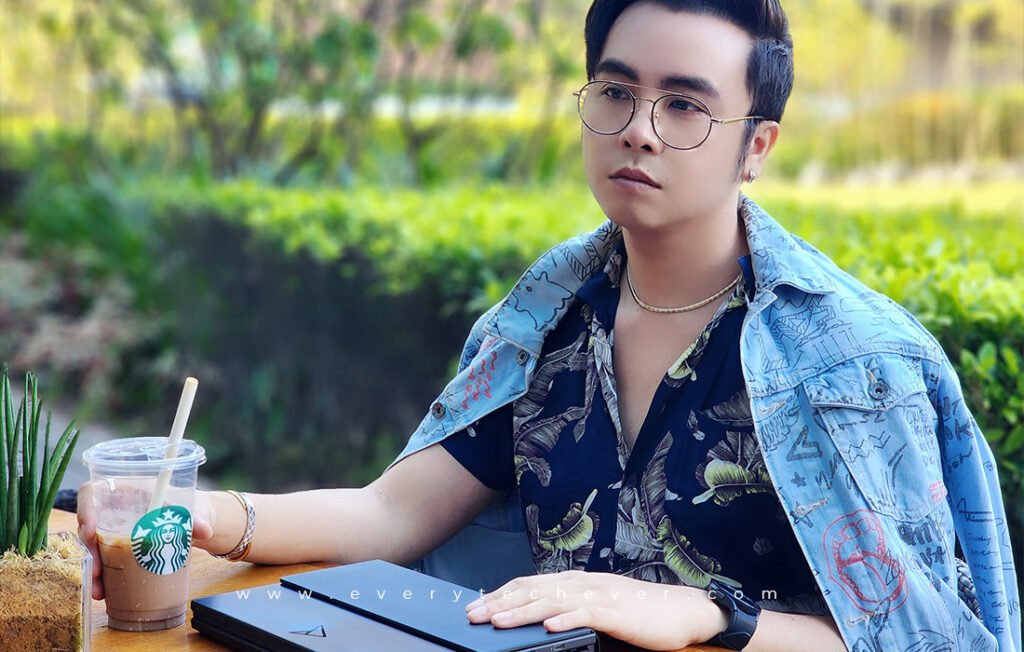 The fact that a 17.3-inch tablet can easily transform into a 12.5-inch laptop or a desktop replacement is astounding, especially considering that these are only three of the device's six potential modes. Although each stance has advantages and disadvantages of its own, the device's adaptability is unequaled.
Despite the occasionally strange aspect ratios, the fantastic OLED screen is a genuine feature, especially when coupled with strong audio and a long-lasting battery. Without a dedicated GPU, the performance remains impressive.
It's the future of laptops
There are many reasons to buy or not buy the ASUS Zenbook 17 Fold OLED, but ultimately it boils down to how important you think PHP 219,995.00 is. It's also a reasonable question because I've always believed that assumptions like "no one should pay PHP 100,00 for a phone" fail to account for the fact that various people have varied levels of spending power.
There are people out there for whom PHP 200,000 is a negligible sum of money, so why not purchase the Zenbook 17 Fold OLED if they believe it's a cool device?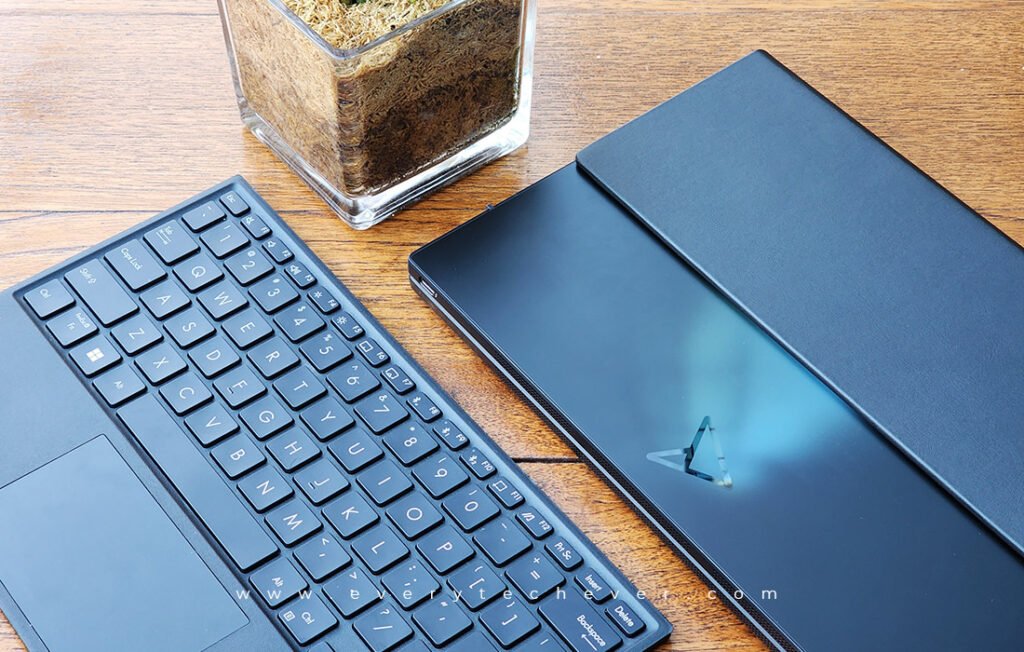 The world's first 17-inch foldable OLED laptop from ASUS serves more as a proof-of-concept and a window into the future than it does as a mass-market item. For sure, this device might be more affordable, slimmer, and marketable when foldable PC technology becomes mainstream, which, based on how quickly mobile phones have advanced, it should.
Nevertheless, the product has some advantages, and we're eager to see what the future holds for this market.
Price and Availability
Priced at PHP 219,995, the ASUS Zenbook 17 Fold OLED comes in Tech Black and includes lifetime access to Office Home & Student 2021.
Additionally, customers can use Home Credit to purchase the ASUS Zenbook 17 Fold OLED for up to 12 months at 0% interest.
The complete list of retailers may be seen here.
To know more about this new device, click here, and to see where to buy ASUS laptops and desktops is here.