The regular season is almost over, with teams scrambling to get way past each other and secure their position in the playoffs. MPL PH Week 6 ended with ECHO, TNC Pro Team, and RSG Philippines securing the top three spots.
Many saw how Nexplay EVOS was desperate to end its losing slump, beating Bren Esports last week. The much-needed lift from Renejay "Renejay" Barcarse, who finally got his hands on Chou gave the team what they've needed to secure their points. This week, they will be facing off Smart Omega on the battlefield.

Currently, Smart Omega is trying to get out of the gray zone. This match is crucial in determining whether the team will get another shot to elevate their standing or continue plummeting until the gates to the playoffs close.
Regardless of their distance in the standings, their match remains the must-watch thriller fight in the league. This could be their last duel this season, so don't miss it!
See below the relevant star match data:
STAR MATCH DATA
Nexplay EVOS
Smart Omega
S9 Win Rate(Game)
NXPE: 52.00%  OMG: 34.62%
NXPE: 52.00%  OMG: 34.62%
History win/lose with each other (Since S8) (Games won by each team)
NXPE 5:3 OMG
NXPE 5:3 OMG
First Blood Count
9
12
Team Damage/Min
10250
9760
KDA Average
3.73
2.21
Ave. Kills/Game
11.28
8.58
Lords Slain/Game
1.16
0.92
Turles Slain/Game
1.28
1.04
Star Player Data
Name
Renejay
Ch4knu
KDA
3.09
1.91
Hero DMG/Gold
215.00%
205.00%
Teamfight Participation
73.88%
68.61%
Hero Pool
5
10
Don't miss the 7th week of MPL PH and catch all the excitement on the following official channels:
For inquiries and interviews, please feel free to send an email to me. See below the schedule for WK 7 below with the adjusted time for Sunday matches.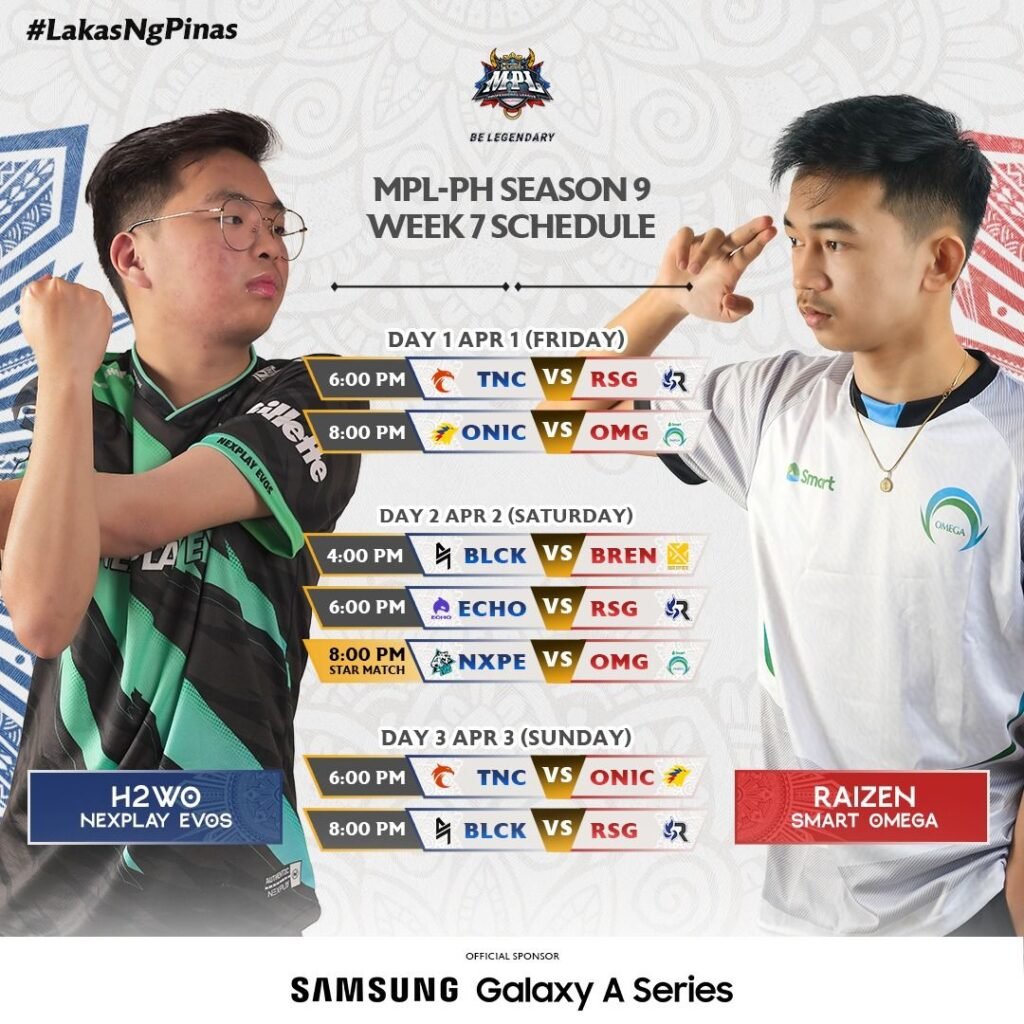 Day 1, April 1, 2022
18:00-20:00 – TNC Pro Team vs RSG Philippines
20:00-22:00 – ONIC PH vs Smart Omega
Day 2, April 2, 2022
16:00-18:00 – Blacklist International vs Bren Esports
18:00-20:00 – ECHO vs RSG Philippines
20:00-22:00 – Nexplay EVOS vs Smart Omega (star match)
Day 3, April 3, 2022
18:00-20:00 – TNC Pro Team vs ONIC PH
20:00-22:00 – Blacklist International vs RSG Philippines