A variety of new CPUs, desktop and mobile graphics cards, and some laptop APUs were all part of AMD's 2022 Product Premier. AMD also unveiled the Ryzen 7000 series of CPUs in addition to the new Ryzen 6000 series APUs and its Ryzen 7 5800X3D V-Cache processor. While some information is still to be revealed, the majority of it is now official.
The AMD Ryzen 7000 series CPUs are described in detail here:
| Model | Cores/Threads | Boost / Base Frequency | Total Cache | PCIe | TDP |
| --- | --- | --- | --- | --- | --- |
| AMD Ryzen 9 7950X | 16C / 32T | Up to 5.7 / 4.5GHz | 80MB | Gen 5 | 170W |
| AMD Ryzen 9 7900X | 12C / 24T | Up to 5.6 / 4.7GHz | 76MB | Gen 5 | 170W |
| AMD Ryzen 7 7700X | 8C / 16T | Up to 5.4 / 4.5GHz | 40MB | Gen 5 | 105W |
| AMD Ryzen 5 7600X | 6C / 12T | Up to 5.3 / 4.7GHz | 38MB | Gen 5 | 195W |
In addition to the abovementioned specifications, Ryzen 7000 also supports DDR5, but not DDR4. According to AMD, DDR4 has served its purpose, DDR5 is the technology of the future, and prices for memory products are beginning to decline.
Additionally, PCIe 5.0 is supported, which will have twice the bandwidth of PCIe 4.0. Because of this, SSDs will be much faster, and depending on the motherboard you choose, you may also be able to get faster graphics.
AMD Ryzen 7000 Series CPU AM5
Perhaps the most significant point to make here is that AMD will switch to an AM5 processor with a Land Grid Array (LGA) design. The Pin Grid Array (PGA) will no longer be employed, as it has been since AMD introduced Ryzen desktop CPUs. Look at the AMD AM5 socket below, which was displayed to us at the AMD 2022 Product Premier:

AMD AM5 CPU socket
Despite the fact that AMD will be adopting LGA for the first time with its Ryzen CPUs, this socket is not new to the company. Both the company's Threadripper and EPYC enterprise CPUs utilize an LGA socket. The use of an LGA1718 pin design with two alternative pin orientations has been confirmed by AMD. Compared to its previous socket F, which had 1207 pins, the new socket is significantly denser. For context, the new 12th-generation Alder Lake CPUs from Intel use an LGA1700 socket.
For those of you who are unaware, this modification also means that the bottoms of the Zen 4 CPUs will no longer contain pins but merely contact pads. Instead of being defined at the processor level, the pins will now be defined at the socket level. Here is a brief description of the Ryzen 7000 CPUs: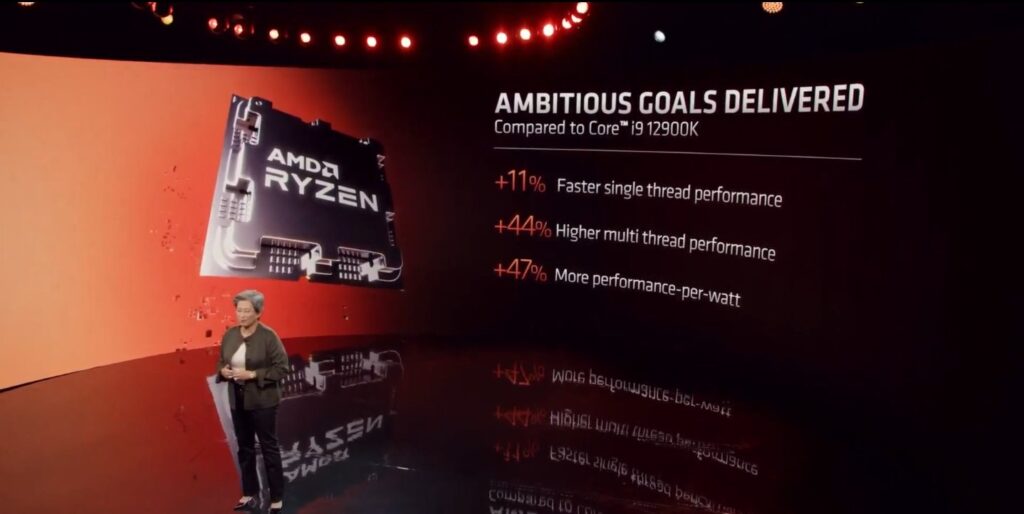 AMD Ryzen 7000 CPU design
The heat spreader for the AMD Ryzen 7000 CPUs will be square and have a fairly unusual shape. Between the gaps, AMD has created some room to fit the power circuits. The CPU package also has two notches and a yellow arrow in the top left corner to help users find their way around.
AMD had previously stated that its future AM5 platform would support AM4 coolers, but it reinforced this at CES 2022. You may anticipate that the mounting holes for AM5 processors will be the same as those for AM4 processors, and you will be able to utilize the same CPU cooler.
It is noteworthy that AMD has also stated that the future AM5 will be a long-lasting platform, used at least until 2025 and probably even longer. In fact, Dr. Lisa Su of AMD acknowledged as much at a roundtable discussion. She stated that the support for new standards like DDR5 and PCIe 5.0 necessitated the switch from AM4 to AM5.
AMD Ryzen 7000 Series CPU Performance
AMD showed us the new heat spreader design and confirmed the AM5 socket, in addition to showcasing the capabilities of the future Ryzen 7000 CPU. AMD demonstrated Halo Infinite on a Zen4-based Ryzen 7000 CPU prototype called "Raphael" by AMD. The company said that an AMD 7000 series chip from the next generation and a Geforce RTX 3080 graphics card that was connected to an experimental LGA1718 reference system were used in the demo.
The company stated that the test CPU was hitting 5.0GHz on all Zen4 cores, albeit some information, such as the obtained frame rates, is missing from the demo film with gaming footage that is time-stamped above. As this clearly isn't the kind of performance test to develop an opinion on the future CPUs, we'll wait till we conduct our own testing to see whether or not these new chips will be included in our selection of the top gaming CPUs.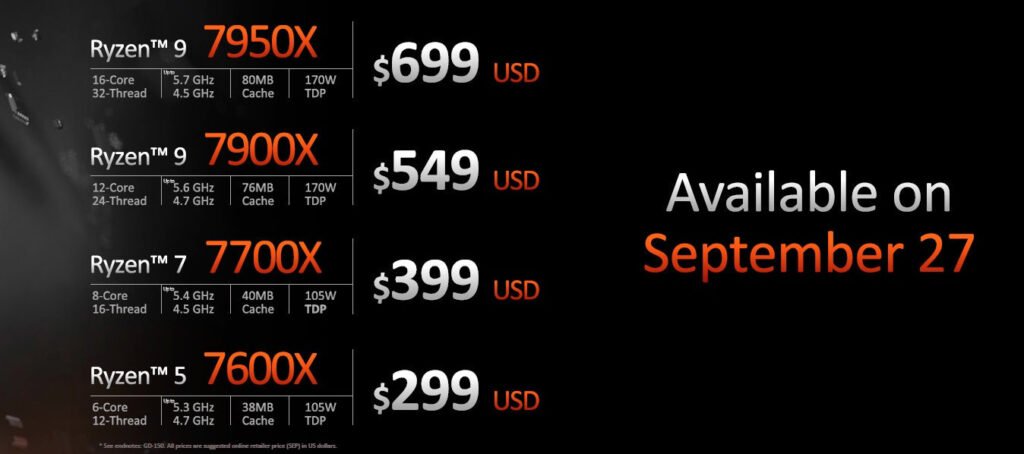 Pricing and Availability
AMD's AM5 platform alongside the new Ryzen 7000 series CPUs is set to arrive on September 27, 2022. Pricing is as follows:
Ryzen 9 7950X: $699 (~PHP40,000)
Ryzen 9 7900X: $549 (~PHP31,000)
Ryzen 7 7700X: $399 (~PHP22,000)
Ryzen 5 7600X: $299 (~PHP17,000)