At CES 2022, AMD unveiled its Ryzen 6000 "Rembrandt" mobile CPUs as it prepares to compete with Intel's Alder Lake mobile processors and Apple's M1-based systems. The new Zen 3+ CPU architecture and RDNA 2 integrated graphics fabbed on TSMC's 6nm node are just two of AMD's new additives that will power the new processors. The new Rembrandt processors can also run at 5.0 GHz.
According to AMD, Rembrandt offers 1.3X faster processing and 2X faster graphics than the 5000 series, as well as being the first integrated graphics chip to support ray-tracing. Furthermore, AMD boasts better connectivity across the board, including compatibility for PCIe 4.0, LPDDR5, and DDR5, among other features, all while providing up to 24 hours of battery life. These new chips will be available in February.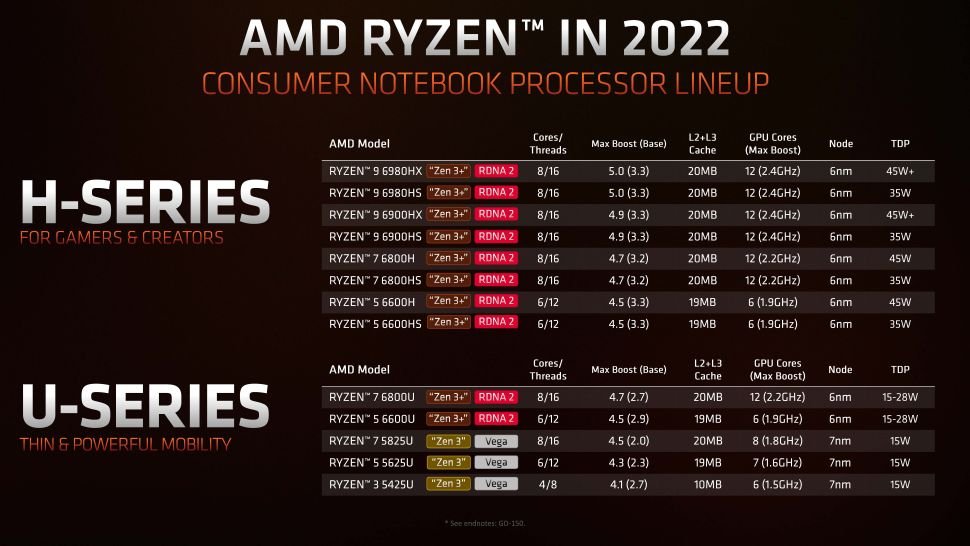 The Ryzen 6000 models, which replace the Ryzen 5000 "Cezanne" series, are shown here in their entirety. For gamers and designers, the H-series is ideal. The overclockable HX models with a 45W+ TDP for the quickest gaming laptops, the 35W HS models for the small performance' category, and the 45W H-series devices are all part of AMD's lineup.
The four Ryzen 9 variants have eight CPU cores and 16 threads, as well as 12 RDNA 2 CUs with a 2.4 GHz boost. That's a significant improvement over the Vega graphics units included with the Cezanne processors, not to mention the fact that Rembrandt has up to four more CUs. With a 3.3 GHz CPU base, a 5.0 GHz boost, and a 45W+ TDP, the overclockable flagship Ryzen 9 6980HX leads the list.
The Ryzen 7 range includes eight cores and 16 threads, as well as lower CPU clock rates and a lower peak GPU boost of 2.2 GHz, whereas the Ryzen 5 lineup has six cores and 12 threads that peak at 4.5 GHz, as well as six RDNA 2 CUs with 1.9 GHz peaks.
The U-Series appears to be a little more straightforward, with Ultrathins ranging from 15 to 28W, although three of the models use the outdated Vega graphics engine, resulting in much lower iGPU performance.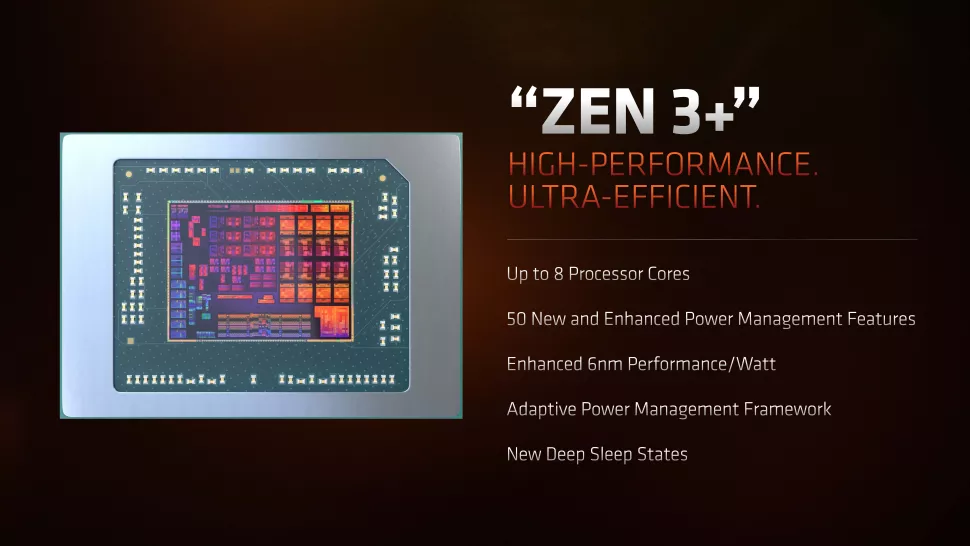 AMD hasn't revealed all of the details yet, but we do know that the Zen 3+ architecture is an iterative improvement to AMD's existing Zen 3 architecture, which drives the Ryzen 5000 processors.
According to our sources (i.e., the cores), there aren't any modifications at the microarchitectural level. The shift from 7nm to 6nm, on the other hand, allows the company to cram in more features per square millimeter of silicon — TSMC's 6nm process delivers up to 18% more logic density than the 7nm "N7" technology, while maintaining equivalent power and performance characteristics. The 6nm "N6" technology uses the same design tools as the N7 process, making porting easier. Furthermore, N6 employs EUV lithography for up to five layers of the chip, lowering costs and increasing production speed.
| Processor | Process | Density |
| --- | --- | --- |
| Ryzen 4000 -Renoir | 7nm | 156 mm² |
| Ryzen 5000 – Cezanne | 7nm | 180 mm² |
| Ryzen 6000 – Rembrandt | 6nm | 208 mm² |
| Alder Lake -P | Intel 7 | 217 mm² |
Despite the transition to the tighter 6nm node, which is obviously required to support the more comprehensive feature set, such as four more CUs than previous-generation models, the Rembrandt die has increased by around 16 percent.
Interestingly, AMD claims that the 6nm technology provides greater performance per watt, although this contradicts TSMC's estimates of identical power/performance. The 50 new and updated power management features, adaptive power management architecture, and additional deep sleep modes all contribute to the Ryzen 6000's improved performance and battery life.
The AMD RDNA 2 iGPU is the world's first ray-tracing-capable APU. Rembrandt has four more CUs than Vega, with a total of twelve RDNA 2 CUs capable of boosting up to 2.4 GHz. The new Rembrandt has a 1.5x larger GPU compute engine, 1.5x more memory bandwidth, and 2x larger L2 caches and render backends than previous-gen APUs, all of which are much-needed upgrades over the old Vega architecture.
It's also nice to see the RDNA 2 graphics engine powered by LPDDR5/DDR5, as the increased memory bandwidth should boost performance significantly. Rembrandt also supports PCIe 4.0, which we assume also pertains to the GPU connection.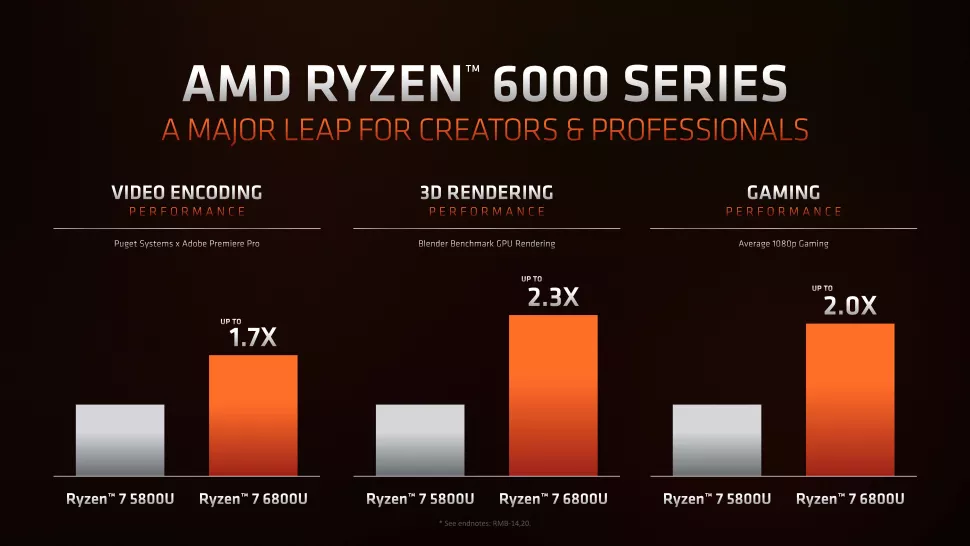 AMD claims that its new power technology and the 6nm process result in 24-hour battery life, and it has released some internal data. Take vendor-provided benchmarks with a grain of salt as usual, but this is especially true in this case: AMD set the 6000 series processor at 28W while leaving the previous-gen model at 18W. As a result, these benchmarks are deceptive.
Another set of deceptive benchmarks is where the rubber meets the road. For its newest CPUs, AMD employed a 28-watt power setting but left the previous type at 18 watts. In a series of gaming benchmarks, the Ryzen 7 6800U takes on the Intel Core i7-integrated 1165G7's graphics and the entry-level MX450 discrete GPU, with Rembrandt winning every time. In practically every game tested, the 6800U outperformed the 5800U by 2x. AMD also showcased Rembrandt's generational uplift in a series of games.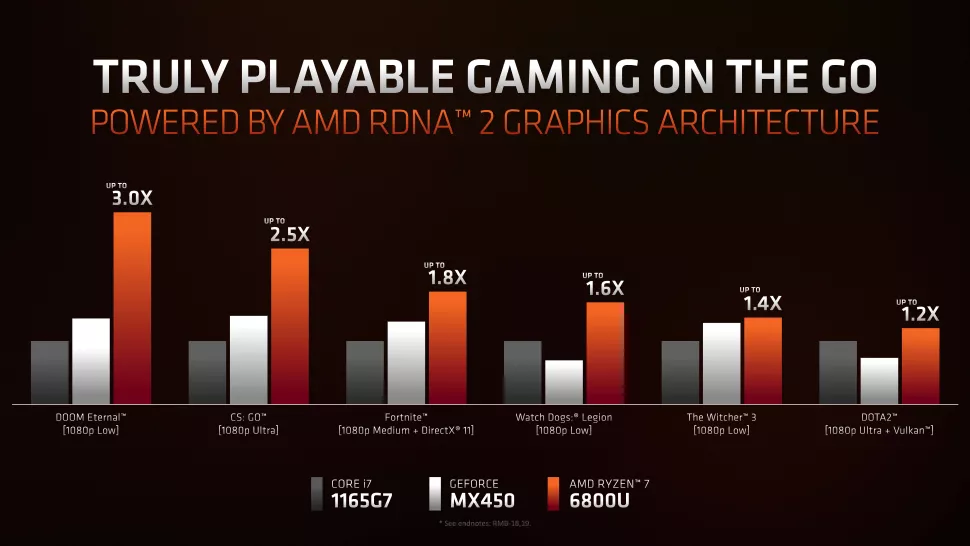 At CES, AMD also announced that Far Cry 6 now supports FidelityFX Super Resolution (FSR), and demonstrated a demo on stage that hit 59 frames per second with the quality preset, a 51 percent improvement over playing without it. might be the killer app for mobile gaming, as indicated by the extension to a bigger variety of titles like Deathloop, Godfall, and Call of Duty: Vanguard.
According to the company, the Ryzen 6000 uses 30% less power during video conferencing, 15% less power while online browsing and 40% less power while video streaming (all in comparison to the previous-generation 5000 series).
It's simple to reduce power consumption by lowering performance, but AMD's application benchmarks say that these power savings are accompanied by a significant increase in performance. AMD claims that the Ryzen 7 6800U outperforms the Ryzen 5800U by 1.3x in multi-thread performance, 1.1x in single-thread performance, and 1.3x in productivity apps. Encoding, rendering, and gaming, according to AMD, improve by 1.7x, 2.3x, and 2x, respectively, when compared to less taxing workloads.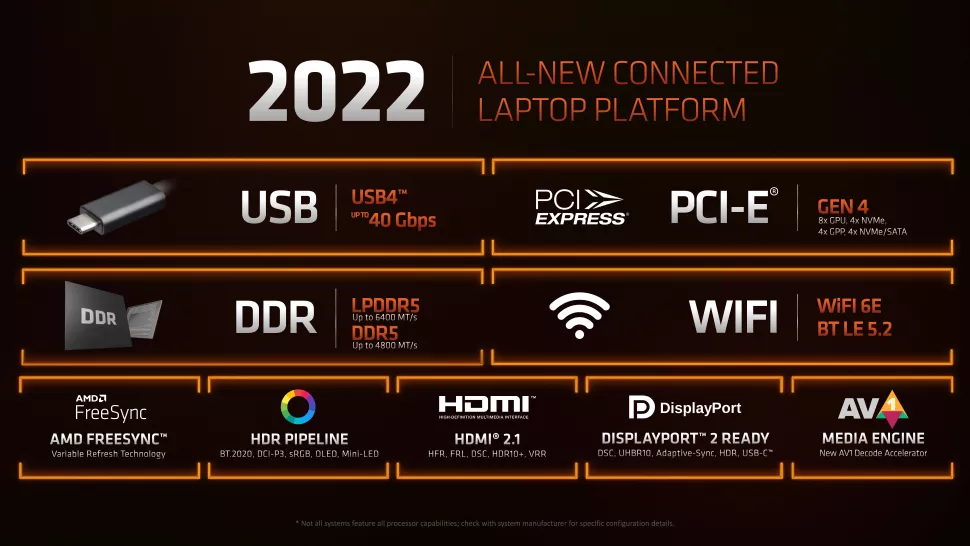 for LPDDR5 and DDR5 memory, PCIe 4.0 connectivity, USB4 up to 40 Gbps, WiFi 6E with dual-band simultaneous capabilities, Bluetooth LE 5.2, and AV1 hardware decode (sadly, we don't see AV1 hardware encode support) have all been added to AMD's platform connectivity tech. For good measure, AMD tossed in AI noise reduction technology, although we don't have any information yet.
In addition, Rembrandt is the first CPU to support Microsoft's Pluton technology. When you're on the go with your laptop, Pluton provides stronger security that helps avoid physical attacks and encryption key theft while also defending against firmware attacks, which is a great feature. This technology first appeared in the Xbox and AMD's EPYC data center processors, and it now joins AMD's other security capabilities, such as AMD Secure Processor and Memory Guard.
In total, AMD aims to have 200+ premium systems on the market by 2022, but that includes the complete Ryzen lineup (5000 series, too). According to AMD, the first Ryzen 6000 mobile systems will be available in February. AMD has also significantly reduced the time it takes to deploy its mobile APUs to desktop PCs. We're excited to see how Rembrandt operates outside of mobile devices' thermal and electrical constraints.