Looking to buy a television in 2021? You may have come across the Xtreme brand while looking for your next television and attempting to decide between different budget TV brands available. Don't worry, this review will help you.
Xtreme may not produce the best of the best TVs, but its 2021 offerings are all good options with Android TV OS and 4K resolution in budget-friendly packages. This is why, in recent years, Xtreme has aggressively captured the mid-range television market in the Philippines.
Why you should buy an Xtreme TV?
Xtreme's key selling point in the TV market is its competitive pricing. In order to appeal to a highly saturated television market, it manufactures televisions on a huge scale and passes on a major portion of the savings to consumers. Xtreme TV is a fantastic pick if you're searching for a budget television that gives you a lot for your money – especially for really large screens.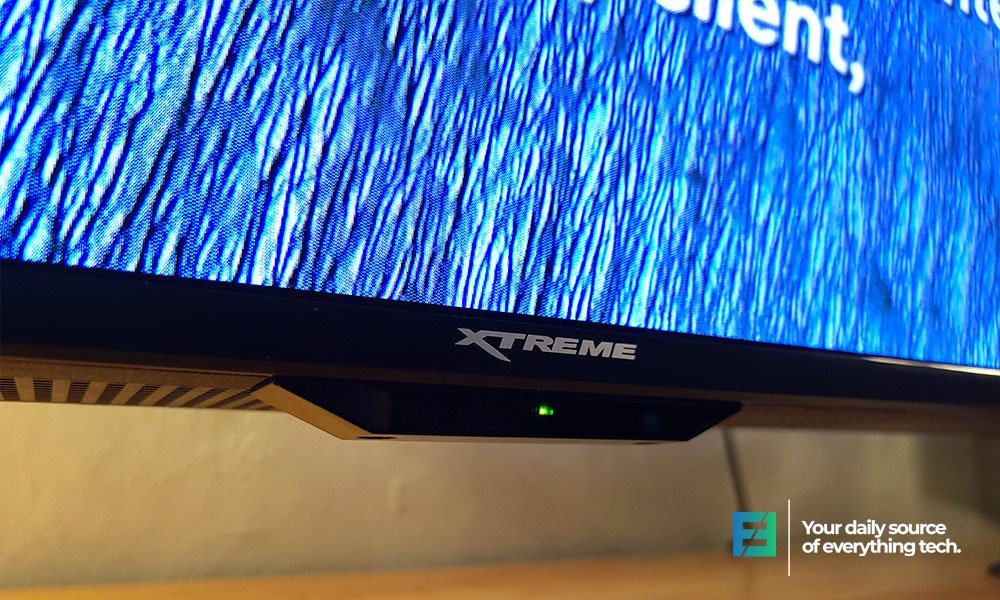 There's always the cost vs. performance trade-off to consider, as less expensive televisions almost typically indicate worse quality than their more expensive counterparts.
Basic processors are typically unable to cope with the demands of high-resolution television, therefore picture processing is often the first to suffer. Xtreme televisions use a lot of picture processing, which some people like since it gives them a more dynamic picture, but sometimes can also contribute to off-color images and mediocre contrast.
PROS
Very competitive pricing
Bright and colorful display
Supports Dolby Audio
Android 10 TV performance is smooth
CONS
Only supports a 60Hz refresh rate
Image quality is less crisp
Soft audio bass
No Dolby Vision support
If the thought of shelling out for one of the best 50-inch TVs has you sweating, rest assured that Xtreme MF5000SA won't break the bank – and the TV manufacturer provides anything from little 32-inch TVs to enormous 55-inch TVs.
Few TVs have had the same impact on the home entertainment space as the Xtreme MF5000SA which has brought high-end features like Dolby Audio support, Android TV, full-array panels, and Wide Color Gamut to customers at a third of the cost of high-end TVs.
This drive to provide you with a low-cost alternative to high-end televisions paid off: the first of its kind, the Xtreme MF5000SA, is one of the best-selling TVs in the local market.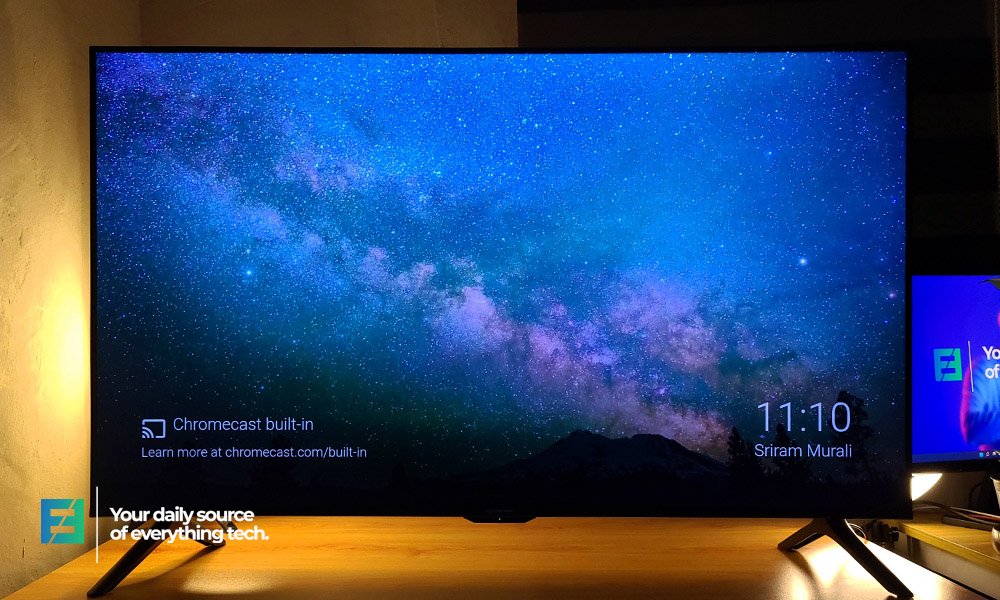 Xtreme MF5000SA Key Specs:
50" AndroidTV
Android 10.0
Wi-Fi Ready
4K UHD Ready
Bluetooth 5.0
Smart Remote (AI)
Chromecast Built-in
Voice Control
Dolby Audio
Frameless
Pre-Installed Application: Netflix & YouTube
Google Play
Xtreme MF5000SA has modern, classy design
The Xtreme MF5000SA has a slim profile with glossy black plastic bezels and extra space in the middle of the front bottom for the branding.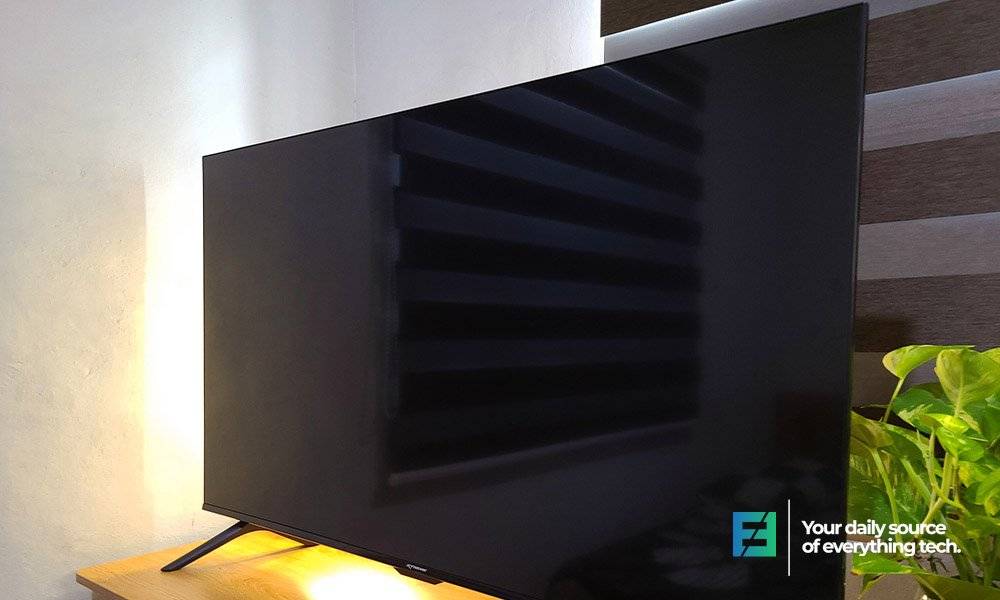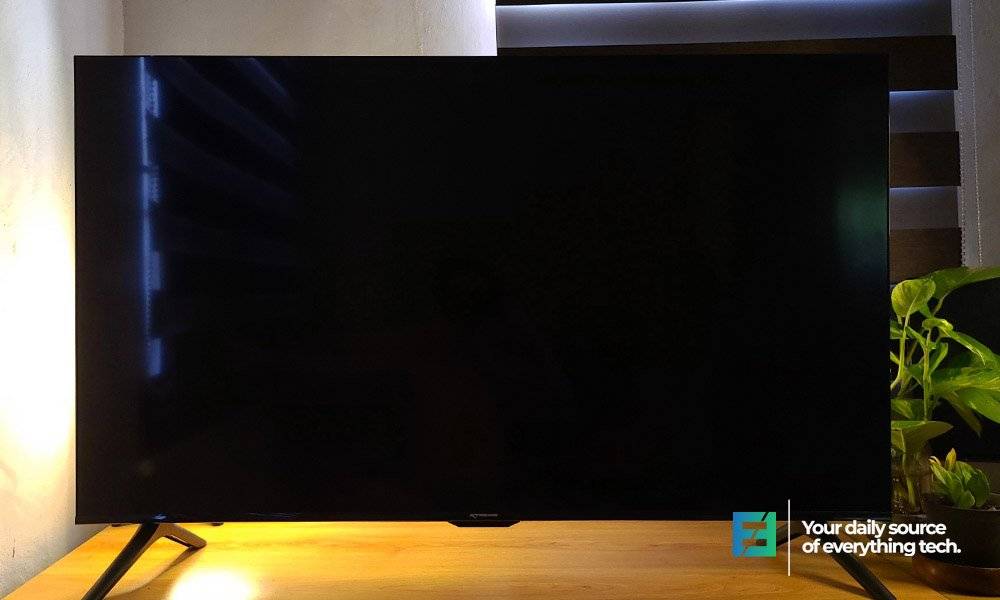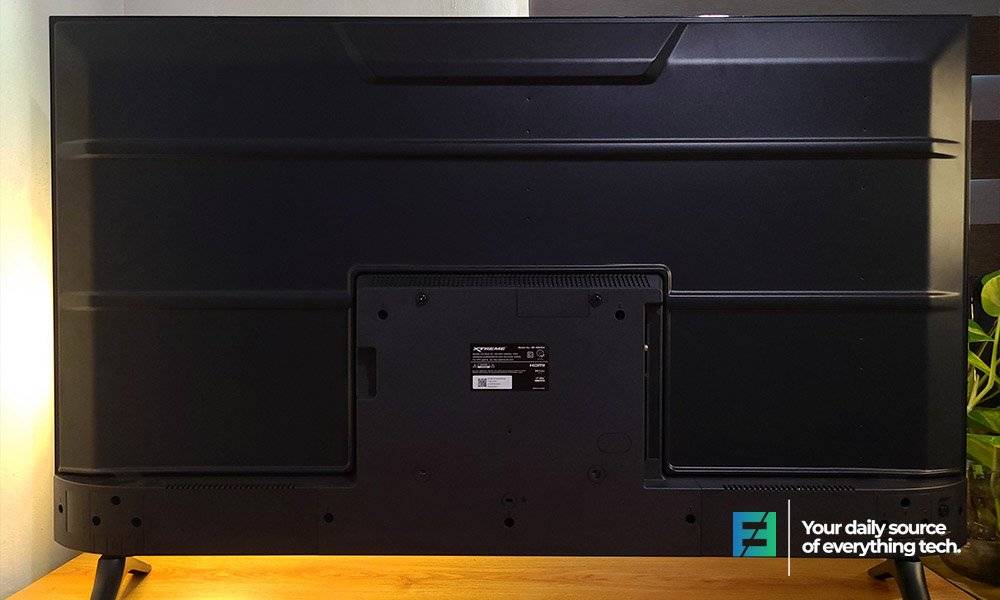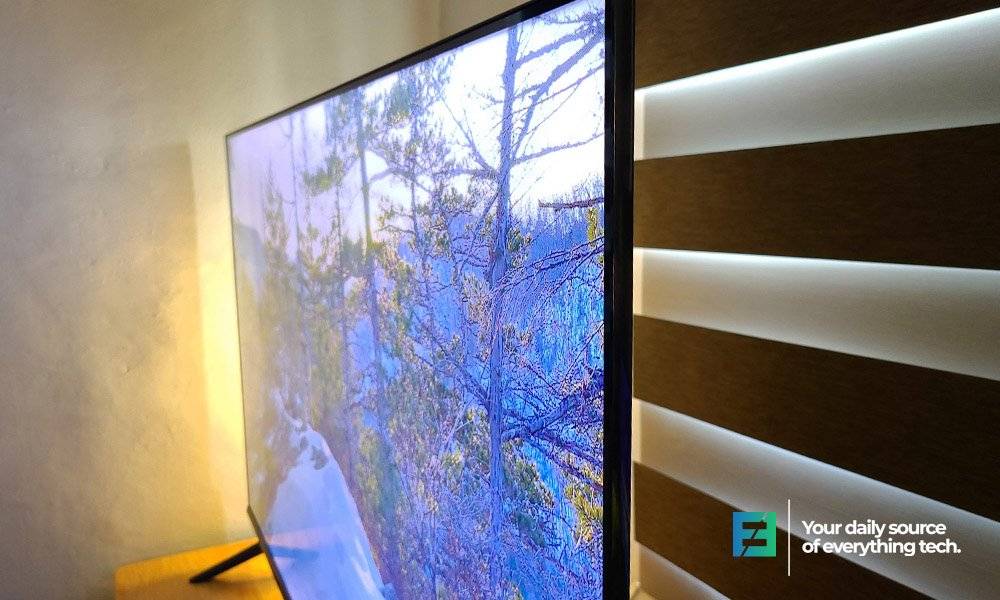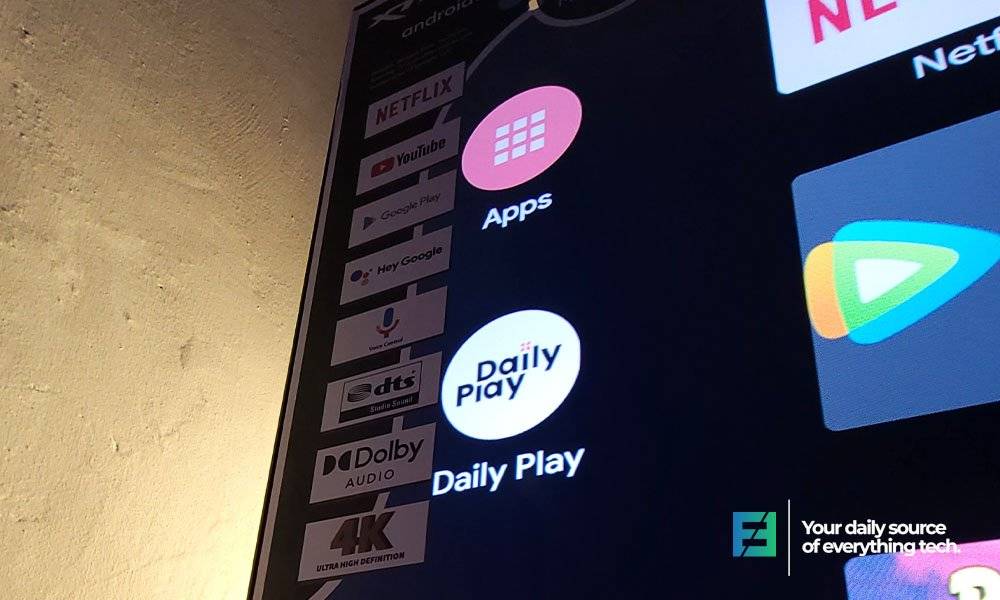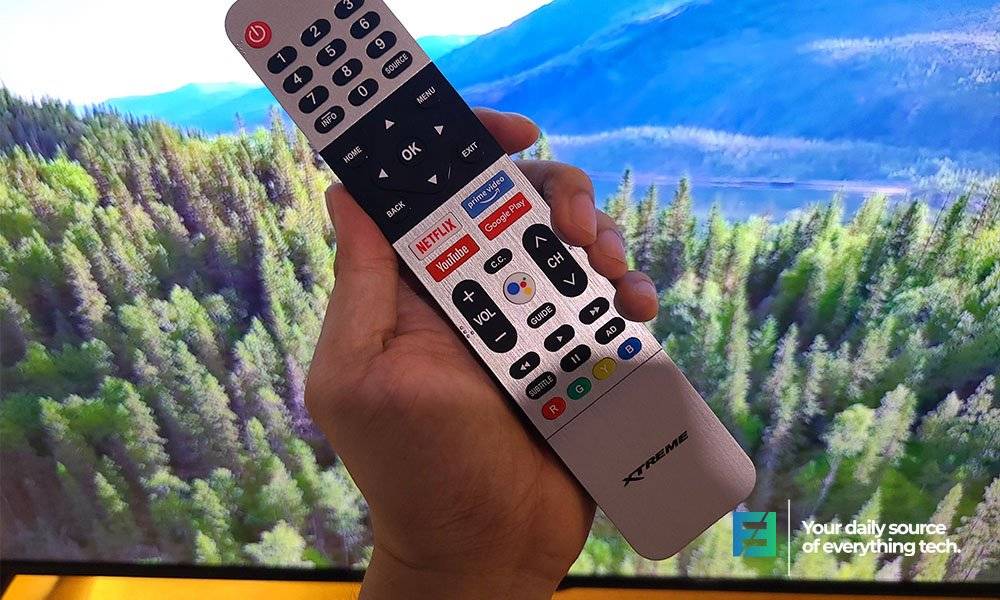 All ports are on the left side of the rear of the TV, with the exception of the power cord connector on the left side. Three HDMI connections, two USB ports, an Ethernet port, an antenna/cable connector, optical, and 3.5mm audio outputs.
The only additional control on the TV is a single multifunction Power button, which is hidden behind the infrared receiver under the bottom bezel in the center. It also includes a free wall bracket which is perfect for saving space.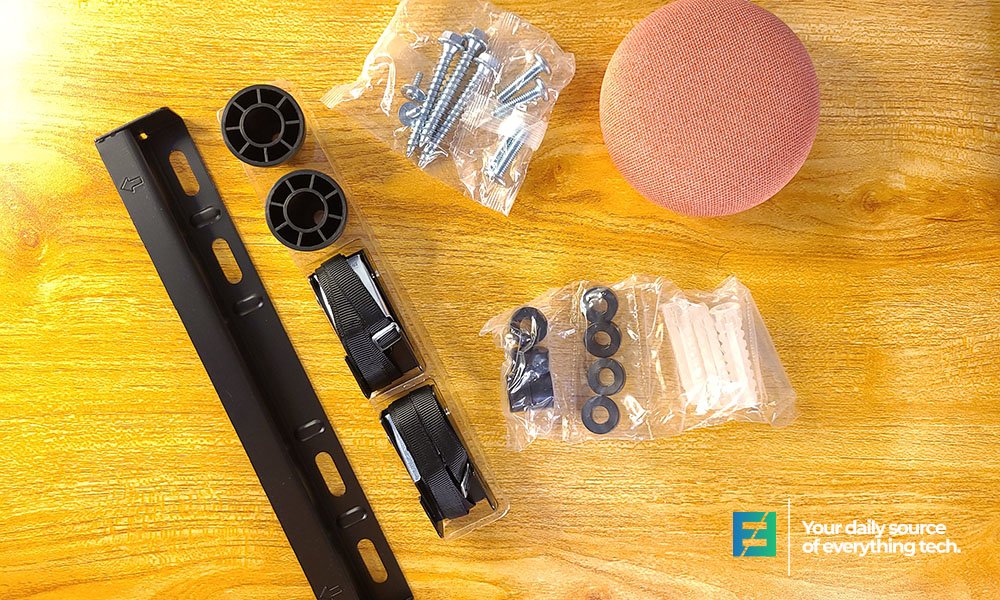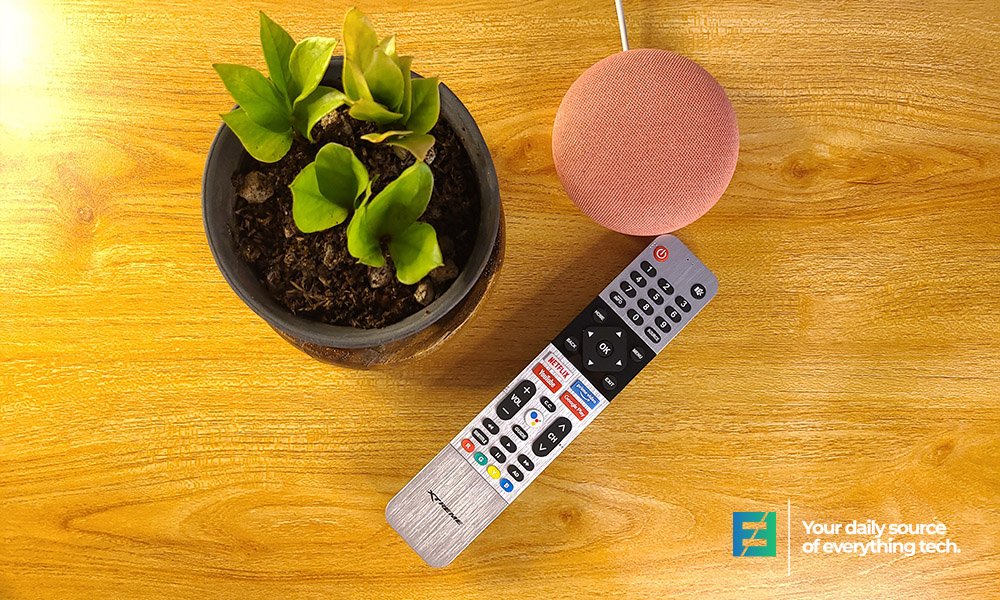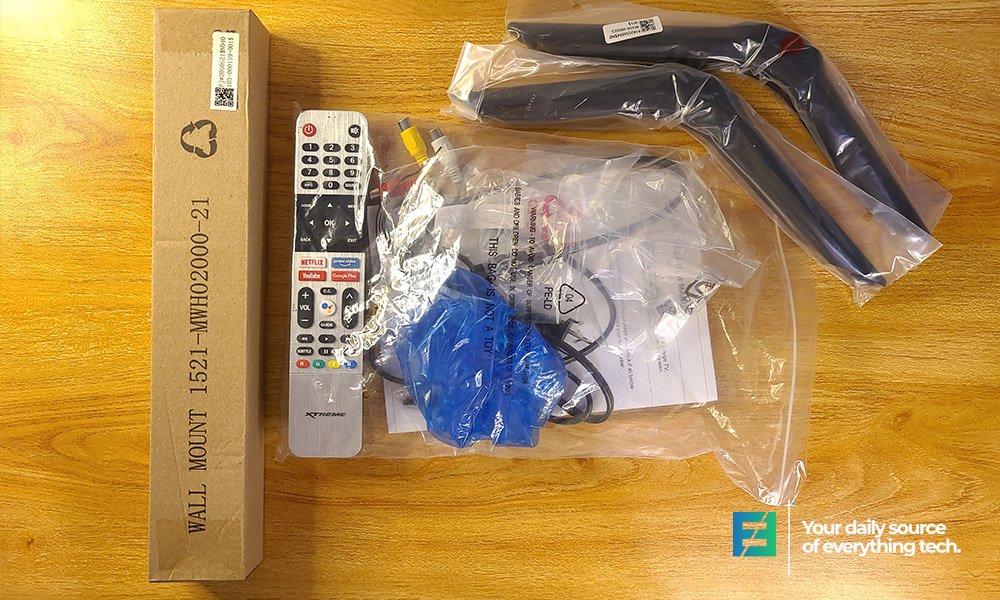 Overall, the MF5000SA has a sleek and modern design. It is pretty decent and doesn't look cheap.
Android 10 TV with in-built Chromecast
Android TV is a version of Google's Android mobile operating system that has been specially built for televisions, as you might have guessed from the name. We are happy that Xtreme made a great decision in using this platform for its TV lineup.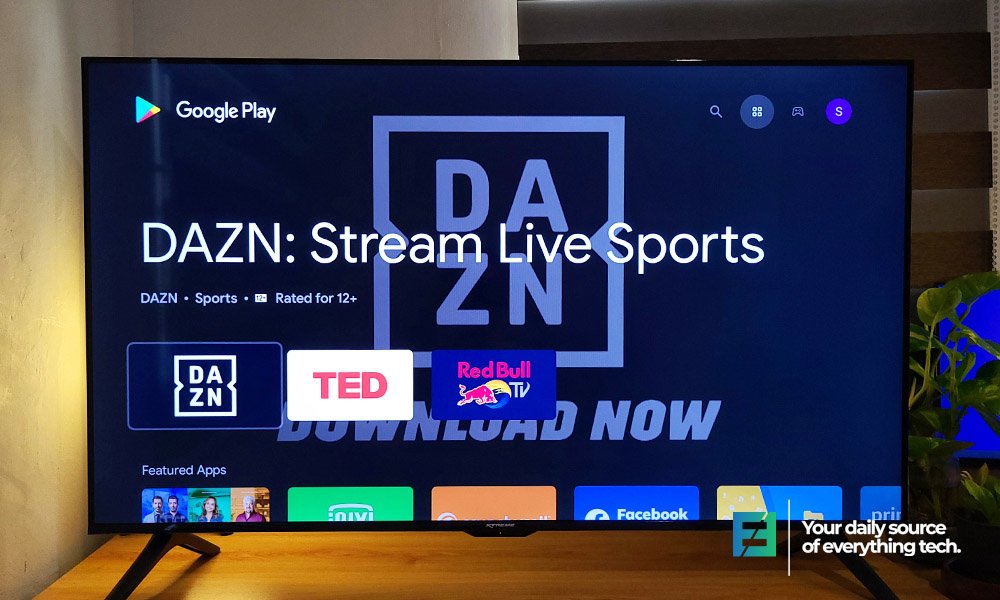 For the Xtreme MF5000SA, the Android TV interface is separated into rows of content. You can choose the apps that appear on the home screen, and you can also play around with the settings to further customize your Android TV devices.
Android TV has access to the Google Play app store, which has thousands of apps created expressly for Android TV's 10-foot experience, so you won't have to struggle to see tiny text or navigate apps that only work when you swipe with a finger.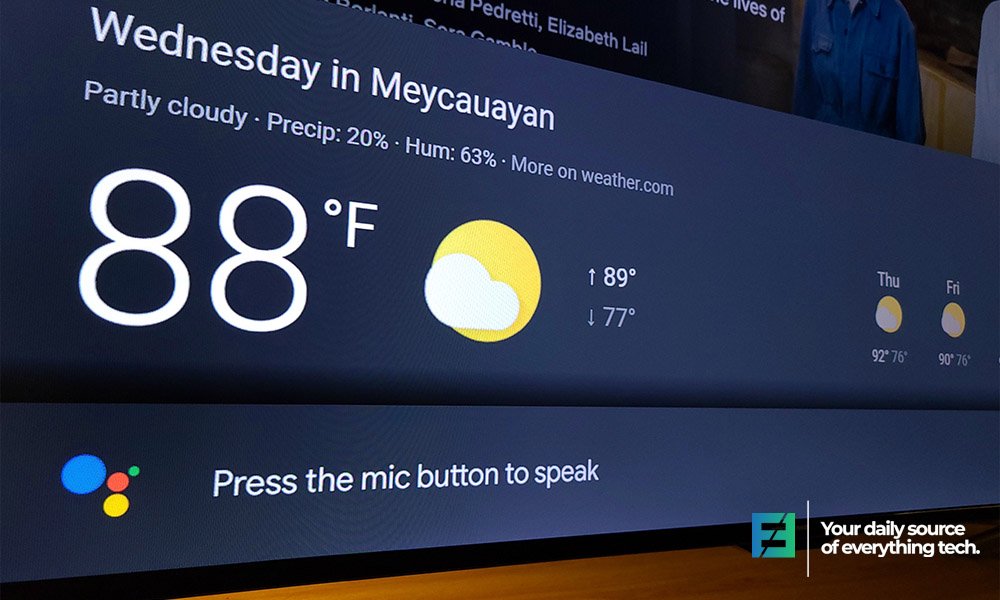 The Google Assistant is built into every version of Android TV, giving you voice control over your TV content as well as all of your smart home devices. Chromecast is also included, which allows you to cast videos and start screen sharing from compatible smartphones, browsers, and apps. Netflix and YouTube are among the pre-installed applications on Xtreme TV.
We tested the remote control's built-in Google Assistant button, which worked as expected. The Android TV navigation experience was quick, responsive, and performed similarly with high-end TVs.
4K/HDR Performance
The Xtreme MF5000SA can show HDR content in a 4K high dynamic range (HDR). However, it doesn't work with Dolby Vision or other HDR formats. It's not the brightest TV on the planet, nor is it the best upscaling TV on the market, but it's surprisingly bright and offers good upscaling for the price. We're not exactly sure how many nits of brightness this TV has but most likely it's about 400-600 nits and 1000 nits peak for HDR contents.
Here's a short clip of the MF5000SA audio and video quality.
The MF5000SA features excellent color accuracy, contrast ratio, and color temperature right out of the box. However, because the TV only has a 60Hz panel, its performance is limited. That is, motion handling works beautifully in normal motion but falls short in fast motion.
Even when seen from a side angle, the MF5000SA retains color accuracy. And even when the contents are reflected in bright sunshine, they are readable.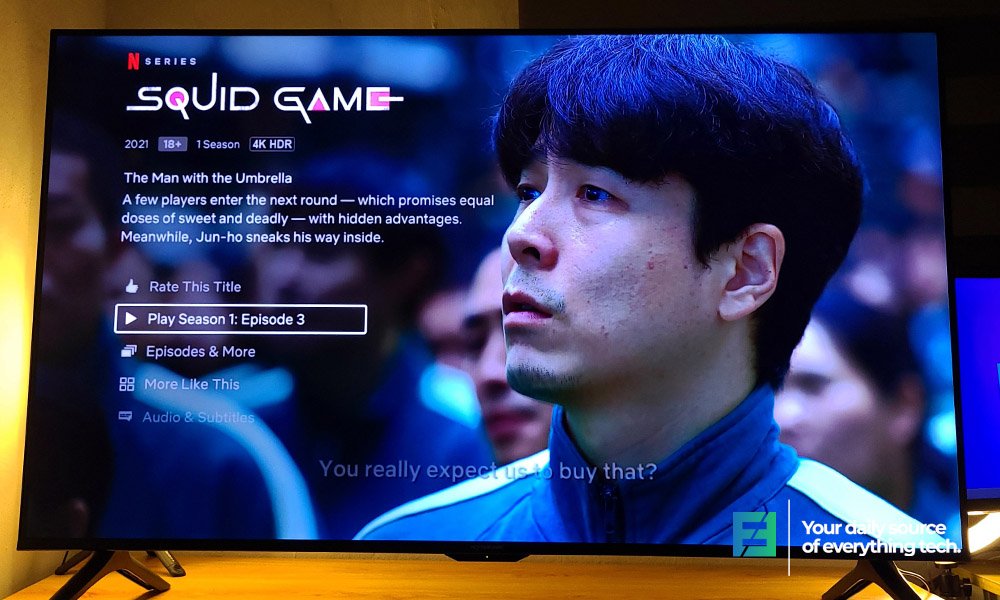 The Squid Game's high-contrast scenes don't look bad on the MF5000SA, but dark details like the cuts and textures of black suits can look a bit washed out depending on the frame's overall brightness. Against the dark blacks and whites, skin tones appear natural and balanced.
In the gloomy early scenes of the film, the red costumes look vivid and authentic. The colors inside the arena stand out and close-up details of the casts remain visible — thanks to its HDR feature.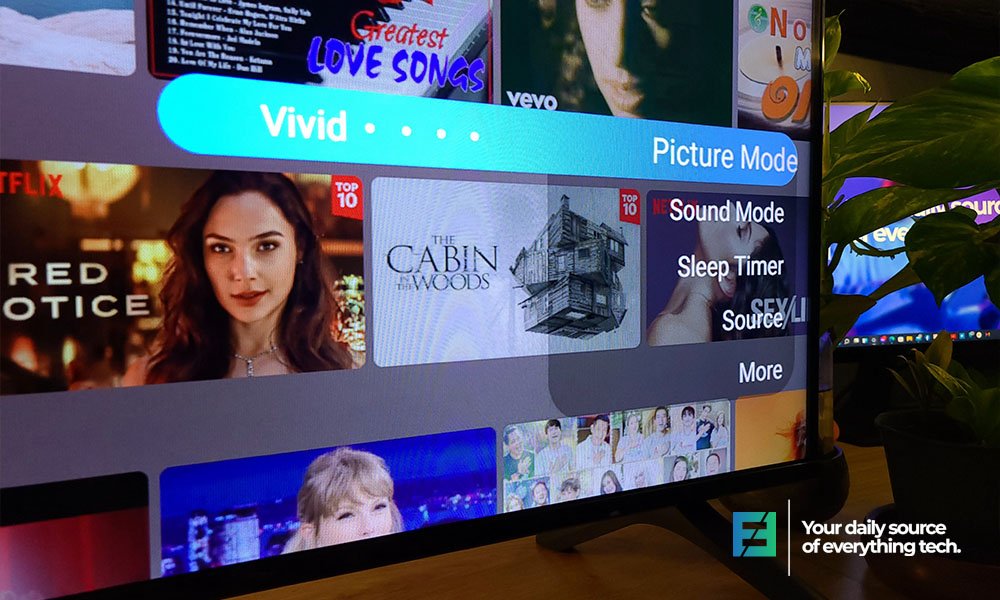 There are a variety of Picture Modes to pick from, each of which improves the color quality to your preference. If you want it to be more freestyle, there is also a manual mode.
Sound Performance
The Xtreme MF5000SA supports Dolby Audio, which is great news. This function adds a cinematic surround sound experience to the viewing experience, making it more immersive.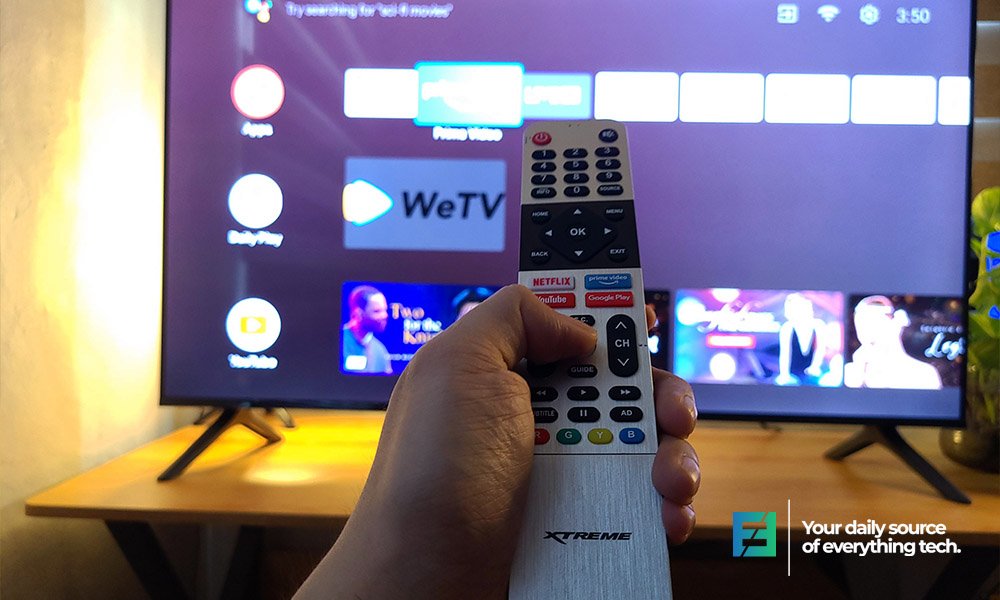 The audio quality was decent in our experience, and sometimes it get way too loud even when the volume was only half turned up. Don't get us wrong: we like that you can hear what you're watching without having to use extra speakers. We've also found that the bass needs more pump to sound more rounded.
We enjoy the audio experience in general. It's above and over what we expected for the price.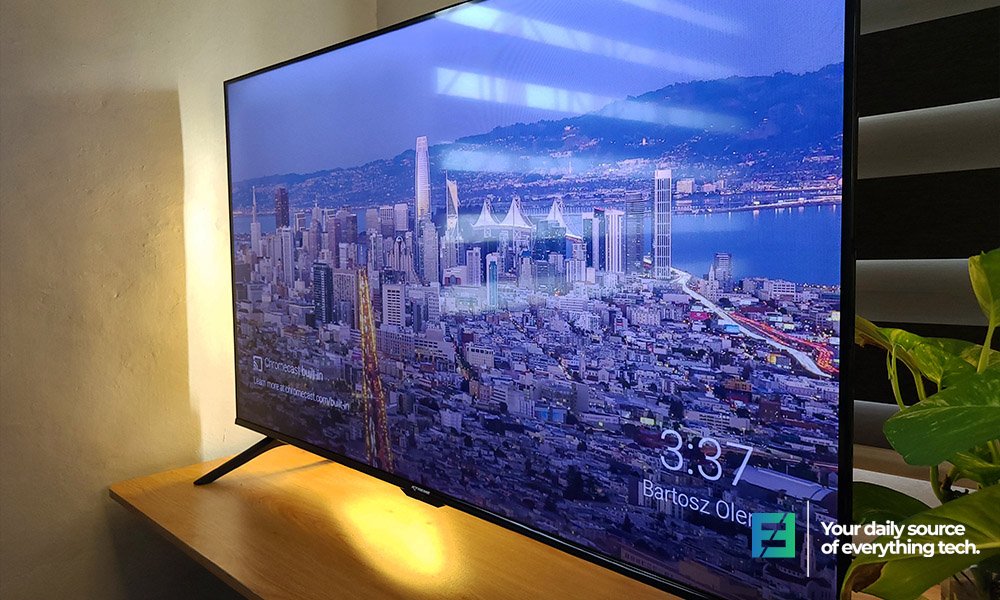 Xtreme MF5000SA is a Solid Budget 4K TV
The Xtreme MF5000SA isn't the most impressive TV on the market, but it is one of the best budget 4K TVs available.
For its superb performance at PHP 27,795 for 50 inches, the Xtreme MF5000SA remains our most exciting budget recommendation. Also for PHP 30,995, you'll get the 55 inches version. It's a great deal if you want to upgrade to 4K and HDR without spending lots of money.
The Xtreme MF5000SA is priced at PHP 27,995.00 and you can get this via Xtreme's Online Shop, Lazada, and Shopee. It also offers a 2-year warranty on parts and labor.
BOTTOMLINE: If you're looking for an affordable 4K Android TV and all the extra features you need, the Xtreme MF5000SA is the one to beat.