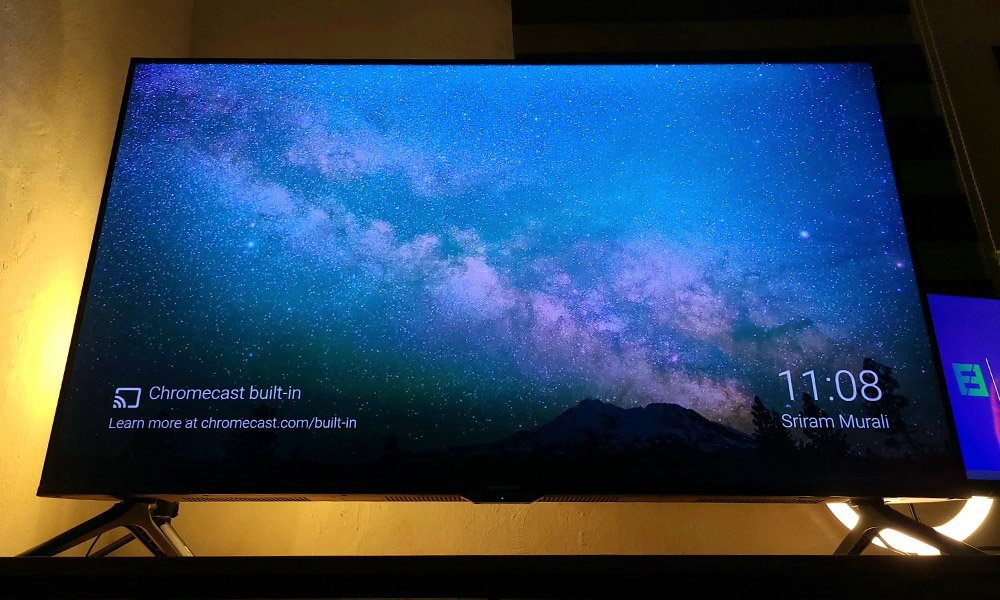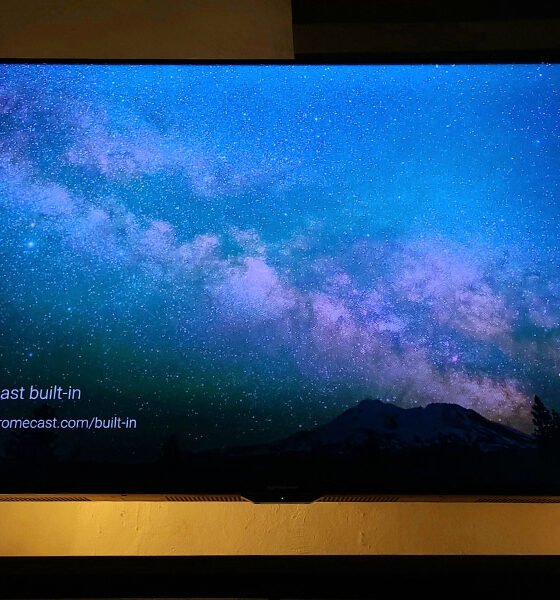 The Xtreme MF5000SA 4K TV is a holiday must-have
The Xtreme MF5000SA remains one of the best budget TVs you can buy under PHP30k.
Looking to buy a television in 2021? You may have come across the Xtreme brand while looking for your next television and attempting to decide between different budget TV brands available. Don't worry, this review will help you.
Xtreme may not produce the best of the best TVs, but its 2021 offerings are all good options with Android TV OS and 4K resolution in budget-friendly packages. This is why, in recent years, Xtreme has aggressively captured the mid-range television market in the Philippines.
Why you should buy an Xtreme TV?
Xtreme's key selling point in the TV market is its competitive pricing. In order to appeal to a highly saturated television market, it manufactures televisions on a huge scale and passes on a major portion of the savings to consumers. Xtreme TV is a fantastic pick if you're searching for a budget television that gives you a lot for your money – especially for really large screens.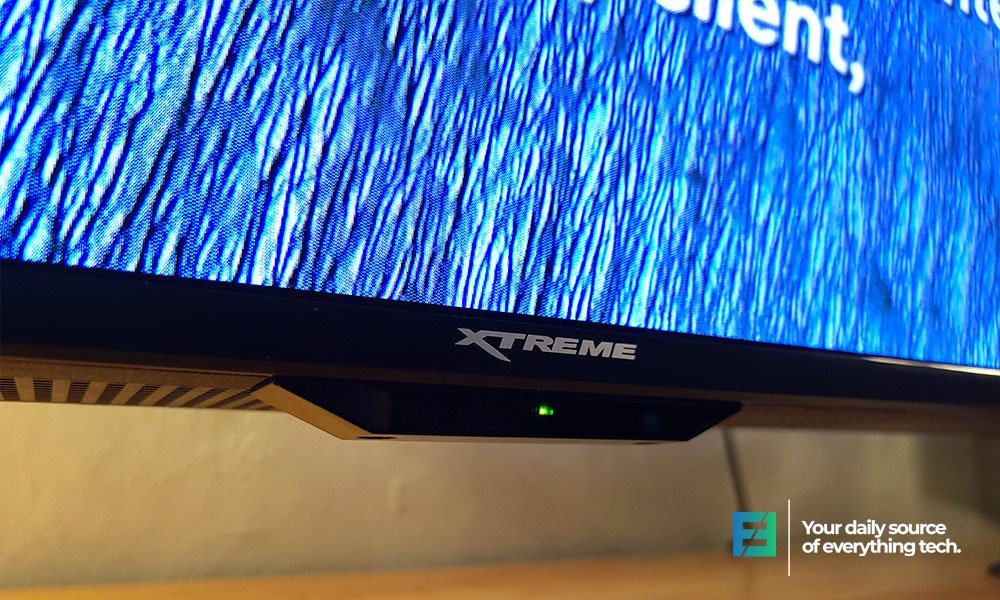 There's always the cost vs. performance trade-off to consider, as less expensive televisions almost typically indicate worse quality than their more expensive counterparts.
Basic processors are typically unable to cope with the demands of high-resolution television, therefore picture processing is often the first to suffer. Xtreme televisions use a lot of picture processing, which some people like since it gives them a more dynamic picture, but sometimes can also contribute to off-color images and mediocre contrast.
PROS
Very competitive pricing
Bright and colorful display
Supports Dolby Audio
Android 10 TV performance is smooth
CONS
Only supports a 60Hz refresh rate
Image quality is less crisp
Soft audio bass
No Dolby Vision support
If the thought of shelling out for one of the best 50-inch TVs has you sweating, rest assured that Xtreme MF5000SA won't break the bank – and the TV manufacturer provides anything from little 32-inch TVs to enormous 55-inch TVs.
Few TVs have had the same impact on the home entertainment space as the Xtreme MF5000SA which has brought high-end features like Dolby Audio support, Android TV, full-array panels, and Wide Color Gamut to customers at a third of the cost of high-end TVs.
This drive to provide you with a low-cost alternative to high-end televisions paid off: the first of its kind, the Xtreme MF5000SA, is one of the best-selling TVs in the local market.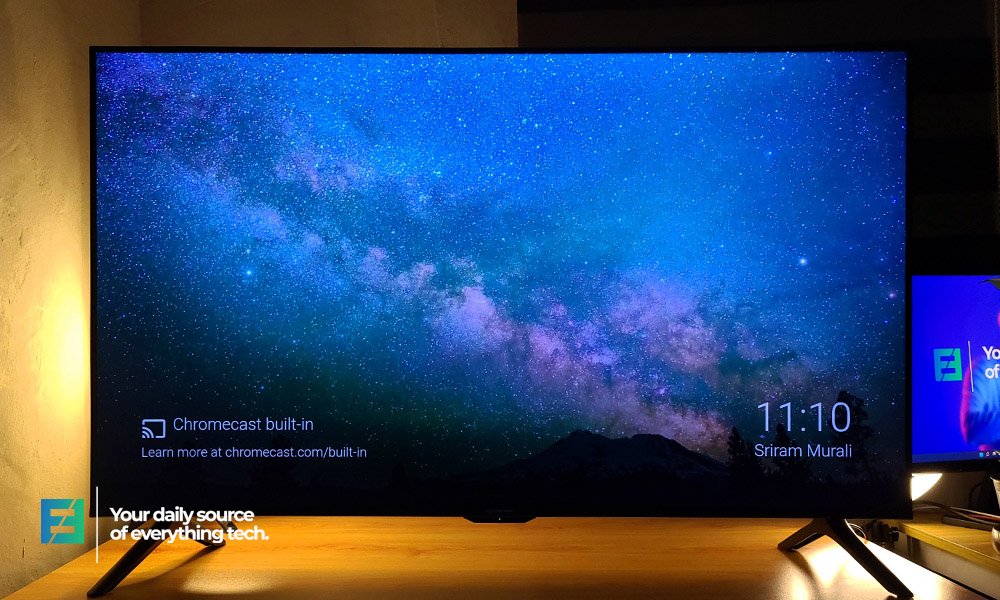 Xtreme MF5000SA Key Specs:
50" AndroidTV
Android 10.0
Wi-Fi Ready
4K UHD Ready
Bluetooth 5.0
Smart Remote (AI)
Chromecast Built-in
Voice Control
Dolby Audio
Frameless
Pre-Installed Application: Netflix & YouTube
Google Play
Xtreme MF5000SA has modern, classy design
The Xtreme MF5000SA has a slim profile with glossy black plastic bezels and extra space in the middle of the front bottom for the branding.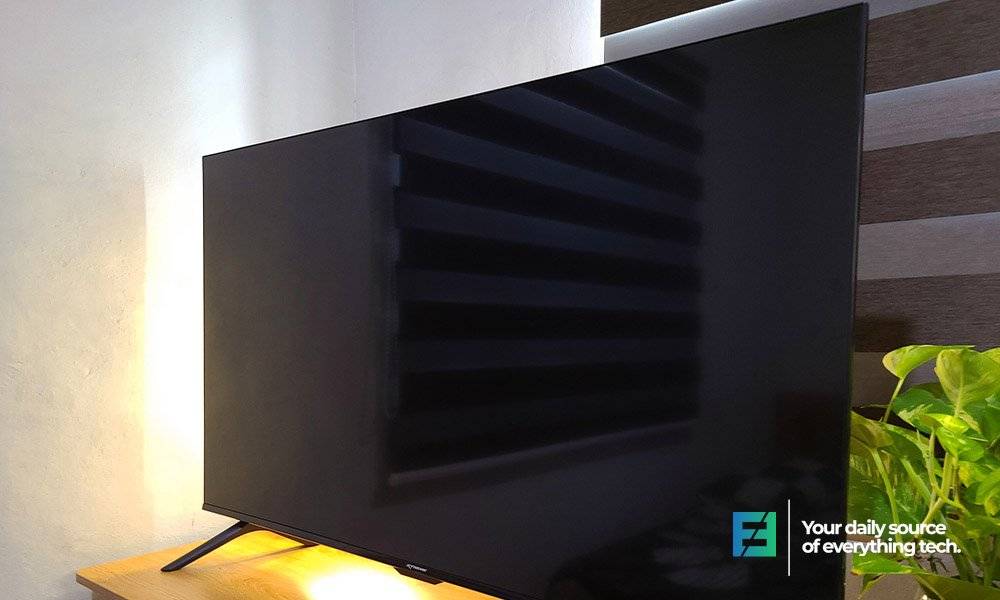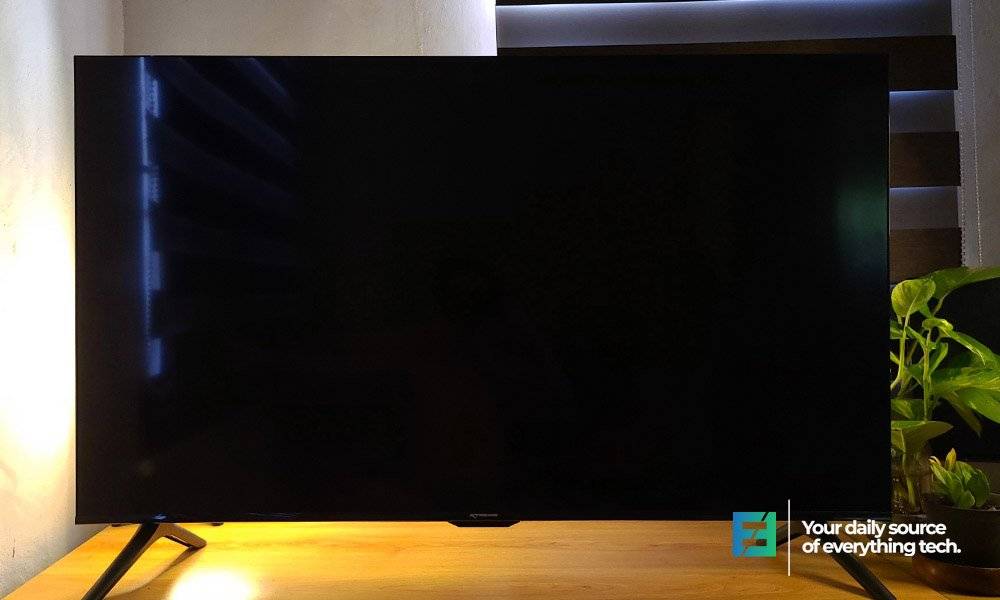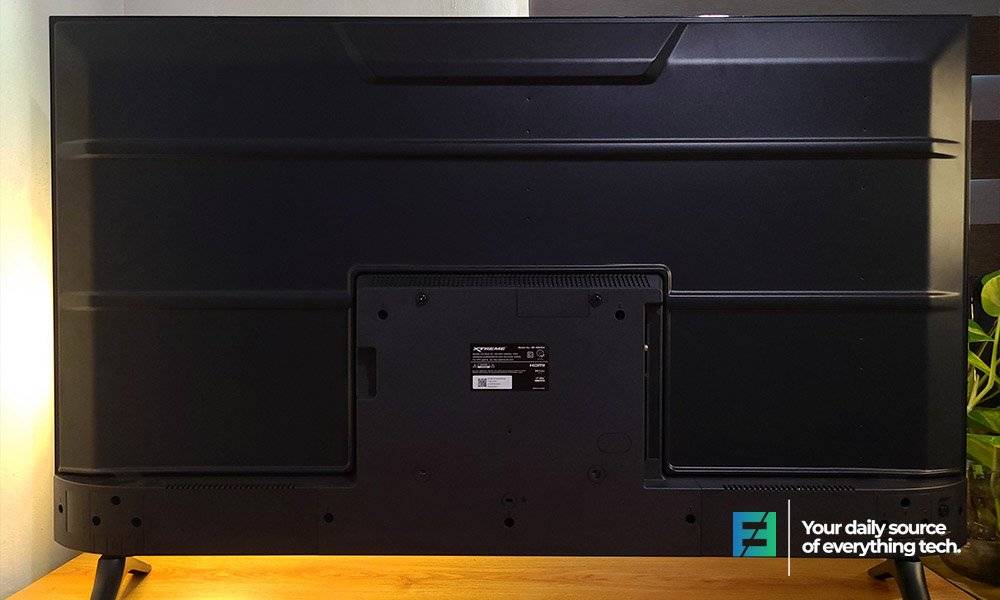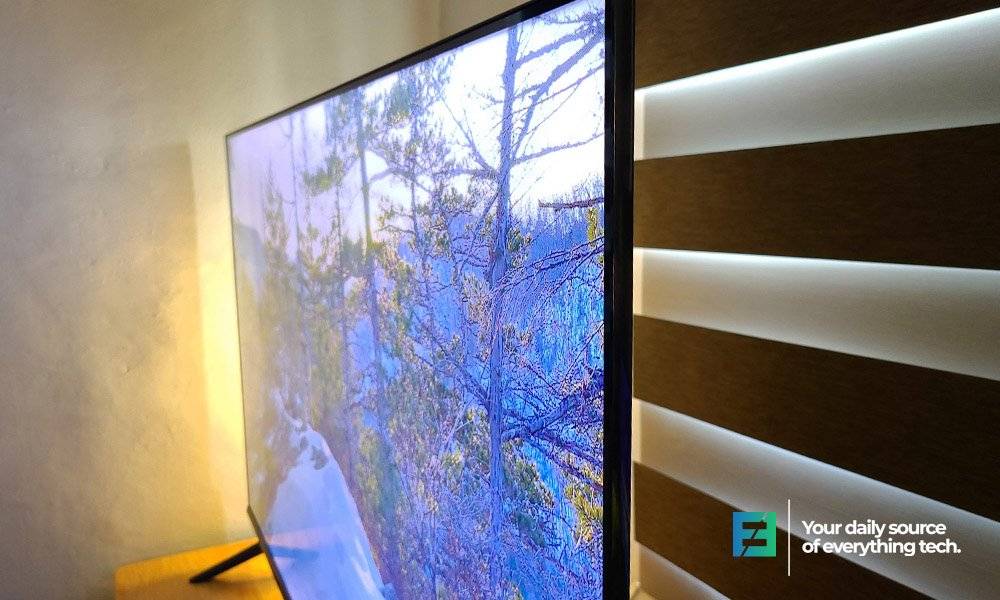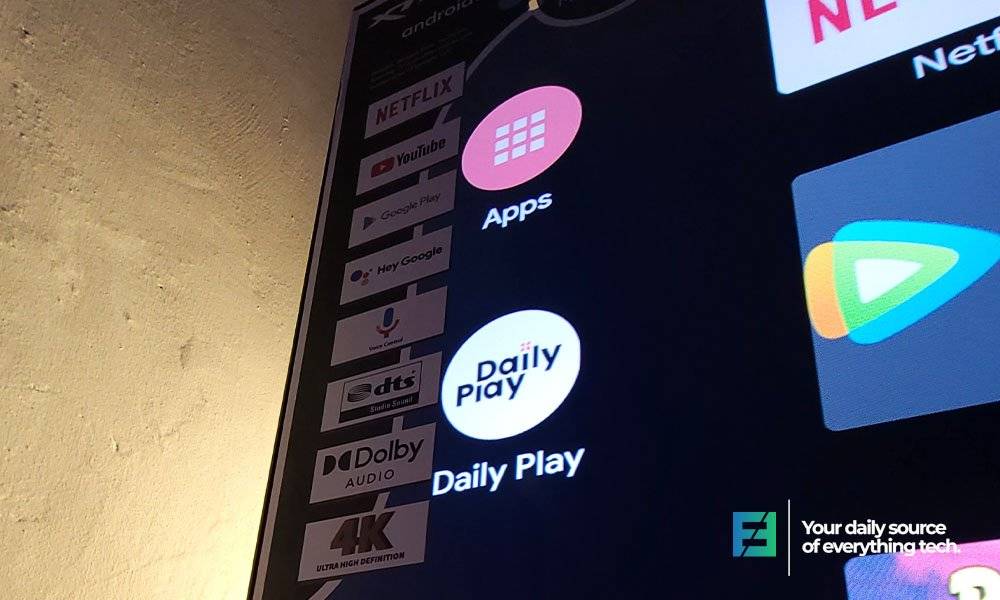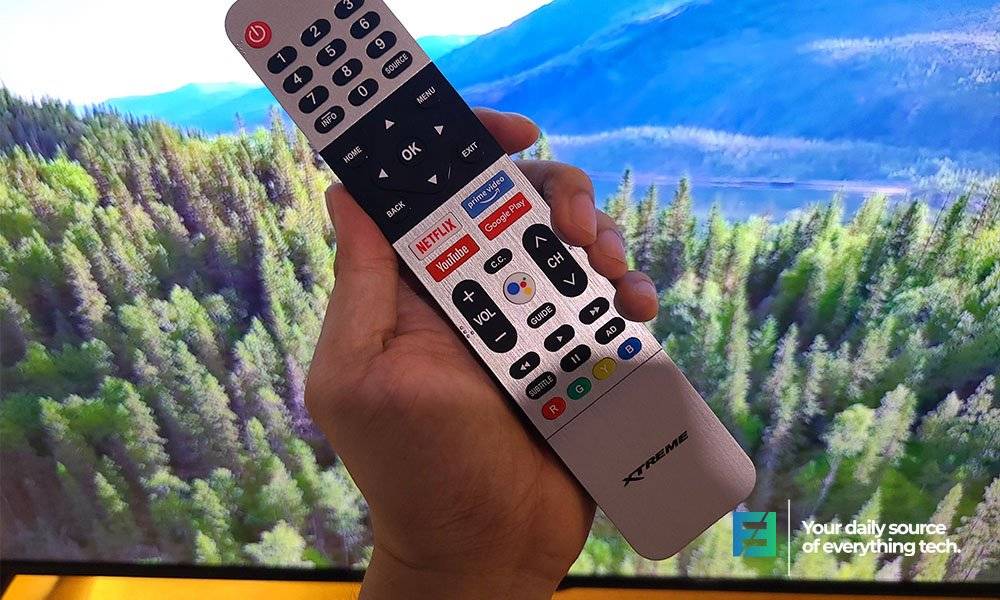 All ports are on the left side of the rear of the TV, with the exception of the power cord connector on the left side. Three HDMI connections, two USB ports, an Ethernet port, an antenna/cable connector, optical, and 3.5mm audio outputs.
The only additional control on the TV is a single multifunction Power button, which is hidden behind the infrared receiver under the bottom bezel in the center. It also includes a free wall bracket which is perfect for saving space.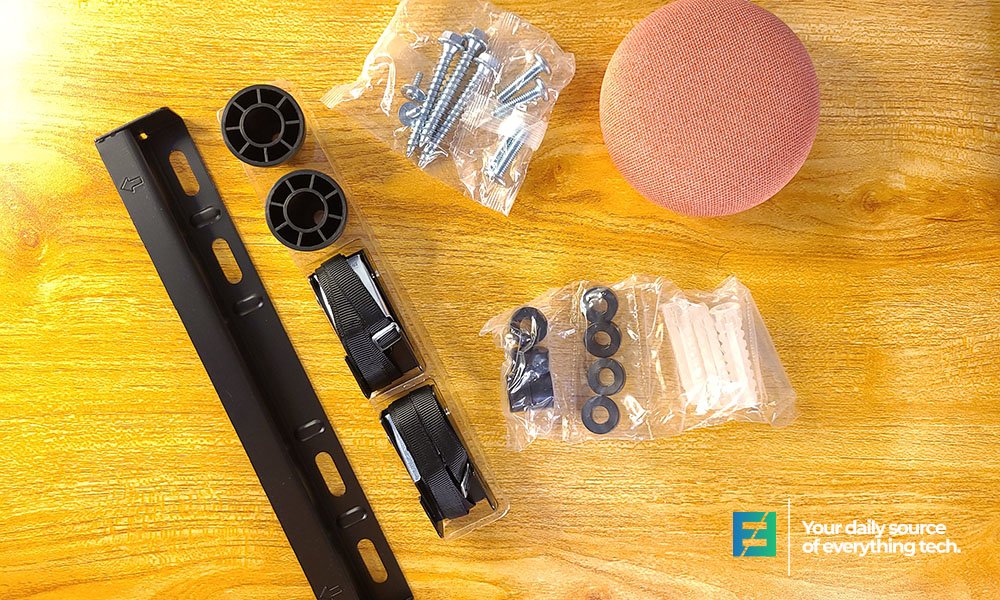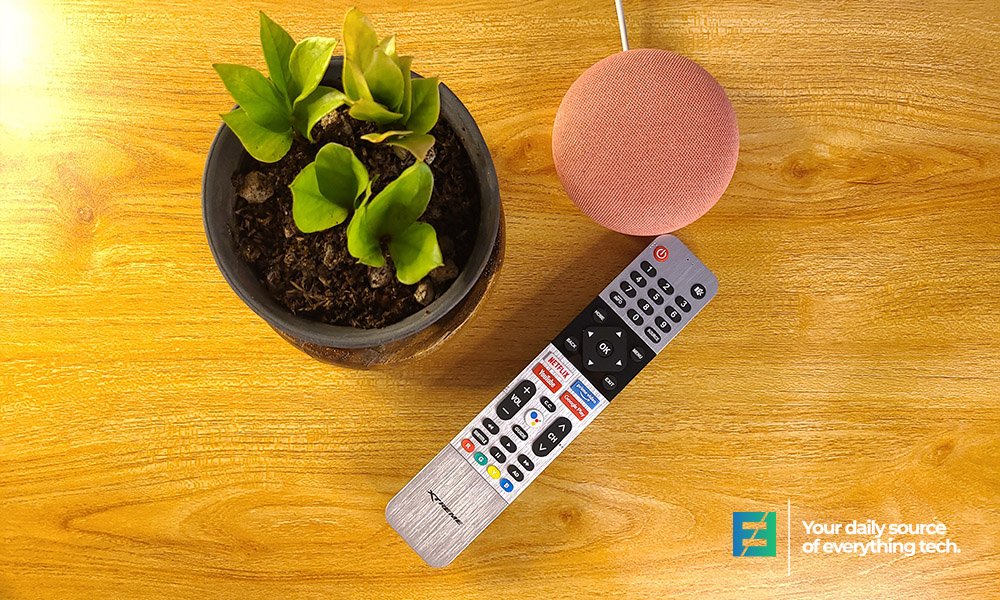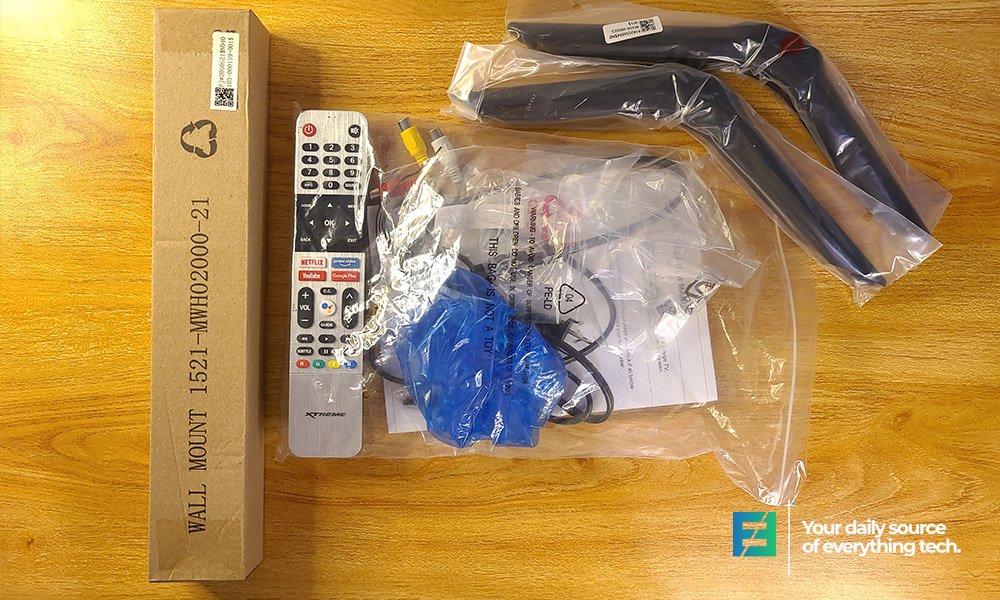 Overall, the MF5000SA has a sleek and modern design. It is pretty decent and doesn't look cheap.
Android 10 TV with in-built Chromecast
Android TV is a version of Google's Android mobile operating system that has been specially built for televisions, as you might have guessed from the name. We are happy that Xtreme made a great decision in using this platform for its TV lineup.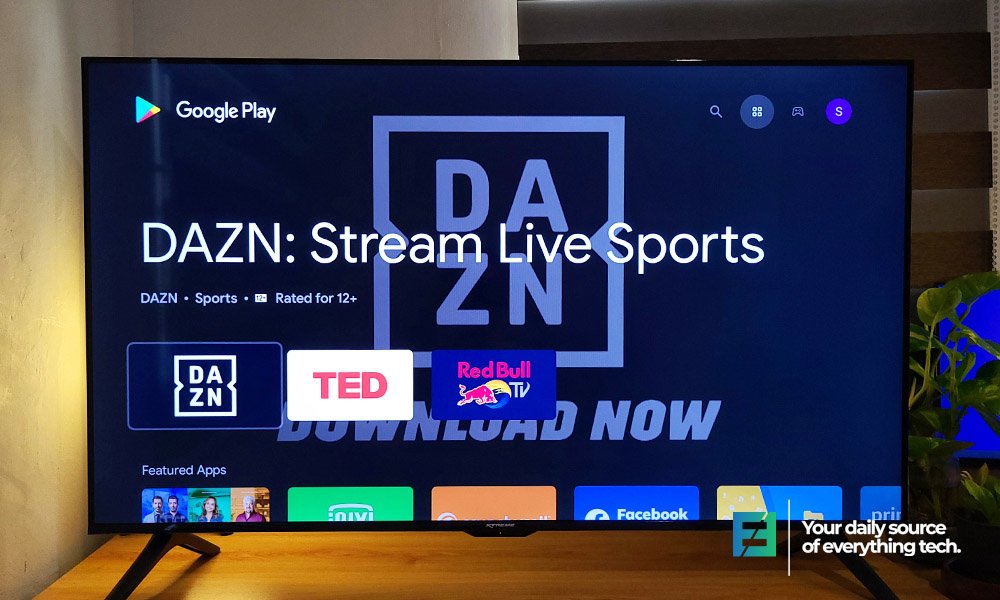 For the Xtreme MF5000SA, the Android TV interface is separated into rows of content. You can choose the apps that appear on the home screen, and you can also play around with the settings to further customize your Android TV devices.
Android TV has access to the Google Play app store, which has thousands of apps created expressly for Android TV's 10-foot experience, so you won't have to struggle to see tiny text or navigate apps that only work when you swipe with a finger.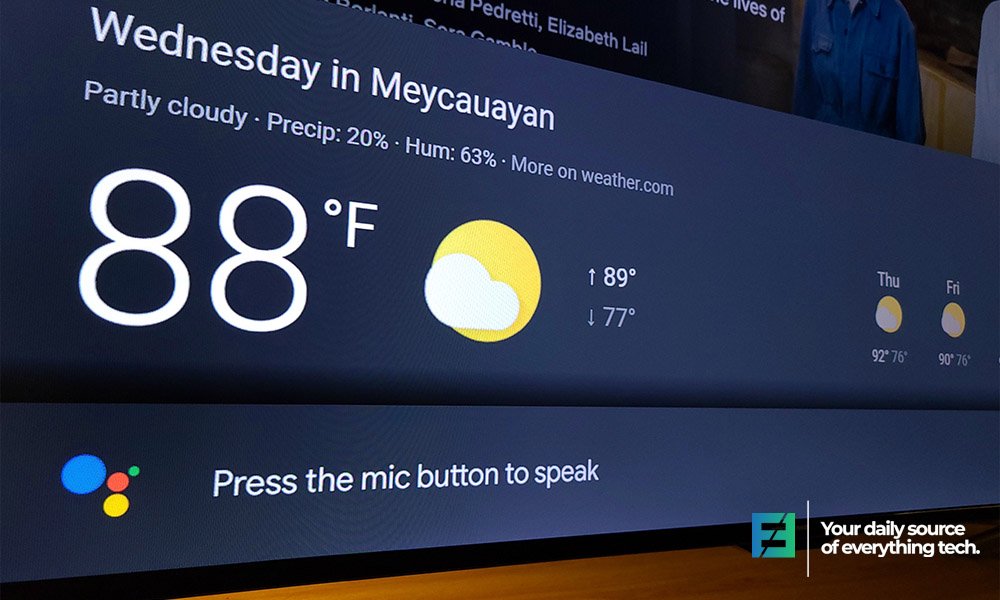 The Google Assistant is built into every version of Android TV, giving you voice control over your TV content as well as all of your smart home devices. Chromecast is also included, which allows you to cast videos and start screen sharing from compatible smartphones, browsers, and apps. Netflix and YouTube are among the pre-installed applications on Xtreme TV.
We tested the remote control's built-in Google Assistant button, which worked as expected. The Android TV navigation experience was quick, responsive, and performed similarly with high-end TVs.
4K/HDR Performance
The Xtreme MF5000SA can show HDR content in a 4K high dynamic range (HDR). However, it doesn't work with Dolby Vision or other HDR formats. It's not the brightest TV on the planet, nor is it the best upscaling TV on the market, but it's surprisingly bright and offers good upscaling for the price. We're not exactly sure how many nits of brightness this TV has but most likely it's about 400-600 nits and 1000 nits peak for HDR contents.
Here's a short clip of the MF5000SA audio and video quality.
The MF5000SA features excellent color accuracy, contrast ratio, and color temperature right out of the box. However, because the TV only has a 60Hz panel, its performance is limited. That is, motion handling works beautifully in normal motion but falls short in fast motion.
Even when seen from a side angle, the MF5000SA retains color accuracy. And even when the contents are reflected in bright sunshine, they are readable.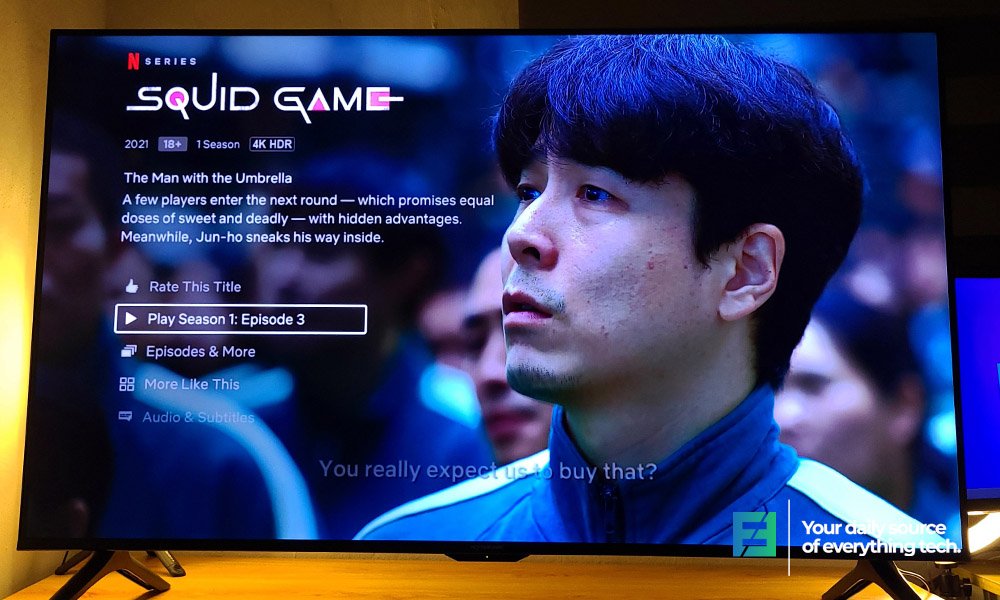 The Squid Game's high-contrast scenes don't look bad on the MF5000SA, but dark details like the cuts and textures of black suits can look a bit washed out depending on the frame's overall brightness. Against the dark blacks and whites, skin tones appear natural and balanced.
In the gloomy early scenes of the film, the red costumes look vivid and authentic. The colors inside the arena stand out and close-up details of the casts remain visible — thanks to its HDR feature.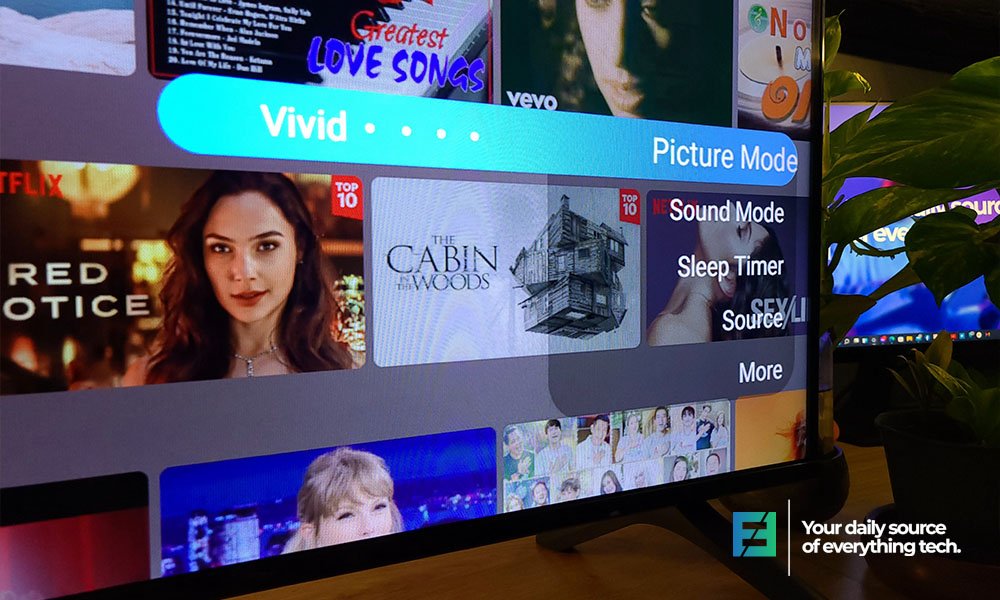 There are a variety of Picture Modes to pick from, each of which improves the color quality to your preference. If you want it to be more freestyle, there is also a manual mode.
Sound Performance
The Xtreme MF5000SA supports Dolby Audio, which is great news. This function adds a cinematic surround sound experience to the viewing experience, making it more immersive.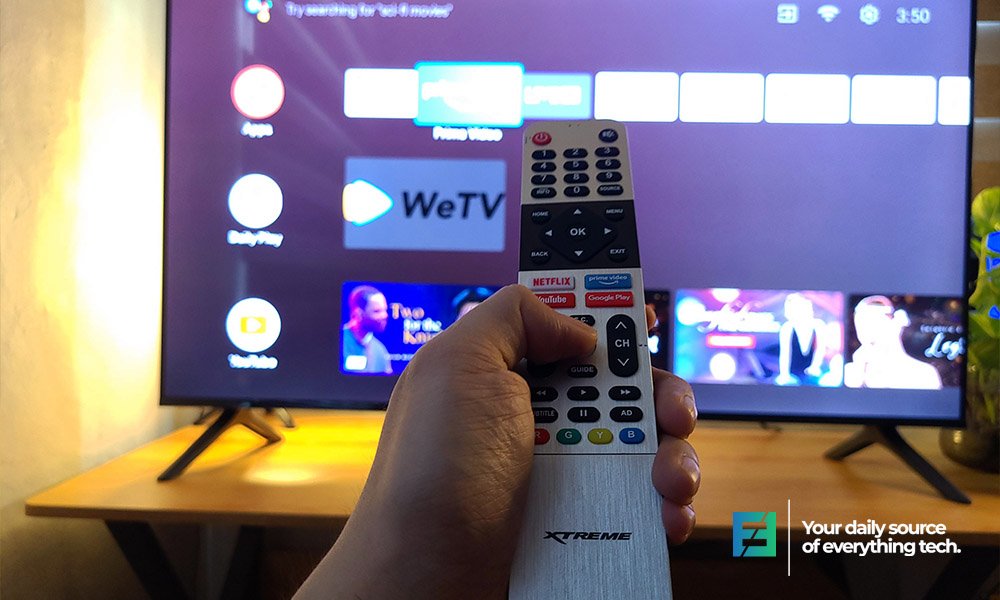 The audio quality was decent in our experience, and sometimes it get way too loud even when the volume was only half turned up. Don't get us wrong: we like that you can hear what you're watching without having to use extra speakers. We've also found that the bass needs more pump to sound more rounded.
We enjoy the audio experience in general. It's above and over what we expected for the price.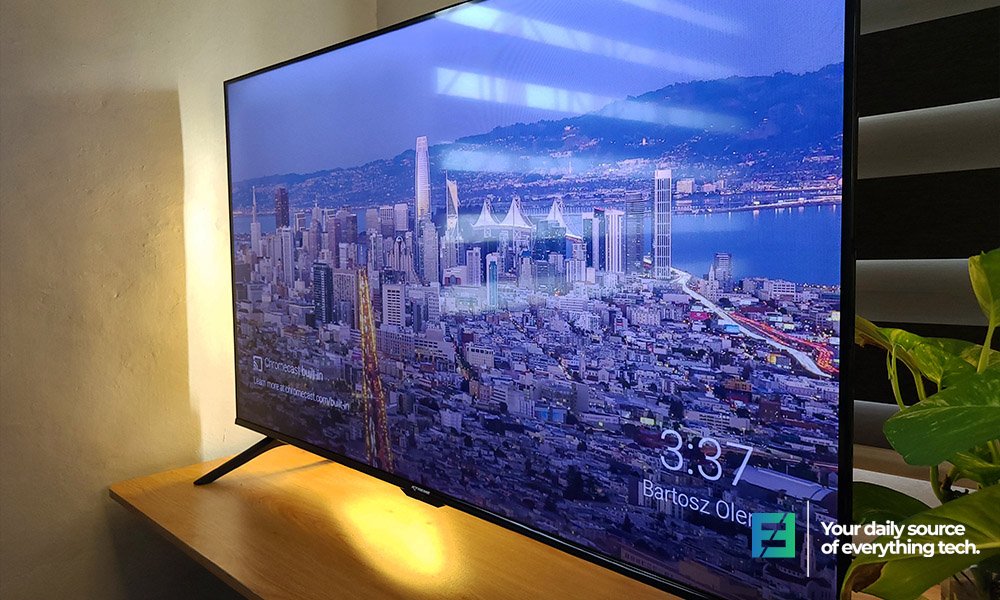 Xtreme MF5000SA is a Solid Budget 4K TV
The Xtreme MF5000SA isn't the most impressive TV on the market, but it is one of the best budget 4K TVs available.
For its superb performance at PHP 27,795 for 50 inches, the Xtreme MF5000SA remains our most exciting budget recommendation. Also for PHP 30,995, you'll get the 55 inches version. It's a great deal if you want to upgrade to 4K and HDR without spending lots of money.
The Xtreme MF5000SA is priced at PHP 27,995.00 and you can get this via Xtreme's Online Shop, Lazada, and Shopee. It also offers a 2-year warranty on parts and labor.
BOTTOMLINE: If you're looking for an affordable 4K Android TV and all the extra features you need, the Xtreme MF5000SA is the one to beat.

Nokia P3600 Earphones Review: The affordable true music experience
The Nokia P3600 (limited edition) is a serious challenger to the Galaxy Buds 2.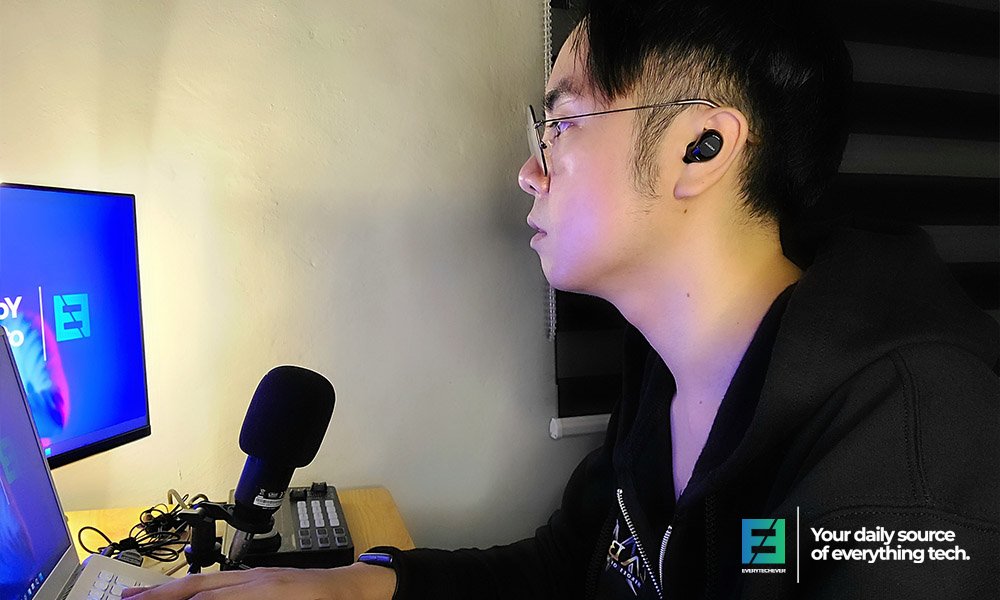 These days, it's difficult to find a bad pair of wireless earphones. The market has come a long way since the early days of truly wireless earbuds when consumers had to put up with poor music quality and unpredictable performance just to avoid having to deal with wires. Things have changed dramatically since then. Companies like Sony, Apple, Samsung, and others are producing their most remarkable earbuds yet, following several product generations of learned lessons.
Nokia, on the other hand, has made significant investments in the wireless earphones industry. It's worth noting that their current product line is both performance and price-wise remarkable.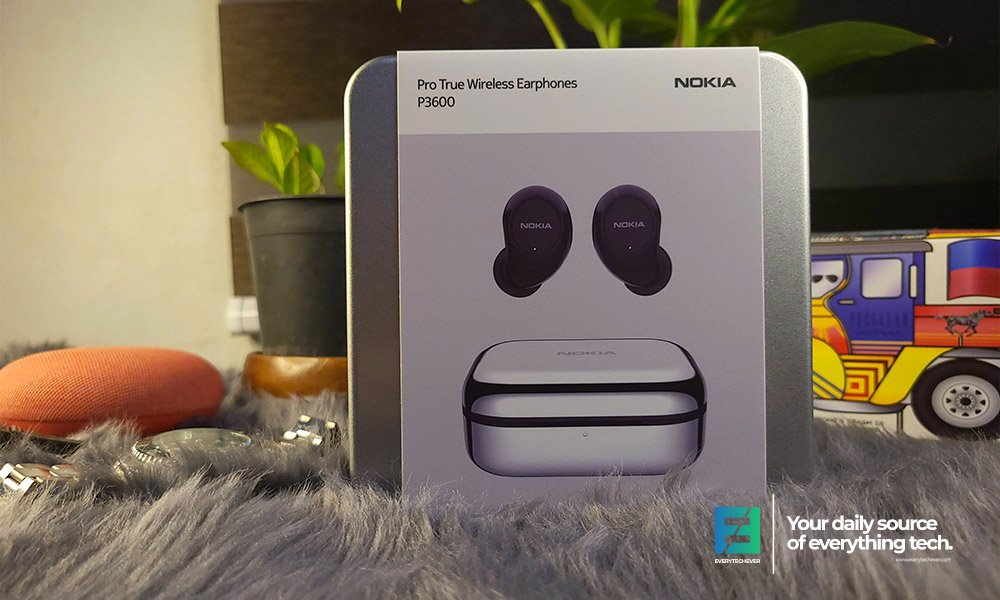 This Nokia P3600 True Wireless Earbuds review should help you decide whether or not these earbuds are worth your money. The good news is that they are, and the sound quality amazed me overall if you are on a budget and want to save a little money by getting a Galaxy Buds 2. These are, in fact, among the best wireless earbuds below PHP6,000. But let's squeeze in more details to help you decide better.
What are true wireless (TWS) earbuds?
True wireless earbuds, for those unfamiliar with the term, are earphones that have no cables between them – neither to connect them to your music streaming device nor to connect them to each other. Each bud is a self-contained unit that communicates with its counterpart without the use of wires.
Nokia P3600 Specs (click to expand)
Frequency Response
20 Hz to 20kHz
Transducer Principle
Dynamic + balanced armature
Transducer Size
8mm dynamic + balanced armature
Impedance
16?±15%
Bluetooth version
Bluetooth 5.2
Profiles: HSP, HFP, AVRCP, A2DP
Effective range:
Line of sight approx. 30ft (10m)
Transmission frequency
2402 MHz to 2480 MHz
Microphone Principle
MEMS x 2
Power Supply
Built-in Lithium rechargeable batteries, 3.7V.
Left earbud: 45mAh
Right earbud: 45mAh
Charging case: 400mAh
Type-C charging via type-C socket of the charging case: 5V, 400mA.
Operating Time
6hrs (music playback via A2DP) with rechargeable batteries of the earphones* 24hrs with a rechargeable battery of the charging case*
Charging Time
Earphones: approx. 2 hours
Charging case: approx. 2 hours
Charging Case Input
USB-C
Ingress Protection (Earbuds)
IPX4
Profiles
HSP,HFP,AVRCP,A2DP
Effective Range
Line of sight approx. 30ft (10m)
Sound Pressure Level (SPL)
94dB±3dB
Output Power
10mW
Weight
Left earbud; approx. 4.6g
Right earbud; approx. 4.6g
Charging case; approx. 63g
Supported audio format(s)
SBC, AptX adaptive
Nokia P3600 Unboxing
A premium box filled with goodies
The case, with its shiny metallic silver finish, is very sturdy. It looks a bit reminiscent Nokia 8800 phone. The shiny coating, on the other hand, attracts fingerprints and smudges. RichGo, on the other hand, has added a little pouch to keep the case safe when you're on the go.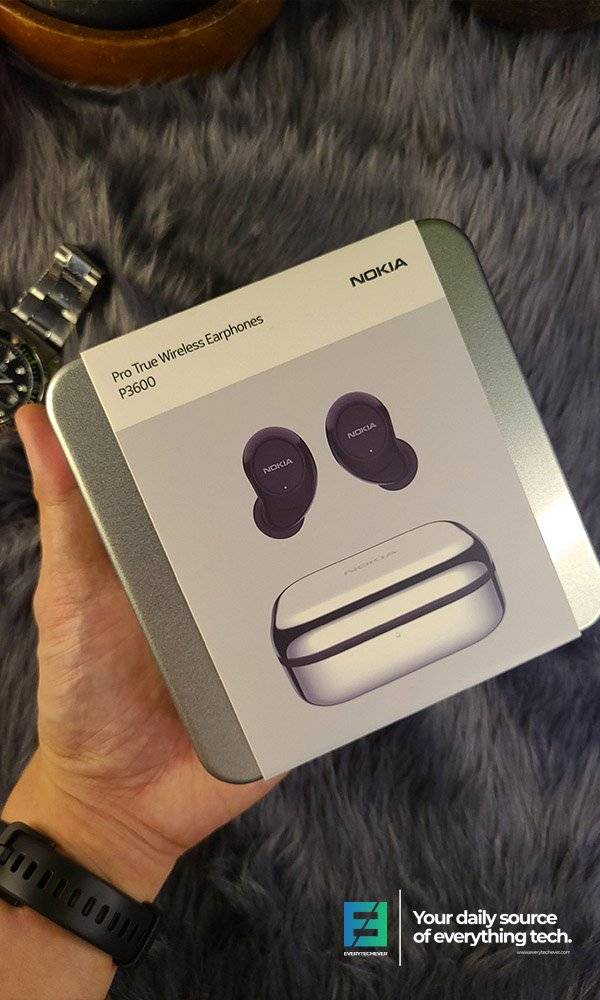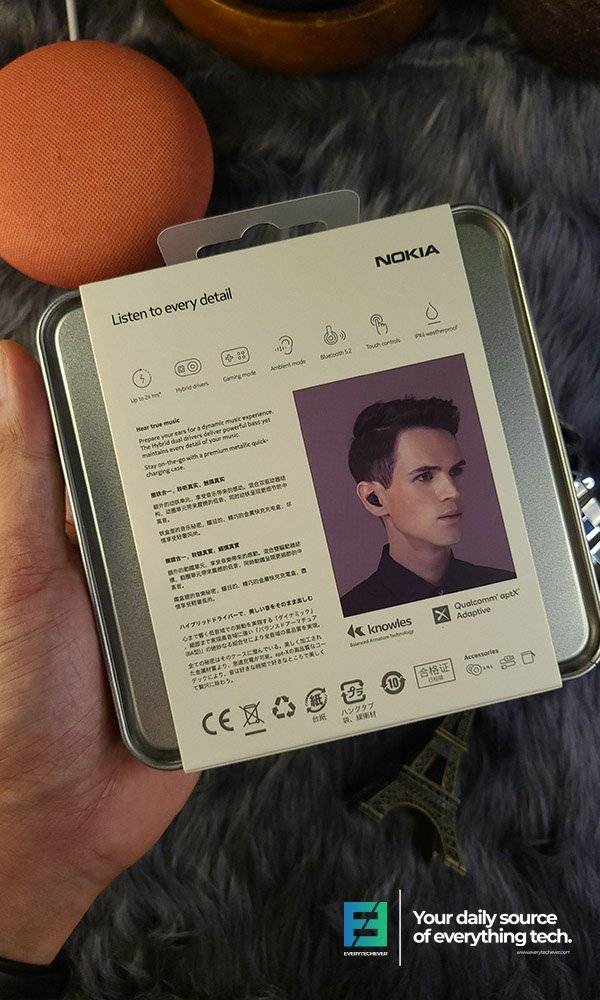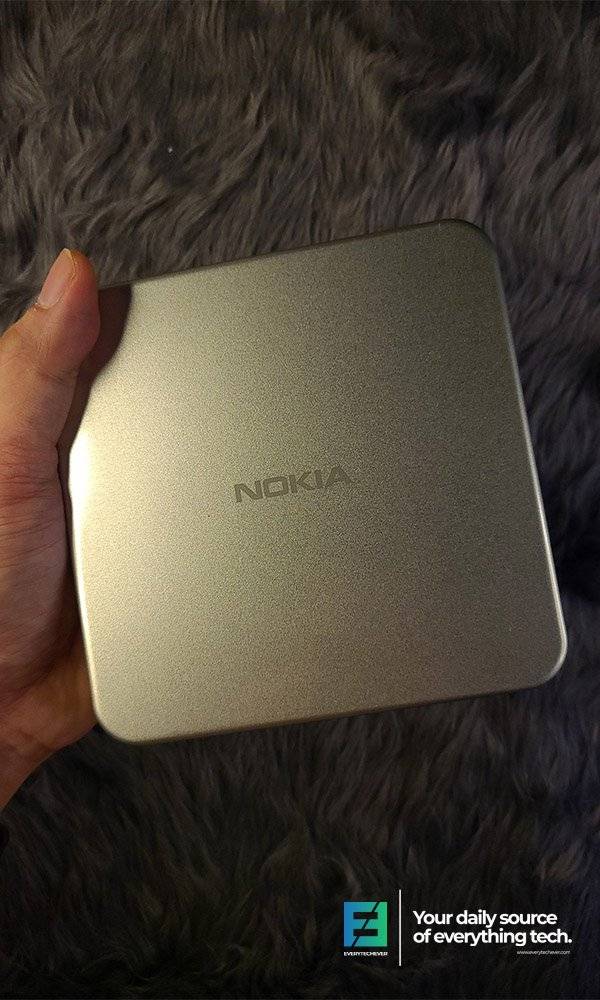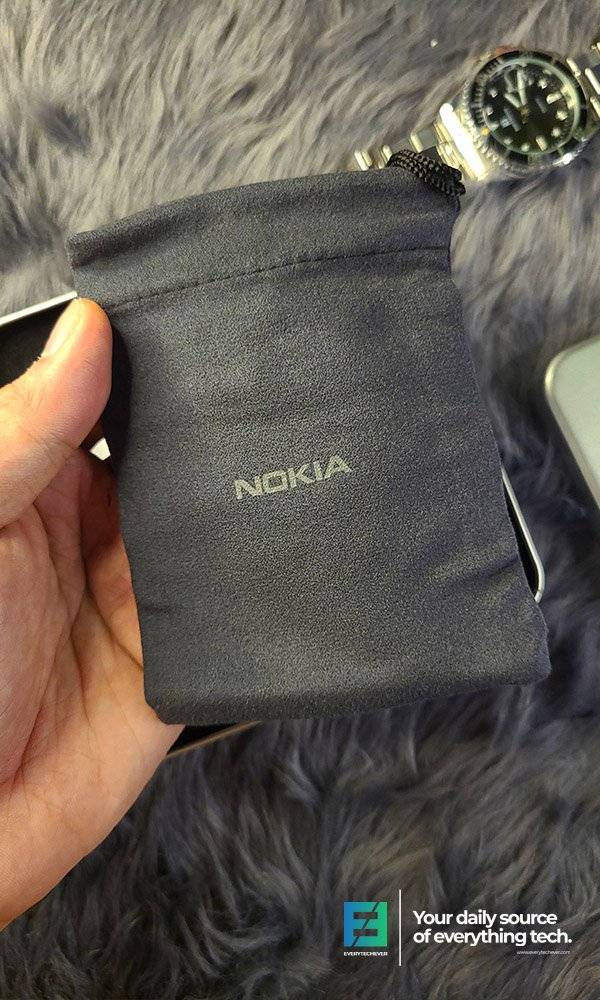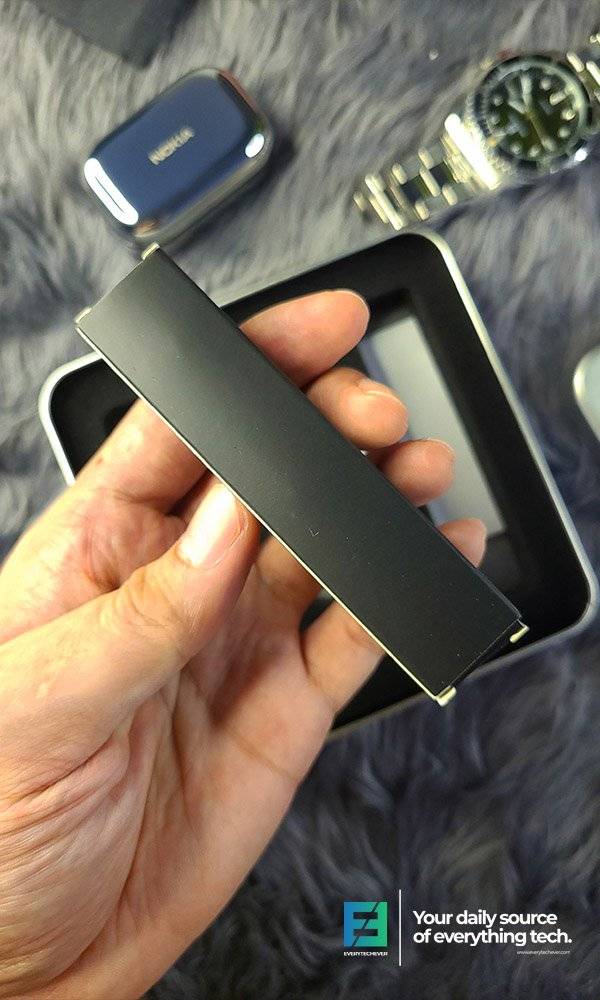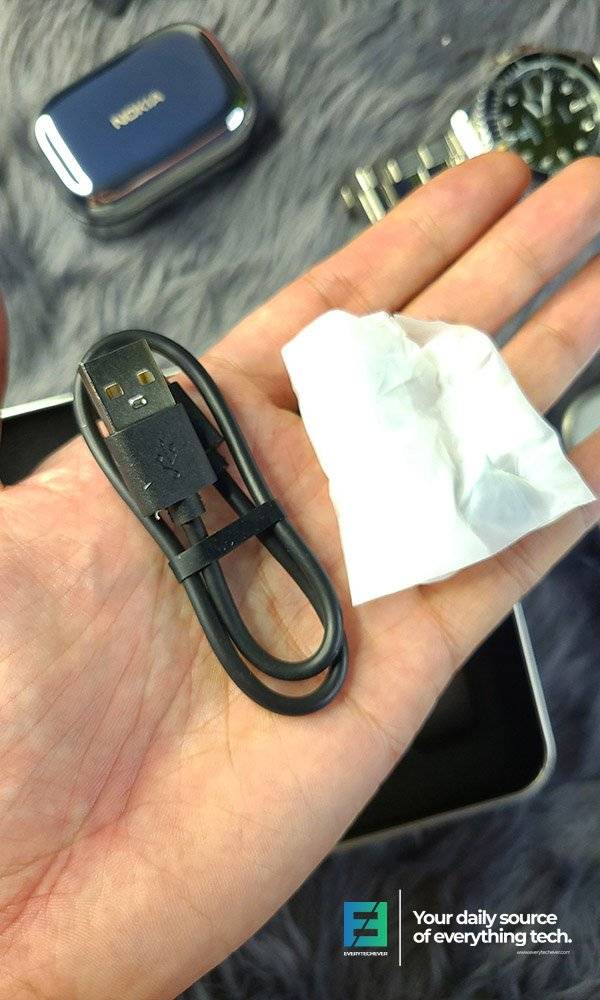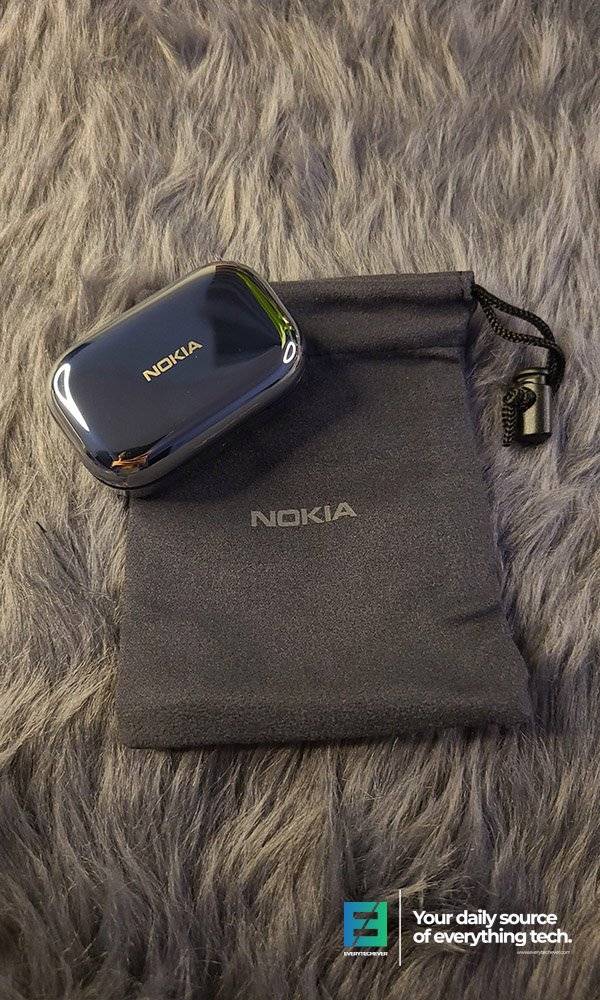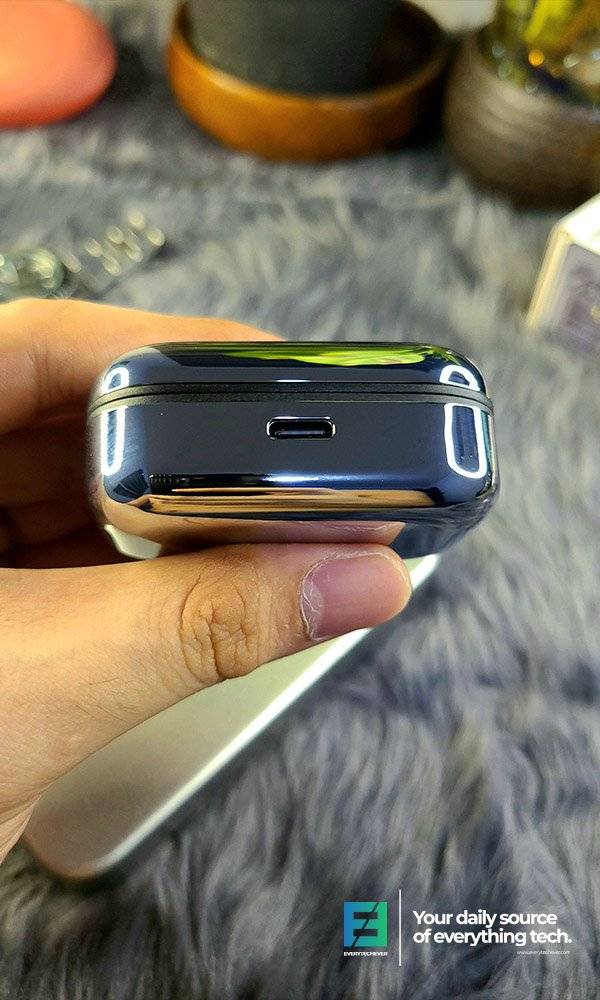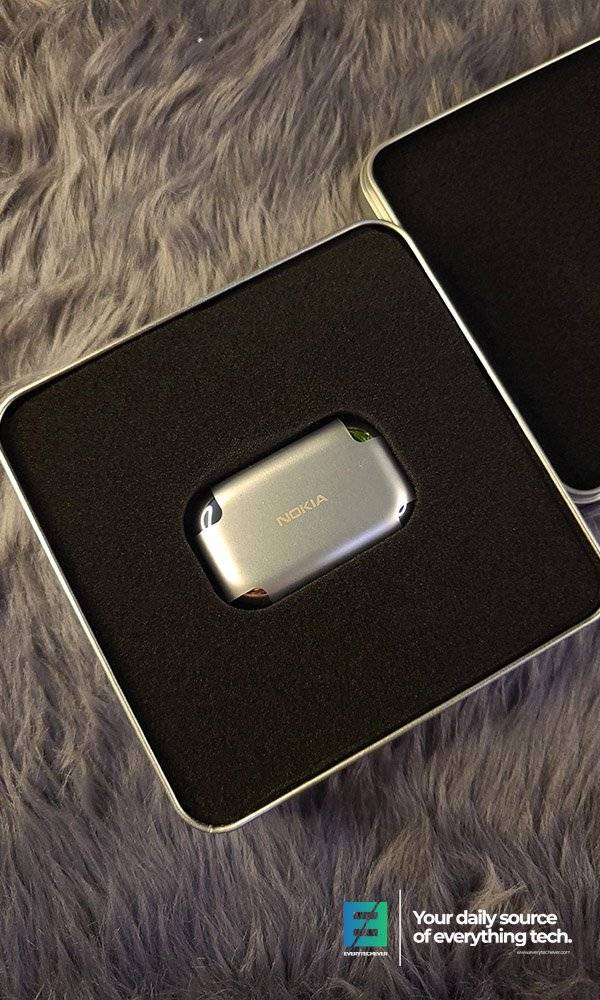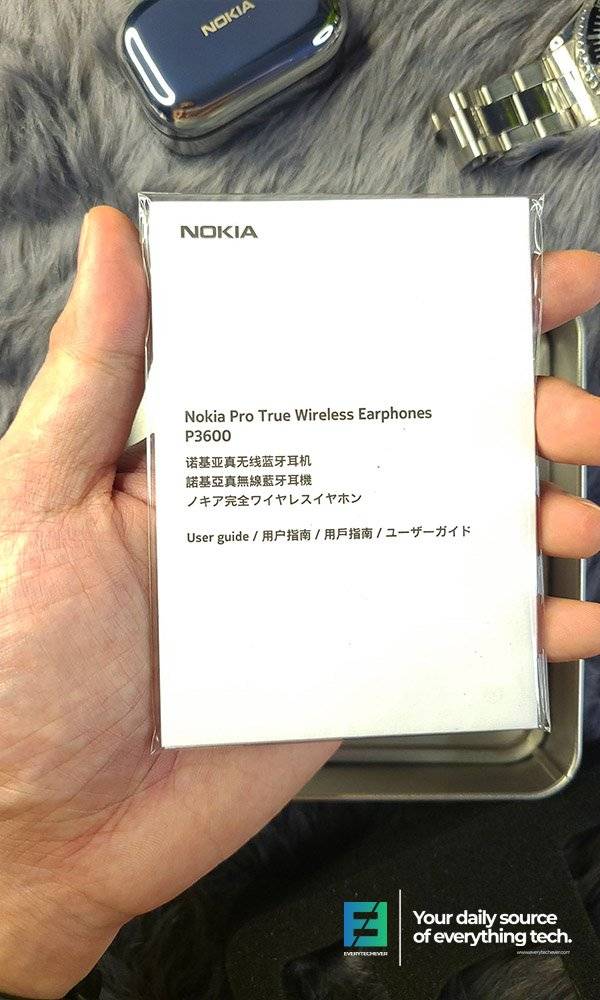 nokiap3600unbox-6
nokiap3600unbox-7
nokiap3600unbox
nokiap3600unbox-4
nokiap3600unbox-2
nokiap3600unbox-3
nokia-p3600-review-unbox-d
nokia-p3600-review-unbox-a
nokia-p3600-review-unbox-b
nokiap3600unbox-5
(swipe for more images)
The USB C charging connector is located at the back of the case, while the front features a single white LED indication.
Nokia P3600 Design and Ergonomics
The earphones have a different design than the Nokia E3101 that we previously reviewed. They're made of a mix of matte and glossy plastic, with the latter closely resembling glass. The earbuds' design should be pleasant for lengthy periods of usage, but we found this to be highly subjective. Some office coworkers complained of discomfort after several hours of use, while others had no such issues.
That will always be the case because everyone's ear canals are different, and the fit will always be varied. The Nokia P3600 is, however, a little on the heavier side, which will make them even more uncomfortable for individuals who don't fit well.
Despite the fact that the fits aren't standard, the packaging includes two sets of extra ear tips. For me, the little ones work best. The good news is that these silicone rubber ear tips are universal, so you can also replace them with any other brand.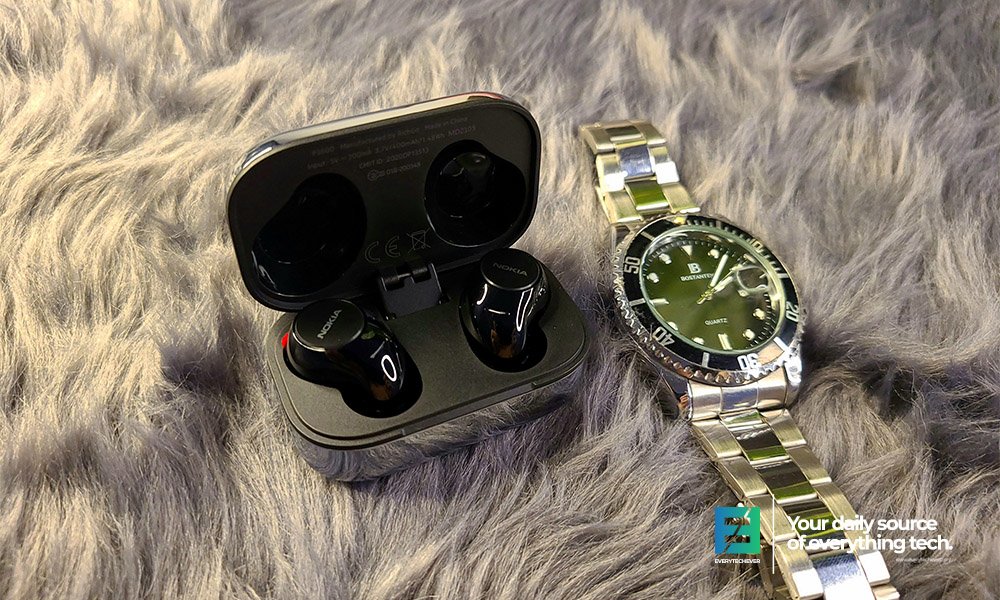 But take note, if you use too small tips, the music will sound dull and the bass will be almost non-existent. However, with the ones that are properly fitted, you get far better soundstage.
I used them for everything: I listened to music while jogging, I did a couple of treadmills, and I used them throughout the day. They didn't fall out once and stayed solidly in my ear. That's impressive given how many times I've come close to losing a bud from other brands, especially while exercising.
The Nokia P3600 earbuds are also IPX4 water and sweat-resistant, which is very useful for outdoor activities. It will perform excellently in adverse weather situations during training.
Smart Controls
A single tap on either of the buds pauses the current track, a double tap on the right one skips to the next track, and a double-tap on the left one returns to the previous track.
Nokia P3600 Performance and Audio Quality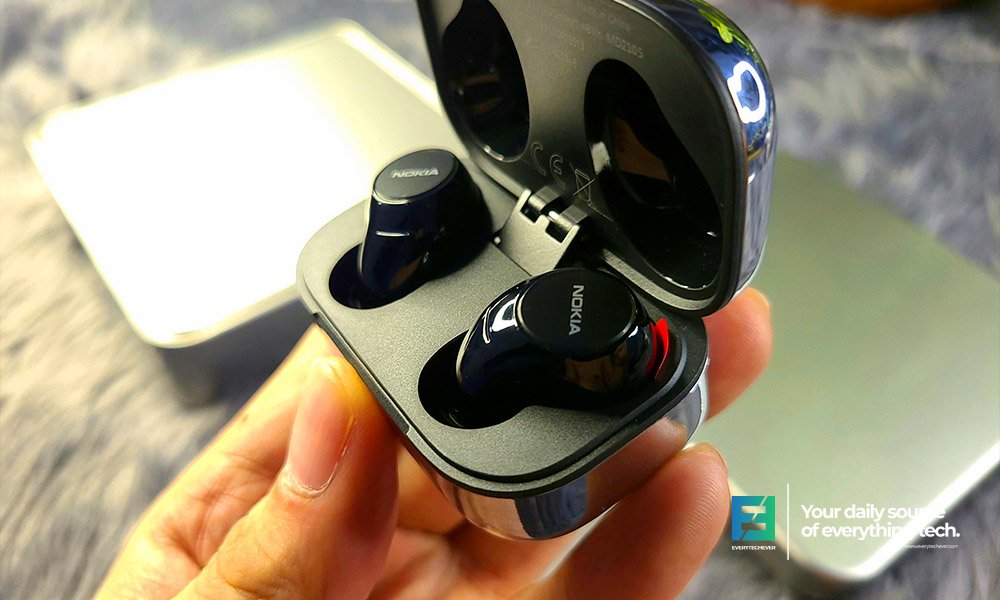 The Nokia P3600 earbuds' combination of Knowles balanced armature and an 8mm dynamic driver is one of their most impressive features. The dynamic drivers cover the whole frequency spectrum, resulting in improved bass and a more natural, unified sound. And meanwhile, the balanced armature drivers provide superior sound isolation and consume less power.
Rich Audio Quality
In my experience, they are well-tuned in terms of sound quality. Most kinds of music sound balanced, with deep bass and clear treble – though I would argue they distort the music slightly at times, especially on the high end. Unfortunately, there are no equalizer options to manually modify the sound, like an app that you can find with the Galaxy earbuds but at this price range, you wouldn't expect there to be.
We put it to the test by performing Pharell Williams' "Happy," a 2011 Soul/Pop song known for its Block chord style, which was performed by synths and drums. The audio experience was well-balanced, with deep bass and a clean treble – though I would say the music was a little distorted at times, especially at near maximum volume. Of course, you wouldn't want to reach those levels in the first place.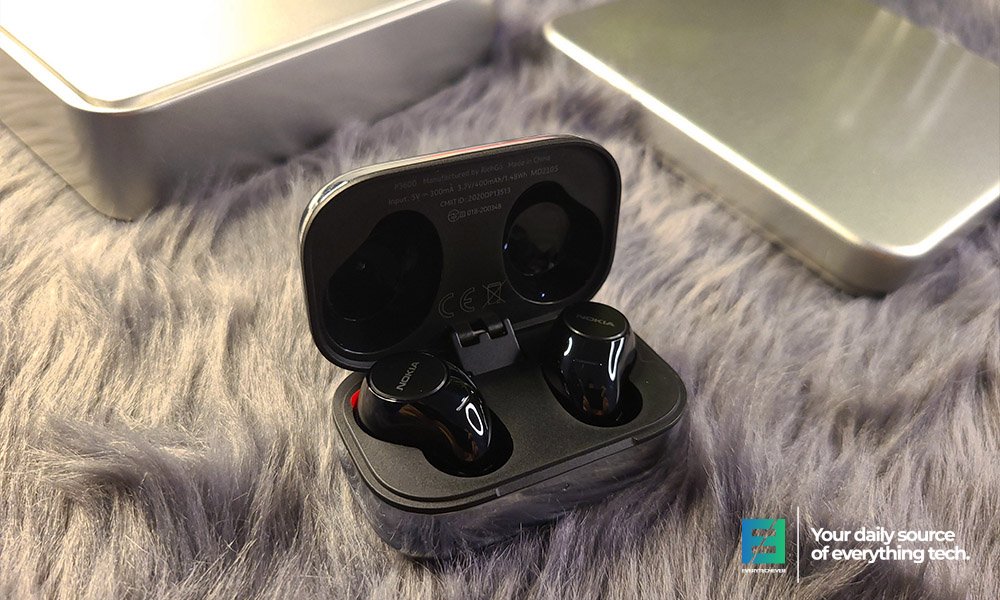 Even Justin Bieber's 2020 hit song "Stay" fits in well. The lower frequencies and vocals were not artificially boosted. The neutrality provides a pure sound experience and can adapt to any music you want to listen to.
The sound quality is noticeably better than that of competitors like Samsung's Galaxy Buds.
With its Clear Voice Capture technology, RICHGO guarantees crystal-clear conversations. We tried the buds on a Zoom call as well as a regular voice call. The call quality, to our delight, was excellent. Even if you are in a noisy area, the caller can clearly hear you. Indoors, the microphone performed admirably.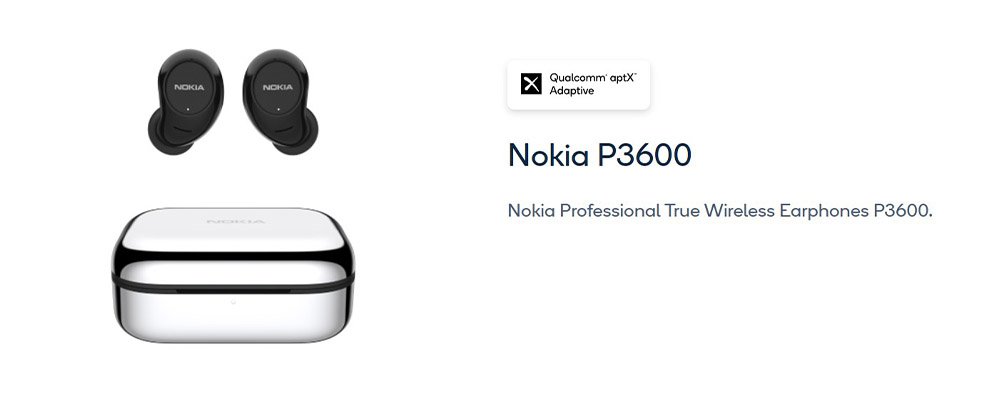 Don't forget that Qualcomm's aptX adaptive sound is included in these tiny earbuds. Qualcomm's patented audio compression technology delivers seamless wireless technology, a dynamic low latency mode to decrease audio/lip-synchronization concerns, glitch-free audio with adjustable bit rate, and HD audio quality, which is ideal for gaming.
Here are my own impressions of the overall audio quality of the P3600:
The overall tone of the P3600 is vibrant, making it ideal for listening to pop music.
The treble is clear and performs well in terms of detail, but it isn't excessively sharp or scratchy. The addition of the Knowles balanced armature has made a significant difference in the overall audio output quality.
The midrange is somewhat neutral, with a hint of richness, and singers and wind instruments can be reproduced well.
The P3600's bass is a tad stronger and has a greater sense of depth.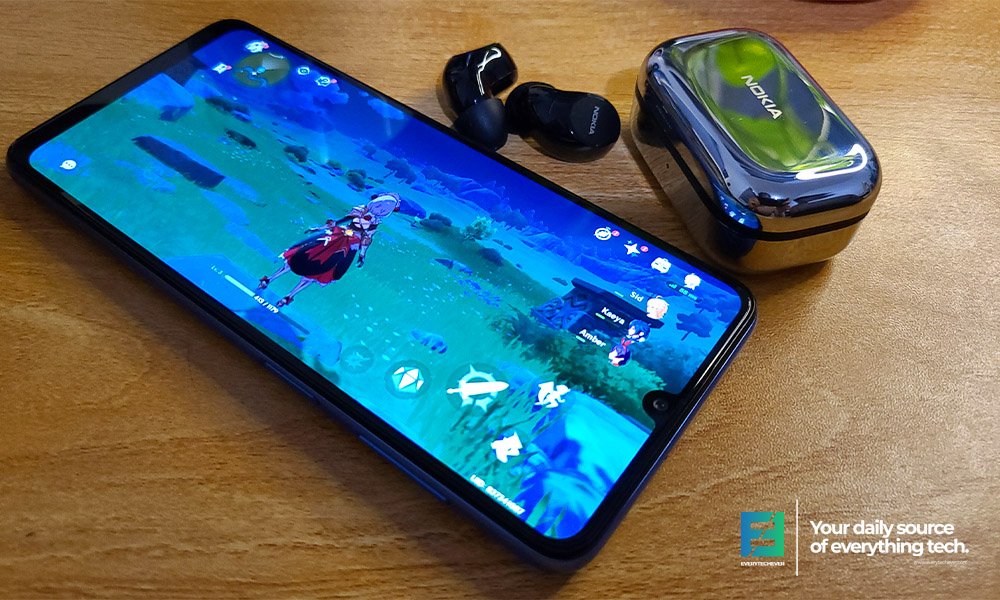 Made for Gamers!
The unique "Gaming Mode" feature on the P3600 excites me because it lowers delay and delivers sound in sync while in-game. We used the Samsung S20+ to play Mobile Legends: BangBang, Genshin Impact, and Call of Duty, and we didn't notice any audio delay.
Long-lasting battery
These earbuds are perfect if you want long battery life. The buds last about 6 hours on a single charge, with the case providing an extra 24 hours. They are some of the best affordable true wireless earbuds for battery life, giving you extra 4 full charges.
On a daily basis, we discovered that with typical usage, you can easily get more than a couple of weeks of use away from the charger because the case supplies all the power you need.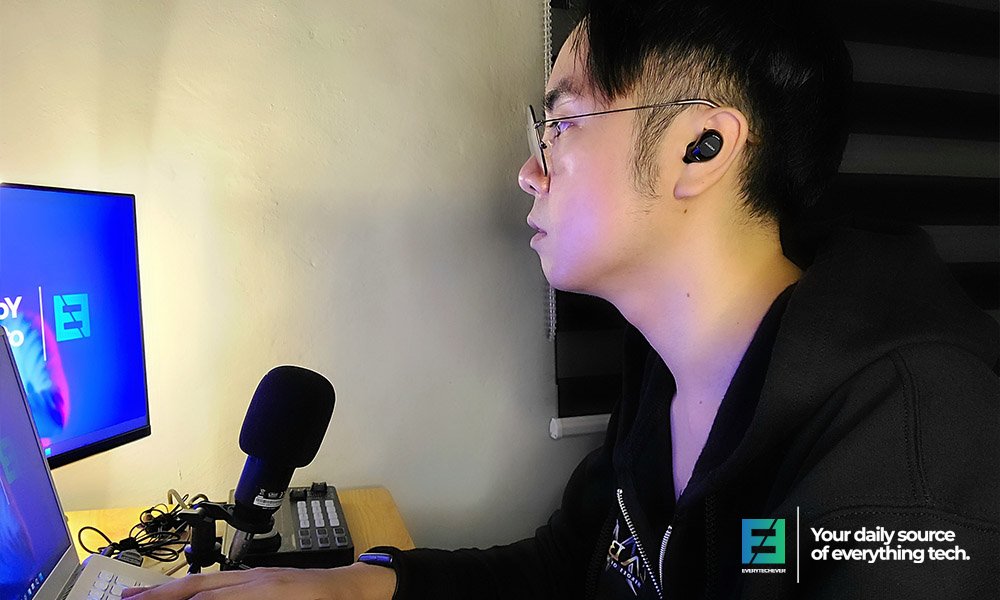 Verdict
RichGo did right to these Nokia-branded TWS earbuds by packing them with value-added features, a long battery life, and a high price tag, according to our review of the Nokia E3101. On the other hand, the Nokia P3600 continues to deliver on its promise. Ambient mode, aptX support, and excellent battery life are just a few of the amazing features. I was a little concerned about the fitting at first, but I got used to it.

The Samsung Galaxy Buds 2 (PHP6,990) are available if you're ready to stretch your budget a little further. They sound amazing, have active noise cancellation, and are comfortable to wear. However, it will set you back more than a thousand dollars, despite the fact that it only includes IPX2 and no Gaming Mode.
They may be more expensive, but you get your money's worth with the Nokia P3600, which has a similar soundstage and better features.
Where can I buy these from?
The Nokia P3600 wireless earbuds were originally priced at PHP 5,999, now for only PHP 5,699. You can get these earphones at Nokia's Personal Audio by RichGo online stores on Lazada, Shopee, and Facebook.
Nokia P3600 TWS Earbuds Review
Design & Comfort
Performance
Audio Quality
Battery Life
Summary
The Nokia P3600 (limited edition) is a significant upgrade over other models, with Clear Voice Capture (noise cancellation), aptX support, improved sound quality, long battery life, and a perfect fit.

They are, without a doubt, one of the best true wireless earbuds available. It's easy to recommend to anyone looking for a quality audio experience for music, conference calls, or gaming without breaking the bank.

Nokia E3101 TWS Review: Essentially impressive for the price
Is the Nokia E3101 a good pair of TWS earbuds for you?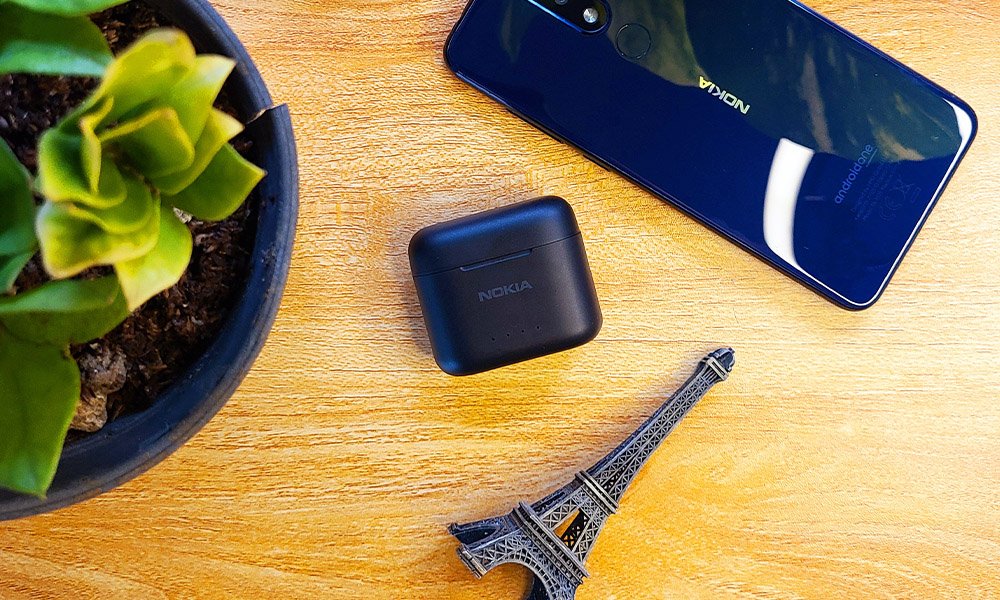 In the past, Nokia was a smartphone market leader. Not only that, but they've also helped launch a number of audio accessories and teamed with companies like JBL and Coloud. And they aren't newcomers when it comes to wireless headsets and earphones. Do you recall the Nokia Luna Headset or the Nokia Purity Headphones? Those were just amazing back then.
Since leaving the initial camp of smartphones, Nokia has begun to make efforts in the audio industry, specifically wireless earphones.
Wireless earbuds are a popular choice among individuals who want to take their music with them wherever they go, whether it's a quick stroll to the coffee shop or a daily jog around the block. There are plenty to choose from these days, and you may easily choose a pair that matches your personality.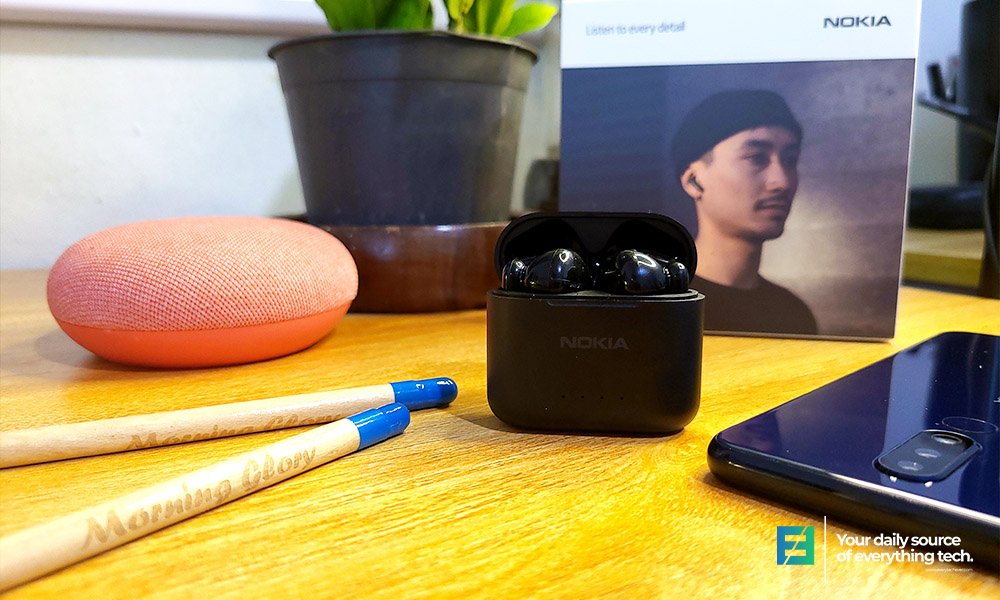 With so many headphones to pick from, it's difficult to know which are the best true wireless earbuds for you. It's even more difficult if you're on a budget because even the best inexpensive headphones won't have AirPods-quality audio or top-tier smart capabilities if their price is too low – yet you still want to know you're getting the most bang for your buck.
The Nokia E3101 TWS is the successor to the E3100, which was released in February. It is designed to be tiny and portable without sacrificing sound quality. Nokia RichGo stated that it was designed with signature acoustics to let customers hear the music "just" as musicians and artists intended. It is currently selling online via Shopee, Lazada, and RichGo Facebook shop for only 1,990 PHP.
Let's see if the Nokia E3101 lives up to our expectations.
What are true wireless (TWS) earbuds?
True wireless earbuds, for those unfamiliar with the term, are earphones that have no cables between them – neither to connect them to your music streaming device nor to connect them to each other. Each bud is a self-contained unit that communicates with its counterpart without the use of wires.
Nokia E3101 TWS Earbuds Specifications (click here)
Frequency Response
20 Hz to 20kHz
Transducer Principle
Dynamic
Transducer Size
13mm
Impedance
16?±15%
Microphone Principle
MEMS x 2
Power Supply
Built-in Lithium rechargeable batteries, 3.7V.
Left earbud: 40mAh
Right earbud: 40mAh
Charging case: 350mAh
Type-C charging via type-C socket of the charging case: 5V, 300mA.
Operating Time
5hrs (music playback via A2DP) with rechargeable batteries of the earphones* 20hrs with a rechargeable battery of the charging case*
Charging Time
Earphones: approx. 2 hours
Charging case: approx. 2 hours
Charging Case Input
USB-C
Ingress Protection (Earbuds)
IP44
Profiles
HSP,HFP,AVRCP,A2DP
Effective Range
Line of sight approx. 30ft (10m)
Transmission Frequency
2.402 MHz to 2.480 MHz
Output Power
5mW
Weight
Left earbud: approx. 3.4g | Right earbud: approx. 3.4
Nokia E3101 Unboxing experience
The Nokia E3101 is packaged in a straightforward manner. The earphones, charging case, and USB-C charger are all included in the E3101 box, however, no power adapter is included. We tested the device in black, which has a matte case and glossy earbuds that seem akin to other brands on the market.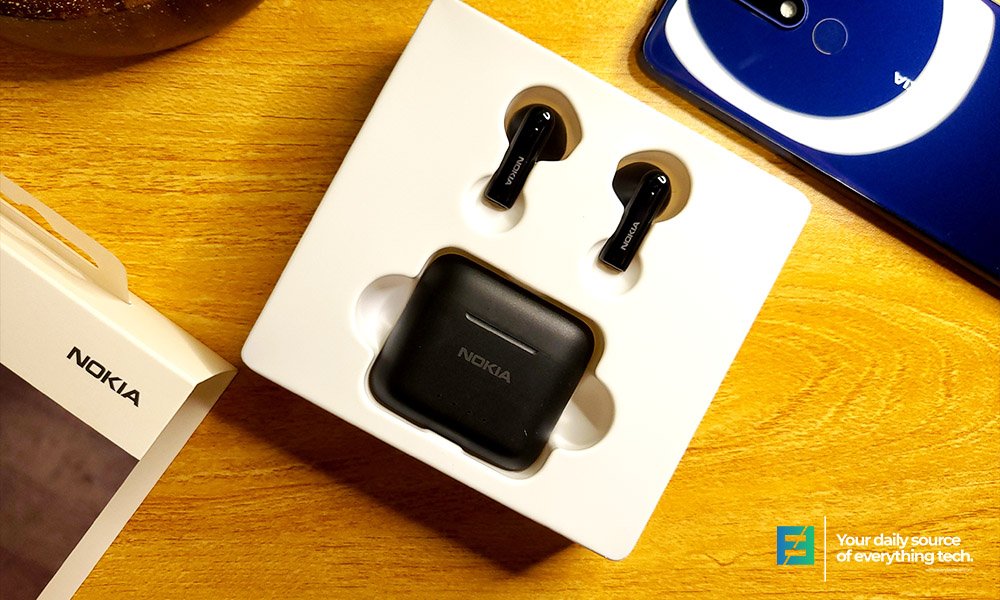 Underneath the plastic packaging is the product instructions and charging wire. The USB to Type-C data cable is around 30cm long and contains a USB connector. It may be charged by plugging it into laptops, desktop computers, charging ports, power banks, and other devices.
Familiar design, listen comfortably
The Nokia E3101 has a similar form to the Apple AirPods, except the headphone handle is shorter. It's easier to slip the flat charging case into your handbag or pocket.
The Nokia E3101 has an IP44 splash-proof construction, so rain or sweat won't stop you from listening to music, making calls, or working out. One of the earphones is accidentally dropped in flowing water, but it still works. Don't forget to wipe it down afterward.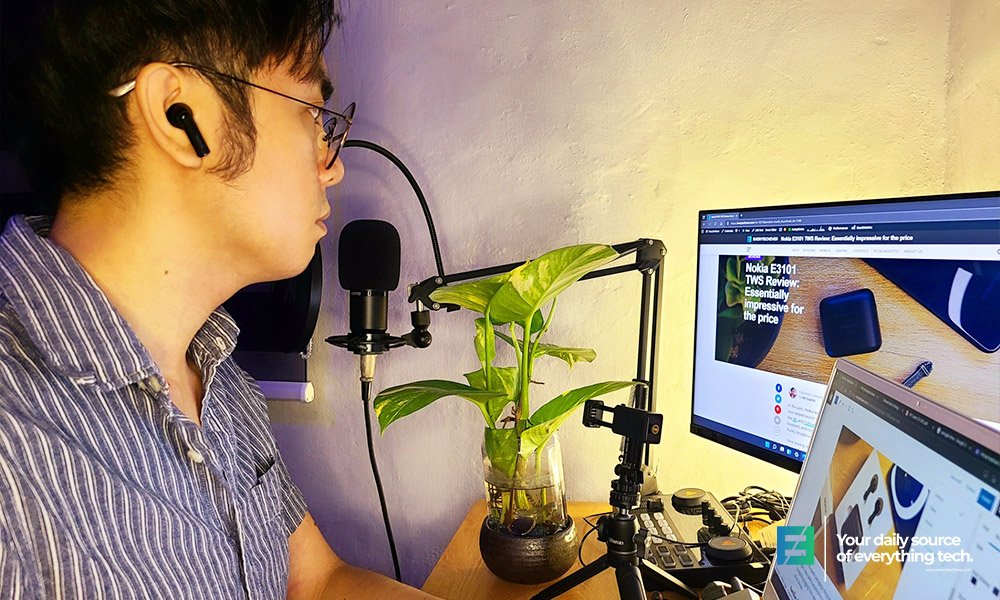 Music control with just a tap
Pausing, playing, and switching tracks were all quite smooth and easy to do with light taps. With the touch controls on the Nokia E3101 earphones, you may go forward or backward in your playlist while listening to music. To pause, tap once on either earpiece, twice on the right earbud to go to the next song, and once on the left earbud to play the previous song.
Additionally, if you press three times, Google Assistant and Siri will activate, allowing you to obtain directions, check your calendar, or make a call without having to pull your device out of your pocket.
Share it!
Dual hosts are supported by the Nokia E3101 handset. Regardless of the primary and secondary headphones, the left and right earphones can be used. You can share your music with a friend while walking apart or just wear one earbud at a time.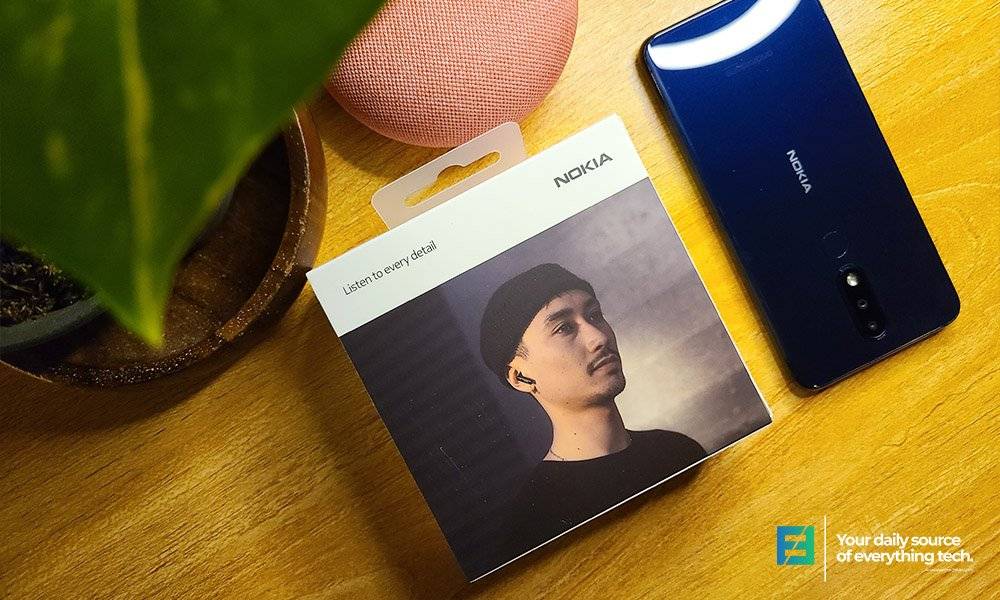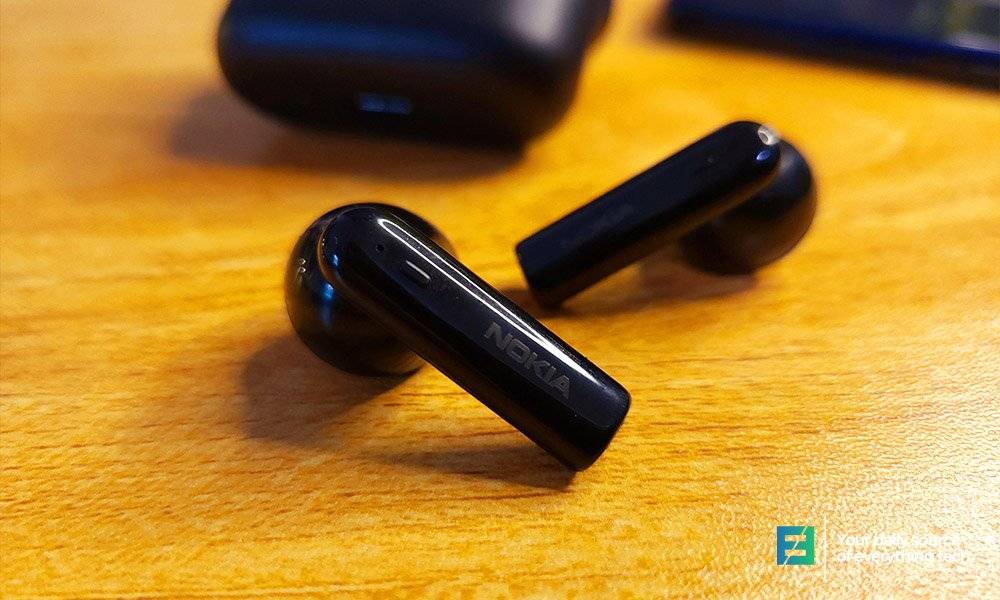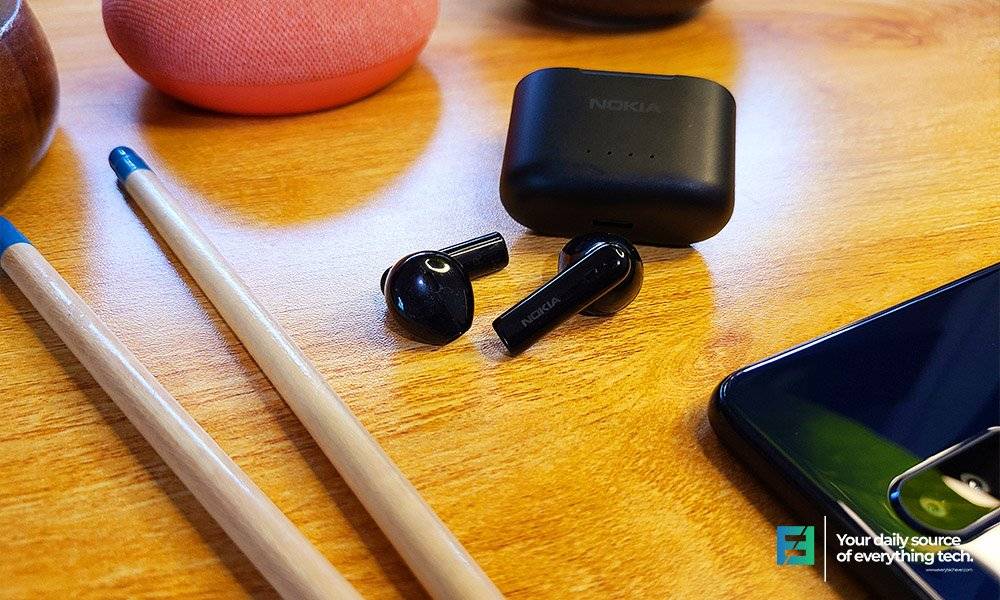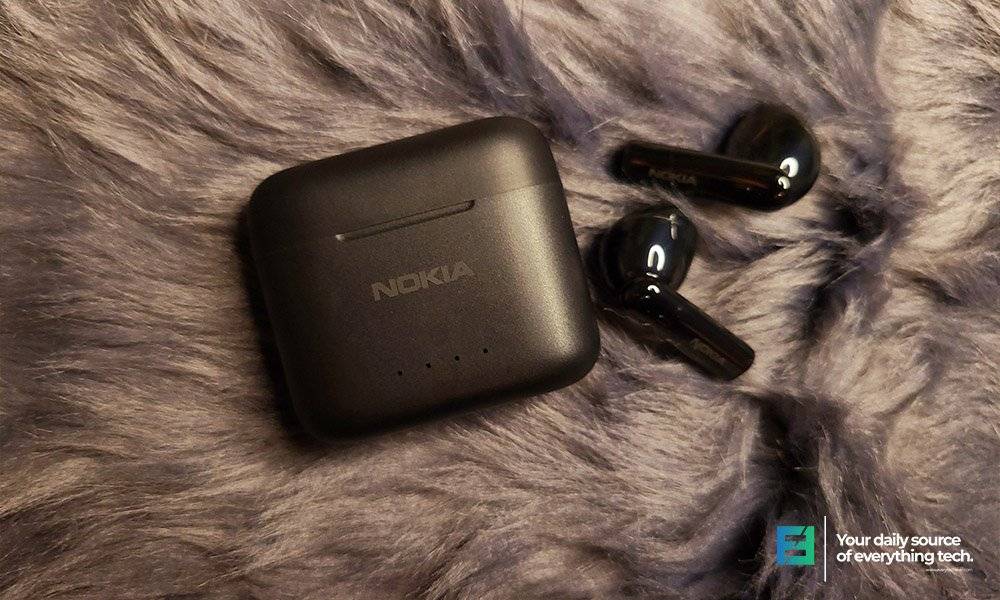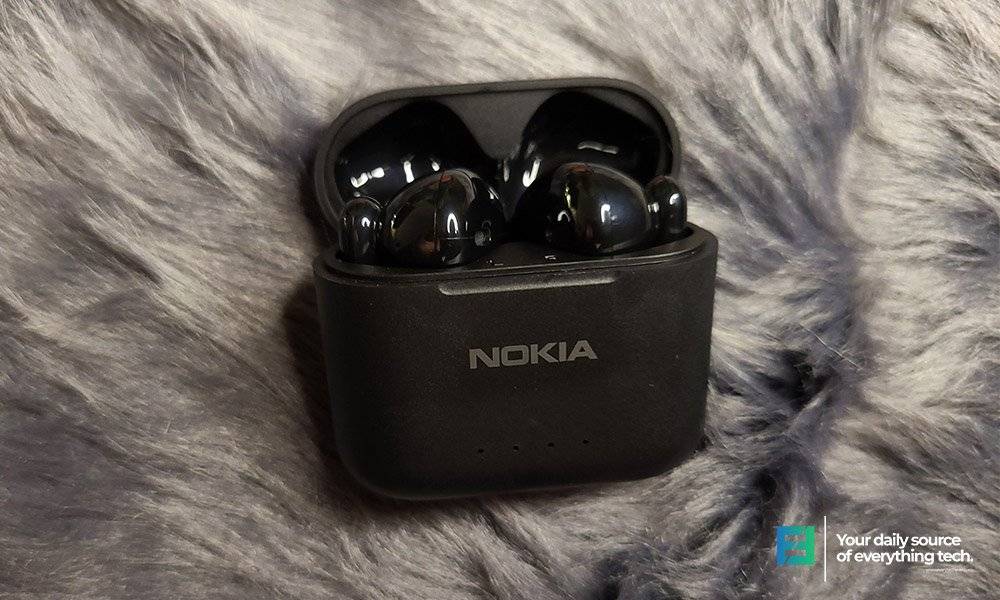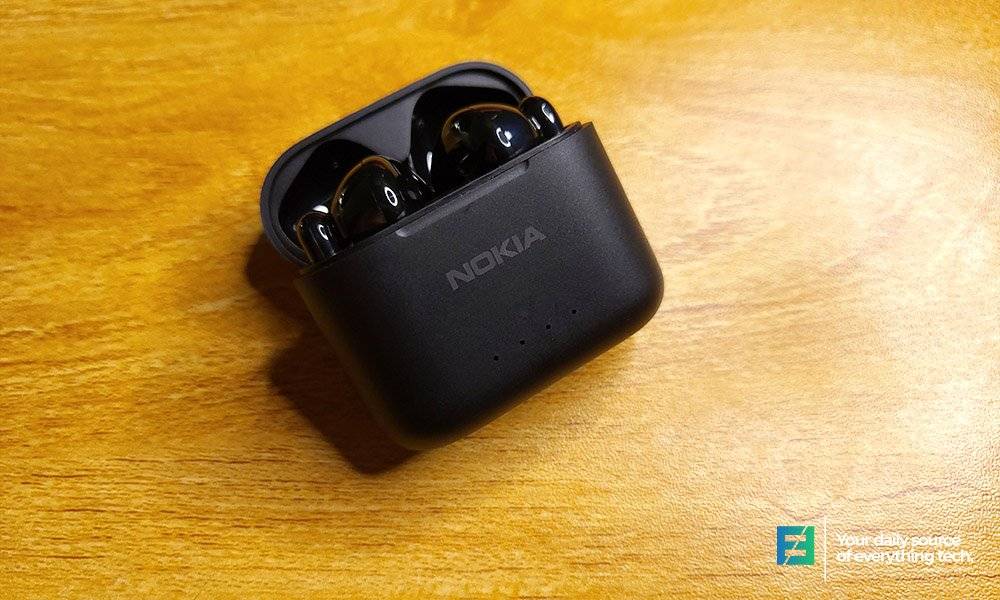 nokia E3101 design-11
nokia E3101 design-22
nokia E3101 design-33
nokia-E3101-fur
nokia-E3101-case-1
nokia-E3101-case
(swipe for more images)

Well balanced sound
Engineered with signature acoustics
The Nokia E3101 features signature acoustics to ensure that music is delivered precisely as expected. The size of the driver does affect audio quality; the larger the driver, the greater the bass. However, this isn't always the case. The ideal size for an earphone driver is between 8mm and 15mm in diameter, and the E3101 falls just in the middle at 13mm.
We were thrilled to see that the E3101 remained as sharp and balanced at the highest volume setting as it did at lesser settings. Most modern pop songs and acoustic recordings, as well as genres with more intense or instrument-laden sounds like pop, trance, country, or whatever musical genre fits your boat, will be no problem.
Fortunately, even at the highest level, we never experienced any cracking or artifacts. In terms of stereo sound quality, we put it to the test by playing LMFAO's "Party Rock Anthem" a 2011 Electronic Pop track famed for its mix Bb Instruments. We noticed that, given the price range, the separation and balance between left and right earphones worked quite well. Even in slow and strong ballads like Adele's "Easy on Me" or Taylor Swift's "Cardigan", the Nokia E3101 does not disappoint, with every word coming through crystal clear.
Even if it isn't perfect, the Nokia E3101 TWS produces a clear, balanced sound. Though the audio is clear, it lacks the depth and dynamic range that a more expensive model would provide. There's no denying that spending a little more on Samsung Galaxy Buds2 will bring you better sound, but when you consider that they're also more expensive than the Nokia E3101, the Nokia E3101 becomes an attractive option.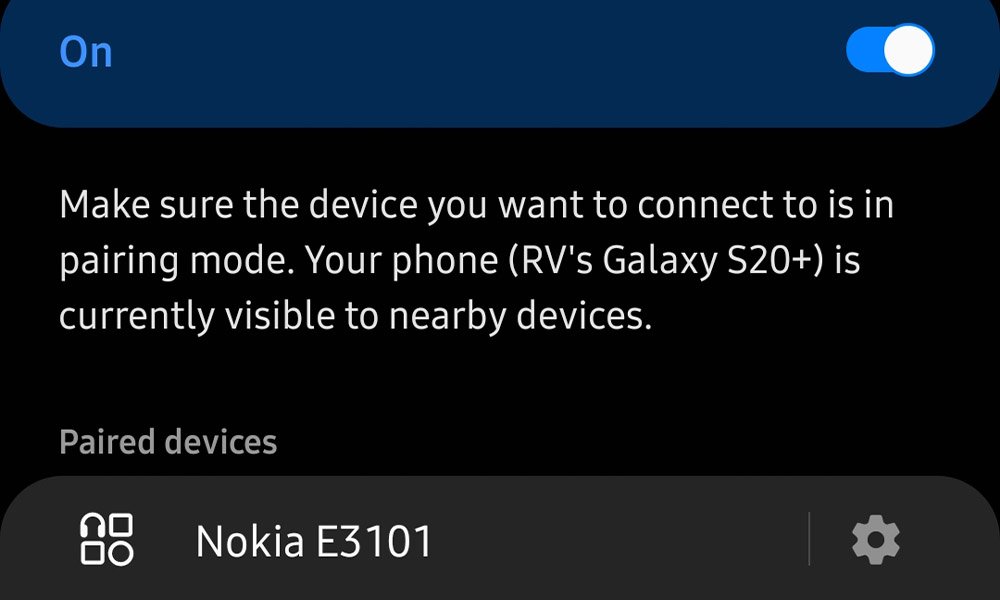 Microphone works great for normal calls and audio recordings
On both phone calls and video calls, the Nokia E3101 provides fairly clean audio input and output. Each of the buds has a single mic that does not enable ambient mode or active noise cancellation. This may be a difficulty for individuals making calls in noisy environments, but you can be assured that your speech will not have any grainy sound.
We were pleasantly impressed by the quality of the earphones for audio recordings: they were better than we expected, especially for this price range.
Earbuds on the go
The earbuds are rated to last 5 hours of continuous use, with the charging case allowing for an additional 3 charges, for a total of 20 hours of listening time in theory. Based on our tests, the Nokia E3101 delivered on its battery life guarantee.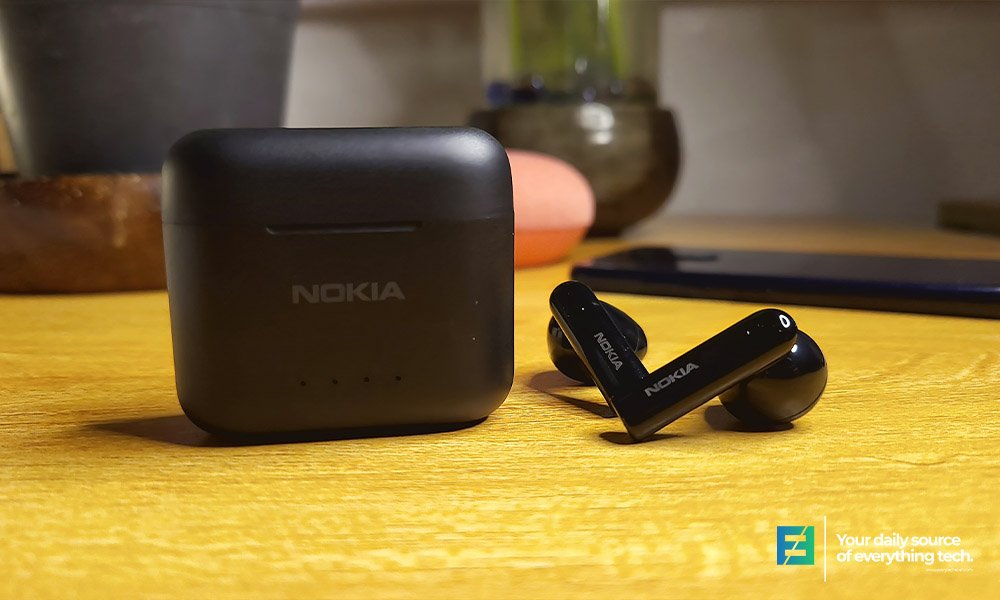 Verdict
The Nokia E3101 Wireless Earbuds are not the best choice for audiophiles who pay close attention to every nuance of sound. They're also not the best tools for musicians who need to be able to hear every vocal and instrumental nuance in a song.
The Nokia E3101 is primarily designed for users on a budget who want more. Despite the low price, it delivers more than it's worth. The device is great for people who don't want to spend a lot of money on headphones but still want a decent audio experience. They're a good choice for casual listeners looking for a balanced, consistent sound on their favorite music.
Other TWS earbuds, such as those from Xiaomi, Realme, or Huawei, are available, but you can trust Nokia's quality and reputation. Given its price range and all of the essentials, the Nokia E3101 is easy to recommend.
Nokia E3101 TWS Earbuds Review
Design & Comfort
Performance
Audio Quality
Battery Life