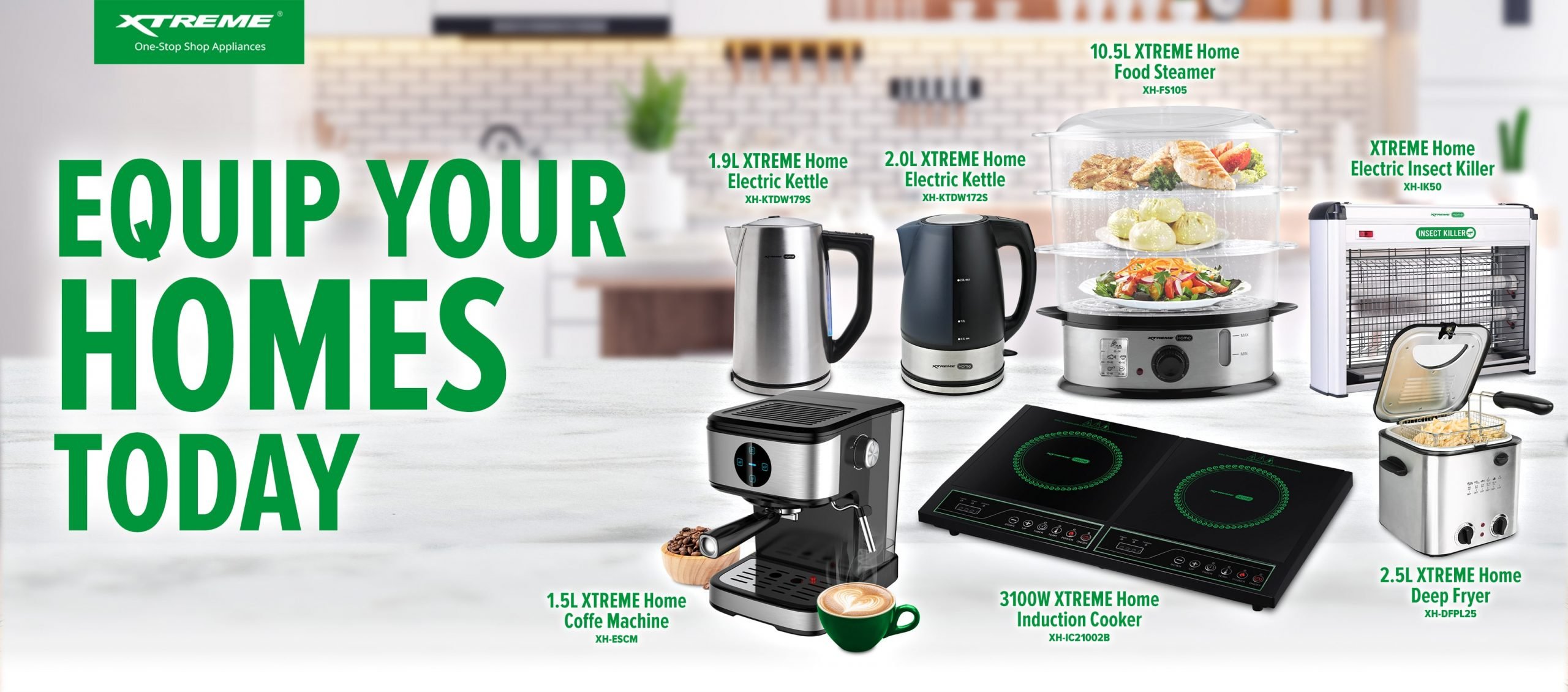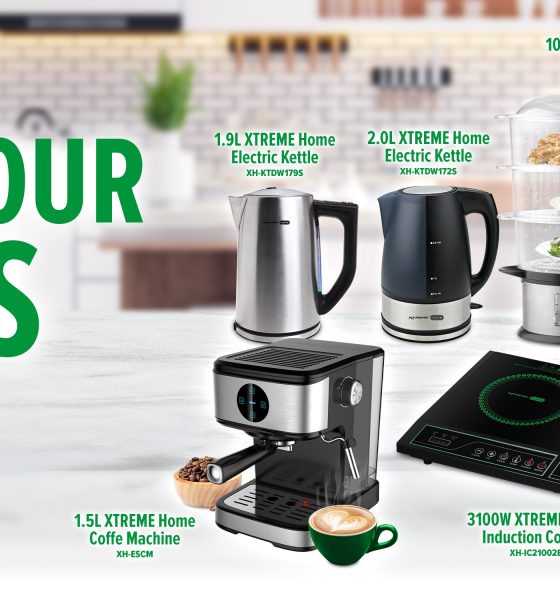 Equip your homes with XTREME Appliances' newest products
Xtreme new products will make your monsoon more productive!
As the country shifts to rainy and cold weather, most Filipino households are now preparing how to keep their homes perfectly fit the indoor mood. While the cold and gloomy weather is still far from over, might as well consider rain-proofing your homes with extra comfort, security, and readiness. XTREME Appliances, the country's leading one-stop-shop appliance brand, just introduced new products that will make the monsoon season bearable and sustainable.
Stay warm and cozy with these useful and practical appliances that are truly must-haves these monsoon days.
Insect Killer
Everyone wants pest-free homes, stress-free nights, and less itchy days this rainy season. This XTREME Home Insect Killer (XH-IK50) doesn't use any chemicals to do its job, making it safer to use inside your households. One of the best things about this product is its minimal power consumption — a practical option if you want to use it overnight to ensure the family's safety from pests and insects. For only P1,095, you can now have worry-free nights and safer households.
Coffee Maker
Rainy days call for a hot cup of coffee while watching your favorite Netflix show. If you're looking for a perfect cup of hot caffeine, the 1.5L XTREME Home Coffee Machine (XH-ESCM), priced at P3,735, is perfect for you! It has a Touch Panel Control and a combination of black and stainless steel finish that make it sleek and modern-looking. Moreover, you don't have to worry about overheating — thanks to its Overheating and Overpressure Protection device.
Deep Fryer
While we stay at home in this cold weather, our fried food cravings will never cease. To satisfy your good old-fashioned fried food cravings, this 2.5L XTREME Home Deep Fryer (XH-DFPL25) has an anti-slip base which makes it safer and hassle-free to use. Not to mention, it has a stainless steel housing and enamel coating oil tank which is easy to clean and maintain.
Electric Kettles
Electric Kettle has always been one of the best ways to heat water for your favorite hot drinks. The newest XTREME Home Electric Kettles provide a quick and easy way to warm up the water but with minimal power consumption. For only P1,995, the 1.9L XTREME Home Electric Kettle (XH-KTDW172S) boasts a stainless steel housing and has 6 Preset Heat Settings that let you set a precise temperature depending on your needs.
On the other hand, the 2L XTREME Home Electric Kettle (XH-KTDW172S), priced at P895, has a concealed heating element — thanks to its matte plastic housing.
In case you forgot to put water, both electric kettles have Boil-Dry Protection with Auto Safety Shut Off feature. Moreover, these new units are equipped with a removable scale filter that maintains the cleanliness of the water while boiling.
Food Steamer
Are you looking for an appliance that you can use to quickly and efficiently cook food? For only P1,695, this XTREME Home Food Steamer (XH-FS105) might be the perfect answer for you! It has a large capacity of a 10.5L steam basket that lets you place an impressive amount of food to be cooked. This quick boiling food steamer has a 60-minute timer and automatic shut-off feature for hassle-free cooking.
Induction Cooker
During rainy days, cooking your favorite soup dish would be a great way to warm up our bodies. The new 3100W XTREME Home Induction Cooker (XH-IC21002) allows you to cook two dishes at the same time. For only P3,995, this is good for people who are living independently in a condo or apartment. One of the most important advantages of having an induction cooker at home is the safeties. This induction cooker recognizes when a pan is in place through its Automatic Shut-Off feature — minimizing the risk of burns and accidents.  
To keep updated on the latest news and happenings of XTREME Appliances, like and follow them on Facebook, Twitter, Instagram, TikTok accounts and join their official online community on Facebook, XTREME Appliances Fam. For the full list of products and exclusive discounts, please visit XTREME on Website, Lazada, and Shopee e-commerce.

Sharp celebrates its 40th Anniversary with 10M mark of washing machine
Sharp released a special edition Ruby  Red washing machine model.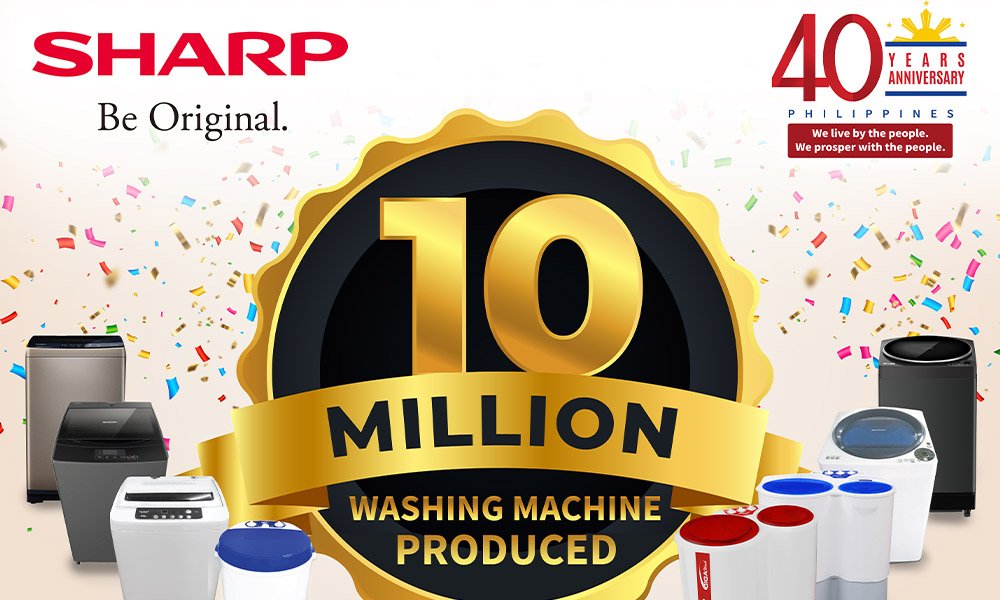 In its 40th anniversary celebration, Sharp Philippines marks its 10th Million production in the washing machines, as it continues to provide ease of comfort and a reliable partner to every Filipino household. With Sharp's commitment to producing advanced products such as its washing machine, the company stays true to its values of sincerity and creativity.
"As our Anniversary motto goes We live by the people, we prosper with the people, we will continue to provide innovative products that will make life comfortable and convenient" shared Sharp Philippines President and General Manager, Mr. Kazuo Kito. Sharp also believes in the capabilities of Filipinos in terms of local production. "The Philippine market is very unique in many ways that is why Sharp continues to strengthen and expand its local production to deliver products that are built with Japan Technology and fits the Filipino needs and lifestyle", added Mr. Kito.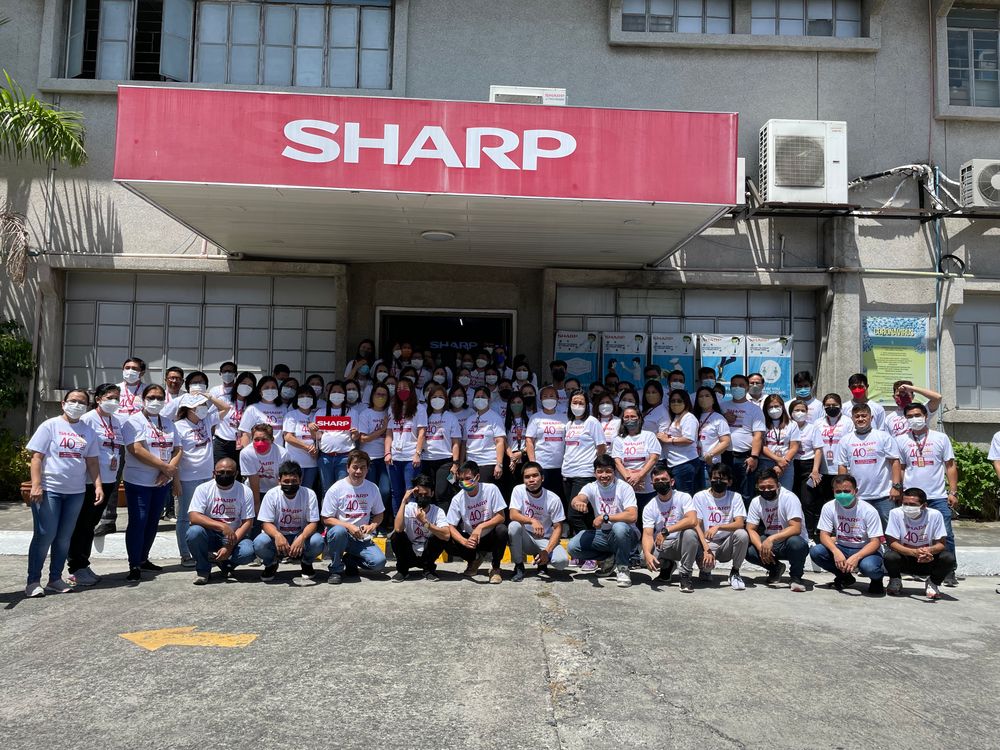 With the growing demand for more quality time and the increasing cost of utility bills in many Filipino households, Sharp started its washing machine production line in 1987 with the objective of assisting Filipinos with their everyday struggles. More than just serving the purpose, Sharp continued to find new ways to manufacture energy-efficient products. In fact, Sharp re-invented traditional washing methods with their single-tub flip top-basin washing machine cover which is now being patronized by many Filipinos.
As Sharp celebrates its 40th anniversary this year together with hitting the 10th million mark in its washing machine production, Sharp released a special edition Ruby Red washing machine model: ES-40TH85T(RD) (8.5 kg.). This model has a ruby red colored lid cover that is unique from its current washing machine colors available in the market. Moreover, this model also has 2 years extended warranty service.
For this special occasion, 40 lucky winners for each monthly raffle draw will win Sharp appliances with its newly announced 'Buy, Register, & Win' promo. All customers who will purchase the Ruby Red washing machine will get a chance to be part of the monthly raffle draw and will get a chance to win prizes. Each customer should register proof of purchase on the warranty section on the Sharp website. Once successfully registered, it will automatically qualify the customer in the raffle draw to which winners will be contacted and announced on Sharp's Facebook page. The raffle promo will run from March to May 2022.
The brand remains to be one of the tops in market share for washing machines in the Philippines and was also awarded as the 'Most Trusted Brand' of washing machine by Reader's Digest for 11 consecutive years. Truly, Sharp will continue its commitment to delivering comfort, convenience, and innovation for the years to come, and is looking forward to achieving another milestone in the future together with its valued customers.
"We promise to continue our goal of becoming every household's reliable partner in their daily lives creating a satisfied and unforgettable journey to every customer all over the country", concluded Mr. Kito.
Level up your household experience with Deerma best sellers
Enjoy up to 75% off this March 15 at the Deerma Official Store on Shopee!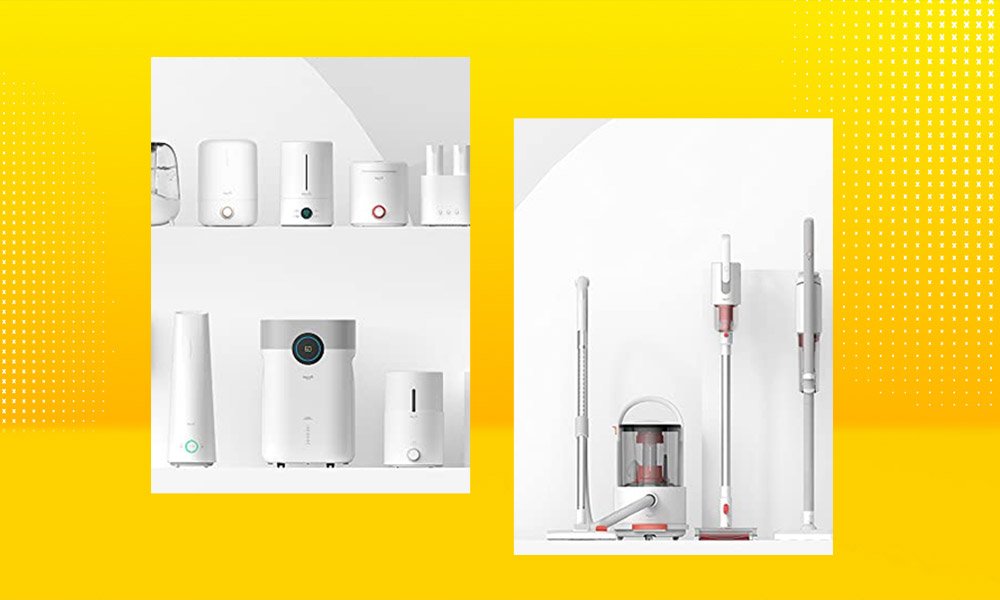 Home appliance shopping isn't as straightforward as picking out some new decor for your home. You can't just stroll into a store with a cooking range and demand a replacement like you can with a rug or a lamp.
Consider it this way: appliances are more of financial investment. It, like any other major purchase, necessitates careful research and consideration of your lifestyle. To assist you, we've compiled a list of best-selling products that can improve in doing household tasks such as cooking and cleaning with Deerma. Apart from that, you can enjoy up to 75% off at the Deerma official store on Shopee this Shopee 3.15 Consumer Day!
Cleaning made easy
The era of cordless vacuum cleaners is here, and the days of hauling a bulky and inconvenient corded vacuum from outlet to outlet are over. The best cordless vacuums are also adaptable: they can clean a variety of surfaces, from hardwood to thick carpet, and they frequently include useful attachments to assist with household duties. If you had to choose between a big, cumbersome machine that weighs a ton and a little, powerful vacuum that you can carry around with one hand, you'll almost certainly choose the latter.
The Deerma VC80 and EX919 Vacuum Cleaners will prevent you from being agitated every time your vacuum cable catches on your furniture or door frame, allowing you to clean without fuss.
Deerma VC80 Vacuum Cleaner
Deerma VC80 Strong Suction Vacuum Cleaner is the brand's first vacuum cleaner to include a smart interactive panel. It can effectively remove dust thanks to a new generation of brushless motors and high suction power equal to that of four vacuum cleaners. Its dust cup may be readily emptied by pressing a button. Users can clean their homes without having to worry about tangled wires or losing power thanks to the cordless feature and 55-minute battery life.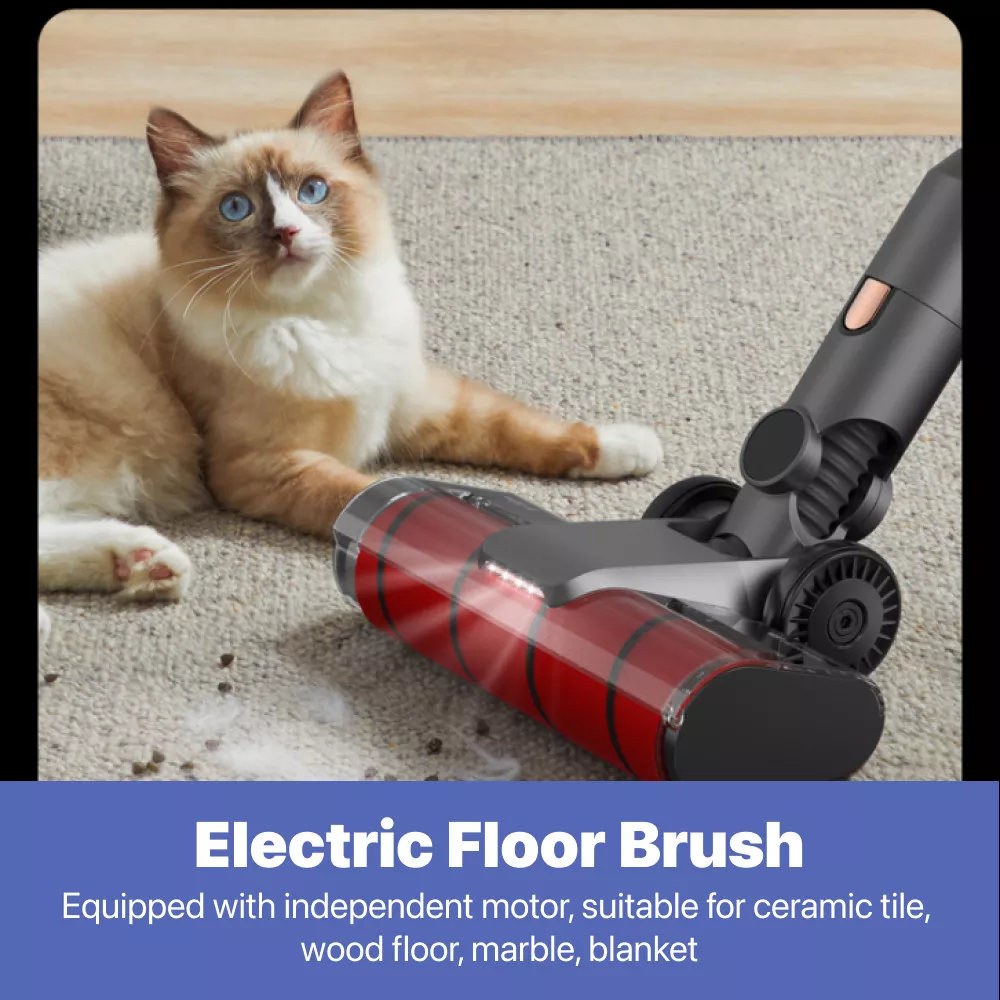 Deerma EX919 Vacuum Cleaner
The Deerma EX919 Dust Mite Vacuum Cleaner Remover With UV Light And HEPA Filter is an ultra-portable vacuum cleaner that has a UV light that kills mites and eggs that a standard vacuum cleaner can't get rid of. It kills mites instantly by producing hot air, and its tremendous suction ensures that they are removed from your sofas and mattresses.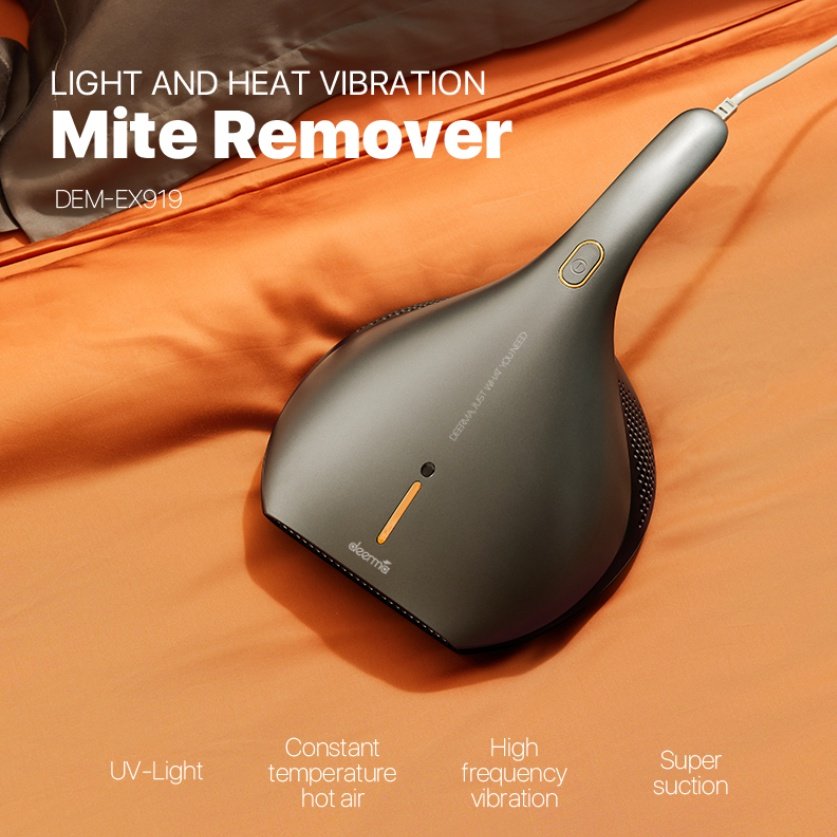 Do you get tangled up with your vacuum cleaner? Do you find yourself tripping over cords and looking for plug sockets all the time? If that's the case, a cordless vacuum cleaner could be the answer. It's about time to level up and choose any of Deerma's cordless vacuum offerings!
Cooking is love!
Not everyone is fortunate enough to have their family or housemates with them throughout the lockdown. Cooking for oneself can be a tremendous task for people who are alone at home, under quarantine, or even a healthcare professional living alone to protect their family. A solo dinner requires about the same amount of preparation and cleanup as a meal for two or more people. Because of this, the Deerma DG20 and DG25 Multifunctional Cookers are fantastic finds!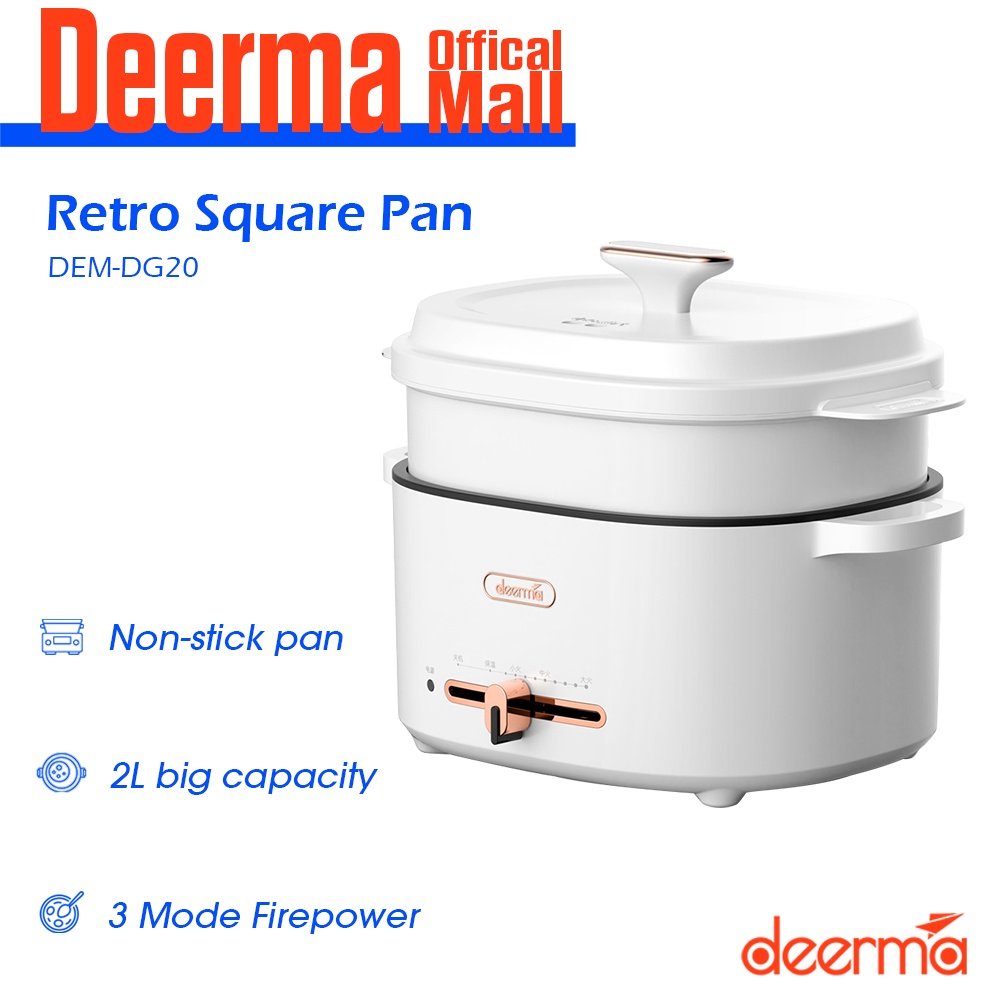 Deerma DG20 Multifunctional Cooker
The Deerma DG20 Multi-function Cooker Hot Pot 2L will give your kitchen a retro feel with its square-shaped design. Its 75mm deep pot design allows you to cook large meals and provides 4 different settings (Steam, boil, rinse, fry). Its non-stick pan makes it easy to clean after you cook your favorite meals.
Deerma DG25 Multifunctional Cooking Pot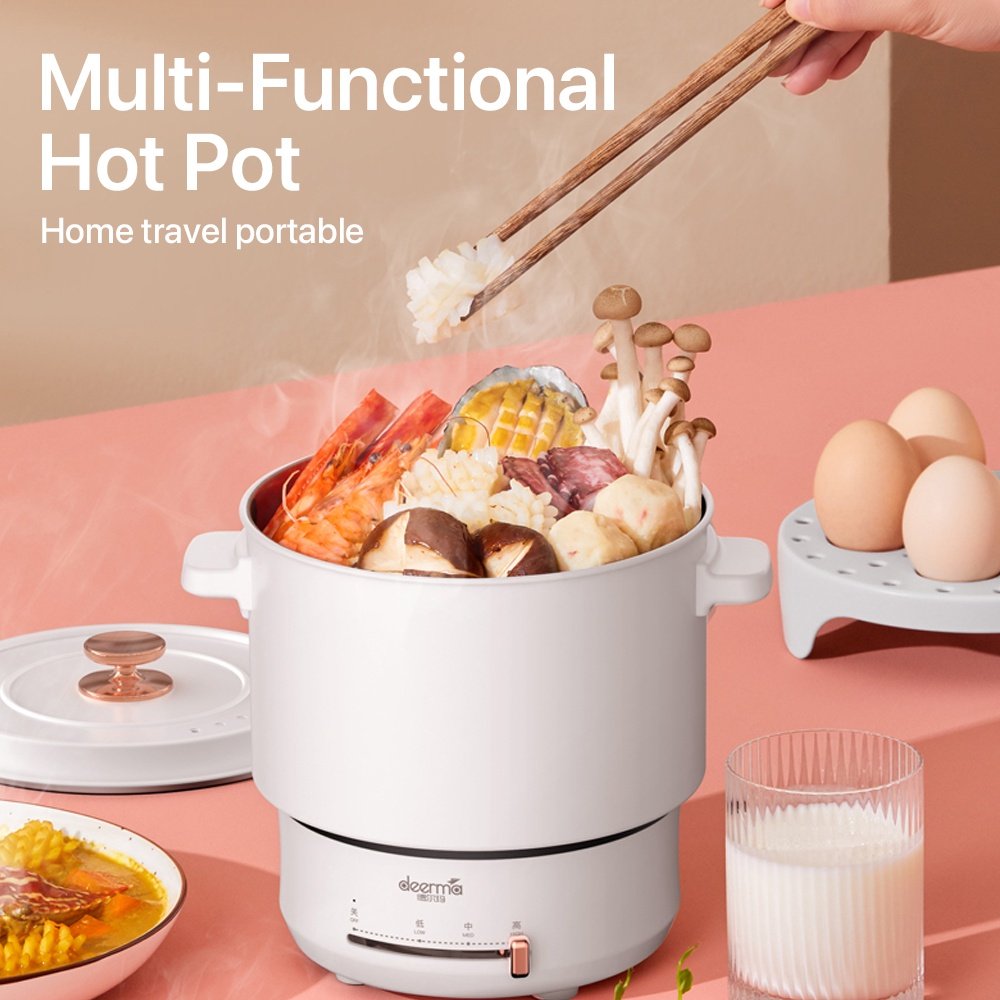 The Deerma DG25 Multifunctional Cooking Pot 500w 1.5L is a versatile and portable cooking pot with three cooking modes: cook, steam, and fry. It's easy to tote along and clean up after every road trip thanks to its portable design and nonstick frying tray.
Both the Deerma DG20 and DG25 are multi-functional cookers that are ideal for studio apartments, small rental rooms, or those without access to a kitchen because they are small, portable, and easy to clean. You can fry and boil with a dual cookware system. We like how the pot and nonstick frying pan can be stacked and used as a take-out container, perfect for everyone, even beginners. 
Great deals from Deerma
Celebrate you and treat yourself with your favorite brands at Shopee's 3.15 Consumer Day. From March 3 to March 15, check the Shopee app and enjoy an all-out shopping experience with deals and discounts such as P0 min. spend, P1 Deals, and 10% off daily.
Xiaomi Smart Appliances make the healthy home easy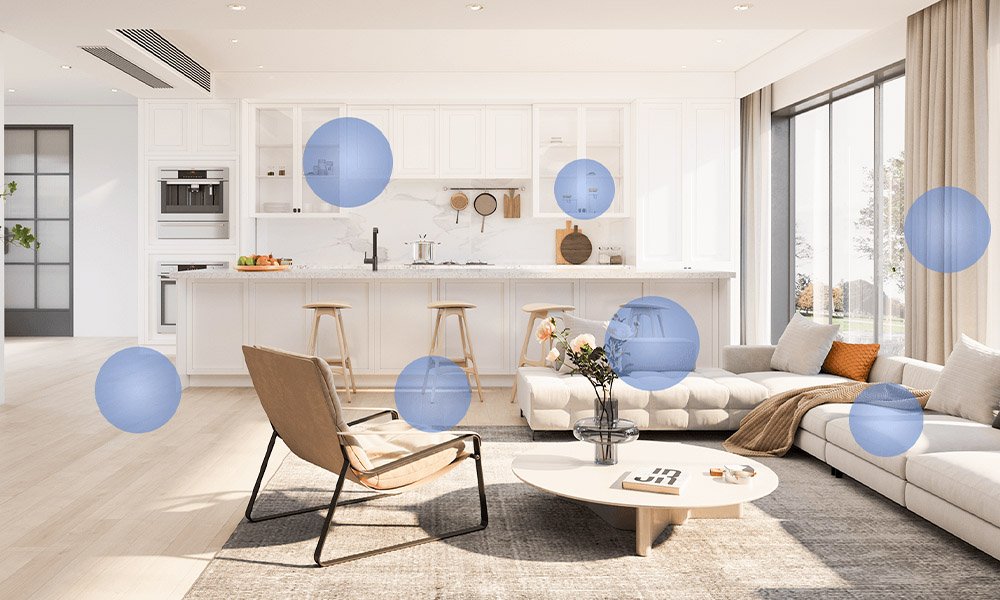 Having a clean and healthy home environment has never been easier with the help of these recently launched smart appliances from Xiaomi, the Smart Air Purifier 4 Series, and the Robot Vacuum-Mop 2 Series.
Get to know more about these new offerings that will help you maintain a home that can keep your loved ones healthy and protected at all times.
Breathe healthier with the Xiaomi Smart Air Purifier 4 Series
Get cleaner, fresher indoor air with the new Xiaomi Smart Air Purifier 4 series that can remove common harmful gases, odor, and other air particles in your home. Xiaomi upgraded its widely-acclaimed Xiaomi Smart Air Purifier Series with three new variants – Xiaomi Smart Air Purifier 4 Pro, 4, and 4 Lite.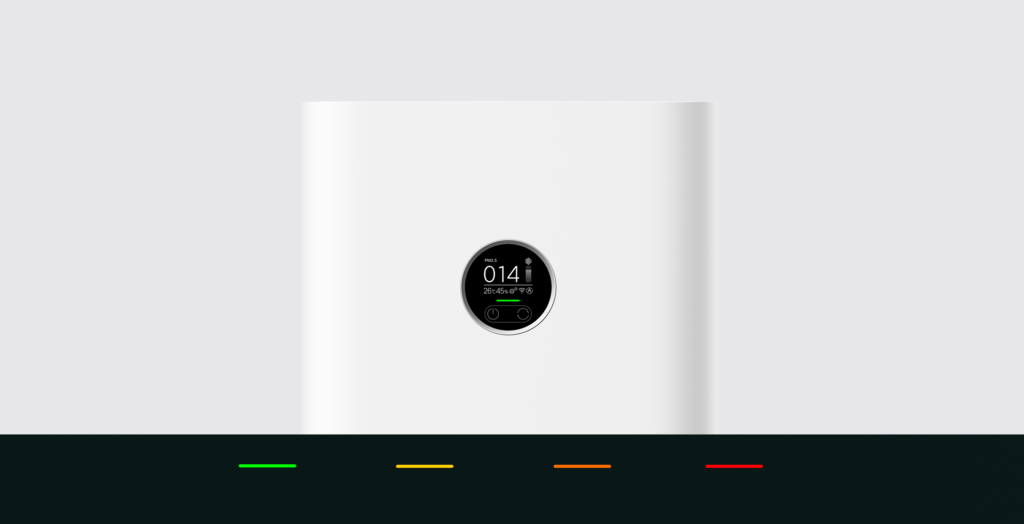 All variants feature a 3-in-1 filtration system that includes a primary filter, Xiaomi's High-Efficiency Filter, and a high-quality activated carbon filter to trap 99.97% of air pollutants as small as 0.3 microns, which is ideal for homes with many family members to ensure all your loved ones get the freshest air. Their sleek design. The series is equipped with a crisp OLED touch display that enables easy viewing of AQI, temperature, and humidity statistics at a glance, as well as quick adjustments with only a few clicks to maximize efficiency for hard-working busy individuals.
The top variant, the Xiaomi Smart Air Purifier 4 Pro, has a large effective coverage area of 60m² and can purify a living room of 40m² in approximately 15 minutes. The Smart Air Purifier 4 features a low-noise nighttime running mode at only 32.1dB(A) to ensure seamless integration with users' modern homes and lives, while the Smart Air Purifier 4 Lite will easily fit into your home with a body taking up an area size that almost equals to an A4 paper while having a large coverage area of 25-43m² effective coverage area.
The Air Purifier 4 Pro, Air Purifier 4, and Air Purifier 4 Lite retails for Php 11,999, Php 8,999, and Php 6,999 respectively.
Convenient cleaning with the Xiaomi Robot Vacuum-Mop 2 Series
Always come home to a clean home with the new and improved Robot Vacuum-Mop 2 series that comes in three new variants – the Vacuum-Mop 2 Pro, Vacuum-Mop 2, and Vacuum-Mop 2 Lite.
The Vacuum-Mop 2 features an upgraded pressurized mopping for more effective mopping and efficient cleaning wherever you live. It has a 2700Pa powerful suction for persistent, powerful, and instant cleaning. It can clean areas of up to 150 m2 in one pass as it is equipped with a large 3200mAh battery and can clean for up to 110 minutes. For vacuuming and mopping, it has a Japanese NIDEC brushless motor for consistently strong suction power to effectively remove anything from tiny dust and hair to large crumbs and debris, while its super-dense 0.1mm fibre main brush can easily reach corners and gaps between floorboards. It has a 550 mL High-capacity dustbin and 250mL smart electronically controlled water tank that allows it to last longer and cover more areas.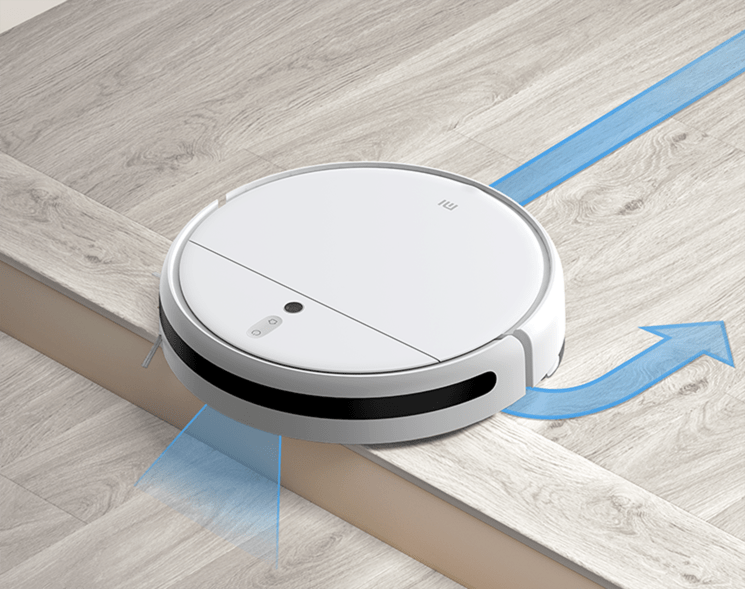 The Robot Vacuum-Mop 2 Pro can do this and more with its LDS radar rangefinder and its ability to map multiple floors of your home. It is a highly efficient cleaning partner as it is capable of vacuuming up large particles of dust and debris from crevices with its 3000Pa suction that also has 3 vacuum-mop modes and 4 suction power settings. It also has a high-frequency sonic vibration mopping at 10,000 vibrations per minute to power clean even stubborn stains.
Lastly, the Robot Vacuum-Mop 2 Lite has an 81.3 mm slim design to reach under most furniture including beds, cabinets, and sofas, eliminating dirt hiding underneath, without getting stuck. It also has 25 high-precision sensors and Gyroscope & Visual-aided NavigationPrecise capture of your house layout so it can easily clean your home and a larger 270 mL large-capacity water tank that has an electronically-controlled water pump with 3 water level settings.
The Vacuum-Mop 2 Pro, Vacuum-Mop 2, and Vacuum-Mop 2 Lite are available for Php 17,999, Php 11,499, and Php 7,999 respectively.
Cleaning Control at Your Fingertips
If you are a busy individual, you are in luck!  The  Xiaomi Smart Air Purifier 4 and Mi Robot-Vacuum Mop 2 series can be controlled through the Xiaomi Home App to save more time and energy, giving you one less thing to worry about so you can focus on other daily activities. Through the app, users can control the device remotely, allowing them to easily schedule routines and behavior, set up automation with other IoT devices, allow Google Assistant and Amazon Alexa for easy voice commands, and more.
The Xiaomi Smart Air Purifier and Vacuum-Mop 2 Series are now available in the Official Xiaomi Lazada store and authorized Xiaomi Stores nationwide.