Shopee announces the largest Holi-deals Gift Guide!
From gadgets to personal care, discover gift sets for everyone on your Christmas list.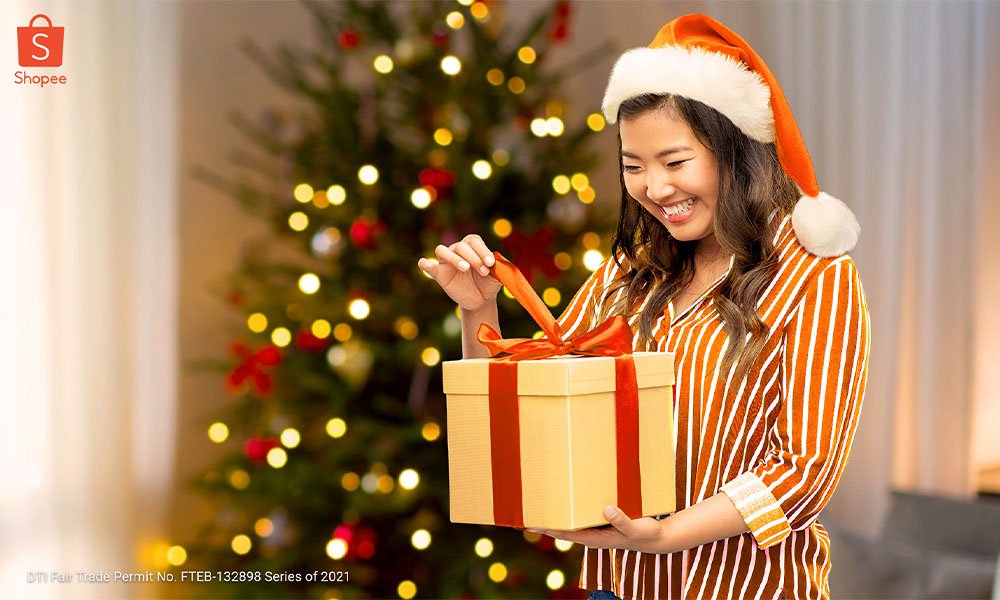 Finding the perfect gift can be daunting. If you're having difficulty choosing the best presents, why not try getting them a gift set instead? Gift sets allow us to give our loved ones meaningful presents with multiple products that revolve around their interests, making them feel more special and well-thought-out.
Whether they're into gadgets, skincare, fitness, or food, Shopee has gift sets that cater to everyone on your Christmas list. These items are available at amazing prices until December 15! For branded gift sets that won't break the bank, check out Shopee's Holi-deals Gift Guide:
Your WFH colleagues will put the Goojodoq iPad Case, Keyboard, & Mouse to good use. The waterproof and shockproof leather case protects devices from bumps and falls, while the Bluetooth keyboard and mouse make it easier to type and multitask.
Remind all your outdoorsy pals to stay safe on the road with LUEASPY Mountain Bike Helmet. The padded design enhances comfort and sweat wickings, and its large front air inlet improves airflow and keeps the head cool. This helmet, which also comes with matching sunglasses and a protective scarf, is available for only less than ₱1,000.
This Bio-Science Holy Grail Mini Set makes the perfect gift for skincare newbies looking to build their daily routine. These products, specially formulated for Asian skin, are infused with nourishing ingredients such as Vitamin B5 and hyaluronic acid to lend a healthy glow and combat premature aging.
Give the gift of a radiant glow with this Maxi-Peel Exfoliant Fluid Set. This exfoliant penetrates every layer of the skin, helping to eliminate pimples, blackheads, and other blemishes, minus the redness and peeling.
Anyone on your Christmas list would love this jam-packed hamper! RFM Christmas Gift Box contains goodies for noche buena and more, with spaghetti, tomato sauce, elbow macaroni, milk, and champorado mix for just ₱320.
The Face Republic Colors of Bloom set is a must-have for fresh and natural everyday makeup. Makeup lovers can complete their look with BB cream, sun tint, lip tint, makeup remover, and compact mirror.
For the foodie who misses traveling, put a creative spin on the classic Christmas basket with this Grocery Package and treat them to flavors from all over the world! This Christmas Grocery Package offers a spread of Indonesian, Indian, and Thai flavors such as mi Goreng, kecap manis, tandoori tikka, and kaang kiew wan.
This stunning Opal Dinner Set and Dish Rack is the perfect gift for home decor enthusiasts and newlyweds moving to their starter homes. These thin and lightweight plates, made of tempered opal glass, are dishwasher- and microwave-safe. Their decorative patterns make them perfect for intimate holiday celebrations or dinner dates.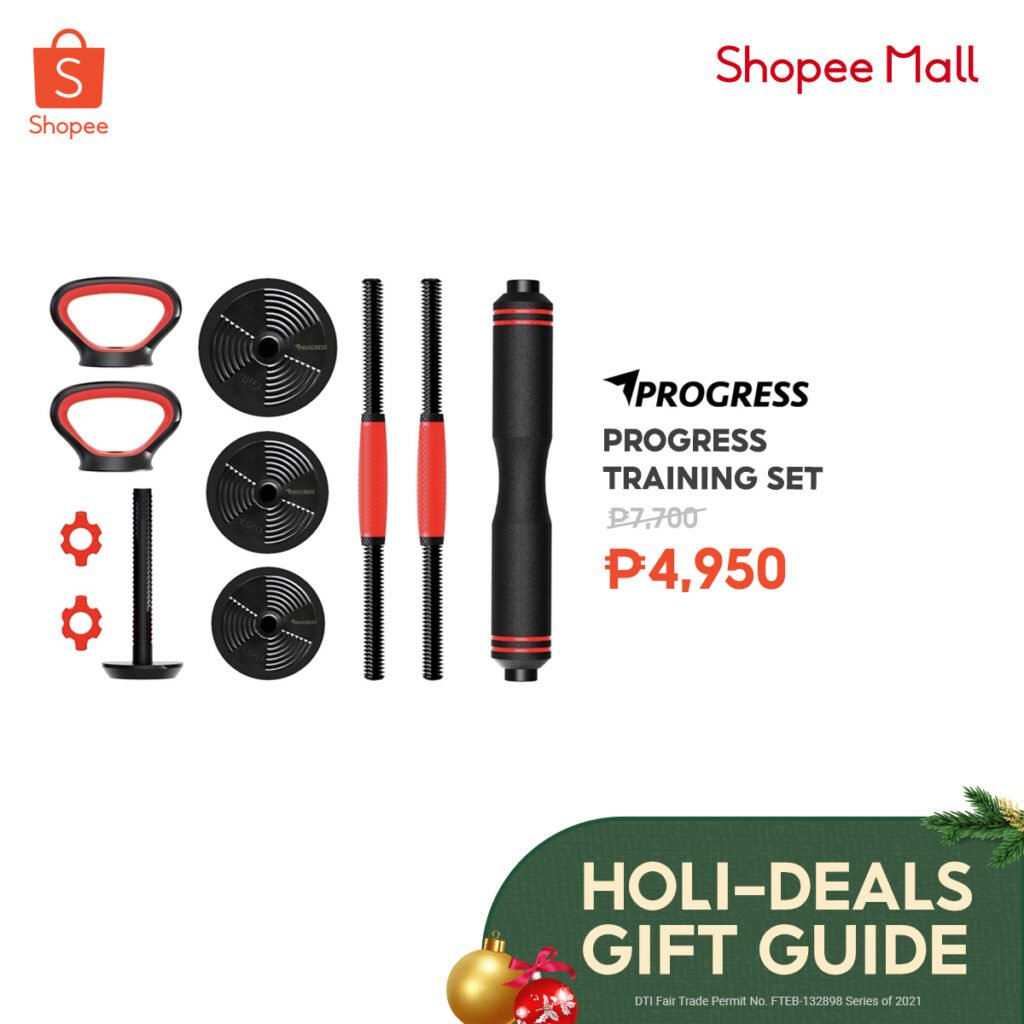 Fitness buffs can keep themselves toned with Progress Training Set. This all-in-one multifunctional 40kg set can be used in four different ways, depending on your workout and target muscle group: dumbbell, barbell, kettlebell, and push-up stand.
Discover more Christmas gifts here.
Looking for more ways to stretch your holiday shopping budget? Use ShopeePay, Shopee's all-in-one e-wallet, to get daily free shipping and cashback vouchers for your purchases. If you don't know what to give your loved ones, why not pay for their next Shopee purchase? With ShopeePay, you can send money to any ShopeePay user for free, and personalize your transfers with a themed virtual card!
You can also use ShopeePay beyond your shopping needs. Buy load at up to 10% off from all networks or get up to 25% cashback on your monthly bills from participating billers such as Meralco, Maynilad, PLDT, Globe, Smart, Manila Water, and Converge. Gamers can also get 25% off on games from Razer Gold, Steam, and Game Club.
If you need to stock up on groceries or have a needed food trip, get big savings when you avail ShopeePay ₱1 Deals via 'Deals Near Me' on the Shopee app. Redeem your discounts by paying with ShopeePay at partner merchants such as Potato Corner, Puregold, Bonchon, Papa John's, Familymart, The Generic Pharmacy, Shawarma Shack, Tapa King, Plains & Prints, Timex, and Watch Republic.
And if you're looking for the ultimate get-away experience this holiday season, how about a staycation? Now, you can also book hotels with ShopeePay! Get 20% cashback on all your hotel bookings, including EstacioUno Boracay, Sea Wind Resort Boracay, White House Beach Resort Boracay, Mithi Resort, and Spa Bohol, and White Breeze Palawan. To add to that, you can score up to 50% off on selected hotels.
Make sure to activate and cash in your ShopeePay Wallet to avail of these exclusive deals and more! Now, you can also enjoy free cash-ins and bank transfers with ShopeePay via InstaPay; get up to ₱25 cashback on your InstaPay fee when you cash in. Buy Load Pay Bills, and Scan to Pay with ShopeePay for a rewarding cashless experience!

Best OPPO deals to check out at 8.8 ShopeePay Festival
Get up to 50% off when you check out select new products from OPPO this 8.8 ShopeePay Festival!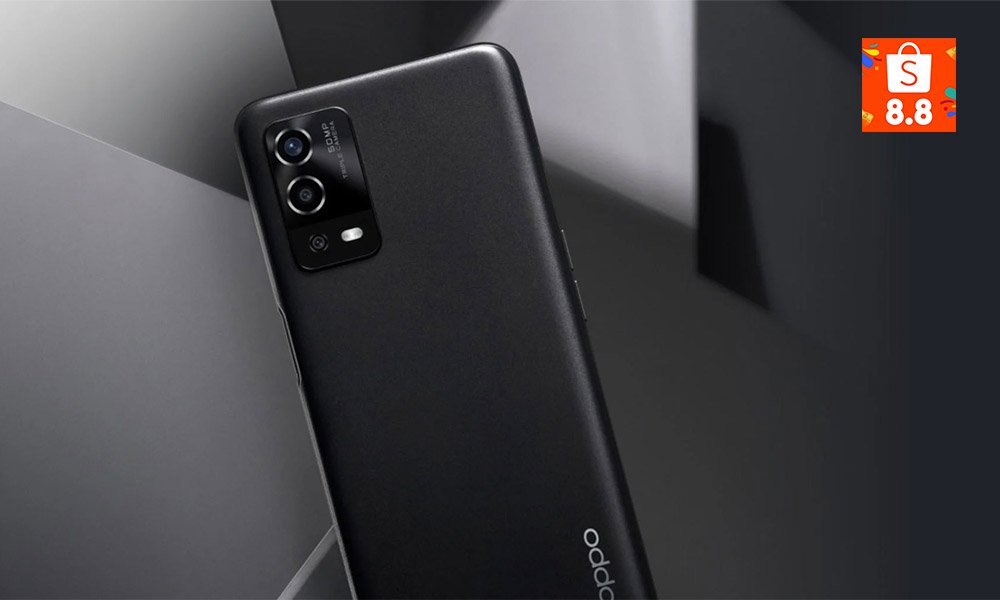 We search Shopee every day to discover the best offers. The online retail giant offers some of the greatest discounts on a huge selection of goods, whether you're looking for a brand-new home appliance or the latest smartphones to satisfy your tech cravings. Shopee can provide for all of your needs.
Because it offers a variety of smartphones at various price points, OPPO is one of the brands we love this year. In the upcoming 8.8 ShopeePay Festival, enjoy more rewards and get the best value when you score the latest OPPO smartphones on Shopee.
Here are our top 3 choices that we recommend you check out:
The new OPPO A16, which has 3GB of RAM and 32GB of storage space, is a good entry-level option that can handle your daily tasks. If you need to shoot photos and upload them right away to your social media sites, the 13MP AI Triple Camera is ideal. The huge 6.5″ HD+ display and large 5000mAh battery are very entertaining for watching your favorite K-drama series. Click here to check out the OPPO A16.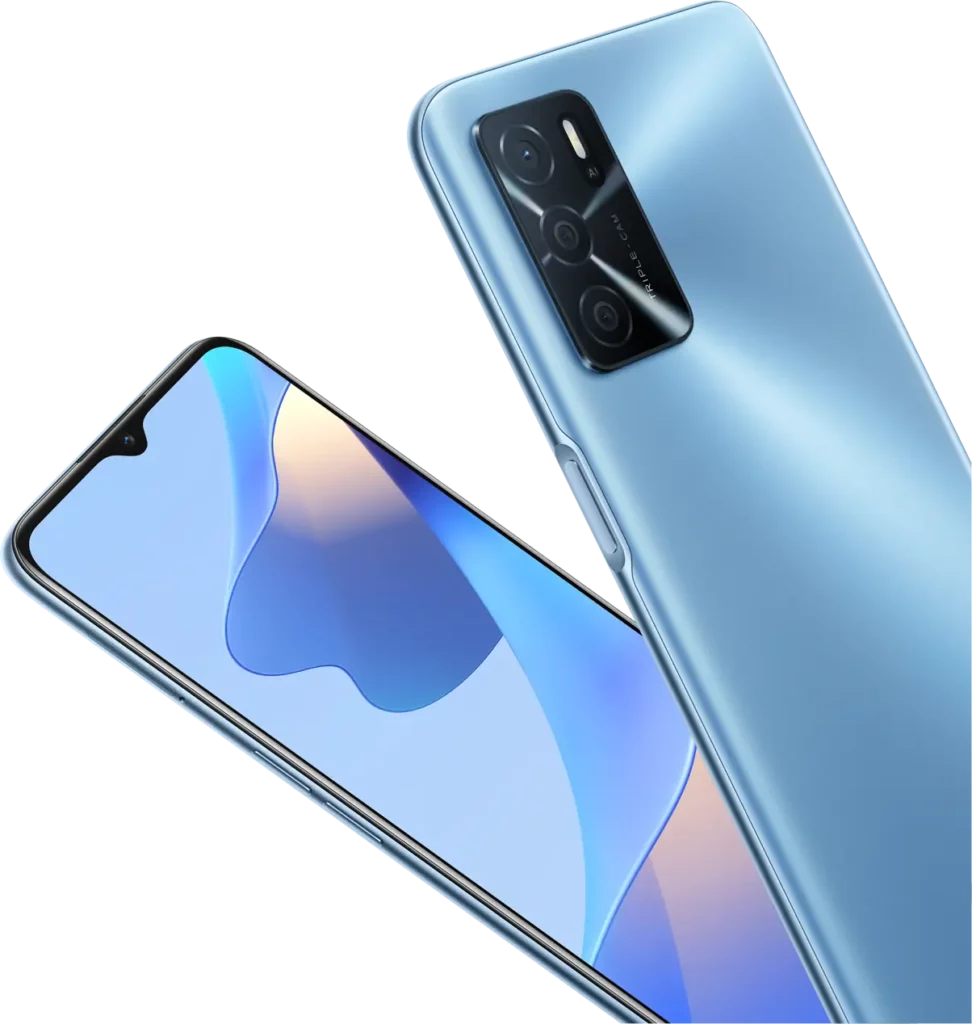 With the Night Plus Filters, 2MP Bokeh Camera, and AI for Beautification available on the OPPO A55, you can capture every moment as vividly as possible. The Helio G35 chipset's enormous 5000mAh battery and 18W rapid charging capabilities are ideal for your gaming needs. Click here to check out the OPPO A55.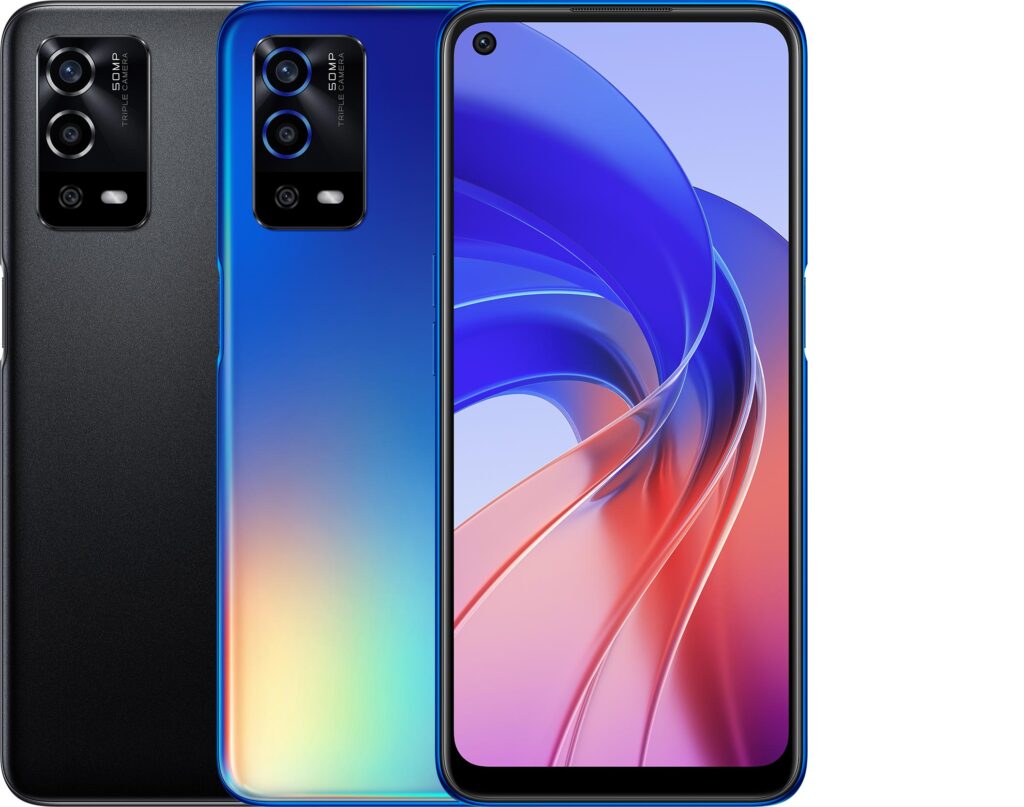 The quad lens and AI-assisted camera on the OPPO A94 make it easy to capture all of life's moments. The A94 captures the journey of life in vivid, precise clarity, from macro to ultra wide-angle and zoom photos. If you consider yourself a power user, the Helio P95 chipset and 8GB+128GB of storage will more than meet your requirements. It would be a shame not to include support for high-speed 30W VOOC flash charging. Click here to check out the OPPO A94.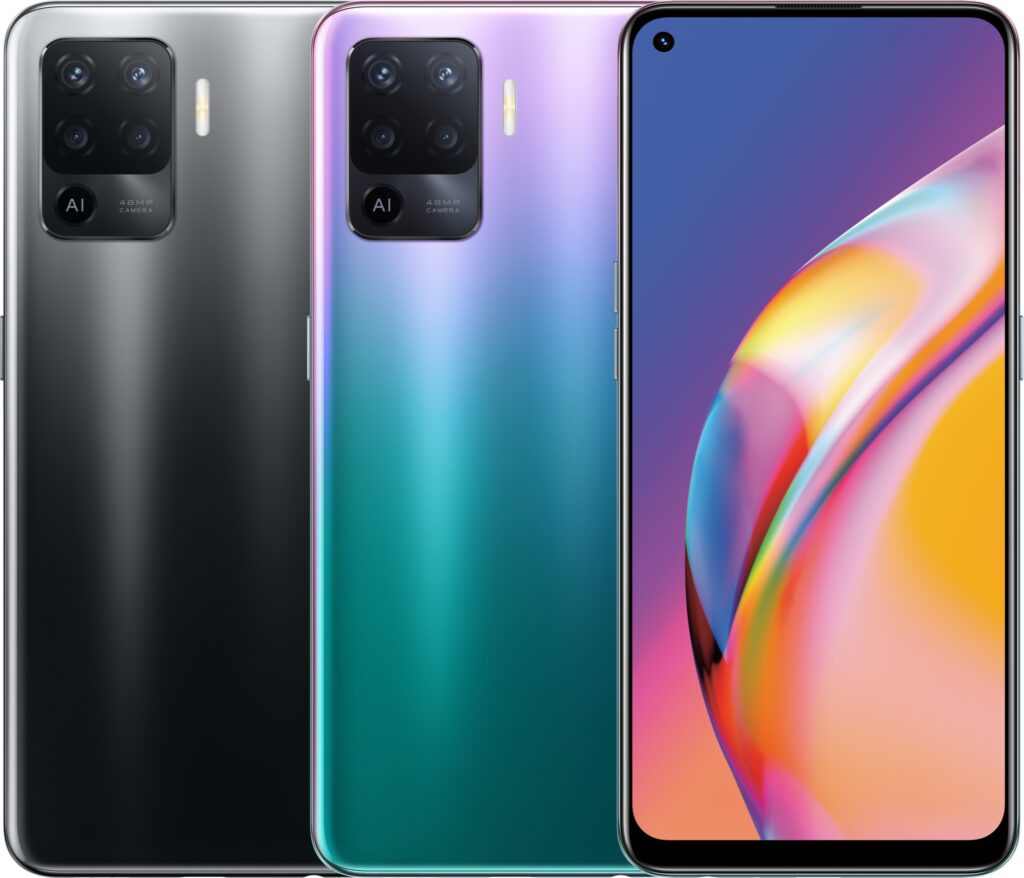 Don't miss any of the awesome deals and promos at the OPPO Official Store in Shopee and enjoy up to 50% off when you check out select new products from OPPO this 8.8 ShopeePay Festival!
Get up to 56% off on OPPO Gadgets in the 8.8 Mega Flash Sale
From August 8 to 12, grab exciting freebies, vouchers, deals on Shopee and Lazada.
Heads up, shoppers! OPPO will offer incredible discounts with awesome freebies, vouchers, and deals during the OPPO 8.8 Mega Flash Sale on Shopee and Lazada.
From August 8 to 12, visit and shop on OPPO's Official Stores to enjoy up to 56% off on OPPO gadgets. You can collect a Php 200 off voucher if you reach a minimum spend of Php 9,999 and a Php 400 off for every minimum purchase of Php 14,999.
Don't miss the chance to use your Php 50 and Php 55 shipping discount vouchers before checking out if you have a minimum spend of Php 500 on Shopee and Lazada, respectively.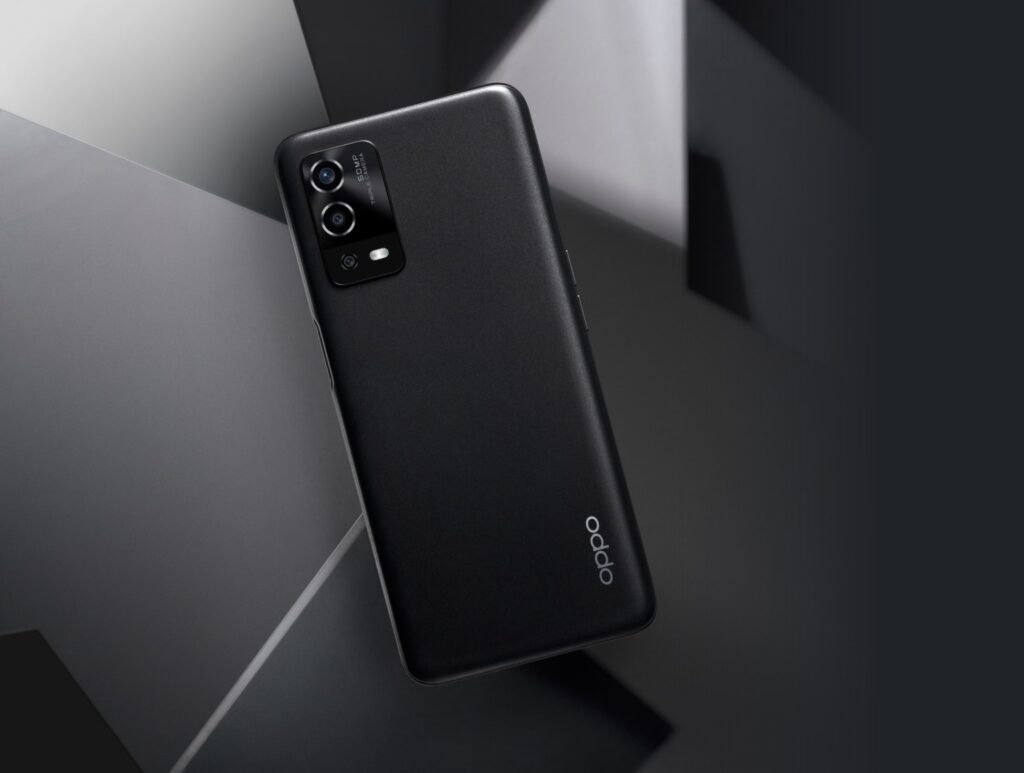 For Lazada shoppers, you can also get a Php 50 off voucher for every minimum purchase of Php 500, including a 10% cashback on your orders.
Freebies to watch out for on 8.8
If you plan to shop from 12 pm to 2 pm on August 8, take advantage of free G25 Bluetooth earphones for each smartphone order ID. Later in the day, you also can enjoy a free A8 long speaker if you order the OPPO A55 from 9 pm to 11:59 pm.
A wide array of freebies are also in store for you throughout the sale. That includes a free 32GB SD Card when you order OPPO A16 3GB, a free TG113 Bluetooth speaker for every purchase of OPPO A55, a free Neon Island desk pad for all your OPPO Reno6 Series purchases, and a free A8 long speaker with Neon Island desk pad for every OPPO Reno7 Series orders.
Flash deals, and giveaways on OPPO's 8.8 TikTok Livestream
There's more to look forward to on 8.8 when you check out OPPO Philippines on TikTok. Be sure to watch out for limited flash deals and giveaways during OPPO's 8.8 TikTok Livestream on the following dates: August 7 from 2 pm to 9 pm; August 8 from 11 am to 9 pm; August 9 from 11 am to 7 pm, and August 10 from 11 am to 7 pm.
Bundle deals on Shopee, Lazada
Exciting bundle deals are also available from August 8 to 12, such as OPPO Band and OPPO Enco Buds for Php 1,999; OPPO A55 and OPPO Enco Buds for Php 9,499; OPPO A94 and OPPO Enco Buds for Php 11,999; OPPO Reno5 and OPPO Enco Buds for Php 15,999; and OPPO Reno5 5G and OPPO Enco Buds for Php 19,999.
Mark your calendars now! Don't miss the chance to enjoy OPPO 8.8 Mega Flash Sale spectacular treats to welcome August on Shopee and Lazada, even on TikTok. Add to the cart and check out your favorite OPPO devices at great deals so you can finally take home the gadgets you have been saving up for!
Vivo announces 8.8 Mega Sale in Shopee, Lazada and TikTok Shop
Enjoy exclusive vouchers and freebies!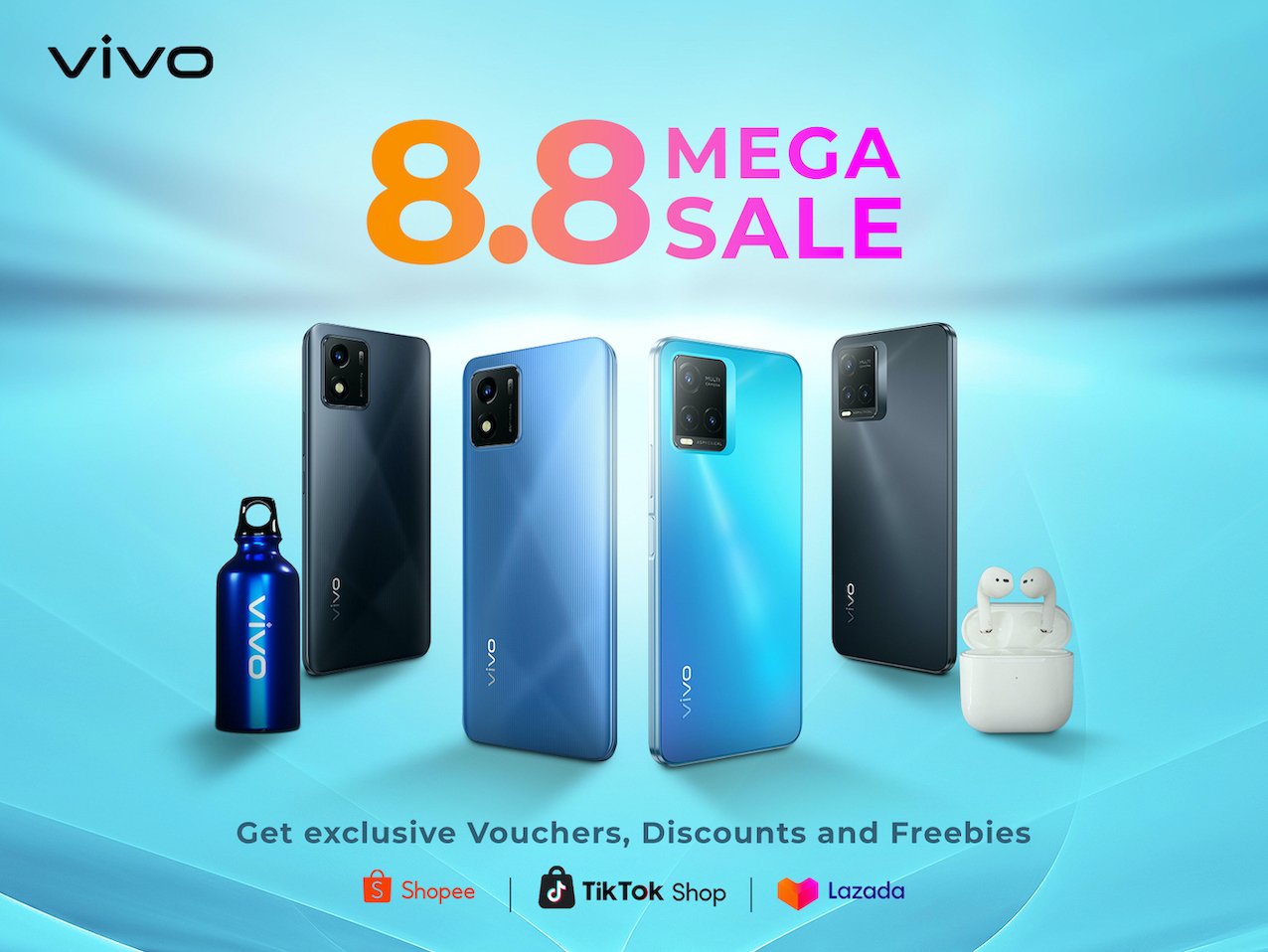 Vivo brings a surefire way to satisfy shoppers in this 8.8 Mega Sale! You can avail of vivo T1x, vivo Y1s, or vivo Y01 with vouchers, and exclusive freebies on Shopee, Lazada, and TikTok Shop.
The vivo T1x, with an original price of PHP 8,999, will be available at a reduced price of PHP 8,897 with a P100 off voucher, FREE DITO SIMCARD, and FREE TWS Voguard. Designed for gamers, the vivo T1x comes with a high-performing Snapdragon 680 processor, 4GB RAM (1GB RAM Extended) + 64GB ROM, 5000mAh battery with 18W fast charging capability, Multi-Turbo 5.0 that helps you run your favorite mobile gaming apps smoothly. It also comes with a 50MP camera that can capture life's best moments effortlessly and get pristine clarity whether you zoom in or crop photos. The vivo T1x also supports unique and high-quality camera features like Bokeh Camera, Super Macro Camera, 8MP Super Night Selfie, and Personalized Portrait Mode. It has a beautiful 6.58" FHD+ Incell screen display and anti-fingerprint design with unique colorways in Gravity Black and Space Blue.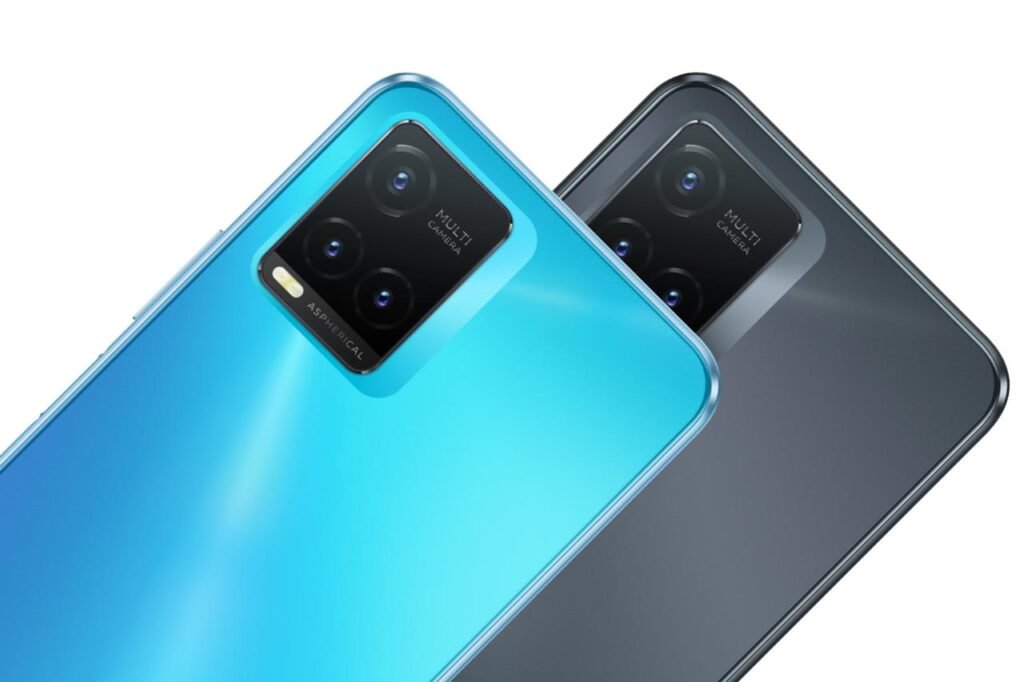 Shoppers can also get the vivo Y01 for a fun deal. From PHP 5,299, it will be available for PHP 5,247 with P50 off voucher, FREE DITO SIMCARD, and FREE Premium Tumbler. The vivo Y01 is a great all-rounder device. It is an entry-level smartphone but packs advanced features like a 6.51-inch HD+ display for an immersive viewing experience, an 8MP rear camera for everyday shooting, and a 5 MP selfie camera on a small notch. It also has a 5000mAh battery that enables longer playtime and is also capable of reverse charging. The vivo Y01 can also run mobile games without lags because of its Multi-Turbo 3.0. This smartphone comes in a 3D slim design and is available in Elegant Black and Sapphire Blue.
For those who are looking for a more affordable smartphone, the vivo Y1s is another good option to consider. From PHP 5,499, it will be available for PHP 4,847 with P50 off voucher and FREE DITO SIMCARD. The vivo Y1s features a 6.22-inch Halo FullView™ display, providing a pleasant view for both videos and games. Plus, it can filter out harmful blue light to prevent eye strain. With elegant 3D body curves, the vivo Y1s fits perfectly in the palm for a comfortable grip. Its 32GB of internal ROM gives ample freedom to store more photos, files, and applications. It can also expand to up to 256GB with an additional SD card. And at a 4,030mAh battery, supported by exclusive smart power management, keeps it going longer for a more enjoyable gaming and video experience. It comes with a 13MP Main Camera and a 5 MP Front Camera with smart beauty features. The vivo Y1s will be available in limited quantity so add to cart now!
Other than T1x, Y01 and Y1s, vivo 8.8 Mega Sale also offers amazing freebies on other select Y Series, T Series, V Series, and X Series models and accessories. Check out these special deals on Shopee and Lazada: