We've all experienced the never-ending cycle of trying out new things just to discover that they aren't precisely what we were looking for. Finding goods that genuinely work can be difficult since we're caught between wasting money on items we merely use because they're already there and replacing them with something that will better serve our skin in the long term.
Fortunately, we've discovered economical skincare products in the Philippines that demonstrate how to get the most bang for our cash. Check out our top skincare products from SNAILWHITE, expertly designed to keep Asian skin healthy, glowing, and beautiful. Not only that, it will let you stay glowing and protected from UV rays all summer.
1. SNAILWHITE Sunscreen CC Cream SPF50+/PA+++ 50mL:
Uniquely designed for daily use, it's an ultra-lightweight CC cream that provides natural coverage and sun protection.
A combination of sunscreen and CC cream is one of the things I've always wanted to own and wear. It's a wonderful combo, especially for people who have hyperpigmentation, or dark spots. Sunscreens and sunblocks are essential because they filter the UV rays from the sun, which are responsible for 90% of skin aging.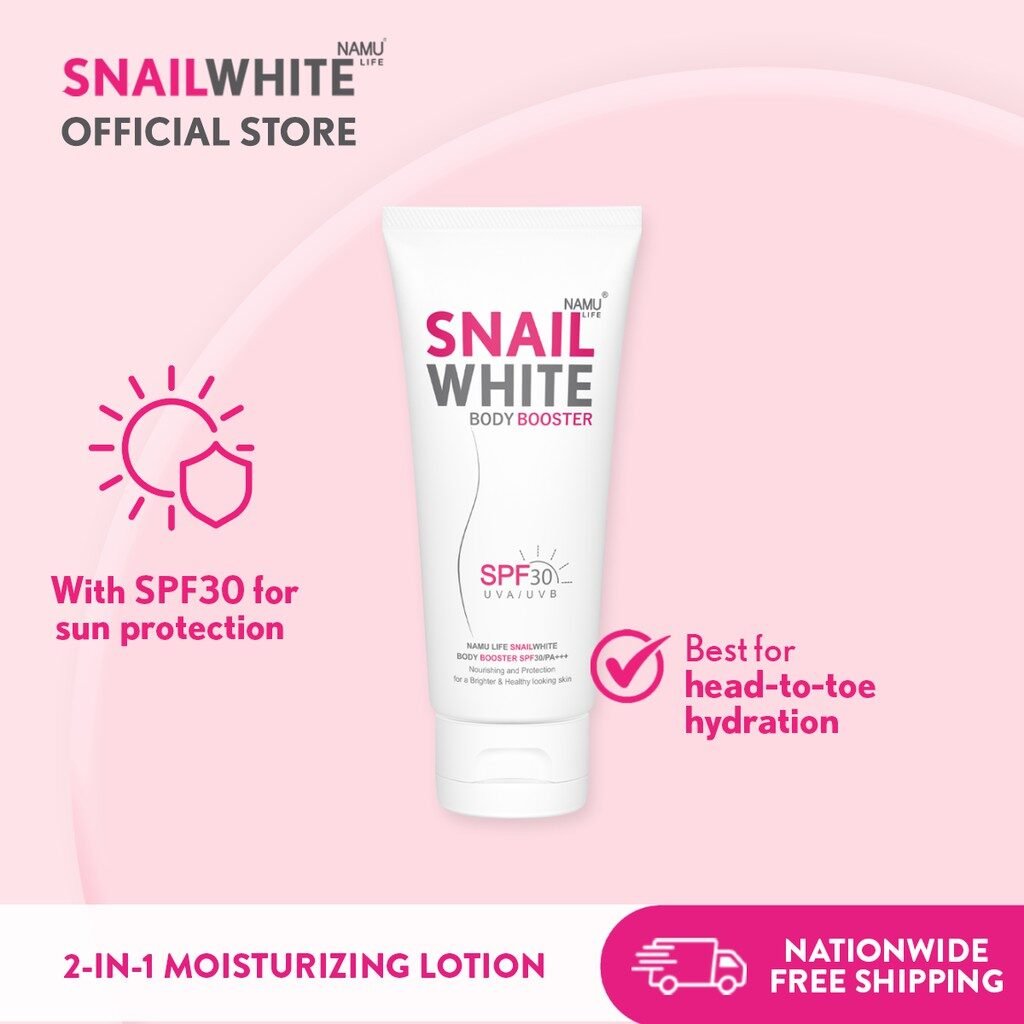 When it comes to makeup, we want something light but still pigmented and concealing. The CC creams are ideal for this. Though it doesn't provide full coverage, it does enough color correction to leave your skin looking perfect and dewy.
The SNAILWHITE Sunscreen CC Cream offers both benefits. We love the CC cream part of this product as it has color-correcting and adjusting technology. As a result, you can save time by choosing the proper shade because one will suffice.
2. SNAILWHITE Body Booster SPF30/PA+++ 50mL & 350mL
The SNAILWHITE Body Booster SPF30/PA+++ is a moisturizing body lotion for everyday use that leaves an instant glowy finish with added sun protection. It comes in two sizes: 50ML and 350ML whichever suits your needs.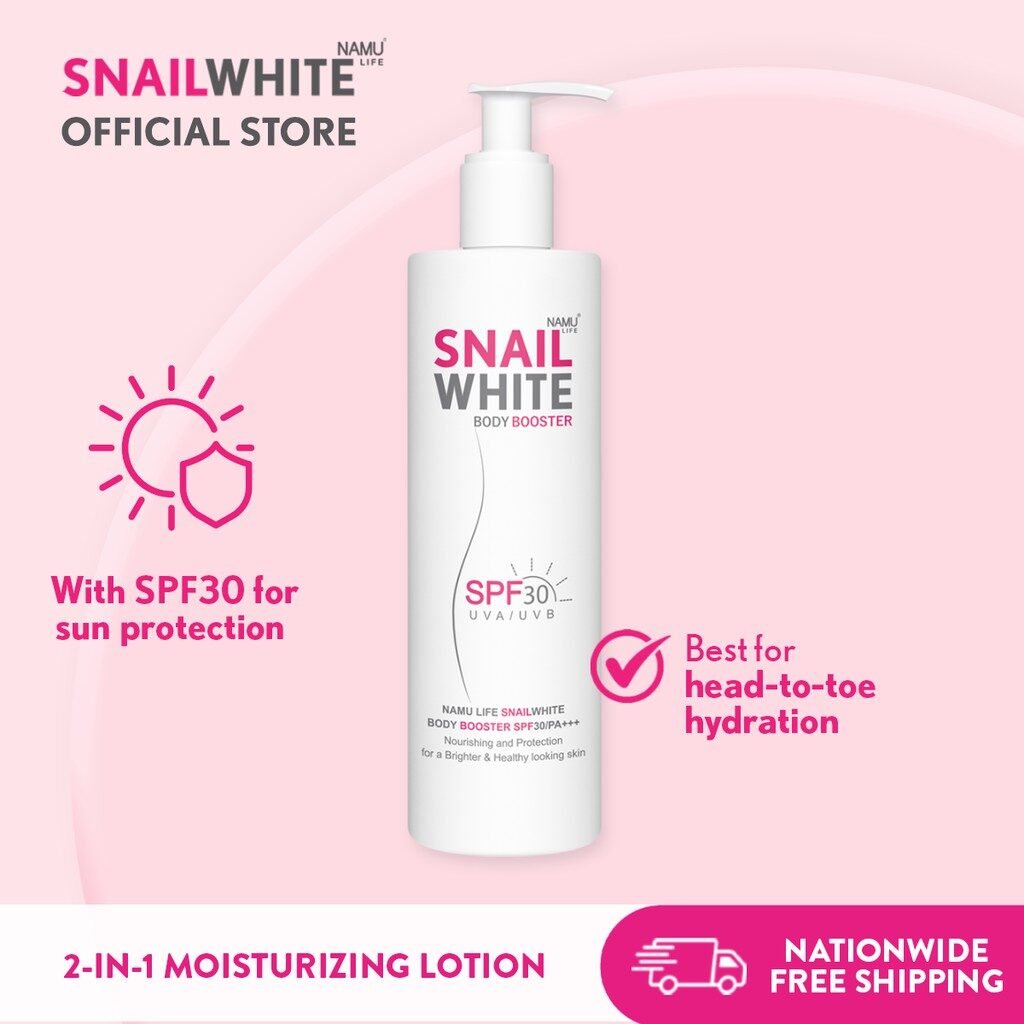 Considering your body needs sun protection, Snailwhite created the Body Booster, a sunscreen-infused lotion with all of their best-selling products' brightening, firming, and hydrating properties. It moisturizes and protects your skin from UV damage in one easy step.
It's made with Snail Potion collagen and antioxidants like astaxanthin and ceramide. This substance aids in the restoration of dull, damaged skin. It helps you attain a more youthful appearance by increasing skin cell turnover. With SPF30/PA+++, it protects against both UVA and UVB radiation. It comes in
3. SNAILWHITE Beauty Glow Drops
With just three drops of SNAIL WHITE BEAUTY GLOW DROPS, luxurious facial oil that instantly revitalizes and lights dull skin for a glass-skin complexion that looks beautiful on its own or as a radiant, dewy basis for a "no-makeup makeup" appearance, you may get a dazzling, dewy glow.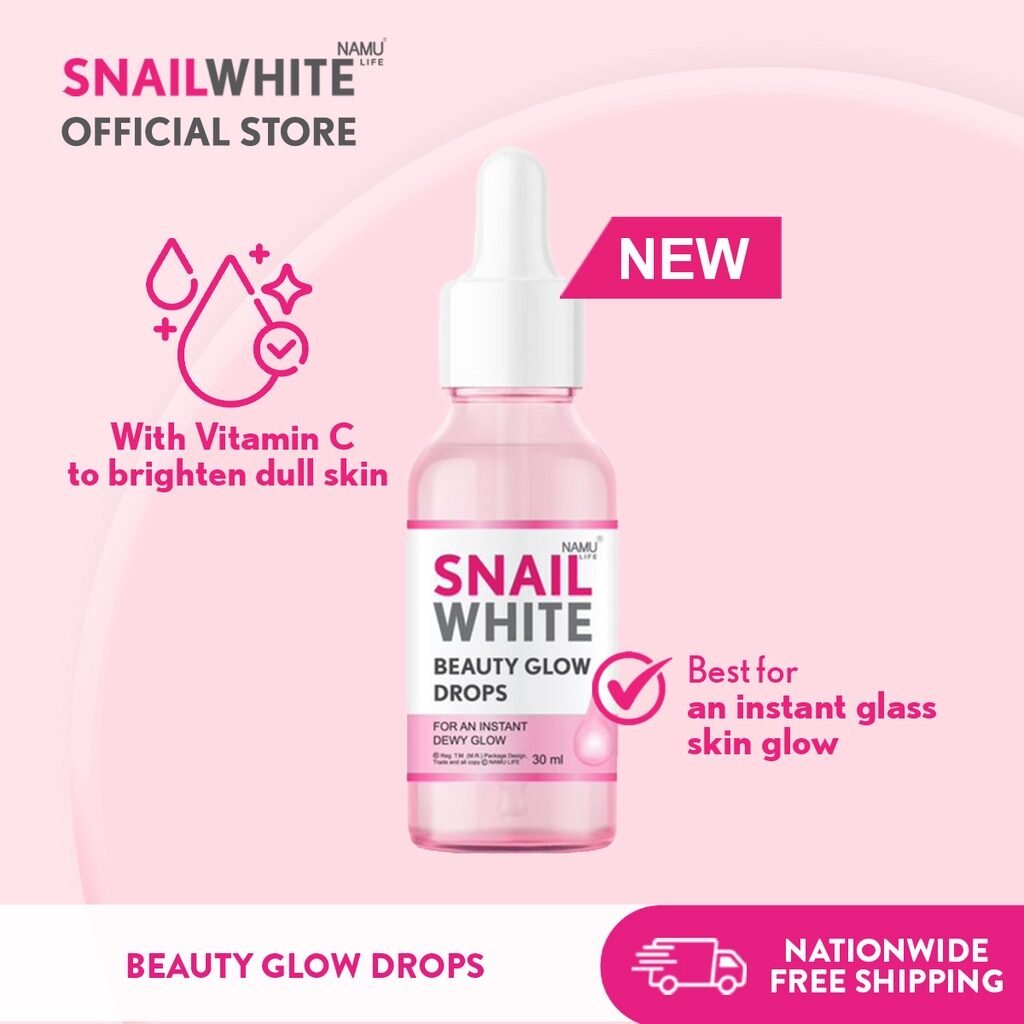 The Beauty Glow combines top-notch skin-care components into a single product. Snail Potion, Vitamin C, and Hyaluronic Acid, all of these combined brightens, hydrates, and plumps dull skin.
Nature's SuperOils, which include almond oil, grapeseed oil, and chia seed oil, are also available. These oils protect the skin from pollutants while delaying outward indications of premature aging such as fine lines and wrinkles.
We love this light facial oil because it leaves no greasy residue behind while hydrating your skin. It's made with a powerful antioxidant combination.
There's a reason it's called a "routine." You must commit to your regimen by following it on a regular and consistent basis if you want to see actual benefits. As a result, before implementing a routine, it's critical to assess your lifestyle too. Fortunately, getting started with a basic regimen is pretty simple, as it usually only takes around five minutes in the morning and evening. With the three basic skincare products we've shared with you, it's a pretty good start to having healthy glowing skin. 
We've got great news for you!
Your skin deserves perfect protection this summer with SNAILWHITE! Get up to up to 35% off only on Shopee Beauty this April 13! From skin care to makeup, Shopee Beauty has all your needs! Enjoy the most exclusive deals up to 90% off, new launches, exciting offers from your most-loved brands, and free shipping with a minimum spend of ₱499!