Oppo Reno7 series unveiled ahead of the official launch
Both devices will have 6.5 OLED and 50MP cameras.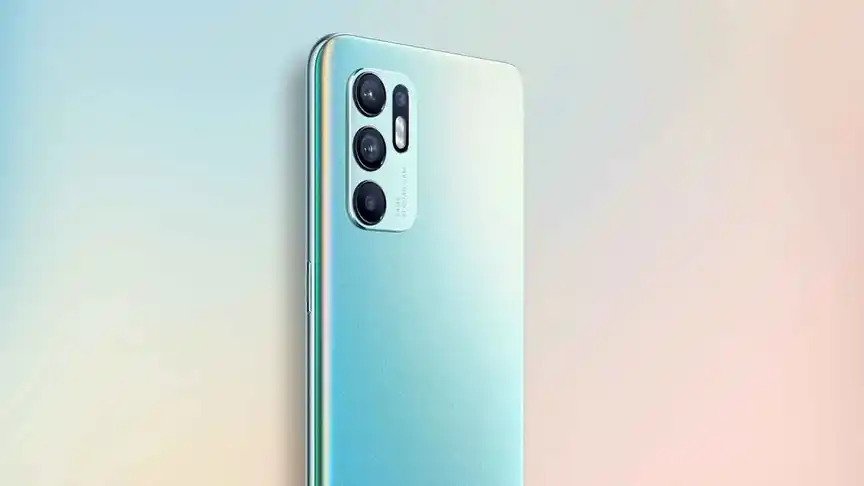 Oppo is preparing its Reno7 series, and unlike common assumption, there won't be an Oppo Reno7 Pro+ version; instead, a lower-end Reno7 SE will be released. This puts the Reno7 Pro at the top of its class.
According to the research, the normal Oppo Reno7 and Reno7 Pro share a significant amount of hardware. They'll both have a 6.5-inch OLED display, but the vanilla will have a 90Hz refresh rate while the Pro will have 120Hz. Both devices will be powered by the same 4,500 mAh battery with 65W fast charging capabilities.
The two are separated in the camera area, with a 50MP Sony IMX766 primary sensor accompanied by a 16MP ultrawide camera and a 2MP depth sensor. The Pro, on the other hand, will use Samsung's 50MP GN5 sensor, OmniVision's 64MP OV64B ultrawide camera, and a 13MP telephoto camera.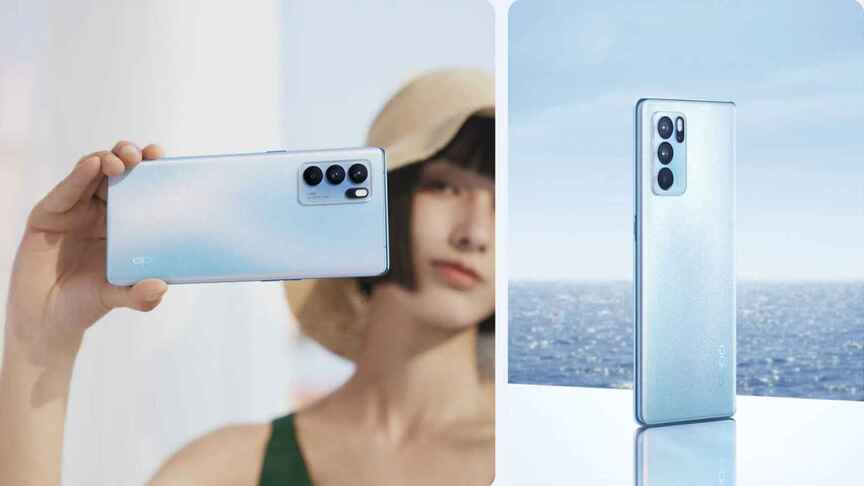 The chipsets will be based on their predecessors: the vanilla version will use the Dimensity 1200 SoC, while the Pro version will use the Snapdragon 888. There will be 8GB and 12GB RAM options, as well as up to 256GB of internal storage.
Finally, the Reno7 SE is likely to feature a smaller 6.43-inch 90Hz display, a Dimensity 920 processor, and a memory option of up to 12GB/256GB. The SE will have a 32MP selfie camera on the front, the same as the other two, and a 64MP OmniVision OV64B primary camera on the rear, as well as an 8MP Sony IMX355 ultrawide shooter and a 2MP depth sensor for pictures. The lights are expected to be kept on by a smaller 4,300 mAh battery with the same 65W quick charging.
We don't have an official release date yet, but according to the rumor, the series will premiere in November. The above information appears to be mostly accurate, and it corresponds to a previous leak from mid-October.

Huawei to bring digital skills to more Filipino students
More opportunities will appear for further growth through ICT, as new technologies like 5G, AI, and IoT.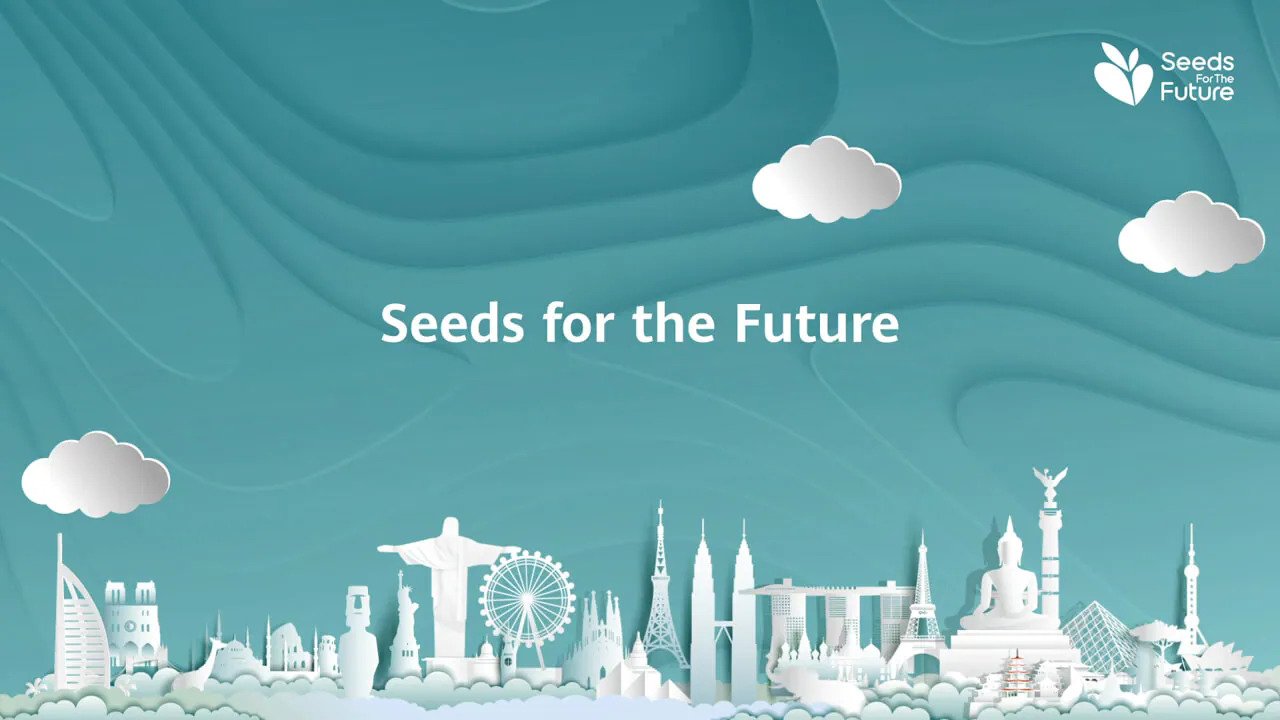 With the Students joining the program with outstanding output, Huawei Philippines successfully held the 7th Seeds for the Future program this year, making the program benefit over 200 students in the Philippines. The Undersecretary of DICT Arnold Ali Atienza, Undersecretary of DOST Renato Solidum, together with university heads and Seeds Alumni joined the Closing ceremony on Friday.
Undersecretary of DICT Arnold Ali Atienza, gave his remarks to the program, "I highly laud Huawei's Seeds for the Future Program. The sincerity of Huawei's intention to eliminate the digital divide cannot be more apparent and clearly manifested in ways other than by providing useful training programs to contribute to ICT talent development and provide the technical skills needed in the industry. As Huawei aptly puts it, the Seeds for the Future Program is their way of sharing their innovation and technology to hopefully support the requirements of the Philippine ICT Industry and nurture the development of the local ICT Talent ecosystem."
"Congratulate you our dear scholars for having embarked on this grand adventure of personal and professional growth and we always cherish with fondness the memories of this journey and may you also never forget the excitement you felt when offered this proverbial seed and saw the boundless potential contained therein." Undersecretary of DOST Renato Solidum shared his hopes to the students, " I would like to express our deepest appreciation with our colleagues and friends at Huawei for helping us in our long term vision to provide world-class, scientific, technological, and innovative solutions towards high productivity and better quality of Life", "Huawei's commitment to developing skilled local ICT talents is laudable especially because how it bridges communication in between countries and cultures in a time we needed it most."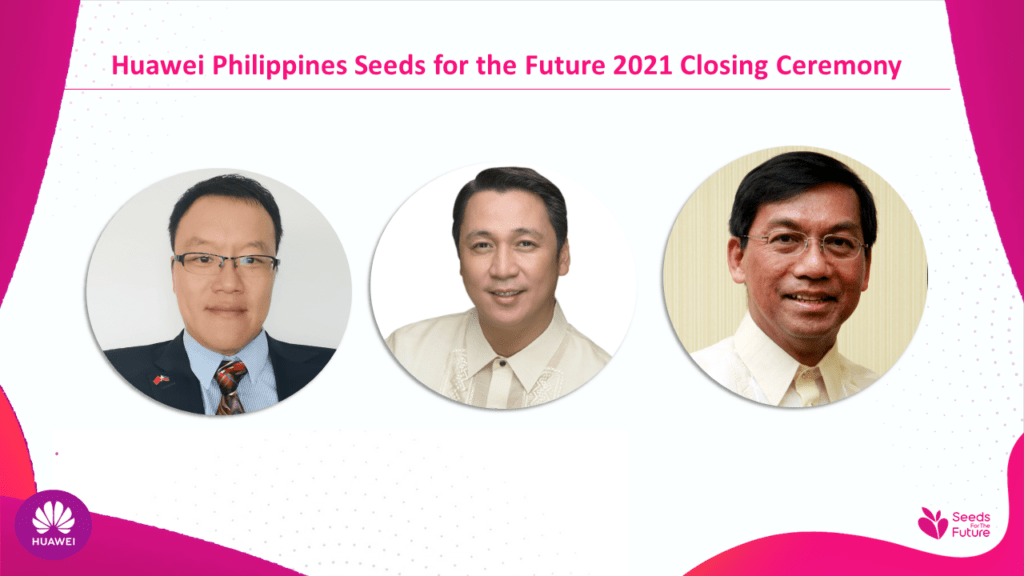 During this special time, as pointed out by the World Economic Forum, ICT made it "possible to create value – as seen in remote work, remote healthcare, and remote education – particularly from the perspective of inclusivity." More opportunities will appear for further growth through ICT, as new technologies like 5G, AI, and IoT becomes more widely applied in the new world.
With the vision to bring digital to every person, home, and organization for a fully connected and intelligent world. "This is the reason behind Seeds for the Future program," Huawei Philippines Vice President Daniel Guo said during the closing ceremony of Seeds in the Future 2021, "It's our great pleasure to offer more opportunities for ICT talents, to help students in the Philippines become better equipped, to take advantage of the opportunities in digital technology, and nurture the development of the country's ICT ecosystem."
Seeds for the Future program launched in 2015 here in the Philippines, has covered more than 200 Filipino students in the past seven years. The ICT Academy started in 2018 in the country, has covered more than 50 Philippine universities, over 9600 students joined the course.
Besides, aiming to pave the way for more ICT talents, Huawei also signed MoU with DICT to offer Huawei Certification Courses in emerging technologies such as AI, Big Data, Cloud service, etc, to help reach a bigger audience and promote digital learning, and widen the ICT Pipeline for sustained and inclusive growth.
Huawei Philippines will continue to devote itself to the education section, bringing digital skills to more Filipinos towards building a sustainable world.
Huawei and Huawei to promote Digital Transformation
Huawei aspires to transform Thailand's economic sustainability through ICT and digital innovation.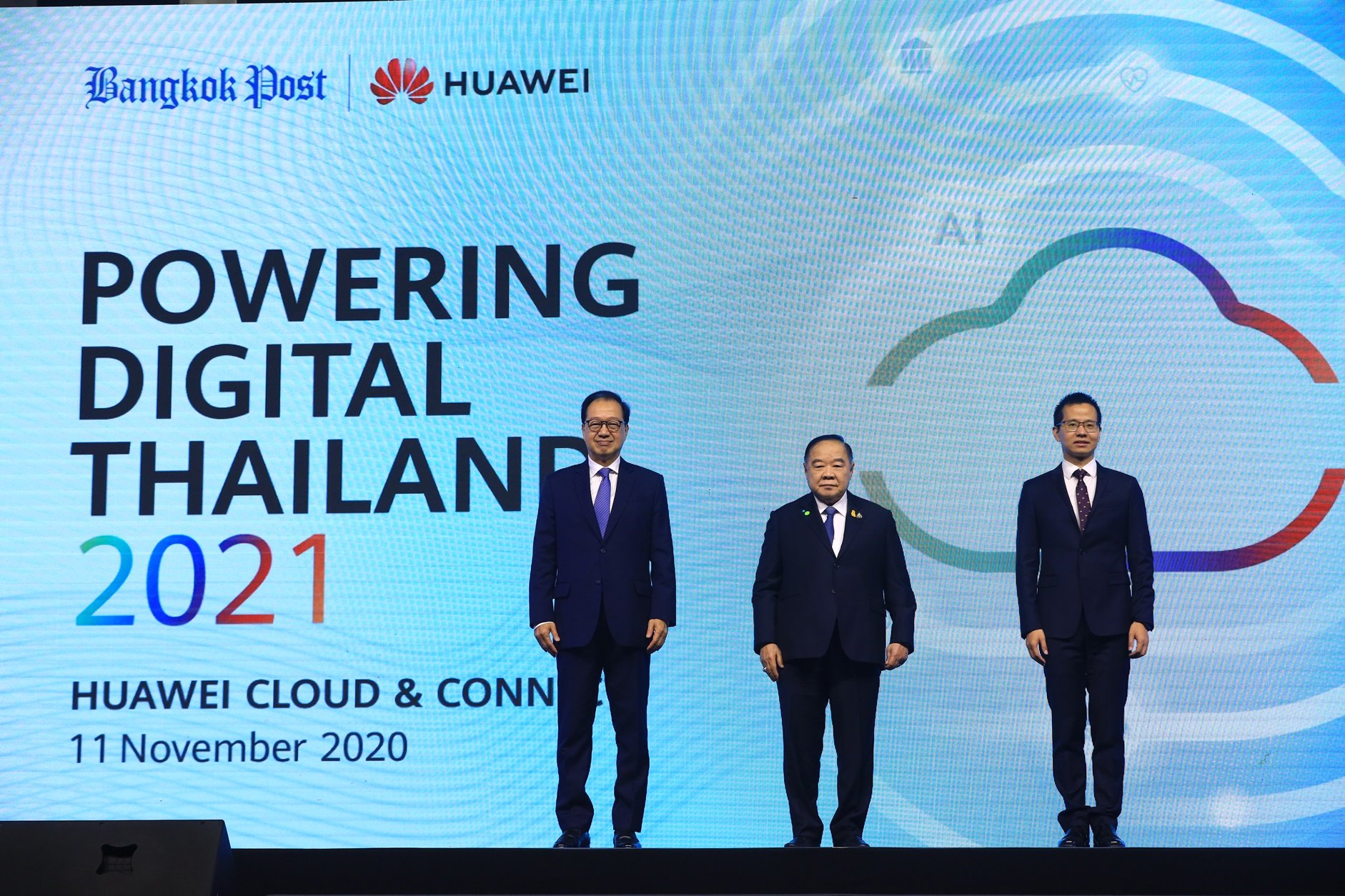 Today, H.E. General Prayut Chan-o-cha, Prime Minister of Thailand, attended a virtual executive meeting with Mr. Ren Zhengfei, CEO of Huawei Technologies. Gen Prayut expressed appreciation for Huawei's continued support of Thailand's digital transformation and post-pandemic recovery, and his eagerness to further strengthen cooperation with Huawei to promote the Thailand 4.0 strategy and digital talent cultivation.

During the virtual meeting, Gen Prayut and Mr. Ren exchanged views on how to consolidate digital competitiveness and build a strong foundation for ICT talent in Thailand.
Gen Prayut also stressed the important role that advanced ICT technologies and digital innovation would play in supporting Thailand's economic resilience and sustainability, stating that "Huawei has provided profound contributions to Thailand's fight against the pandemic and digital transformation. I am deeply impressed by Huawei's history and dedication culture. In the future, Thailand is eager to cooperate with Huawei in various areas, including digital economy, 5G smart hospital, cloud, and computing, digital power, smart logistics, and data center."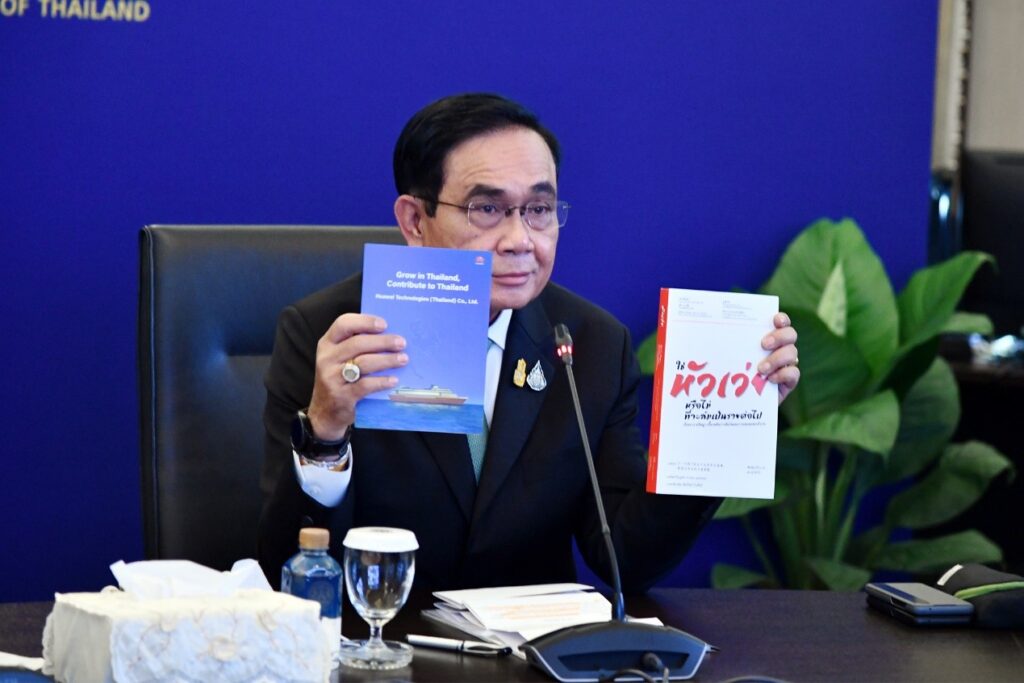 Mr. Ren expressed his gratitude for the Thai government's trust in Huawei and congratulated Thailand on its achievements in the 5G rollout. He emphasized that "Huawei and Thailand have been working together to build a strong digital infrastructure foundation. In the future, we look forward to accelerating the integration of digital technologies in Thailand's key industries, especially in port and airport scenarios."
"We have a strong belief in Thailand's successful digital transformation and talent development. Our local team will work closely with Thai customers and partners to serve the country's social and economic development with technology solutions." Ren said.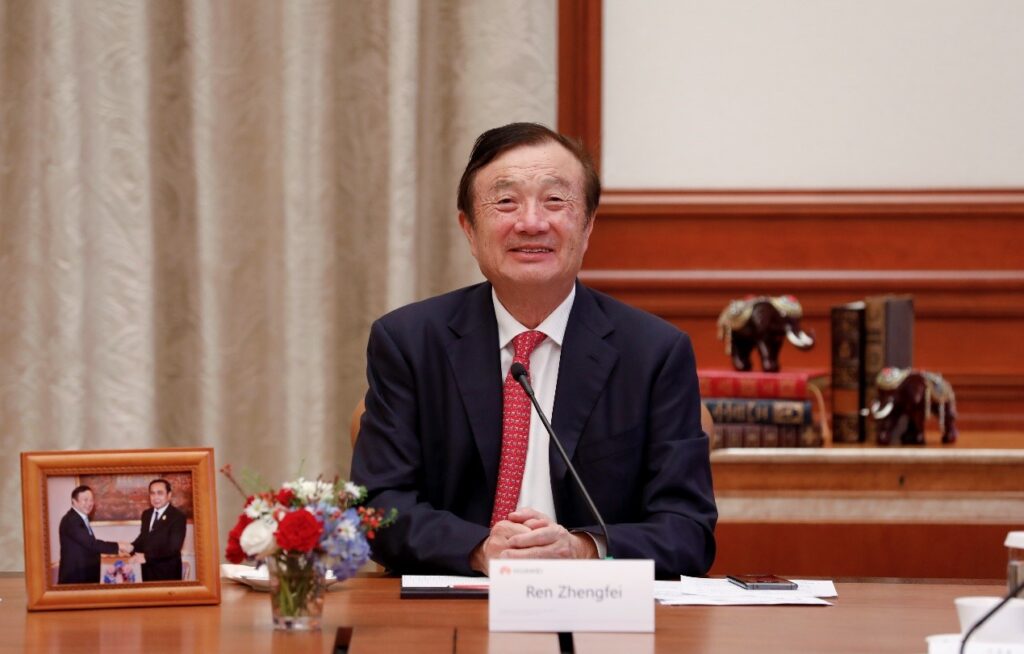 Towards Thailand's digital blueprint to becoming the ASEAN digital hub, Huawei and Thailand have been closely cooperating in two key areas.
First, in line with the Thailand 4.0 strategy, Huawei has worked with its customers to accelerate Thailand's digital transformation and ICT infrastructure innovation. Through the adoption of 5G, Cloud, and AI, Huawei and its industry partners are enabling Thailand's key sectors and creating exciting opportunities across multiple areas, including healthcare, education, transportation, e-government, and smart city, to bolster Thailand's long-term socioeconomic development and digital ecosystem.
Among these actions, smart ports and airports are important potential cooperation areas for Huawei and Thailand. Mr. Ren introduced the company's best practices in Smart Port and Smart Airport Solutions in China, which builds automation capabilities based on all factors — people, vehicles, goods, enterprises, and places — to help build safe, efficient, and intelligent world-class ports and airports.
Second, Gen Prayut and Mr. Ren also highlighted a commitment to cultivating upskilled and digital talent in Thailand. In order to drive Thailand's digital transformation and long-term development, both men stressed that the public and private sectors must work together to build an open, shared ICT talent ecosystem that benefits all.
Aiming to cultivate Thailand's local ICT talent and digital workforce, Huawei established the Huawei ASEAN Academy (Thailand) in 2019, which has trained over 41,000 ICT professionals and provided training to 1,300 small and medium-sized enterprises. Huawei has also signed MOUs with more than 20 Thai universities. With a digital world fast approaching, Huawei is determined to ensure that no one is left behind through digital inclusion initiatives that enhance the digital knowledge and employment prospects of vulnerable groups.
In March 2021, Huawei Thailand has been chosen for the Special Prime Minister Award as the "Digital International Corporation of the Year". The award recognizes Huawei for its valuable support and outstanding contributions to Thai society and its efforts to support digital transformation. It is the only company to receive this award.
Sangfor Technologies is now in the Philippines
Sangfor managed cloud services aim to help accelerate digital transformation in the country.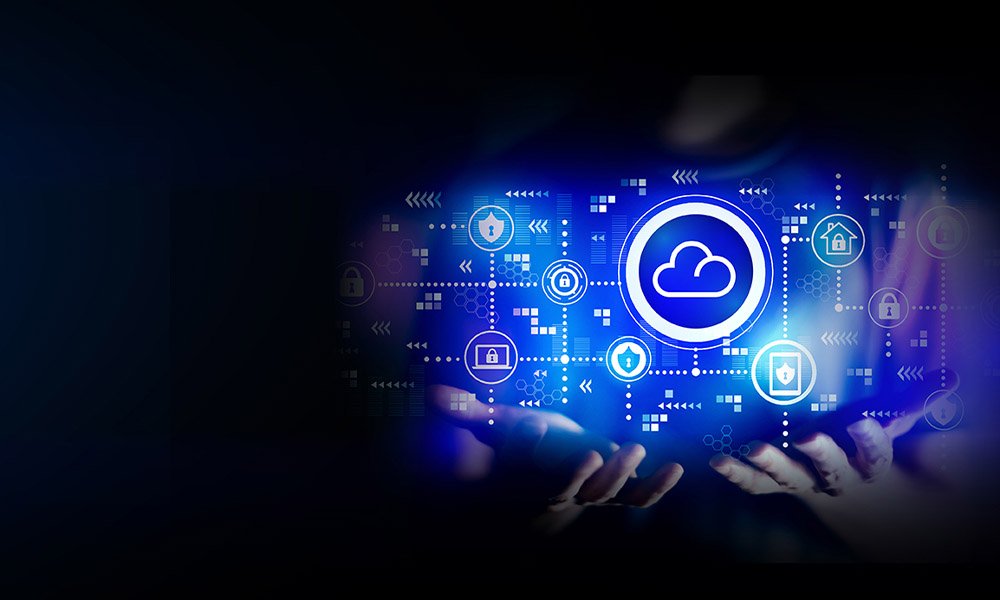 To make digital transformation more accessible in the Philippines, Sangfor Technologies, a leading global vendor of IT infrastructure solutions, has launched the much-awaited Managed Cloud Services (MCS) with IT Depot, an established distribution organization for Network Security and infrastructure with a wide customer base across the Filipino market.
The fast-paced growth for digital demand globally and locally compels businesses to keep up and run on data and information. This makes proper cloud management crucial to achieve productivity and prevent security issues, data loss, and untimely downtime from impeding the shift to digital.
The Sangfor MCS will ensure to make the most of cloud investment and enable organizations to be more resilient amidst the challenges in the current and future business landscape. It can be used in managing private data centers, critical applications, back-up, and DR, on-premises HCI datacenter, Container-as-a-Service (CaaS), and Desktop-as-a-Service (DaaS).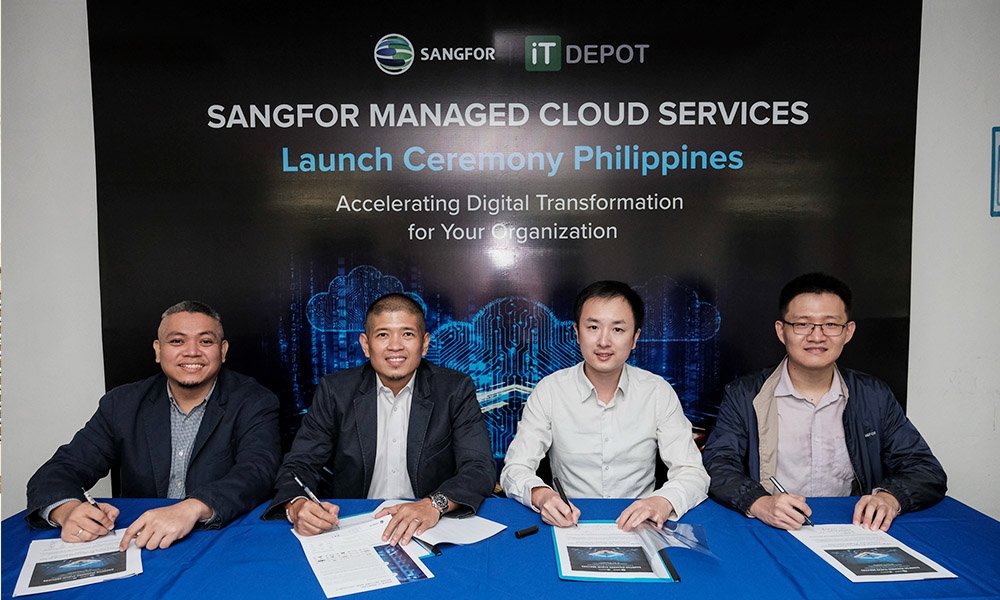 Sangfor MCS Partners are across the Philippines and other regions around the world, hosting over 1,000 enterprise-level data centers for customers in various sectors, from the government to Fortune 500 companies. Sangfor works closely with all local partners to deliver end-to-end, 24/7 managed services, simplifying and safeguarding customers' digital transformation journey.
"Our MCS offers the cloud trifecta: Infrastructure-as-a-Service (IaaS), Platform-as-a-Service (PaaS), and Security-as-a-Service (SECaaS), making it the best solution to accelerate digital transformation" shared Brian Wu, Sangfor Philippines Country Manager. "Businesses of any size can benefit from our MCS. Along with our local partners, we aim to catalyze digital transformation here in the Philippines to assist in the recovery of business and local economy," he added.
Managed Cloud Services are proven to offer the best digital infrastructure and platform while accelerating speed and allowing IT administrators to center their work on operations rather than infrastructure needs. Sangfor MCS will be readily available for small regional businesses to global enterprises and will provide the convenience of public cloud, and the security, control, and services of a professional private cloud. It is available at over 100 globally distributed data center sites and comes packed with powerful built-in security capabilities.
Enterprises will also have the option to customize with their dedicated cloud host, storage, and networking, or choose private cloud, data, and recovery services. There are two (2) models available:
Sangfor Alliance Cloud: A joint investment between Sangfor and local partners in an all-in-one, easy-to-deploy-and-integrate platform. Partners invest while Sangfor delivers the technology.

Sangfor Subscription Cloud: A program that involves Sangfor delivering cloud software and technologies while local and multinational companies build and manage their cloud infrastructure and deliver managed cloud services to their respective customers.

For information on Managed Cloud Service, you may click on this link.