The global smart device brand OPPO recently unveiled the Designed to be Powerful OPPO A96 for mobile gamers in the country. And yes, to complement the superior device, OPPO also introduced its OPPO Game On Cup 2022, a Mobile Legends tournament for the gaming community.
While the tournament's registration started last May 4, you can still get a chance to register until May 29. Now, as excitement and anticipation are already building up, here is all you need to know about the OPPO Game On Cup 2022.
Who can Join?
The competition is on the lookout for 128 teams at the jumping-off point. Each team must have six to seven members only, composed of five starter players and optional substitutes, coaches, and managers.
For the whole duration of the tournament, all players and reserves must be eligible to participate. Each player must also be 18 years old and above upon registration. Minors who are 17 years old and below are not allowed to join the tournament.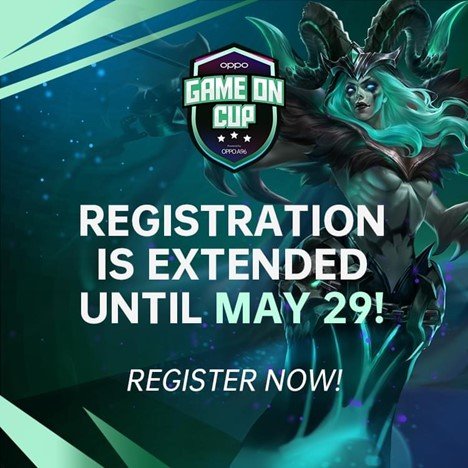 How the OPPO Game On Cup 2022 works
The OPPO Game On Cup 2022 has four rounds: the Qualifiers Phase 1 and Phase 2, and the Playoffs Day 1 and Day 2. The Qualifiers Phase 1 is from June 2 to 3. It is a single-elimination round, wherein teams will compete in best-of-one matches. If your team gets to be in the top 16, you will proceed to Qualifiers Phase 2.
The next round is from June 4 to 5. It is also a single-elimination phase. However, players are to play best-of-three matches. The teams who will reach the top 4 of each group will move to the playoffs.
Day 1 and Day 2 of the playoffs are both single-elimination rounds. Day 1 is on June 17, wherein teams will participate in best-of-three matches. Meanwhile, Day 2 of the playoffs is on June 26. The participants who will get the chance to advance to the semi-finals and bronze match will do best-of-three, and those who qualify for the grand finals will play best-of-five.
Aside from OPPO gadgets, winners will get Php 50,000 for the first place, Php 30,000 for the second place, Php 15,000 for the 3rd place, and Php 5,000 for the fourth place.
The OPPO Game On Cup 2022 Qualifiers Phase 2 up to Playoffs Day 1 will be shown on the OPPO Philippines Facebook Page. The Playoffs Day 2, on the other hand, will take place at the Central Atrium of Mall of Asia (MOA).
Join now!
So, if you still haven't registered yet and are waiting for a sign to join, here it is! Don't miss the chance to be a part of this much-awaited tournament for mobile gamers in the country. Be sure to join the OPPO Game On Facebook Group to know more about this tournament, and register on or before May 29 via this link: http://bit.ly/OppoGameOnCup2022.
You can also find the QR Code version of the registration link on the OPPO Philippines Facebook Page and the OPPO Game On Facebook Group.
Leverage a powerful gaming phone for a smooth Game On Cup experience
To help you and your team have the best experience in this OPPO Game On Cup 2022, leverage the Designed to be Powerful OPPO A96. This device is powered by the Qualcomm® Snapdragon™ 680 4G Mobile Platform and supports 8GB of RAM and 256GB of ROM. Built with a RAM Expansion feature, it can extend the RAM up to 5GB to provide you with smoother gameplay.
The powerful device features a 5000 mAh battery capacity integrated with 33W SUPERVOOC fast-charging technology to provide all the power you need in this tournament. It also enables an immersive gaming experience with dual speakers and a 6.59-inch Color-Rich Punch-Hole Display, boasting a screen-to-body ratio of 90.8% and a 1080×2412 FHD resolution.
Available in Starry Black and Pearl Pink, you can get the OPPO A96 for Php 15,999 if you head out to any OPPO Brand Stores or authorized dealers. You can also add the powerful device to your cart on Lazada and check it out!