Make returning to school easier this year by equipping yourself with all of the necessary equipment at an affordable price. MSI Back to School promo can help you prepare for the upcoming school year, from elementary school to trade school or college. MSI has the latest technology inside awesome gaming and business laptops, with special student discounts to prepare you for everything from orientation to final exams. All students of all ages are eligible for these offers, and all you have to do is buy selected MSI laptops with up to PHP 40,000 worth of crazy discounts & prizes!
(from left to right) Carla Lizardo, a host, beauty queen, streamer, content creator, and brand partner of MSI playing on her MSI Vector GP66 gaming laptop. Roxanne Kho, a cosplayer, beauty enthusiast, streamer, and brand ambassador of MSI dressed as Zero Two from the anime Darling in the FRANXX with her MSI Stealth 15M gaming laptop.
MSI incorporates gaming DNA into its high-performance laptops. Integrated with innovation that offers optimal gaming performance, including competitive screen displays, an efficient cooling system, dependable connectivity technology, and groundbreaking audio. The NVIDIA graphics cards in the GF63 Thin allow you to immerse yourself in the game with lightweight high-resolution gaming. Sharpen your game with the Katana GF66, powered by NVIDIA GeForce RTX™ 30 Series graphics and cutting-edge features for next-level gaming.
MSI's business and productivity laptops, such as the Modern 14 and Modern 15, are designed for personal and professional use, with stunning performance and lightweight portability that boosts task efficiency and allows you to work seamlessly.
(from left to right) Eliza Regaliza, an Entrepreneur, Cyclist, Travel, Film Influencer, and brand partner of MSI working on her MSI Prestige 14 productivity laptop. Jaypee Abrahan, a filmmaker influencer and MSI brand partner with his MSI Prestige 14 Evo A12M productivity laptop. Filipino-German actress and MSI brand partner, Ashley Ortega with her MSI Prestige 14 laptop. Filipino actress, global endorser, singer, host, vlogger, and MSI brand partner Gabbi Garcia with her MSI Summit E14 Flip Evo productivity laptop.
If you want to go high-end, the MSI Crosshair series and RAIDER GE series bring top-tier performance to the table, with full-wattage CPU and GPU performance that rips. Check out the MSI STEALTH GS Series and Delta 15 for a powerful yet discrete gaming experience in the James Bond style.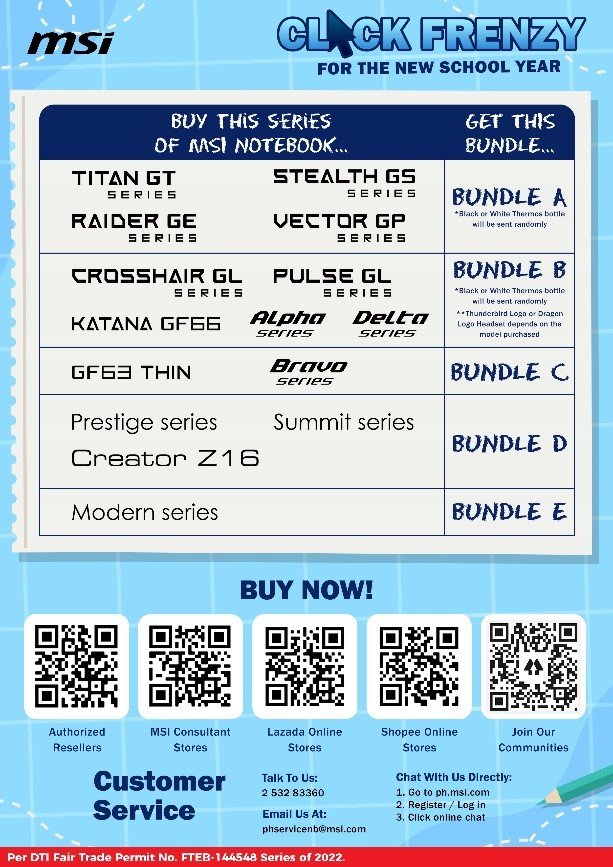 Check out MSI's Latest offerings:
Catch the promo from July 1 to September 11, 2022. Promo redemptions are available at MSI Concept Stores, authorized resellers, and official online stores.
For more information about MSI's Click Frenzy for the New School Year, you may visit: https://ph.msi.com/Promotion/BTSpromo2022/nb