Huawei Philippines launches Seeds For The Future 2021
Huawei wants to introduce new technologies like 5G, AI, and Cloud computing to students.
Huawei Philippines launches the 7th Seeds for the Future program today, over 100 students in the Philippines joined the program this year. Secretary of Foreign Affairs Department, Chairman of Commission on Higher Education in the Philippines, Chancellor of University of the Philippines, Professors and students from 20 universities joined the opening ceremony.
Teodoro Locsin, Secretary of Foreign Affairs Department, gave a speech during the event and said that "As the world becomes more digital, Huawei has seen it fit not only to be business for profit but also to make the building of a better future it's business. In 2008, it took this commitment to another level by launching its flagship CSR Program – Huawei Seeds for the Future. Now, this Digital Spark has spread exponentially to make a difference in the lives of almost 9,000 beneficiaries worldwide."
"Seeds for the Future aptly named as such has been spreading and cultivating ICT expertise across the global expanse. Its beneficiaries are able to acquire ICT Knowledge firsthand while collectively building their network of ICT talents. I am glad that this program has reached the Philippines in 2015, more than 100 Filipinos have benefited from the program and are now making tangible contributions to our ICT industry. I extend my warmest congratulations to Huawei for the remarkable success of Seeds for the Future and to its new crop of talents. I have high hopes that this program will continue to soar higher to make a difference in the lives of many and to build a better future for us all." Secretary Locsin said.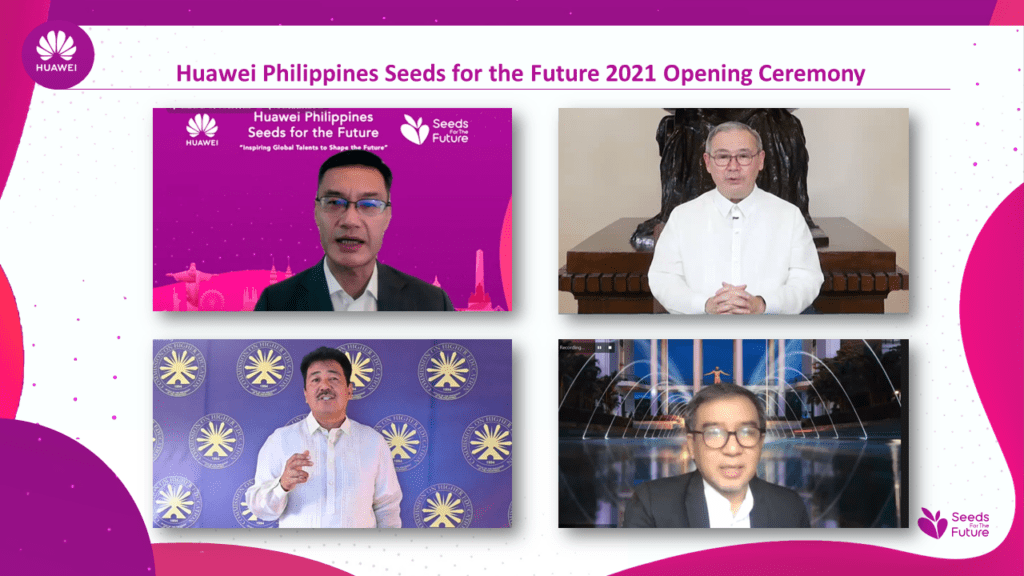 "Huawei Philippines Seeds for the Future program became one of the most awaited events by our aspiring ICT experts. The 2021 program will not just stimulate the minds of our students but more importantly will give them the chance to share their learnings with their peers, which in the long run can evolve in a more immersive, inclusive, and robust ICT ecosystem." De Vera, Chairman of the Commission on Higher Education gave his remarks during the opening ceremony," We are with you in your goal to achieve digital inclusion and promote prosperous tech industry by setting the standards for the rest to follow."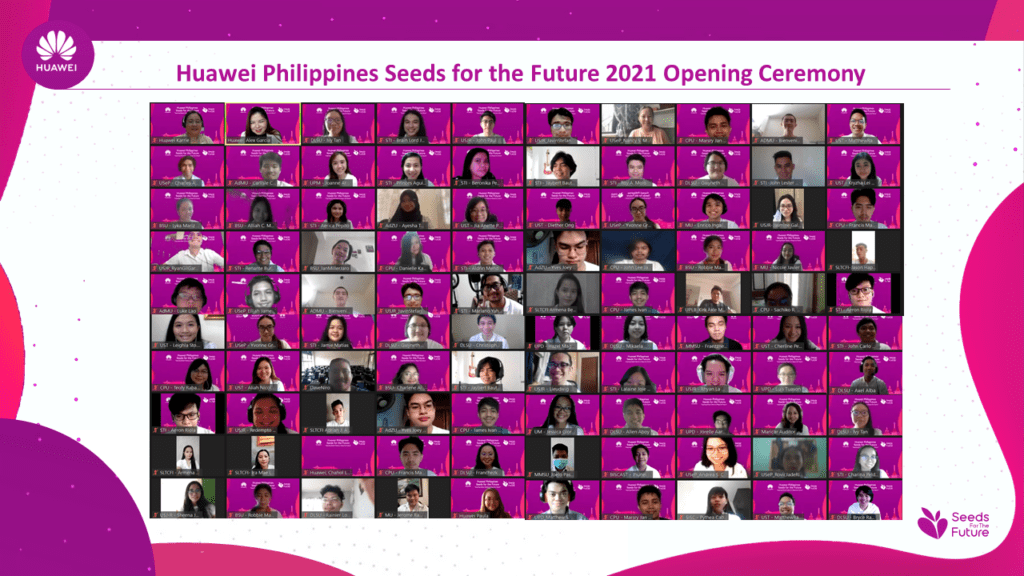 "Huawei Philippines Seeds for the Future Program are important and timely for they introduce to our student's new technologies like 5G, AI, and Cloud computing to help them enhance their knowledge, capabilities, and skills." Fidel Nemenzo, Chancellor of the University of the Philippines stated, "For you, young students, my hope is that you use the knowledge and skills from programs such as this to help solve some of our country's problems. I challenge you to be the generation that will re-imagine and build a new world, one that is resilient, sustainable, and inclusive."
Information and communications technologies (ICT) have become the crucial growth engine for many different industries. The pandemic has also opened our eyes to the importance of ICT in all aspects of our lives, and digital transformation is necessary to ensure that we survive the challenges brought upon by Covid-19.
New ICT technologies like 5G, AI, and IoT will be widely applied in the next decade, they will become the cornerstone of the intelligent world in 2030. Countries with a good ICT foundation will be more resilient and can easily respond to disruption, while talent will drive industries to go digital.
As an ICT leader, Huawei is committed to promoting ICT industry development in the Philippines.
Jay Chen, vice president of Huawei Asia Pacific Region, said that Huawei has announced to extend the digital talent cultivation initiatives even further. Over the next 5 years, Huawei has committed another $50 million USD to develop 500 thousand ICT talents in the Asia Pacific, through several programs including Seeds for the Future. Huawei has been almost 20 years in Philippines, through Seeds for the Future, and also as an enduring commitment to a sustainable world, we aim to bring digital skills to more people.
Seeds for the Future is Huawei's flagship global CSR program, which aims to develop skilled, local ICT talent and bridge communication between countries and cultures. In the past 6 years, more than 100 deserving students from the Philippines took the journey with Huawei Seeds for the Future program. As the pandemic continues, the selected talents will experience 8 days of online training this year.

Huawei to bring digital skills to more Filipino students
More opportunities will appear for further growth through ICT, as new technologies like 5G, AI, and IoT.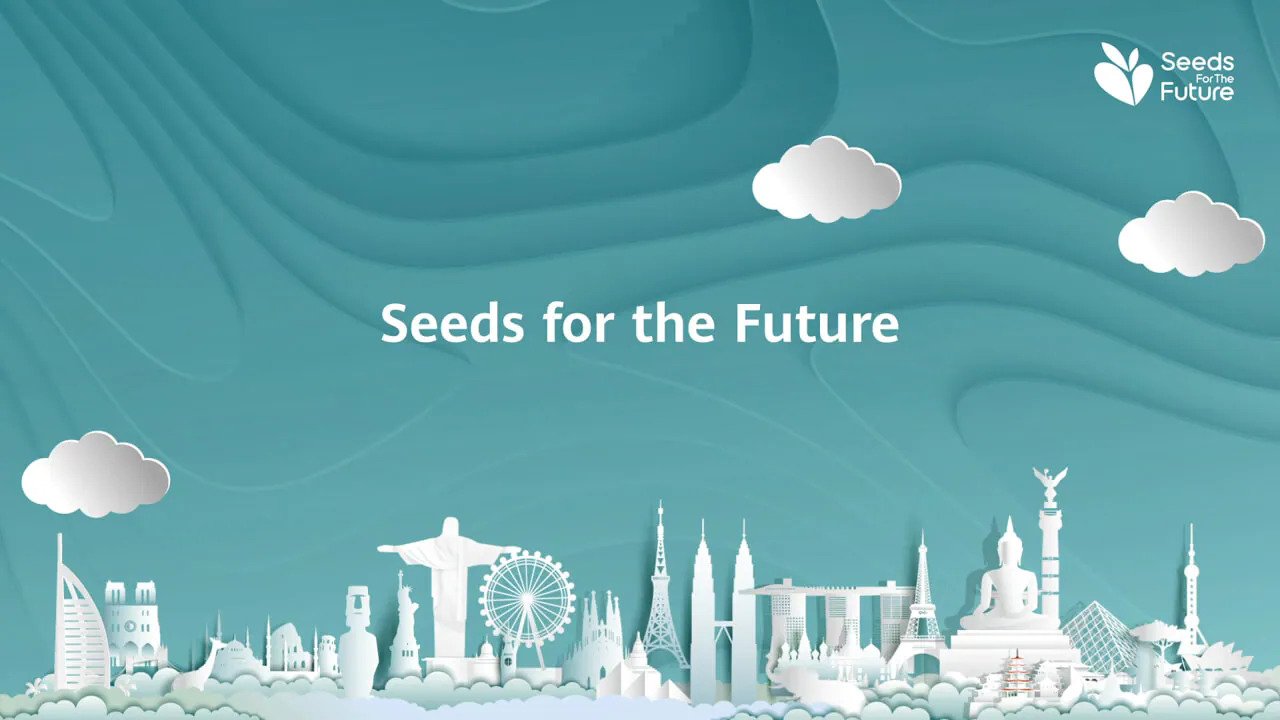 With the Students joining the program with outstanding output, Huawei Philippines successfully held the 7th Seeds for the Future program this year, making the program benefit over 200 students in the Philippines. The Undersecretary of DICT Arnold Ali Atienza, Undersecretary of DOST Renato Solidum, together with university heads and Seeds Alumni joined the Closing ceremony on Friday.
Undersecretary of DICT Arnold Ali Atienza, gave his remarks to the program, "I highly laud Huawei's Seeds for the Future Program. The sincerity of Huawei's intention to eliminate the digital divide cannot be more apparent and clearly manifested in ways other than by providing useful training programs to contribute to ICT talent development and provide the technical skills needed in the industry. As Huawei aptly puts it, the Seeds for the Future Program is their way of sharing their innovation and technology to hopefully support the requirements of the Philippine ICT Industry and nurture the development of the local ICT Talent ecosystem."
"Congratulate you our dear scholars for having embarked on this grand adventure of personal and professional growth and we always cherish with fondness the memories of this journey and may you also never forget the excitement you felt when offered this proverbial seed and saw the boundless potential contained therein." Undersecretary of DOST Renato Solidum shared his hopes to the students, " I would like to express our deepest appreciation with our colleagues and friends at Huawei for helping us in our long term vision to provide world-class, scientific, technological, and innovative solutions towards high productivity and better quality of Life", "Huawei's commitment to developing skilled local ICT talents is laudable especially because how it bridges communication in between countries and cultures in a time we needed it most."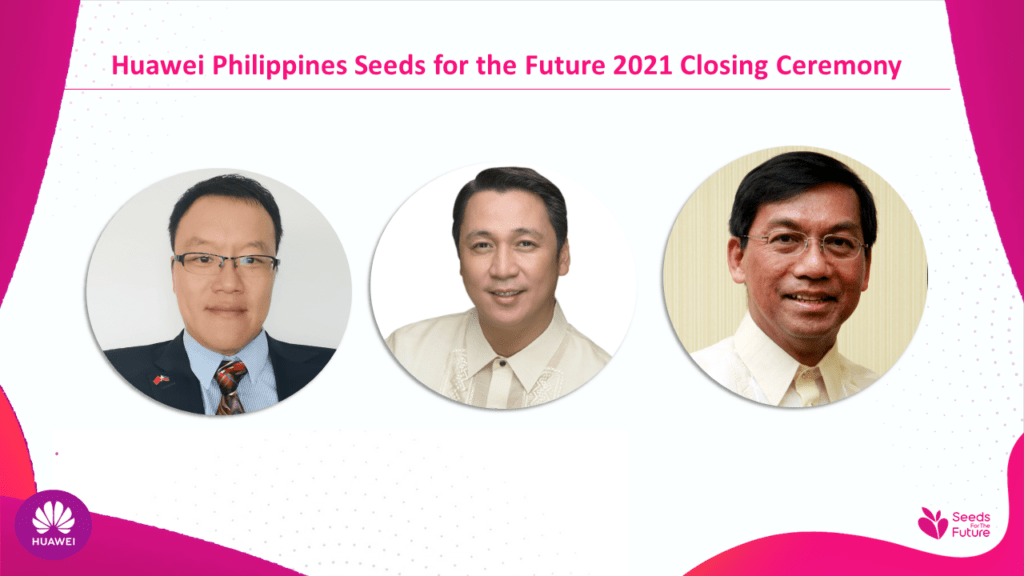 During this special time, as pointed out by the World Economic Forum, ICT made it "possible to create value – as seen in remote work, remote healthcare, and remote education – particularly from the perspective of inclusivity." More opportunities will appear for further growth through ICT, as new technologies like 5G, AI, and IoT becomes more widely applied in the new world.
With the vision to bring digital to every person, home, and organization for a fully connected and intelligent world. "This is the reason behind Seeds for the Future program," Huawei Philippines Vice President Daniel Guo said during the closing ceremony of Seeds in the Future 2021, "It's our great pleasure to offer more opportunities for ICT talents, to help students in the Philippines become better equipped, to take advantage of the opportunities in digital technology, and nurture the development of the country's ICT ecosystem."
Seeds for the Future program launched in 2015 here in the Philippines, has covered more than 200 Filipino students in the past seven years. The ICT Academy started in 2018 in the country, has covered more than 50 Philippine universities, over 9600 students joined the course.
Besides, aiming to pave the way for more ICT talents, Huawei also signed MoU with DICT to offer Huawei Certification Courses in emerging technologies such as AI, Big Data, Cloud service, etc, to help reach a bigger audience and promote digital learning, and widen the ICT Pipeline for sustained and inclusive growth.
Huawei Philippines will continue to devote itself to the education section, bringing digital skills to more Filipinos towards building a sustainable world.
Globe GoWiFi widens its reach to over 3,700 locations
More Filipinos to gain access to an affordable and stable internet connection in public areas.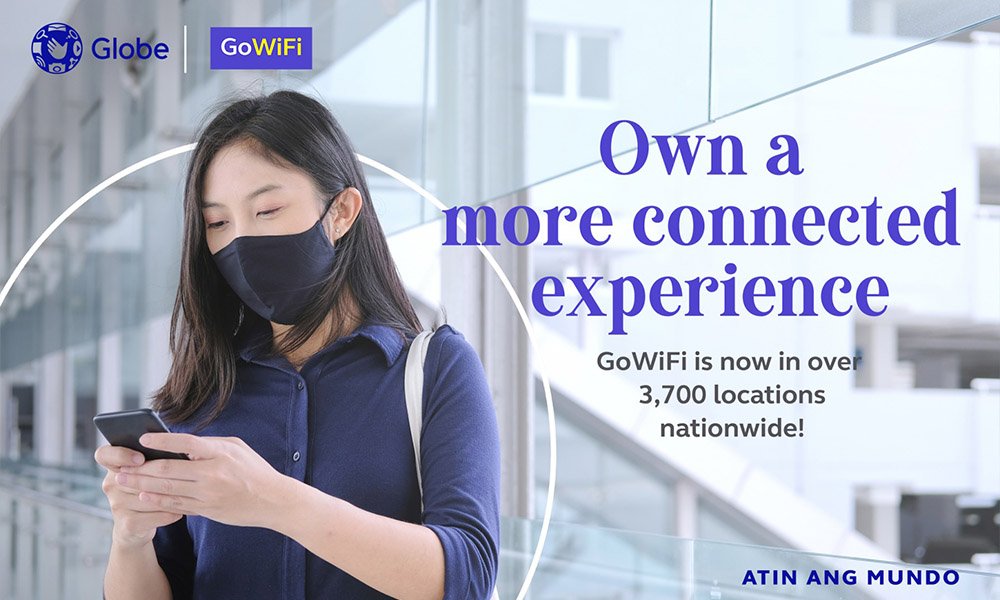 With the intensifying need of Filipinos to have access to an affordable and stable internet connection in public areas, Globe Telecom answers the call by expanding its GoWiFi service to over 3,700 locations nationwide. 
"We are happy to be at the forefront of digitalization in the country through innovative WiFi solutions that will cater to everyone's online needs. And right now, we stand by this mission as Free GoWiFi becomes available in over 3,700 sites nationwide," said Janis Nathalie Racpan, Globe Business Development, and Marketing Director.
She added, "Furthermore, as the times taught us that connection is one of the most valuable things, we hope that you not only stay connected but find more meaningful connections through GoWiFi."
The said expansion covers the local government units, supermarkets, hospitals, schools, and airports. Some of which are:
LGUs:
Quezon City Hall
Mandaluyong City Hall
Bacoor City Hall
Puerto Galera City Hall
Davao City Hall
Antipolo City Hall
Supermarkets:
Select Robinsons Supermarkets
Select Puregold branches
Select Shopwise branches
Hospitals:
Kidapawan Doctors Hospital Inc.
Quezon City General Hospital
Rizal Provincial Hospital Annex I-IV
Saint Vincent General Hospital – Cebu
Cebu North General Hospital
Corazon Locsin Montelibano Memorial Regional Hospital
Currently, GoWiFi is available in select branches of major shopping malls like Ayala Malls, Megaworld Malls, SM Supermalls, Robinsons Malls; in coffee shops like Starbucks; in transport terminals such as Metro Rail Transit (MRT) and Light Rail Transit (LRT); and in airports namely the Ninoy Aquino International Airport, Diosdado Macapagal International Airport (Clark International Airport), Puerto Princesa International Airport (New Terminal), and more.
To connect to GoWiFi, you just open the WiFi Settings of your WiFi-enabled device. Then, connect to "@FreeGoWiFi" or "@<establishment>_FreeGoWiFi." Afterward, register your mobile number, and wait for the SMS verification. Next, select a WiFi offer, confirm, and then start surfing.
On top of this, a distinct part of the general public who are Globe and TM subscribers won't only enjoy daily minutes of free internet but can also continue their online activities conveniently because of GoSurf and EasySurf bundle promos. These bundles come along with 1GB of Free GoWiFi.
To maximize your free 1GB from GoSurf and EasySurf, tap open the WiFi settings of your device. Look for "@GoSurf_FreeWiFi" or "@EasySurf_FreeWiFi." Then, register your mobile number and wait for the SMS verification. Lastly, confirm and start browsing.
The internet has become an essential part of people's daily lives, especially during the pandemic. Indeed, Globe's GoWiFi is the pathway for more people to stay connected.
To know more about GoWiFi, visit Globe GoWiFi online today.
Embrace the Growth and Make Success Happen with SKYBIZ
SKYBIZ partners with industry experts to successfully grow businesses.

As more and more businesses have turned into home businesses, and currency has
turned to digital currency, it's important to grow with a reliable business partner like
SKYBIZ. Aside from its reliable service, approachable team members, and customized
business packages, SKYBIZ also extends its expertise to its clients with exciting programs
that can help budding entrepreneurs become more productive and successful in their
endeavors!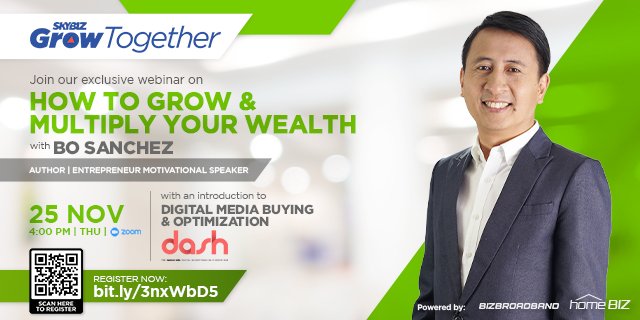 Grow Together Webinars
As part of its Grow Together campaign, SKYBIZ partners with industry experts to share
their expertise and secrets to successfully grow businesses. The first webinar is "How to
Grow and Multiply Your Wealth," with author and entrepreneur motivational speaker
Bo Sanchez. Bo is also a micro-entrepreneur that firmly believes that one of the most
important solutions to the country's economic problems is growing more micro-entrepreneurs. The webinar is on November 25, Thursday at 4:00 pm and is for free.
One just has to register on this link or easily scan the QR to join the webinar.
Having SKYBIZ is just a QR Code away!

It's so easy and convenient to apply for a SKYBIZ account. Just scan the QR code with
your phone and fill out the details on the application form. A SKYBIZ representative will
get in touch and guide you through all the requirements.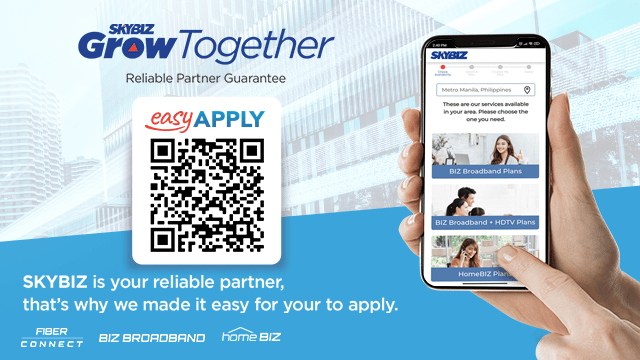 SKYBIZ has a True Fiber internet connection, personalized account management, and
24/7 technical support, so that any time of the day, you can expect someone to assist
you of any problems with your connection.
Talk about personalized service. Successful applications for Fiber Direct and Fiber
Connect get 50% OFF for the first three months. Take this as your first step in pushing
your business to new heights.
So don't fight the change. Embrace it, and make it a business essential that you can rely on
on. Everybody wins with SKYBIZ.