MediaTek and AMD announce RZ600 series Wi-Fi 6E chips
The chipset will power next-generation AMD Ryzen-series laptops and desktop PCs.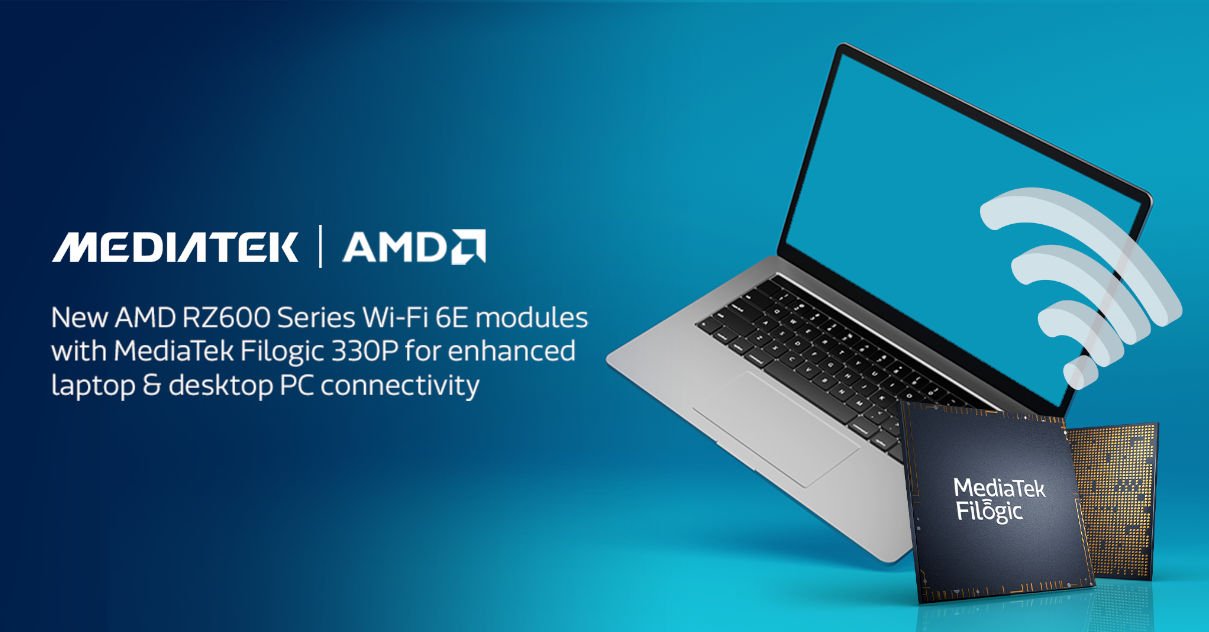 Today, MediaTek and AMD announced a partnership to co-engineer industry-leading Wi-Fi solutions, beginning with the AMD RZ600 Series Wi-Fi 6E modules, which include MediaTek's new Filogic 330P chipset. In 2022 and beyond, the Filogic 330P chipset will power next-generation AMD Ryzen-series laptops and desktop PCs, delivering fast Wi-Fi speeds with low latency and less interference from other signals.
AMD and MediaTek developed and certified PCIe® and USB interfaces for modern sleep states and power management, which are critical elements of modern customer experiences, to optimize the AMD RZ600 Series Wi-Fi 6E modules with a focus on delivering seamless connectivity experiences for customers. Furthermore, the optimization process included stress testing and ensuring compatibility standards, which may reduce development time for OEM customers in the long run.
Filogic 330P supports 2×2 Wi-Fi 6 (2.4/5GHz) and 6E (6GHz band up to 7.125GHz) connectivity standards, as well as Bluetooth® 5.2 (BT/BLE). The high throughput chipset is extremely fast, with up to 2.4Gbps connectivity and support for the new 6GHz spectrum at 160MHz channel bandwidth. The Filogic 330P chipset also incorporates MediaTek's power amplifier (PA) and low noise amplifier (LNA) technology to help optimize power consumption and reduce design footprint, allowing it to be embedded in laptops of all sizes.
AMD RZ600 Series Wi-Fi 6E Modules Specifications
| | | |
| --- | --- | --- |
| Wi-Fi Module | Wi-Fi Specs | M.2 Slots |
| AMD RZ616 Wi-Fi 6E module | Wi-Fi 6E 2x2160MHz Wi-Fi ChannelsPHY rate up to 2.4Gbps | M.2 2230 and 1216 |
| AMD RZ608 Wi-Fi 6E module | Wi-Fi 6E 2x280MHz Wi-Fi ChannelsPHY rate up to 1.2Gbps | M.2 2230 |
The AMD RZ600 Series Wi-Fi 6E modules extend AMD's Wi-Fi capabilities, providing excellent connectivity solutions to OEMs and end-users whether they are playing the latest interactive games, working remotely, or completing a large project.

Intel and AMD: chip shortage is getting worse
It won't be over until 2023.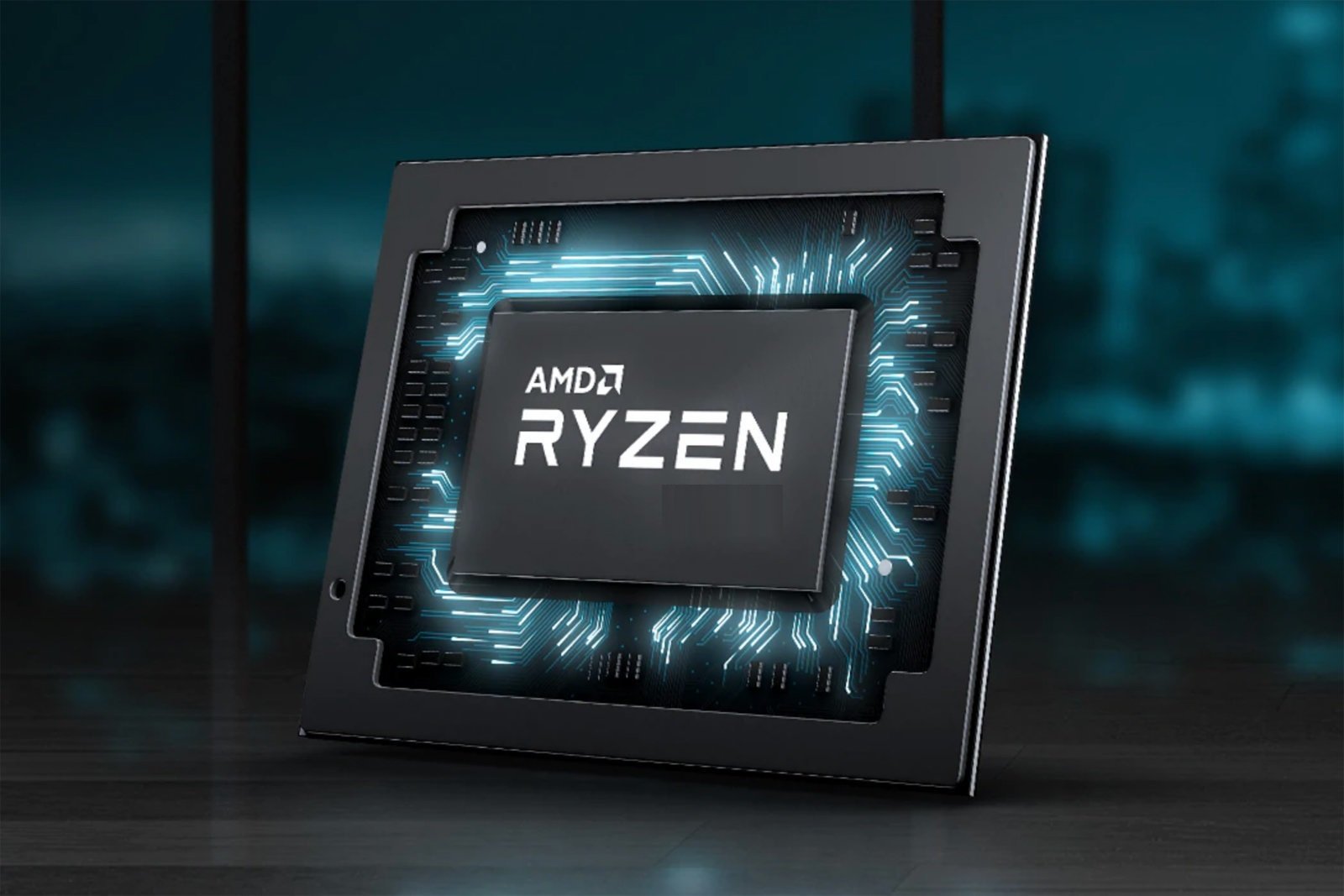 Low stock and high pricing are the results of the ongoing chip scarcity, which affects everything from PCs to Cameros. It isn't going away anytime soon, unfortunately. Intel CEO Pat Gelsinger told shareholders during a shareholder meeting to disclose the company's third-quarter financial results that he doesn't expect the shortfall to end until 2023 at the earliest.
"We're at the worst of it right now," Gelsinger told CNBC. "Every quarter next year, we'll get marginally better, but supply-demand equilibrium won't be achieved until 2023." Intel has stated that processor shortages are causing a drop in laptop sales and cautioned that finding good PC discounts this holiday season may be difficult.
To some extent, the other heavyweights of the semiconductor industry concur. Nvidia CEO Jensen Huang said in a similar earnings call in August that supply chain challenges will remain for "the great majority" of 2022. For almost two years, Nvidia's graphics cards have been in such limited supply that secondary market prices have skyrocketed as scalpers, cryptocurrency miners, and the occasional PC gamer compete for the few GPUs that are still available on the retail market.
In the PC industry, Intel and Nvidia's main rival agrees, but they are significantly more hopeful. AMD CEO Lisa Su projected that the chip shortage in the second half of 2022 will be "less severe" after being "tight" in the first half, speaking at the Code Conference in September.
It doesn't end there, though. Qualcomm, ARM, Samsung, and Apple executives all believe that the chip shortage will last until at least 2022, with varying degrees of pessimism for longer forecasts. Industrial powers are attempting to improve supply through increased manufacturing, while politicians strive to assist them to different degrees of success. However, the general assumption appears to be that high pricing and limited supplies will continue to be the norm for practically everything that contains a chip in the coming year.
Intel's unreleased Core i9-12900K processor leaks online
Alder Lake won't come cheap.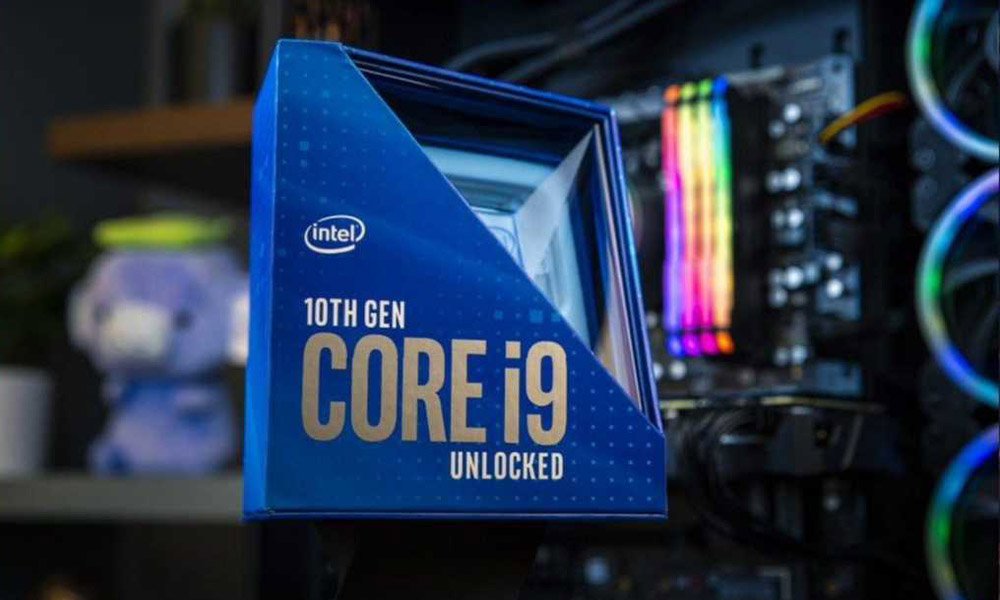 The forthcoming Intel Core i9-12900K CPU continues to be the subject of leaks. Even though the chips haven't been formally revealed, a Reddit member was able to purchase a few of them earlier this week.
Micro Center's retail page now includes information on the flagship Alder Lake CPU (via The Verge). According to the description, the chip will cost $670 and will begin arriving on November 4, 2021.
The Core i9-12900K offers a 3.2GHz regular clock and a 5.2GHz turbo speed, according to the listing. It has 16 cores, 24 threads, and 30MB of L3 cache, according to reports. The spec sheet lists a thermal power of 125W, DDR5 memory support, and PCIe Gen 5 capability. Intel Z690, Intel H670, Intel B660, and Intel H610 motherboards will all support the flagship processor.
"12th Gen Intel Core i9-12900K unlocked desktop processor. Featuring Intel Turbo Boost Max Technology 3.0 and PCIe Gen 5.0 & 4.0 support, DDR5 and DDR4 support, unlocked 12th Gen Intel Core desktop processors are optimized for enthusiast gamers and serious creators and help deliver high performance overclocking for an added boost. Thermal solution NOT included in the box. Compatible with 600 series chipset based motherboards."

Based from the product listing via micro center
The information in this listing corresponds to prior leaks as well as Intel's official preview of its Alder Lake CPUs in August 2021 at the company's Architecture Day.