According to Canalys' recent research, Honor is currently a Top 3 smartphone manufacturer in China. According to statistics from the research firm for Q3, the newly independent company attracted Huawei users and shipped 25% more phones than it did before it was split up. The top two slots are still held by Vivo and Oppo, but the erstwhile Huawei sidekick is getting closer to them than ever.
Vivo, the market leader, maintained its dominance, shipping 18.3 million units for a 23 percent market share. With 16.5 million shipments, OPPO, which has now combined with OnePlus, remained in second place. For the first time, HONOR broke into the top three, with a market share jump from 9% in Q2 to 18% in Q3. Xiaomi came in fourth place with 10.9 million units supplied because to supply difficulties, and Apple rounded out the top five with 8.3 million units shipped.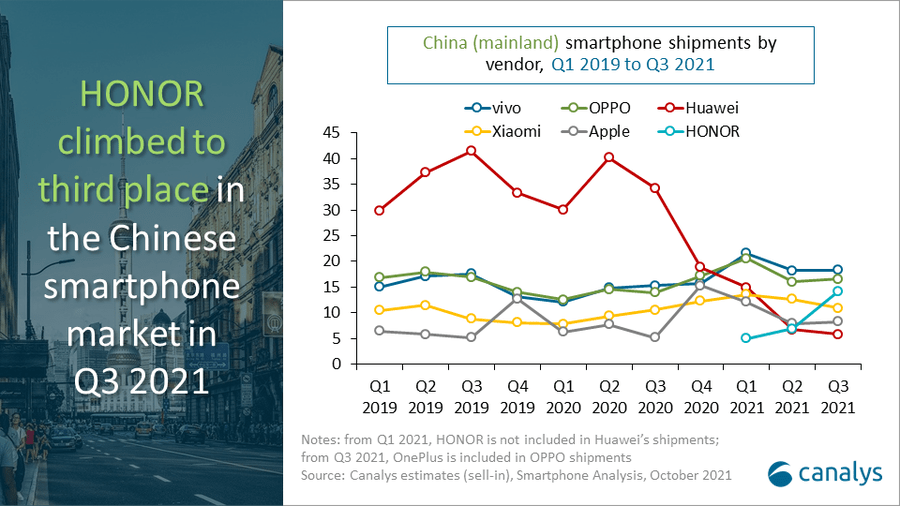 "The strategic value of smartphones is no longer limited to unit share and revenue," said Canalys Research Analyst Amber Liu. "Vendors now count the entire smartphone ecosystem, including software and services, as important metrics to benchmark success. Hardware margin is under pressure, but maintaining and growing market share is still vital for vendors. One novel way to do this is via demographic-based product segmentation.
As a result, niche segment products, such as Xiaomi's Civi, OPPO's K9s, HONOR's 50 series, Vivo's IQOO8 series, and Realme's GT Neo, are becoming popular among female users, gamers, vloggers, online shoppers, and generation z. The marketing messages behind these products are clear and explicitly target their demographic audiences. This product strategy has won consumer attention and prompted upgrades."
According to Canalys, future expectations for the Chinese market are low. Chipset shortages, as well as other supply chain difficulties, make "carving out more volume and revenue from an already saturated market" extremely difficult.