The full set of data from Canalys on global Q3 smartphone shipments is in, and it confirms Apple's return to second place after Samsung. In the months of July and September, a total of 325.5 million units were shipped, a 6% decrease from the same period last year. The persistent global chipset scarcity is a major factor in the drop in shipments.
Samsung outsold all other manufacturers with 69.4 million phones shipped, despite the fact that this is a 13 percent decrease from a year ago. Apple shipped 49.2 million iPhones, up 14 percent year over year, thanks to strong demand for the iPhone 13 series and continued momentum from the iPhone 12 generation.
With 44 million units, Xiaomi completes the top three. Oppo (36.7 million) and Vivo (34.2 million) round out the top five, with Oppo delivering 18 percent more phones this quarter than the previous quarter.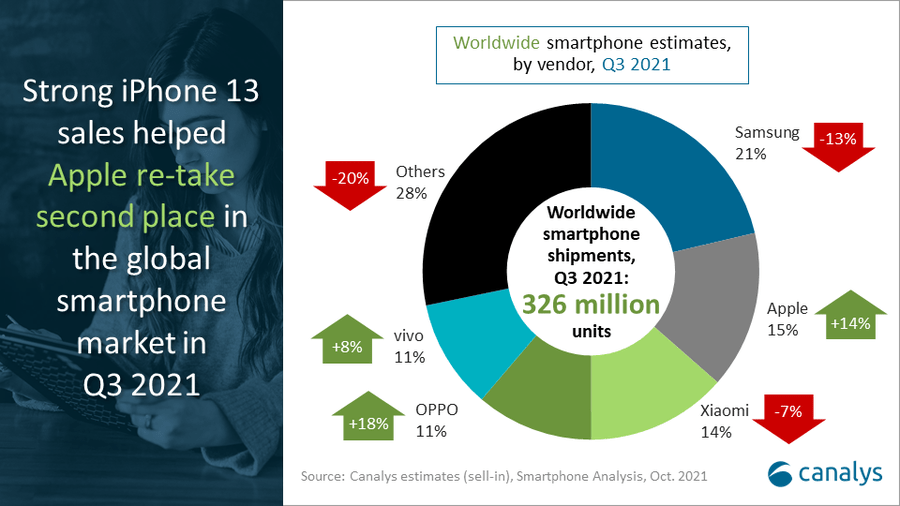 "The iPhone 13 had a strong start," Canalys Research Analyst Le Xuan Chiew stated. "Pre-orders were strong, and unlike last year, Apple was able to leverage its retail outlets to boost sales. The gadgets have proven to be an appealing upgrade for users with a two- or three-year-old iPhone, with improved cameras, battery life, and, of course, 5G.
However, Apple's success extends far beyond the iPhone 13. For example, it kept the iPhone 12's momentum going by offering bulk discounts behind the scenes. It is rapidly expanding its B2B channel activities all around the world. It also continues to win over network operators, assisting in the migration of their user bases to 5G and ensuring that iPhones are prioritized in their portfolios. It will confront supply constraints and has lowered its Q4 2021 iPhone production target."
Chiew also added that Apple, on the other hand, is a sourcing powerhouse, and its high-end products keep it less exposed than many competitors. It will be striving for the top spot next quarter."
According to Canalys research experts, smartphone makers will focus on streamlining supply chains, rearranging pricing tactics, and offering new carrier agreements in the final three months of the year.