HONOR has made waves in the smartphone industry with its groundbreaking foldable phone, setting new standards for slimness and weight. Now, they've unveiled the HONOR 90 5G, a mid-range slab phone that continues to impress with its remarkable slim and lightweight design, standing out in a market filled with formidable contenders.
I dare say that the Honor 90 takes the crown as the most ergonomically comfortable slab phone to grace this year's market, redefining what it means to hold a smartphone comfortably.

Editor's View
While not positioned as the flagship in HONOR's lineup – a distinction currently held by the "Magic" series – the HONOR 90 brings a compelling proposition to the table. This smartphone emerges as the latest entrant in the esteemed number series, offering a formidable mid-range experience in terms of specifications. What truly sets the Honor 90 apart, though, is its impeccable aesthetics and design, where Honor has spared no effort to create an eye-catching and visually appealing device.
Does the price tag of the HONOR 90 5G align with its value and features? Let's dive deep into this review.
Unboxing the HONOR 90 5G
The Honor 90 5G comes in a white box with the phone's name and logo on the front. The back of the box has some of the phone's key features, such as the 6.7-inch OLED display, the Snapdragon 7 Gen 1 processor, and the 12GB of RAM.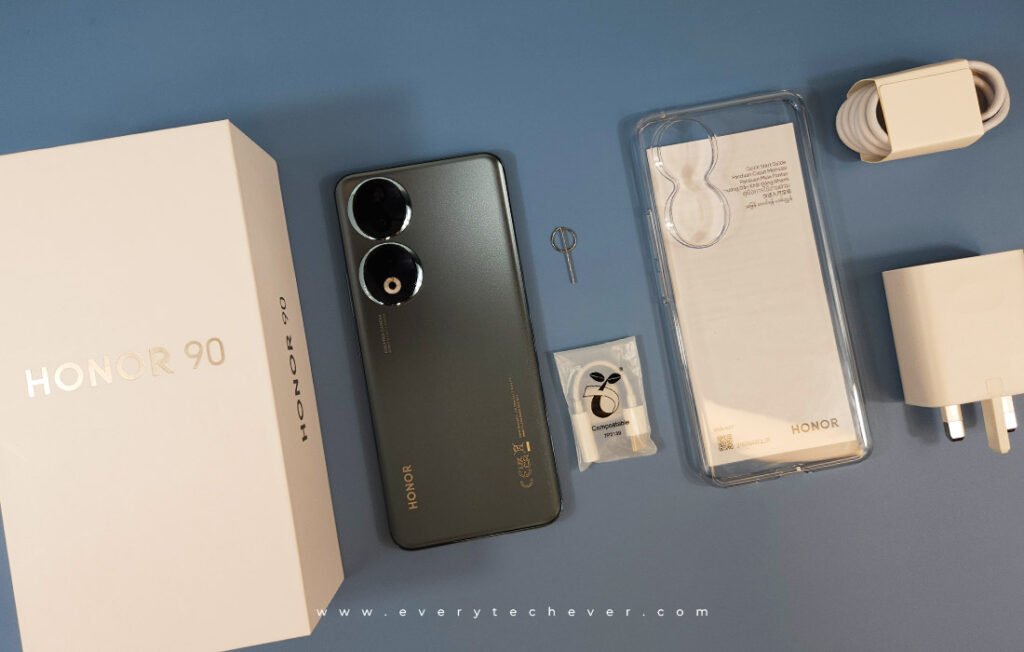 Inside the box, you will find the following:
The Honor 90 5G phone
A USB Type-C charging cable
A 66W Supercharger
A jelly case
A SIM ejector tool
A user manual
Here are some additional things to note about the unboxing experience:
The Honor 90 5G comes with a pre-installed screen protector, which is a nice touch.
The phone also comes with a jelly case, which is a soft, flexible case that will help protect the phone from scratches and bumps.
The 66W Supercharger is very powerful and can charge the phone from empty to full in just over 30 minutes.
Overall, the unboxing experience for the Honor 90 5G is positive. The phone comes in a stylish box and includes all of the necessary accessories. I am impressed with the phone's design and features, and I am excited to start using it.
HONOR 90 5G Specifications

HONOR 90
Display
6.7-inch AMOLED
2664 x 1200 resolution
120Hz refresh rate
435ppi
1,600 nits peak brightness, HDR10+
Processor
Qualcomm Snapdragon 7 Gen 1 Accelerated Edition 5G
RAM
12GB + 7GB (Virtual RAM)
Storage
512GB
Power
5,000mAh battery
66W HONOR SuperCharge fast charging
Cameras
Rear:
– 200MP wide, f/1.9, 1/1.4-inch sensor, 16:1 binning
– 12MP ultrawide and macro, f/2.2
– 2MP depth camera, f/2.4
Selfie:
– 50MP, 4:1 binning
Audio
Mono speaker
Video
4K/30fps, 1080p/60fps
Durability
Plastic back, aluminum frame
Connectivity
Wi-Fi 6
Bluetooth 5.2
Biometrics
Side-mounted fingerprint reader
Face unlock (via camera)
Ports and switches
USB 2.0 via USB-C
Software
Android 13, HONOR Magic 7.1
Dimensions and weight
161.9 x 74.1 x 7.8mm
183g
Colors
Diamond Silver
Emerald Green
Peacock Blue
Midnight Black
In the box
HONOR 90
66W HONOR SuperCharge charger
USB Type-A to Type-C cable
Clear TPU case
SIM tool
Design and Build
At first glance, the HONOR 90 may strike a resemblance to its 2022 predecessor, the HONOR 70, but this similarity belies the profound enhancements that lie beneath the surface. These transformative improvements extend across the entirety of the phone, firmly establishing it as a standout choice within the mid-range Android market. What truly catches the eye, apart from its performance upgrades, is the captivating matte finish in a shimmering emerald hue. This distinctive color elegantly shifts from green to blue to grey, creating a mesmerizing visual effect under varying lighting conditions.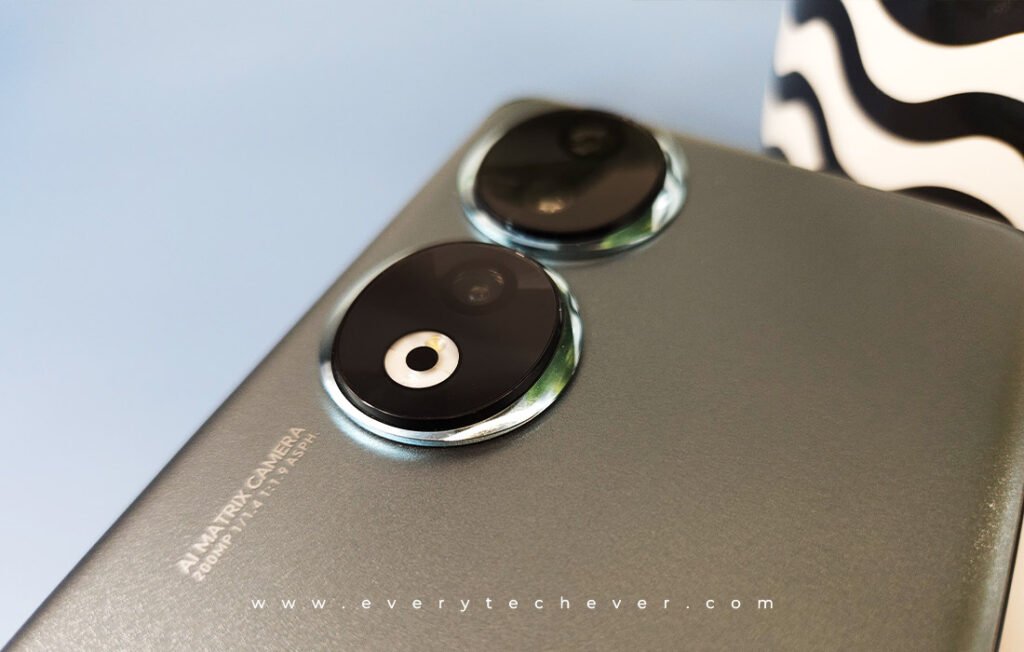 HONOR drew inspiration from the intricate world of jewelry design to craft a truly remarkable aesthetic. The mesmerizing criss-cross lines, reminiscent of gemstones, artfully weave together to construct an exquisite maze, captivating light and shadow in an enchanting dance.
The camera island's distinctive design, aptly named "The Moon Phase Ring" on the HONOR 90, seeks to capture the essence of perpetual motion within a static frame. It expertly embraces fleeting moments, playing with the interplay of light and shadow to create an experience that is as timeless as it is dynamic.
Display
The standout feature here is undoubtedly the stunning 6.7-inch LTPO AMOLED display with up to a 120Hz refresh rate and a 1200×2664 resolution. It boasts an impressive peak brightness of 1,600 nits and during a recent trip to sun-soaked La Jolla Luxury Resort, Bataan the brand officially launched the HONOR 90 5G. It effortlessly stood up to the harshest sunlight without any visibility issues.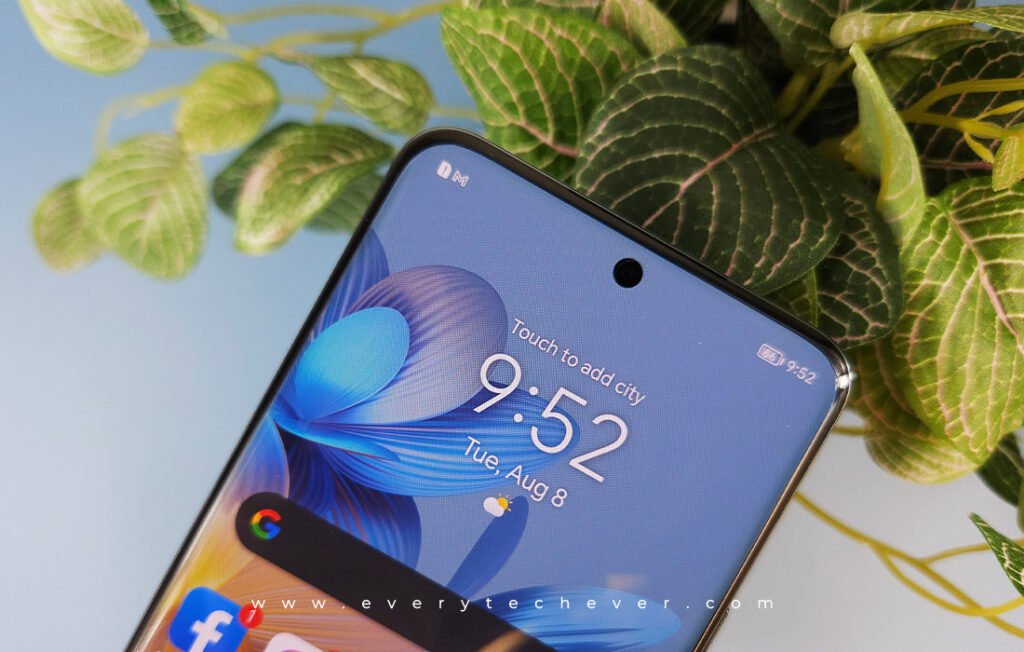 HONOR takes pride in its HDR10+ and Netflix compatibility, backed by a DXOMark Gold Display certification. Moreover, it offers an ultra-high PWM rate of 3,840Hz for flicker-free dimming, and the list of specifications seems almost endless. While these may sound like marketing buzzwords, they truly live up to the hype.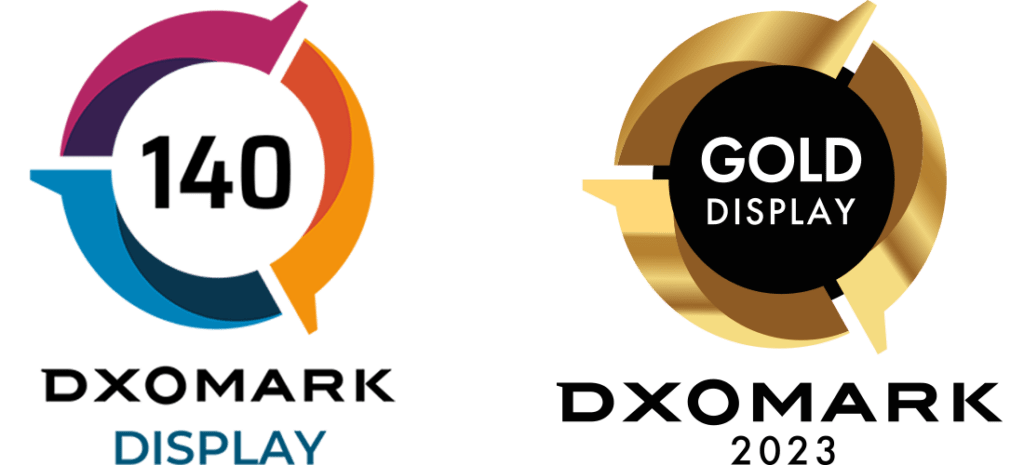 In my experience, this display sets a new standard for mid-range phones, excelling in both exceptionally bright outdoor conditions and dimly lit rooms. As someone who reads and writes extensively on their phone, I'm accustomed to eye fatigue, especially when viewing white text on a black background for prolonged periods. Surprisingly, with the HONOR 90 5G, even after over an hour of continuous use, I never experienced any such discomfort.
Camera
At first glance, the camera hardware of the HONOR 90 5G is undeniably striking. It boasts a remarkable 200MP primary camera equipped with a sizable 1/1.4-inch sensor and a wide f/1.9 aperture. This powerhouse is complemented by a 12MP ultrawide lens and a dedicated depth sensor to further enhance your photography experience. Turning to the front of the device, a high-resolution 50MP camera takes charge of capturing stunning selfies with precision and clarity.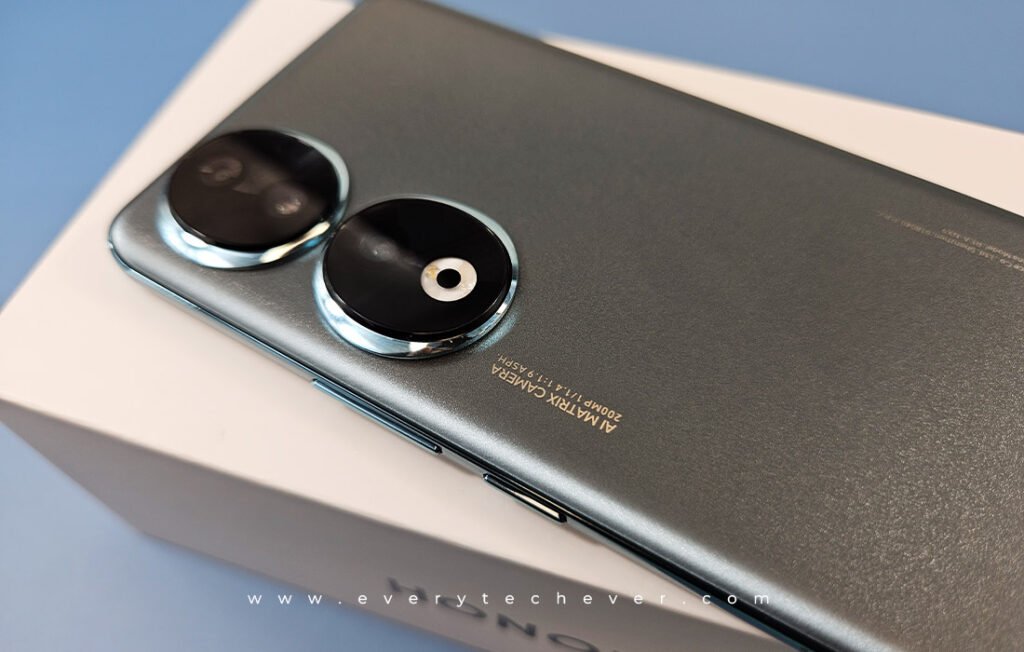 It's crucial to note that a higher megapixel count doesn't automatically translate to superior camera performance. In fact, an abundance of megapixels can impact a camera's ability to intake light effectively. This is precisely why many top-tier smartphone cameras have settled on 48MP or 50MP sensors as the optimal balance. However, a 200MP camera does provide additional flexibility for advanced software image processing. When executed skillfully, this can compensate for limitations such as smaller image sensor sizes or slower apertures, resulting in exceptionally pleasing and detailed images.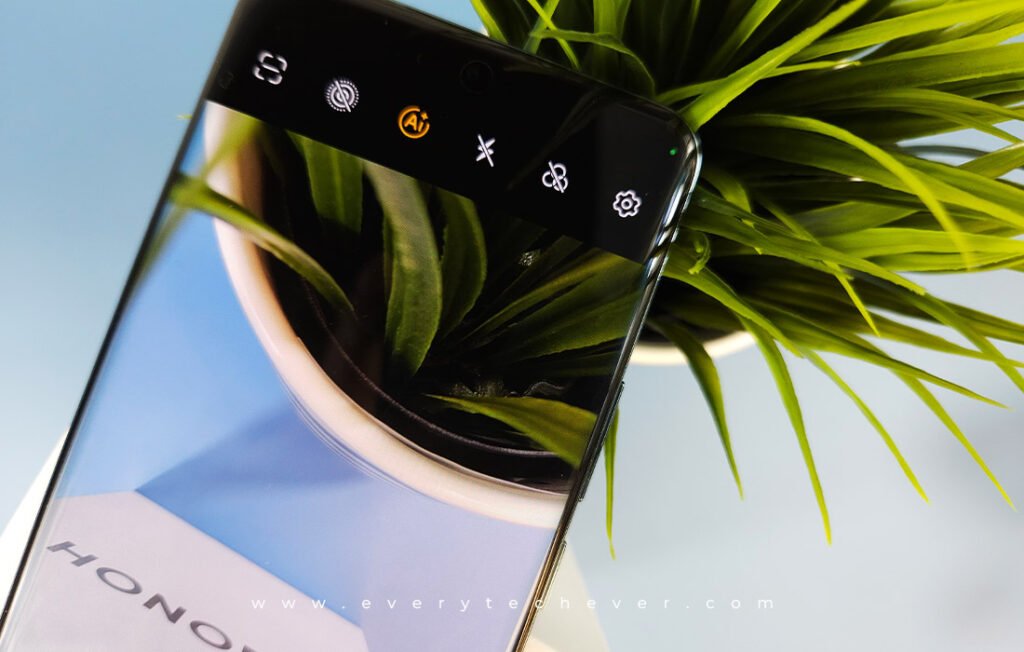 Fortunately, HONOR's efforts yield positive results for the most part. The 200MP primary camera primarily leverages a 16-in-1 pixel binning technique, resulting in snapshots that exhibit remarkable dynamism, vibrant colors, and an impressive dynamic range. However, it's worth noting that some of these shots can appear slightly over-processed, giving them a somewhat artificial quality.
In all fairness, this might not be readily noticeable to the average user. I've been accustomed to using flagship smartphones with bigger sensors, which tend to deliver more natural-looking images, making the contrast quite apparent to me.
Under optimal lighting conditions, the camera setup performs admirably, delivering impressive results that include some striking shots. However, the situation takes a turn in low-light environments, primarily due to the absence of Optical Image Stabilization (OIS), a feature found in the Pro version of the HONOR 90. Nevertheless, the dedicated Night Mode comes to the rescue, significantly improving the quality of nighttime shots in most scenarios.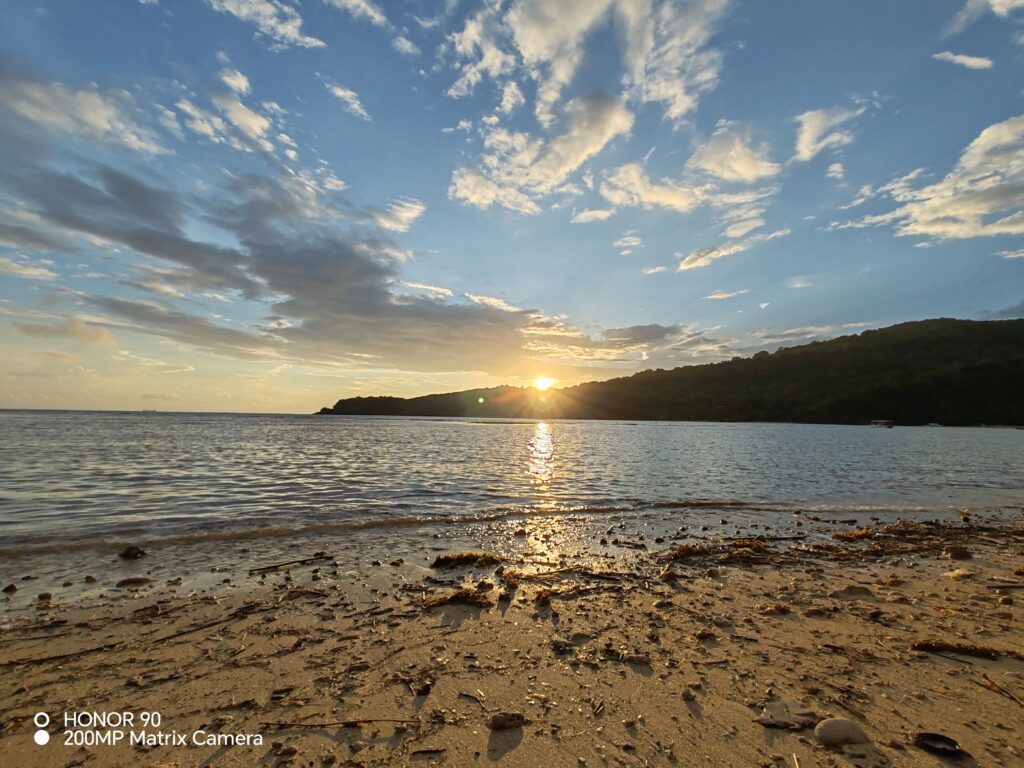 The 50MP front-facing camera proves to be highly capable, boasting an impressively wide field of view that surpasses that of many flagship devices. This expansive view allows you to capture more of your surroundings, making it ideal for group selfies, or "groupies," as some might call them. Moreover, the selfie camera excels at maintaining a well-balanced exposure, effectively highlighting your face without overexposing the background, a feat that many other phones often struggle to achieve.
I derive immense joy from photographing my pets, all thanks to the HONOR 90 5G's remarkable features. Its rapid shutter speed and AI scene detection work harmoniously to automatically configure the ideal settings for pets, resulting in splendid portrait shots.
If you're curious about the HONOR 90 5G's ability to capture fireworks displays, rest assured, it's up to the task. We were truly impressed with its performance in both Auto mode, where it effortlessly captures this challenging shot. For those seeking greater creative control and flexibility, you can easily switch to Pro mode, allowing you to fine-tune settings such as shutter speed, ISO, and manual focus to craft your perfect fireworks shots.
These captivating shots were captured during the HONOR 90 5G media launch at the La Jolla Luxury Resort in Bataan.
The Honor 90 5G also offers an impressive Super Macro mode, which we absolutely adore. It excels in capturing shots with remarkable clarity, bringing out intricate details, and maintaining impeccable color accuracy.
Shifting our focus to video performance, the primary camera delivers a commendable performance. Video recordings boast vibrant and vivid colors, and despite the absence of Optical Image Stabilization (OIS), Electronic Image Stabilization (EIS) provides decent stability.
Honor introduces an enjoyable multi-camera mode, enabling regular users to become instant vloggers to simultaneously capture video using two different lenses, with various combinations available—ranging from the ultrawide to the primary camera. However, it's important to note that the 2MP depth sensor is not among the eligible options for this feature.
Performance
Magic OS 7.1
The HONOR 90 5G is powered by Magic OS 7.1 based on the latest Android 13, the latest iteration of HONOR's user interface. It's worth noting that HONOR has distanced itself from Huawei for nearly three years now, and while they've shed the "UI" branding in favor of "OS" to set themselves apart from Huawei's EMUI, the software experience remains remarkably similar.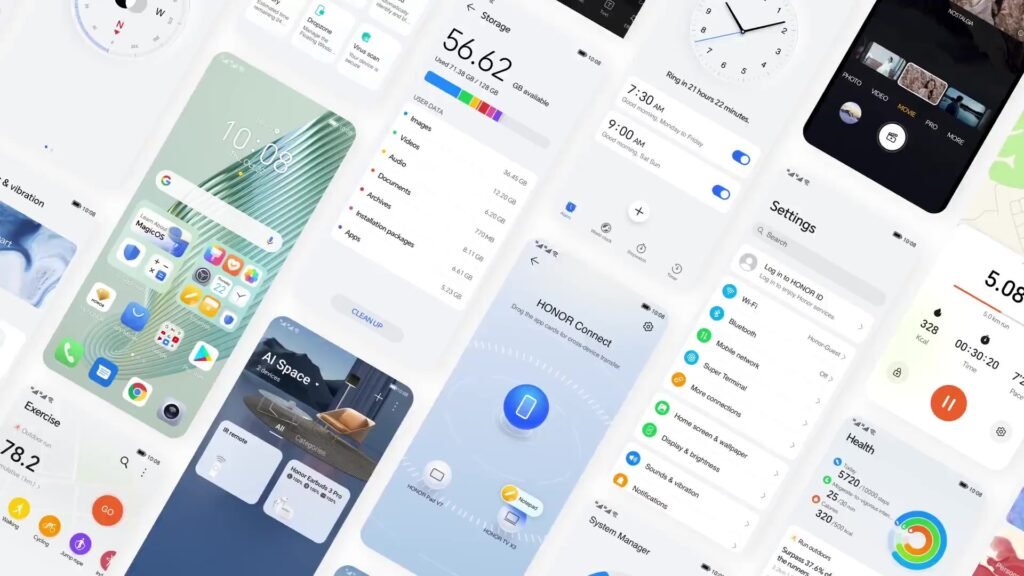 One notable issue lies in the design of app icons, which feel outdated and inconsistent. However, it's not all negative. HONOR's multitasking system, virtually identical to EMUI's, works exceptionally well. Moreover, MagicOS 7.0 introduces Magic Ring, a feature that seamlessly connects Honor smartphones with HONOR tablets and computers, enhancing the overall ecosystem.
Indeed, HONOR has made a promise to revamp its operating system, and this undertaking represents a significant item on its to-do list. Their journey towards independence involved critical tasks such as establishing an autonomous factory, procuring components autonomously, renewing partnerships, and undertaking a comprehensive restructuring of their operations.
George Zhao, HONOR's CEO, has given word that it remains dedicated to the continuous evolution of its software identity and other aspects of the user experience.
The Bigger, the Better!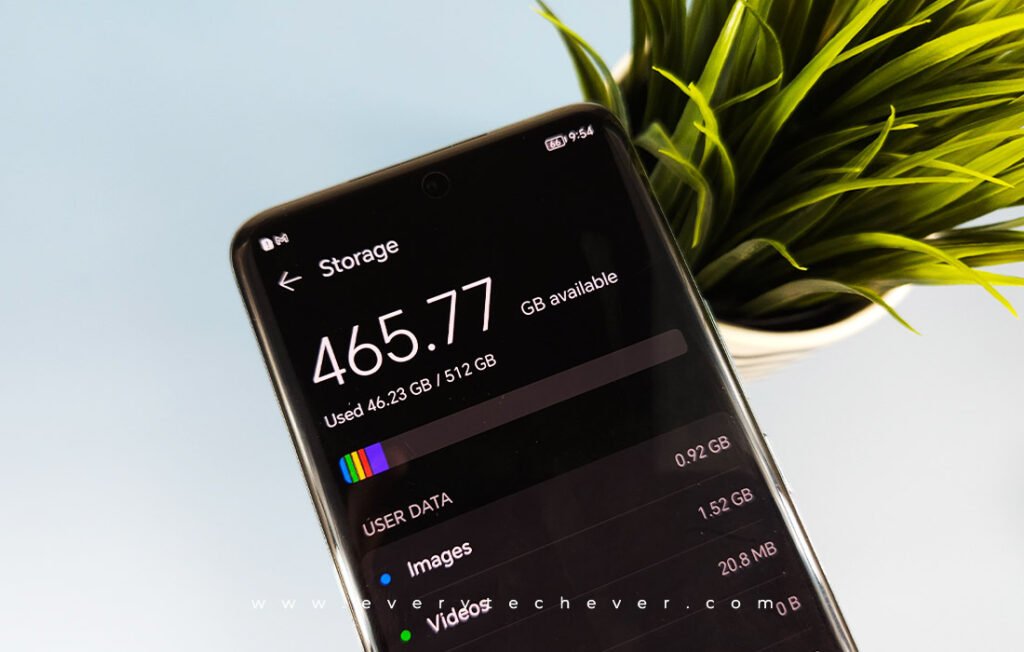 Now, let's talk about the standout feature—the colossal 512GB of storage. This is where the Honor 90 5G truly shines. In an era where content creation and consumption are at their peak, having ample storage is a game-changer. You can store countless photos, videos, apps, and more without constantly managing your storage space. It's a rare gem in its price point and eliminates the need for external storage solutions.
Snapdragon 7 Gen 1
The Honor 90 is powered by the Qualcomm Snapdragon 7 Gen 1 chipset that employs an efficient Samsung 4nm manufacturing process. What sets the Honor 90 apart is its utilization of a slightly overclocked variant of this chipset, known as the "Accelerated Edition."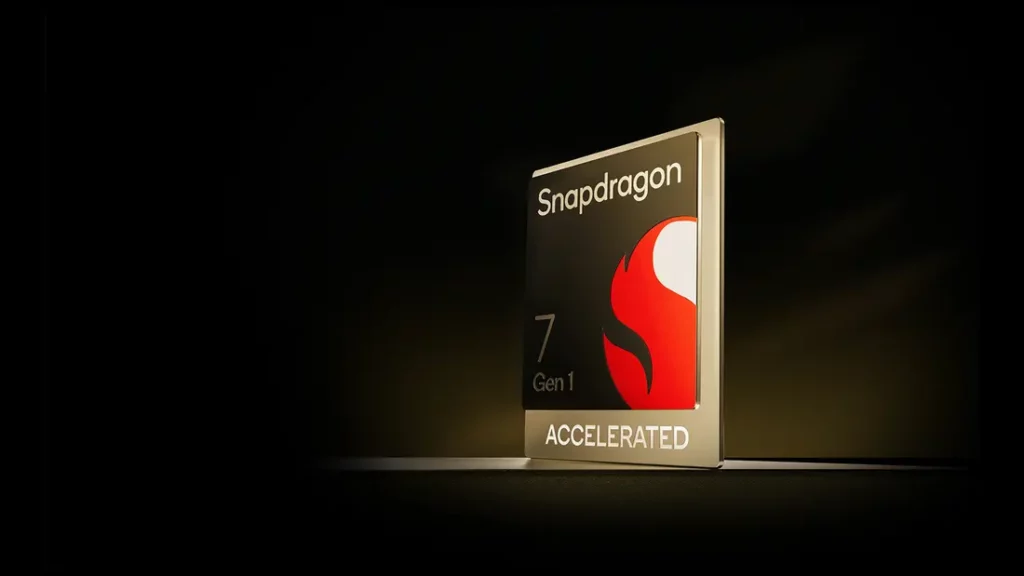 In this version, the primary Cortex-A710 CPU core operates at an impressive clock speed of up to 2.5 GHz, surpassing the standard 2.4 GHz. The remaining CPU configuration includes three more Cortex-A710 cores, referred to as Kryo Gold, with clock speeds of up to 3.36 GHz, and an additional quartet of Cortex-A510 cores, functioning at speeds of up to 1.8 GHz.
The HONOR 90 5G is pretty serious about cooling the Snapdragon 7 Gen 1. The phone has a 4483 mm2 vapor chamber handling the heat. Also, 1270 copper wires in a dense woven mesh. This is excellent news for mobile gamers, ensuring that the phone remains cool even during lengthy gaming sessions.
Impressive Benchmark results
We haven't conducted a comprehensive performance test on the Honor 90 just yet. However, we did manage to run a quick AnTuTu benchmark test. It's important to mention that AnTuTu offers a comprehensive range of benchmark tests, encompassing GPU assessments, and memory and storage tests, among others. Consequently, it furnishes a well-rounded overview of the device's overall performance. When examining the results, it's worth considering that the HONOR 90 features a high native display resolution, which can exert additional demands on the GPU.
The overall performance of the device is truly impressive. Thanks to the capable Snapdragon chip, categorized as a high-performing upper midrange processor, and the ample 12GB of RAM, the phone effortlessly handles any application without hiccups. Whether it's gaming or video editing, I encountered no slowdowns during my usage.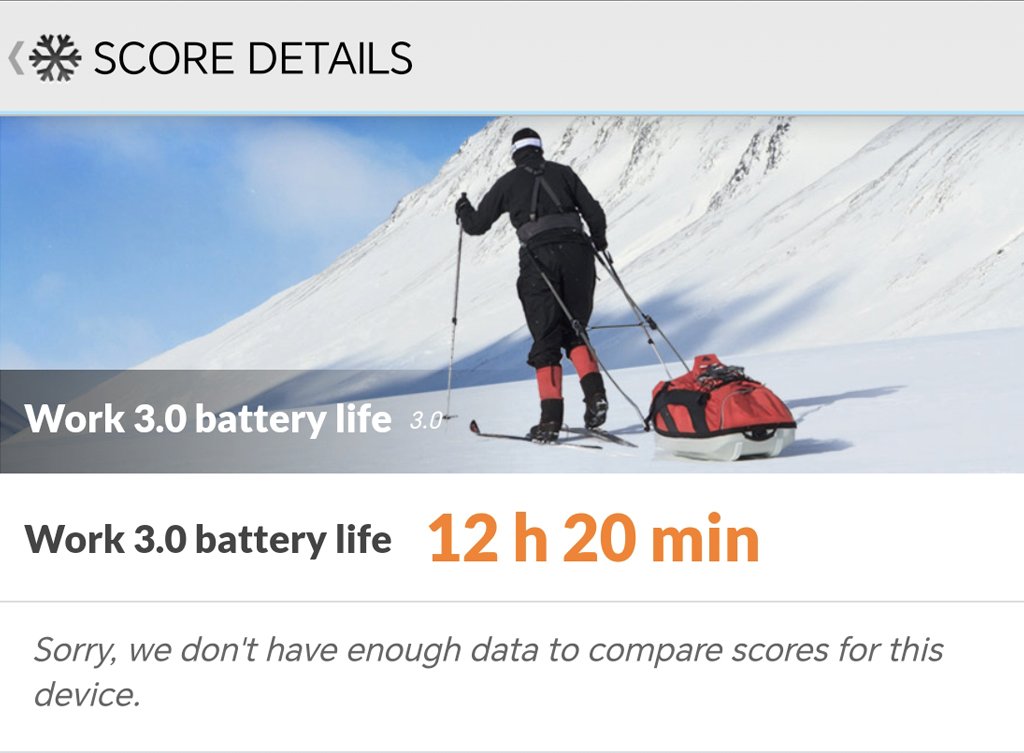 Battery
The Honor 90 has a large 5,000mAh battery that easily lasts 34-36 hours on a single charge with minimal usage. With a bit of extra management, I could even stretch it to two full days. However, I didn't need to worry about running out of battery, as the phone can be quickly topped up with the included 66W fast charger. The charger can fill the phone up in less than an hour, or even take it from zero to 20% in around five minutes.
Indeed when it comes to battery life, it's nothing short of outstanding. The phone can easily last for 13 to 14 hours of heavy use, even with more than 30% battery life remaining. In fact, it boasts the best battery life among the recent Android phones I've had the opportunity to test.
Competition
If you prefer Samsung's software and ecosystem, the Galaxy A54 5G is a good alternative to the Honor 90. It has an IP67 rating, a microSD slot, stereo speakers, and four years of Android updates. However, the base A54 5G configuration has less RAM (6GB) than the Honor 90 (12GB). The performance and camera experience should be similar, even if the specs are different on paper. The only downside is that it charges at 25W max, compared to the Honor 90's 66W fast charging.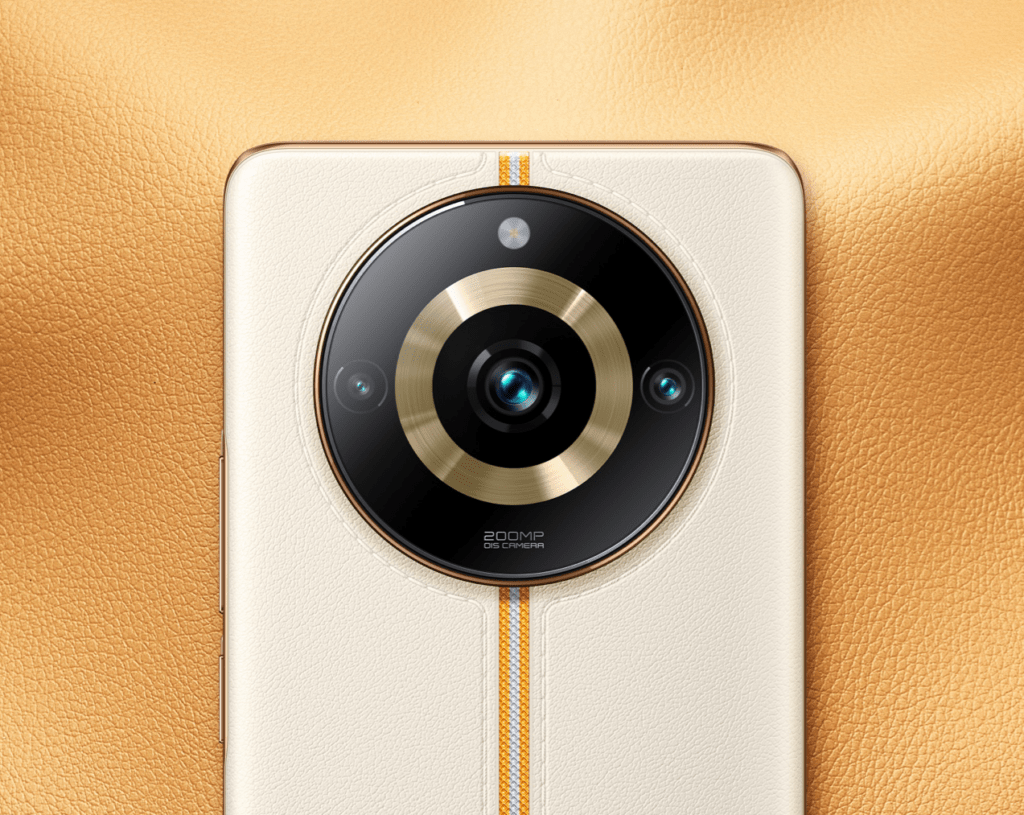 The realme 11 Pro Plus is also a good alternative for those who want a slightly better camera system. It has a similar 200MP main camera as the Honor 90 5G, but it also has OIS (optical image stabilization), which helps to take sharper photos in low light. However, some people find the Realme UI to be frustrating, as it comes with a lot of bloatware and ads. The Honor 90, on the other hand, offers a more stock Android experience, which is preferred by some users.
Will the HONOR 90 5G be your EveryTechEver?
The Honor 90 is undeniably a stunning device that offers a host of impressive features. Its design strikes the perfect balance between contemporary aesthetics and uniqueness, offering a wide array of color choices and finishes to cater to diverse preferences. Holding it in your hand provides a delightful tactile experience, with its smoothly rounded corners and absence of sharp edges. Remarkably, despite housing a substantial 5,000 mAh battery and a generously sized display, the Honor 90 manages to maintain a surprisingly light and well-balanced profile, exuding a sense of high-quality craftsmanship.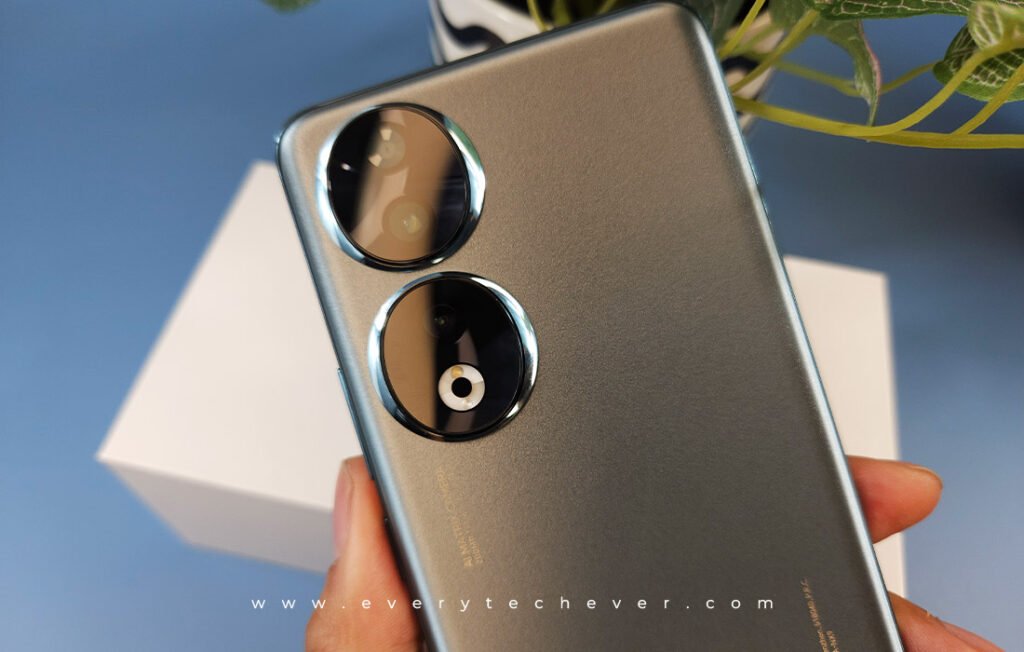 One of the standout features of the Honor 90 is its impressive camera setup. Anchored by a robust 200MP primary shooter, it offers incredible photographic capabilities. Furthermore, the autofocusing ultrawide lens doubles as a capable macro camera, adding versatility to your photography. Honor's software experience is well-crafted, and it retains compatibility with Google Play Services, setting it apart from its Huawei counterpart.
While the Honor 90 excels in many aspects, there are a few notable omissions worth mentioning. It lacks stereo speakers, Optical Image Stabilization (OIS) for camera stability, and an ingress protection rating for water and dust resistance. Nevertheless, when assessing its overall performance and value, the HONOR 90 remains a compelling choice in its price range, holding its ground admirably among the competition.
In summary, the HONOR 90 5G offers an impressive package, particularly when you consider its exceptional display quality, strong camera performance, and capable chipset.
Pricing & Availability
In the Philippines, the HONOR 90 5G stands out with its competitive price tag, priced at only PHP 24,990, which translates to approximately $440 or around INR 36,400. During pre-order, the brand also included a FREE JBL Flip 6 worth Php 7,499.
Is this your EveryTechEver? Leave a comment down below and share your thoughts with us! For our latest reviews and tech news, follow us on our social media accounts on Facebook, Instagram, TikTok, and YouTube.