Shopee rounds off a memorable 12.12 Big Christmas Sale
Users showed support for MSMEs, with 9 in 10 shoppers buying from a local seller this 12.12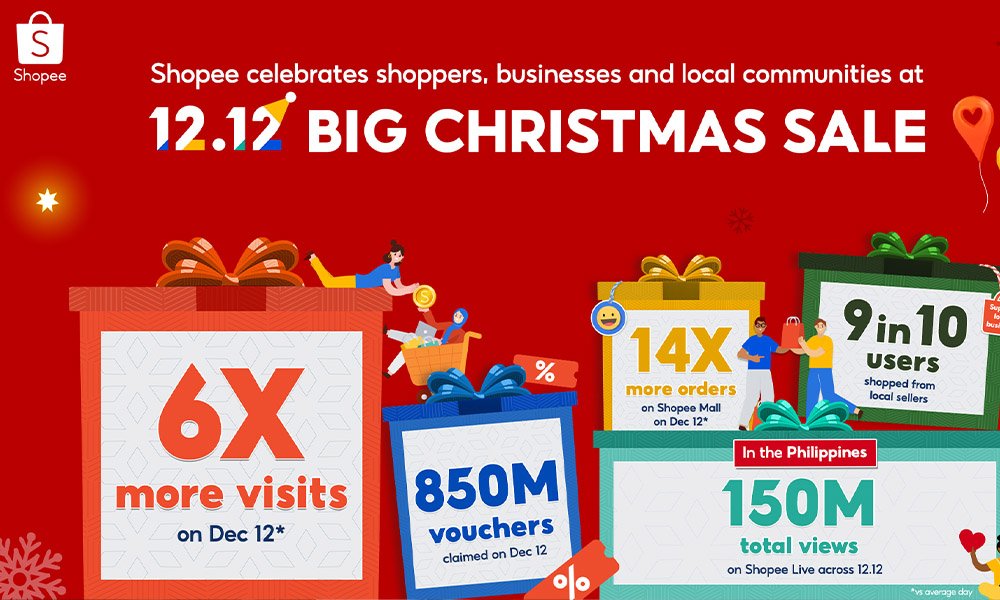 Shopee, the leading e-commerce platform in Southeast Asia and Taiwan, concluded the region's most joyful year-end celebration, the 12.12 Big Christmas Sale, with visits surging six times on December 12 compared to an average day. Shopee users also enjoyed the best deals and rewards on their holiday shopping, with over 850 million Shopee vouchers claimed on 12.12.
Martin Yu, Director at Shopee Philippines, said, "We are happy to have closed the year on a positive note with a successful 12.12 Big Christmas Sale, the finale of Shopee's year-end shopping festivals. At this year's 12.12 celebrations, we were glad to have spread joy to all our users by bringing shoppers the best deals and boosting the visibility of more businesses. 2021 has been a year of accelerated digitalization, and we are thankful for all the support from our users. As we move into 2022, we look forward to helping even more shoppers, businesses, and communities access the benefits of e-commerce."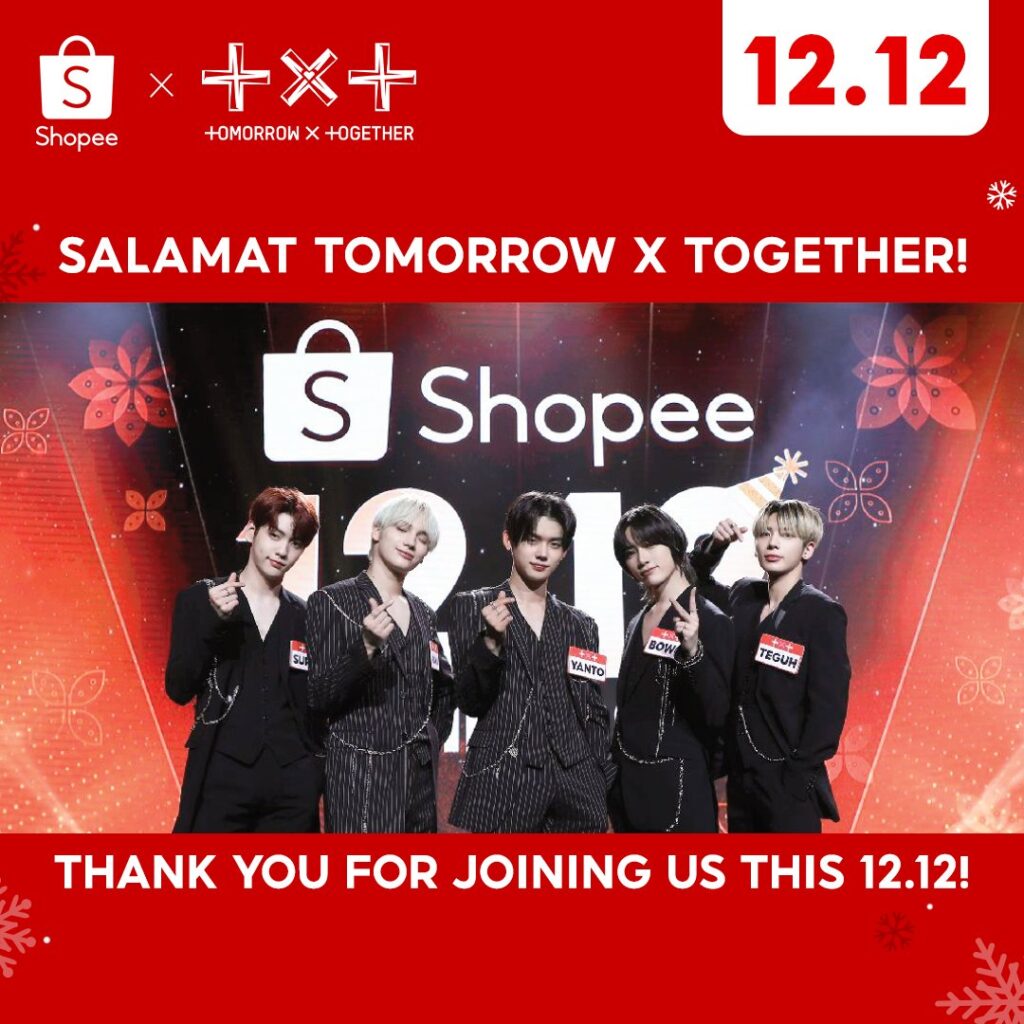 Catered to all shopping needs in the holiday season
Shoppers delighted in hunting for the best gifts for themselves and their loved ones during this holiday season. On December 12, the most popular products in the Philippines were dresses, women's footwear, and crop tops. Shoppers also turned to ShopeePay as their preferred payment method, with an 11x uplift in the number of orders made via ShopeePay, compared to an average day. On 12.12, ShopeePay recorded over 1.5 million e-wallet top-ups as Filipinousers enjoyed a seamless and convenient payments experience.
Amidst the 12.12 celebrations, Filipino users came together to enjoy a wide range of entertainment on Shopee. Shoppers connected with their favorite brands and sellers via Livestream, with over 150 million views recorded on Shopee Live in the Philippines. At the same time, over 300 million gameplays were recorded on Shopee Prizes, as users enjoyed more fun and rewards during the day. During the 12.12 TV Show, users were treated to an energetic and upbeat performance by Tomorrow X Together on Shopee Live, where they sang hit songs LO$ER=LO♡ER, Anti-Romantic, and CROWN. Up-and-coming local artist geiko also performed her latest single, "Oh no, I'm on Shopee again," and shared the stage with her longtime idols, Ben & Ben.
Accelerated growth for local businesses amidst 12.12 celebrations
Shoppers spread the holiday cheer to their favorite local businesses at 12.12, with 9 in 10 users shopping from local sellers. In the Philippines, popular local sellers included ABUBOT_PH, WILLET, and Mi Global Zone.ph, with the top local seller clocking over ₱21 million in sales on December 12.
At the Shopee Celebrates Local contest, users voted for their favorite local businesses with UNIQ.MNL, a shop that offers fashionable women's clothing, is emerging as the crowd favorite. Shop co-owners and siblings Ireen Araullo and Ira Cruz shared their heartwarming story of providing job opportunities for their community on Shopee Live on December 12. They won users' hearts, taking home a tablet and smartphone to use for their business.
Connected more shoppers to brands
In this 12.12 Big Christmas Sale, users soaked up the holiday spirit as they shopped for the best gifts from their favorite brands on Shopee, with orders on Shopee Mall surging 14 times from an average day. At the same time, brands on Shopee Mall connected with new shoppers at 12.12, with 1 in 8 users being first-time Mall shoppers. Filipinos also looked to upgrade their smartphones for Christmas, with electronics brands Poco, realme, and Infinix as the top brands during 12.12.


ShopeePay also enabled more users to connect with offline merchants during the 12.12 period. With over 2 million purchases made through Deals Near Me, Shopee's location-based online-to-offline feature, offline retailers enjoyed a boost in footfall as users redeemed their payment vouchers in-store.
Widened access to more users across the country
Across the country, South Luzon saw the biggest uplift in orders on December 12 this year. Meanwhile, Visayan fashionistas are already planning their holiday outfits, with over 100,000 searches for dresses alone. In Mindanao, shoppers in Davao City truly enjoyed all the discounts and deals, spending a whopping ₱100 million on the 12.12 Big Christmas Sale.
More sellers and shoppers based in rural areas also joined Shopee this year. Sellers in non-metro cities benefited from the increased visibility at 12.12, seeing a 12-time uplift in orders compared to an average day.
Until December 15, shoppers can enjoy more deals and discounts at the 12.12 Big Christmas Sale: https://shopee.ph/m/christmas-sale.

Best OPPO deals to check out at 8.8 ShopeePay Festival
Get up to 50% off when you check out select new products from OPPO this 8.8 ShopeePay Festival!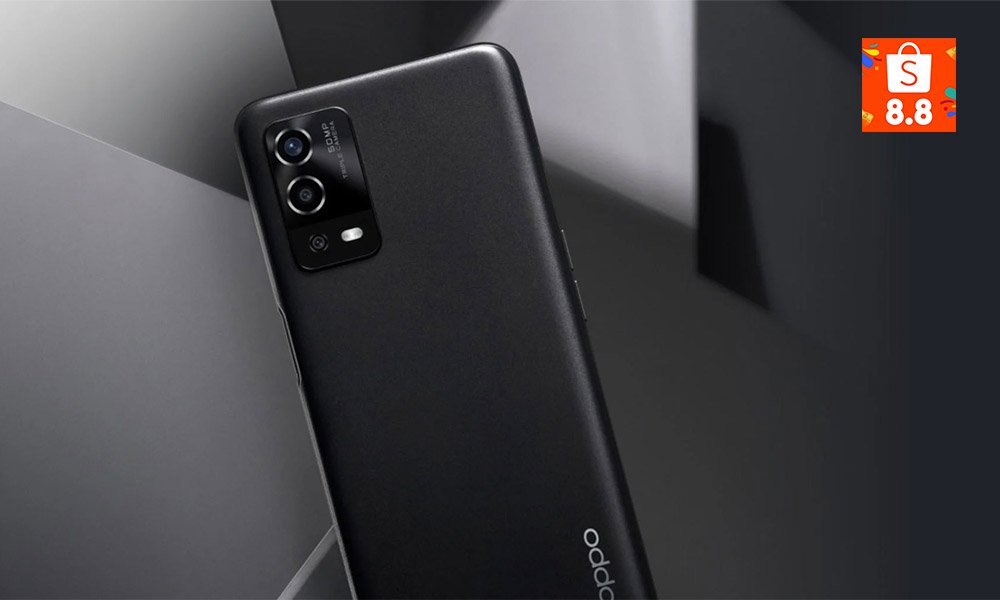 We search Shopee every day to discover the best offers. The online retail giant offers some of the greatest discounts on a huge selection of goods, whether you're looking for a brand-new home appliance or the latest smartphones to satisfy your tech cravings. Shopee can provide for all of your needs.
Because it offers a variety of smartphones at various price points, OPPO is one of the brands we love this year. In the upcoming 8.8 ShopeePay Festival, enjoy more rewards and get the best value when you score the latest OPPO smartphones on Shopee.
Here are our top 3 choices that we recommend you check out:
The new OPPO A16, which has 3GB of RAM and 32GB of storage space, is a good entry-level option that can handle your daily tasks. If you need to shoot photos and upload them right away to your social media sites, the 13MP AI Triple Camera is ideal. The huge 6.5″ HD+ display and large 5000mAh battery are very entertaining for watching your favorite K-drama series. Click here to check out the OPPO A16.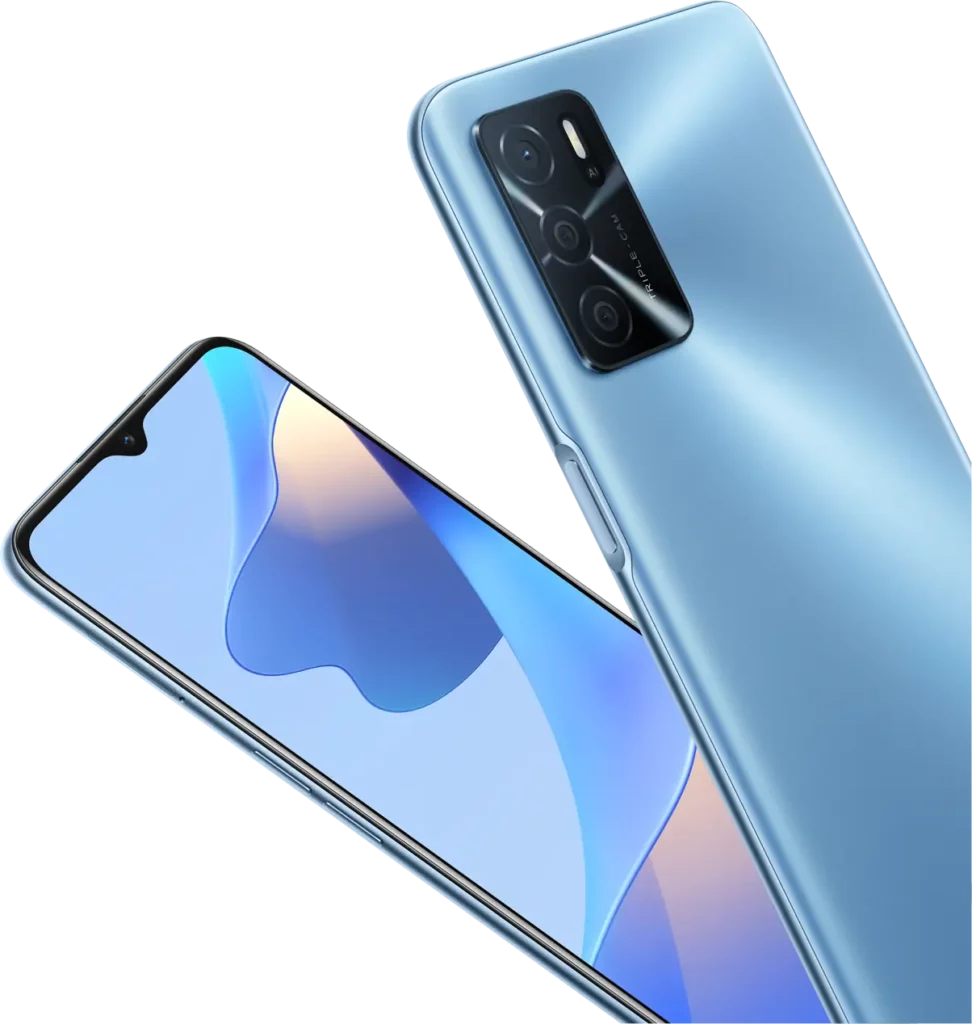 With the Night Plus Filters, 2MP Bokeh Camera, and AI for Beautification available on the OPPO A55, you can capture every moment as vividly as possible. The Helio G35 chipset's enormous 5000mAh battery and 18W rapid charging capabilities are ideal for your gaming needs. Click here to check out the OPPO A55.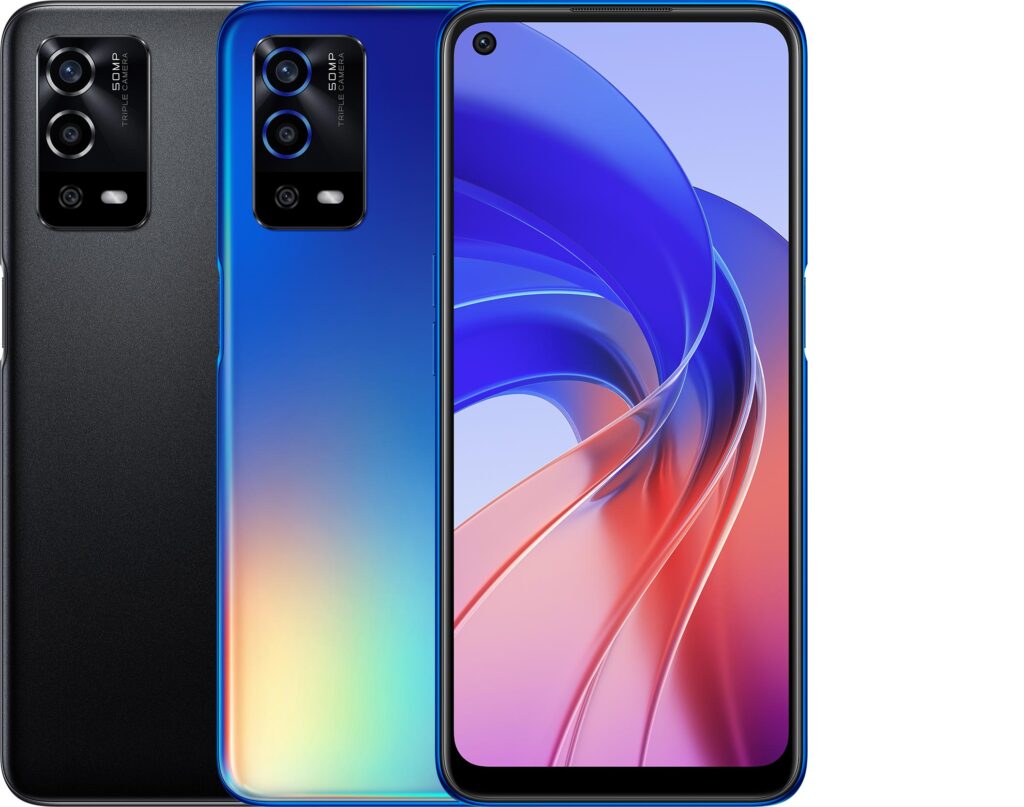 The quad lens and AI-assisted camera on the OPPO A94 make it easy to capture all of life's moments. The A94 captures the journey of life in vivid, precise clarity, from macro to ultra wide-angle and zoom photos. If you consider yourself a power user, the Helio P95 chipset and 8GB+128GB of storage will more than meet your requirements. It would be a shame not to include support for high-speed 30W VOOC flash charging. Click here to check out the OPPO A94.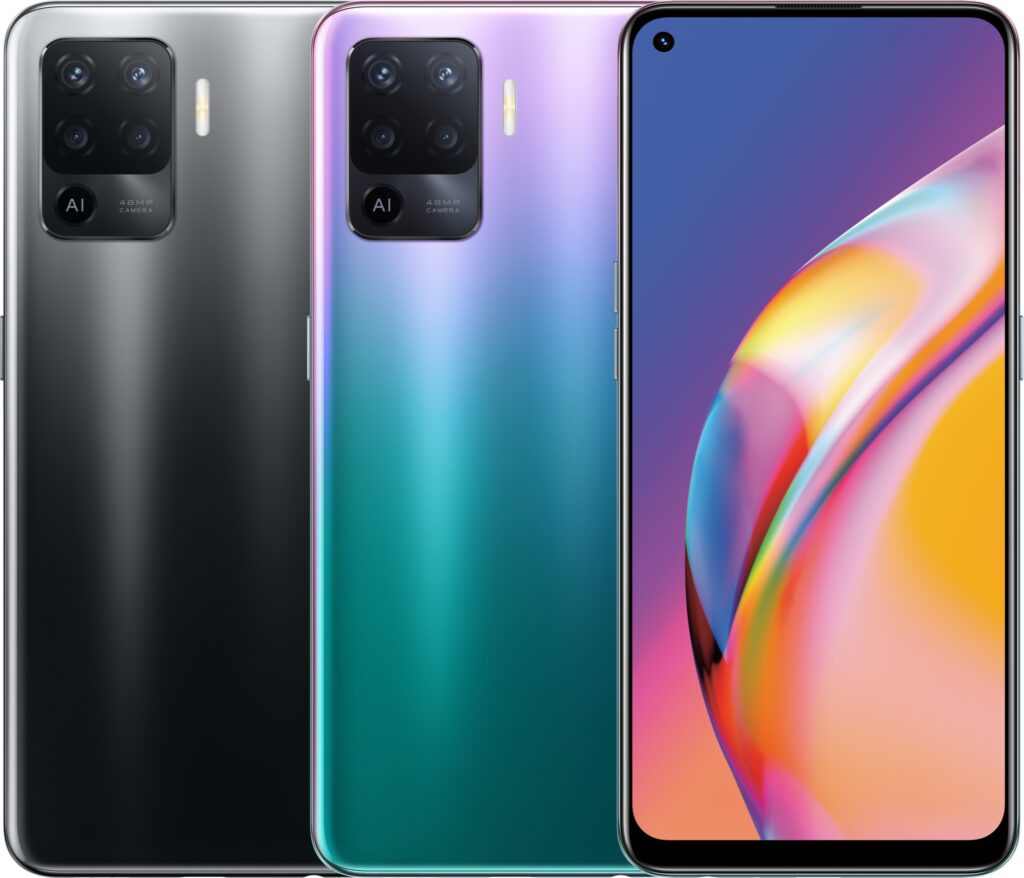 Don't miss any of the awesome deals and promos at the OPPO Official Store in Shopee and enjoy up to 50% off when you check out select new products from OPPO this 8.8 ShopeePay Festival!
Get up to 56% off on OPPO Gadgets in the 8.8 Mega Flash Sale
From August 8 to 12, grab exciting freebies, vouchers, deals on Shopee and Lazada.
Heads up, shoppers! OPPO will offer incredible discounts with awesome freebies, vouchers, and deals during the OPPO 8.8 Mega Flash Sale on Shopee and Lazada.
From August 8 to 12, visit and shop on OPPO's Official Stores to enjoy up to 56% off on OPPO gadgets. You can collect a Php 200 off voucher if you reach a minimum spend of Php 9,999 and a Php 400 off for every minimum purchase of Php 14,999.
Don't miss the chance to use your Php 50 and Php 55 shipping discount vouchers before checking out if you have a minimum spend of Php 500 on Shopee and Lazada, respectively.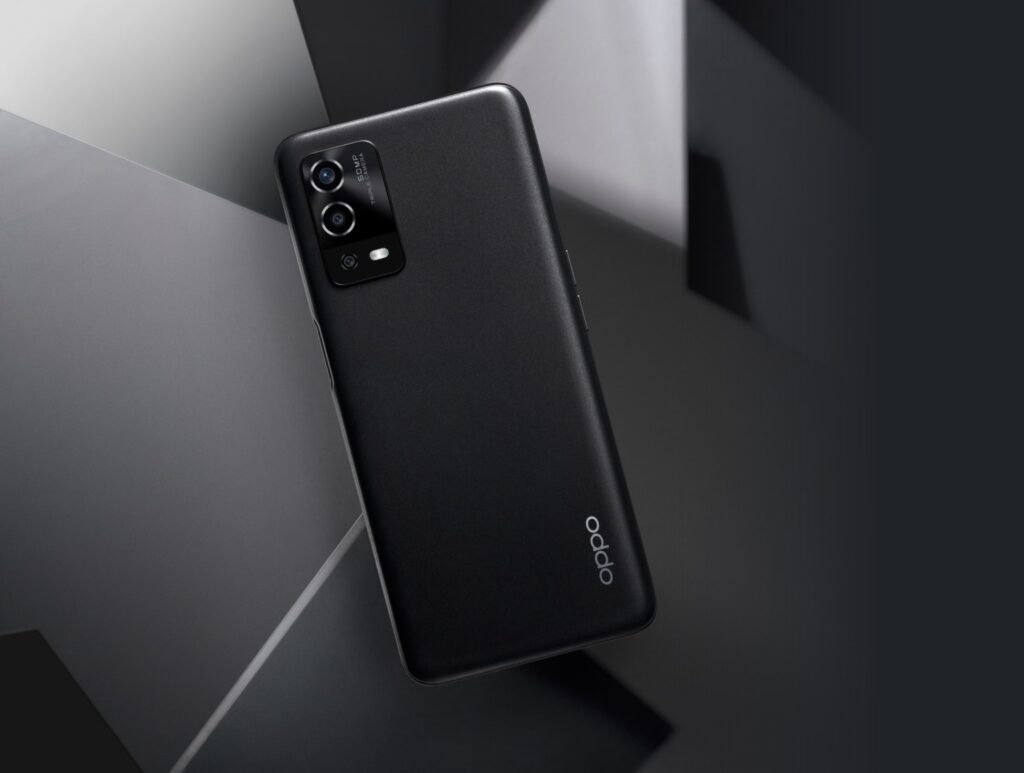 For Lazada shoppers, you can also get a Php 50 off voucher for every minimum purchase of Php 500, including a 10% cashback on your orders.
Freebies to watch out for on 8.8
If you plan to shop from 12 pm to 2 pm on August 8, take advantage of free G25 Bluetooth earphones for each smartphone order ID. Later in the day, you also can enjoy a free A8 long speaker if you order the OPPO A55 from 9 pm to 11:59 pm.
A wide array of freebies are also in store for you throughout the sale. That includes a free 32GB SD Card when you order OPPO A16 3GB, a free TG113 Bluetooth speaker for every purchase of OPPO A55, a free Neon Island desk pad for all your OPPO Reno6 Series purchases, and a free A8 long speaker with Neon Island desk pad for every OPPO Reno7 Series orders.
Flash deals, and giveaways on OPPO's 8.8 TikTok Livestream
There's more to look forward to on 8.8 when you check out OPPO Philippines on TikTok. Be sure to watch out for limited flash deals and giveaways during OPPO's 8.8 TikTok Livestream on the following dates: August 7 from 2 pm to 9 pm; August 8 from 11 am to 9 pm; August 9 from 11 am to 7 pm, and August 10 from 11 am to 7 pm.
Bundle deals on Shopee, Lazada
Exciting bundle deals are also available from August 8 to 12, such as OPPO Band and OPPO Enco Buds for Php 1,999; OPPO A55 and OPPO Enco Buds for Php 9,499; OPPO A94 and OPPO Enco Buds for Php 11,999; OPPO Reno5 and OPPO Enco Buds for Php 15,999; and OPPO Reno5 5G and OPPO Enco Buds for Php 19,999.
Mark your calendars now! Don't miss the chance to enjoy OPPO 8.8 Mega Flash Sale spectacular treats to welcome August on Shopee and Lazada, even on TikTok. Add to the cart and check out your favorite OPPO devices at great deals so you can finally take home the gadgets you have been saving up for!
Vivo announces 8.8 Mega Sale in Shopee, Lazada and TikTok Shop
Enjoy exclusive vouchers and freebies!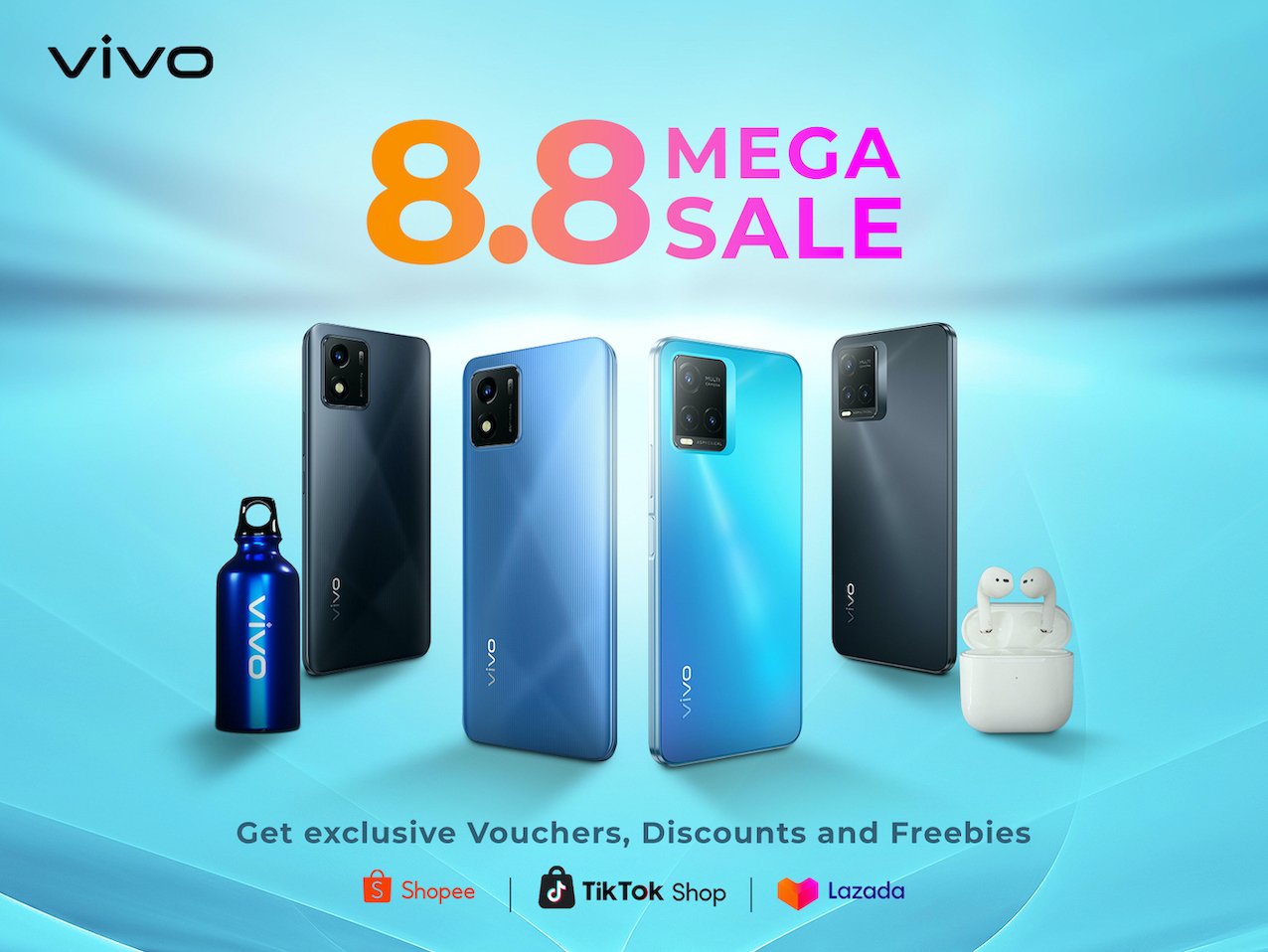 Vivo brings a surefire way to satisfy shoppers in this 8.8 Mega Sale! You can avail of vivo T1x, vivo Y1s, or vivo Y01 with vouchers, and exclusive freebies on Shopee, Lazada, and TikTok Shop.
The vivo T1x, with an original price of PHP 8,999, will be available at a reduced price of PHP 8,897 with a P100 off voucher, FREE DITO SIMCARD, and FREE TWS Voguard. Designed for gamers, the vivo T1x comes with a high-performing Snapdragon 680 processor, 4GB RAM (1GB RAM Extended) + 64GB ROM, 5000mAh battery with 18W fast charging capability, Multi-Turbo 5.0 that helps you run your favorite mobile gaming apps smoothly. It also comes with a 50MP camera that can capture life's best moments effortlessly and get pristine clarity whether you zoom in or crop photos. The vivo T1x also supports unique and high-quality camera features like Bokeh Camera, Super Macro Camera, 8MP Super Night Selfie, and Personalized Portrait Mode. It has a beautiful 6.58" FHD+ Incell screen display and anti-fingerprint design with unique colorways in Gravity Black and Space Blue.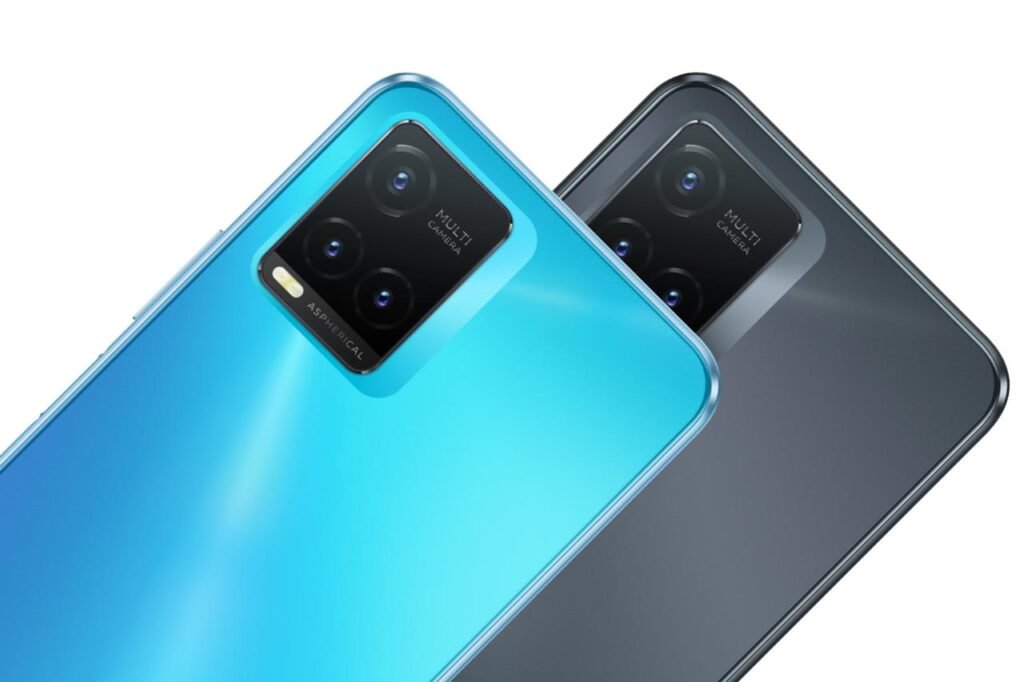 Shoppers can also get the vivo Y01 for a fun deal. From PHP 5,299, it will be available for PHP 5,247 with P50 off voucher, FREE DITO SIMCARD, and FREE Premium Tumbler. The vivo Y01 is a great all-rounder device. It is an entry-level smartphone but packs advanced features like a 6.51-inch HD+ display for an immersive viewing experience, an 8MP rear camera for everyday shooting, and a 5 MP selfie camera on a small notch. It also has a 5000mAh battery that enables longer playtime and is also capable of reverse charging. The vivo Y01 can also run mobile games without lags because of its Multi-Turbo 3.0. This smartphone comes in a 3D slim design and is available in Elegant Black and Sapphire Blue.
For those who are looking for a more affordable smartphone, the vivo Y1s is another good option to consider. From PHP 5,499, it will be available for PHP 4,847 with P50 off voucher and FREE DITO SIMCARD. The vivo Y1s features a 6.22-inch Halo FullView™ display, providing a pleasant view for both videos and games. Plus, it can filter out harmful blue light to prevent eye strain. With elegant 3D body curves, the vivo Y1s fits perfectly in the palm for a comfortable grip. Its 32GB of internal ROM gives ample freedom to store more photos, files, and applications. It can also expand to up to 256GB with an additional SD card. And at a 4,030mAh battery, supported by exclusive smart power management, keeps it going longer for a more enjoyable gaming and video experience. It comes with a 13MP Main Camera and a 5 MP Front Camera with smart beauty features. The vivo Y1s will be available in limited quantity so add to cart now!
Other than T1x, Y01 and Y1s, vivo 8.8 Mega Sale also offers amazing freebies on other select Y Series, T Series, V Series, and X Series models and accessories. Check out these special deals on Shopee and Lazada: