Globe again topped the Netflix ISP Speed Index in September, the eighth month this year, leading Philippine Internet Service Providers (ISPs) performance rating of the popular streaming service. Globe scored 3.4 Mbps in the Index for the month through its Globe At Home Broadband Business, higher than its 3.2 Mbps result in August. This score indicates that the Philippines is at par with other countries and regions which are experiencing world-class speeds on Netflix like Canada, Finland, and South Korea.
Netflix, the world's leading streaming entertainment service, determines monthly rankings by calculating an ISP's performance in primetime streaming sessions based on the maximum bitrate set by combining resolution, streaming device, and encode recipe. The better a network is, the closer a session will be to reaching this maximum possible bitrate.
"We are committed to providing a better, faster, and more reliable connectivity experience to our customers. Through our continuous robust network builds and fiber rollout, we hope to reach more homes across the country and play a part in uplifting our countrymen's lives," said Barbie Dapul, Vice President for Marketing of Globe At Home.
As of September, Globe has rolled out an additional one million fiber lines and earmarked an unprecedented P76 billion in capital expenditures, the bulk of which will be spent on data network builds.
Experience world-class internet connectivity on your next Netflix binge with Globe At Home.  Customers can watch their favorite Netflix shows by availing Globe At Home's offering of UNLI Fiber UP 1499  with speeds of up to 35Mbps.
The internet-only unlimited plan comes in handy when attending online classes, downloading school modules, and uploading completed homework. This promo aims to support the online needs of the entire family's new normal. So each member can attend school, work, and other online activities at the comfort of their home.
Applying for UNLI Fiber UP 1499 is easy and can be done at home. Simply visit https://shop.globe.com.ph/products/broadband/unli-plan-1499 to apply. Make sure to have one valid ID on hand for verification. Acceptable ID includes driver's license, Philippine passport, SSS, BIR, PRC, voter's ID, Pag-IBIG, Postal ID, PhilHealth, UMID, or NBI clearance.

Enjoy Halloween @ Home with Globe At Home
Halloween treats for everyone!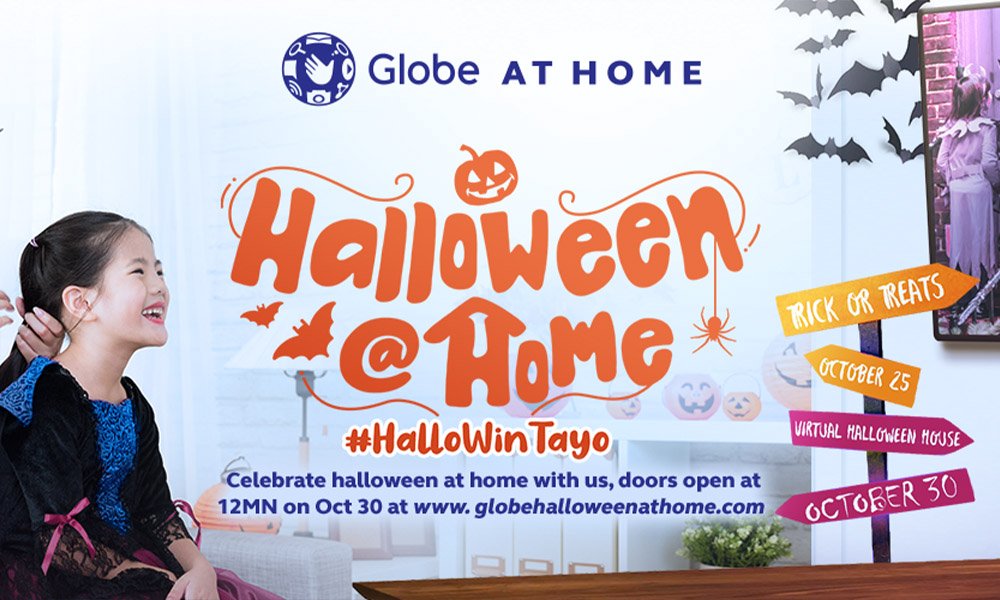 Imagine for this Halloween, you are exploring a horror house that's full of both spooks and surprises. With almost 10 rooms to explore, you have no idea what's in store for you—will you be met by an eerie ghost, or will you discover a room full of treats?
Now imagine yourself going through that "horror house" while inside the comfort of your own home through the interactive and innovative Halloween @ Home, powered by Globe At Home!
"With the home now an all-around activity hub, we want to bring back the excitement of weekends by making them feel special again and filled with 'Pampamilya Moments.' And what better occasion to do that than on Halloween?" says Barbie Dapul, Vice President of Globe Broadband. "Through exciting family activities like this, we want to continue empowering our customers so they can change the way they see the home as a place not just for rest, productivity, or security, but also for recreation with the whole family."

Trick or Treat will come in different ways this year: from special vouchers to freebies, fun games for the kids, to DIY activities by your favorite brand ambassadors—all these await you as Globe At Home prepares a jam-packed Halloween @ Home starting October 25, designed for the entire family.
Play trick or treat via the Globe At Home App
In lieu of candies and chocolates, a different roster of treats will be up for grabs exclusively for Globe At Home subscribers on the Globe At Home app, starting October 25: a free one-month premium subscription for Da Vinci Kids, free 10-day unlimited reading with 50% off on chapter unlock for the next 30 days with Webnovel, free delivery and a 10-percent discount from PureGo (for a minimum spend of P2,500); free delivery from FoodPanda (for a minimum spend of P300); free 1-year membership to Landers (when you apply for a Globe At Home Plan 1499 up); and 20% off on Nongshim products via nextradeonline.com.
Are you brave enough for the Virtual Halloween House?
 Open to all Globe At Home and non-Globe At Home customers from October 30 to November 2, the Virtual Halloween House allows you to go on a trick or treat adventure online and knock on the doors of Globe At Home ambassadors as they greet you a Happy Halloween, treating you to digital goodie bags filled with exclusive vouchers you can claim via the Globe At Home app.

Get the scare of your life by exploring the spine-chilling Horror House that's divided into different rooms filled with spooky and enchanting activities, perfect for the whole family. Each interactive room contains objects that will lead you to exciting Halloween activities, such as a magic show, a sit-down with a fortune-teller, and even a scavenger hunt.
As you jump from the living room to the dining room to the attic, expect to "bump into" celebrities and Globe At Home ambassadors such as Drew and Iya Arellano; Mikael Daez and Megan Young; Kryz and Slater Young; December Avenue; and Bella Racelis (That's Bella).

If you're feeling creative, you can binge-watch their Halloween vlogs featuring tips on making delicious ghostly treats for kids, crafting DIY costumes from materials found at home, and creating an easy Halloween makeup look to scare your friends and family.

To top it off, everyone who enters the platform and signs up gets a chance to win any of the following: a Globe At Home Prepaid WiFi LTE-A BLACKPINK, which is a limited-edition modem featuring the group's logo accompanied by a BLACKPINK sticker pack; Globe Streamwatch 2-in-1 Entertainment Box, an Entertainment Box powered by AndroidTV which allows you to turn your TV into a Smart TV; or Globe TP-Link Extender, a mesh system that improves your WiFi experience at home by eliminating WiFi dead spots and covering every room with the strong WiFi signal.
#HalloWin Treats for every new Home Prepaid Wifi or Globe At Home plan subscription
To make Halloween @ Home even more special, #HalloWin Treats with every purchase of Globe At Home Prepaid WiFi at P999 or if you apply for a Globe At Home Unli Fiber Up Plan 1499.
"It's time we make weekends special again," says Dapul. "Through Halloween @ Home, we hope to strengthen the family bond, recreate family holiday celebrations via online and offline experiences—and maybe even create new ones, too!"
Visit and sign up at  www.globehalloweenathome.com to be part of Globe At Home's exciting Halloween activities. Don't forget to RSVP on the official Facebook event page to get more updates!
TALA shares four factors when looking for lending services
Avoid falling prey to dangerous schemes.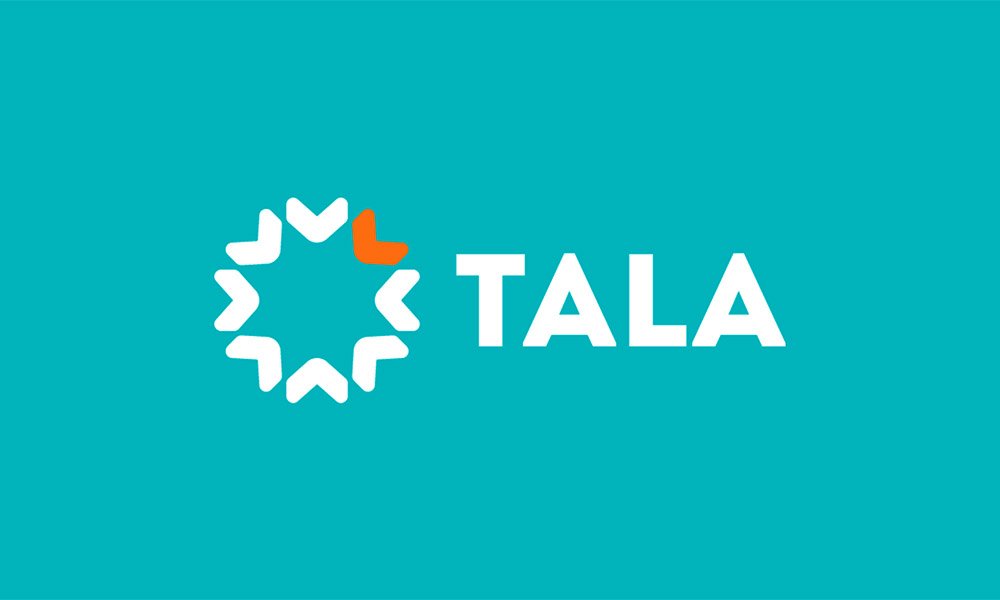 Looking for lending applications and services may be tedious given the many options on the table. To ensure you find a responsible partner that meets your spending habits and goals, TALA shares four factors to consider:
● Registered with the Securities and Exchange Commission (SEC). Make sure to only include authorized lenders in your options when borrowing to keep yourself safe from unfair collection practices. TALA is an SEC-registered online lender that ensures safe and accessible lending through its mobile application.
● Clear payment terms. The lender should explain the terms of payment. No formal loan contract opens the borrower to abuses like extra charges. With TALA, borrowers only need to pay a one-time fee depending on the term of the loan. Simple, transparent, one-time fees that do not accrue or compound over time.
● Uncomplicated requirements. Avoid falling prey to dangerous schemes like 'Sangla ATM,' where borrowers are required to give debit cards as collateral. Credit should be quick and easy, especially if it is for emergency use. TALA only asks for a picture of you with your government-issued ID which will be used to verify your application and identity.
Tala employs best practices for data privacy and security, including world-class SSL encryption, and champions for consumer protection globally.
● Accessible repayment record. Lenders should help you keep track of your amortization. TALA helps you track your payments by sending a confirmation to your registered mobile number within 24 hours after you repay. In addition, you can easily check your loan balance by clicking on 'View details' on the Home Screen.
When it comes to loans, it is important to find a company that you can trust. As a member of Fintech Alliance, TALA seeks to empower the financially underserved using its proprietary technologies, which encourage responsible borrowing while preventing over-indebtedness. At the same time, the lending app consistently educates customers through its 'Learn' center, which includes articles related to loans, savings, business, and general expenses.
"Credit access is important for Filipinos, especially at this time, and can be a powerful tool for building financial health if leveraged responsibly. At TALA, we're committed to designing products that accelerate our customers' financial health and help them use, protect, and grow their money," says Shivani Siroya, TALA founder and CEO.
TALA, a global financial technology company trusted by 6 million worldwide in enabling and accelerating financial health, expanded to the Philippines in 2017 and now has 1.6 million Filipino customers.
To start your journey with TALA, visit the Google Play Store now to download the app.
Netflix employees walkout to protest against Dave Chappelle
Employees are protesting the treatment of transphobic content.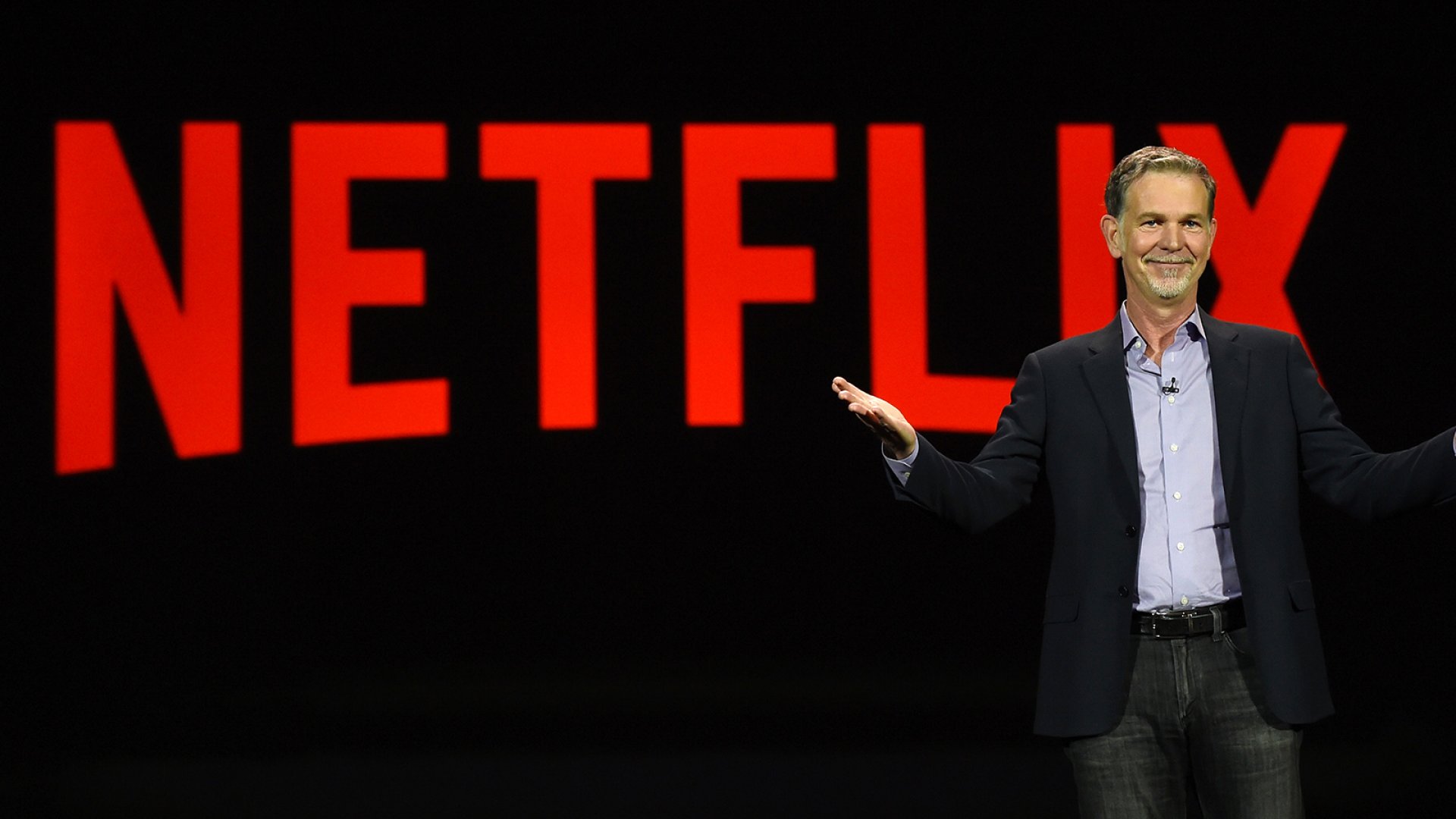 Employees at Netflix walked out of the company's Los Angeles and New York offices on Wednesday to demand better support for the company's trans and non-binary employees.
The employee strike action, which was accompanied by a solidarity rally and statements of support from organizations across the country as well as high-profile Hollywood talent, comes in the wake of the company's handling of a contentious new comedy special from comedian Dave Chappelle and marks one of the company's largest and most extensive public relations crises yet.
The greatest protest took place outside of the company's offices in Los Angeles, when employees and supporters met some Dave Chappelle fans. Staffers have also presented Netflix with a list of demands, which was first published in The Verge, and includes requests for Netflix to better nurture trans and non-binary talent as well as the addition of disclaimers to certain titles that contain transphobic content and other forms of hate speech.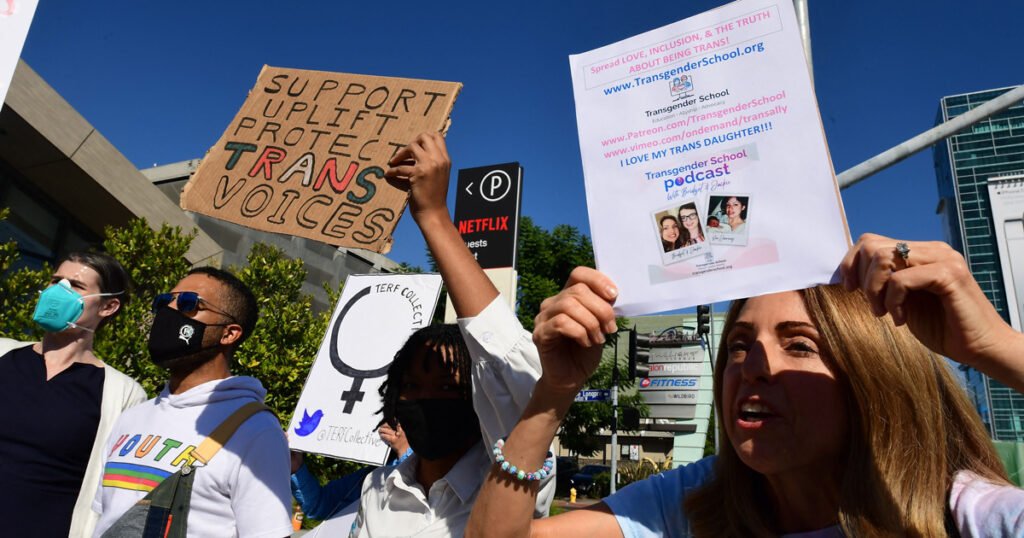 A list of demands for Netflix has been posted by the trans employee resource group ahead of Wednesday's walkout. Employees wrote in a press release that has not yet been made public but were provided to The Verge, "We want the company to adopt measures in the areas of content investment, employee relations, and safety, and harm reduction, all of which are necessary to avoid future instances of platforming transphobia and hate speech."
Netflix fired a trans-ERG leader who was helping to organize the walkout last week. This employee, according to the firm, had divulged confidential information. That logic has been questioned within the company.
Below is the complete letter from Netflix employees:
Over the past few weeks, it has become clear that there are many places where Netflix still has to grow when it comes to content relating to the trans and non-binary community.

The Trans* Employee Resource Group, which includes trans and non-binary colleagues as well as our numerous allies, wants Netflix to immediately take the steps below to begin to repair the relationship between the Company, our colleagues, and our audience. Specifically, we want the Company to adopt measures in the areas of Content Investment, Employee Relations, and Safety, and Harm Reduction, all of which are necessary to avoid future instances of platforming transphobia and hate speech, and to account for the harm we have caused and will continue to cause until the below measures are put in place.

Content Investment

Create a new fund to specifically develop trans and non-binary talent
This fund should support both above-the-line (ATL) and below-the-line (BTL) talent;

Increase investment in trans and non-binary content on Netflix comparable to
our total investment in transphobic content, including marketing and promotion;

Invest in multiple trans creators to make both scripted and unscripted programs across genres;

Revise internal processes on commissioning and releasing potential harmful
("sensitive") content, including but not limited to involving parties who are a part of the subject community and can speak to potential harm or consulting with 3rd party experts/vendors;

Increase the ERG role in conversations around potentially harmful content and
ensure we have best in class regional support on complicated intersectional diversity issues;

Hire trans and non-binary content executives, especially BIPOC, in leading
positions;

Employee Relations and Safety

Recruit trans people, especially BIPOC, for leadership roles in the company
(Director, VP, etc.) and promote an inclusive environment for them;

Allow employees to remove themselves from previous company promotional
content (e.g. allyship and diversity videos, etc.);

Eliminate references/imagery of transphobic titles or talent inside of the
workplace, including but not limited to murals, posters, room names, swag;

Harm Reduction

Acknowledge the harm and Netflix's responsibility for this harm from
transphobic content, and in particular harm to the Black trans community;

Add a disclaimer before transphobic titles that specifically flag transphobic
language, misogyny, homophobia, hate speech, etc. as required;

Boost promotion for Disclosure and other trans-affirming titles in the platform;
Suggest trans-affirming content alongside and after content flagged as
anti-trans.

We are employees, but we are members, too. We believe that this Company can and must do better in our quest to entertain the world and that the way forward must include more diverse voices in order to avoid causing more harm.

The Trans* ERG looks forward to working with the Company to make this a better, more entertaining place for us all.

Sincerely-
Trans* Netflix
The Closer, a film by Dave Chappelle, was released on Netflix on Oct. 5 and sparked a firestorm. The program, which became one of Netflix's most popular U.S. titles shortly after its premiere, contains numerous insulting remarks against trans people and the trans community, including a comparison of trans persons to those who wear blackface.
Netflix officials had initially spoken out in support of Dave Chappelle and the substance of his special, before retaliating against two members of Netflix's trans employee resource group who had spoken out against the show's handling. However, the company's position is shifting now.
The spokesperson added in a statement released before the walkout, "We value our trans colleagues and allies, and realize the great hurt that has been inflicted." "We appreciate any employee's decision to leave, and we acknowledge that we still have a lot of work to do both within Netflix and in our programming."