While it is widely known that the education sector is one of the hardest hit by the global health crisis, Globe ensures that the pandemic would not be a reason to stop learning.  The company has developed a valuable platform that provides students, teachers, parents, and even schools with the necessary support to transition to new learning and digital processes.
Globe's most recent initiative, GoLearn, promotes continuous learning by further bridging the digital gaps in the education landscape in the country. It has a wide array of connectivity solutions, learning platforms, and other digital tools that learners and teachers can easily access and afford. Schools can also receive assistance with their digital transformation to enhance teachers' capabilities and support the learning competencies of students.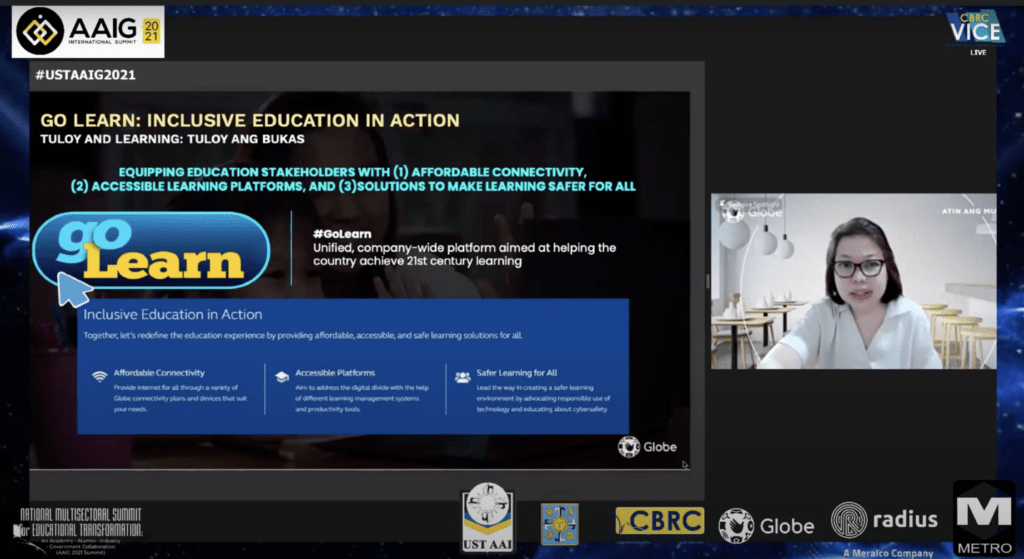 Yoly Crisanto, Globe Chief Sustainability Officer and SVP for Corporate Communications introduced the program during her presentation at the University of Sto. Tomas (UST) Alumni Academe, Industry and Government National Summit (AAIG2021). The webinar talked about "Higher Education in the Industry 4.0 Era (What is to be done by each sector to catalyze the transformation of the Philippine educational landscape towards Education 4.0?)."
"For us in Globe, there is no reason for learning to stop even during a pandemic. As part of our commitment to the education sector, we endeavor to help enhance opportunities for our schools, educators, students, and parents. This is why we recently launched GoLearn, our unified initiative that brings together our various products, programs, and services to empower the whole learning ecosystem," said Crisanto.
Crisanto noted that due to the current situation, where the education sector has been particularly challenged, Globe GoLearn implemented numerous initiatives to counteract the pandemic's effect on the learning process.
The company supported the education sector in three critical areas. The first was to double down on network builds to improve Internet access and address the sudden hike in demand for data.
This year alone, Globe earmarked about P76 billion in capital expenditure to increase its network footprint and upgrade its services. In 2020, the company worked with the Department of Education (DepEd), the Commission on Higher Education (CHED), and the Technical Education and Skills Development Authority (TESDA) in providing free data access to their educational content platforms for Globe and TM customers.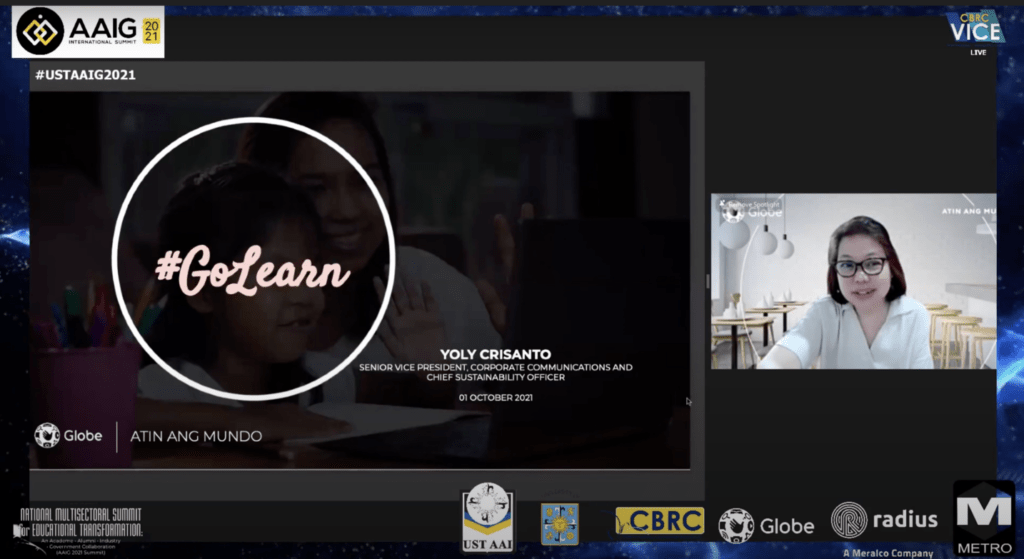 Globe also supported teachers with professional training through the Global Filipino Teachers (GFT) workshops to boost their confidence in delivering remote learning. This allows the teachers to provide quality education even with limited resources available.
Likewise, Globe increased its value and care for those in the education sector through mental wellness programs. The webinars helped equip teachers with the tools to achieve better mental health and overall well-being and create a more resilient workforce. Students benefit through better teaching quality and guidance from their teachers.
The company also has other initiatives, such as the Digital Thumbprint Program (DTP), which promotes responsible digital citizenship and cyber wellness among young people.  It also partnered with different educational institutions to enhance the delivery of world-class Science, Technology, Engineering, and Mathematics (STEM) education to students at all levels, including out-of-school youth.