FUJIFILM Business Innovation Philippines Corp. announced a new addition to its A3 fleet with ApeosPrint C5570, A3 Color Printer. As a leader in the printing industry, FUJIFILM Business Innovation continues to innovate and develop new products equipped with enhanced security and performance, enabling customers to optimize business processes.
The ApeosPrint C5570 is compliant with the U.S. security standard NIST SP 800-171 and adopts a new protocol WPA3 for stronger security of wireless LANs and enhancing program diagnostics during device startup. The product is also installed with a security chip, TPM (Trusted Platform Module) 2.0, that complies with the latest encryption standards developed by the Trusted Computing Group (TCG), an international standards organization. The printer is built to provide users with optimal secure network connection and prevention of any data leakage from the devices.
Seamless remote work operations with enhanced cloud connectivity are now supported as users can print from anywhere with Universal Print by Microsoft, a cloud-based print solution eliminating print servers and the need to install printer drivers. In addition, the data transmission uses highly secured HTTPs protocol and documents stored on the devices are exclusive to private user logins.
To fulfill bulk printing requirements, the newly introduced high capacity feeder B2 in the A3 Printer series is able to support large input paper capacity of up to 6,140 sheets so that paper re-fill operations can be minimized for greater work efficiency. Furthermore, the ApeosPrint C5570 can support a wide variety of paper sizes and types such as long paper of up to 320 x 1200mm for In-house promotional materials creation and, paper weight of 52 to 300 gsm. The printer also supports lightweight media to cardstock paper postcards and envelope printing.
The optional staple-free finisher can bind up to ten paper sheets without any needle (2 options for binding position) to create a safe yet eco-friendly post-print processing environment. Such eco-friendly binding without metal staples is an optimal choice for preschools, kindergartens or childcare centers, as well as the food & beverage industry that are constantly focusing on improving overall operational safety. In addition, the user experience is improved with a 5-inch color touch panel designed in black and gray tone background to give better contrast for easy recognition and navigation. Paper trays are equipped with a retraction mechanism for a smooth and effortless opening and closing operation to minimize effort and improve durability.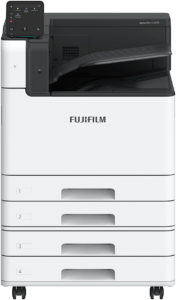 [Main Features of ApeosPrint C5570]
High-speed color printing of 55 sheets per minute
High resolution printing of 1,200×2,400dpi
Compatible with Universal Print by Microsoft
Staple-free finishing option and various post processing options are available
High durability of 1.5 million sheets