The 9.9 Mega Sale is here! Great deals await as OPPO brings amazing treats and discounts in the OPPO Official Stores on Shopee and Lazada from September 9 to 11.
Check out your favorite OPPO gadgets to enjoy up to a 59% discount while taking advantage of exciting vouchers, freebies, and bundle deals in store for you.
OPPO official stores' incredible vouchers on Shopee, Lazada
Collect and redeem a wide array of store vouchers, such as a PhP200 off if you reach a minimum spend of PhP9,999 and a PhP400 voucher for every minimum purchase of PHP 14,999. You can also receive a PhP1,000 off when you check out the OPPO Reno8 Series 5G on September 9.
If you reach the PhP500 minimum spend, more vouchers await you as you can enjoy a PhP50 discount shipping voucher on Shopee and a PhP55 discount shipping voucher on Lazada. In addition, Lazada shoppers can also get a 10% cashback on orders and a PHP 50 Lazada Bonus voucher for every minimum purchase of PhP500.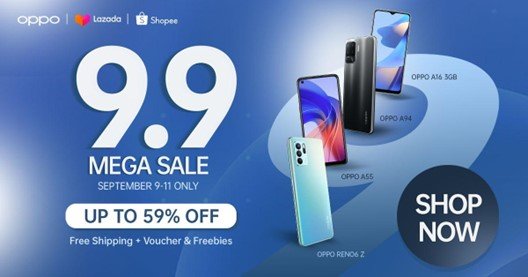 Cool freebies for your favorite OPPO gadgets
The excitement does not end there. OPPO has a lot of treats for shoppers during this sale. For instance, if you plan to check out on September 9, specifically from 12 nn to 2 pm, you can have free G25 Bluetooth earphones for every smartphone order ID.
If you miss this limited-time offer, do not worry because there are freebies you can take advantage of throughout OPPO's 9.9 Mega Sale. It includes a free DITO SIM card for every smartphone order, a free 32GB SD card for each OPPO A16 3GB purchase, a free TG113 Bluetooth speaker for all OPPO A55 and OPPO A94 orders, and a free Neon Island Desk Pad for every OPPO Reno6 Series purchase.
On top of that, you can revel in free OPPO Enco Buds when you order the OPPO Reno8 Series 5G on September 9 and a free Q11 Smartwatch from September 10 to 11.
Bundle deals to enjoy on Shopee, Lazada
OPPO also offers bundle deals you can enjoy from September 9 to 11, such as OPPO Band and OPPO Enco Buds for PhP1,999; OPPO A55 and OPPO Enco Buds for PhP9,499; and OPPO A94 and OPPO Enco Buds for PhP11,999.
Indeed, Mega Sale equals Mega deals and discounts from OPPO! So, do not forget to add-to-cart now and check out your OPPO devices this 9.9 Mega Sale on Shopee and Lazada.