Shopee introduces brand ambassadors for 12.12 Big Christmas Sale
Dingdong and Zia Dantes are the latest addition to its roster of brand ambassadors.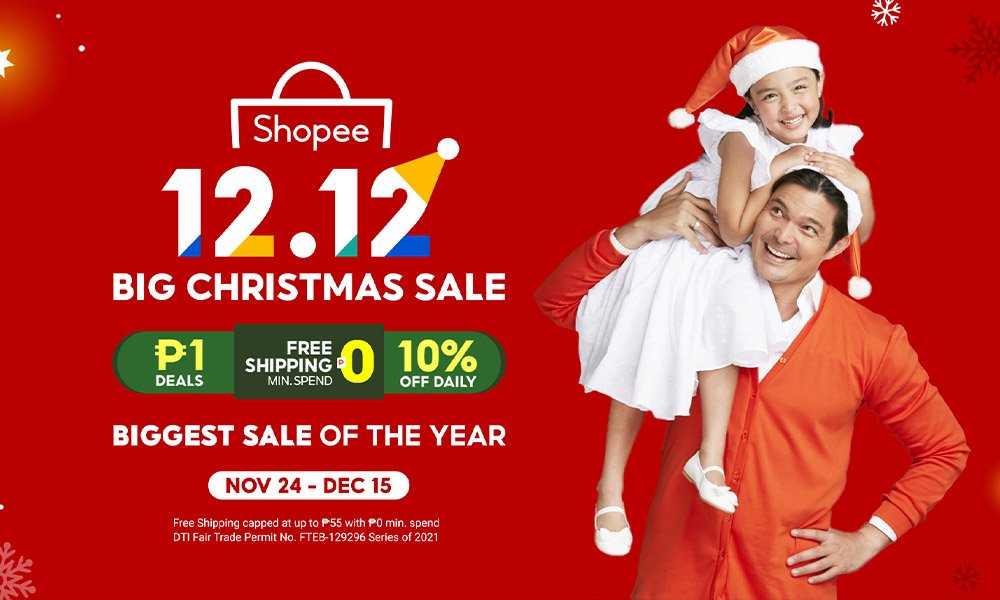 Shopee, the leading e-commerce platform in Southeast Asia and Taiwan, closes the year with its annual 12.12 Big Christmas Sale, the most joyful year-end celebration in the region. 12.12 is set to bring a smile to users as they shop from the widest variety of products to reward themselves and their loved ones during the happiest time of the year. Through the 12.12 Big Christmas Sale, shoppers can also spread the holiday cheer to their favorite local businesses, with 2 times more items sold by local businesses this year.
Users can look forward to a delightful celebration throughout the festive season. In the past year, Shopee has brought fun to users with exciting giveaways and exclusive content, recording over 13 billion engagements and views across its social media channels.
This 12.12, users can expect even more entertainment and engagement with a brand-new commercial featuring international superstar Jackie Chan and performances by popular K-Pop group Tomorrow X Together. To get into the Pinoy family spirit of the holidays, Shopee also welcomes first-ever celebrity father-and-daughter brand ambassadors, Dingdong and Zia Dantes.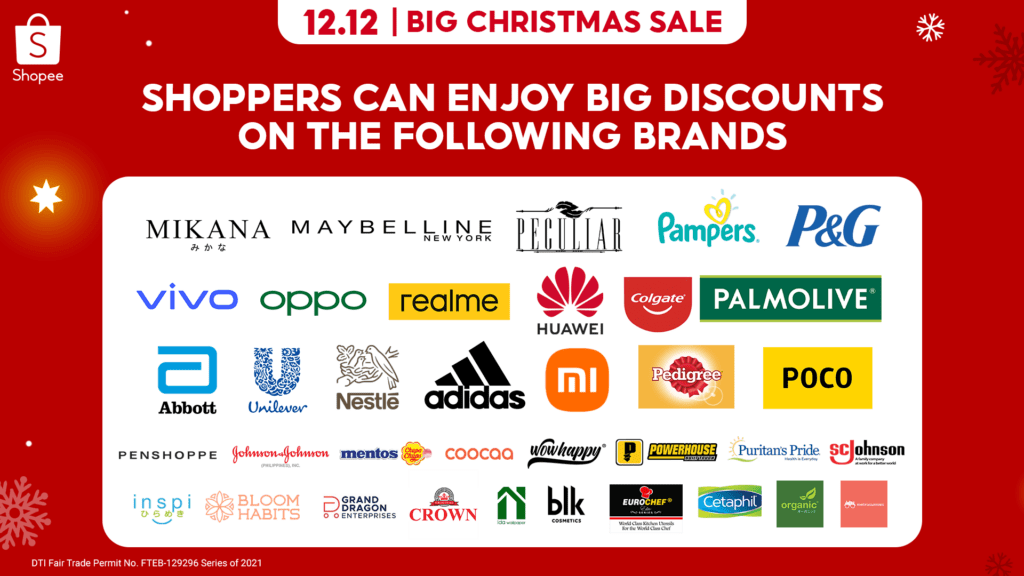 1. Celebrating the happiest time of the year with the best deals
As shoppers hunt for the best gifts, Shopee is thrilled to bring users the most exciting deals this 12.12. These include:
The best promotions: Shoppers can enjoy the best deals for all their gifting needs with deals such as free shipping with no minimum spend, ₱1 Deals, and 10% off daily.
Big discounts: They can also get discounts up to 90% off on the biggest Shopee Mall brands:
2. Celebrating the holidays with entertainment for the whole family
Users can also expect non-stop entertainment from today until the big finale on December 12. Highlights include:
Fun-filled 12.12 TV Special: Filipinos can tune in to GMA 7 and Shopee Live this December 12, 10:30pm, to catch Tomorrow X Together, Korea's hottest rising boy group, grace the stage with a very special performance. Celebrities such as Michael V, Ysabel Ortega, Kate Valdez, Rayver Cruz, Julie Ann Jose, and Andrea Torres will also join host Willie Revillame for a fun and star-studded evening.
Entertaining content from Shopee's newest brand ambassadors: Fans can catchDingdong and Zia's festive new TV commercial, which features the beloved Pinoy Christmas tradition bunutan ng pera, on local TV networks and on Shopee's official Facebook and YouTube accounts. Users can also check out Shopee's YouTube and Tiktok accounts for heartwarming videos featuring Dingdong and Zia, wherein they recreate social media challenges, go shopping on Shopee, and more.
Exciting games and contests: Users can win voucher giveaways by joining Dingdong- and Zia-themed games and contests on Shopee's official Facebook, Twitter, and Instagram accounts. From December 1-12, users can win a total of ₱12,000,000 in prizes from their favorite local celebrities, including Dingdong and Zia, by playing Shopee Celebrity Pamasko on the app. Users simply have to tap on the angpao to win a prize from the celebrity of the day.
3. Celebrating local businesses and culture
Local businesses represent a significant part of local culture and as the need for digitalization increases, Shopee is committed to supporting these sellers and helping them thrive:
Shopee Celebrates Local: Shopee launches 'Shopee Celebrates Local,' a special contest to share and promote beloved local sellers. Users can read their stories on the #TatakPinoy page and on Shopee's social media channels, and vote for their favorites until December 5. Winning sellers stand to win prizes they can use for their businesses, while users stand to win Shopee vouchers. Through the Tatak Pinoy page, users can also enjoy exclusive deals when supporting these sellers.
4. Celebrating wider communities
Through 12.12, Shopee will continue to uplift local communities through its platform. In the spirit of Christmas, Shopee launches the Frontliner Holiday Package to show gratitude for local heroes. Starting December 10, front-liners can avail of this package, which includes vouchers they can use for their holiday celebrations.
For more information about Shopee 12.12 Big Christmas Sale, click here.

Achieve your 2022 interior design with XTREME Appliances
It's time to redesign your home!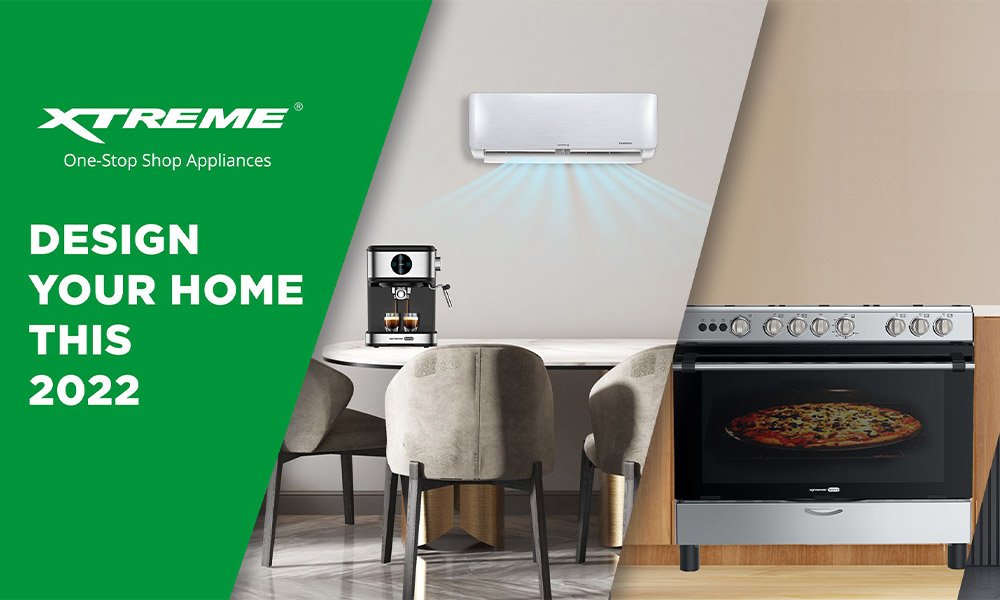 As Filipinos welcomed 2022, most of us are starting — or even beginning their annual home improvements — to adapt to the interior design trends of the year.  With the past two years of a global pandemic which had been difficult for most of us, it is essential to create a space that is comfortable and effective. Luckily, these 2022 interior design trends resonate with this sentiment in creating a home that is more modern yet sustainable while enabling our personal style to lead the way.
In decorating our homes, one of the common struggles is selecting the right home appliances that reflect our style vision, yet are useful and practical. XTREME Appliances, the country's leading one-stop-shop appliance brand, is here to help you elevate your home's overall interior design and functionality.
Multifunctional Spaces
As the global pandemic has normalized the remote work setup, it is really important to put up a multifunctional space where we can work or study. Expect that working from home setup will remain a fixture in most Filipino households, thus multipurpose room is still a must-have for this year.
Two of the most important things to consider in creating this kind of interior setup are practicality and functionality, hence selecting a good set of appliances will help your productivity at a maximum level. Having a comfortable working environment is essential, that's why investing in premium quality air conditioners should be highly prioritized. XTREME Cool Split Type Inverter Aircon can do its job in providing a pleasant working space while saving electrical consumption of up to 60%. 
To achieve a more effective working space, having a 10L XTREME Home Coffee Machine is also highly recommended, especially to caffeine-lovers out there.
Neutral Colors
Sticking to something simple yet classy is a smart choice in solving your interior design dilemmas. If you want to retain your neutral-colored interior, XTREME Appliances offers a wide range of appliances that perfectly complement your vision for each part of your home.
For your kitchen, opt for neutral-friendly appliances such as black, silver, or gray. The 90CM XTREME Home Gas Range boasts a classic aesthetic that fits just right in every design. You can add a 20L XTREME Home Microwave 'Moon' Oven and 6.5L XTREME Home Digital Fryer to make your kitchen look attractive while requiring minimal effort.
For your living room, watching your favorite Netflix show on your 65" XTREME Android TV won't hurt your overall neutral look. In fact, this can add a little accent with its black frameless aesthetic.
Outdoor aesthetics
This year, enhancing your outdoor spaces might be best for you. Living in a global pandemic for nearly two years now is tiring and drowning, that's why leveraging your outdoor space where you and your family can spend time together is a wise choice. In this way, you can have a view of the outside world yet still be at the comfort of your home — technically.
Portable appliances such as the 10L XTREME Home Air Cooler can be beneficial for your outdoor chitchat since summer is coming in just a couple of months from now. You might want also to consider setting up your laundry space outdoor — just to expand your household's living and kitchen space. Place your XTREME Cool Front Load Washer and Dryer in an open-air area to achieve an 'al fresco' laundry moment — just make sure it is safe from any weather circumstances that may have a direct effect like heavy rain and direct sunlight.
Thematic Styles
One of the most challenging factors to decide upon is the overall theme of your house interior. For an industrial-looking interior, which capitalizes on metal, woods, and pipes, a combination of stainless steel, black or white will work perfectly.
This kind of look is often associated with loft and city apartments, however, you can just get the necessary elements of this style and make it work depending on your personal taste. To match your industrial-looking household, the 1.9L XTREME Home Electric Kettle is a good choice for your kitchen countertop because of its stainless steel body.
If you're looking for an oven that complements your concrete-filled aesthetics, the 45L XTREME Home Electric Oven is an ideal cherry on top with its black metallic finish.
To keep updated on the latest news and happenings of XTREME Appliances, like and follow them on Facebook, Twitter, Instagram, TikTok accounts and join their official online community on Facebook, XTREME Fam. For the full list of products and exclusive discounts, please visit XTREME on Website, Lazada, and Shopee e-commerce.
Shop for your home essentials with no worries at Shopee
Check out Shopee's Payday Sale and Gadget Zone this January to enjoy big discounts on everything you need and more!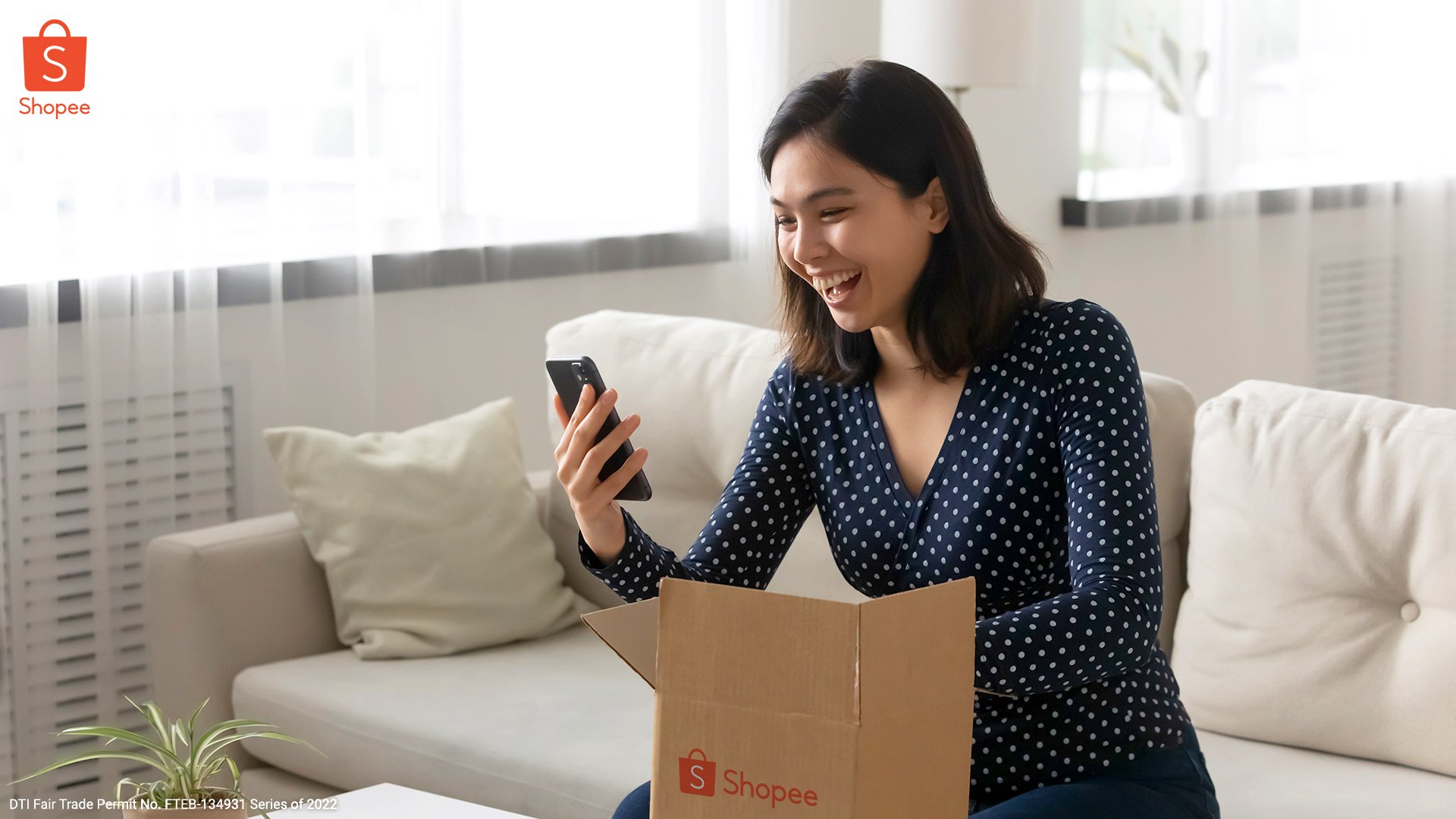 Nowadays, staying at home is one of the best ways to keep you and your family safe and healthy. As you hunker down, for now, you'll need essentials to make sure that everyone remains in tip-top shape and your home's needs are well taken care of.
For more convenient and rewarding shopping from home, visit Shopee for can't miss deals on branded goods starting January 15 until February 3. Check out these household must-haves at irresistible deals:
PROTECT YOUR FAMILY WITH HEALTH AND WELLNESS STAPLES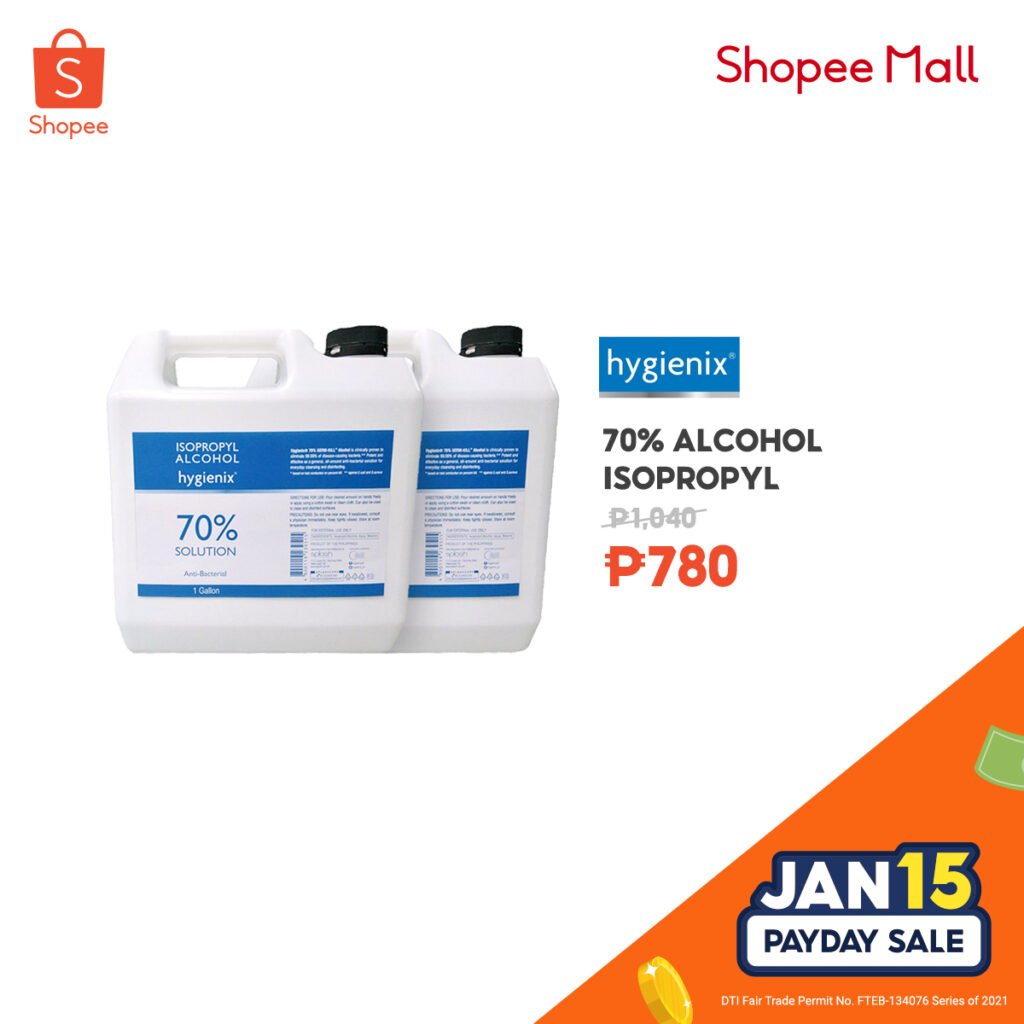 Alcohol is essential in keeping you and your loved ones safe and virus-free. Leave nothing to chance when it comes to your family's health and stock up on Hygienix Isopropyl Alcohol. You'll feel a sense of relief with its non-drying formula that kills 99.99% of disease-causing bacteria and stays gentle on the skin.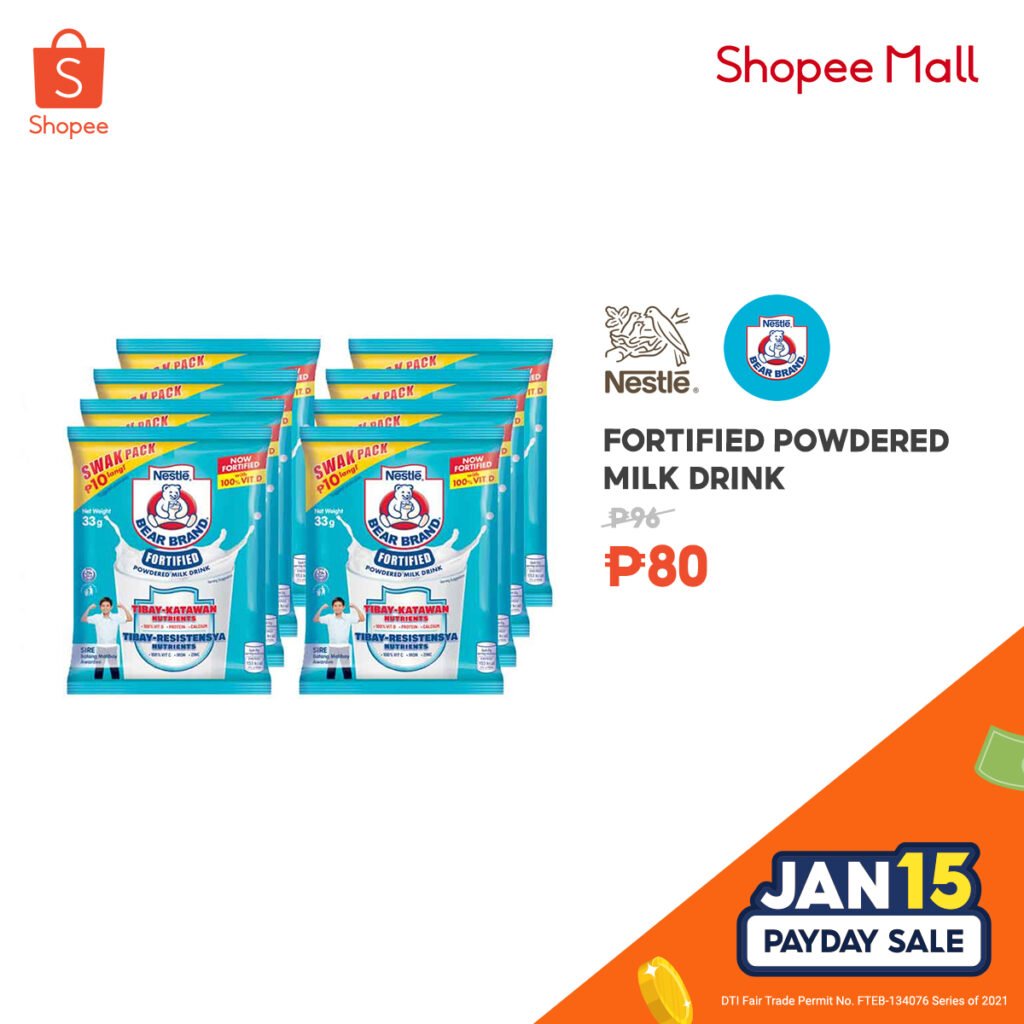 Every parent wants their child to be properly nourished while making the most out of their time at home. With the Bear Brand Fortified Powdered Milk Drink, your child gets the nutrition they need such as Iron, Zinc, Vitamin C, and Vitamin D that aids their growth and boosts their immune system.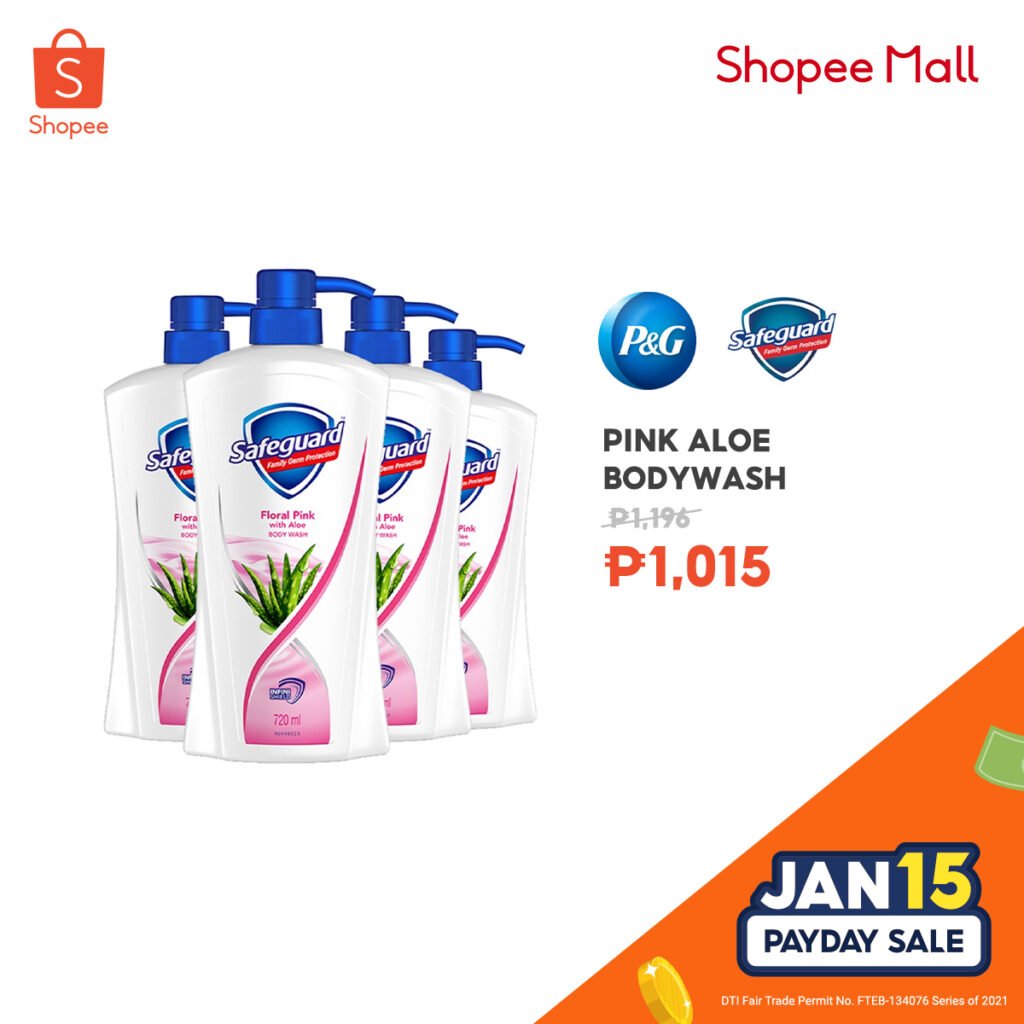 For those who need to report to the office or head out for important errands, don't forget to take a cleansing bath before interacting with members of the household. Get clean and keep your skin fresh after a long day outside with Safeguard Pink Aloe Bodywash which has a fragrant floral aroma and can remove 99.9% of germs, fungi, and bacteria.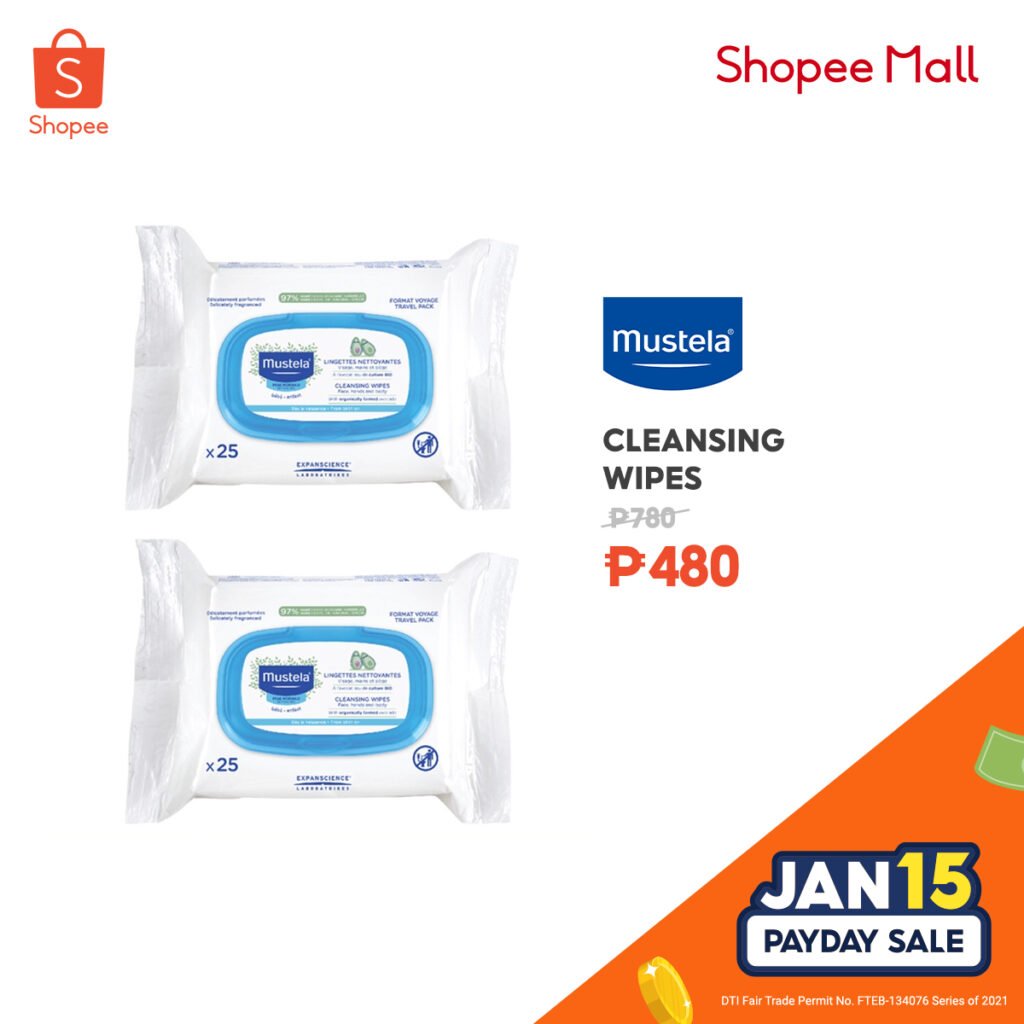 Cleaning after your baby can be a daunting task, especially if your little one is restless. Mustela Cleansing Wipes are here to make mom's life easier. These cleansing wipes are gentle on your baby with its patented Avocado Perseose, which keeps your baby's skin smooth and soft.
You can get all these health and wellness staples during the January 15 Payday Sale. Enjoy exclusive deals such as 10% off vouchers, Free Shipping with ₱0 minimum spend, and up to 50% cashback on bills payment. Visit https://shopee.ph/m/payday-sale-teaser for more information. For more deals on essentials, you can also visit https://shopee.ph/collections/.
UPGRADE YOUR LIVING SPACE WITH FUNCTIONAL HOME GADGETS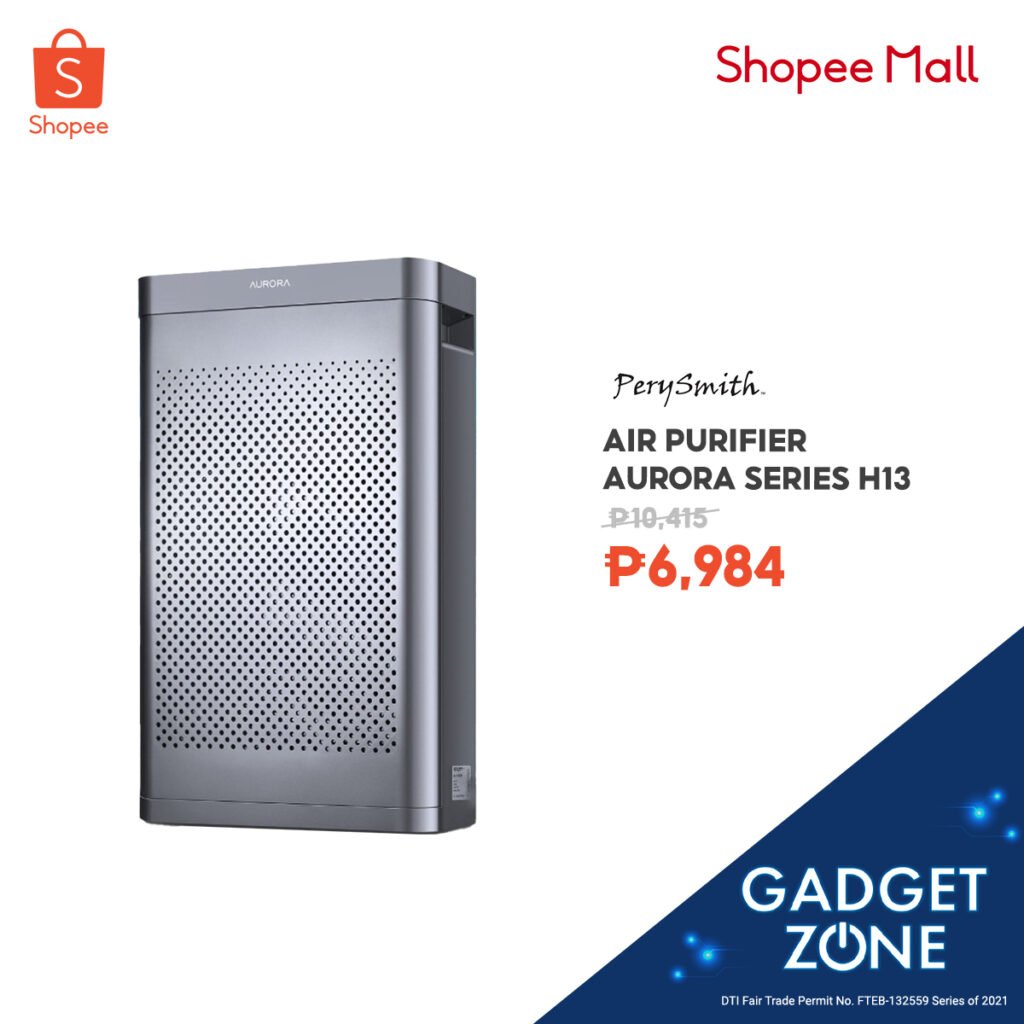 If you've been eyeing an air purifier for a while now,  this is your sign to finally get one. For an extra layer of protection at home, check out the PerySmith Air Purifier AURORA Series H13. Breathe in clean air as this gadget can remove up to 99.9% of unwanted particles, viruses, dust, and haze.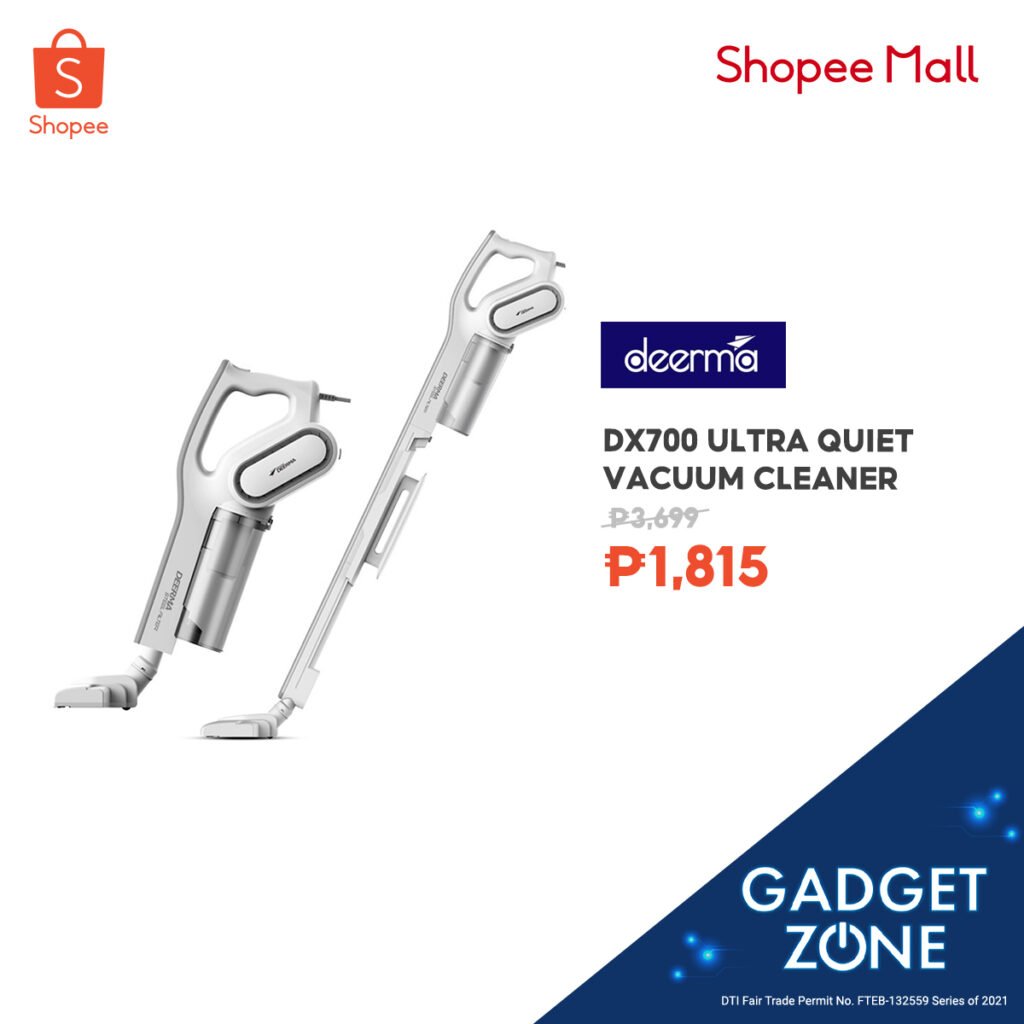 Last year saw the rise in popularity of handheld vacuums among Filipino shoppers. On January 15, score Shopee's best-selling vacuum cleaner, the Deerma DX700 Ultra Quiet Vacuum, at a great deal. This powerful 2-in-1 handheld vacuum will help you reach all the nooks and crannies of your home, giving you satisfying and hassle-free home cleaning sessions.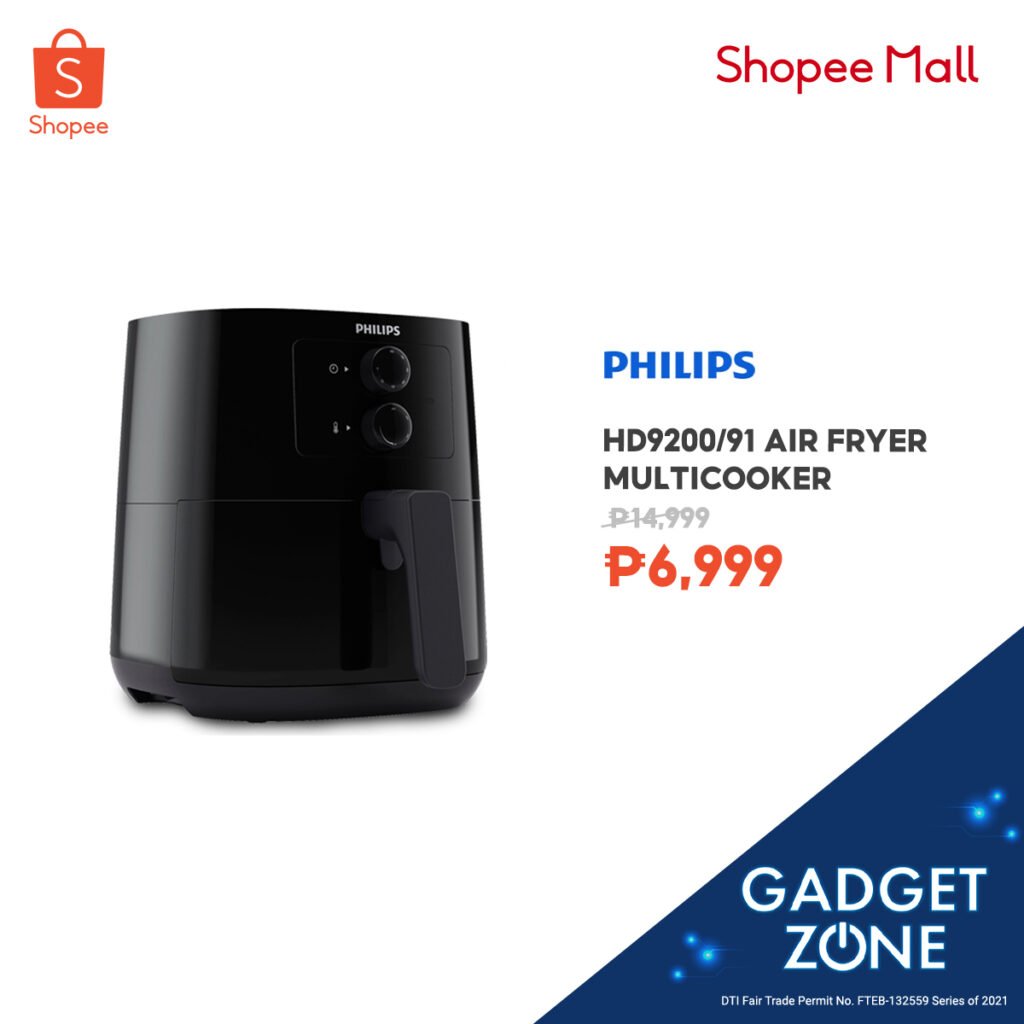 Nothing brings a family closer than a deliciously cooked meal at home. With the Philips HD9200/91 Air Fryer, you'll be able to dish out your best fried, baked, grilled, or roasted recipes effortlessly. This air fryer has a 4.1-liter cooking capacity to make sure you'll serve healthy food for the entire family as you fry with up to 90% less fat.   
Grab all these gizmos and find discounts up to 90% off on popular gadgets when you visit https://shopee.ph/m/gadgetzone. Get big discounts from the best brands such as Phillips, OPPO, Vivo, PerySmith, Samsung, Huawei, Razer, Zeus, Akari Lighting, HyperX, Deerma, DJI, Mcdodo, Tigernu, Xiaomi, and POCO until February 3. 
For a more rewarding shopping experience, check out with exclusive ShopeePay promos and deals such as all-day free shipping at ₱0 min spend and 15% cashback on purchases. With ShopeePay, Shopee's all-in-one e-wallet, you can also buy load and pay bills from the convenience of your home. Get up to 50% off on load across all networks and up to 50% cashback on your monthly bills from over 60 partner billers such as Meralco, Maynilad, PLDT, Globe, Smart, Converge, RCBC, Metrobank, Cignal, and more.
If you need to stock up on essentials urgently, then claim ₱1 Deals via "ShopeePay Near Me" to get big savings and redeem your vouchers when you pay via ShopeePay QR at partner stores such as Puregold, National Bookstore, The Generics Pharmacy, Metro Supermarket & Department Store, FamilyMart, and many more.
Enjoy free and real-time transfers with ShopeePay. Cash in and do bank transfers for free via InstaPay, and get up to ₱25 cashback on your InstaPay fee when you cash in. Plus, you can also send money for free to any ShopeePay user. To enjoy these exclusive deals and more, activate your ShopeePay now for a rewarding cashless experience.
Download the Shopee app for free via the App Store or Google Play.
Win Out Your 2022 Finances with ShopeePay
Be a responsible shopper yourself.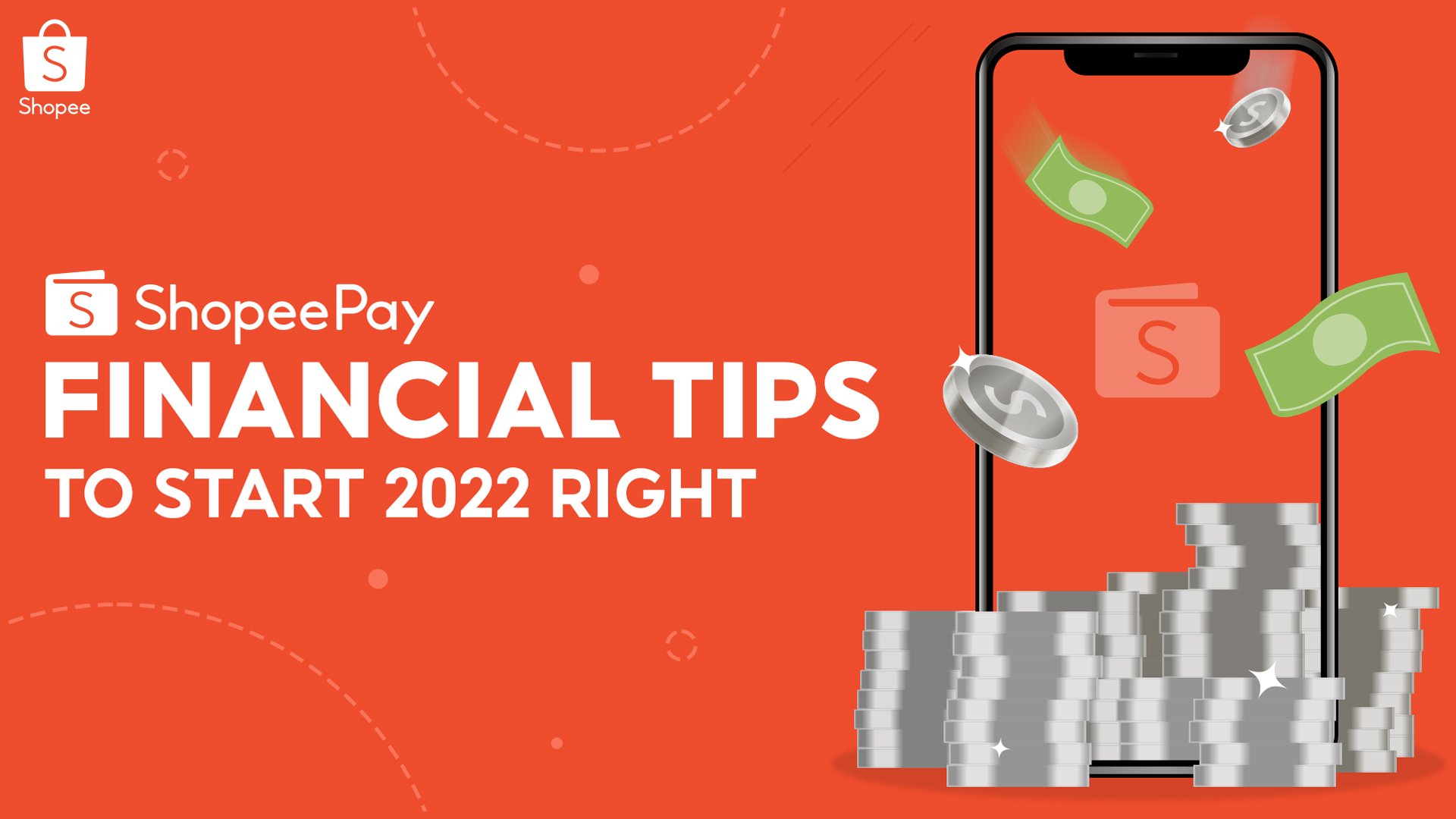 The New Year is an opportune time to improve ourselves in various aspects of our lives. When it comes to financial resolutions, what would you do differently this time around? This year, you can consider embracing digitalization by exploring digital payment services like ShopeePay, integrating it into your lifestyle, and using it to your advantage for your 2022 finances. 
ShopeePay allows you to do so much with just a few clicks. It's Shopee's e-wallet that gives you instant savings with exclusive free Shipping and cashback promos, doubles as a convenient tool to settle your bills, enables you to buy discounted load and data, and more. When it comes to achieving financial goals, having a versatile e-wallet partner can make a difference. As you progress in your financial journey this year, ShopeePay will be with you every step of the way. Here are some pointers to help jumpstart a prosperous 2022:
Create a budget and monitor your expenses
As with any good financial plan, the first step is to set aside a percentage of your income for savings. From what's left, create a budget and list down your expenses for the month, and monitor them regularly. It's good to be careful of your expenses, big or small, as extra costs like transfer fees could affect your finances in the long run. Fortunately, ShopeePay gives users the chance to enjoy free and real-time transfers. You can also cash in for free, with an exclusive ₱25 cashback on your InstaPay fee. You can also send money to any ShopeePay user for free.
Get cashback when you pay your bills
Let ShopeePay bring you an added level of convenience and value as you pay your bills. With ShopeePay, you can safely pay your monthly bills online and even get cashback for your transactions. This January 15 Payday Sale, ShopeePay users can get up to 50% cashback on bills for Electricity, Water, Landline & Internet, Credit Card, and TV Cable from partners such as Meralco, Maynilad, PLDT, Globe, Smart, Converge, RCBC, Metrobank, Cignal, and more.
Earn additional savings while you shop
Score discounts and deals to bring down the costs of your expenses and to add to your savings. For example, groceries are necessities you need to spend on, so always check out affordable options online. Paying with ShopeePay will allow you to get exclusive free shipping and discount vouchers. During Shopee's January 15 Payday Sale, enjoy all-day free shipping at ₱0 min spend and 15% cashback when you checkout with ShopeePay. Plus you can also take advantage of ShopeePay's load discounts. Get up to 50% off on load across all networks.
Don't forget to reward yourself
Stay motivated and keep working on your financial goals. The trick is to allot sufficient "fun money" and always look out for the best deals to get the most bang for your buck—which ShopeePay enables you to do. Through ShopeePay Near Me, enjoy exclusive ₱1 Deals from favorites like Potato Corner, Bonchon, Wendy's, and Papa John's. During Shopee's January 15 Payday Sale, you can also get ₱1 Deals for your essential goods from local sellers such as Puregold, National Bookstore, The Generics Pharmacy, Metro Department Store, and many more.
To develop good financial habits, it's best to lay out plans that are achievable and practical. As another year starts, begin your quest to better finances with ShopeePay.