To make digital transformation more accessible in the Philippines, Sangfor Technologies, a leading global vendor of IT infrastructure solutions, has launched the much-awaited Managed Cloud Services (MCS) with IT Depot, an established distribution organization for Network Security and infrastructure with a wide customer base across the Filipino market.
The fast-paced growth for digital demand globally and locally compels businesses to keep up and run on data and information. This makes proper cloud management crucial to achieve productivity and prevent security issues, data loss, and untimely downtime from impeding the shift to digital.
The Sangfor MCS will ensure to make the most of cloud investment and enable organizations to be more resilient amidst the challenges in the current and future business landscape. It can be used in managing private data centers, critical applications, back-up, and DR, on-premises HCI datacenter, Container-as-a-Service (CaaS), and Desktop-as-a-Service (DaaS).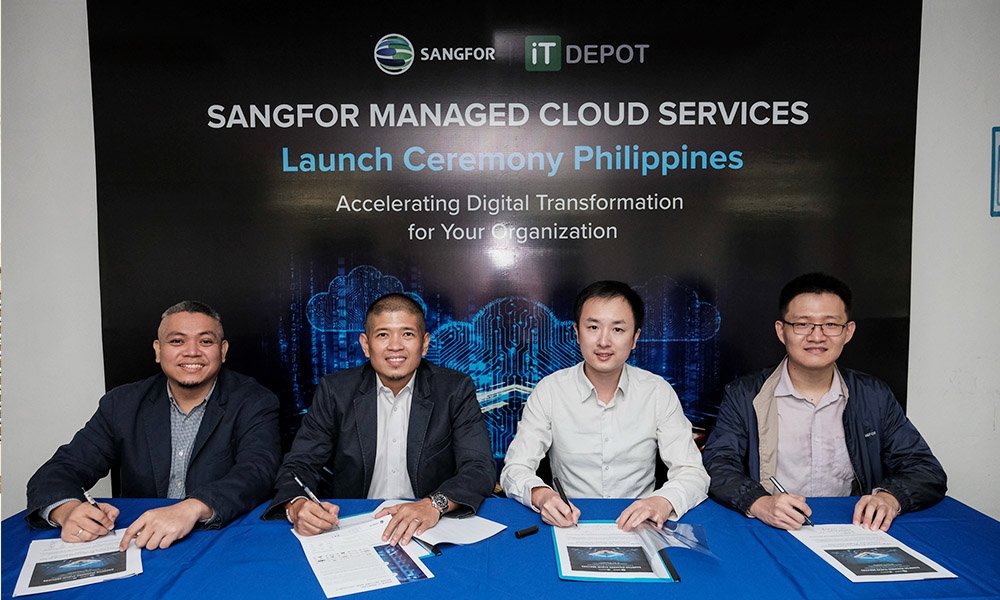 Sangfor MCS Partners are across the Philippines and other regions around the world, hosting over 1,000 enterprise-level data centers for customers in various sectors, from the government to Fortune 500 companies. Sangfor works closely with all local partners to deliver end-to-end, 24/7 managed services, simplifying and safeguarding customers' digital transformation journey.
"Our MCS offers the cloud trifecta: Infrastructure-as-a-Service (IaaS), Platform-as-a-Service (PaaS), and Security-as-a-Service (SECaaS), making it the best solution to accelerate digital transformation" shared Brian Wu, Sangfor Philippines Country Manager. "Businesses of any size can benefit from our MCS. Along with our local partners, we aim to catalyze digital transformation here in the Philippines to assist in the recovery of business and local economy," he added.
Managed Cloud Services are proven to offer the best digital infrastructure and platform while accelerating speed and allowing IT administrators to center their work on operations rather than infrastructure needs. Sangfor MCS will be readily available for small regional businesses to global enterprises and will provide the convenience of public cloud, and the security, control, and services of a professional private cloud. It is available at over 100 globally distributed data center sites and comes packed with powerful built-in security capabilities.
Enterprises will also have the option to customize with their dedicated cloud host, storage, and networking, or choose private cloud, data, and recovery services. There are two (2) models available:
Sangfor Alliance Cloud: A joint investment between Sangfor and local partners in an all-in-one, easy-to-deploy-and-integrate platform. Partners invest while Sangfor delivers the technology.

Sangfor Subscription Cloud: A program that involves Sangfor delivering cloud software and technologies while local and multinational companies build and manage their cloud infrastructure and deliver managed cloud services to their respective customers.

For information on Managed Cloud Service, you may click on this link.