Samsung has great expectations for 2022, and it's not just because of the Galaxy S22 smartphones. We've heard a lot of speculations regarding the Galaxy Tab S8 series, and now we have some leaked details on the tablet, as well as information on Samsung's plans for new wireless headphones, smartwatches, and laptops in 2022.
According to TheElec, Samsung's wireless business division has reportedly discussed its 2022 business plans with up to thirty major South Korean partners, detailing production schedules and dates.
The information, which was translated and organized in a nice table by leakster FrontTron, exposes four Galaxy Tab S8 variants: a Lite model, a vanilla Tab S8, a Tab S8+, and a Tab S8 Ultra. The premium Tab S8 members are slated to go into production in Q2 2020, while the Lite variant will be released in Q4.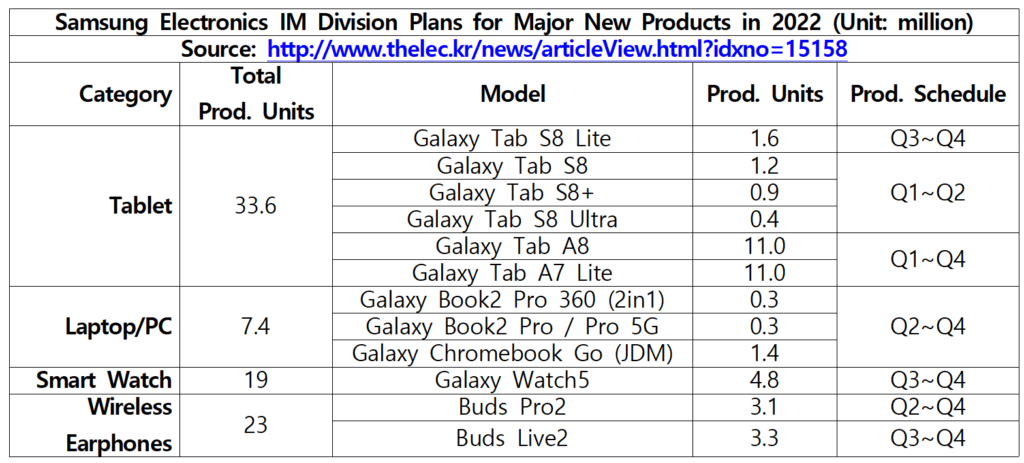 According to the information, Samsung plans to create 1.6 million Tab S8 Lite units and 1.2 million Galaxy Tab S8 units. The Plus and Ultra variants should be produced in smaller numbers, with 900,000 and 400,000 units being produced, respectively.
We may also expect two entry-level tablets, the Tab A8 and Tab A7 Lite, to be released between Q1 and Q4 2022 in far bigger quantities than the premium slates, at 11 million units each.
Samsung intends to build 4.8 million units of the Galaxy Watch5 in Q4 in the smart wearables category. In the Q2-Q3 timeframe, the Galaxy Buds Pro2 and Buds Live2 are also expected. Samsung plans to produce 3.3 million Buds Live2 and 3.1 million Buds Pro2 units.