The Leviathan V2 X soundbar, the newest addition to Razer's line of audio accessories, has been introduced and is designed to connect to desktops and even smartphones. The Leviathan V2 was released earlier this year, and as is customary with Razer, the X designation denotes that this is a less expensive variant of that model. Despite having fewer spectacular features, this new model is budget-friendly, sleeker, and easier to power.
The Leviathan V2 X PC soundbar is a scaled-down version of its full-featured sibling, which was released earlier this year. The 15.7-inch soundbar costs PHP 5,995 ($99.99), yet it still comes with a respectable number of features.
If you're searching for a small source of audio for your PC setup, the Leviathan V2 X might be a good alternative, even though it lacks some of the frills and fancy features the conventional Leviathan soundbar provides. However, it's difficult to say without going through our in-depth review.
Razer Leviathan V2 Specifications
Driver Type
Full range drivers, passive radiator
Driver Size
Full range racetrack drivers: 2 x 2.0 x 4.0″/ 2 x 48 x 95 mmPassive Radiator: 2 x 2.0 x 4.1″ / 2 x 48 x 105 mm
Frequency Response

85 Hz – 20 kHz
Connectivity Options
Type C with Power Delivery
Bluetooth 5.0 connection
Cables
USB-C to Type-A cable, power cable, regional power cord
Weight
845 g / 1.9 lbs
Lighting
Razer Chroma™ RGB (14 zones)
Software
Razer Synapse
Others
USB audio input
Razer Audio app
Custom 10-band EQ
Max SPL: 90dB
Toggle PC audio devices (supported via Razer Synapse)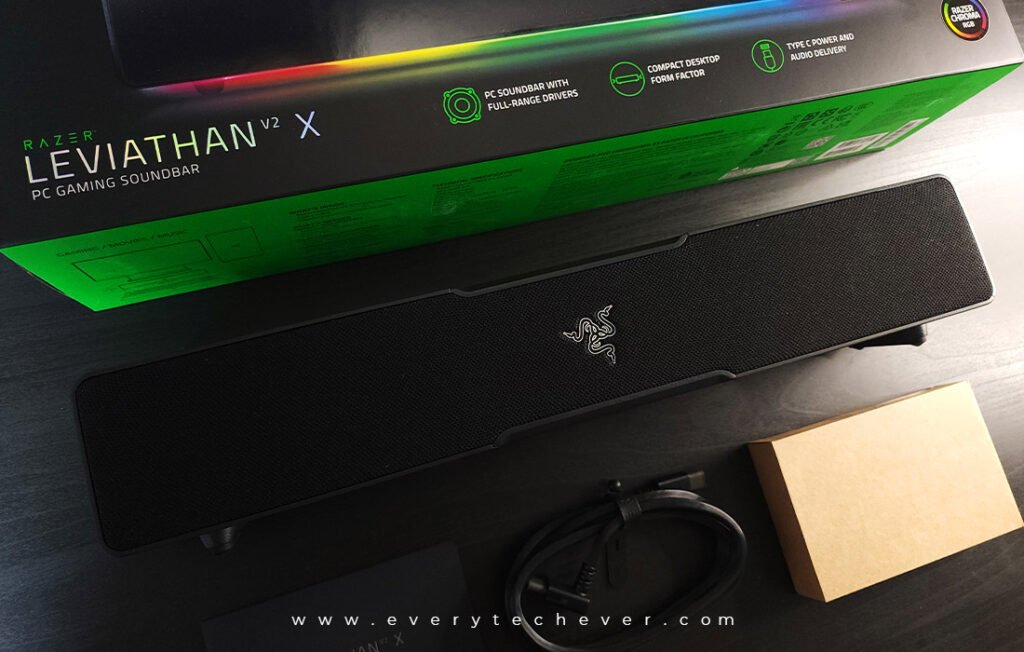 Unboxing
The box for the soundbar is extremely colorful, at least on the outside. In addition, the latter is distinguished by the signature Razer green in both the lower and upper portions, where we can also locate a convenient carrying grip. The soundbar is depicted on the front, while crucial details regarding the device are located around the other sides. By scrolling, after this wrapper has been taken off, we will arrive in front of the product itself.
Here's what to expect when you open the box:
1 x Leviathan V2 X Soundbar
1 x USB-C to USB-C Cable
1x Quick Start Guide
1x Razer Stickers
Here's our full unboxing video:
We love the minimalist product packaging that Razer consistently uses for its wide range of products. Nevertheless, it has all the information you need, which is what gives it a premium and elegant design.
Design and Build
The Razer Leviathan V2 is a very small soundbar.It fits well even under a monitor as tiny as 24 inches, with a width of just 50 centimeters (19.7 in). Even with the angled feet attached, the soundbar's height doesn't exceed 10 centimeters, so you also don't require much headroom clearance. Except for the front, which is totally covered with a metal mesh, the entire side of the device is coated with matte black plastic.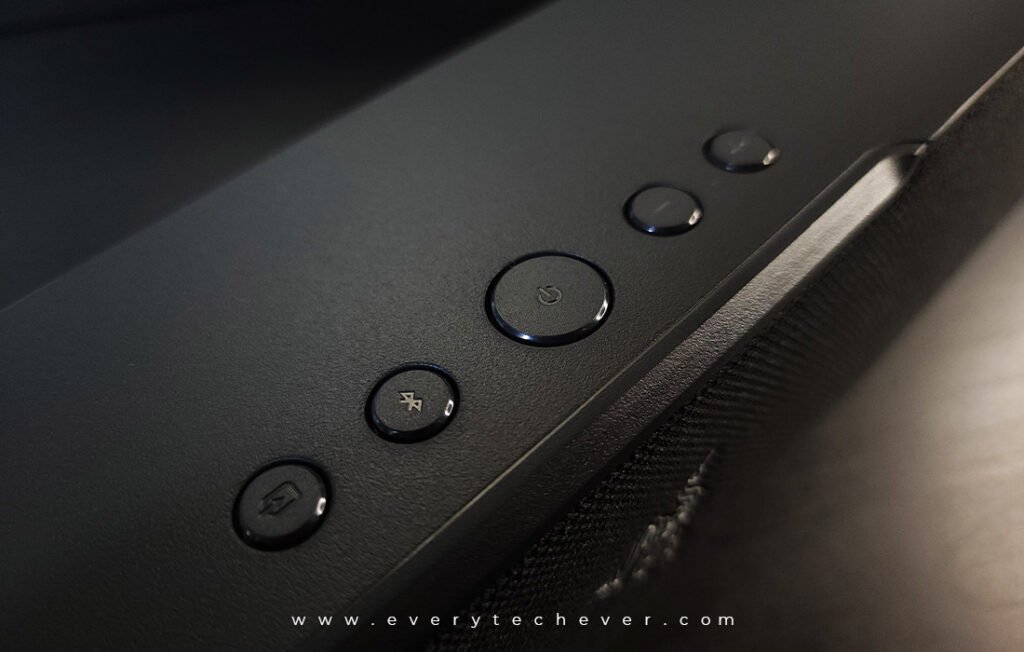 The port for the device's power supply and the connection is positioned in a small gap between two passive radiators that make up the majority of the back's design. Under it are two solid rubber pegs and a customizable 14-zone RGB lighting system to provide a subtle aesthetic to your setup.
With the Leviathan V2 X, Razer upped the ante in terms of aesthetics and updated the downward-facing RGB by adding Chroma RGB capabilities. Now, you can change its hue to suit your mood via the dedicated app that works both on desktops and smartphones.
You can still reach the controls, which are close to the front of the top panel, even when it is positioned beneath a display. The volume can be changed, and the input source can be switched between Bluetooth and USB. It's very easy to operate and power because everything is straightforward. The device's power supply has one USB-C input for your computer, whether a PC or laptop.
Audio Quality
Unlike the V2, the V2 X cannot be adjusted to change the angle when lifted. Notably, there is no subwoofer. Your bass will be a little less noticeable as a result. It's what I noticed when listening to music, especially bass-heavy tunes like Flux Pavilion's "I Can't Stop". I didn't feel it as much when playing games like Diablo Immortal, though. Even bass-heavy game sounds could be heard well. The mids and highs sound wonderful and are quite distinct.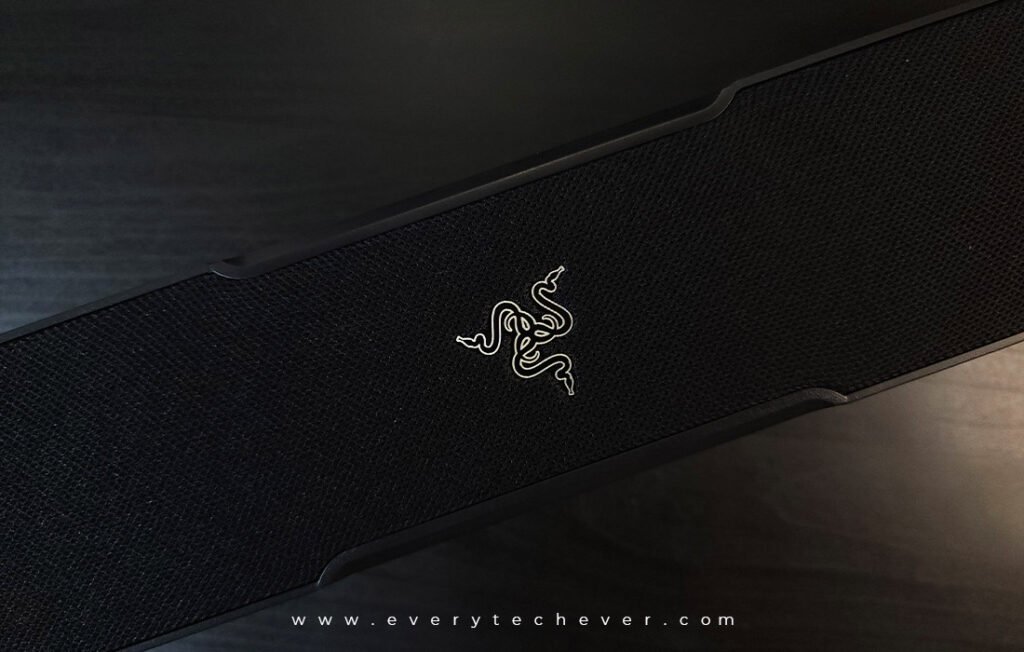 The full-range drivers nonetheless manage to deliver an excellent experience, despite not being as effective in the sound's return as a subwoofer, tweeters, and midranges combined could be.
Gaming Performance
The Leviathan V2 X is performing admirably when it comes to gaming, in fact. When it comes to sports video games and RPGs, it is able to project a good sound with no noticeable lags. It's not terrible in FPS either, but in multiplayer, where hearing the opponent becomes crucial, the performance is not the same.

Overall, a riveting audio experience
Without letting the bass overpower the treble or sacrificing the battery's distinctive rhythm, the complete spectrum of sound is preserved. You can also use the EQ music preset in Razer's Synapse software to amplify the soundbar's fantastic range. If you're not much of an audiophile, this gaming soundbar will meet your audio needs.
We confirmed the soundbar's claimed maximum volume output of 90dB throughout our tests.
Usability
The Leviathan V2 X works pretty well in terms of performance. It quickly paired with my smartphone via Bluetooth, connected to both a PC and a Mac computer via plug-and-play, and all of the buttons are responsive. With either Razer's PC program or its Razer Audio smartphone app, the RGB chroma was simple to tweak.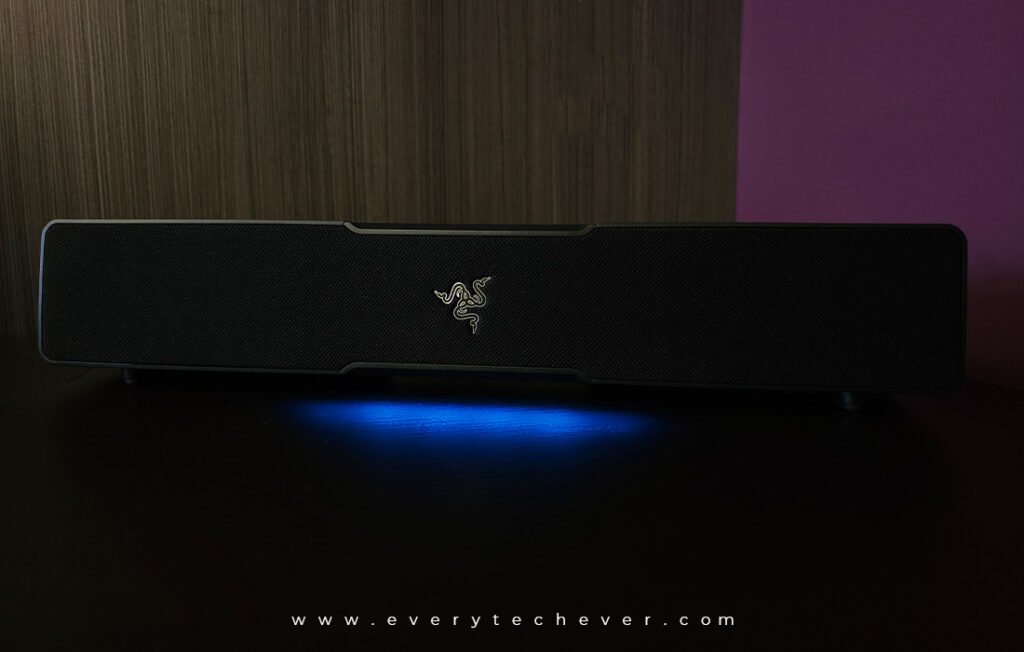 Fortunately, the Leviathan V2 X just requires a single USB-C cable to supply both data and power, making it simple to place on a desk without creating a jumble of cables. Additionally, it has Bluetooth 5.0 capabilities, so if that's your thing, you can plug that USB-C connection into a nearby wall adapter and use it as a speaker for your mobile devices.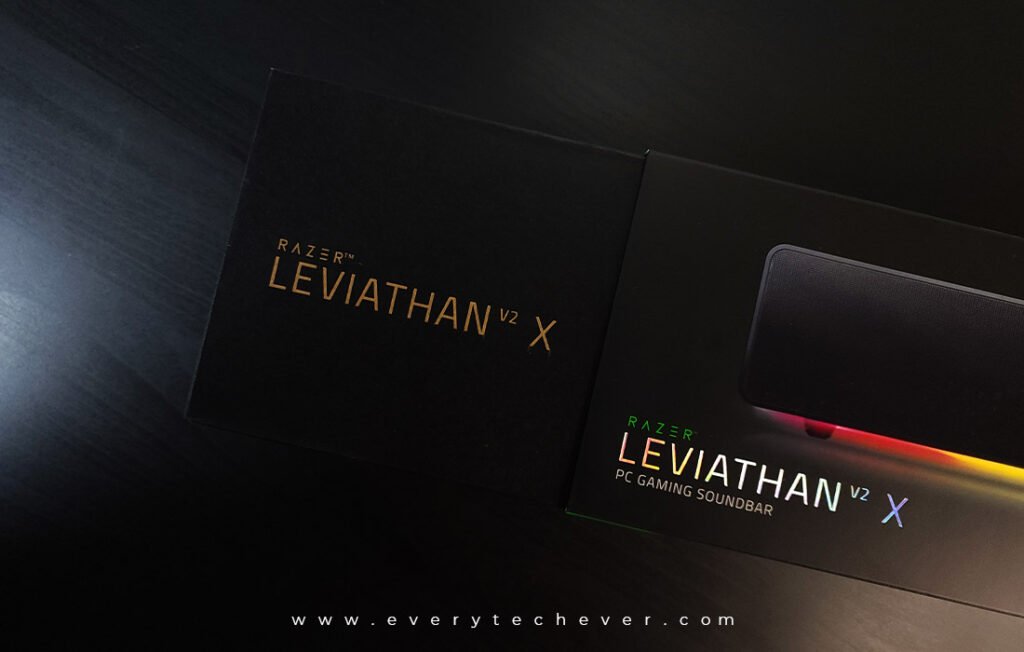 If you're not looking for a super-immersive, theater-like sound experience at your computer desk, this soundbar is exactly what you need.
Should I buy Razer Leviathan V2 X?
The more affordable version of the Leviathan V2 soundbar is the Leviathan V2 X. It is outstanding despite being less expensive and without the latter's dedicated subwoofer and other features.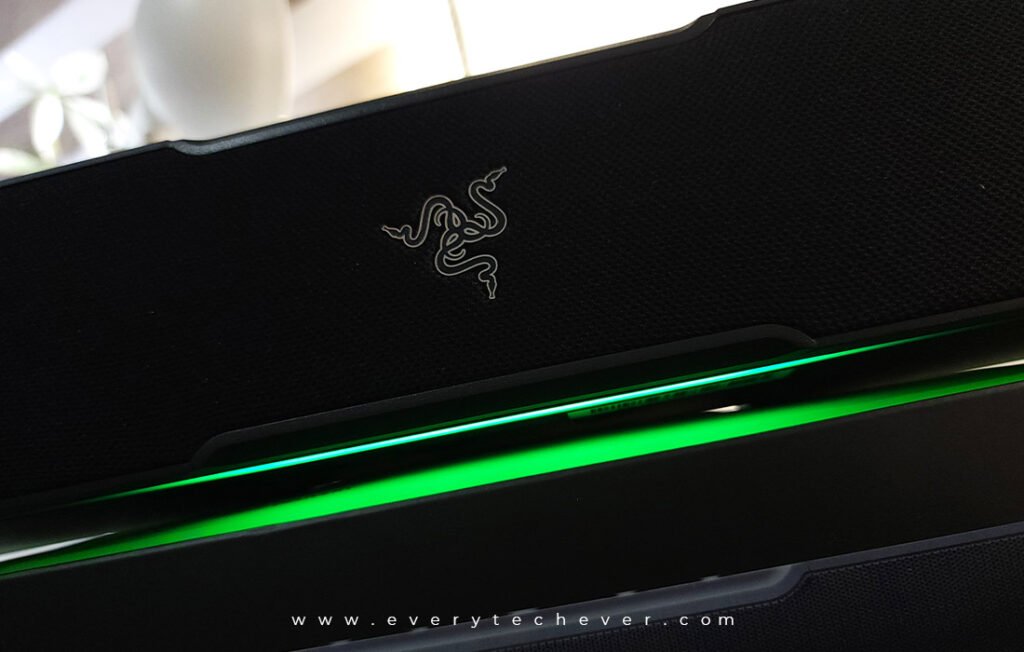 The reduced size and sturdy construction of this soundbar make installation simpler. Despite having fewer RGB zones, Razer Chroma RGB still features vivid lights and a wide range of dynamic effect possibilities. We also liked the variety of connection options it offered, which made switching between devices simple.
The product's superior, unmatched audio is its most crucial feature, as it contributes to a better audio and gaming experience. All the video games we played and most songs we listened to while using this equipment had extremely immersive stereo sound.
The Razer Leviathan V2 X offers good sound for less price of PHP 6,960. Additionally, due to its modest size, it fits smaller desks better.
Pricing and Availability
You can purchase the Razer Leviathan V2 X from Razer or get better deals via Shopee, DataBlitz, or Lazada for only PHP 5,995. If you have the money, you should purchase the larger and better Razer Leviathan V2 for PHP 15,790 or the fully wireless Creative Stage Air V2 with a built-in battery.