TÜV Rheinland Group, the world leader in independent third-party testing and certification, and Eyesafe, the world leader in screen time safety display solutions, today announced the first devices to meet the new Eyesafe Certification Requirements 2.0: the Lenovo G32qc-30 Curved Gaming Monitor, the Lenovo G34w-30 Ultra-Wide Curved Gaming Monitor, and the Lenovo ThinkVision T27p-30 Wide UHD Monitor.
Unveiled in May of this year, the Eyesafe Certified 2.0 standard is the world's most advanced set of certification requirements for measuring blue light emissions and color accuracy for the global display industry. Representing the next-generation blue light management standard for digital displays, it is built upon the resounding success of the first-generation Eyesafe standard which has become the industry-leading benchmark for low blue light safety.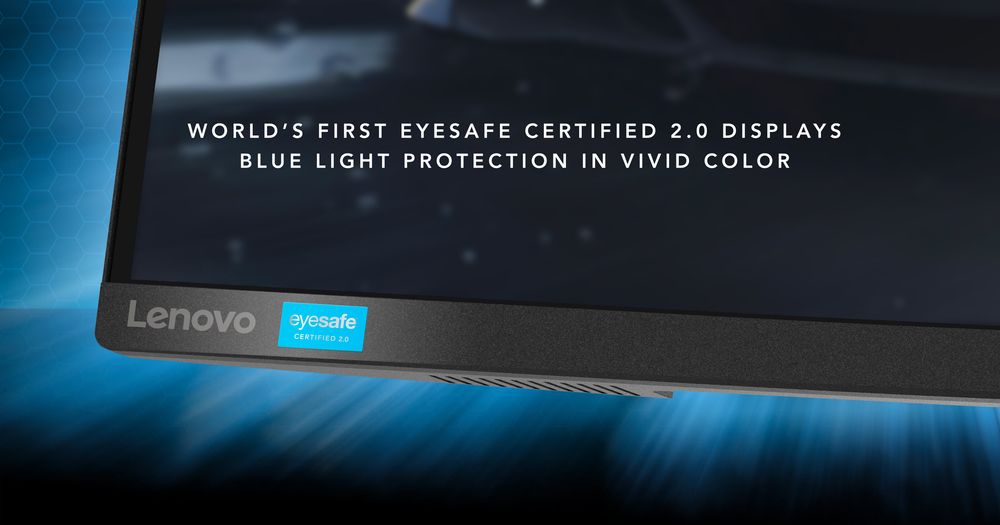 "We'd like to congratulate Lenovo on being the world's first to achieve this significant milestone," remarked Frank Holzman, Global Vice President of TÜV Rheinland Business Field Electrical. "The launch of the Eyesafe Certified 2.0 comes at a critical point in time as awareness of low blue light features has become much more pervasive among consumers and brands have begun to offer an array of different low blue light display options."
Based on the latest health research, the Eyesafe Certified 2.0 standard was developed in consultation with leading ophthalmologists and optometrists from around the world and outlines guidance for display manufacturers with new key metrics and parameters for measuring blue light toxicity. The Eyesafe Certified 2.0 designation empowers consumers to better understand how brands are addressing the issue of blue light mitigation.
"We want to offer a hearty and well-deserved congratulations to the team at Lenovo for their foresight and leadership around the issue of blue light and their commitment to total human health," said Justin Barrett, the CEO of Eyesafe.
TÜV Rheinland and Eyesafe's decision to develop and release the new Eyesafe Certified 2.0 standard was driven by significant advancements in global health research, which has given both physicians in eye care as well as engineers in the technology space a more thorough understanding of the potentially damaging health impacts of continuous exposure to blue light on the human retina. These insights, coupled with significant and sustained changes in global device-use patterns since the onset of the pandemic, spurred the TÜV Rheinland and Eyesafe teams to create a next-generation standard that would reflect and encompass all the new information available about the impacts of blue light on human health. The complete set of requirements in the new standard is available here.  
"Lenovo is proud to be the first technology provider to introduce PC monitors that are certified against the rigorous and precise set of requirements within the new Eyesafe display standard," remarked Stefan Engel, Vice President and General Manager of Visuals Business within Lenovo's Intelligent Devices Group.
The following certified Lenovo devices will be available globally this fall in select markets1:
Lenovo G32qc-30 Monitor – a 31.5" WLED QHD curved gaming monitor equipped with a 165 Hz refresh rate, HDR effect support, dual speakers, and gaming tools for an immersive, fast, and fluid gaming experience.
Lenovo G34w-30 Monitor – a 34" WQHD ultra-wide 1500R curved gaming monitor with a 21:9 panorama display ratio for wider visibility into more content.
Lenovo ThinkVision T27p-30 Monitor – a 27" wide UHD monitor featuring a USB Type-C® port offering a single cable connection, and a 3-side near-edgeless bezel design for a seamless working experience across multiple screens.
All feature natural low blue light technology to reduce the emission of high-frequency blue light from the panel without color distortion. Each will have the TÜV Rheinland Eyesafe certification seal clearly displayed on both the packaging and the device itself. Additional Lenovo products that meet the new standard will be made available later this year.