GCash tightens user verification process for 2022 elections
GCash's civic duty to protect the credibility of the digital financial space.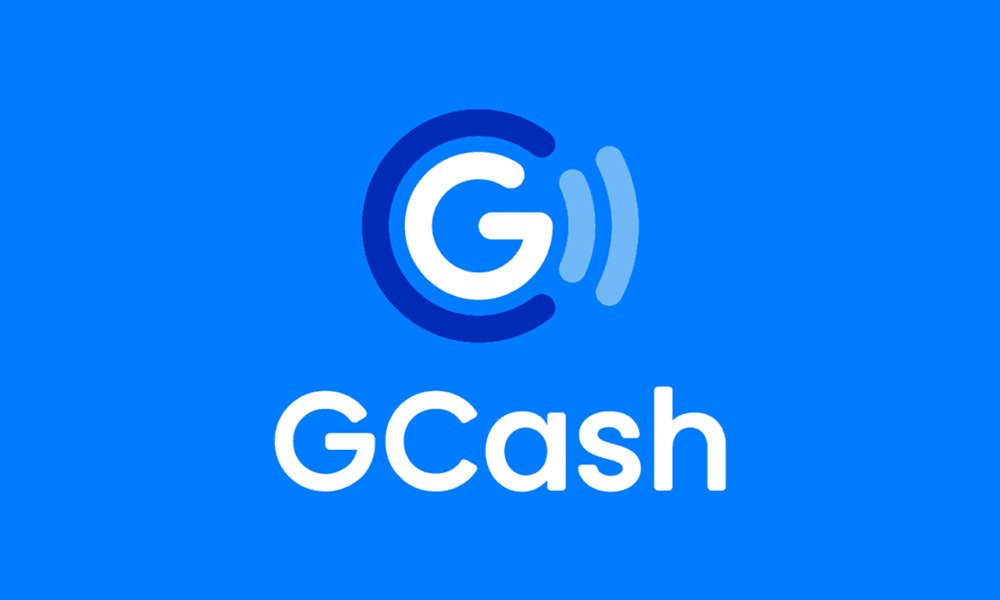 GCash, the country's leading mobile wallet, has pledged to implement safeguards to prevent possible misuse of the platform for illegal vote-buying for the upcoming 2022 local and national elections.
The top e-wallet made this commitment together with other fintech companies at the recent virtual launch of FinTech Alliance Philippines and the E-Money Association of the Philippines' (EMAP) advocacy campaign on responsible use of digital payment platforms. The campaign was launched in collaboration with the Bangko Sentral ng Pilipinas (BSP) and the Anti-Money Laundering Council (AMLC).
According to GCash President and CEO Martha Sazon, also Chair of EMAP, the leading e-wallet has implemented stricter user onboarding and account verification processes to enhance traceability of transactions within the GCash platform. The company will also adopt more stringent measures as part of its "Know Your Customer" process.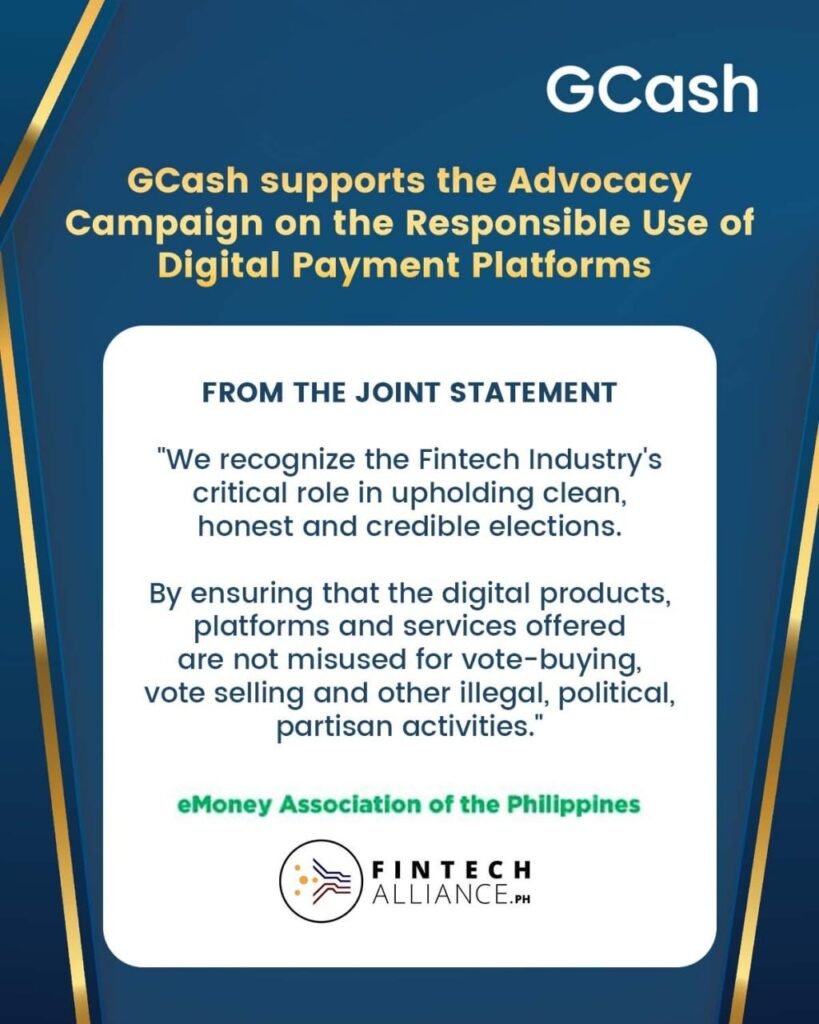 Sazon vowed to help implement good governance towards clean and honest elections, saying this is part of GCash's civic duty to protect the credibility of the digital financial space that has made Filipino lives easier and better, especially during the pandemic.
"GCash will remain steadfast in our commitment to promote responsible use of digital payment platforms, especially in the days leading up to the 2022 elections. We will ensure that the digital products, platforms, and services offered are not misused for vote-buying, vote-selling, and other illegal partisan political activities during the elections," Sazon added.
With over 55 million subscribers, GCash will leverage its huge customer base to disseminate the right information to the public, counteract fake news and fight election-related illegal activities such as vote-buying, Sazon said.
GCash will also strengthen its partnership and work closely with other regulators to discuss partnership opportunities to address possible vote-buying activities in the country and comply with the necessary requirements to ensure that its platform will not be used for such illegal acts.
As a trusted service provider, GCash has always focused its efforts on nation-building and promoting financial inclusion for all Filipinos. GCash uses its platform responsibly and vigilantly by proactively reporting unfair and illegal practices that could compromise the nation's bid for fair elections. Additionally, GCash also has a strict on-boarding process for account registration, verification, and security controls to track the identity and traceability of unusual or suspicious digital transactions.
BSP Governor and Monetary Board of the Philippines Chairman Benjamin Diokno, meanwhile, called on financial institutions to also be on guard against illegal financial activities in the runup to the elections.
"BSP also calls on the financial institutions under its supervision to enhance the surveillance and monitoring mechanisms against digital vote-buying and selling and help citizens better prevent and detect such illegal acts," Diokno said.
During the virtual event, acting Commission on Elections (COMELEC) chairperson Socorro Inting also said that voters, government financial regulators, and private digital companies must innovate by proactively establishing and maintaining an inter-institutional effort for the responsible use of digital payment platforms.
This initiative was also supported by the Parish Pastoral Council for Responsible Voting (PPCRV) President Myla Villanueva, NAMFREL Bantay ng Bayan President Gus Lagman, LENTE Philippines Executive Director Ona Caritos, and FINEX Philippines President Mike Guarin.
For more information, visit here.

Get Globe All-in-one Platinum ONE Plan, a market-first!
Combines the best mobile and home WiFi network connection with unparalleled priority care.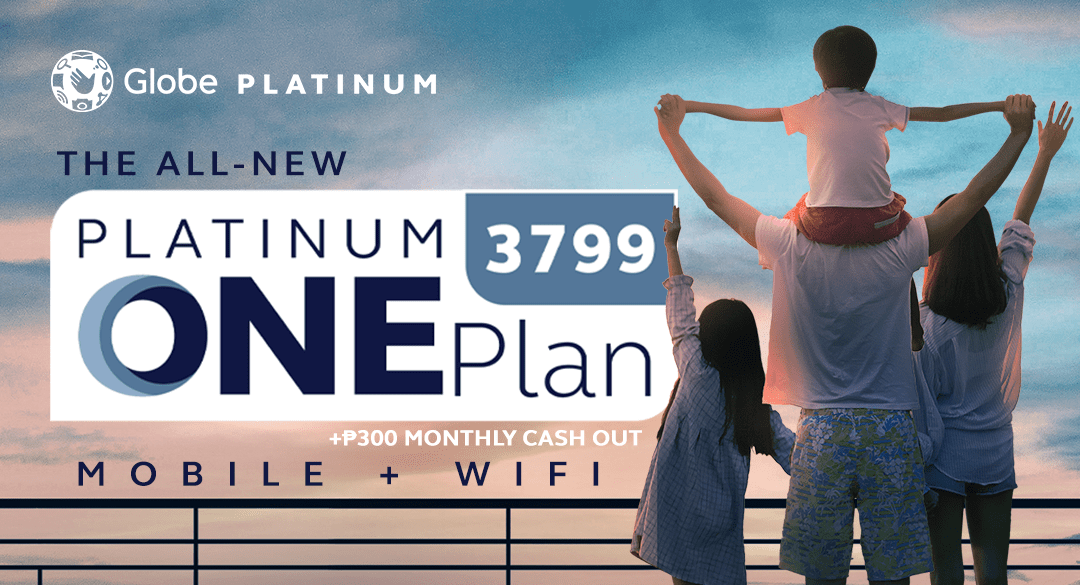 Customers looking for the best and latest innovation from Globe can be the first to apply for the new all-in-one Platinum ONE Plan, which combines the best mobile and home WiFi network connection with unparalleled priority care.
From August 15 to September 14, new and existing Globe customers can pre-order at www.globe.com.ph/platinum/oneplan.html to apply for this first-in-the-market offer. This is most valuable to leaders and trailblazers who need to be connected constantly through their Globe mobile phone or their Globe At Home internet service.
"In these uncertain times and shifting needs of customers, Globe is working hard to provide important choices that will enable everyone to thrive and live seamlessly in the new normal through innovations that make a lasting impact," said Darius Delgado, Head of Consumer Mobile Business.
"Platinum ONE Plan demonstrates the power of bringing together the best of what Globe can offer– from superior mobile services, reliable and high-speed fiber internet at home, best-in-class customer service, and overall rewarding experiences for the whole family," Kaisie del Carmen-San Pablo, Head of Globe Platinum Business, added.
The pre-order offers come in two options: Platinum ONE Plan 3799 and 4999.
Platinum ONE Plan 3799 includes unlimited Fiber WiFi at home with speeds of up to 150Mbps, All-Month Surf on the Globe 5G priority network, unlimited calls and texts to all networks, and unlimited calls to landline numbers.
Platinum ONE Plan 4999, comes with all benefits under Plan 3799, boosted with a 2-day data roaming and P1,500 Consumable Allowance for roaming or even your favorite premium content such as Netflix and/or HBO Go.
Both Platinum ONE Plan 3799 and 4999 provide all-in priority service for your mobile and home internet, from the Platinum HOMESquad team of experts, Platinum digital assistant, THEA, the 24/7 worldwide concierge on Facebook Messenger, and an option to get one-to-one personalized servicing through our Platinum Relationship Manager.
They also come with a free KonsultaMD telehealth package, free 3GB GoWiFi every month, free 3-month access to HBO Go, Discovery+, Prime Video, and Viu, and one complimentary service visit from the Platinum Home Squad. Customers also earn 2x Globe Rewards points for their mobile and WiFi at home services.
In the next few months, subscribers can expect more exclusives from the Platinum ONE Plan for connectivity enhancements, with more Fiber WiFi at home speed options of up to 800Mbps, a Mesh bundle, an exclusive Platinum ONE plan bundle with Fiber-to-the-Room (FTTR) technology, and an option to even upgrade your home to have a fully digital experience.
Globe At Home unveils WiFi-strong GFiber Unli Plans
For up to 150 Mbps for P1,699/month.
Leading digital solutions company Globe continues to beef up its GFiber Unli plans to provide fast, reliable, and strong WiFi connections for the whole family. 
The company's broadband arm, Globe At Home, has unveiled GFiber Unli Plan 1699 which offers up to 150 Mbps and a free entertainment content bundle for subscribers to indulge in their favorite shows.
This most aggressive Globe At Home Internet plan in the market today includes free three-month access to Viu, Amazon Prime Video, HBO Go, and Discovery+.  It also comes with free 24/7 unlimited teleconsultation with a licensed doctor via KonsultaMD for three months.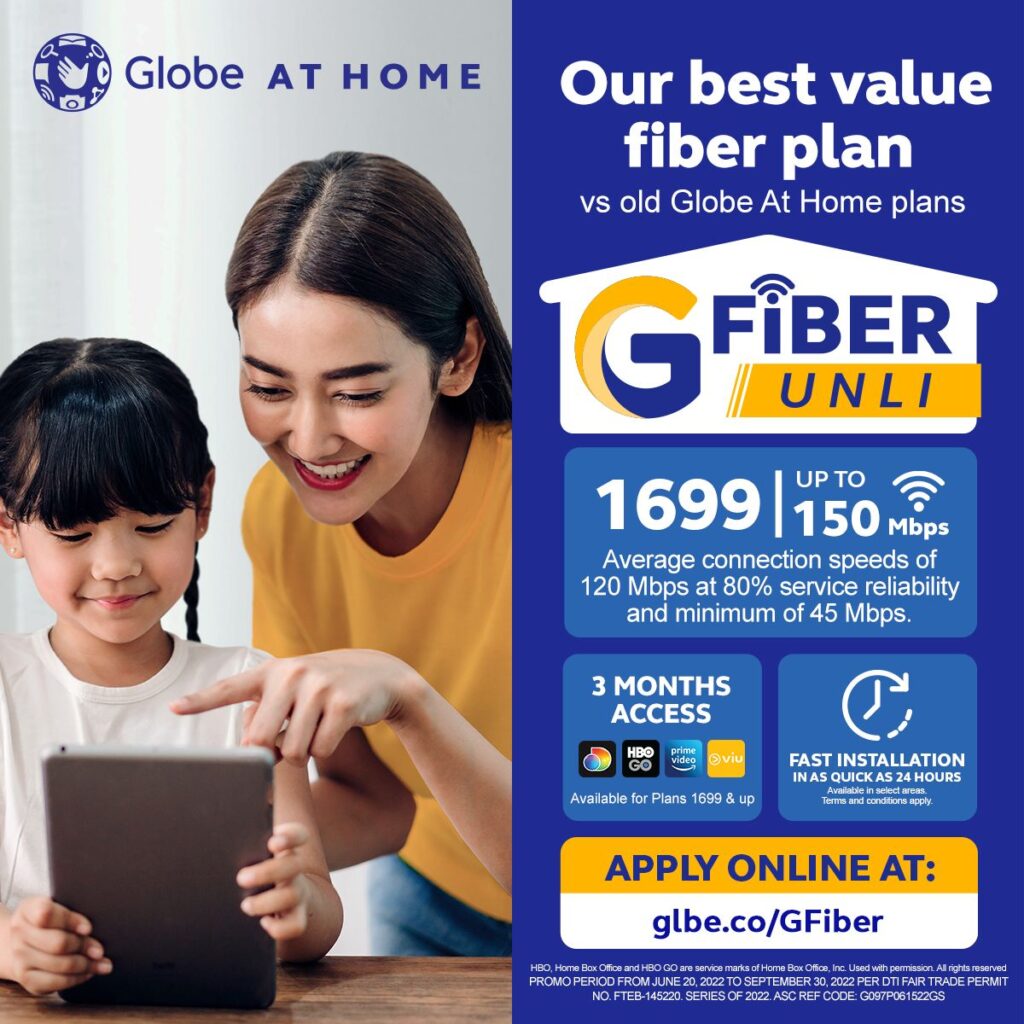 Those who want a more leveled-up WiFi at home connectivity can get GFiber Unli Plan 2499 with speeds of up to 500 Mbps. On top of the free entertainment content bundle, the package offers a free landline with unlimited calls to Globe and access to VIP hotlines.
"With Globe At Home GFiber Unli Plans, every family member has the best leverage to achieve their full potential. Along with fiber-strong connections, Globe has redefined connectivity by offering free access to entertainment content and healthcare," said Janis Racpan, Head of Globe At Home Product Marketing.
Globe At Home ensures that its postpaid plans have a rich ecosystem that could help uplift the lives of Filipinos and allow them to thrive in the new normal using fiber technology. Through GFiber, subscribers can experience stronger internet coverage, faster and steadier connectivity with future-proof solutions for their needs today and the future.
Globe continues its aggressive rollout of free broadband fiber upgrades within serviceable areas nationwide as part of its commitment to help bridge the digital divide among Filipinos.
This is part of its commitment to the United Nations Sustainable Development Goals, which highlight innovation and infrastructure as drivers of economic growth and development under SDG No. 9.
In the first quarter of 2022, Globe recorded a rise in fiber broadband takeup by 155%, with 1.74 more fiber-to-the-home lines built than the same period last year.
To know more about Globe At Home GFiber Unli Plans, visit https://www.globe.com.ph/broadband.html
Globe At Home tops Netflix ISP speed index for 4th straight month
Globe At Home also dominated the list for 10 out of 12 months.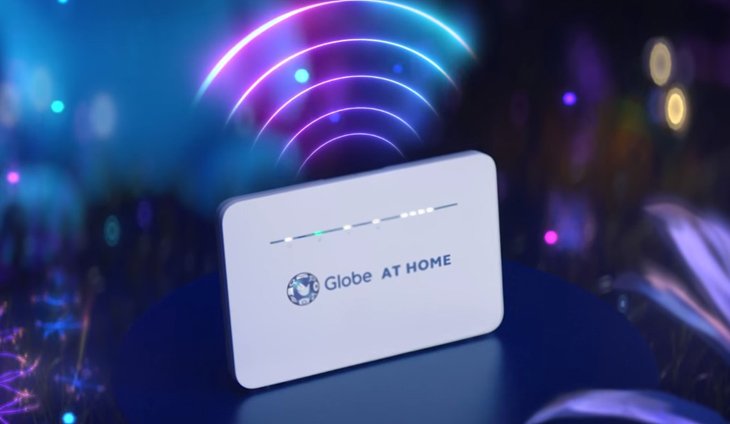 Globe At Home has topped the Internet Service Providers (ISPs) performance rating of subscription-based streaming service Netflix in the Philippines for the fourth straight month this year.
Based on the April 2022 Netflix ISP Speed Index, Globe scored the fastest speeds through its Globe At Home Broadband Business. In 2021, Globe At Home also dominated the list for 10 out of 12 months.
Globe's score is at par with that of the country's overall rating.  Others in the same category are Argentina, Austria, Bolivia, Brazil, Chile, Ecuador, France, Greece, India, Indonesia, Italy, Japan, Mexico, Paraguay, Poland, Taiwan, Trinidad & Tobago, Turkey, Uruguay, and Vietnam.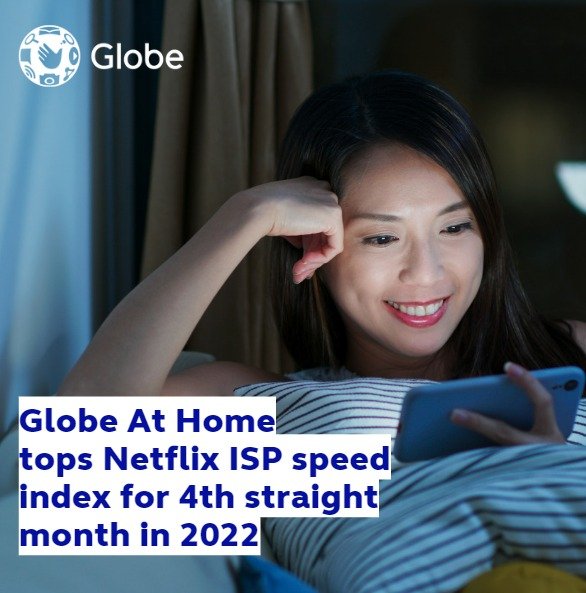 Netflix's ISP Speed Index determines which ISPs offer the best viewing experience during peak hours. The data is gathered from subscribers using the online video streaming platform.
The speed index is vital for Netflix streaming because its videos load quickly on networks with low latency, packet loss, and jitter. Otherwise, users may encounter issues such as buffering and pixelization while watching videos.
"We are glad that we could offer consistent, high-quality video streaming speed. It is a testament to our unrelenting efforts to provide affordable, world-class connectivity to Filipinos across the Philippines," said Barbie Dapul, Globe At Home Vice President for Marketing.
Globe is spending P89 billion this year for its aggressive network expansion to boost internet quality and coverage. This is part of its commitment to the United Nations Sustainable Development Goals, particularly SDG No. 9, which underscores the crucial role of infrastructure and innovation in development.
This year's capital expenditure allocation will be used to build new cell sites, upgrade existing sites to 4G/LTE, accelerate the rollout of 5G connectivity, and fast-track the fiberization of Filipino homes nationwide.
Last year, Globe spent a record P92.8 billion to build 1,407 new cell sites, upgrade over 22,300 mobile sites, install more than 2,000 5G outdoor sites and in-building solutions, and lay down fiber to 1.4 million homes.
To learn more about Globe, visit www.globe.com.ph.