Sony Philippines officially announced the local arrival of the new BRAVIA X90K and BRAVIA CORE, a pre-loaded movie service exclusive to 2022 BRAVIA XR™ models.
For viewers interested in achieving lifelike picture quality at home, Sony presents the BRAVIA X90K series, a Full-Array LED that delivers up to 4K Ultra HD resolution and High Dynamic Range (HDR). Powered by the Cognitive Processor XR™, the new XR lineup ushers us into a new era of cinematic viewing experience at home.
"Sony's purpose is to fill the world with emotion through the power of creativity and technology, that's why Sony continuously pushes boundaries in pursuit of the ultimate audio and visual experience," says Mr. Hideyuki Wada, Marketing Director of Sony Philippines.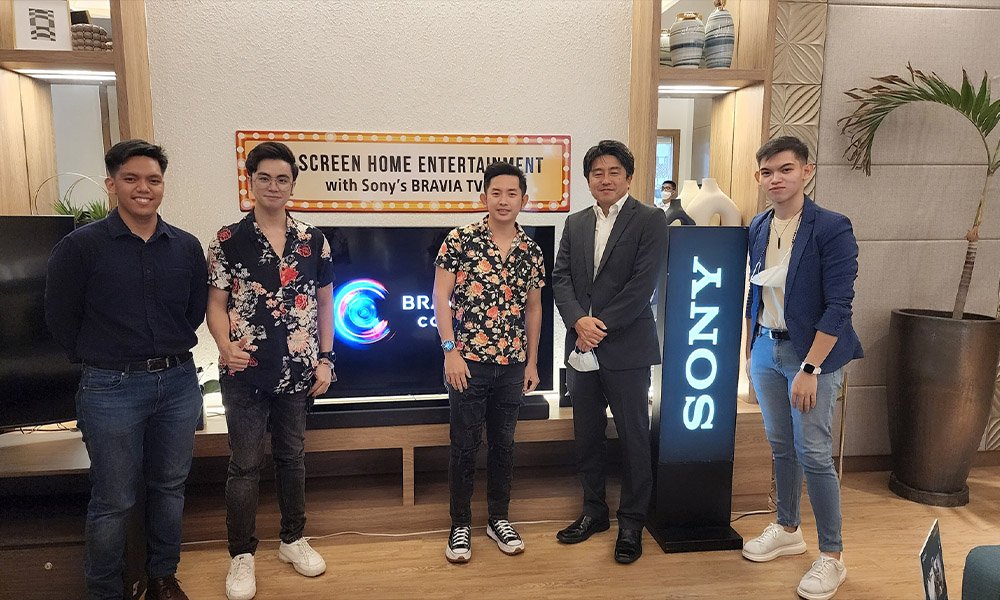 Sony is indeed taking the lead on this technological transformation with BRAVIA XR™ TVs powered by the next-generation Cognitive Processor XR™.
Next-gen processors for next-level cinematic entertainment
Powered by the revolutionary Cognitive Processor XR™, Sony's new BRAVIA X90K series gives audiences real-life depth and contrast, and vivid colors compared to the ordinary LEDs on the market. This next-generation processor cross-analyzes images and sound from your movies to deliver a more lifelike TV viewing experience. Better than the conventional AI technology, the Cognitive Processor XR™ delivers scenes in movies that are so real you can feel it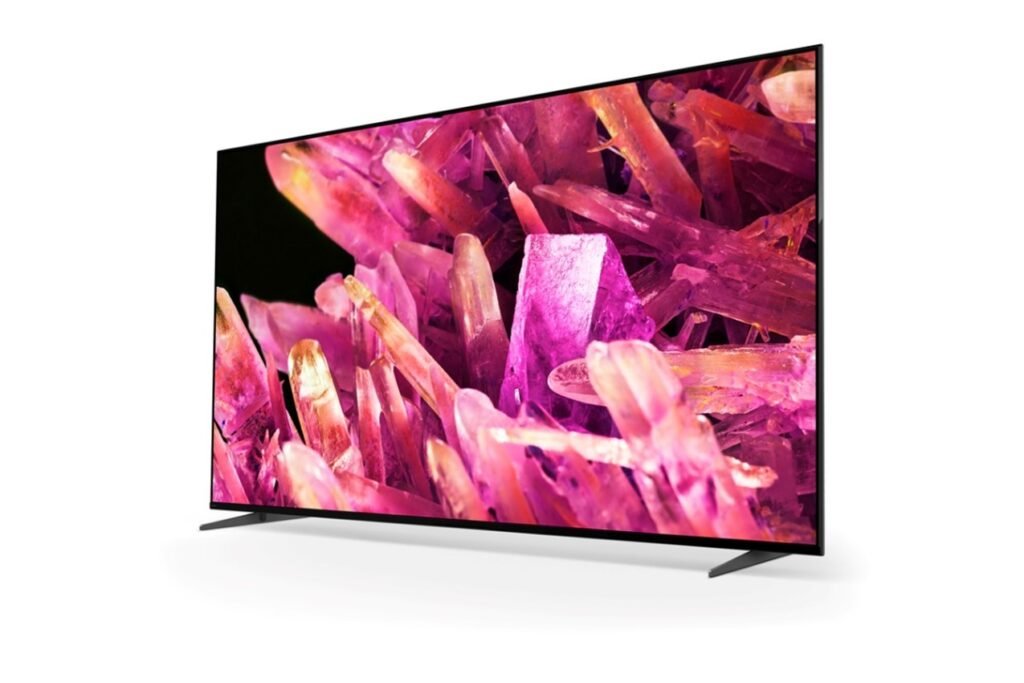 According to Clarence Porteza Sony Philippines' Product Marketing Executive, an immersive viewing experience entails a balance of both quality visuals and sound, and the BRAVIA X90K delivers that perfect harmony with its XR Picture and XR Sound features
Porteza explains the four key pillars that deliver lifelike picture quality on the BRAVIA X90K:
Powered by the Cognitive Processor XR™, XR Triluminos Pro™ enables our TVs to access over a billion colors and reproduce each one with the subtle differences seen in the real world
Scenes look more real with extra depth and details as the XR Contrast adjusts brightness for higher peaks in glare and deeper blacks in shadow
Enjoy entertainment close to 4K quality through XR Clarity. The Cognitive Processor XR™ accesses a vast amount of data, intelligently recreating lost textures and detail for real-world pictures
Watching sports and fast-moving movies just got a whole lot better with the intelligent motion processing for fast-moving and blur-free scenes of XR Motion
"When comparing the BRAVIA X90K with other commercially available televisions in the same class, audiences are sure to experience a difference," shares Forteza.
Immersive true to life sound
Sony's Cognitive Processor XR™ also brings more realistic and immersive sounds, shares Porteza. With advanced sound processing, Acoustic Multi-Audio technology, and special actuators, BRAVIA XR TVs make the sound match precisely with what's on the screen bringing a whole new level of immersion.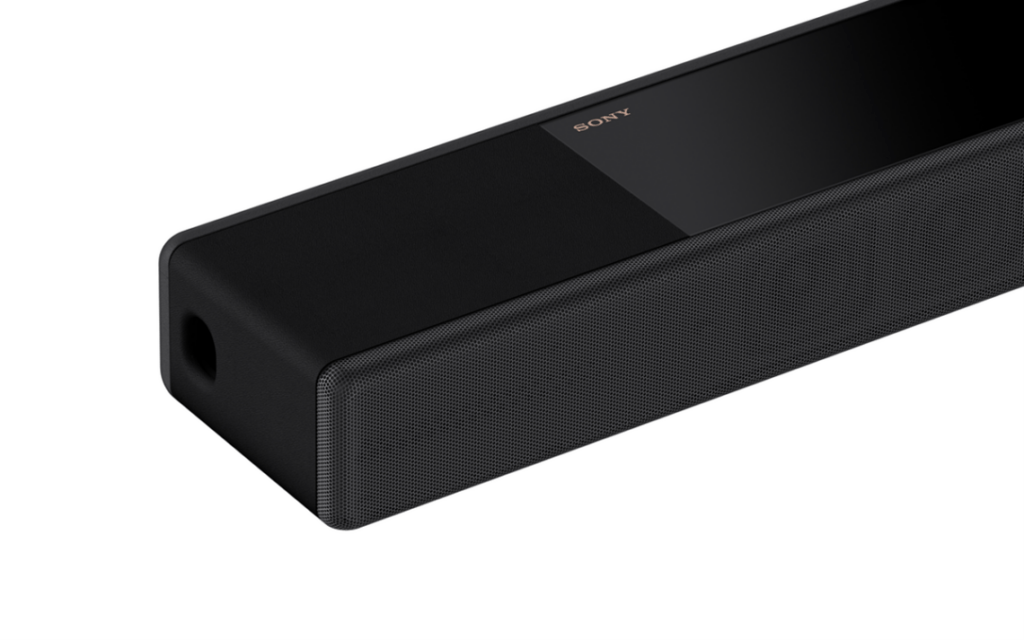 The XR Surround feature also virtually creates surround sound from the sides and vertically using just the TV speakers, so viewers can experience 3D audio without the need for in-ceiling or up-firing speakers.
Complete your cinematic experience at home with Sony's top-of-the-line soundbar. BRAVIA XR TVs may be paired with a Sony A Series soundbar such as the HT-A7000 to enhance the viewing experience. The HT-A7000 features X-Balanced speaker units that deliver more punchy bass, less distortion, and greater vocal clarity.
For viewers who want full 360° spatial sound mapping, an optional subwoofer (SA-SW3 / SA-SW5) and rear speakers (SA-RS3S) can be paired. With just the subwoofer and rear speakers added, the HT-A7000 creates multiple phantom speakers around the room for total immersion.
Your favorite films at home
For those interested in seeing their favorite pictures at home in high definition, Sony takes it one step further with BRAVIA CORE exclusively available in the 2022 BRAVIA XR TV lineup.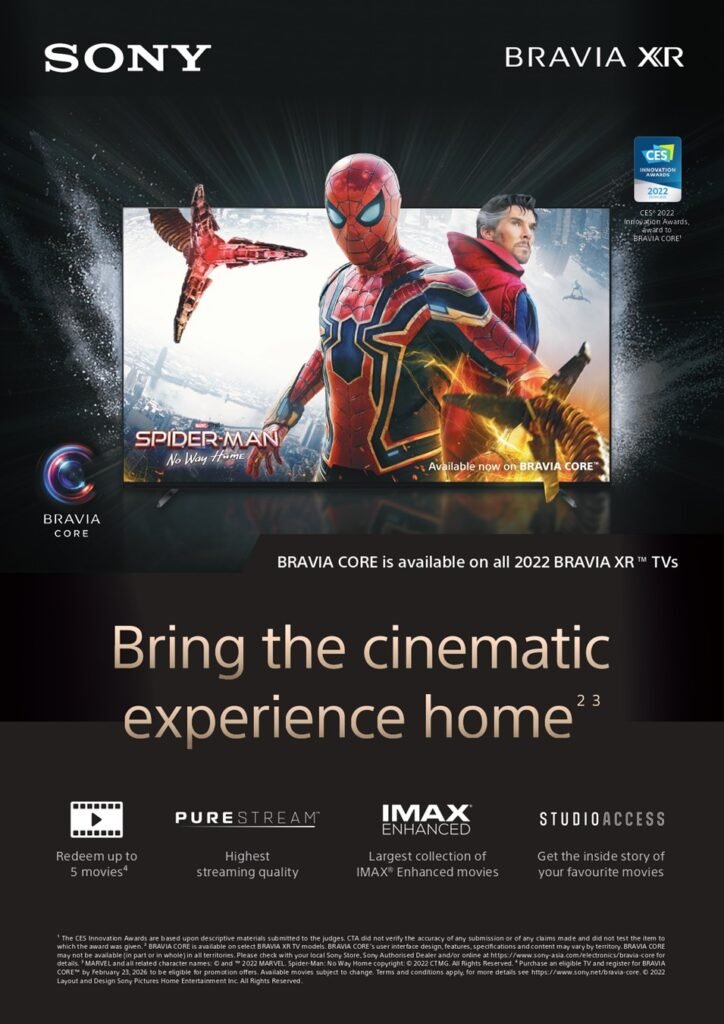 A wide selection of movies is waiting for audiences on BRAVIA CORE. With BRAVIA XR technology, Pure Stream™, and IMAX® Enhanced, everything users watch is delivered with stunning visuals and expressive sound quality. With BRAVIA CORE Calibrated mode, movies will automatically adjust to the optimal picture settings to create a truly exceptional at-home movie viewing experience.
Pricing and Availability
The BRAVIA X90K is available in 55″, 65″, and 75″ sizes, starting at P66,699, while the HT-A7000 is priced at P82,499. Both models are available at all Sony Authorized Dealers nationwide.