Russian President Vladimir Putin stated in a pre-dawn television broadcast that Russia had no plans to seize Ukraine and asked that its military lay down its arms. Attacks on Ukrainian military targets were reported moments afterward.
"Putin has launched a full-scale invasion of Ukraine," Ukraine declared.
Russia's troops broke the border in a number of locations, including Belarus, a long-time Russian ally, in the north, south, and east.
At least seven individuals have been killed, including civilians, but according to a Ukrainian presidential adviser, more than 40 soldiers have perished and scores more have been injured.
President Volodymyr Zelensky of Ukraine declared martial law across the country and broke all diplomatic ties with Russia.
Warning sirens sounded throughout the capital, which has a population of about three million people.
According to Mr. Zelensky, Russia first targeted Ukraine's military infrastructure and border guard troops. Ukrainian forces then claimed that Russian military vehicles had crossed the border at Kharkiv in the north; Luhansk in the east; the Russian-annexed Crimea in the south; and Belarus. Belarus' autocratic leader, Alexander Lukashenko, stated that his country's military was not involved, but could be if necessary.
Later, Russian tanks were observed on the outskirts of Kharkiv, a 1.4 million-person metropolis. The Russian military is also said to have arrived by water in Ukraine's key port cities of Odesa on the Black Sea and Mariupol on the Azov Sea.
The Ukrainian army reported the Boryspil international airport in Kyiv, as well as military headquarters and stockpiles in the major cities of Kyiv, Dnipro, Kharkiv, and Mariupol, had been bombarded.
Mr. Zelensky claimed that Russia has deployed about 200,000 troops and tens of thousands of military vehicles to Ukraine's borders.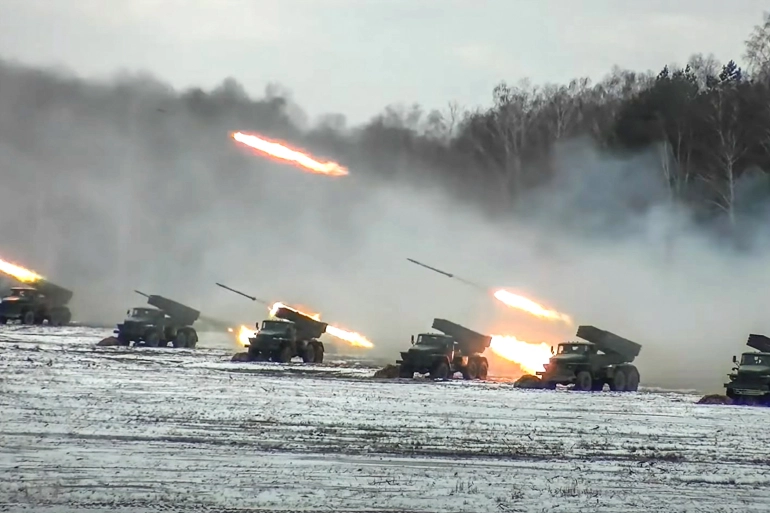 Why Russia invades Ukraine?
Russia's president said earlier this week that he would recognize the independence of two self-proclaimed people's republics in eastern Ukraine, Donetsk and Luhansk.
After Russia invaded Crimea in 2014, Russian-backed separatists seized the breakaway territories. Mr. Putin initiated the attack in response to the ouster of pro-Russian President Viktor Yanukovych by major street protests in Ukraine.
Since then, over 14,000 people have died in eastern Ukraine as a result of fighting between insurgents and Ukrainian authorities. A tenuous ceasefire had been maintained, but there had been a recent spike in violations.
The military operation's goal, according to Mr. Putin, is to protect the people in the separatist districts.
Mr. Putin's accusations that Ukraine is ruled by neo-Nazis have been consistently dismissed by Kyiv and its Western supporters, pointing out that, unlike totalitarian Russia, Ukraine is now a nation with rising democratic institutions.
For months, there have been growing fears of a Russian attack.
Mr. Putin has accused the US and its allies of neglecting Russia's demands to prevent Ukraine from joining Nato and to provide Moscow with security guarantees.