The global smartphone shipment market experienced a notable decline of 10%, amounting to 258.2 million units in the second quarter of 2023. In response to this challenge, smartphone manufacturers are actively devising strategies to surmount this setback. A standout among these manufacturers is Xiaomi, which has displayed commendable efforts in bolstering its midrange product offerings. One noteworthy approach involves integrating flagship-caliber specifications into smartphones while maintaining an affordable price.
Particularly, the Xiaomi Redmi Note 12 Pro exemplifies this endeavor with its array of impressive specifications. It boasts a cutting-edge Sony IMX 766 sensor, typically reserved for flagship models, promising exceptional camera performance. Including a Dolby Vision OLED screen enhances the visual experience, showcasing Xiaomi's commitment to providing immersive display technology. Furthermore, the smartphone is powered by a robust chipset, ensuring a seamless and powerful user experience across various applications.
As we delve into this review, the critical question arises: Does the Redmi Note 12 Pro 5G really deserve all the praise it's been getting? Let's find out in our full review.
Xiaomi Redmi Note 12 Pro 5G Key Features
The Sony IMX766 sensor used in the 50MP rear camera is the same as on flagship smartphones like the OPPO Find X5 Pro and OnePlus 10T.
The 5000mAh battery provides a solid all-day battery life.
6.67″ OLED screen with 120Hz, Dolby Vision, and HDR10+ offers a superb viewing experience, which is rare at this price point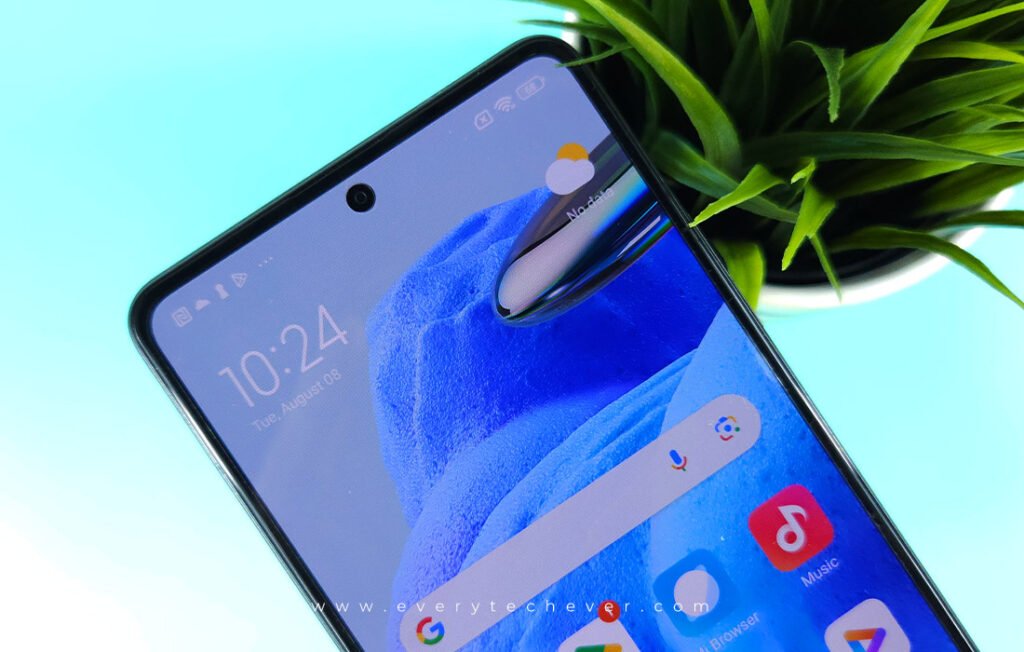 Redmi Note 12 Pro 5G Specifications
Redmi Note 12 Pro 5G
Display
6.67″ FHD+ AMOLED
Dolby Vision
120Hz refresh rate
2,400 x 1,080 pixels, 20:9 ratio
Processor
MediaTek Dimensity 1080
Memory and Storage
8GB RAM / 128GB
12GB of RAM with Memory extension
Battery
5,000mAh
67W in-box charger
Cameras
Rear:
– 50MP wide, Sony IMX 766, f/1.88, OIS
– 8MP ultra-wide, f/2.2
– 2MP macro, f/2.4Front:
– 16MP wide, f/2.5Video:
Rear:
– 4K at 30fps
Front:
– 1080p at 60fps
Connectivity
Dual SIM 5G
Wi-Fi 6
Bluetooth v5.2
NFC
Audio
Dual stereo speakers
Dolby Atmos
3.5mm jack
Size and weight
162.9 x 76 x 8.9mm (6.41 x 2.99 x 0.35 in)
210.5g
IP53 Splash-proof tested
Unboxing time!
Unboxing the Redmi Note 12 Pro 5G is an exciting experience! As you open the box, you'll find the device and a set of accessories neatly arranged. Here's what you can typically expect to find inside: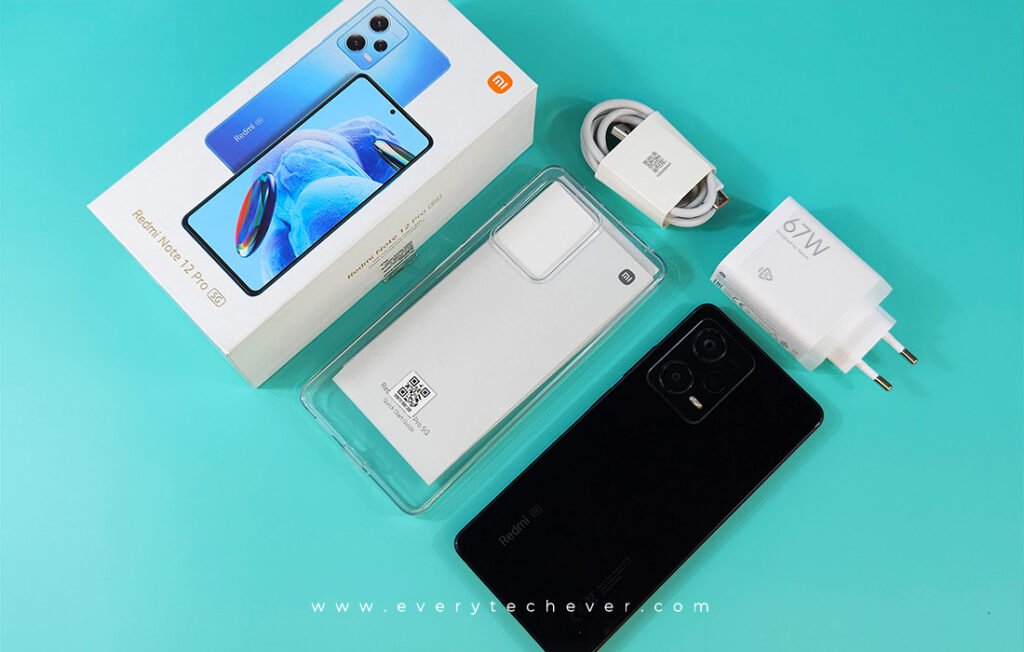 Redmi Note 12 Pro 5G: The star of the show, the smartphone itself, is usually placed right at the top. It's recommended to lift it out gently.
Charger: Inside the box, you'll find a 67W charging brick, ensuring super fast charging for your device.
USB Cable: An accompanying USB cable is typically provided to connect your device to the charger or a computer.
User Manual: A user manual or quick start guide to help you set up your phone and get acquainted with its features.
SIM Ejector Tool: A small tool to help you pop open the SIM card tray and insert your SIM card.
Screen Protector and Case: A basic screen protector and a clear case to protect your phone.
In line with Xiaomi's usual offerings, the package includes a clear soft case and a thin protective film already applied to the Redmi's screen.
Design and Build
Over recent years, mid-range smartphones have significantly evolved by incorporating numerous features formerly exclusive to higher-end devices. These include OLED screens, high refresh rates, and rapid charging capabilities. However, one aspect that has yet to permeate this segment is the introduction of unique and distinct designs.
Usually, the distinctive design element in mid-range smartphones is regrettably missing, and the Redmi Note 12 Pro follows suit in this regard. Featuring a glass back that seems to attract smudges and a flat front that enhances its one-handed operability, the phone maintains a familiar aesthetic. Although the frame is constructed from plastic, its capacity to safeguard against drops is somewhat limited.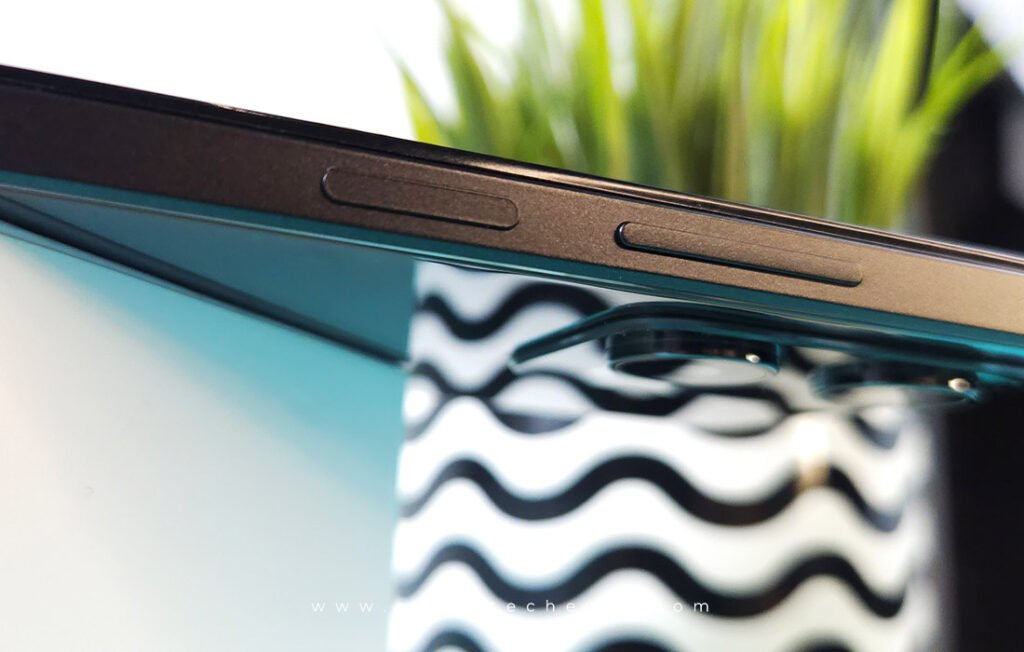 Measuring a pleasing 7.9mm thick and tipping the scales at 187g offers comfortable thinness and a manageable weight for effortless one-handed operation. The phone sports Gorilla Glass 5 on the front and back, complemented by a plastic frame.
One thing I am bothered about is that the Redmi Note 12 Pro wobbles when left lying on a flat surface, which is quite common with smartphones using high-resolution cameras or high-end camera lenses. If this bothers you, it can be avoided by using the supplied case.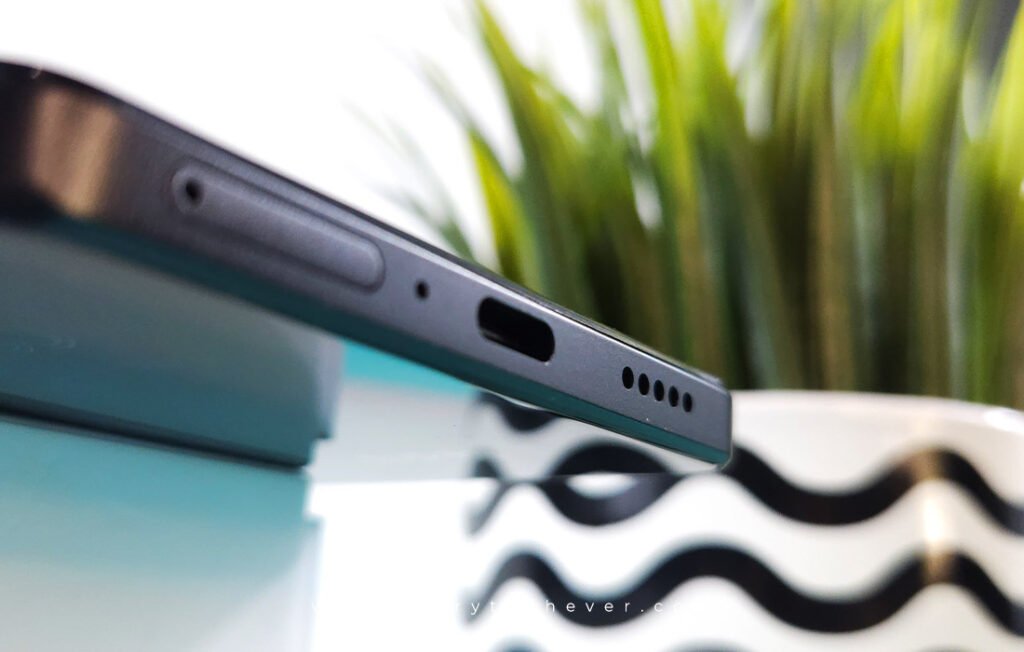 The Redmi Note 12 Pro 5G features dual speakers equipped with Dolby Atmos technology, situated at both the top and bottom of the device, resulting in a satisfactory audio output. This arrangement enhances the auditory experience, especially during landscape mode content consumption.
The placement of buttons and ports on the device is well-considered. The volume rocker and power key are positioned on the right side, which is conveniently accessible. Notably, the power button serves a dual role as a fingerprint scanner, showcasing commendable accuracy and speed in most instances. However, I lean towards having it under-display for greater convenience.
The upper section accommodates an audio jack and a loudspeaker, adding to the phone's audio versatility. Situated at the bottom are the USB-C port, an additional speaker, and the dual-sim card tray, catering to various connectivity needs.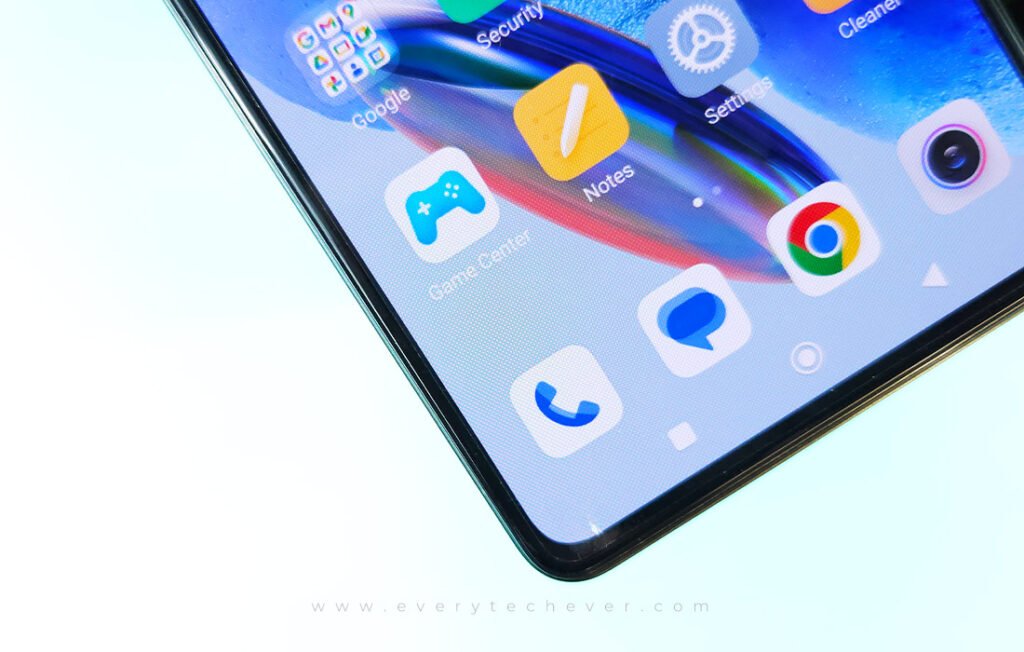 Furthermore, the phone boasts an IP53 splash-proof rating, proving advantageous in moments when protection from water encounters becomes paramount.
Overall, the phone exudes a robust tactile feel, providing a reassuring grip and effortless maneuverability. Its design is particularly appealing, contributing to an overall positive experience.
Display
Sporting a generous 6.67-inch AMOLED display with HDR10 Plus capability, the Redmi Note 12 Pro commands attention. While its diagonal size surpasses the Galaxy A54 5G, the pixel density is marginally lower (approximately 395ppi vs. 403ppi). Nevertheless, the colors on this screen radiate vibrancy and dynamism, catching the eye. The addition of Dolby Vision support is a noteworthy touch, enriching the contrast of streamed videos. The screen is also equipped with a wide DCI-P3 color gamut and can achieve a maximum brightness of 1100 nits.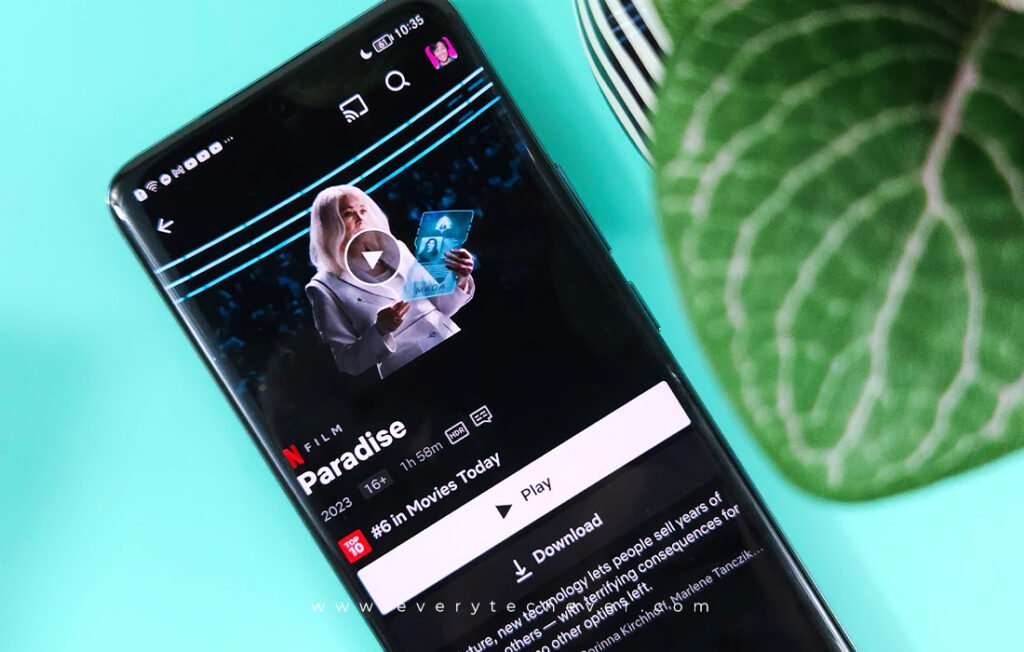 With its 120Hz AMOLED display, Dolby Atmos speakers, and a robust 5,000mAh battery, the Redmi Note 12 Pro Plus emerges as a budget powerhouse for media consumption.

Editor's View
Thanks to the 120Hz refresh rate, navigating the menu is incredibly smooth, without noticeable delays. This seamless experience extends to activities like watching YouTube or Netflix videos and engaging in gaming. It is paired with robust speakers and creates an immersive viewing experience that is also suitable for mobile gaming. Moreover, the screen maintains its quality even when the phone is tilted, ensuring decent viewing angles without losing visual clarity.
Additional noteworthy features include Sunlight Display, designed to optimize screen visibility even in challenging lighting scenarios, and Reading Mode 3.0, which enables adjustments to the color temperature for more comfortable reading experiences.
Camera
Increasingly, budget smartphones are adopting more ambitious camera setups. For instance, the Redmi Note 12 Pro showcases a triple-camera setup on its rear: a 50MP primary camera, an 8MP ultrawide lens, and a 2MP macro shooter.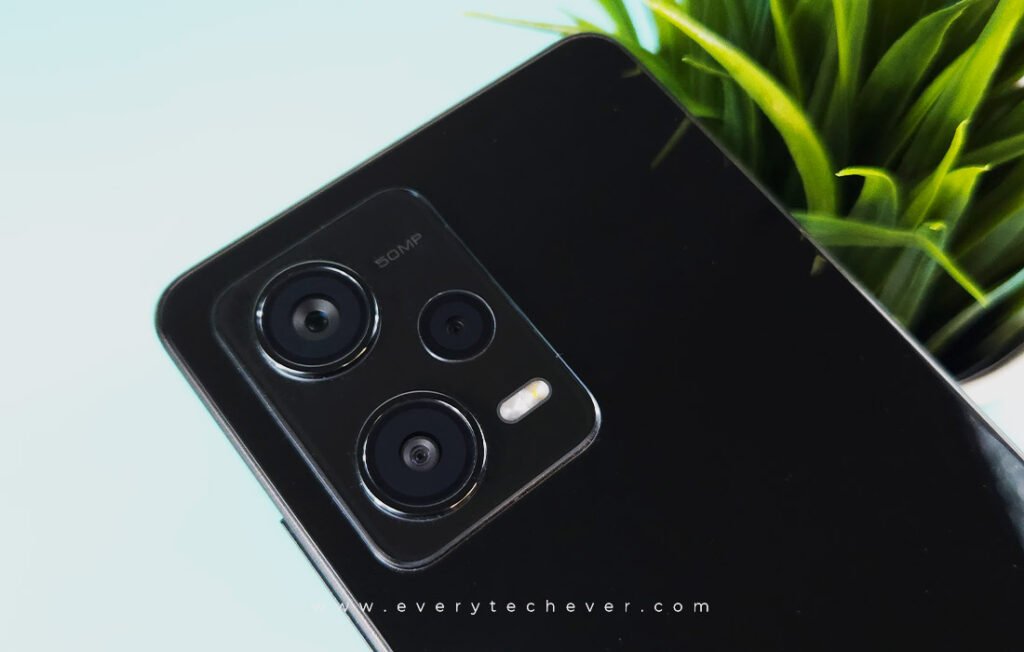 The Redmi Note 12 Pro sports a flagship-level Sony IMX 766 1/1.56″ sensor with 1.0µm pixels and a Quad-Bayer filter. This sensor is coupled with a stabilized (OIS) 6-element 24mm lens, boasting an aperture of f/1.88. Optical Image Stabilization (OIS) proves beneficial in specific scenarios, particularly when capturing photos in low-light conditions.
The primary camera defaults to saving 12.5MP images. The phone consistently delivers images with precise exposure, whether indoors or outdoors. The extended dynamic range is notably impressive. Although some shots tend to be overexposed, considering their price range, the performance is commendable. The device maintains a natural white balance both indoors and outdoors.
On the flip side, selfies captured by the front-facing shooter exhibit impressive quality. The colors are pleasing, the details are well-preserved, and there's an adequate dynamic range to prevent overexposure. However, it's best not to delve into Xiaomi's beauty filters, as they might not meet your expectations. Disabling this feature is simple, yet you could be taken aback by the excessive softening effect on your face in the initial shots.
We brought the Redmi Note 12 Pro 5G to enjoy a meal at Crowne Plaza in Ortigas City and decided to capture some moments. I was particularly impressed by the intricate details this phone captured – they were neither oversaturated nor exaggerated, but rather incredibly precise.
Nevertheless, I did notice that in certain close-up shots, the bokeh effect occasionally appeared a bit too pronounced.
We decided to put the Sony IMX 766 to the test in low-light conditions and pushed the zoom capabilities of the Redmi Note 12 Pro to the limit, even though it lacks a dedicated telephoto lens. While there was some expected noise in the shots, I was pleasantly surprised by how well the Redmi Note 12 Pro handled the challenge.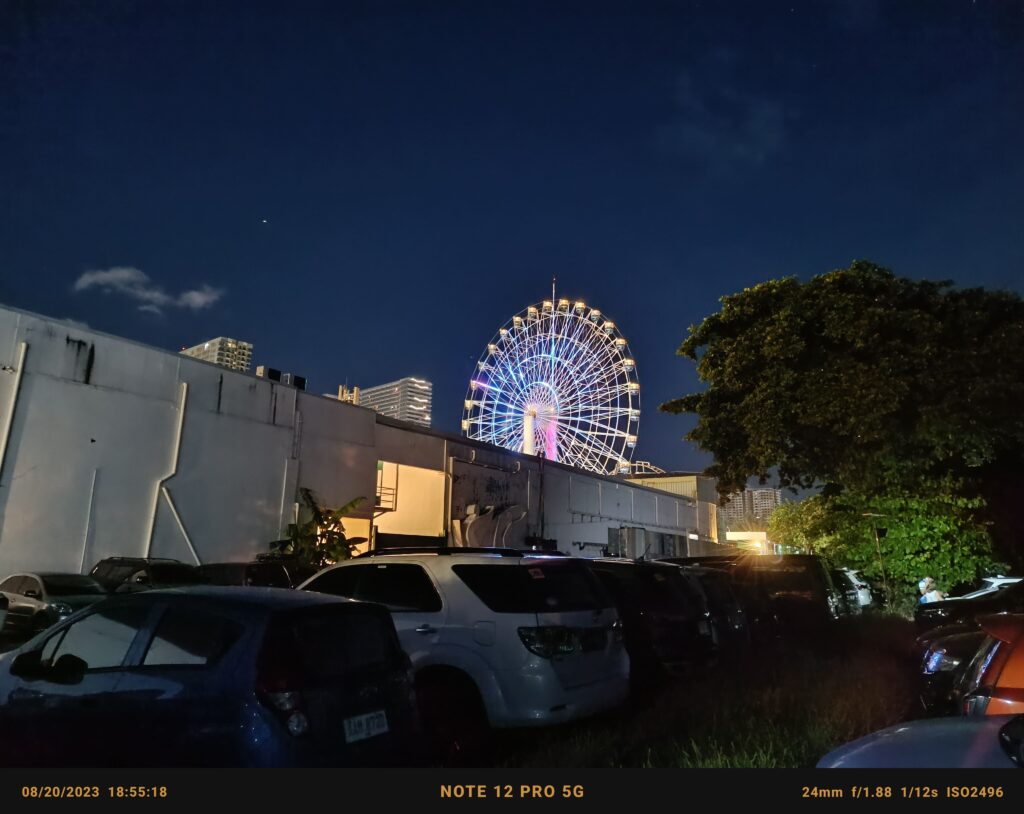 The photos turned out decently, with vivid and true-to-life colors of the subject. These shots are still quite useful and can effectively convey a compelling story.
In optimal lighting conditions, the Redmi Note 12 Pro performs flawlessly, even on a stormy day in El Nido, Palawan. It faithfully reproduces true-to-life colors and boasts an impressive dynamic range, ensuring remarkable photo quality regardless of the challenging weather.
Video
The primary camera of the Redmi Note 12 Pro supports video capture at 4K@30fps. The ultrawide camera can record a maximum resolution of 1080p@30fps, while the 2MP macro camera allows video recording at 720p@30fps. The primary and selfie cameras also offer the option to record in 1080p at 60fps.
All cameras, except for the macro, feature an always-on Electronic Image Stabilization (EIS). However, this stabilization does not function in 4K and 1080p@60fps modes. Audio is consistently captured in stereo with a bitrate of 256Kbps.
The 4K videos captured by the primary camera are notably impressive. They showcase a high level of detail, a pleasant visual presentation, and vibrant, though slightly over-saturated, colors. While a slight reduction in sharpening could have been beneficial, the footage remains of excellent quality.
The videos taken in daylight lack noise, boasting high contrast and a commendable dynamic range.
Performance
The Redmi Note 12 Pro Plus is fueled by the MediaTek Dimensity 1080 chipset, an upgrade from the Dimensity 920 found in its predecessor, the Redmi Note 11 Pro Plus. This same chipset has been utilized in other recent mid-range smartphones like the Realme 10 Pro Plus and the Samsung Galaxy A34 5G.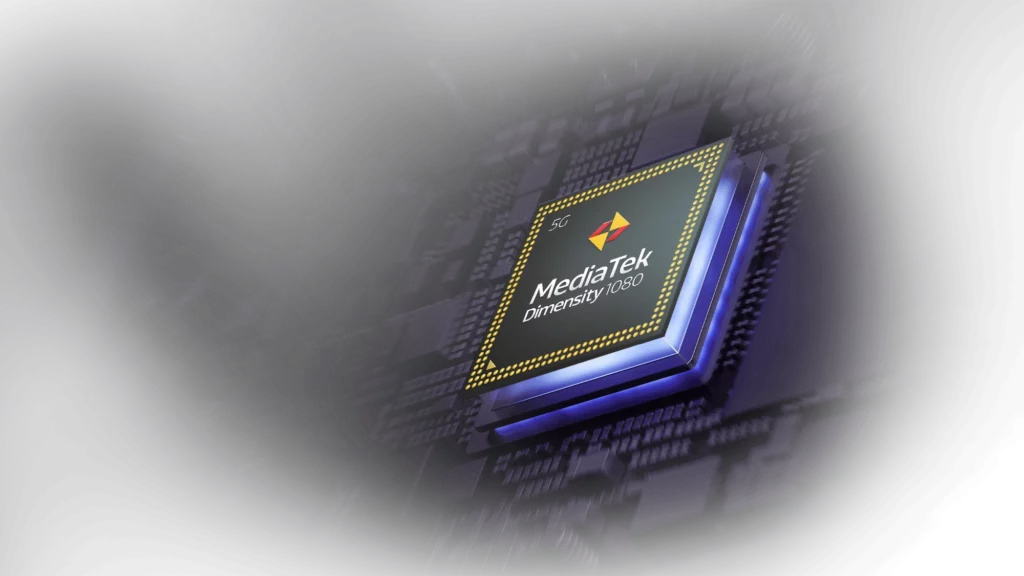 While it might not rank as the most dominant performer within its category, it remains a commendable processor considering its price bracket. In our benchmark tests, the Dimensity 1080 slightly falls short compared to the Exynos 1380 chipset in the Samsung Galaxy A54 5G, which offers a higher GPU frequency and superior battery efficiency.
Gaming
During my assessment, the phone demonstrated commendable game performance, and the Game Turbo mode proved effective in optimizing memory usage and channeling the device's full capabilities toward your game for an added boost. Once activated, Game Turbo can elevate the frame rate to 110; under Performance Mode, it can even achieve up to 125 frames per second. However, it's worth noting that despite the presence of a "Vapor Chamber cooling system," the phone may exhibit warmth during extended gaming sessions.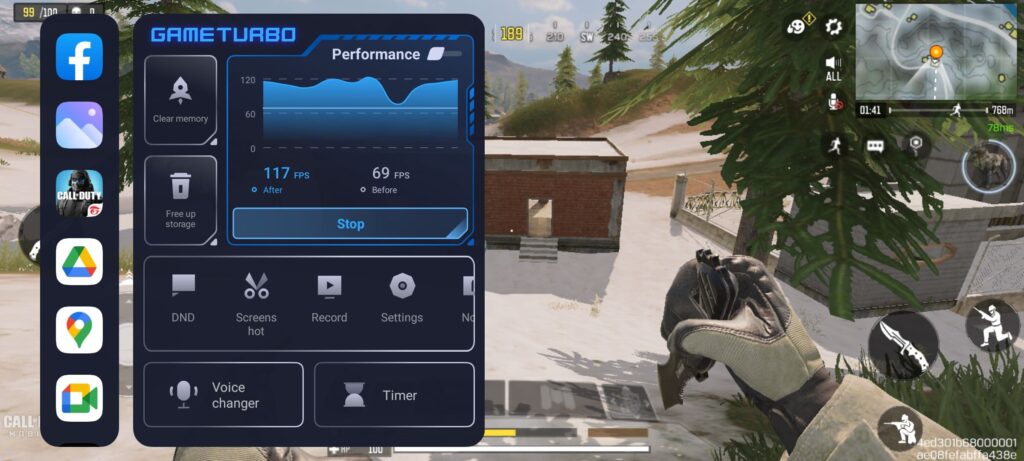 The game operated most smoothly in a dedicated trial of over an hour with Call of Duty Mobile when set to high graphical settings at 60fps. Conversely, games like Honkai: Star Rail managed to maintain a high graphics quality while running at 30fps, albeit when Game Turbo was activated. For optimal gaming performance, ensuring no other applications are running concurrently in the background is advisable.
Battery
Combine all the aforementioned features with the substantial 5,000mAh battery, and you're presented with an economical media powerhouse. On balanced mode, I could consistently achieve a full day's usage from a single charge, encompassing a variety of activities such as gaming, video playback, web browsing, and messaging.
The 5,000mAh battery of the Redmi Note 12 Pro is compatible with 67W Mi Fast Charging. The package includes the charger and a suitable USB cable.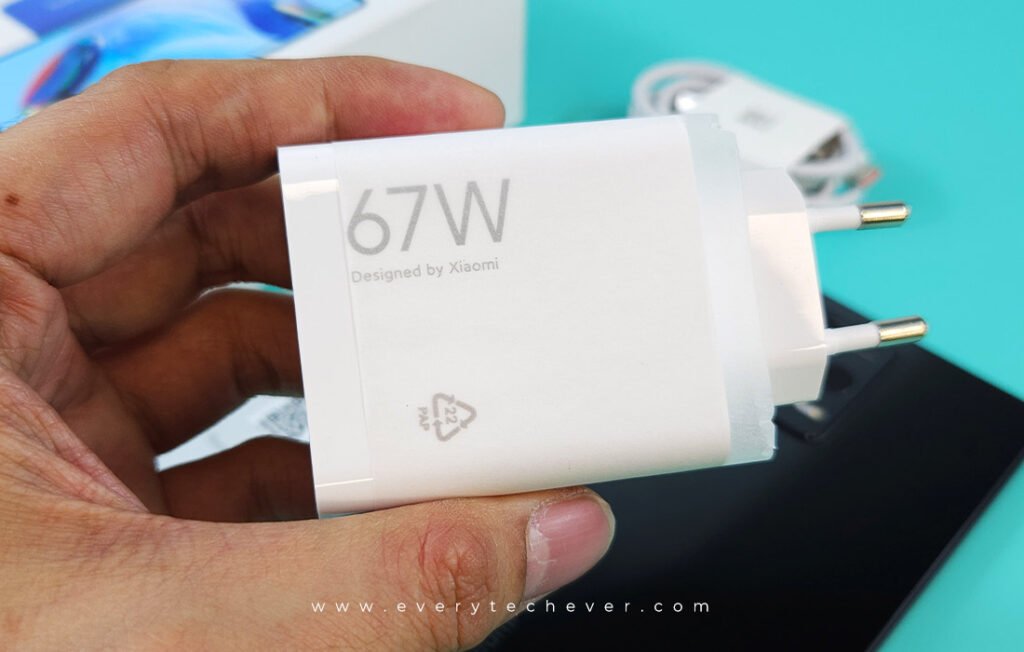 In terms of charging performance, a brief five-minute session on this charger can restore 19% of the battery's capacity, which is ample for several hours of use. A rapid 15-minute charging period replenished the battery by 44%, while a cumulative 30-minute charge elevated the battery level to an impressive 78%.
Will the Redmi Note 12 Pro 5G be your EveryTechEver?
The Redmi Note 12 Pro presents a strong proposition, delivering numerous meaningful upgrades from the Redmi Note 11 Pro 5G. This latest model features one of the finest OLED displays within its price range, characterized by its vibrant brightness, the extensive color range of over a billion shades, and support for Dolby Vision.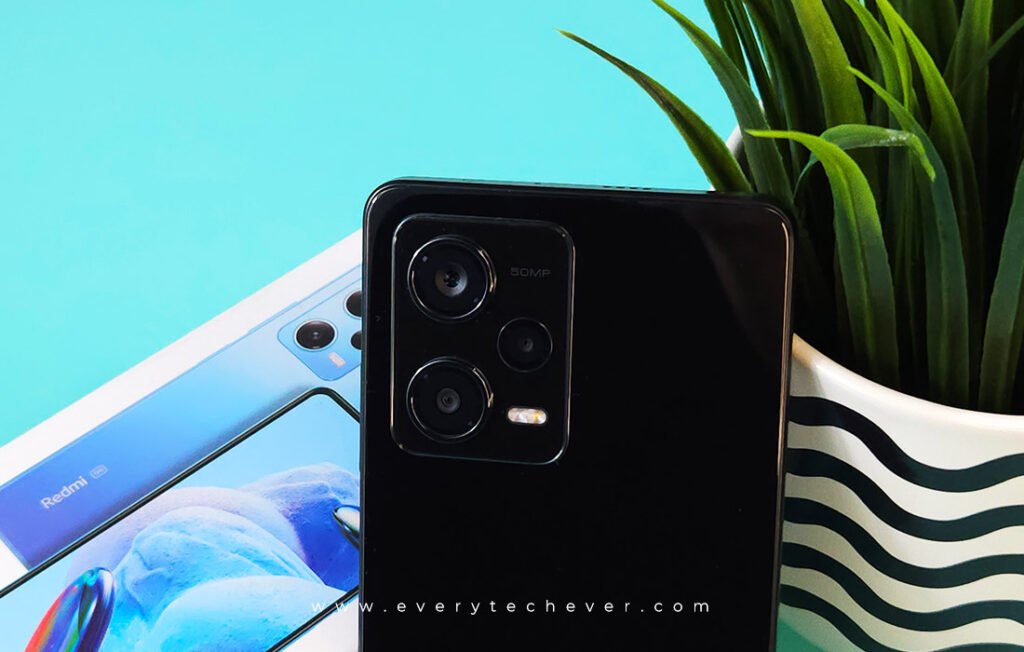 I found using it quite enjoyable, especially considering its affordable price. It offers a fantastic design, and while gaming with the Dimensity 1080 may require some settings adjustments, it handles most games well. The inclusion of 5G connectivity is also a notable feature. Additionally, the camera performs admirably, even capable of recording in 4K. The only drawback is the limited storage in the 128GB variant.
The camera experience and quality consistently deliver excellence across the board, leaving us with no complaints whatsoever.
Pricing and Availability
The Redmi Note 12 Pro+ 5G is available in the Philippines at a price of PHP 16,999 exclusively in an 8+128GB configuration. You can buy this phone through Lazada, Shopee, TikTok shop, or offline Xiaomi retail stores nationwide.
Is this your EveryTechEver? Leave a comment down below and share your thoughts with us! For our latest reviews and tech news, follow us on our social media accounts on Facebook, Instagram, TikTok, and YouTube.