Microsoft fixes Windows 11 AMD performance issues
A new Windows 11 update brings a slew of improvements.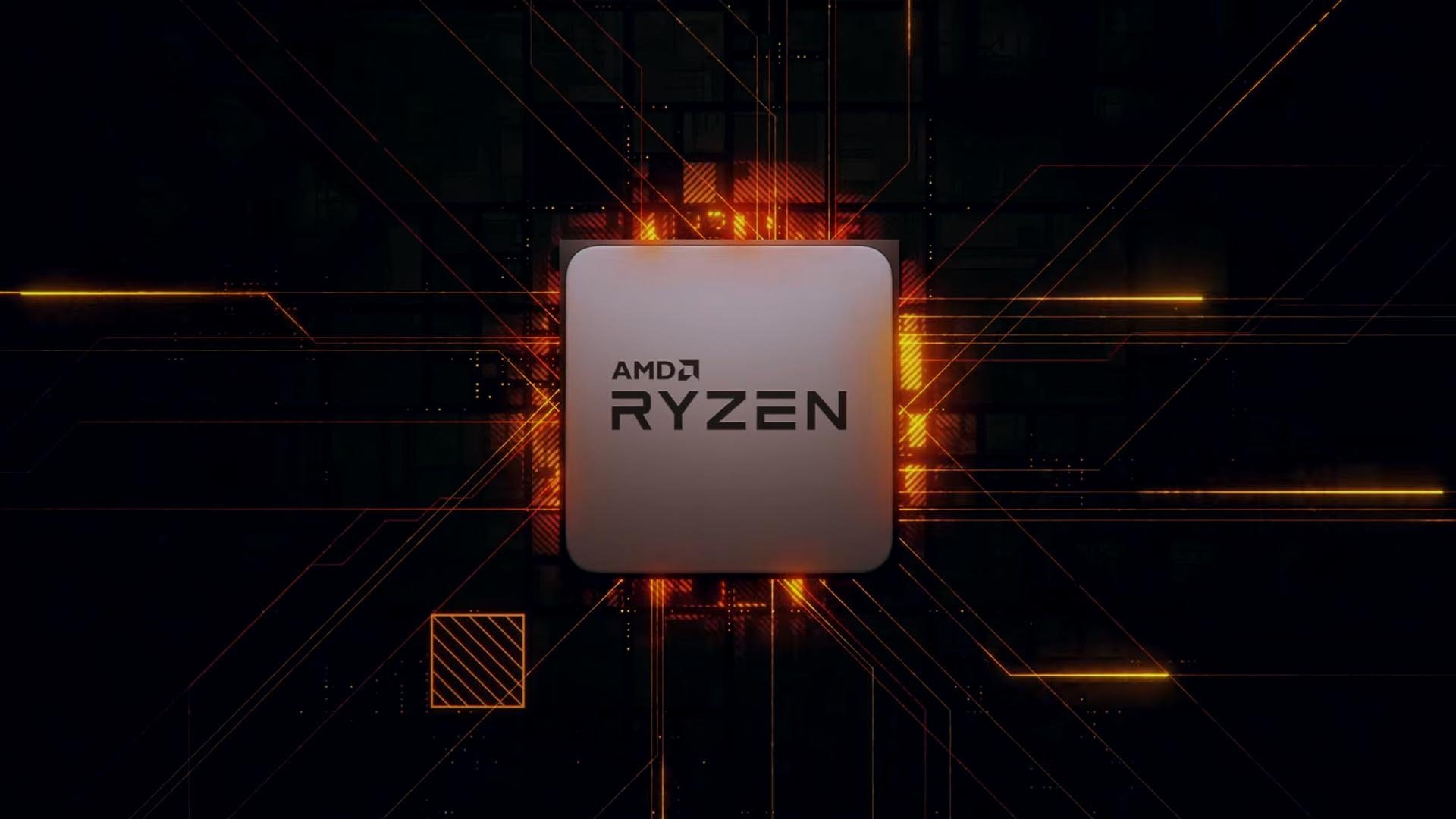 When Windows 11 was released a few weeks ago, there were a few concerns with the new operating system. Two, in particular, received the most attention, and both had an impact on AMD processors. The performance of AMD processors' L3 cache was hampered by one, and the "preferred core" feature of certain CPUs was harmed by the other. Today, the public may get patches for both vulnerabilities, with AMD providing a completely new repair for the preferred core issue on Windows 11.
Processors can usually recognize which core is the best at the time and assign a thread to it. While the cores in a CPU are supposed to be similar, there are always minor differences, and this feature, known as "preferred core," allows CPUs to select the best-performing cores for each given task. AMD processors could no longer use the preferred core function with the Windows 11 update, therefore workloads were assigned to random cores instead, which could result in slightly decreased performance for jobs that only use one or a few cores.
AMD latest chipset driver is out.
This issue should now be resolved with the latest AMD Ryzen chipset driver update, version 3.10.08.506, and threads should be assigned to the correct core once again. Although the driver update is primarily for Windows 11, it can also be installed on Windows 10. You may check the Apps & features page in the Windows 11 Settings app to see if it's installed. A listing for AMD Chipset Software 3.10.08.506 should appear, showing that you have the most recent version. The updated driver may be found here.
It was simply an issue of increased latency when accessing the cache built into AMD CPUs that caused the L3 cache problem. While a fix was made available to Windows Insiders last week, it is now available for download and installation on the stable version of Windows 11. The KB5006746 updates the build number to 22000.282, which is the same build that Windows Insiders received. You can manually download the update from here, or check your Windows 11 PC's list of optional updates. The patch will also be included in the required Patch Tuesday release next month.
Since the launch of Windows 11, a few more bugs have been discovered, including one that may cause Windows 11 to prompt users for administrator capabilities when attempting to print anything from a print server. Last week's update for Windows Insiders in the Beta channel brought many other fixes in addition to the cure for the L3 cache issue on AMD CPUs, however that particular problem has yet to be resolved.

Acer Day 2022 The Green Mark Concert is a huge success!
#AcerDay2022 trended locally and worldwide on Twitter and has over 2.4 million views on TikTok!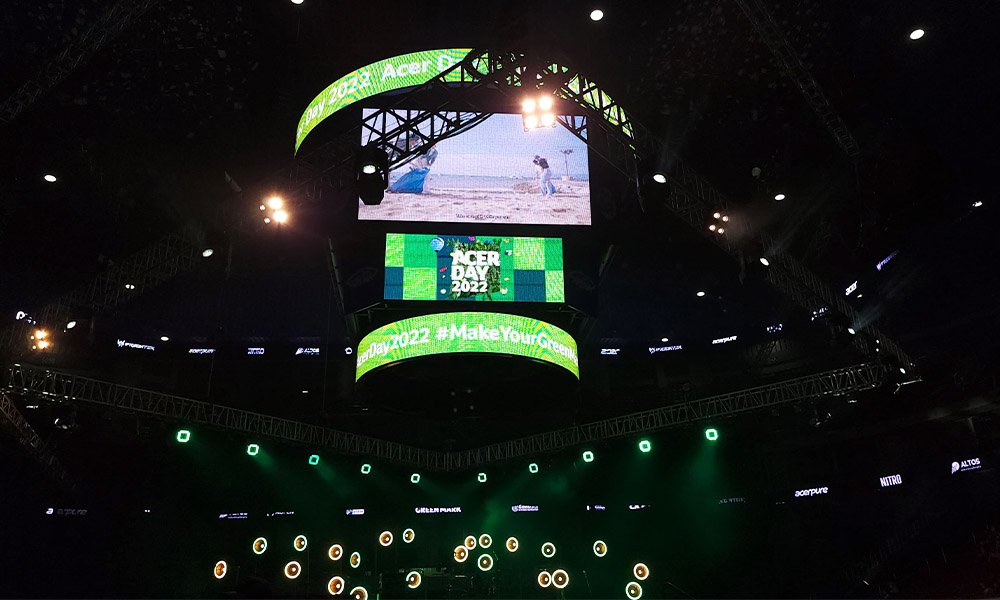 Acer Day 2022 ambassadors, led by P-pop kings SB19 performed to a huge crowd at the SM MOA Arena but what made the event even more special is that the Acer Day 2022: The Green Mark Concert was for a good cause—to help save the environment.
The event was a huge success and made a good kind of noise from start to finish. #AcerDay2022 trended locally and worldwide on Twitter and has over 2.4 million views on TikTok!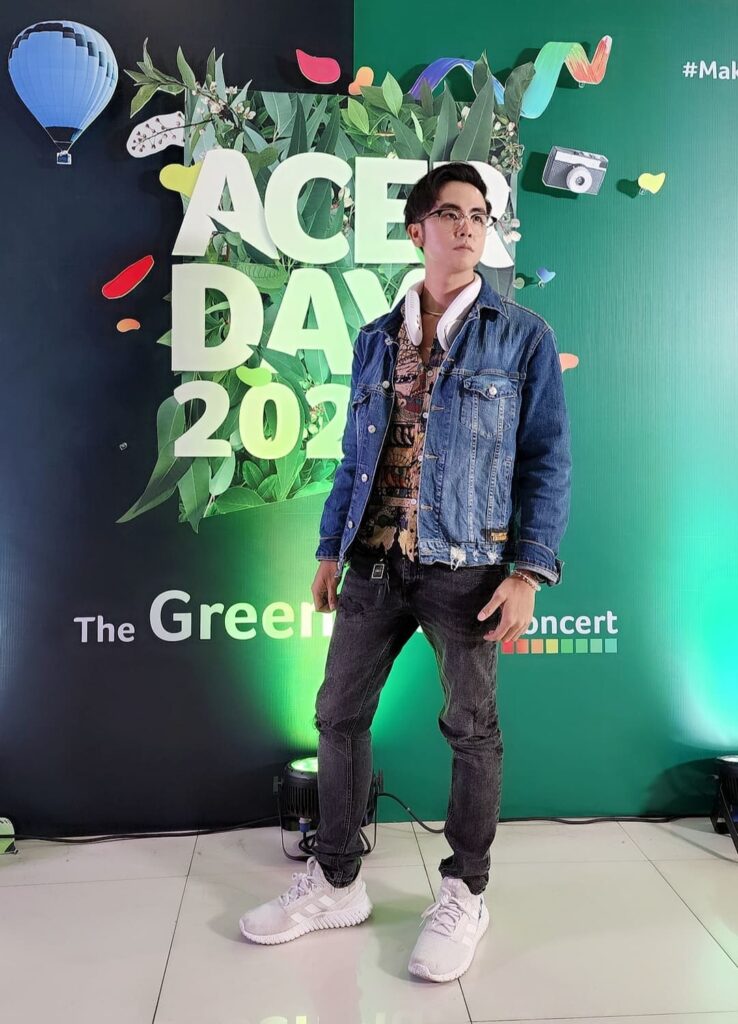 Instead of selling tickets to the concert, Acer enjoined fans to do sustainable acts, such as buying products from Acer's sustainable line, Aspire Vero; donating to GreenEarth Heritage Foundation, and collecting cleaned, washed, and dried plastic waste and dropping them off at The Plaf, a social enterprise that recycles plastic.
The Acer Day 2022: The Green Mark Concert raised Php1.38M for the GreenEarth Heritage Foundation and 20 metric tons of plastic waste compensation for The Plaf.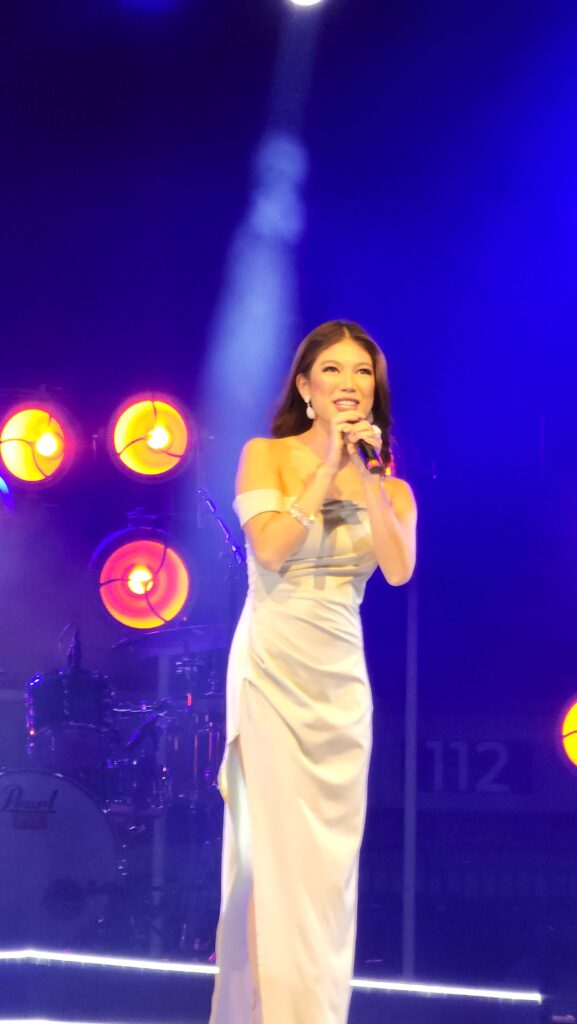 The phenomenal group SB19 opened the show strong with Acer's song "Live It Up", followed by charismatic P-pop group KAIA who performed "KAYA."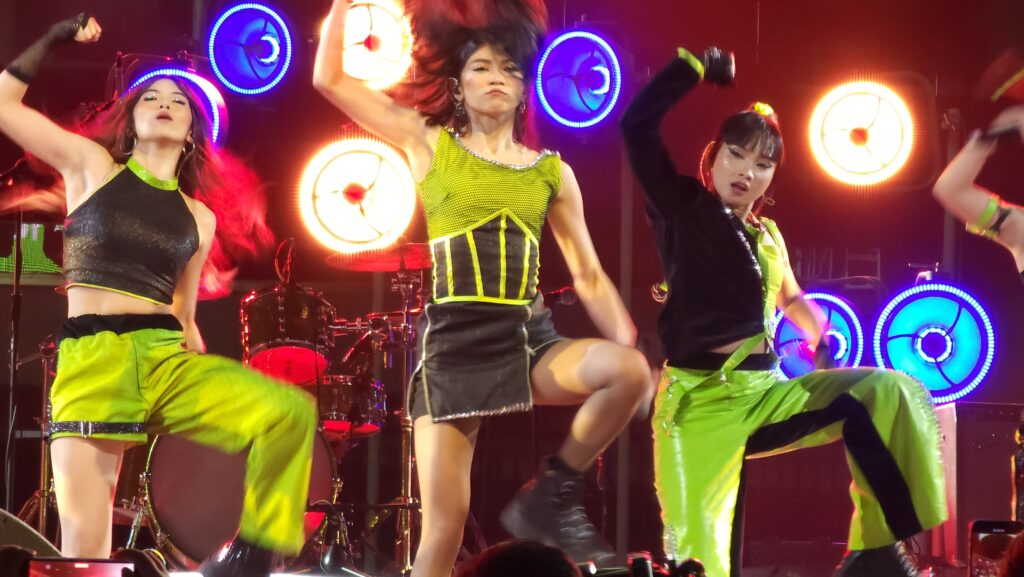 Singer-songwriter Adie serenaded the audience with "Mahika" and "Paraluman" while the lovely Janina Vela performed her latest song, "Hello Stranger."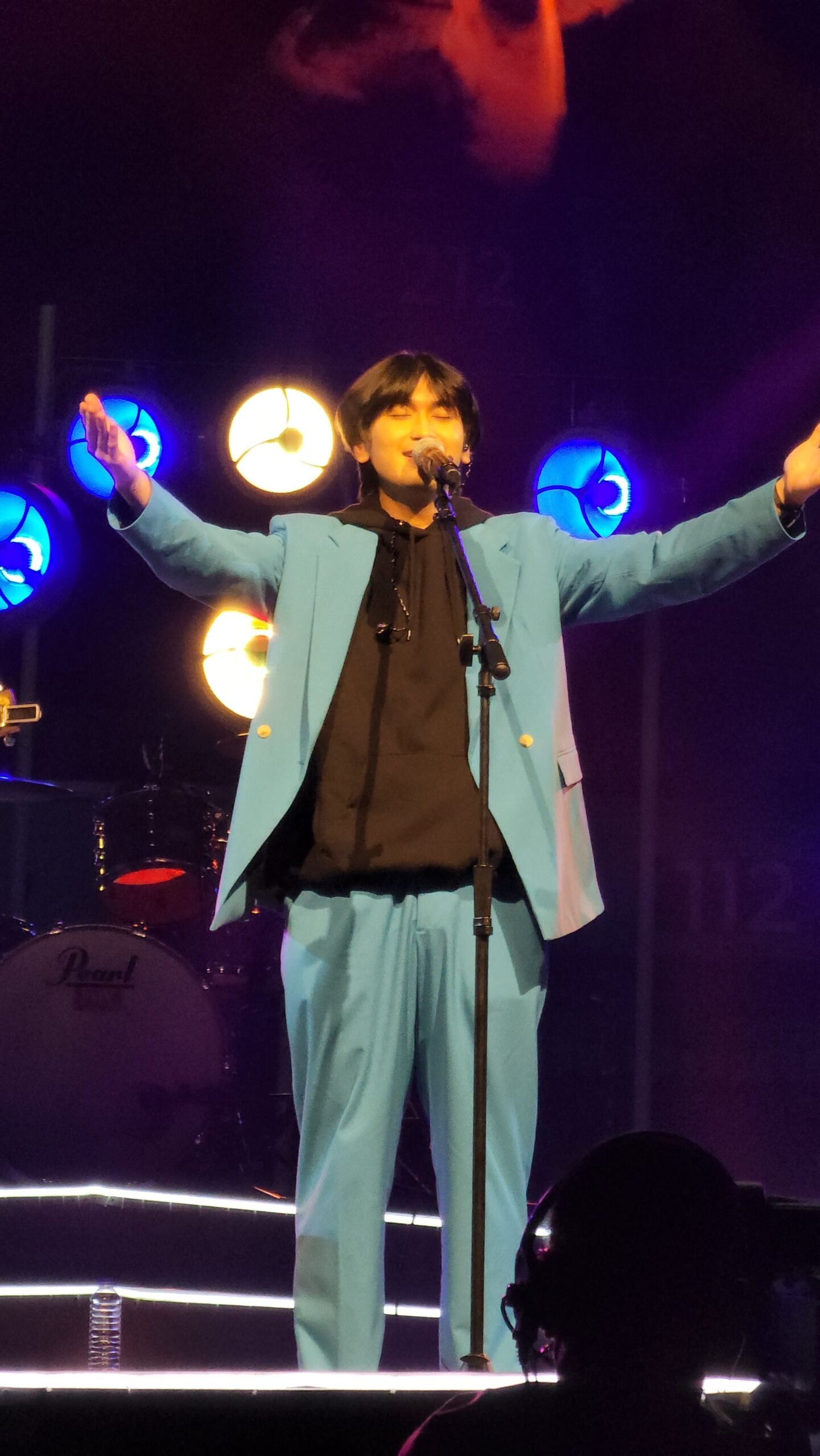 Predator Gaming Philippines ambassadors and musicians CLR, Awi, and Yow had a jam session while indie rock band SUD performed their hit songs, "Baliw" and "Sila."
Parokya ni Edgar led by Chito Miranda partied with the audience with the group's timeless hits, "Buloy," Para Sa Iyo," Harana," Halaga," "Inuman Na", and "Your Song." Lucky audience members got to perform with them for "Pangarap Lang Kita" and "Bagsakan."
Finally, SB19 did not disappoint fans who waited all day by performing their debut song "Tilahula", hit songs "What?," "SLMT", and "Mapa." They also closed the show with their new song for Acer titled "Make Your Green Mark", co-written by the group's very own Pablo. Watch the "Make Your Green Mark" music video here.
Other Acer and Predator ambassadors such as Alodia, Een Mercado, Kang Dupet, Amara, Burg, TNC Predator, ArkAngel Predator, Team Secret, Kuya Nic, Chibiby, and Team Payaman were also present to celebrate Acer Day 2022.
"We are happy that this year's celebration was a huge success but our mission to protect the planet is not over yet. You can still join the 21-day #MakeYourGreenMark Challenge and do your part to help save the environment just as Acer has done with its green initiatives," said Acer Philippines General Manager Sue Ong-Lim.
Razer launches Strider and Gloiathus Chroma 3XL gaming mouse mats
New ultra-large size gaming mouse mats for gamers!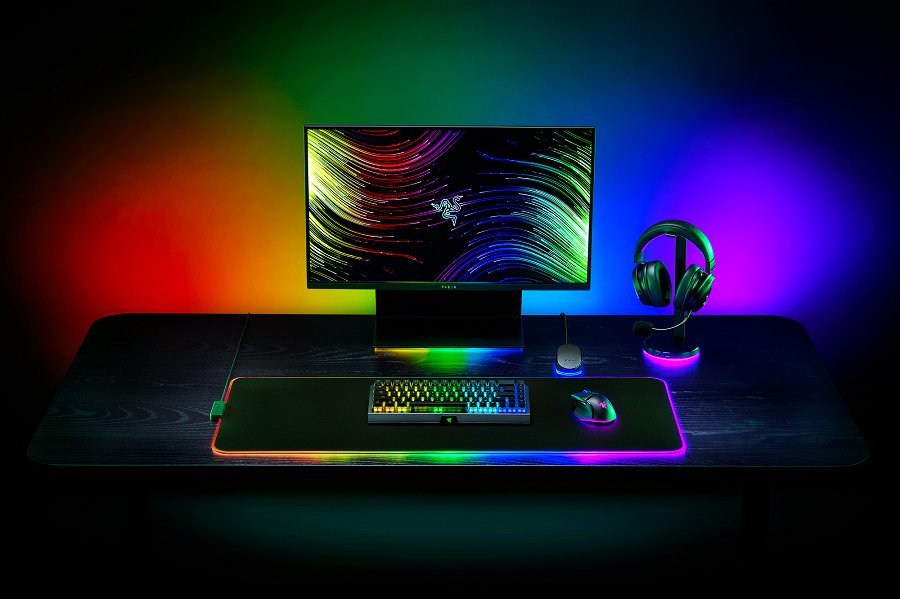 Razer, the leading global lifestyle brand for gamers, announced two new ultra-large size gaming mouse mats: the Razer Strider Chroma, and the Razer Goliathus Chroma 3XL. The Razer Strider Chroma is the world's first hybrid gaming mouse mat with Razer Chroma RGB in an extended size. The Razer Goliathus Chroma 3XL is a soft gaming mouse mat with Razer Chroma RGB in an ultra-large 3XL size.
Razer Strider Chroma: Outshine All Others
Being a hybrid soft/hard mat, the Razer Strider Chroma offers the smooth, even glide of a hard surface, allowing for agile movement that is just as precise. Measuring 900mm x 370mm with a thickness of 4mm, the large extended mat provides ample space for your keyboard and mouse. With an anti-slip base, the grippy underside is reinforced with a grooved pattern to truly anchor it to a desk. The Strider Chroma is also warp-and-water-resistant for greater durability to maintain a flat surface for consistent control, and protected against any accidental spills.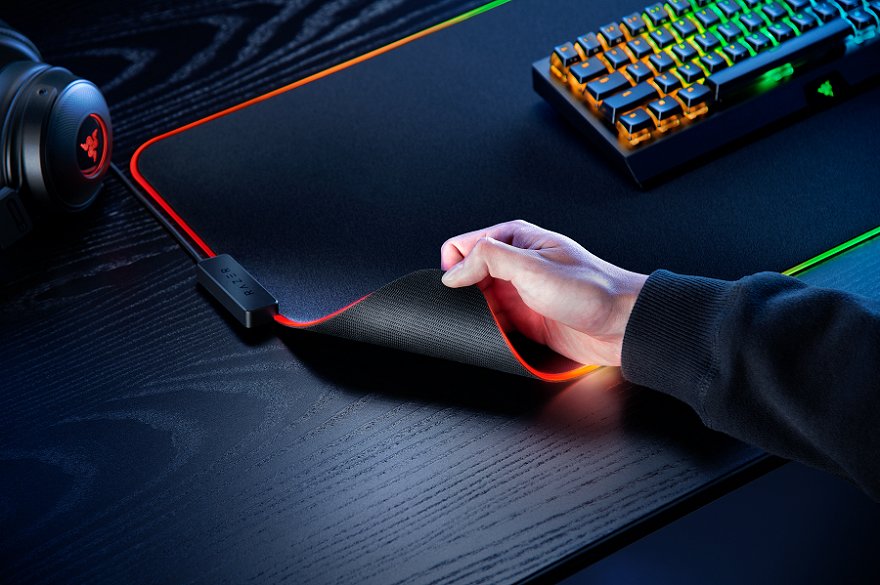 The Razer Strider Chroma is the world's first hybrid gaming mouse mat with multi-lighting zones, boasting 19 customizable lighting zones for unrivaled personalization. Powered by Razer Chroma™ RGB, this allows for maximum RGB illumination with over 16.8 million colors and countless lighting effects, with the ability to dynamically react with over 200 Chroma-integrated games.
Razer Goliathus Chroma 3XL: Let There Be Light
For gamers who want an even larger mat, the Razer Goliathus Chroma 3XL measures a massive 1200mm x 550mm with a thickness of 3.5mm. Razer's best-selling soft gaming mouse mat line now comes in this ultra-large size, allowing the Goliathus Chroma 3XL to cover entire desks, perfect for those who use lower DPI or like to have more mouse mat areas to maneuver.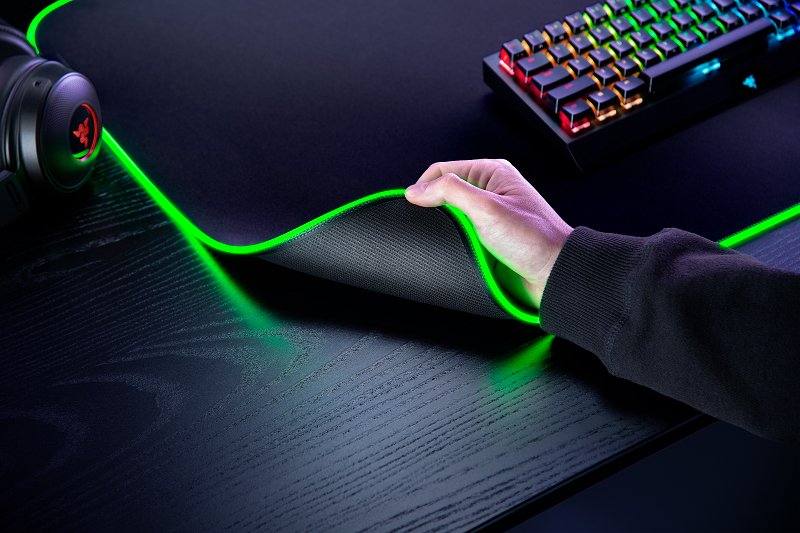 With a micro-textured cloth surface, every mouse movement is translated into exact cursor movement for ultimate precision, allowing gamers to achieve that deadly balance of speed and control. Optimized for all sensitivity settings and sensors, the Razer Goliathus Chroma 3XL delivers total tracking responsiveness for reliable in-game control whether you're using a laser or optical sensor. Equipped with a non-slip rubber base, the mat stays firmly in place, even during the most intense games.
Powered by Razer Chroma RGB, with 16.8 million colors, countless patterns, and dynamic in-game lighting effects, gamers can experience full RGB customization and deeper immersion with the world's largest lighting ecosystem for gaming devices.
This is available at www.razer.com, Shopee, Lazada, or through its authorized sellers.
oma 3XL is priced at Php 6,990.00.
Axgon AXGH1V1 Review: Powerful yet affordable gaming headset
An affordable gaming headset packed with premium features.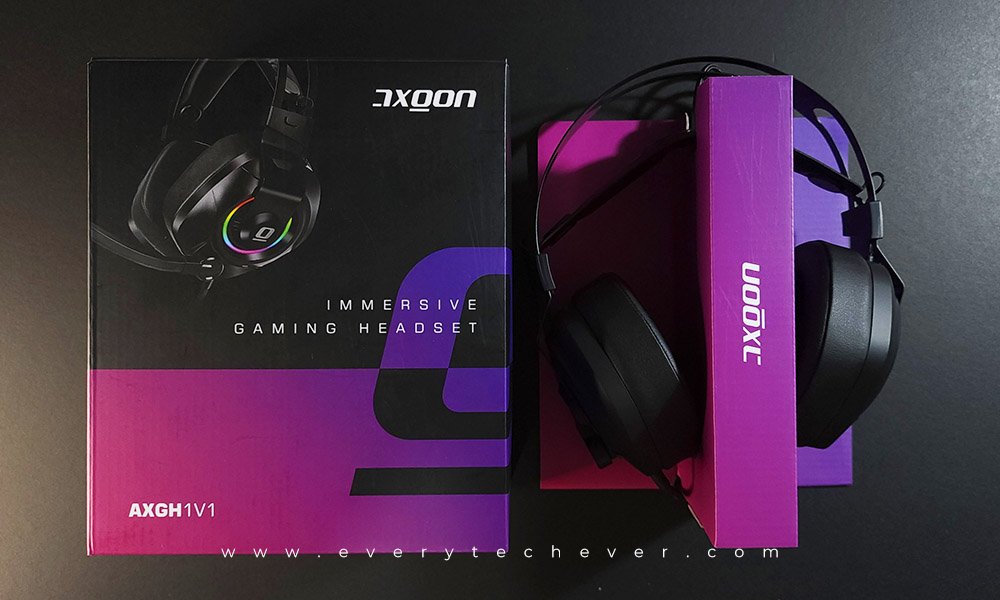 You don't need to buy the most expensive option to enjoy immersive audio while gaming. The most affordable gaming headsets can match more expensive accessories' exhilarating audio and crystal-clear microphone functionality. Contrary to the majority of the top gaming headsets overall, these models could provide you more money to expand your game library or make new PC improvements.
When shopping on a tight budget, it's possible to worry that you'll purchase a cheaply produced piece of junk from the clearance section. But don't worry, the Axgon AXGH1V1 gaming headset, which costs only 1,690 PHP, has some pretty impressive specs, like specially tuned 50mm drivers, 7.1 virtual surround sound, and RGB running lights. Let's see whether this is the best option for you.
Unboxing time!
The Axgon AXGH1V1 has decent packaging and exudes a gaming aura the moment your eyes touch it. Only the headset and an integrated controller for simple control are included inside.
For your pleasure, here is our unboxing video:
Design and Build
The Axgon AXGH1V1 chose a traditional style with a hint of uniqueness to give it a relatively upscale appearance. Like with the Monster Airmars N1, I was surprised to find the RGB running lighting included here as opposed to just an LED light on the microphone.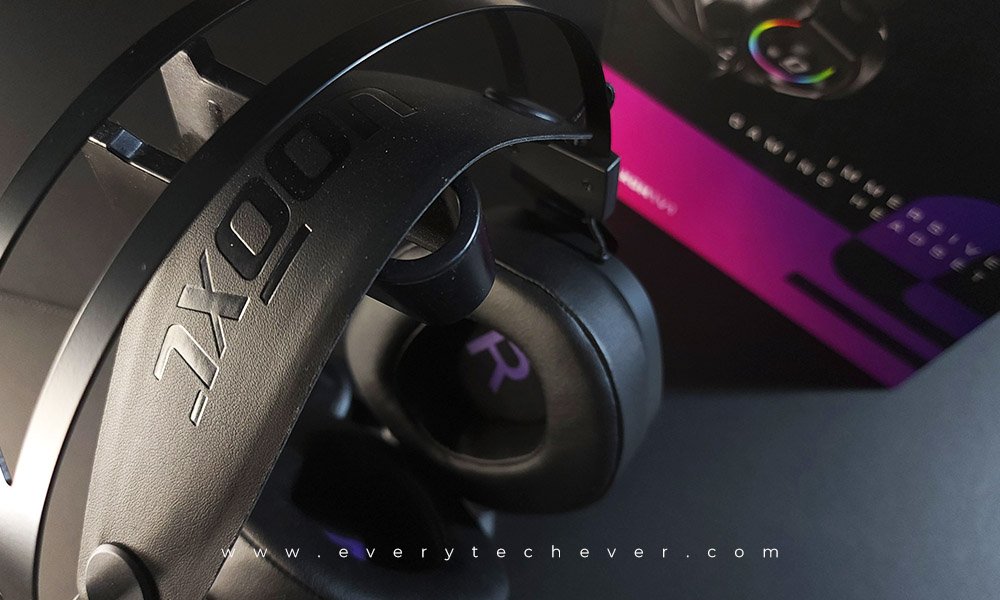 To seal the ear canals and provide passive noise isolation, the Axgon AXGH1V1 incorporates superior PU (polyurethane) leather earpads. This headset has great comfort because of the soft memory foam padding, which is something I like. There was something in a low-cost gaming headset that I wasn't expecting.
A metal suspended headband and other ultra-light materials were employed by Axgon to create a comfortable gaming experience over an extended period of time.
Performance and Audio
The world of gaming peripherals may not be familiar with Axgon. However, it is marketed under the AOC name, a reputable veteran in the monitor industry. AOC has a 50-year history and is recognized as one of the most reliable monitor brands on the market in Europe and Asia. Therefore, you can be sure that the company's gaming headset will provide a top-notch audio experience when it is released.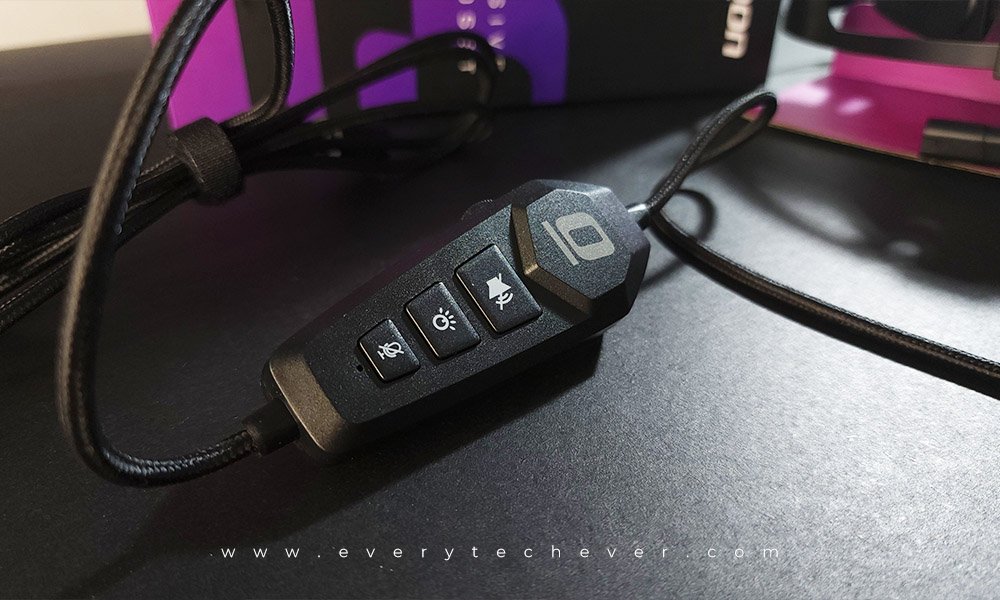 The Axgon AXGH1V1 has a frequency range that is perfect for your ears, ranging from 20Hz to 20kHz.
It obviously lacks many of the appealing features that the majority of gaming headsets provide. This headset is wired and only supports analog signals, which means there is no wifi connectivity or even an app to adjust settings. However, none of that matters to the type of gamer who prefers the custom-tuned 50mm magnetic neodymium driver and 7.1 virtual surround sound, which creates more powerful sound waves and an immersive audio experience. It is amazing that Axgon was able to put more of an emphasis on audio quality than those extra functions.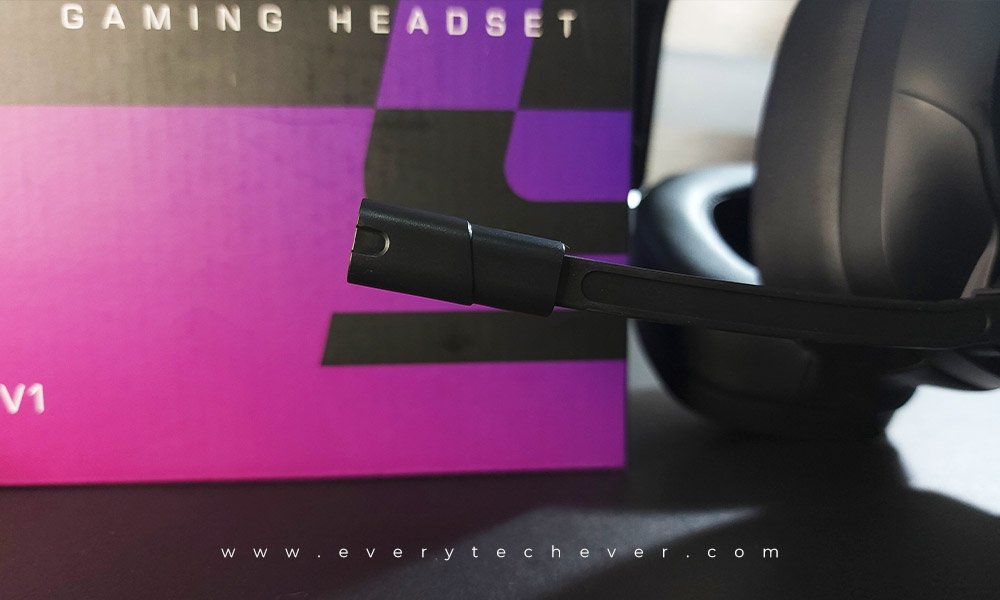 The microphone has active noise cancellation, which can be silenced using a physical slider on the side for convenience, although it cannot be disconnected. In our tests, the noise reduction was effective and could even muffle keyboard activity.
Should you buy the Axgon AXGH1V1?
The Axgon AXGH1V1 is a solid gaming headset that provides good performance at a reasonable cost. It's a snug and comfortable outfit for long-time gaming sessions, thanks to the memory foam cushioning and flexible headband.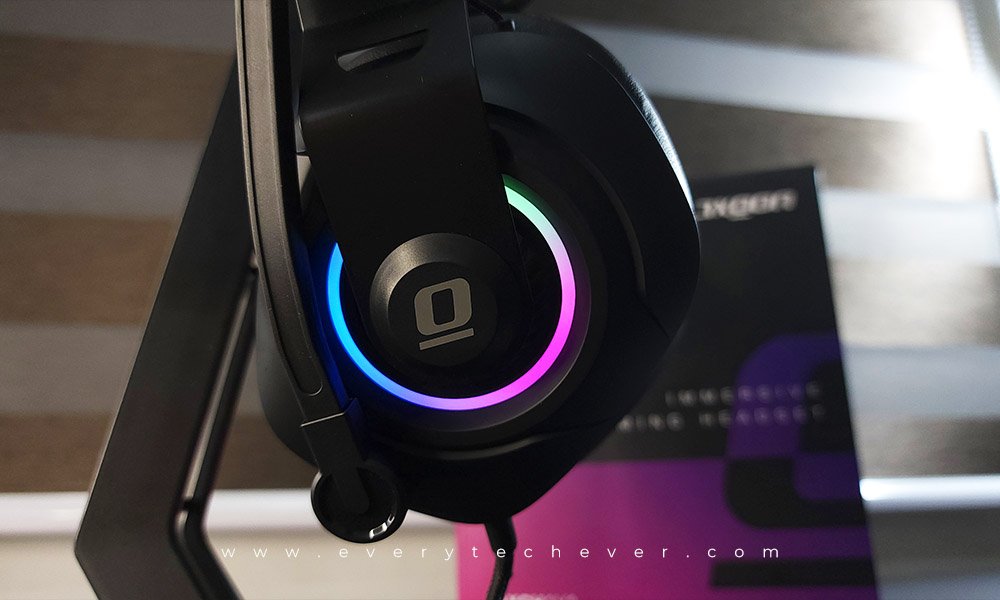 The mix between the music, sound effects, and dialogue in video games is generally good. The mic also produces a full, crisp sound. Each ear cup offers ample space and breathability for ears to rest comfortably, as well as a good fit to minimize slips, which is a major selling point. Although we thought the detailing on rifle rounds and footsteps was superb, not all the sound effects were crisp. The best part is that it just costs PHP 1,690.
Pricing and Availability
The AXGON AX1CVA Gaming Chair is available at the AOC Flagship Store in Lazada and Shopee for only PHP 1,690 and partner retail stores nationwide.
Axgon AXGH1V1 Specs:
Gaming Headset with custom-tuned 50mmDriver
USB connection only for convenience
Custom-tuned 50mm drivers
7.1 Virtual surround sound
PU leather, Memory foam Earpads
Metal suspended headband
Voice clarity, Noise-cancelling microphone
RGB running lighting
In-line controller for easy control
Speaker type: Neodymium Magnet
Speaker: o50mm
Monomer impedance: 20+-15%
Sensitivity: 103±3dB
Frequency response: 20hz to 20khz
Microphone sensitivity: -38+-3dB
Directivity: Single direction
1- year warranty
Follow EveryTechEver for the latest tech news and reviews, also keep up with us on Twitter, Facebook, and Instagram.