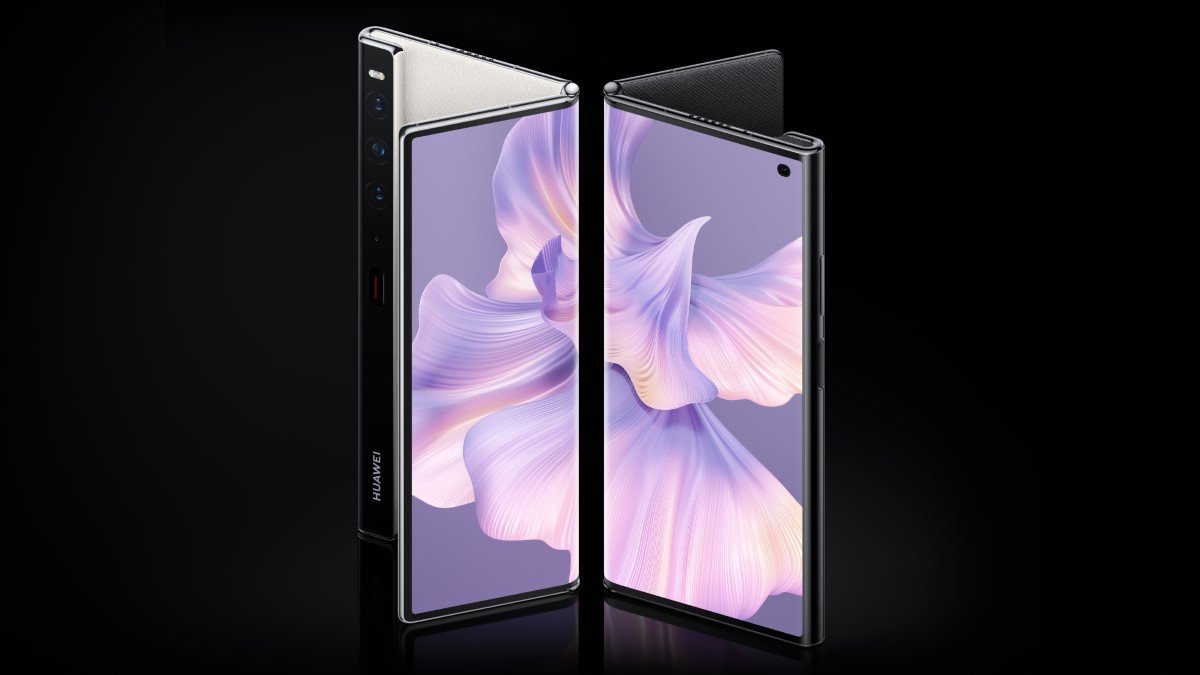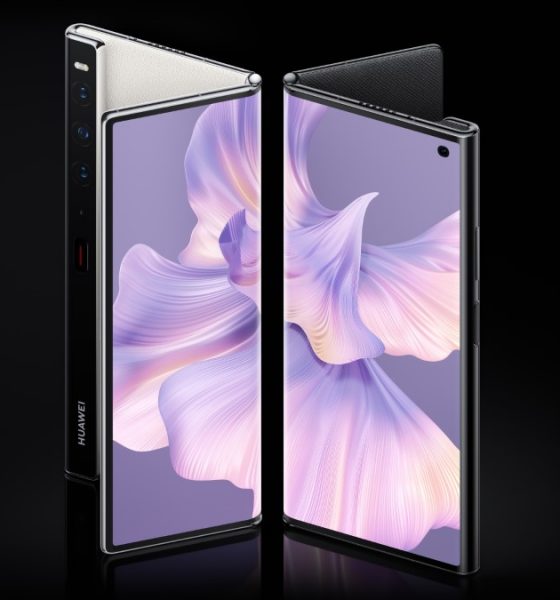 Huawei Mate Xs 2 is now official, starting at €1999
It keeps the old design but with few upgrades.
The Huawei Mate Xs 2, the company's latest foldable smartphone, has landed in Europe. The new foldable is a direct successor to Huawei's Mate Xs, which was released two years ago. The current edition keeps the main aesthetic of the previous generation but adds substantial hardware improvements like a high refresh rate display, a more durable build, upgraded cameras, and more. It was first released in China last month, and it is now available in Europe.
The Huawei Mate Xs 2 has the same wraparound screen design as previous Huawei foldable phones. Unlike the Galaxy Z Fold 3 and OPPO Find N, which fold inwards, the Huawei Mate Xs 2 folds outwards, exposing the complete screen at all times. Huawei claims that the new display is four times tougher and more durable than prior iterations.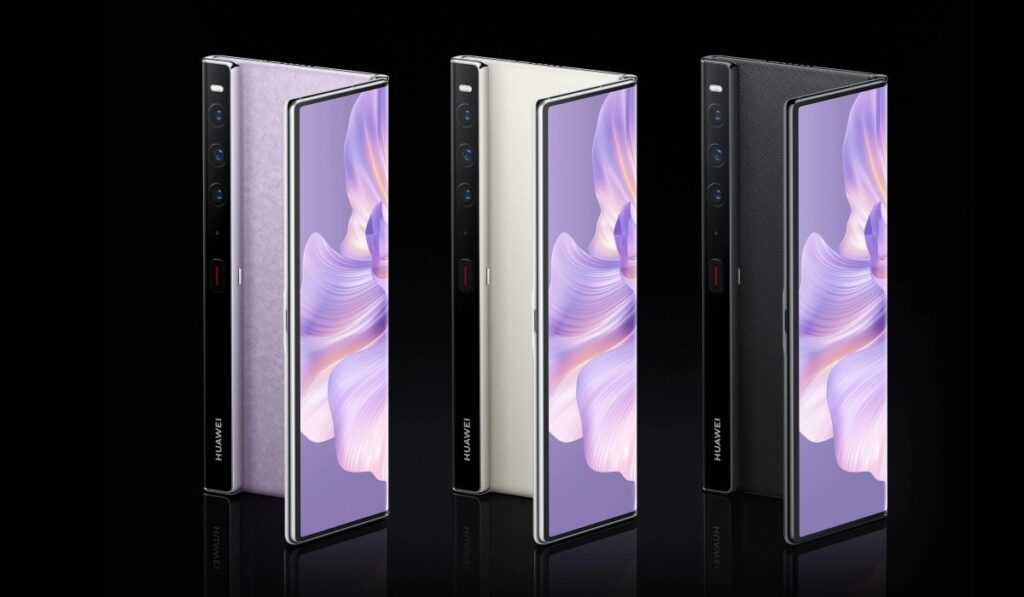 In addition, the refresh rate has been increased from 60Hz to 120Hz. With a weight of only 255g, the Mate Xs 2 is one of the lightest foldable phones on the market. Huawei's innovative Double-rotating Falcon Wing Hinge is used on the phone, allowing the display to lay entirely flat when unfolded.
The Mate Xs 2 is equipped with a Snapdragon 888 4G CPU from last year, as well as 8GB/12GB RAM and 256GB/512GB storage. The phone has a 50MP main camera, a 13MP ultra-wide camera, and an 8MP telephoto lens on the back. A dedicated selfie shooter is now available. You had to use the rear camera for video calling and selfies on the first Mate Xs.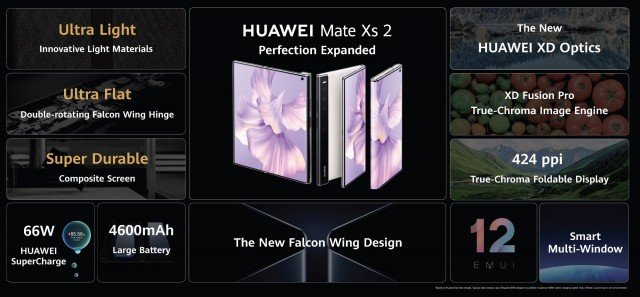 The Mate Xs 2 has a 4,800mAh battery with 66W rapid charging capability. In terms of software, it runs Huawei's HarmonyOS 2, which is based on AOSP. In Ben's hands-on with the Mate Xs 2, you can learn more about the phone.
The Huawei Mate Xs 2 will be available for purchase in Europe for €1999. Huawei hasn't provided detailed availability information yet, so we'll let you know as soon as we learn more.
Specification
Huawei Mate Xs 2
Dimensions
Unfolded: 156.5 x 139.3 x 5.4 mm
Folded: 156.5 x 75.5 x 11.1 mm
Display
Folded 6.5-inch AMOLED 120Hz 1176 x 2480
Unfolded 7.8-inch AMOLED 120Hz 2200 x 2480
SoC
Qualcomm Snapdragon 888 4G
RAM and Storage
8GB/12GB RAM256GB/512GB storage
Battery & Charging
4880 mAh66W fast wired charging
Rear Camera
Primary: 50MP f/1.8
Secondary: 13MP ultra-wide f/2.2
Tertiary: 8MP telephoto f/2.4
Front Camera(s)
32MP f/2.4
Connectivity
USB-C
Rest unknown
Security
Unknown
Software
HarmonyOS 2

The Samsung Galaxy Z Fold 4: Here's what you need to know
Is this the best option if you want a phone that also functions as a small tablet?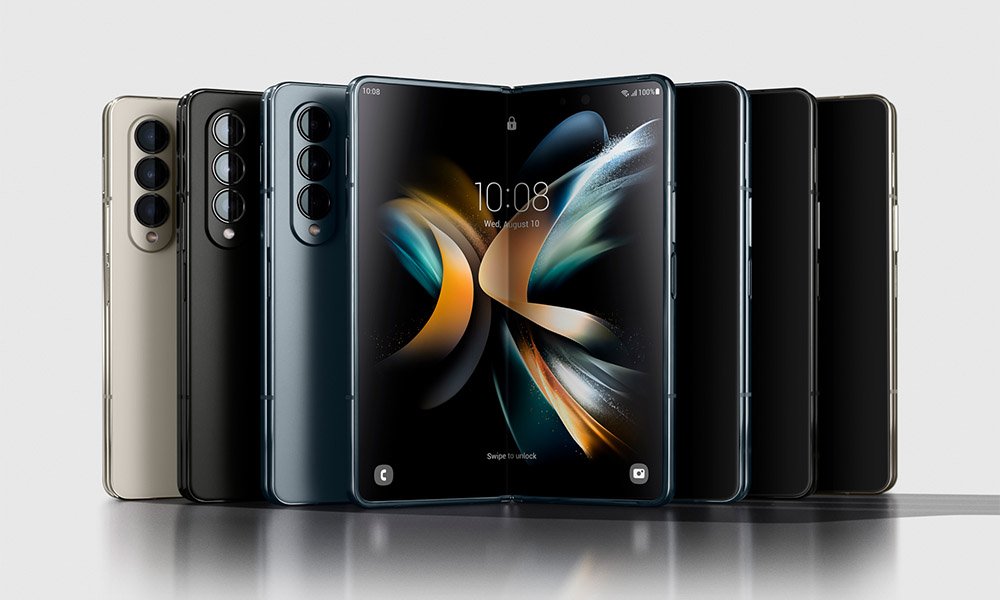 The Samsung Galaxy Fold was revolutionary when it was originally introduced in 2019. Even though the overall formula hasn't altered dramatically three generations later, Samsung has greatly improved it. The Samsung Galaxy Z Fold 4 is the most advanced foldable produced by the firm to date thanks to those years of improvement.
On August 10, 2022, the Galaxy Z Fold 4 was released as part of the summer season of Galaxy Unpacked events. The general sale date was set for August 26 and preorders began that day. At the same event, Samsung also unveiled the Galaxy Z Flip 4, Galaxy Watch 5, and Galaxy Buds 2 Pro.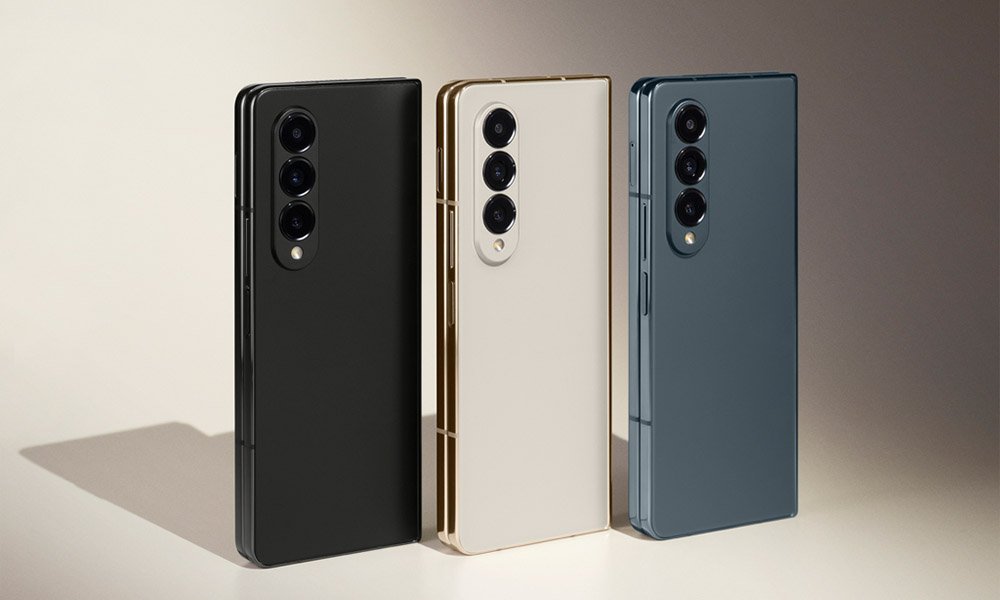 The Samsung Galaxy Z Fold 4 is simply a more refined version of the company's already-proven formula. The new Snapdragon 8 Plus Gen 1 SoC upgrades both the processor and cameras. The design has been slightly modified to provide a little bit more screen real estate, better durability, and an all-around more attractive grip. The experience is further enhanced by some new software techniques and new colors.
The Galaxy Z Fold 4 doesn't significantly change from its predecessors overall. As usual, it seems to be a "regular" smartphone when folded, although a rather thick one. However, if you open it up like a book, a sizable foldable display is revealed. When you need more space, the inner display lets you use it like a tablet, while the outer display lets you use it like a regular smartphone.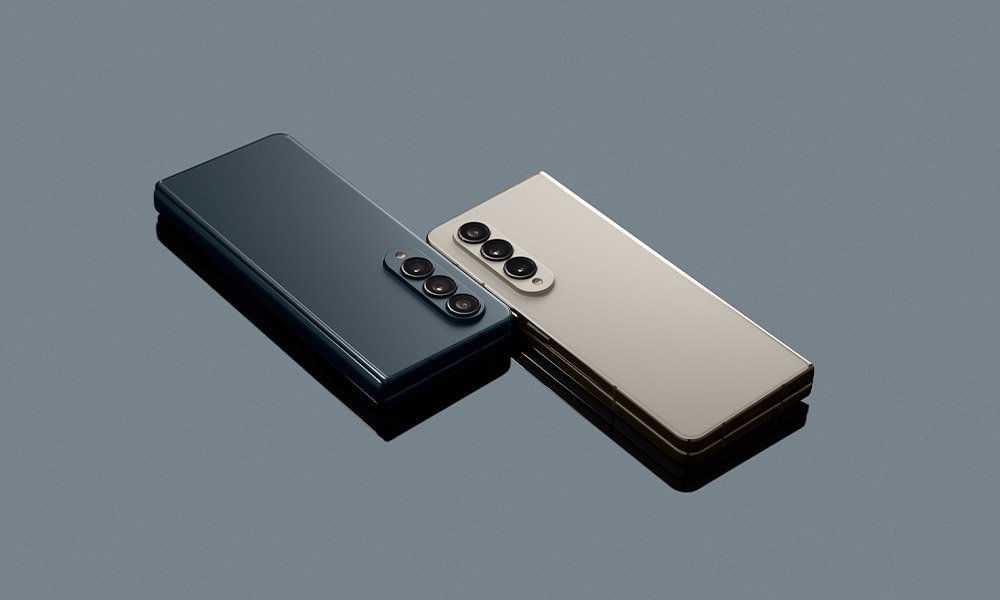 There is hardly any competition for Samsung in the foldables market. The competition it does have—from Motorola, Oppo, Xiaomi, and a few other companies—cannot compete with Samsung's global presence. In North America, you have two options if you want a foldable phone: a Samsung "fold" type phone or a Samsung "flip" style phone.
In light of this, the Samsung Galaxy Z Fold 4 is currently the greatest foldable smartphone available worldwide. It has many advantages over the Galaxy Z Flip 4 and is more powerful and capable than the Galaxy Z Fold 3 from a year ago. If you want a folding smartphone, the Galaxy Z Fold 4 is the best one you can get right now.
The Galaxy Z Fold 4 not only has some of the best hardware on the market, but it also boasts the best software commitment of any foldable available. Samsung will send security updates for the Galaxy Z Fold 4 for five years and four Android upgrades, making it a good long-term investment.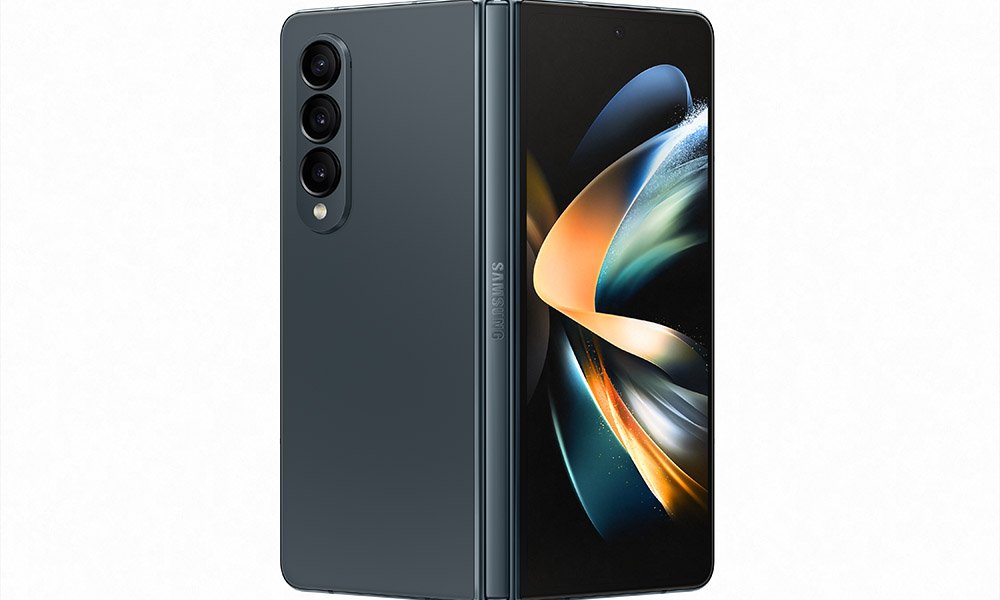 Obviously, this phone is pricey. A used or refurbished Galaxy Z Fold 3 could be a better choice if you can't afford the minimum price of $1,799. A Galaxy Z Flip 4 is another option and starts at $999. However, the Galaxy Z Fold 4 is now the best option if you want a phone that also functions as a small tablet.
Samsung Galaxy Z Flip 4
Displays
Exterior:
– 1.9-inch Super AMOLED
– 512 x 260
– Gorilla Glass Victus Plus
Interior:
– 6.7-inch Super AMOLED
– 120Hz refresh rate
– 2,640 x 1,080)
Processor
Qualcomm Snapdragon 8 Plus Gen 1
RAM
8GB
Storage
128, 256, or 512GB
UFS 3.1
No expandable storage
Power
3,700mAh battery
25W Super Fast Charging
Fast Wireless Charging 2.0
Wireless PowerShare
No charger in the box
Cameras
Exterior:
– 12MP wide, 1.8μm, OIS, Dual Pixel AF, ƒ/1.8
– 12MP ultrawide, 1.12μm, ƒ/2.2Internal:
– 10MP, 1.22μm, ƒ/2.4
Audio
Stereo speakers
Dolby Atmos support
No 3.5mm headphone port
SIM
Single nano-SIM tray
eSIM support
Biometrics
Side-mounted capacitive fingerprint sensor
Software
Android 12
One UI 4.1
Dimensions and weight
Folded dimensions:
– 84.9 x 71.9 x 17.1mm (measured at hinge)Unfolded dimensions:
– 165.2 x 71.9 x 6.9mmWeight:
– 187gIPX8 water resistance
Colors
Global: Bora Purple, Graphite, Pink Gold, BlueBespoke Edition:
– Front/back: Yellow, White, Navy, Khaki, Red
– Frame: Silver, Black, Gold
Vivo X Fold appears in its first official video
This is something exciting!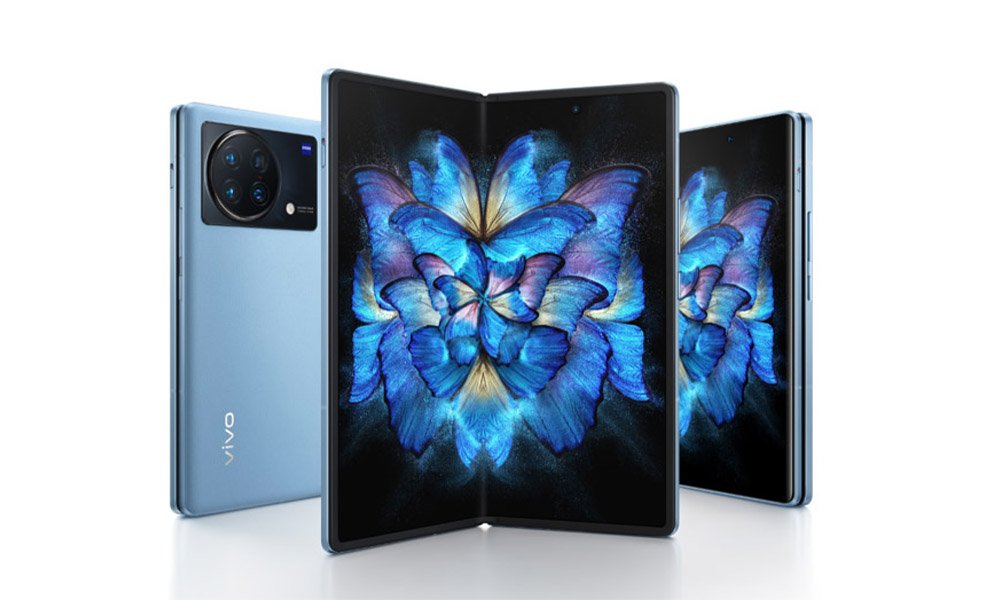 The Vivo X Fold will be released on April 11th, and the brand is cranking up its teaser campaign in advance. Vivo's future foldable device has been revealed for the first time.
A Zeiss-branded quad-cam arrangement, a vegan leather back panel, and a folding inner display with a tiny crease are all visible in a 30-second advertising film.
Vivo also unveiled its first tablet, dubbed the vivo Pad, at the same time. It'll be really tiny, and it'll debut alongside the vivo X Fold. A dual camera, four speakers, and OriginOS Ocean visual cues can all be seen on the back of the phone.
In mid-April, we anticipate seeing the vivo X Note smartphone. This phone will include a large 7-inch display, a Snapdragon 8 Gen 1 processor, with up to 12GB of RAM and 512GB of storage. We can only pray that none of these devices make it out of China.
Honor proudly teases its first foldable, the Magic V
A specific launch date has yet to be disclosed.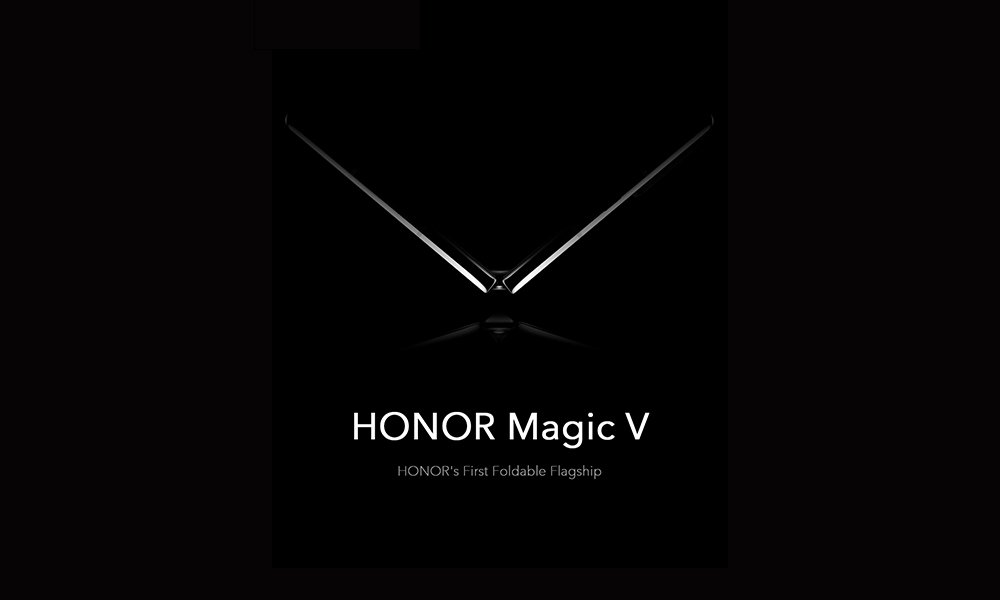 Former Huawei sub-brand Honor has teased the release of its first foldable smartphone, the Honor Magic V, in a photograph released on its Weibo and Twitter accounts.
The image shows a telltale hinge between the device's two halves. The "folding flagship is going to be released," according to the Weibo post, but no specific launch date has been revealed and Honor has declined to comment.
Honor has long expressed a desire to release a foldable device. As early as 2019, Honor CEO George Zhao told CNET that he was interested in developing a foldable under the Honor brand, but that the smartphone would be too pricey for Honor's younger target market. In June of this year, it was revealed that the company was working on such a device, with foldable display panels supplied by BOE and Visionox.
There isn't much information on the actual shape of the Honor Magic V, but according to The Elec, it could sport an 8.03-inch folding inner display paired with a 6.45-inch exterior screen. This points to a device similar to Samsung's Z Fold devices (which unfurl from a phone form factor into a tablet) rather than its Z Flip devices (a phone that folds to become more compact). That's also the form factor employed by Honor's former parent firm, Huawei, with the Mate X2, but it's unknown how similar Honor's future products will be now that it's been independent for a year.
Honor joins a growing list of businesses that have developed or plan to introduce their own foldables. Samsung and Huawei were early entrants, but foldables from Xiaomi, Motorola, and Oppo, which formally introduced its Find N phone earlier this month, have lately appeared. In addition to Honor, Google is reported to be aiming to launch up to two foldables of its own in the near future.