As more and more businesses have turned into home businesses, and currency has
turned to digital currency, it's important to grow with a reliable business partner like
SKYBIZ. Aside from its reliable service, approachable team members, and customized
business packages, SKYBIZ also extends its expertise to its clients with exciting programs
that can help budding entrepreneurs become more productive and successful in their
endeavors!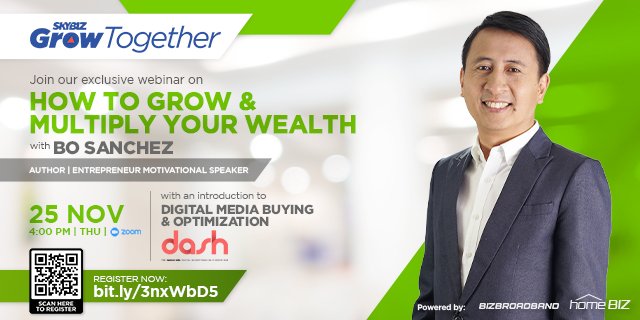 Grow Together Webinars
As part of its Grow Together campaign, SKYBIZ partners with industry experts to share
their expertise and secrets to successfully grow businesses. The first webinar is "How to
Grow and Multiply Your Wealth," with author and entrepreneur motivational speaker
Bo Sanchez. Bo is also a micro-entrepreneur that firmly believes that one of the most
important solutions to the country's economic problems is growing more micro-entrepreneurs. The webinar is on November 25, Thursday at 4:00 pm and is for free.
One just has to register on this link or easily scan the QR to join the webinar.
Having SKYBIZ is just a QR Code away!

It's so easy and convenient to apply for a SKYBIZ account. Just scan the QR code with
your phone and fill out the details on the application form. A SKYBIZ representative will
get in touch and guide you through all the requirements.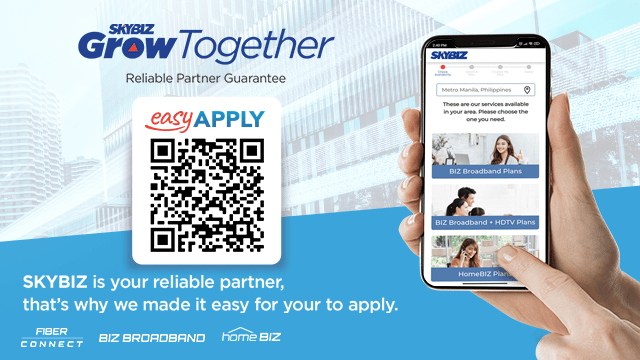 SKYBIZ has a True Fiber internet connection, personalized account management, and
24/7 technical support, so that any time of the day, you can expect someone to assist
you of any problems with your connection.
Talk about personalized service. Successful applications for Fiber Direct and Fiber
Connect get 50% OFF for the first three months. Take this as your first step in pushing
your business to new heights.
So don't fight the change. Embrace it, and make it a business essential that you can rely on
on. Everybody wins with SKYBIZ.