5 Reasons Why Bisaya Shoppers Should Check Out this Shopee 6.6 Mid-Year Sale
Shopee offers Visayas-exclusive deals such as ₱6 Deals, up to ₱75 off on shipping, and 10% off discount vouchers for the 6.6 Mid-Year Sale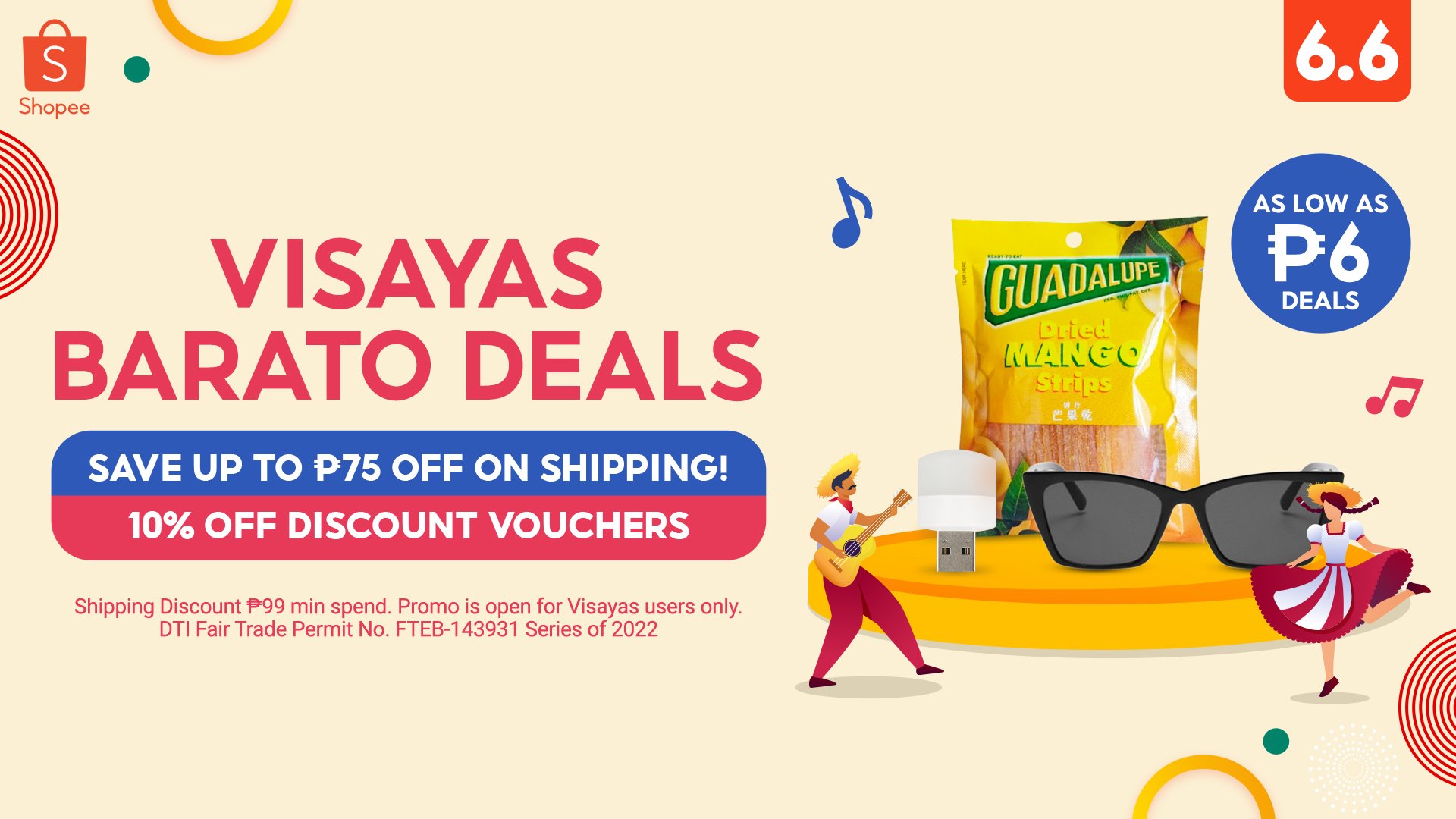 Bisaya shoppers now have even more reasons to enjoy their mid-year shopping as Shopee treats them to exclusive Visayas Barato Deals and other exciting offerings this 6.6. Here are what Visayans can expect at the Shopee 6.6 Mid-Year Sale that will make their shopping experience more enjoyable and rewarding:
Exclusive Visayas Barato Deals
Shoppers in the region can avail of exclusive Visayas Barato Deals, which include items they can get for as low as ₱6! They can also get up to ₱75 off on shipping on select shops, and use 10% off discount vouchers from participating shops when they check out their Shopee hauls.
From the latest gadget finds, and quirky accessories, to unique kitchen pieces, Bisaya shoppers can shop 'til they drop when they check out these ₱6 deals this 6.6!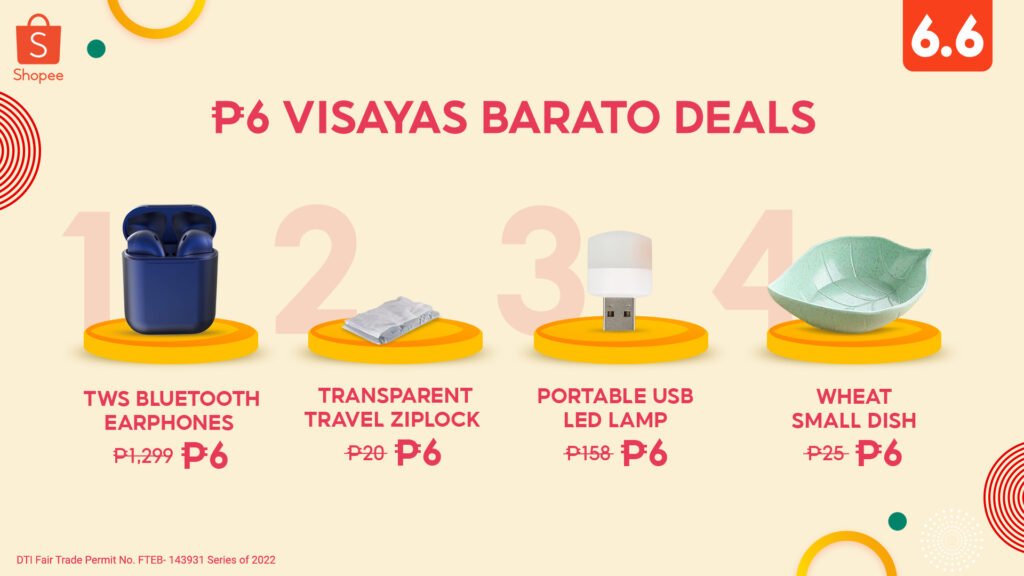 Be sound trip-ready when you're on the go with these cute TWS Bluetooth Earphones, which are compatible with any device and can be used for up to 2-3 hours. Travel with ease when you keep things in place with the help of these multifunctional Transparent Travel Ziplocks, ideal for storing food items, clothes, or anything in between. Add a touch of quirkiness to your nook with this Portable USB LED Lamp–bright and compact enough to be used in a variety of ways as long as you have a USB port nearby. Want to upgrade your kitchen #aesthetic? Consider this Wheat Small Dish, which comes in different eye-catching pastel colors.
Special Collections from Bisaya Sellers
This 6.6, shoppers from the Visayas can enjoy the convenience of Shopee and expect faster and cheaper shipping when they support local sellers and check out from shops within the region: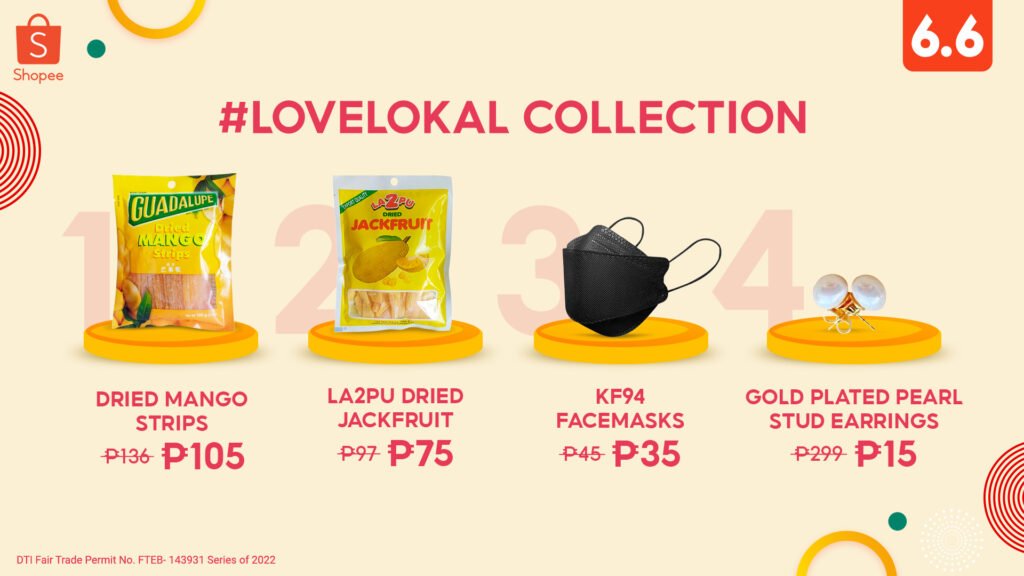 Stock up on some Cebu crowd favorites like Dried Mango Strips, which are great comfort food and everyday snacks. Have some Dried Jackfruit, a sweet and healthy snack packed with key ingredients to get you energized. To keep you and your family protected, add to the cart these KF94 face masks, which fit snugly on the face and let you breathe comfortably. Complete your look when you pair up your outfit with some elegant Gold Plated Pearl Stud Earrings, which come in different colors and sizes.
Shipping Discounts and Faster Delivery from Favorite Brands
Visayans can also maximize their 6.6 shopping when they choose brand items that are Fulfilled by Shopee. Look for Shopee Mall items from featured brands tagged with "Fulfilled by Shopee" to enjoy discounted group shipping rates from Nivea, Enfagrow, Veet, MamyPoko, Maybelline, Zenutrients, Sustagen, Huggies, and NIDO.
Get shipping discounts and faster delivery for these items: Maybelline's Superstay Liquid Lipstick helps keep your look on fleek thanks to its highly pigmented matte finish which lasts up to 16 hours. For healthier and smoother hair, check out the Zenutrients Aloe Vera Moisturizing Shampoo which seals in moisture to help dry and frizzy hair. Stay in tip-top shape by taking Sustagen Premium, specially formulated for adults to help strengthen your body's resistance.
New in-App Game "Shopee Words" Game with Daily Prizes At Stake
Shopee Words is the latest in-app game that lets users take home daily prizes including ShopeePay credits, Shopee coins, Shopee vouchers, and brand new gadgets as they try to solve daily word puzzles while they shop.
Bisaya shoppers can get a chance to take home big prizes, including an iPad 8th Gen when they play and solve Daily Puzzles until June 5. For 6.6 itself, players will get a chance to win up to ₱55,000 via ShopeePay by clearing 5 levels daily in Classic mode when they play from June 6-11. To know more about Shopee's newest game and daily prizes, visit the Shopee Words page.
A More Rewarding 6.6 Shopping Experience with ShopeePay
This 6.6, Bisaya shoppers can also use ShopeePay, Shopee's integrated mobile wallet, when paying for their purchases to enjoy up to 66% cashback. Bisaya users can also utilize ShopeePay's send money feature, which allows them to send money to any major bank, e-wallet, or Shopee user for free, with no hidden fees. And as an additional treat, ShopeePay is also giving away free ₱500 to new users who will send money for the first time on 6.6. They can also check-in during ShopeePay Happy Hour for a chance to win up to 100 coins daily when they send at least P50 to any Shopee user. For a more rewarding mid-year experience, Bisaya users can also try out ShopeePay's new Ang Pao feature and join the  "Double Ang Pao" promo to get a chance to double their money. For more exciting surprises, users can visit and follow ShopeePay's Instagram and Facebook pages.
To know more about the 6.6 Mid-Year Sale, visit the 6.6 Mid-Year Sale page on Shopee.

Get up to 56% off on OPPO Gadgets in the 8.8 Mega Flash Sale
From August 8 to 12, grab exciting freebies, vouchers, deals on Shopee and Lazada.
Heads up, shoppers! OPPO will offer incredible discounts with awesome freebies, vouchers, and deals during the OPPO 8.8 Mega Flash Sale on Shopee and Lazada.
From August 8 to 12, visit and shop on OPPO's Official Stores to enjoy up to 56% off on OPPO gadgets. You can collect a Php 200 off voucher if you reach a minimum spend of Php 9,999 and a Php 400 off for every minimum purchase of Php 14,999.
Don't miss the chance to use your Php 50 and Php 55 shipping discount vouchers before checking out if you have a minimum spend of Php 500 on Shopee and Lazada, respectively.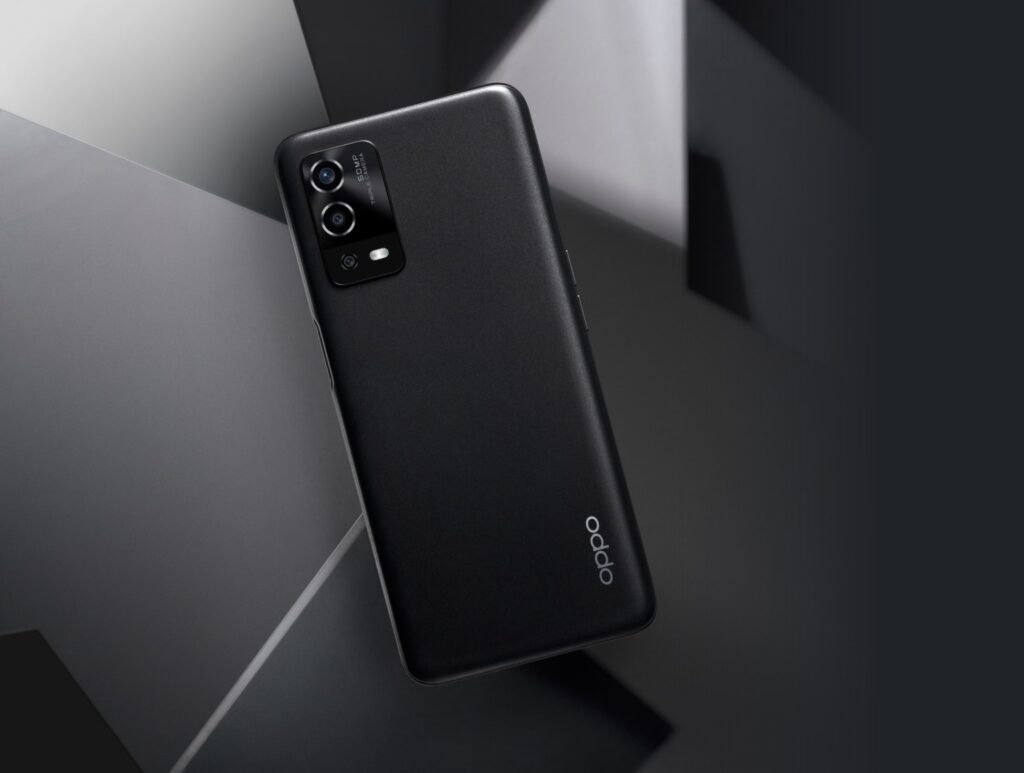 For Lazada shoppers, you can also get a Php 50 off voucher for every minimum purchase of Php 500, including a 10% cashback on your orders.
Freebies to watch out for on 8.8
If you plan to shop from 12 pm to 2 pm on August 8, take advantage of free G25 Bluetooth earphones for each smartphone order ID. Later in the day, you also can enjoy a free A8 long speaker if you order the OPPO A55 from 9 pm to 11:59 pm.
A wide array of freebies are also in store for you throughout the sale. That includes a free 32GB SD Card when you order OPPO A16 3GB, a free TG113 Bluetooth speaker for every purchase of OPPO A55, a free Neon Island desk pad for all your OPPO Reno6 Series purchases, and a free A8 long speaker with Neon Island desk pad for every OPPO Reno7 Series orders.
Flash deals, and giveaways on OPPO's 8.8 TikTok Livestream
There's more to look forward to on 8.8 when you check out OPPO Philippines on TikTok. Be sure to watch out for limited flash deals and giveaways during OPPO's 8.8 TikTok Livestream on the following dates: August 7 from 2 pm to 9 pm; August 8 from 11 am to 9 pm; August 9 from 11 am to 7 pm, and August 10 from 11 am to 7 pm.
Bundle deals on Shopee, Lazada
Exciting bundle deals are also available from August 8 to 12, such as OPPO Band and OPPO Enco Buds for Php 1,999; OPPO A55 and OPPO Enco Buds for Php 9,499; OPPO A94 and OPPO Enco Buds for Php 11,999; OPPO Reno5 and OPPO Enco Buds for Php 15,999; and OPPO Reno5 5G and OPPO Enco Buds for Php 19,999.
Mark your calendars now! Don't miss the chance to enjoy OPPO 8.8 Mega Flash Sale spectacular treats to welcome August on Shopee and Lazada, even on TikTok. Add to the cart and check out your favorite OPPO devices at great deals so you can finally take home the gadgets you have been saving up for!
Vivo announces 8.8 Mega Sale in Shopee, Lazada and TikTok Shop
Enjoy exclusive vouchers and freebies!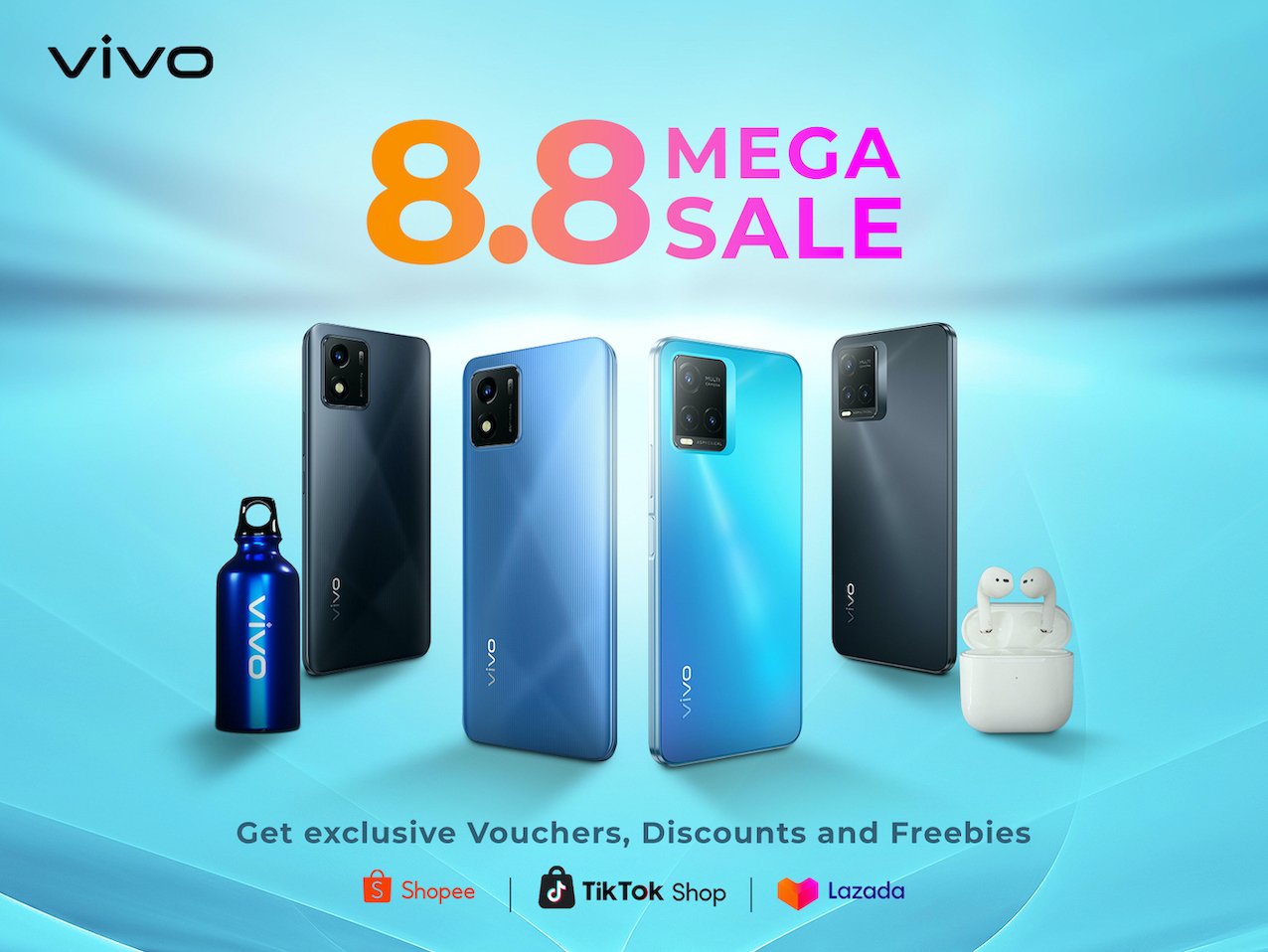 Vivo brings a surefire way to satisfy shoppers in this 8.8 Mega Sale! You can avail of vivo T1x, vivo Y1s, or vivo Y01 with vouchers, and exclusive freebies on Shopee, Lazada, and TikTok Shop.
The vivo T1x, with an original price of PHP 8,999, will be available at a reduced price of PHP 8,897 with a P100 off voucher, FREE DITO SIMCARD, and FREE TWS Voguard. Designed for gamers, the vivo T1x comes with a high-performing Snapdragon 680 processor, 4GB RAM (1GB RAM Extended) + 64GB ROM, 5000mAh battery with 18W fast charging capability, Multi-Turbo 5.0 that helps you run your favorite mobile gaming apps smoothly. It also comes with a 50MP camera that can capture life's best moments effortlessly and get pristine clarity whether you zoom in or crop photos. The vivo T1x also supports unique and high-quality camera features like Bokeh Camera, Super Macro Camera, 8MP Super Night Selfie, and Personalized Portrait Mode. It has a beautiful 6.58" FHD+ Incell screen display and anti-fingerprint design with unique colorways in Gravity Black and Space Blue.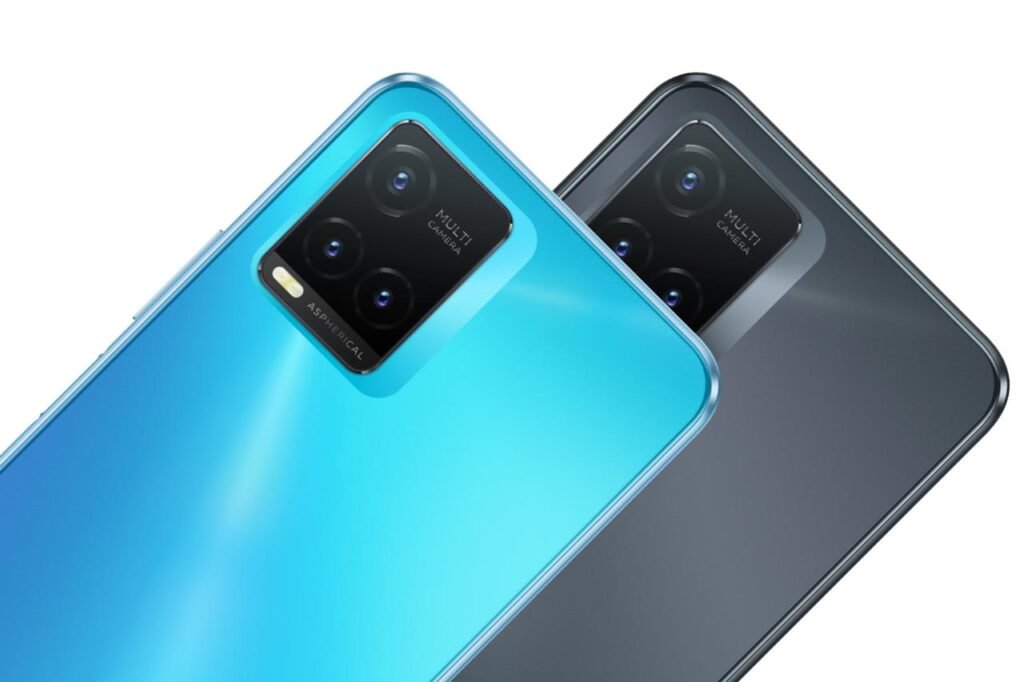 Shoppers can also get the vivo Y01 for a fun deal. From PHP 5,299, it will be available for PHP 5,247 with P50 off voucher, FREE DITO SIMCARD, and FREE Premium Tumbler. The vivo Y01 is a great all-rounder device. It is an entry-level smartphone but packs advanced features like a 6.51-inch HD+ display for an immersive viewing experience, an 8MP rear camera for everyday shooting, and a 5 MP selfie camera on a small notch. It also has a 5000mAh battery that enables longer playtime and is also capable of reverse charging. The vivo Y01 can also run mobile games without lags because of its Multi-Turbo 3.0. This smartphone comes in a 3D slim design and is available in Elegant Black and Sapphire Blue.
For those who are looking for a more affordable smartphone, the vivo Y1s is another good option to consider. From PHP 5,499, it will be available for PHP 4,847 with P50 off voucher and FREE DITO SIMCARD. The vivo Y1s features a 6.22-inch Halo FullView™ display, providing a pleasant view for both videos and games. Plus, it can filter out harmful blue light to prevent eye strain. With elegant 3D body curves, the vivo Y1s fits perfectly in the palm for a comfortable grip. Its 32GB of internal ROM gives ample freedom to store more photos, files, and applications. It can also expand to up to 256GB with an additional SD card. And at a 4,030mAh battery, supported by exclusive smart power management, keeps it going longer for a more enjoyable gaming and video experience. It comes with a 13MP Main Camera and a 5 MP Front Camera with smart beauty features. The vivo Y1s will be available in limited quantity so add to cart now!
Other than T1x, Y01 and Y1s, vivo 8.8 Mega Sale also offers amazing freebies on other select Y Series, T Series, V Series, and X Series models and accessories. Check out these special deals on Shopee and Lazada:
5 Things you can do at SM this Cyber Month 2022
Great tech and gaming deals are coming your way this August!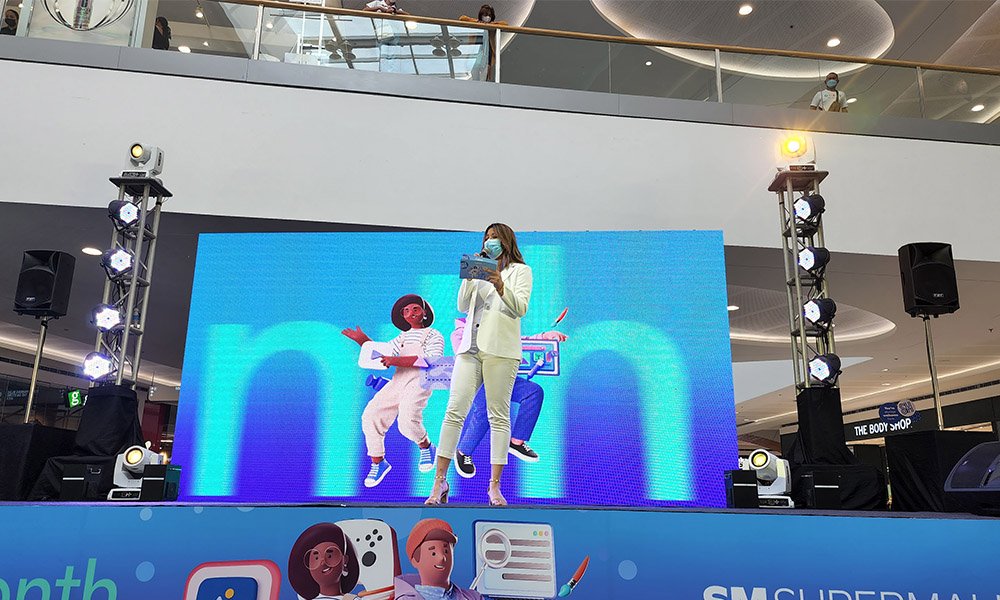 SM Supermalls is celebrating tech and innovation this August at the SM Cyber Month 2022. It's going to be an #AweSM, action-packed month at SM with these activities and offerings that will keep you at the edge of your seat.
Experience the Great Gadget Sale
Truly, there is no place like SM Cyberzone when it comes to the hottest tech deals and the lowest price guaranteed gadgets. Get your hands on the best deals, special promos, and bundles on select items with up to 60% off in participating stores at the Great Gadget Sale. Delightful, tech-citing deals are up for grabs at SM Cyberzone, SM Appliance, and The SM Store Gadgets!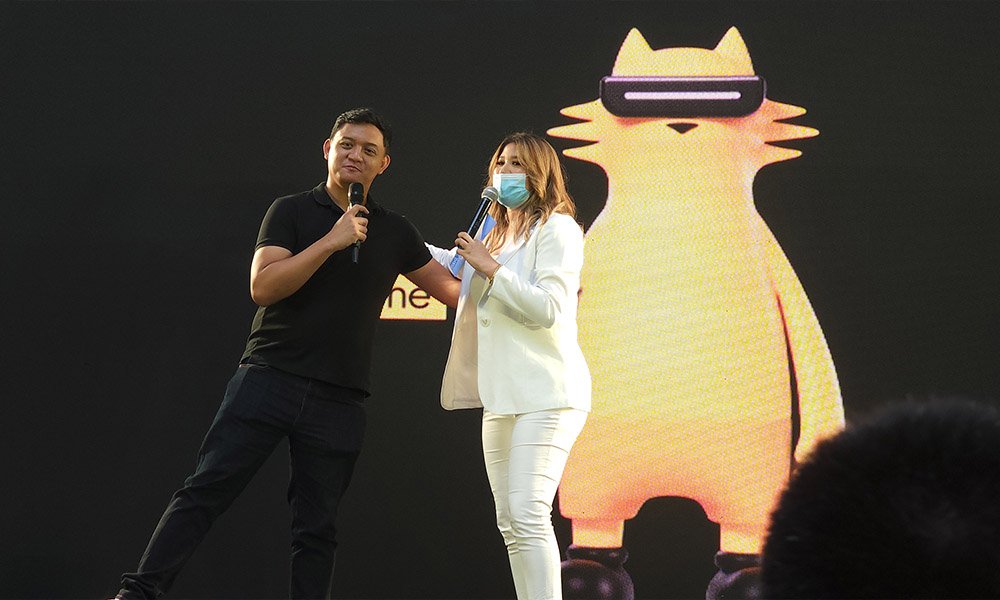 Hop on the Gadget Lab
From fun, entertaining displays and touch & try product exhibits, to interactive product guides and the latest gadgets available in the Philippines, go crazy over all things tech at the Gadget Lab. See for yourself all the best smart home devices, gaming, productivity devices, and smartphones on display in the activity areas.
See what the future of tech and gaming looks like
Aside from the epic battles, you can also see what the future of tech and gaming looks like at the PlayZone. Immerse yourself in the live demonstrations of the newest gaming technology there is! You can also check out the gaming pods, gaming set-ups, and PC rig displays in the activity area.
Witness some action at the PlayZone
SM Supermalls is bringing together e-sports players and mobile gamers for some intense and epic battles. Tag along with your gaming squad and watch the gamers outplay each other at the special exhibition matches.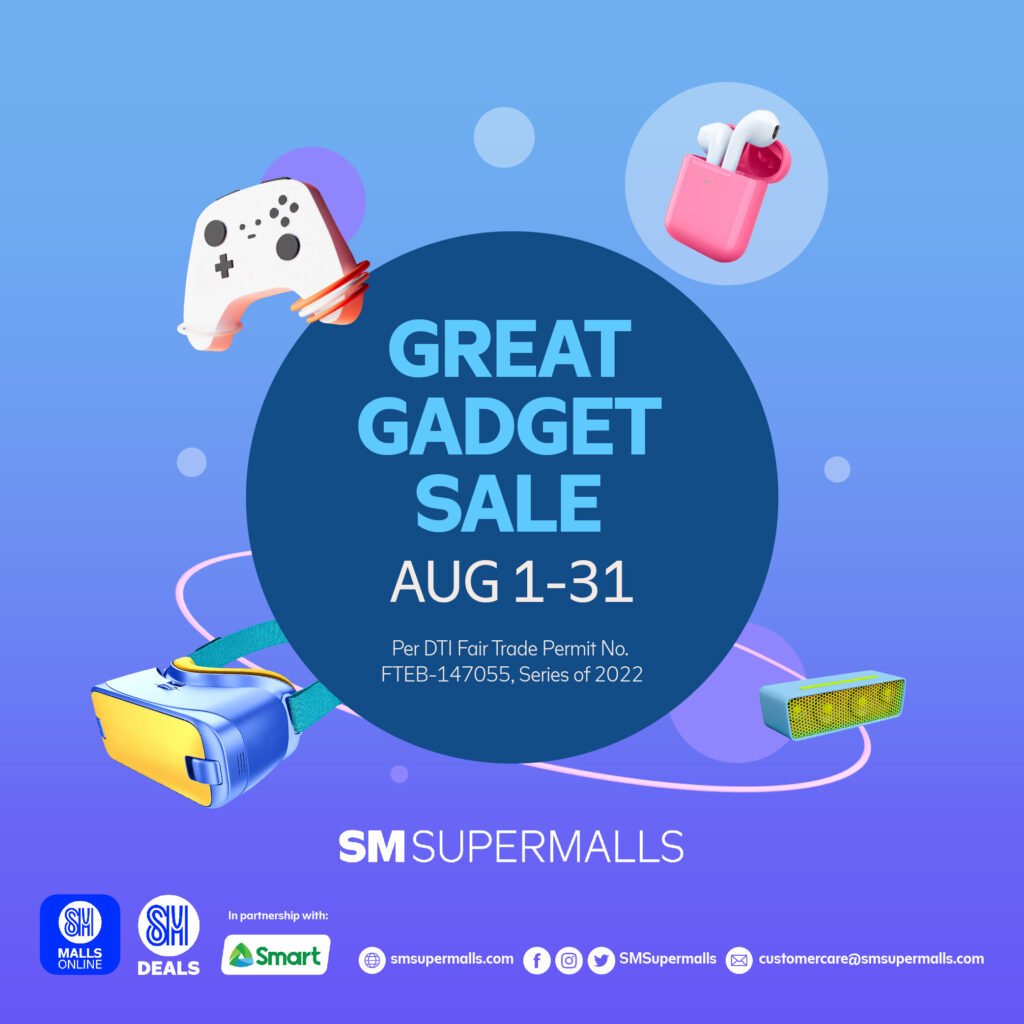 Grab the special deals exclusive via the SM Online App
But if you can't go to any SM Cyberzone branches in the Philippines, there's still a way for you to score these offerings and discounts. All you have to do is download the SM Malls Online App, add to your cart all your tech must-haves, use the voucher deals in-app, and just pick up the items at the SM mall near you.
For first-time shoppers, SM Malls Online is offering a P200 OFF when you use voucher code SMGOESONLINE upon checkout. Shop for your favorite tech brands and gadget needs! Download now the SM Malls Online app here – https://click.smmallsonline.com/DFqS/btxb3s1w
"The SM Cyber Month 2022 is a celebration of tech and gadgets that can definitely make our lives more fun, easier, and convenient. And no matter what your interest is– may it be gaming, virtual reality, smart home, music, or smartphone photography – there will be something for you at Cyberzone!" said SM Supermalls President, Steven Tan.
Experience all these and more this August at the #SMCyberMonth2022! Visit www.smsupermalls.com or follow SM Supermalls' official social media accounts on Facebook, Twitter, and Instagram so you won't miss out on all the cool happenings in your favorite SM mall.