Qualcomm unveiled a new naming scheme for its chipsets, beginning with the Snapdragon 8 Gen 1 late last year and continuing with the high-end Snapdragon 7 Gen 1 this year. Now, the U.S. chip designer has released the Snapdragon 4 Gen 1 and Snapdragon 6 Gen 1 chips.
The new chipsets are to replace the previous Snapdragon 400 and Snapdragon 600 naming conventions, and they include some upgrade and new features for each respective tier.
Snapdragon 6 Gen 1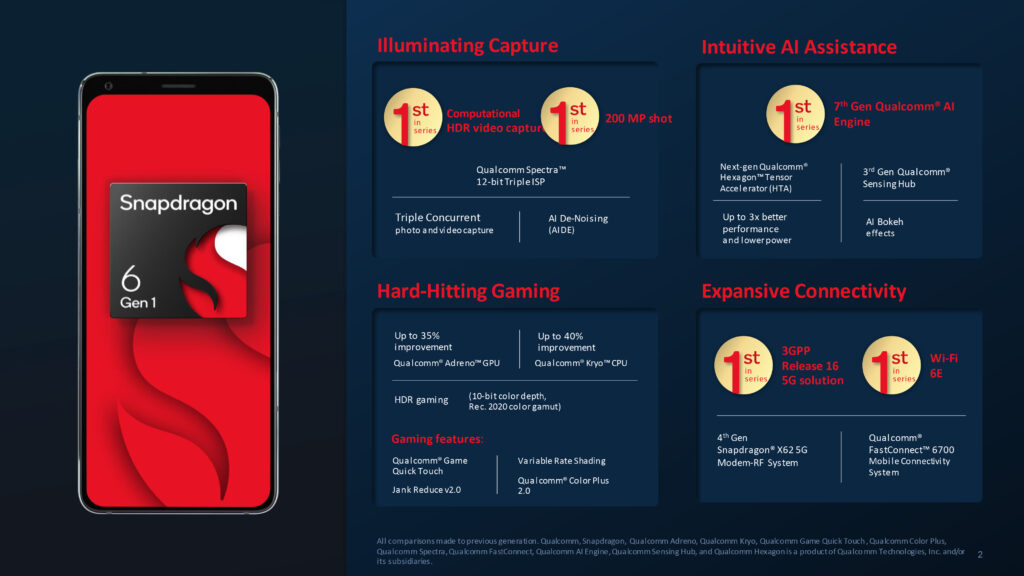 Starting off with the 4nm Snapdragon 6 Gen 1, It is expected for this series to improve more on gaming. Bringing an octa-core CPU (4x Cortex-A78 and 4x Cortex-A55), the new midrange chipset can execute operations 40% more quickly and render graphics 35% faster than the previous 600 series chipset.
Qualcomm's new system on a chip (SoC) comes with a lot of potential for AI-infused devices. It comes with the new 7th-generation AI Engine claiming a 3x increase in AI performance. Additionally, the chipset now has HDR capability and can support 108-megapixel cameras.
Other notable specs include Bluetooth 5.2, Snapdragon X62 5G modem, Wi-Fi 6E, Quick Charge 4+ support, and 120Hz at FHD+ display resolutions.
The first quarter of 2023 is the anticipated release of devices featuring the midrange chipset.
Snapdragon 4 Gen 1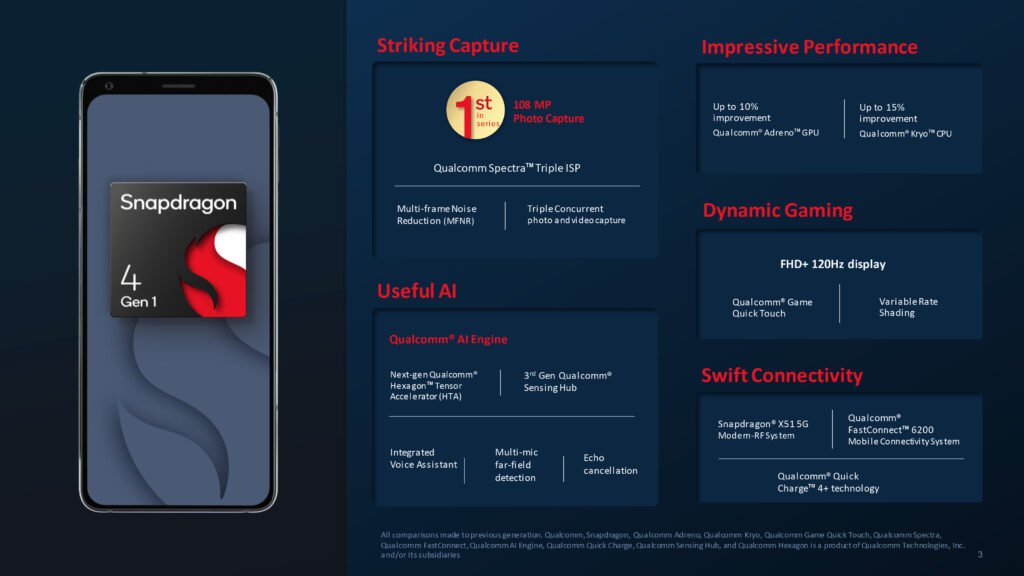 On the entry-level side, Qualcomm is now updating its 400 series to new generation Snapdragon 4 Gen X series, starting with the Snapdragon 4 Gen 1.
The new lower mid-range SoC features an octa-core CPU (2x Cortex-A78 and 6x Cortex-A55) that is said to be 15% faster than the Snapdragon 480. Meanwhile, the GPU receives a 10% performance boost.
Snapdragon 4 Gen 1 also includes 2.5Gbps downlink speeds at max with Snapdragon X51 5G modem, 108MP snapshot support, 120Hz support at FHD+ resolutions, Quick Charge 4+ support, Bluetooth 5.2, and Wi-Fi 5.
Qualcomm confirmed the new Snapdragon 4 Gen 1 will debut this quarter (Q3 2022). Vivo's Iqoo brand has revealed that will be one of the first brands to release phones with the new chipset, starting with the Iqoo Z6 Lite.