Light Rail Manila Corporation (LRMC), the commercial operator of the LRT-1, would reduce service hours on December 24 (Christmas Eve) and December 31 (New Year's Eve), both of which have been proclaimed special non-working days by the Philippine government under Proclamation No. 845.
On Christmas Eve (December 24), the LRT-1 will run from 4:30 a.m. to 8:00 p.m. in both directions, and from 4:30 a.m. to 7:00 p.m. in both directions on New Year's Eve (December 31).
Following the regular weekends/holiday timetable, LRT-1 will continue to service passengers on December 25, 2020 (Christmas Day), December 30, 2020 (Rizal Day), and January 1, 2021 (New Year's Day).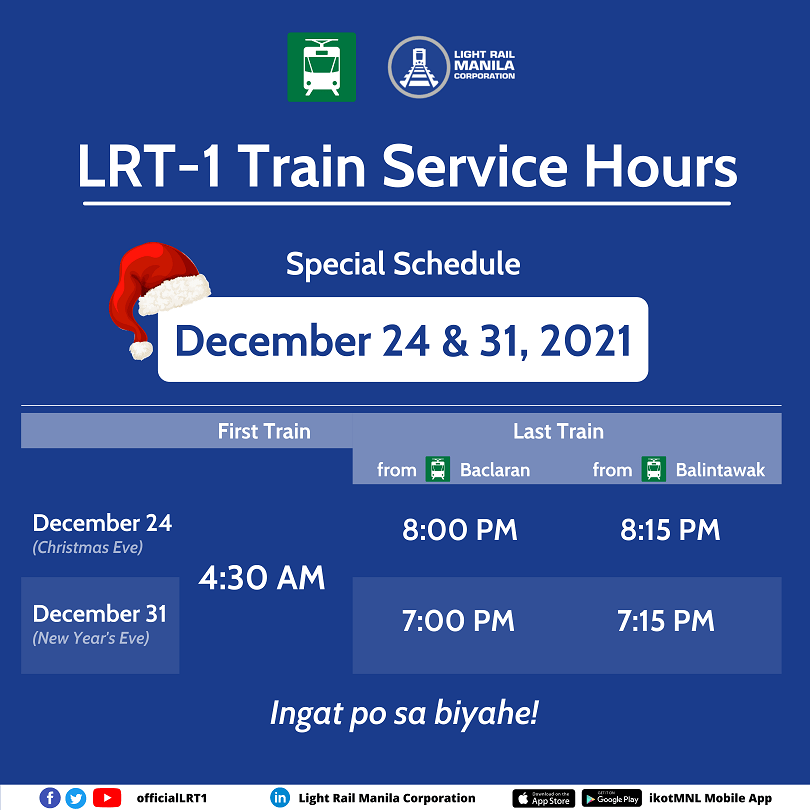 Roosevelt station will be closed until further notice to allow for the government's ongoing construction of the Common Station, also known as the Unified Grand Central Station (UGCS), which will connect the LRT-1, MRT-3, and MRT-7 systems. Balintawak station, northbound, will remain the LRT-1's final stop. Rest assured that LRMC is working closely with the authorities to expedite Roosevelt Station's reopening.
The public is also recommended to follow passenger advisories, any timetable changes, and to plan journeys ahead of time at this time.