COMPUTEX 2023, which will take place from May 30 to June 2, 2023 in the Taipei Nangang Exhibition Center, will focus on six themes: high-performance computing, artificial intelligence applications, next-generation connectivity, hyperreality, innovations and startups, and sustainability.
The exhibition space for COMPUTEX 2023 includes Semiconductor & Hospitality Suites, Advanced Communications & Networking, Internet of Everything, Gaming & Metaverse, Systems & Solutions, InnoVEX, and more. It is anticipated that 1,100 exhibitors would take part, bringing 30,000 visitors from Taiwan and throughout the world.
What is COMPUTEX?
COMPUTEX is a computer expo held annually in Taipei, Taiwan.
Established in 1981, COMPUTEX TAIPEI (or simply COMPUTEX) is a leading global ICT and IoT show with a complete supply chain and ecosystems since the early 2000s.
COMPUTEX, co-organized by the Taiwan External Trade Development Council (TAITRA) and the Taipei Computer Association (TCA), spans the entire spectrum of the ICT industry, from established companies to startups, and from the ICT supply chain to IoT ecosystems.
Taiwan is a vital location for foreign companies and investors looking for partners in global technology ecosystems due to its excellent Reasearch & Development (R&D) and manufacturing skills, as well as IPR protection.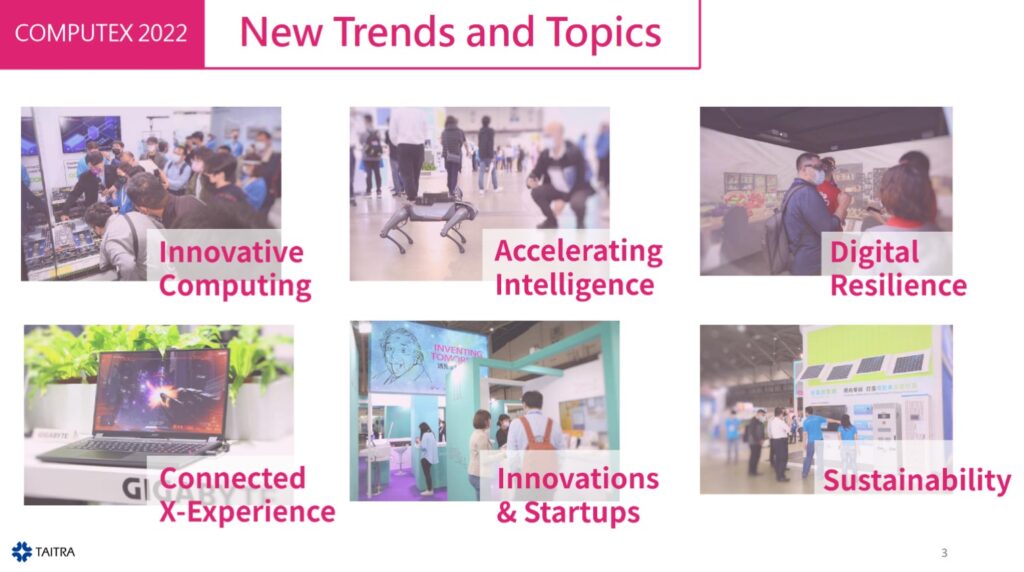 The last COMPUTEX 2022 was held from May 24 to 27, 2022, and focused on topics and trends about Innovative Computing, Accelerating Intelligence, Digital Resilience, Connected X-Experience, Innovation and Startups, and Sustainability.
COMPUTEX 2023 New Position
Join hands with tech giants toward a sustainable future
COMPUTEX 2023 will adopt a new "Together We Create" stance in order to create infinite possibilities. COMPUTEX is looking to collaborate with domestic and international technology leaders, global visitors, start-ups, venture capital, accelerators, media, and other important technology ecosystem partners to present prospective trends and complete technological solutions in order to create a sustainable future that leads the technological trend.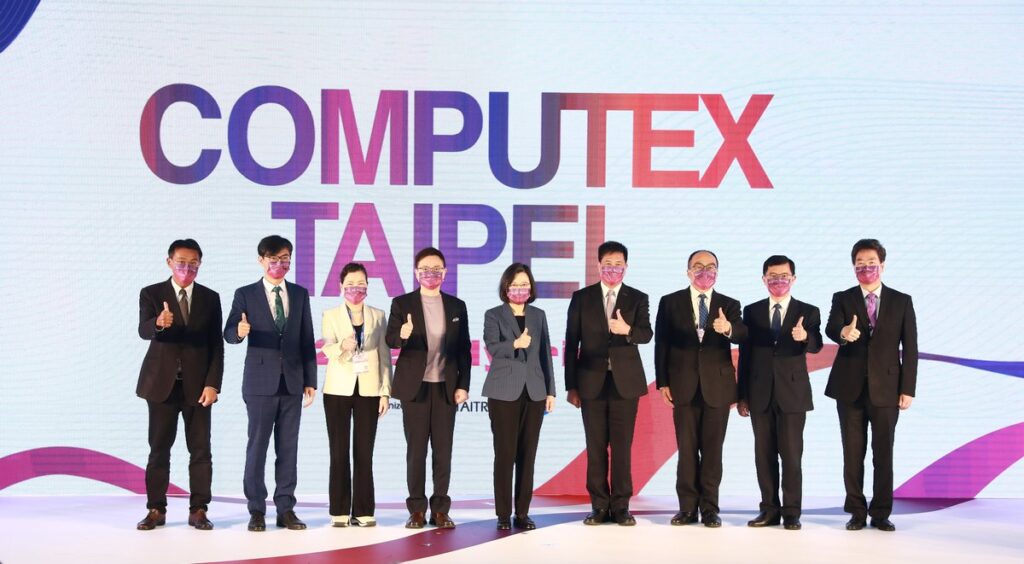 TAITRA, Taiwan External Trade Development Council, a co-organizer of COMPUTEX, stated that the world had faced numerous obstacles in the previous two years. However, the worldwide semiconductor shortage, as well as the ongoing development of semiconductor applications such as smart devices, 5G, AI, and so on, accelerate the global digital transformation and establish Taiwan's pivotal role. COMPUTEX, as the leading B2B international ICT show, will give projected trends and futures, as well as a better and more innovative exhibition experience for all.
COMPUTEX Keynotes & Forum Focus on Semiconductors and Sustainable Development
COMPUTEX 2023 will have a number of events in addition to bringing together domestic and international manufacturers. The debate themes will revolve around the most recent advancements in technology, such as semiconductors or sustainable development.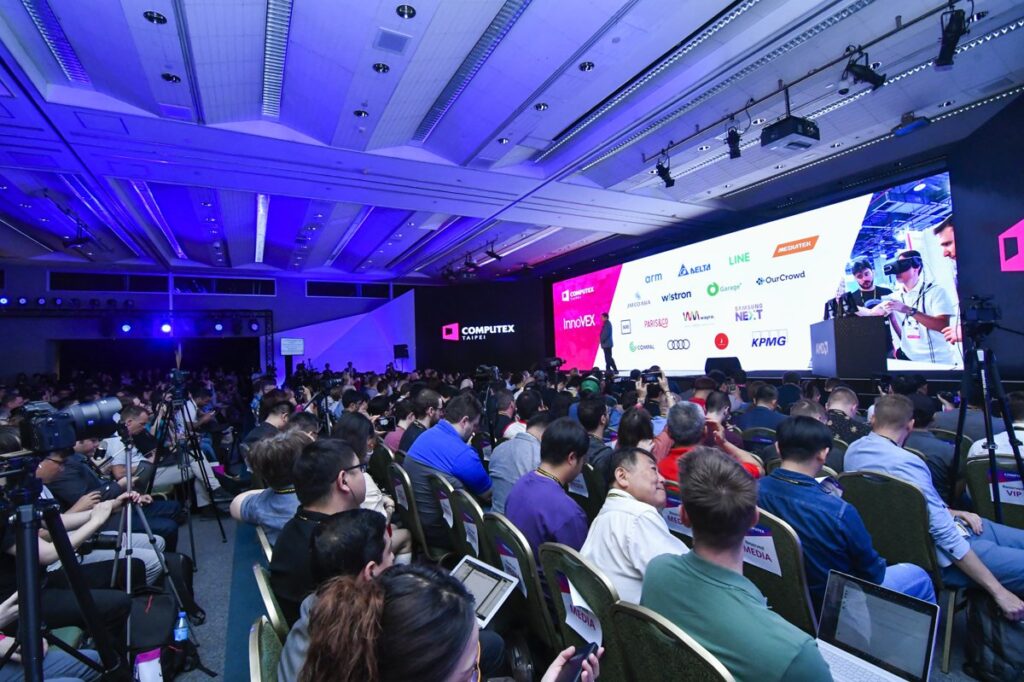 The much-anticipated COMPUTEX Keynotes platform allows global technology leaders to debate hot technology industry themes, offering participants with future technology insights. In the past, international businesses like as AMD, Nvidia, Micron, and NXP were invited. Since the pandemic, keynotes will return as physical events this year. Furthermore, the COMPUTEX Forum, which has been running for over a decade, will focus on semiconductors, AI applications and next-generation communications, green energy sustainability, and the Web 3.0.
Show Events are Oriented to Create a Variety of Exhibition Experience
To create an effective show for exhibitors and visitors, COMPUTEX connects various resources and organizes numerous activities, including: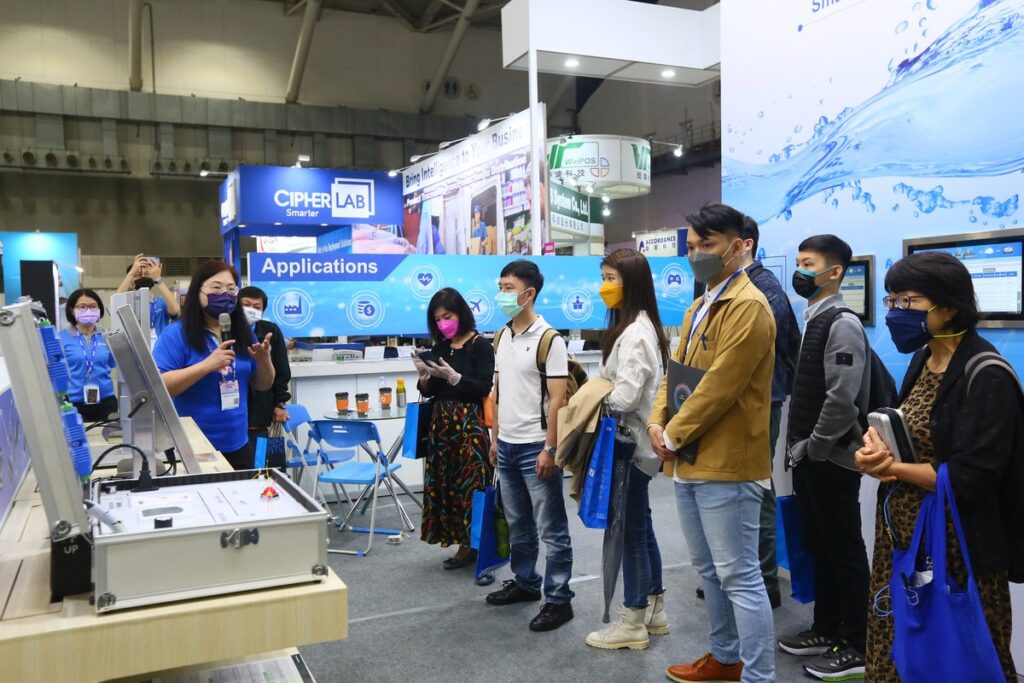 Procurement Meetings: TAITRA invites international buyers, government procurement bidders, venture capital, accelerators, etc. to participate in the procurement events, and conduct one-on-one meetings with suppliers and start-ups in physical or remote locations.
COMPUTEX Tech Talk: Provide a platform for exhibitors to present their latest exhibits and share products or industry trends with visitors.
COMPUTEX in Motion: Live broadcast of the dynamic exhibition to global visitors through the Internet without time difference.
Guided Tours: Financial experts, industry experts, and opinion leaders in different fields give visitors to a glimpse of the exhibition.
Startup Pitches & Demos: Provide international and Taiwanese start-up teams with a new showcase platform, and assist with matching international venture capital to accelerate new start-ups' scale and international development.
Buyer's Night: A party to welcome international visitors. The organizers will resume the buyer's night for visitors to connect and enjoy the warm welcome through music and food.
EveryTechEver attends COMPUTEX 2023
Your daily source of everything tech, EveryTechEver, will be at the May 30 – June 2 COMPUTEX 2023.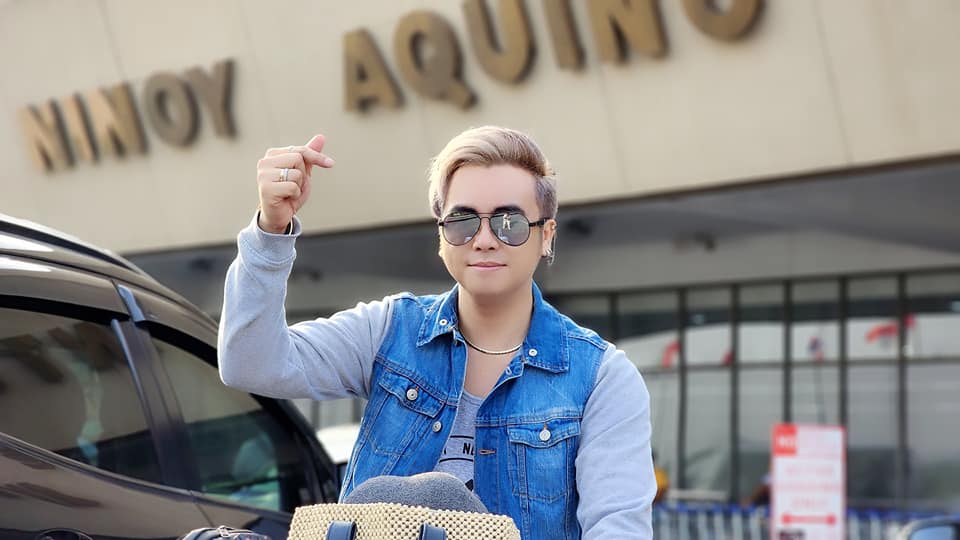 Founder and Chief Editor, RV Cuarto, traveled to Taipei, Taiwan to correspond on what is big and new in this year's COMPUTEX.
Invited by Acer Philippines to witness the greatest innovation of Acer for its global consumers, RV will focus on bringing the latest about technology and sustainability aligned to the tech expo's position, Together We Create.
Stay tuned for updates about the COMPUTEX 2023 brought by EveryTechEver. Follow our social media channels, on Facebook, Twitter, Tumblr, Youtube, and Instagram. Get updates and news here on our official website.