Globe offers the most advanced iPhone lineup ever with iPhone 14, iPhone 14 Plus, iPhone 14 Pro, and iPhone 14 Pro Max, all with a durable and sophisticated design, reliable 5G network connectivity, impressive camera upgrades, and vital new safety capabilities; Apple Watch Series 8 and new Apple Watch SE, with groundbreaking technology and performance; Apple Watch Ultra with a new bold design and a wide range of features built for endurance, exploration, and adventure.
iPhone 14 lineup and iPhone 14 Pro
iPhone 14 and iPhone 14 Plus introduce new technologies and groundbreaking new safety capabilities, featuring two sizes — 6.1 inches and 6.7 inches. The powerful camera system brings impressive upgrades and huge improvements to low-light photos, thanks to the enhanced image pipeline, Photonic Engine. Offering stunning video quality, both models also include a new Action mode for incredibly stable video, and Cinematic mode, now available at 4K at 30fps and 4K at 24fps. New vital safety capabilities — Crash Detection — help connect iPhone users with emergency assistance when they need it most, and with the A15 Bionic chip with 5-core GPU, gorgeous Super Retina XDR display, amazing battery life, industry-leading durability features, and [superfast 5G], this lineup is more advanced than ever before. iPhone 14 and iPhone 14 Plus come in five beautiful colors — midnight, blue, starlight, purple, and PRODUCT(RED).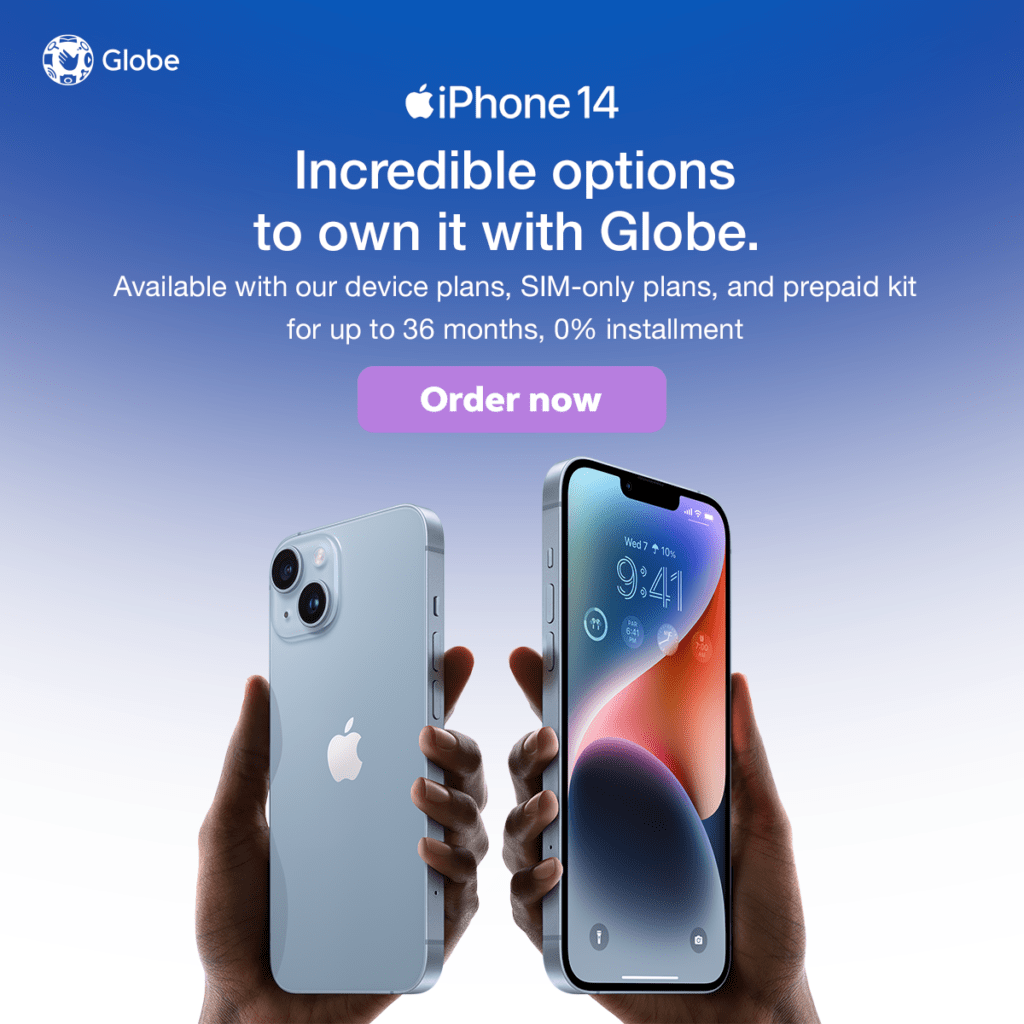 Powered by A16 Bionic, the fastest chip ever in a smartphone, iPhone 14 Pro and iPhone 14 Pro Max introduce intuitive new ways to experience the iPhone, a new class of pro camera system, and groundbreaking new safety capabilities. Featuring the first-ever 48MP Main camera on iPhone, a new Ultra Wide camera, Telephoto camera, and a new TrueDepth front camera with autofocus, the pro camera system is even more advanced, and with Photonic Engine, represents the biggest camera leap ever. iPhone 14 Pro and iPhone 14 Pro Max also introduce a new interactive way to experience notifications and alerts with Dynamic Island, and the Always-On display. Available in 6.1-inch and 6.7- inch sizes in four gorgeous finishes — deep purple, gold, silver, and space black — iPhone 14 Pro and iPhone 14 Pro Max also include reliable 5G, and Crash Detection, all while offering all-day battery life. Customers can officially get their hands on all iPhone models, such as the iPhone 14, iPhone 14 Pro, iPhone 14 Pro Max, and iPhone 14 Plus on October 14, 2022.
Apple Watch Series 8 and Apple Watch SE
Apple Watch Series 8 and the new Apple Watch SE bring groundbreaking technology and performance, and important safety innovations to the two best-selling smartwatches. Apple Watch Series 8 maintains the current beloved design with a large, Always-On Retina display, 18-hour battery life, and a new Low Power Mode that can extend battery life to reach up to 36 hours, while building on best-in-class health and safety features like the ECG app and Fall Detection by introducing temperature-sensing capabilities, retrospective ovulation estimates, Crash Detection and [international roaming]. Apple Watch Series 8 is available in two sizes, 41mm and 45mm, across a range of case finishes and colors including starlight, midnight, silver, and PRODUCT(RED).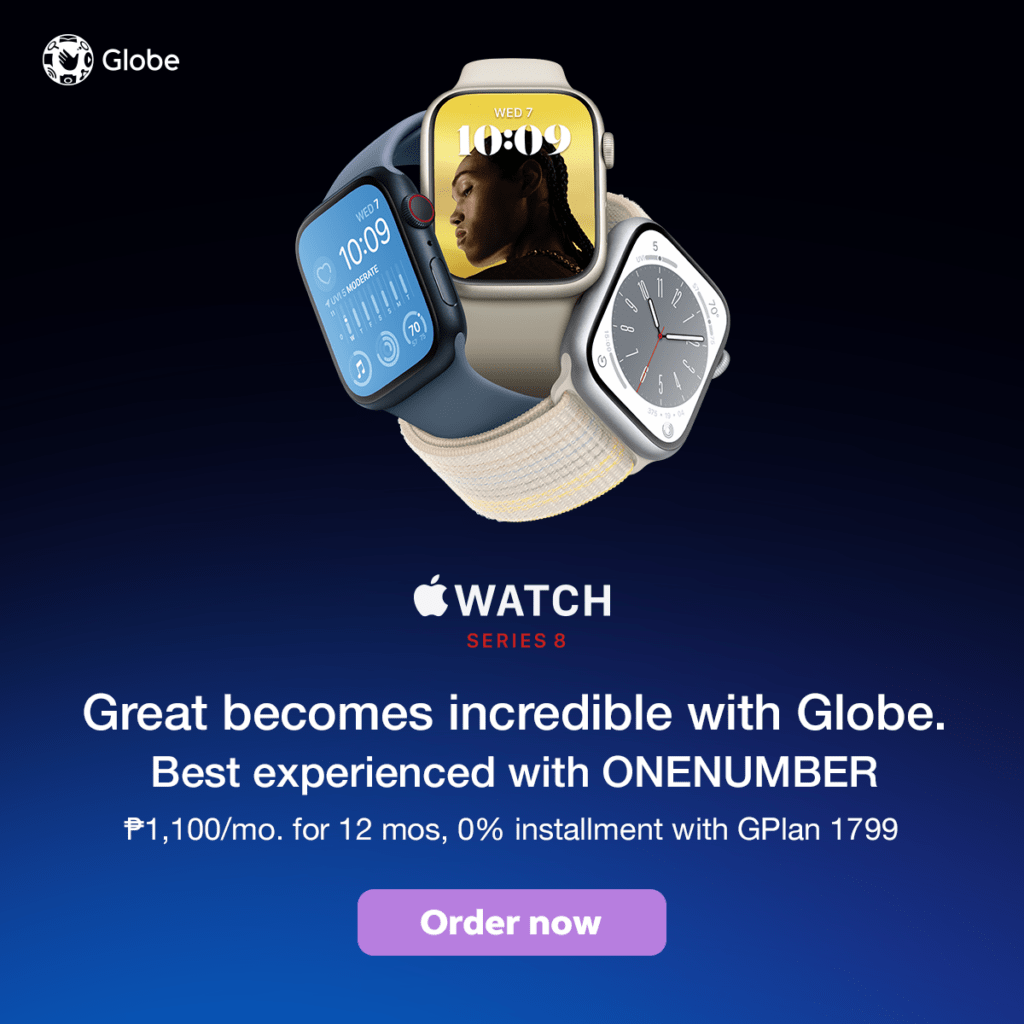 The new Apple Watch SE delivers the core Apple Watch experience including Activity tracking, high and low heart rate notifications, Emergency SOS, and Crash Detection all at a more affordable price. SE features a completely redesigned back case that perfectly matches the three classic case finishes. Apple Watch SE is available in 40mm and 44mm aluminum cases, in midnight, starlight, and silver finishes, and is compatible with all bands. Customers can order Apple Watch Series 8 and Apple Watch SE starting October 14.
Apple Watch Ultra
The most rugged and capable Apple Watch yet, Apple Watch Ultra brings a new bold design and wide range of features built for endurance, exploration, and adventure along with three new bands — Trail Loop, Alpine Loop, and Ocean Band — which provide a secure and comfortable fit for every environment. Apple Watch Ultra is an incredible tool for endurance athletes or those who aspire to push beyond their limits, featuring the most accurate GPS of any Apple Watch to date and up to 36 hours of battery life during normal use. With a bigger, brighter display and durable design, Apple Watch Ultra is the perfect technical tool for adventurers and explorers. A new low-power setting is ideal for multi-day experiences and can extend battery life to reach up to 60 hours.                                           
Apple Watch Ultra comes with a 86dB audible siren designed for emergencies should users become lost or injured. To support water sports, including recreational scuba diving to 40 meters with the new Oceanic+ app coming later this fall, Apple Watch Ultra is certified to WR100 and EN13319, an internationally recognized standard for dive accessories, including depth gauges that are relied upon by recreational divers around the world. A new Depth app displays time, current depth, water temperature, duration underwater, and max depth reached. [With international roaming, available later this year, users can stay connected to a cellular network while traveling abroad, and, with an international roaming plan, you can add Apple Watch with your iPhone]. Customers can start ordering the Apple Watch Ultra on October 14 with Globe.        
"We take pride in our long-standing partnership with Apple, being their pioneer partner in bringing the iPhone to the Philippines. Over the years, this partnership continues to prove that with Globe's digital innovations, your experience with your new Apple devices is made even greater each time," said Pia Colby, Globe Vice President for Marketing.
"With Globe's thoughtfully crafted services, we provide life-enabling experiences that allow our subscribers to maximize the ultimate power of the Apple ecosystem. The latest iPhone 14 line-up coupled with Globe can enrich everyday life — from the mundane to the adrenaline-filled moments which make for greater connections, accessibility, and experience," said Darius Delgado, Globe Vice President for Consumer Mobile Business.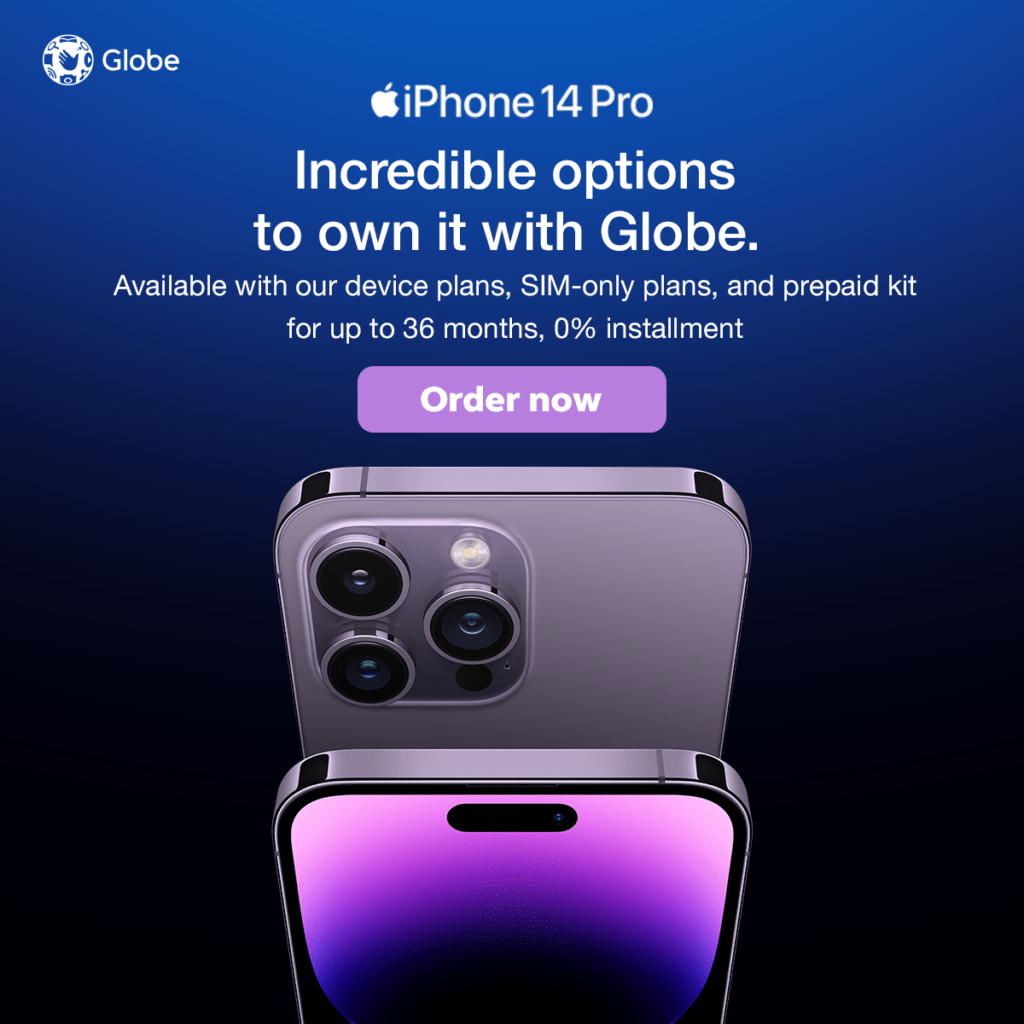 Incredible Options to own your Apple devices with Globe
To ensure that Globe customers get the most out of the latest Apple devices, Globe strives to be the first to provide the best iPhone 14 through several incredible ways, enabling them to live a life of greatness that goes beyond the drop.
With Globe Prepaid, subscribers can trade in their old iPhone models (from iPhone 11, 12, and 13 which excludes the mini version) and get a free prepaid SIM with up to 18GB of data, with no lock-in period required!
Meanwhile, incredible offers await Globe Postpaid subscribers who avail of any of the latest iPhone 14 series line-ups. New and re-contracting customers can now opt for a SIM-only plan with GPlan Plus 999. It includes a discounted rate for the iPhone 14 128GB that can be availed via 0% installment for 12 months with participating credit card partners. Subscribers can enjoy 20GB of data powered by Globe's ultra-fast 5G network, unli all-net calls to mobile and landline, plus all-net text. It's also great that this plan enables subscribers to convert their reward points into data. This introductory offer is only available till October 31, 2022.
Globe Platinum subscribers can experience the incredible coming together of the ultimate iPhone 14 Pro and iPhone 14 Pro Max before anyone else with priority stocks and delivery. They also get access to Globe's very first Mobile and Fiber plan made extraordinary with the latest lineup of Apple devices. The New Platinum ONEPlan 3799 offers its subscribers all-month mobile data surfing via UNLI Fiber at Home with a whopping speed of 150Mbps.
In addition, Globe has plan inclusions enabling subscribers to enjoy big data allowances as well as all-net calls & texts.
The new iPhone14 can be used with Globe's groundbreaking eSIM, the first virtual SIM in the Philippines that's best paired with Apple's latest series of flagship devices. The eSIM is a leap towards the future, providing a single customer the ability to create multiple user profiles for work, personal, travel, or other preferences, and to seamlessly use their devices across all profiles. It also promotes sustainability by making a physical SIM unnecessary. All told, the eSIM is a simpler, more secure way to power up your phone that lets you maximize greater connectivity with your new iPhone.
Meanwhile, Apple Watch fanatics can rejoice as Globe brings the incredible innovation of the ONENumber Technology, so you can make your Apple Watch Cellular models do even greater stuff for you and let you stay connected even without your iPhone on hand.
To match iPhone14's hardworking capacity, Globe's most reliable 5G network is omnipresent to make everyday moments even greater. Users can enjoy streaming and gaming without lags, and jaw-dropping speeds that go perfectly with the latest camera features, AppleTV, and arcade apps of the iPhone.                                     
For more details on pricing and data plans, please visit https://glbe.co/iphone14. For more details on Apple products, please visit www.apple.com.