Australian graphic design platform, Canva unveiled at the Canva Create global event its expansion to a full suite of visual communication products— The Canva Visual Worksuite.
Canva had expressed that the vision of a visual work suite is already present ever since it started its operation in 2013. It envisions itself providing products to empower anyone to design and communicate ideas effectively.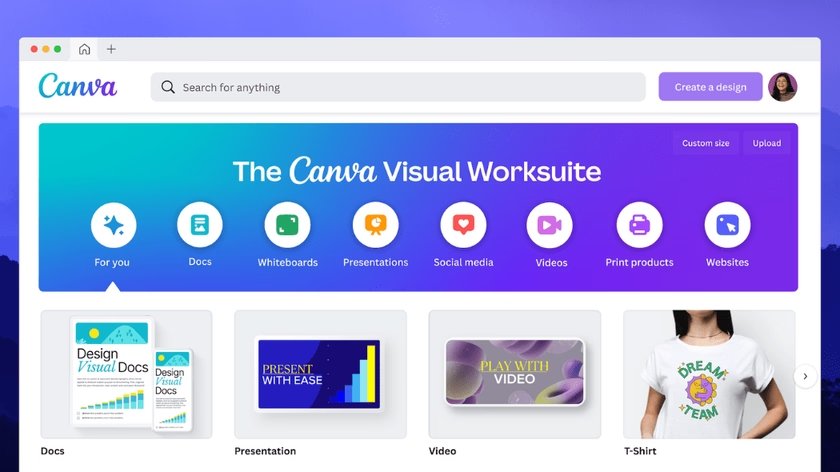 The platform marks a momentous step forward in its vision this revelation is its biggest change in almost a decade. Among the introduced series of new products are Canva Docs, Canva Websites, Canva Whiteboards, and Data Visualization. These new additions are designed for the modern, visual, and ever-evolving world we live in.
These launches elevate Canva from the graphic design tool we are used to know and love into an end-to-end visual communication platform. It is for every person, organization, team, or school to unlock their creativity and achieve their goals.
Introducing Canva Docs
Canva Docs combines the power of words and images to provide the best way to communicate ideas in an inspirational and engaging way. Not only it can add graphics from our library of over 100 million videos, GIFs, photographs, illustrations, and more – but can also build and embed new Canva designs from within a document, such as whiteboards, banners, or brainstorms. Canva Docs will adjust to fit the an screen it is viewed upon, whether a laptop or a mobile device.
Built to adapt to our modern way of working, Canva Docs is the ultimate space for team collaboration and communication. Users will be able to collaborate in real-time, as well as leave comments and actions for their teammates. It can also restrict who has access to see, comment on, or change a Canva Doc. Included as well the Canva Insights where it can track interactions and edits to a Canva Doc over time.
Another notable feature is a new product called Docs to Decks. It enables seamless conversion of Canva Docs to presentation in one click.
Addition of Canva Websites to Worksuite
Coding that is difficult to modify, expensive website hosting, and clunky designs are all things of the past. The new Canva Websites is an answer to a new method to create beautiful, responsive, and interactive websites for every device.
With Canva's library of templates, it's easier than ever to create a website for just about anything. A Canva website can be created in minutes. A site for a portfolio, an event invitation, a team resource hub, or a landing page for marketing is now easier with Canva.
Every Canva website is fully responsive, which means it will adjust to look beautiful and professional no matter what device you're seeing it on. It has features to restrict who has access to a website using password protection, making it simple to create private locations for every team.
Canva Websites allows anyone to instantly publish its website to the Internet with a free domain, an existing domain, or easily purchase a brand new domain name. It makes it easy and quick for anyone to showcase its website to the world.
Also part is the Design Insights together with the launch of Canva Websites. It shows insights allowing us to see who has visited or interacted with our website, social media post, presentation, document, or shared design.
Canva Websites opens up a whole new, modern way of sharing information that is more aesthetically appealing, safe, and adaptive to any device. The website-building experience combines everything you already know and love about Canva, with no coding or prior experience needed.
Canva Wokrsuite launches Whiteboards
The new Canva Whiteboards is a collaborative tool to take a new approach to how teams form and explore ideas together. It combines the ease and simplicity of Canva's editing experience with a new infinite canvas and a range of features geared for brainstorming and team collaboration.
No matter where you are in the globe or what device you're using to work, Canva Whiteboards allows you and your team to swiftly and effortlessly hop in and add your thoughts. This makes remote work and asynchronous collaboration more enjoyable and seamless.
With the help of images or videos from Canva's content collection, you may further visualize your points on whiteboards. This makes it easy to show and share not just say.
There are new tools as well to help you make the most of our infinite canvas. The new Quick Flow feature will make it easy to create collaborative diagramming and flowcharting. Another one is an inclusion of a synchronized timer to keep your team on track. Lastly, you can quickly find where someone is working on the canvas by clicking their avatar.
Announcing a suite of new Video tools
Since the launch of Canva Video, users have created over 1 billion videos. Canva announces a host of new features that will make the video production and editing process easier and more pleasurable than ever. Gone are the days when professional and compelling videos required pricey software or advanced training.
The one-click Background Remover has been one of the community's favorite features. Now, Canva is happy to present a one-click Video Background Remover after a massive technological feat. Without the need for a green screen or complicated software, you can remove the background from any video with the touch of a button, making it easier and more pleasurable to create professional-looking material that stands out from the crowd.
There has also been an addition to new animation controls that allow you to create animations that are unique. With these additional controls, you can change the type, pace, style, or direction of any animation, making it simple to add individuality to your movies.
New presentation tools for the Visual Worksuite
Since the introduction of Canva's Presentations suite last year, Canva has been reimagining the future of presentations. This year's launch announces a slew of new capabilities to enable you to create genuinely fascinating presentations that are fluid no matter where or how you present.
Canva has added new transitions to presentations, including Match and Move, which identifies images or text across two different slides regardless of size, location, or color. These elements smoothly transition to give an animated look and feel, making slides even more cinematic, with the click of a button.
Following the launch of Canva's new Video Suite, presenters may soon choose to edit presentations as videos. It features a new editing view similar to a timeline, which reveals an intuitive slider to help get a sense of timing, or to add and perfectly sync multiple audio tracks in seconds.
With Canva's acquisition of Flourish, a London-based data visualization startup, comes the launch of Data Visualizations 2.0. It features a simple way to transform data (including spreadsheets) into animated and interactive data visualizations fit for any Canva design. It's now easier to make complex data more engaging and understandable for any kind of audience.
Canva also launches the new Remote Control. It allows multiple presenters to connect to a virtual clicker from any device to navigate and manage slides, remotely or in person. You can now have control over your slides whether standing on stage using your phone or presenting from your laptop.
Adding new Canva Print catalog to Canva Worksuite
Canva can now bring any designs to life with the new Canva Print catalog. It allows users to generate a design and Canva would print and deliver it to their doorstep. It is now possible to print everything from hoodies to mugs, posters, flyers photo books, and even baby costumes in just a few minutes. Canva Prints may now be collected in the US at around 1100 FedEx office locations, while Staples for Canadian-based users. It is yet to be announced if the new service will be available in other global locations.