The realme 10 Pro 5G is finally here in the Philippines, and we've been using it as a daily driver for weeks now. Furthermore, it appears that this phone may stand a far greater chance of gaining some new followers.
Instead of a curved body and screen, it now has a new body with flat edges. The Qualcomm Snapdragon 695 5G processor, along with an Adreno 619 GPU, 8 GB of RAM, and 256 GB of storage, now powers the Realme 10 Pro 5G's internal components. The 108MP camera returns as well, and the OS now utilizes Android 13.0 and Realm UI 4.0.
Realme has improved the look of the 10 Pro and added a better camera, all for the alluring starting price of PHP 16,999. We will talk about the device's extra features, which make it a good alternative, later in our review.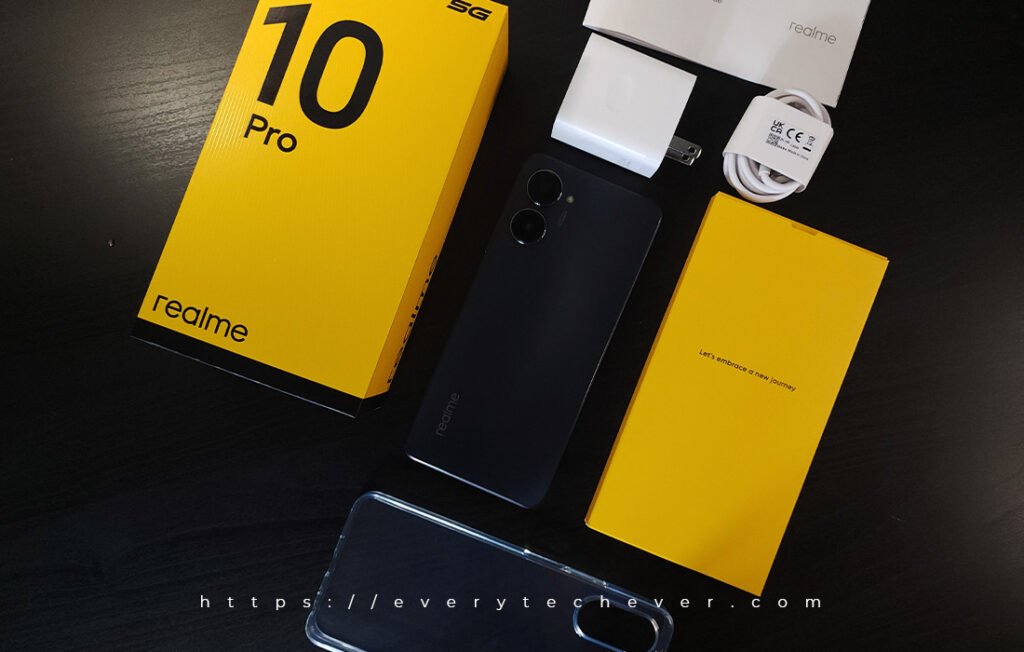 realme 10 Pro 5G Unboxing
The unboxing is essentially the same as it has always been. There is well-known retail packaging with a yellow and black pattern. The paperwork insert, a smoke-gray TPU case, and a SIM tool are all found within. The smartphone is placed underneath, followed by a USB-C cable and a 33-watt fast-charging brick.
We like the smoke-gray TPU case because it doesn't get yellowish over time, and I believe more brands should follow suit. A film screen protector is also included right out of the box.
The Realme 10 Pro in Dark Matte color, which we received for this review, is truly stunning. I adore how the two camera lenses are protruding from the seamless matte back cover. I think it really gives the smartphone a distinctive look and premium feel.
Here's what's included in the box:
Handset
33W Adapter
USB Type-C Cable
Sim Card Tool
Screen Protect Film
TPU Case
Important Info Booklet with Warranty Card
Quick Guide
Build & Design
In terms of design, the Realme 10-series is a significant departure from the previous generation. In order to be more in line with the current design trends in the smartphone industry, all oval and rounded parts are replaced, or at least the majority of them, with flat and sharp edges. But more crucially, the Realme 10 Pro is lighter and has better dimensions than its predecessor.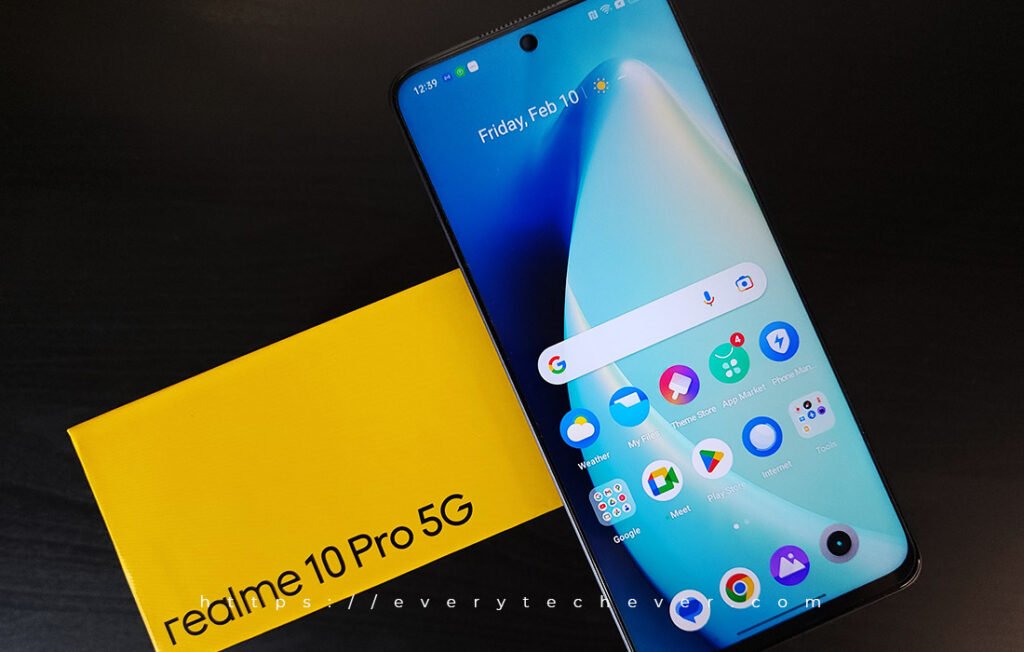 The Realme 10 Pro has a flat design that creates extra room and looks gorgeous right out of the box. The phone's lightweight and flexibility are considerably enhanced by its plastic casing. The phone's back features an attractive pattern.
Dark Matter, Nebula Blue, and an interesting Hyperspace Gold with a shiny finish are the three colors that are offered for the phone. The 10 Pro is somewhat shorter and narrower than the 10 while having a larger display (8.1mm). The weight has also fallen slightly, totaling 190 grams now, which is already fairly good.
The back panel has a matte, textured appearance that doesn't make it obvious that it is made of plastic.
Although they don't have their own island, the cameras do protrude quite a bit. When the device is positioned on its back, there is less shaking. The phone's flat frame also gives it a fairly solid, symmetrical feel in your hands.
The power button and volume rockers are located on the right side of the device, speaking of ports and buttons. The SIM card slot is on the left side, and the auxiliary microphone is on the top. The main speaker, 3.5mm audio jack, Type-C port, and primary microphone are all located on the bottom side.
Display
The 6.72-inch IPS LCD panel used in the Realme 10 Pro has a resolution of 1080 x 2400 pixels and operates at 120 Hz. Widevine L1 is supported, allowing for Netflix streaming in 1080p despite the IPS display's lack of HDR capability.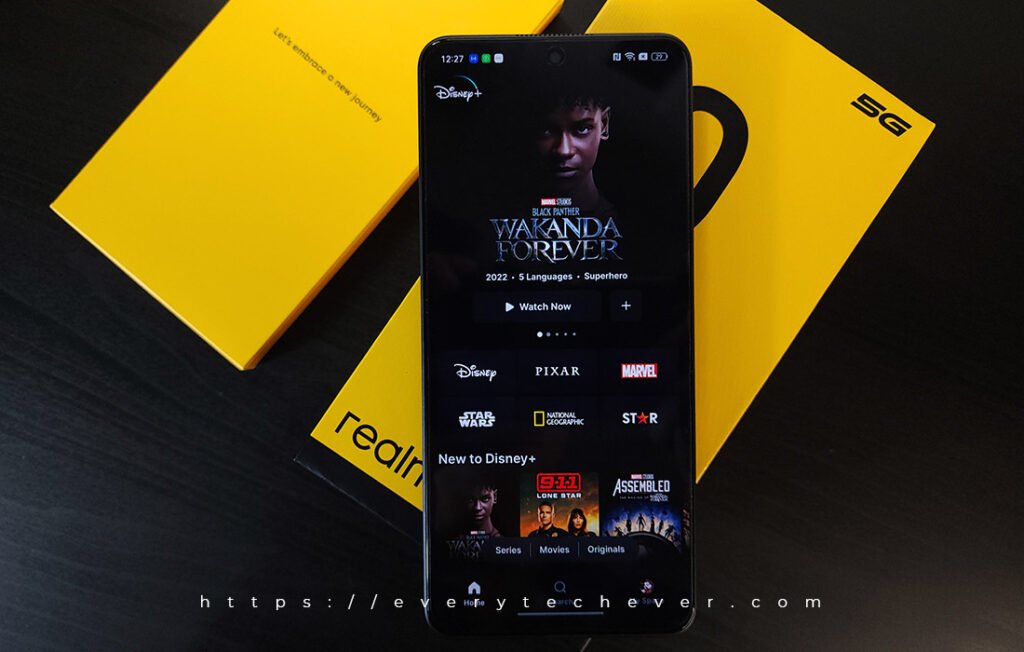 No OLED but you won't tell the difference
Realme used a high-quality IPS LCD panel, but it still falls short of certain competitors like the HONOR X9a, which has a much better OLED display. Although you won't get those deep blacks, at least backlight leakage is hardly noticeable.
During our testing, the display performed admirably. In auto mode, Realme claims a maximum brightness of 680 nits. On a bright, sunny day, it functions perfectly outside, and you can browse or chat with ease.
The power button's front and back are divided by the rectangular metal frame, which also houses an integrated fingerprint sensor. On the right side are the volume rockers, while on the left is the hybrid SIM tray that also accommodates a microSD card. A 3.5mm headphone jack, a USB Type-C port, and the speaker outlet are all located at the bottom of the device. We liked the flat, simple aesthetic and the overall attractiveness of the design.
120Hz High Refresh Rate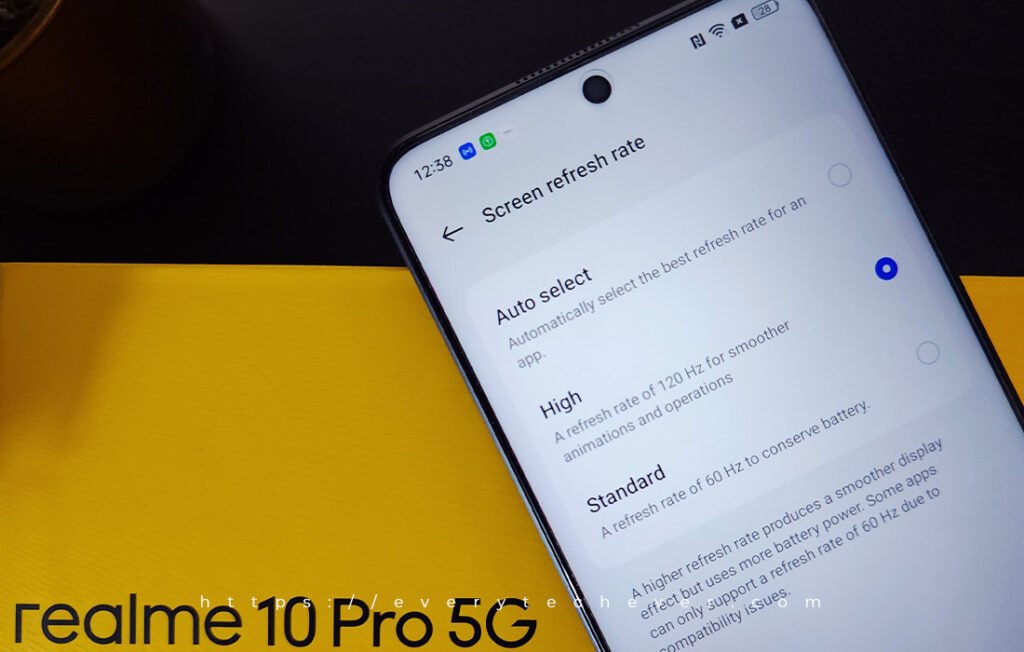 The Screen Refresh Rate control is quite easy to use; if the display is not touched, the system will tone down to 60 Hz in Auto Select mode. The 120Hz refresh rate improves the overall navigation experience. It provides a smoother-looking screen that's easier on the eyes. Some games that run on 60FPS also benefit from this.
Performance
The Qualcomm Snapdragon 695 5G processor has eight cores, two 2.2 GHz Kryo 660 Gold (Cortex-A78) cores, and six 1.7 GHz Kryo 560 Silver cores, power the Realme 10 Pro (Cortex-A55).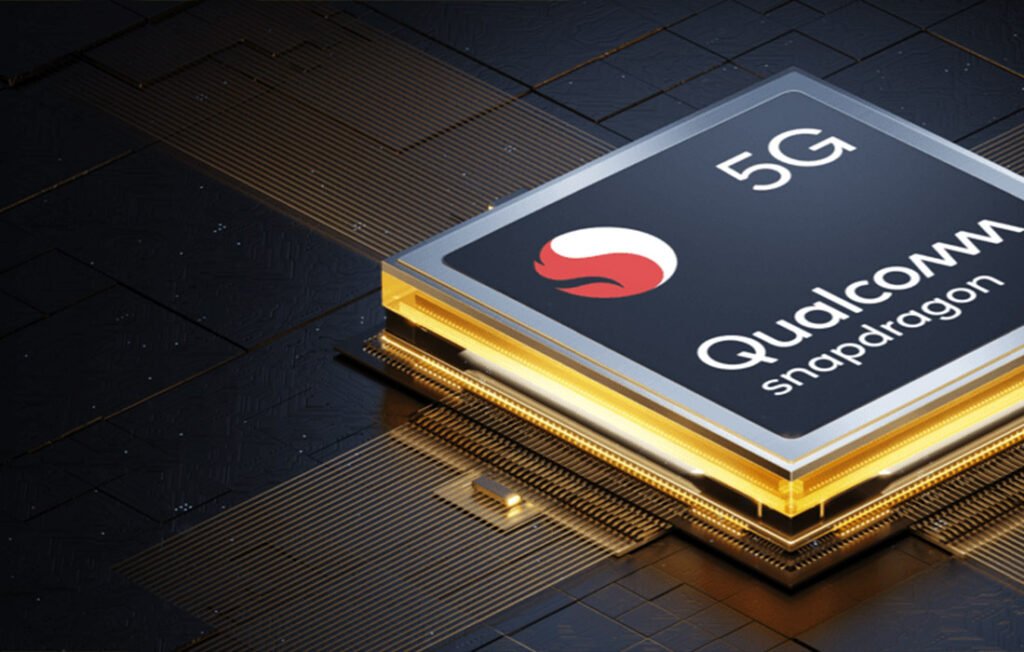 The processor is built using TSMC's 6nm manufacturing technology. It effectively handles all tasks, including multitasking and playing games. The phone features 128 GB of ROM storage and 8 GB of RAM, which let the processor manage tasks rapidly. The 120Hz refresh rate makes playing the games more fluid, resulting in a flawless gaming experience. It is accurate to claim that the phone is one of the more performance-oriented handsets in the price range it is sold in and that it significantly outperforms its predecessor.
The Snapdragon 695 performed admirably in our tests, with little to no lag. We also tried playing Mobile Legends and Call of Duty Mobile, two of our all-time favorites. High and Ultra settings worked well for both games.
The Snapdragon 695 works incredibly well, including battery management, and is frequently utilized in midrange smartphones.
There are some significant options in the same category, though, that not only offer better performance but also support 4K video recording. But if you can live without those extra features, then this phone is still worth your money.
realme UI 4.10
One of the first non-Pixel smartphones to ship with Android 13 is the Realme 10 series, which is unusual in the mid-range market.
The fingerprint reader performs flawlessly; it is quick, precise, and dependable. You may program it to unlock the screen with either a light touch or a hard touch (after a press). The latter could result in unwanted unlock attempts, for instance, if you move your phone while it's in your pocket.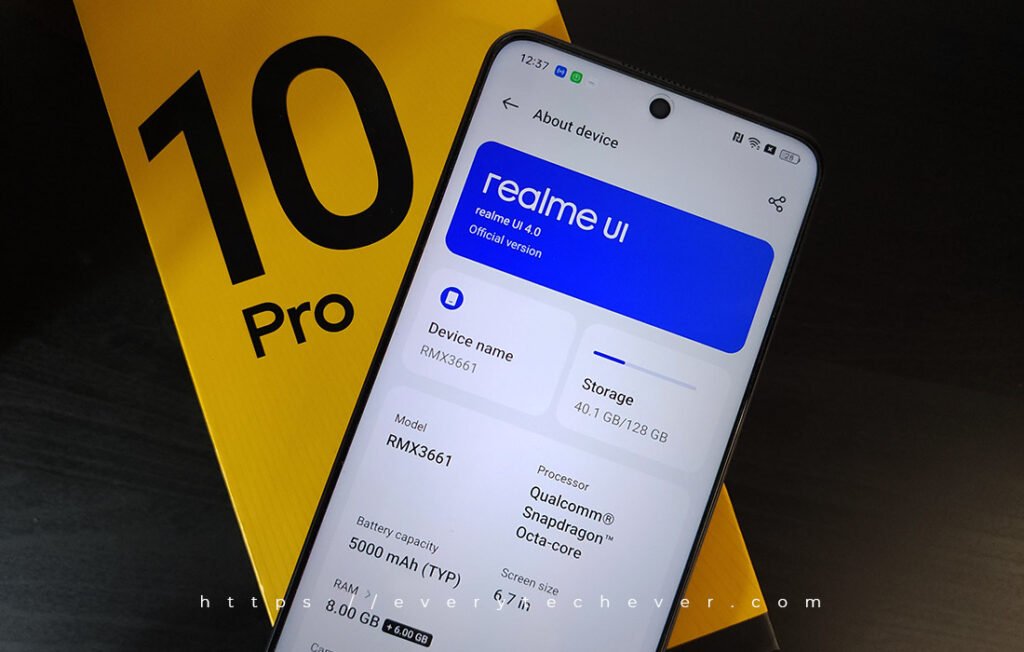 Realme has incorporated a few cool features for better multitasking. Because it's so simple to resize an app while you're using it, you can also minimize it to a floating window, also known as a flexible window. Drag and drop allows you to transfer files between full-screen and flexible programs. Flexible windows can be found in the Sidebar or Task Switcher.
You can use the well-known Split Screen or one of these options if an app is supported. The so-called "Smart Sidebar" still works and makes it easier to get to the apps you want, which is especially helpful if you use them often for multitasking.
The Realme 10 Pro also supports the virtual RAM Expansion function. This feature enables you to virtually increase the RAM on your smartphone by utilizing the device's internal storage. You can increase your virtual RAM by 4 GB to 12 GB. Realme has set 4GB as the default option for this feature, which is turned on by default.
At the Realme Lab, you can find Sleep Capsules and Dual-Mode Audio. You can use the Dual-mode audio to connect both wired and wireless headphones and listen to music through either. There is a night mode called Sleep Capsule that blocks particular apps.
The UI 4.0 was well-done by realme. The interface is uncluttered and simple to use, and the 120 Hz refresh rate makes it feel fantastic.
Stereo Speakers!
This time, Realme was able to include a set of stereo speakers in the spending plan. As usual, the primary one is located at the bottom of the frame, and the second one also serves as an earpiece. Although occasionally unbalanced, it is louder than other smartphones in the same price range.
Battery Life
As expected, the battery life is outstanding. In terms of power management, the Snapdragon 695 chipset performs well, and the 5,000 mAh battery was effectively optimized.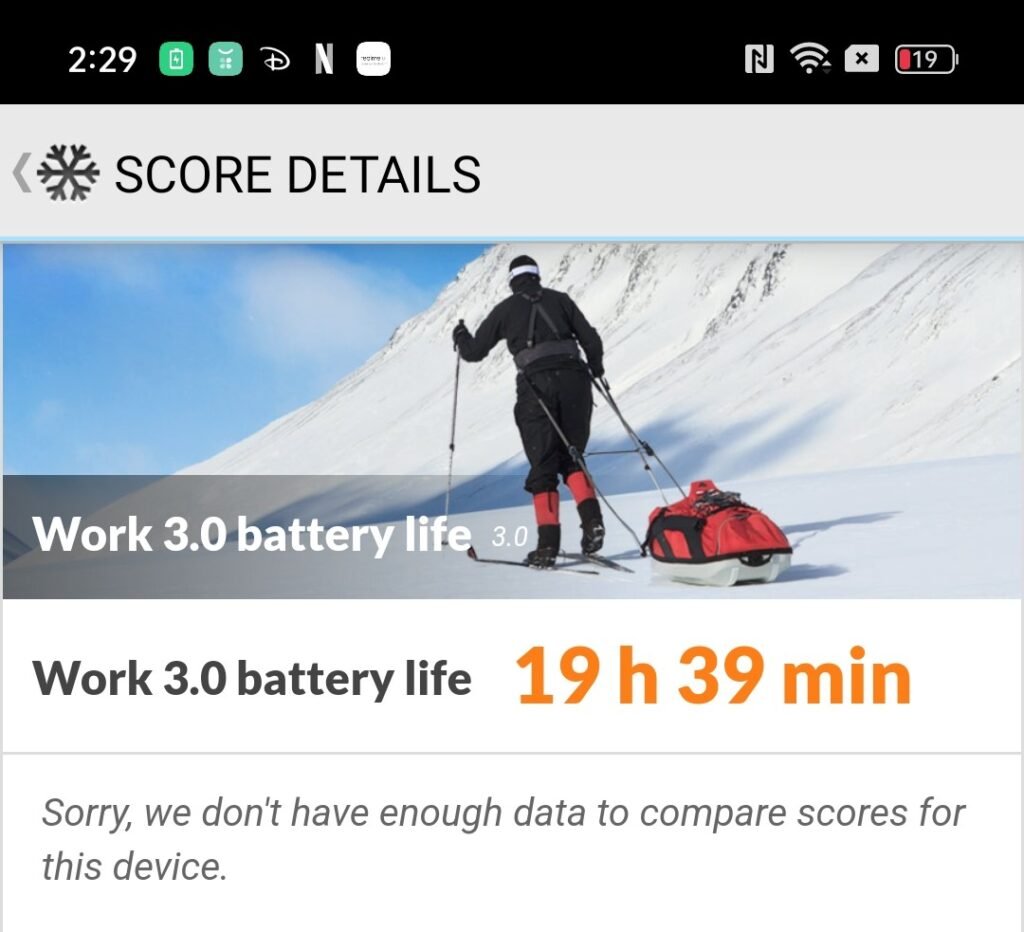 In our tests, the 10 Pro was able to complete the PCMark battery stress test in 19 hours and 39 minutes which is impressive. The phone can be charged using a 33W fast charger, which takes roughly 30 minutes to get 50% of power and 1.5 hours to fully charge the device.
Camera
The Realme 10 Pro's camera has significantly improved. The brand has chosen to use just two rear camera sensors, one of which is a 2MP depth sensor with an aperture of f/2.4 and the other of which is a 108MP primary camera with an aperture of f/1.8. In contrast to its predecessor, the business has decided against using ultrawide and macro lenses. There is a 16 MP lens with an f/2.5 aperture for taking selfies.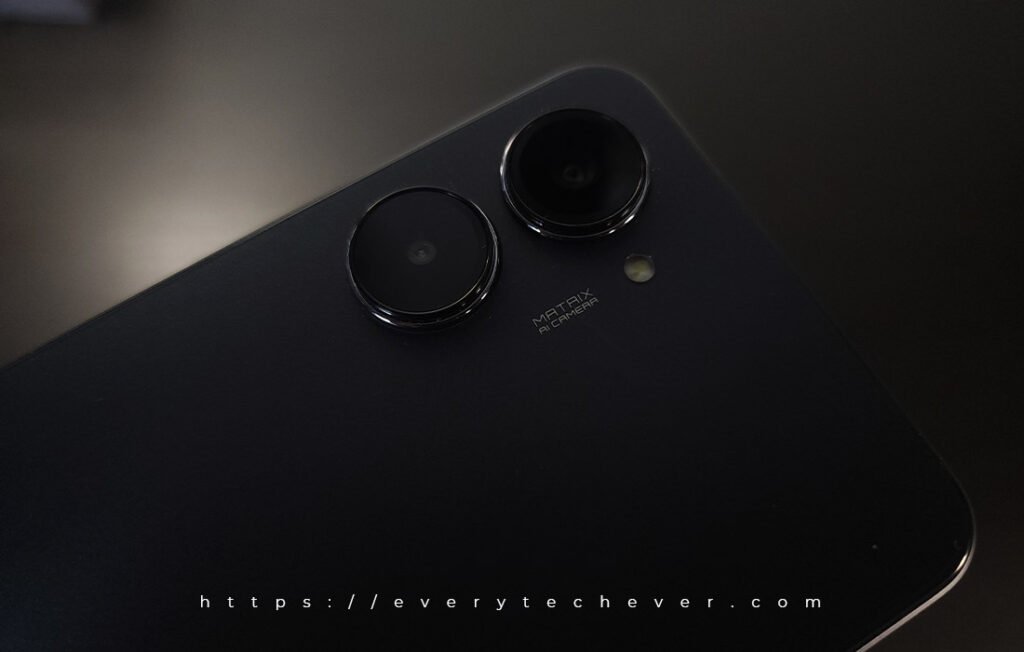 Beautiful daylight photographs with a high degree of clarity, pleasing colors, powerful contrast, and an adequate wide dynamic range are captured by the Realme 10 Pro.
Another advantage of the phone is the sharpness of its camera. Even objects with a great deal of fine detail were accurately reproduced, which impressed us. Also, no extraneous noise is made.
The portrait photos are good as well, but it needs to have adequate lighting to take detailed photos with a wide dynamic range. High-quality pictures were also taken at night. Although they had appropriate color and contrast balance, we observed some noise effects when we were taking the pictures.
The full 108 MP resolution is also an option; however, it takes more space and the image quality is a bit noisier.
The captured selfies were acceptable, but the clarity and level of detail may be increased. Noise detection is possible in some more challenging circumstances.
However, we observed that the dynamic range was adequate and it maintained a good exposure on the subject's face. The edge recognition system does a respectable job of creating that fake bokeh look in portrait mode.
Night mode samples are usually brighter, have a good balance between highlights and shadows, are sharper, have less noise, and have a lot more detail, especially in the shadows. After it gets dark, you should switch to Night Mode instead of the default Picture mode.
Here are some photos captured by realme 10 Pro 5G:
No 4k video recording
The Realme 10 Pro's maximum video recording resolution is 1080p at 30 frames per second, and as the Snapdragon 695's ISP is fairly constrained, it lacks the Pro+'s clever AI low-light feature. A field of vision and stabilization similar to that of an action camera is available via the Ultra Steady mode.
Should you buy the realme 10 Pro 5G?
With its incredibly thin bezels, the Realme 10 Pro delivers an extraordinarily huge viewing area for its price. Although inferior to AMOLED panels, the device's LCD display will likely offer the same visual experience to the average user. The performance and battery life of this device exceed expectations.
Taking everything into account, the realme 10 Pro 5G is reasonably priced at PHP 16,999. Also, it looks fantastic, has a sizable and lovely display, superb cameras, and works well for both gaming and general use. Moreover, a 5000mAh battery with 33W rapid charging is included.
The Realme 10 Pro is a great value if you want a phone with a non-curved screen, a better camera, and a larger, expansive display.
Price and Availability
The realme 10 Pro 5G ​​(8GB+256GB) is officially priced at PHP 16,999 both online and offline store. It comes in three stunning colors: Dark Matter, Hyperspace Gold, and Nebula Blue.
You can also avail of the phone on Home Credit which can be payable for up to 9 months at 0% interest. To better give a visual on this, the realme Squad can own a realme 10 Pro 5G for as low as P44 per day.